It's your first apartment! This is an exciting time for anyone who gets to live on their own and be independent. Sure, your apartment may seem small – especially the bedroom – but that doesn't mean that you can't decorate it to make it look spacious, versatile and cozy for your own comfort.
1. Console Table
Get a console table for your bed that doubles as a shelf and a desk. It's also perfect for those days when you just want to eat breakfast in bed. With this table you can literally just Netflix and chill everyday.
2. Bed Legs Riser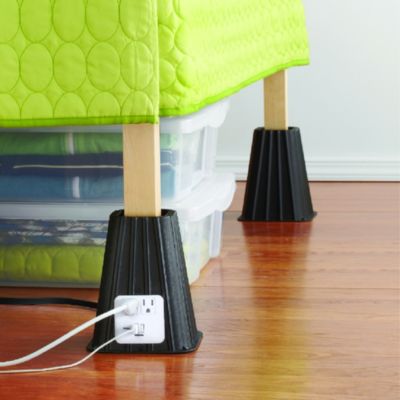 Prop up your bed on risers. Not really a "hack," but hey, sometimes you just need the extra storage space. Plus, if you manage to get one that has charger utilities, that's even more perfect and hassle free.
3. Drawers
Or you get a bed that has tons of drawers plus a small empty space underneath the bed just to put all your things away in a neat and organise fashion.
4. Hanging Tables
Suspended tables can create an illusion of space. This is perfect for minimalist plus it looks so chic and cool. A simple display like this goes a long way to create a spacious ambience.
5. Closet Bed
If you don't have a closet, offset your bed from the wall and create a closet behind it. That way whenever get up from bed, you can easily just walk to your closet right beside it rather than dragging your feet across the bed.