Small living spaces are becoming more and more popular. People are looking to move into a small, cozy space that they can call their own. Modern versions of small apartments are made out of things like shipping containers to keep the costs down and are becoming an economical way to build apartments for the growing population. If you move into a small living space then you will want to find ways of decorating it to make it seem larger than it is. Here are some ideas on how to decorate your small apartment.
1) Be creative
Any living space, as long as it is a space, can be pretty functional and practical. The first magic is to change your thought. Draw your eyesight upward and now you realize that how tall your apartment is. Do not make your mindset as narrow as the floor space you are standing on now. For example, you could buy a tall bookshelf or hang a mirror on the wall. Purchase the fixtures off of the floor and on to the walls. You have one floor but four or more walls. We are human beings who tend to be creative and innovative to make something out of nothing.
2) Remove unnecessary stuff
Alright! Now you can see how wide your apartment is. We have to move on to keep your stuffs. Throw away any unneeded items, such as torn clothes, old magazines, teddy bear from your ex, and so on. Nostalgia would not be matched with your apartment. Make it a clean and neat one. Organize all the things consistently, especially your closet. You could be the smartest if you could store as much as you can inside your closet. Not only you could put lesser in other areas, but also it would be visually more spacious once you close its door.
3) Create multi-functionality
To make a house as a home, the most prominent area would be your bedroom. There is always a big piece of furniture which is your bed. Pick the bed size that suits your size. If you are petite, why would you want to sleep on a royal bed? It is definitely comfortable but not when it occupies your possible walkway. Alternatively, you could opt for a futon which is kind of bed-and-sofa furniture. Your sleep is still reassuring with the quality sofa bed. Besides, an office space or living room can be a bedroom as well. It is the multi-functionality we have been talking about.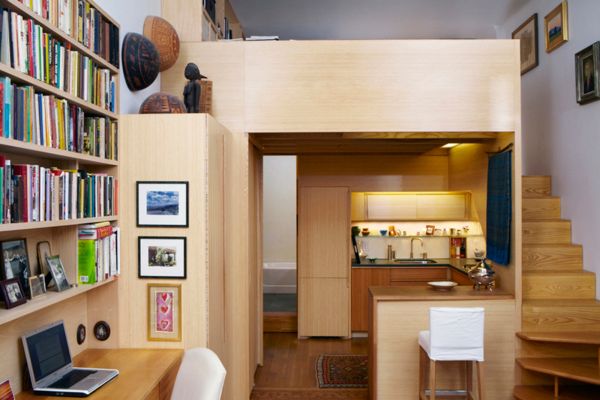 4) Maximize every inch of space
Still, you prefer your own bed now. You could close this deal by taking advantage of the under-bed space. There are always few ways to maximize what you possess now. Bed risers can support and elevate your bed to provide more storage spaces underneath. If you are not lucky enough to put a closet in your apartment, you could make it as your unique cupboard. Consider buying some boxes and look around to decide what you should store under bed now.
5) Minimal concept
Every floor square counts when it comes to a small apartment. Despite all above, simplicity and cleanliness contribute to a visually spacious living place too. A small purchase will make a big difference. Stick with the minimal concept, add more hooks or storage boxes and fit your apartment merely with necessities.