Deepavali or Diwali is the Festival of Lights. While lights are the core decorations, here are other ways you can decorate your home for a festive feel. Also, you may be able to leave it up until Christmas with some modifications!
Here are some things that'll get your home party ready!
1. Candles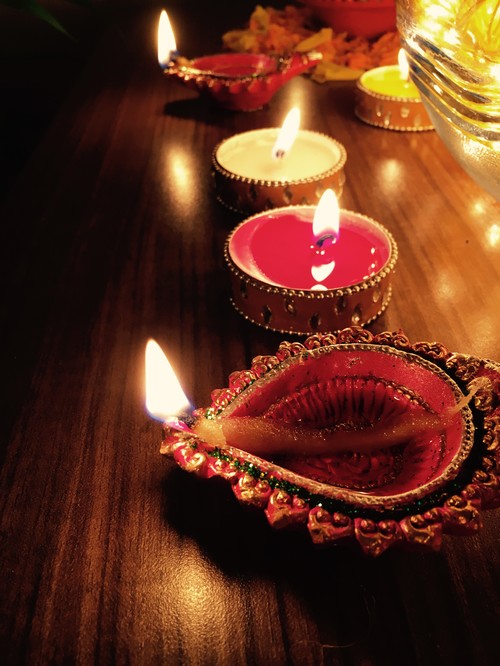 Oil lamps or diyas may require more upkeep as it can leave stains. A workaround is to utilize candles. Scented candles do double work because it'll also make the room smell nice. Just remember to keep the scents light and not overpowering.
Make the candles look festive by placing them in pretty decorative holders. You can even DIY the holders yourself by making some luminaries. For a child-safe option, battery operated candles can mimic a realistic-looking flame too!
For Christmas: Switch the decorative holders to Christmassy ones!
2. Fairy lights
Fairy lights are awesome because it fit any holiday occasion. String them up above your doorway or make shapes with it on the wall, your choices are endless. If you're out of ideas, just stuff them into jars or glass bottles with some shiny baubles and voila!
For Christmas: Twirl the fairy lights around a plant or leave them in the present jars or bottles.
3. Fancy lights
Fancy lights that look like sparklers or fireworks enhance the festive atmosphere. Change out the ordinary lights above the dining table or the living room and you are almost ready to host a party! You don't even need to change it come Christmas!
4. Make the kholam
Making the kholam can be a family activity. There are stencils online to follow and if you're not too fussy about being traditional, you can create your own shapes. While the kholam is usually made out of rice, other alternatives include non-toxic or natural ingredients such as henna, turmeric or gulaal (vegetable powders).
For Christmas: Make a Christmas themed kholam or just vacuum it away!
5. Marigold garlands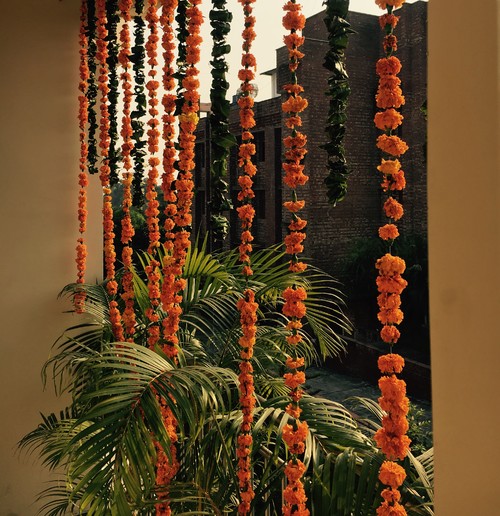 Marigold garlands are not only beautiful at the doorway but it carries a meaning as well. Marigolds are associated with fire and purity and will make a welcoming entrance for the goddess of fortune, Lakshmi. String the flowers up with some fairy lights and you're all set.
For Christmas: Turn it into a Christmas wreath with some shiny baubles, gold acorns and maybe even bells.
6. Toran
Hanging up a toran is another way to decorate the doorway to attract Lakshmi. While it's usually made out of stringing marigold and mango leaves, you can even have the kids cut out some leaves out of green paper.
For Christmas: Get the kids to cut out triangular Christmas trees and space it out between the paper leaves.
7. Urli bowl
If you're short of time, a quick way to make the house look decorated is to have a bowl of urli at the entrance of the home. It's easy to set up because you just need to place some flowers into a bowl of water. If you feel fancy, you may be able to put in some floating candles without burning the flowers.
For Christmas: It's good as it is but if you want to, use green and red floating candles.
8. Copper or rose gold cutleries
When all is lost or you're too late to decorate the home, copper or rose gold cutleries may just save the night. To set up the dining table, have a small bowl of urli or some candles as the centrepiece on the table. You can use these cutleries again during Christmas lunches or dinners!
That's all you need to decorate for Diwali and modify it to suit Christmas!