Best tiles for your bathroom
Depending how your bathroom looks like, selecting the best bathroom tiles can be an art and also a science as well. Despite the varieties of the bathroom tiles, you have to consider many aspects, for example the design, the functionality, the composition, the suitability to lay such tiles and so on.
1. Consult an expert
This is always, and ever, the fastest and most effective way to narrow down the types. Bathroom tiles can beauty or destroy your bathroom modeling. Hence, you cannot look down at the impact of such a small element.
2. Understand the available options
Mostly people will choose materials such as ceramic, glass, stone and porcelain. They usually suit all bathroom areas, be it wet or dry. Among these, ceramic is the cheapest while the porcelain will provide a more appealing look. You must count on the labor cost too, as each option has their respective difficulty when it comes to laying and sealing properly.
3. Floor and wall are not similar
Do make sure yourself to get this message clearly. Wall tiles cannot be used on the bathroom floor, and vice versa. For the types mentioned above, stone is not so functional than ceramic because it is less water resistant. Even for ceramic tiles, they could be divided into different sub-options too. Glazed ceramic would be easily slick so it is better for wall.
4. Bathroom and shower could be different
Many people love to choose same tiles for both to make a consistent look. Act out of the box, and therefore you can mix up the style or choose different color but they are still in the same hues. Again, be practical. Porcelain could be more durable throughout the years of wear and tear.
5. Size judges the bathroom size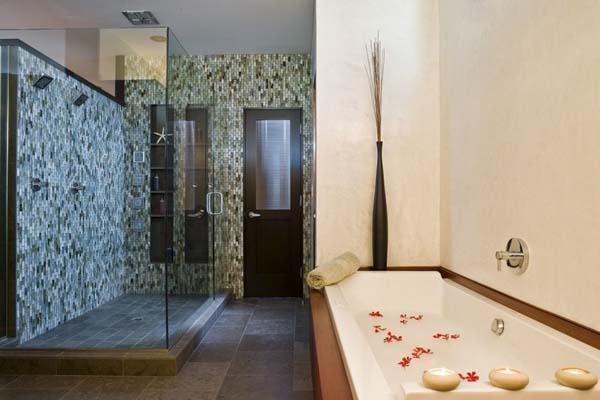 Let's back to the tile design topic. The bigger size the tile is, the bigger size your bathroom is. It is kind of visual illusion. It normally does the trick as long as your bathroom is not too tiny. How much spacing in between tiles do you wish to have? How do you want it to be positioned? Do you want it to cover or show some wall spaces? You could have a really lengthy list to go on before deciding on how to model your bathroom with nice tiles.
If you do consult a professional, you can always ask his or her opinion to see whether your view is correct or not. Overall, you must know that modeling a bathroom is not equal to modeling a bedroom. It is more about the functional aspect.