In Malaysia, the summer months bring with them heat and humidity that is difficult to handle. Nobody in this region can imagine being without an air conditioner throughout the summertime. Maintaining a cooler and more comfortable environment in your home and workplace is crucial during this time of year. It can only be done if you have an efficient AC at your place. But, it's quite an investment in terms of money.
The air conditioner market in Malaysia is currently saturated. Many electric companies produce some of the finest quality air conditioners. Every company boasts a brand-new feature or an upgrade to an existing model each year. Consequently, choosing a new air conditioner becomes significantly more challenging. A large price range is another thing to take into account while buying an AC for your home.
To help you with your buying decision, we've selected some of the best air conditioner brands for your home in Malaysia. In this article, we'll talk about those air conditioners which we've found the most efficient over the years.
1. Daikin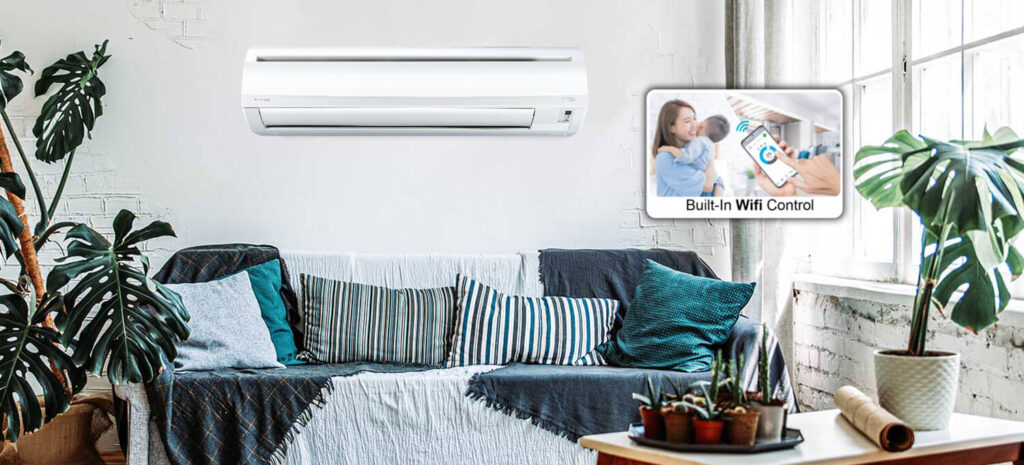 Daikin is the most well-known air conditioner brand in Malaysia. This is why it's our number one too. Its net sales of ACs exceed $27 billion annually. Daikin has more than 100 production facilities around the world, including Malaysia. The company was originally known as Osaka Kinzoku Kogyosho.
Daikin sells all sorts of air conditioners, from wall-mounted and Skyair series to floor-standing air conditioners. The benefits and efficient features of Daikin's air conditioners have allowed the company to rise to the top among air conditioning specialists in Malaysia.
Some prominent features of their air conditioners are:
Energy efficiency: high CSPF value and lower energy consumption
Ozone friendly; for example, the R32 refrigerant they use has a zero ODP (Ozone Depletion Potential) value
Smart control with the Go Daikin App
Coanda effect: create a thorough airflow throughout the room
Hybrid cooling technology to control humidity
Both inverter and non-inverter types
Streamer discharge technology
Low-key operation
2. Mitsubishi Electric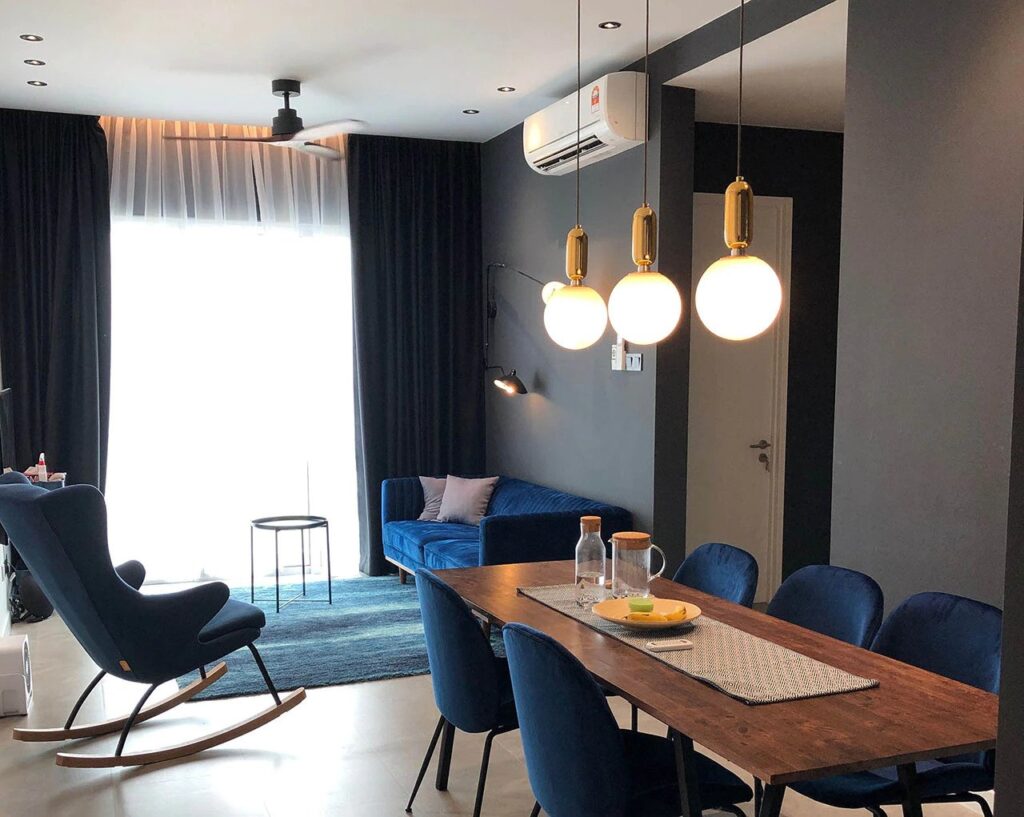 Mitsubishi Electric is one of the oldest known global electronics companies in Malaysia. The company has been researching wind technology for more than 100 years. It developed the very first cross-flow fan AC in history. Then it later manufactured split ACs, which for the first time separated the compressor from the indoor unit.
Mitsubishi Electric technologies have established the standard for cooling comfort, which other electronic companies now adhere to. They produce some highly durable and eco-friendly air conditioners that not only provide you with comfort but also save the earth for future generations.
Here are some features of their air conditioners:
With and without the DC Inverter
Uniform and long airflow
Removable design: easy to install and clean
Nano-Platinum Filters for cleaning the environment in addition to cooling
Econo cool mode
Eco-friendly R410A refrigerant
Noise-reducing design
7 years warranty on the compressor and 2 years warranty on other parts.
3. LG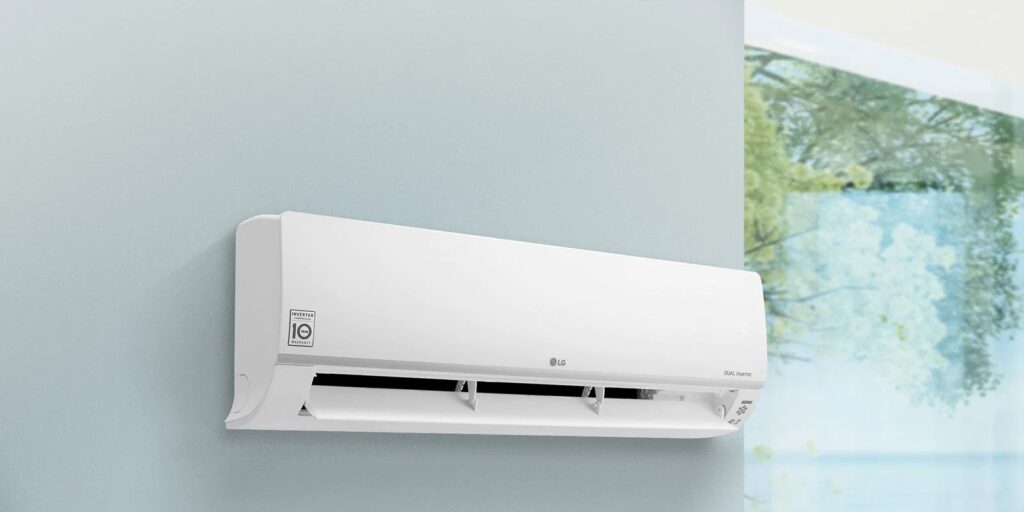 A global manufacturer of electronics, Lucky Goldstar, or LG, is based in Seoul, South Korea. Apparently, LG also stands for "life's good." LG has aided people in making their lives more comfortable for a very long time and up until this point. It is the leader among Malaysian air industry experts.
Customers trust this brand because of the minimal designs, reasonable prices, and high quality of their air conditioning systems. Some other qualities that set LG apart from the other best air conditioner brands in Malaysia are the durability of its products and superior customer support.
LG's air conditioners feature:
Both split and window range
High humidity control
Double protection filter: removes dust particles and kills any dangerous bacteria and fungi
Technology to keep the mosquitos away
Eco-friendly
Lesser energy bills
Faster and noiseless cooling
DUAL Inverter compressor
10-year warranty on the compressor
Auto-clean function
4. Panasonic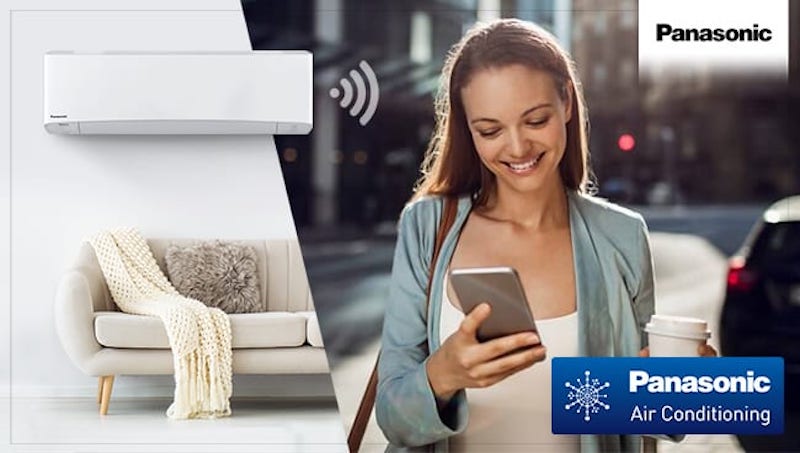 Panasonic is a leading manufacturer of air conditioning systems in Malaysia. The company started out as a small manufacturer of bulbs. It has now evolved into a major player in the electronics sector with a clear focus on air conditioners. Today, it offers more than 300 products to meet your daily needs.
Their commitment to innovation has surely paid off as they have been able to compete with other air conditioning products on the market. Panasonic aims to provide adaptable air solutions for various needs, from small residential air conditioners to large commercial ones.
Below are some specifications of their ACs that set them apart:
Intellicomfort technology: Panasonic Comfort Cloud App allows you to control air conditioning with your mobile
Nanoe™ X and Nanoe-G air purification systems
Copper condensers
Inverter and non-inverter types
Dual fan 3D Cool Technology
Humidity control
Compressor Technology
ECO mode
Advanced MPFI and Turbo Cool Technology
Voltage compensation feature
5. Acson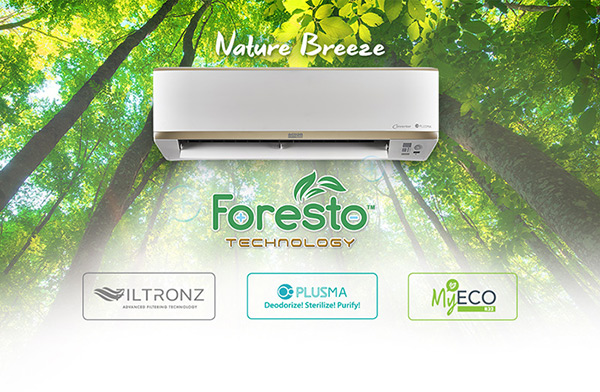 Acson is an exclusively Malaysian air conditioning brand that is known worldwide. It is a subsidiary of Daikin Malaysia. Acson started off as a reliable household appliance company that sold stand fans and ACs. All these were built proudly in Malaysia. Being a subsidiary, it has now concentrated its operations. It has chosen to focus only on the air conditioning sector now.
Acson has persisted in providing customers with cutting-edge technologies and a superior cooling experience through their ACs. You can even enjoy the natural breeze of the forest in your room, all thanks to the brand's recently developed Foresto Technology.
Acson air conditioners also feature the following specs:
Powerful 4-way airflow
Adjustable deflector and adjustable resistance level
Quietly operating
Extra protection with a metal casing
Elegant designs
Simple installation
Dehumidifier
Low energy consumption
Low voltage start up
6. Samsung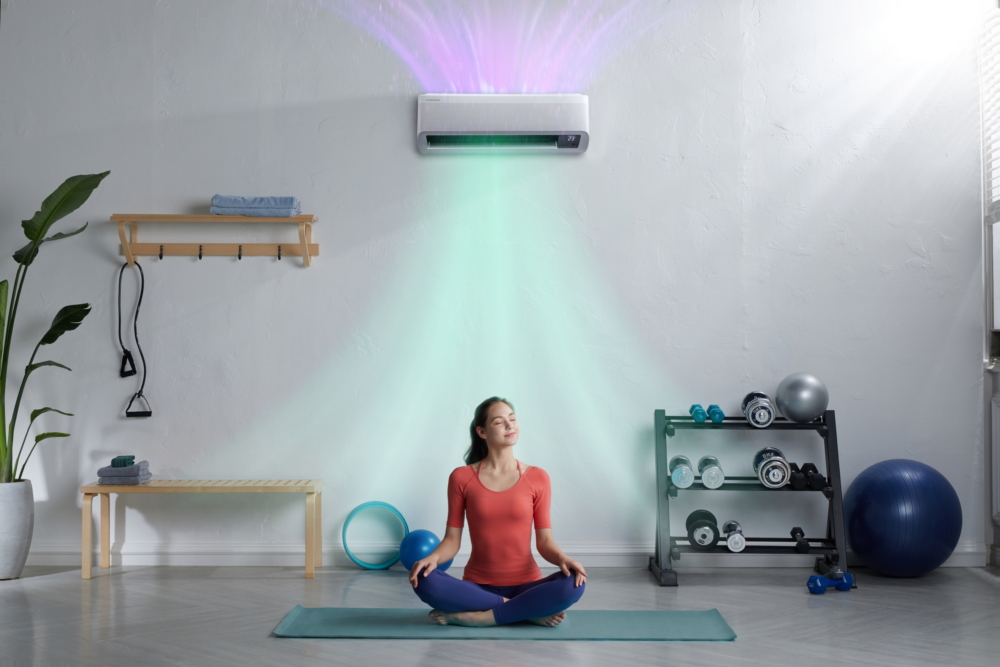 Samsung needs no introduction. It has established itself as a leading company in the electronics sector. Samsung is known for the quality and diversity of its electronic products. Like other appliances, it develops its air conditioners based on fresh concepts. These are made to meet the demands of every type of customer.
Even though Samsung doesn't have a consistent market for air conditioner production, their ongoing advancements have greatly assisted them in being one of the best air conditioner brands in Malaysia and other countries. They are the first brand to introduce features like a "wind-free triangular design."
Some other important features of their air conditioners are:
Wind free cooling
High-density filters
Gentle and uniform airflow
Advanced BIO-sleep mode
Digital Inverter Boost technology for faster cooling
Dehumidification mode
Low power usage: less energy consumption and more saving
Duration and Multijet Technology
Noiseless working
Stabilizer free operation
Three types: wall mounted, 1-way cassette, 360 cassette
Pole inverter
S-UTR Compressor
Power Boost Technology
Works according to the definition of ASHRAE (American Society of Heating, Refrigerating and Air-Conditioning Engineers)
Smart Control
Easy installation
7. Carrier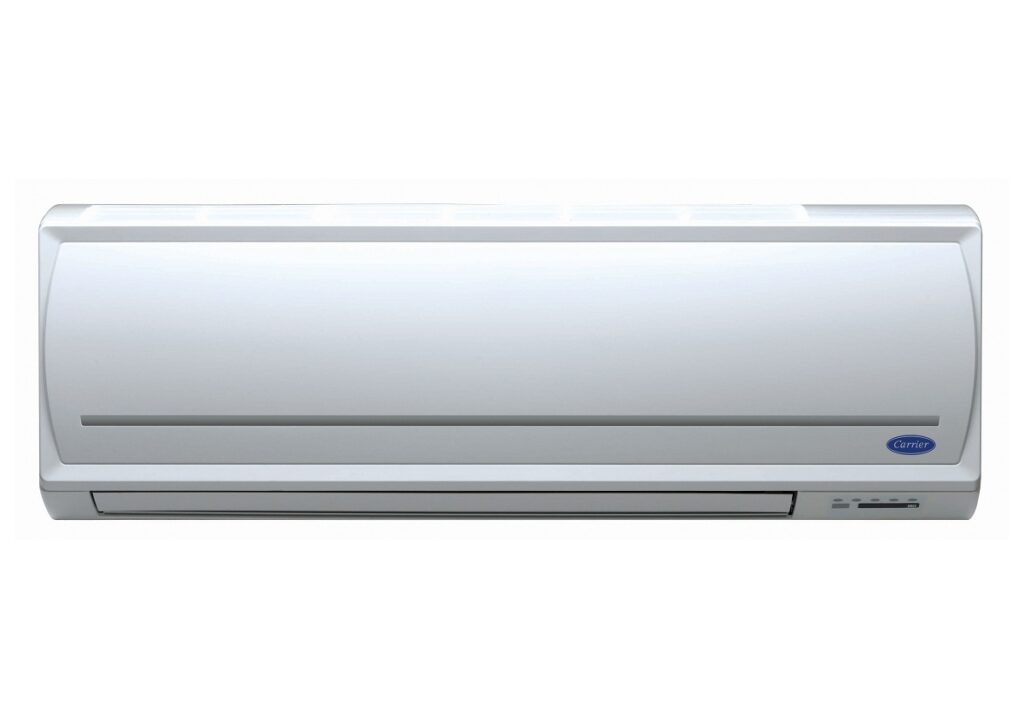 Carrier is named after the founder of modern air conditioning, "Willis Carrier." This American brand was established to meet the growing demand for air conditioners and electronics. It is one of the oldest known brands of air conditioners in Malaysia. Carrier introduced its air conditioners for the first time in Malaysia in 1960. Now it serves the whole country through more than 600 dealers and retailers.
Carrier's air conditioners provide the most cutting-edge options for your residential cooling requirements. In terms of performance and energy efficiency, they have outperformed competitors in the market.
Some of the distinct features of Carrier's air conditioners are:
Detect leakage of refrigerants
Environment-friendly refrigerants: reduce greenhouse gas impact
Hybridjet Inverter
High-density filters
Energy-efficient designs
Next generation humidifiers
Golden coating for corrosion resistance
Condenser of Copper
WiFi control
8. Hisense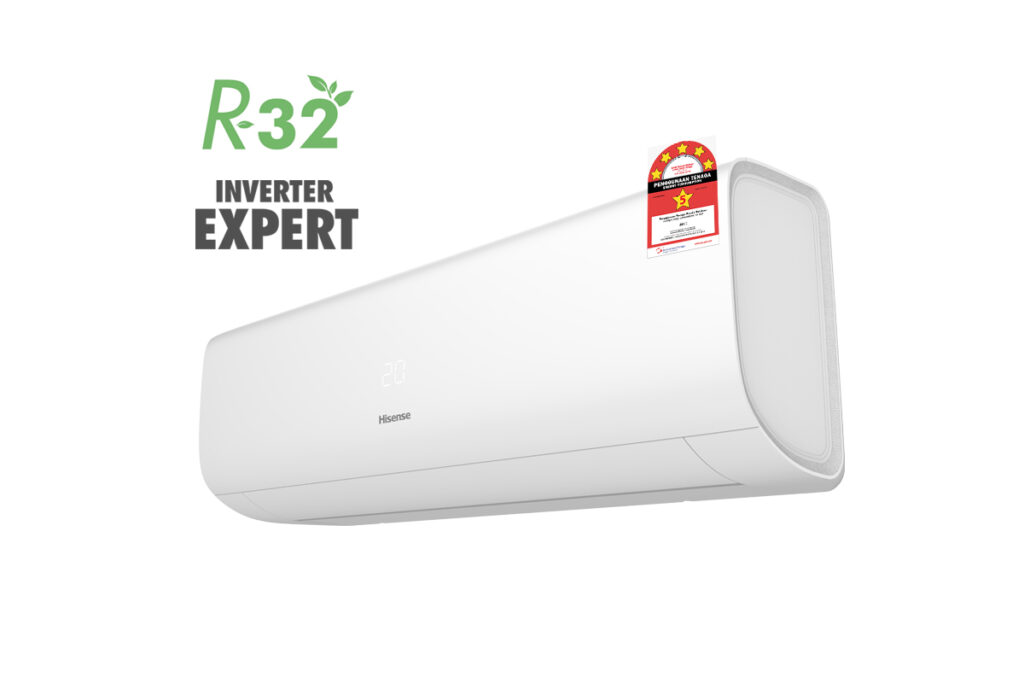 Hisense, which began as a small radio manufacturing facility in China, has grown into a multi-billion dollar worldwide electronics corporation with more than 80,000 employees. It is one of the top 10 electronics companies in the world thanks to its production of top-of-the-line home appliances.
Hisense air conditioners are sold in almost 30 countries, including Malaysia. The company had total sales of USD $ 15 billion in 2013. So, if you too are interested in cutting down on your energy bills in the summer, you may go for this option.
Hisense ACs are different from others for the following reasons:
Smart mode and auto control
Noiseless operation: as low as 28 dB
The uniform temperature through consistent airflow
Anti-mildew design
Inverter expert
Smart control through the HiSmart mobile application
Plasma generator: kills germs
Longer airflow, up to 16 metres
Energy efficient
Non-toxic R32 refrigerant
9. Midea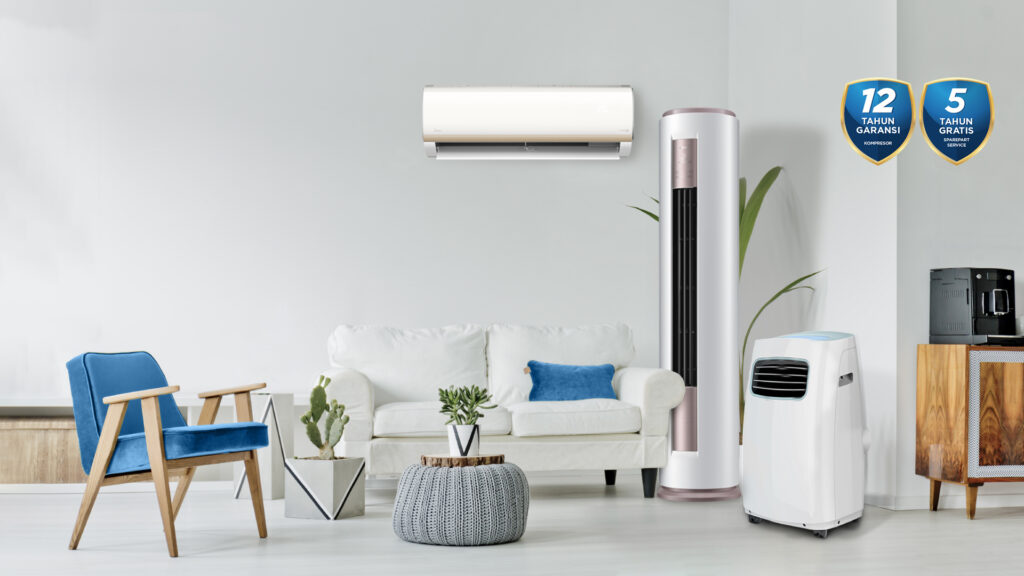 Midea is the top producer of home appliances worldwide. Currently, it is working in 194 other nations in addition to Malaysia. The company is an expert in air treatment and manufactures some of the best air conditioners and humidifiers in Malaysia.
The air conditioners from Midea help you stay cool during the day and get a good night's sleep at night. These are built for all types of rooms, keeping in mind the needs of every user. Its air conditioning products include portable air conditioners, through-the-wall air conditioners, dehumidifiers, humidifiers, and PTAC air conditioners.
The specification sheet of their ACs says that they have:
Innovative design
All parts included
Quick and easy to install
Smartphone Control with iOS and Android Apps
Voice Control with Amazon Alexa or Google Assistant
Inverter technology
Portable options too
Most ACs feature 4-in-1 comfort: cooling, dehumidification, fan, and heating
LED temperature display
Auto-restart
10. Haier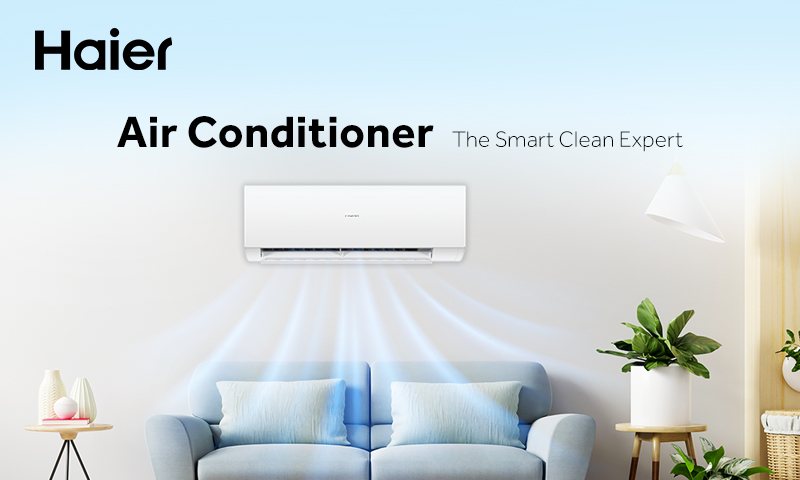 Haier is a 35 years old Chinese brand that has now taken over every home appliance market out there. With its latest refrigeration technologies, Haier produces some of the best air conditioners and refrigerators in Malaysia.
Haier produces all ranges of air conditioners while keeping in view the needs of every user. Their air conditioners are multi-functional but don't affect your pocket too much.
Here are some distinguishing features of Haier ACs:
Inverter technology
Multi-directional strong airflow
UVC sterilisation
Anti-corrosion material
Easy to install
Eco Mode
Energy saving
Air filters
Smart Clean: kills 99.9% of bacteria
Warranty: 10 years for the compressor and 3 years in general
Final Thoughts
We hope this information has helped you learn more about the best air conditioner brands for your home in Malaysia. Almost all of the brands we've mentioned are globally reputed, with their units functioning in Malaysia as well. Now, it's time to select the best one out of these and order your AC there!