Right bathroom design ideas
A bathroom is a clean place, where you can clean yourself and wash away the tiredness and relax. Whether you're looking at new bathrooms in a new house or renovating your current bathroom, it is an area that you should not ignore. Nowadays, many people wish to design the right bathroom for their needs but also have an aesthetically pleasing bathroom too. Either way, the bathroom needs to be functional!
It is a small area, count in terms of floor space, but also one of the most frequent used spaces. At least, you step into this place twice a day for the start and the end. What questions should you consider well before mapping your bathroom design?
1. Plumbing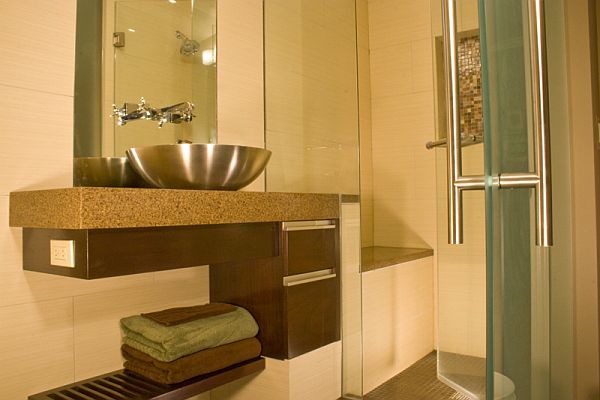 It is how your bathroom layout does get affected. Where should you shower? And also, where should you wash your face? Drafting the floor plan, do imagine that you get into the bathroom to prepare yourself to plan your day or throw the tension behind.
2. Theme
A small area can have its concept too. You can set it in modern, classy, ocean, and vintage… The list goes on. Using the bathroom tiles of different colors and textures is one of the subtle methods to make your bathroom theme achievable. You will also want to decide whether or not you want to go with masculine bathroom designs for the finished product or not.
3. Flooring
Speaking of the tiles, it is time to remind you about the functionality of a bathroom. Despite the appearance, you must think deeply about the inherent qualities of the particular material. Water-resistant and durable against wear and tear are supposed to be the minimum requirement met by any bathroom product.
4. Lighting
It is important to alive the place, nonetheless. In the same way, no matter how beautiful your bathroom design is, it is just dead without proper lighting. Other than the natural light, you can get the yellowish and bluish or the natural white light from selecting the different light sources, such as bulb or fluorescent.
5. Fixtures
Last but not least, you should get some little fixtures in your lovely bathroom. For example, a cabinet to store towels, a mirror to create a visually wide space, a shower curtain to divide the wet areas clearly, and so on. A little touch-up of soft goods, such as fabric and cotton, could provide an excellent complement to the harshness of your bathroom. Likewise, a plant can add some greenery to reduce the hard aspect brought by those square and round edges of sinks and tub.
Conventionally, we must get our bathroom done to complete the house renovation task. Yet, we could design it unconventionally, as long as we remain it to be a useful and functional space.