New modern year, new modern design
Once you step into a house, you will first come to its living room, if you are looking to build your own house you want to make your modern house plans measure up to your vision when it comes to your living room. Hence, it is the important soul of a house. Everyone wants it to be modern and contemporary which is believed to be a still trend in 2013.
Depending on how many open spaces you have, you could design your living room accordingly. Do not blindly download an image of your dream living room and just do the copy and paste. It might not work well if that particular living room is larger than your living room. Draft the ideas in accordance with the reality.
1. Magic of a window
Your modern ideas would not be limited by the room size. It does not define the coziness. You could make it visually bigger than the real measurement. For example, you can install a big floor to ceiling window. If the budget is restrained, you could let the natural light shining into the room without blocking the windows. You must learn this trick because it is even useful for a larger living room.
2. Monochromatic color palette
Black, white or grey is forever the king and queen of the modern living room. It looks like a professional palette which is linked closely with modern environment. If you have a smaller space, white is the magic to widen and turn it into something warm and pleasant.
3. Minimalist room theme
Clear the unnecessary clutters from your living room. Now, you can design your living room in a different theme. If you feel bored by the monochromatic approach, you can build a mix-and-match ambience. It is quite playful when every color appears in your room. However, bear in mind to keep each color to a minimum so that they can blend harmoniously with each other.
4. Living room without edges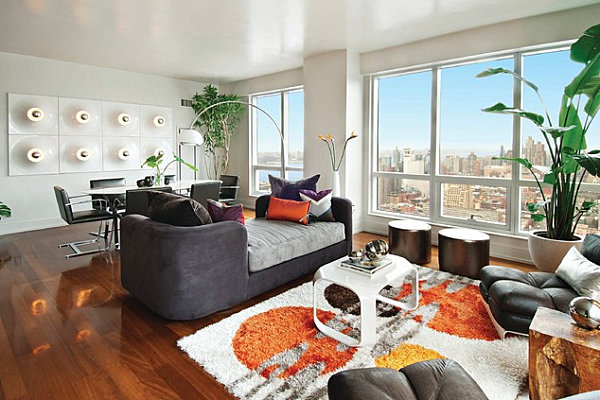 Many people usually choose the furniture pieces in long or angular shape. The edges are so noticeably defined. To soften the outlook of your living room, you could take advantage of the curves which will create a unique style and fresh look too. Be creative in purchasing furniture, fittings and other home decorations.
Living room is for you to welcome your family members and precious guests. It is the heart of a house. We must be wise in decorating and improving our living room. Choose a wrong piece would make it dull, dark or empty. Hopefully few words above could make you jump out of the box.