In Malaysia, the summer months bring with them heat and humidity that are difficult to handle. Nobody in this region can imagine being without an air conditioner throughout the summertime. Maintaining a cooler and more comfortable environment in your home and workplace is crucial during this time of year. It can only be done if you have an efficient air conditioner at your place. But it's quite an investment in terms of money.
The air conditioner market in Malaysia is currently saturated. Many electric companies produce some of the finest quality air conditioners. Every company boasts a brand-new feature or an upgrade to an existing model each year. Consequently, choosing a new air conditioner becomes significantly more challenging. A large price range is another thing to take into account while buying an AC for your home. But don't worry! This guide will help you find the best air conditioner for your home in Malaysia.
Our Selection of 10 Best Air Conditioners In Malaysia
To help you with your buying decision, we've selected some of the best air conditioner brands for your home in Malaysia. We'll talk about the brands that we've found most reliable over the years. By reading on, you can also discover our recommendations for the top air conditioner models from these brands.
1. Panasonic X-Deluxe Inverter: CS-XPU13XKH-1 (1.5HP)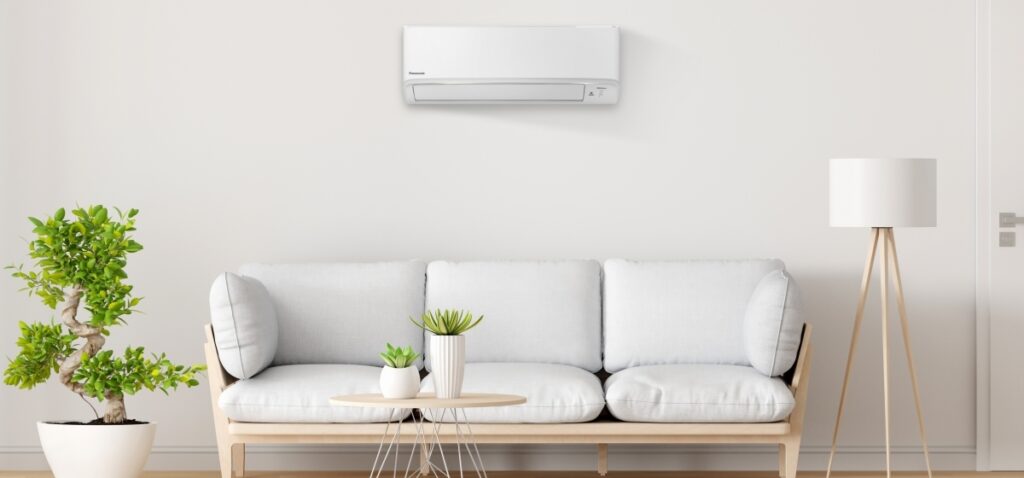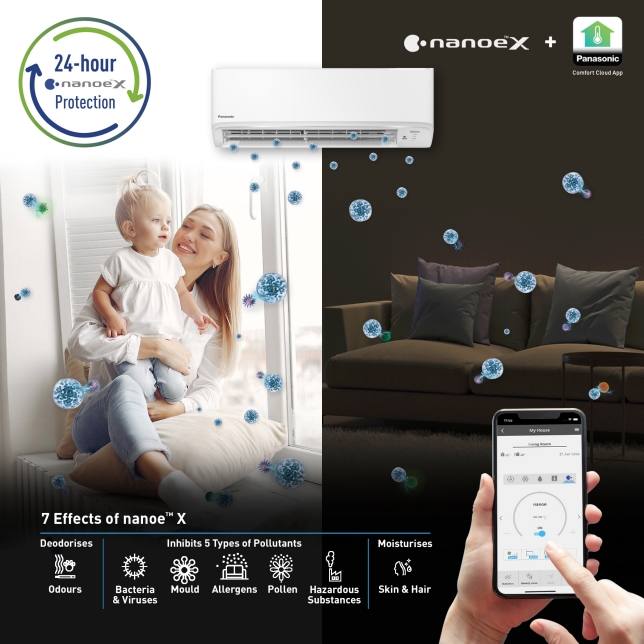 Panasonic is a well-known leading manufacturer of air conditioning systems in Malaysia that offers a wide range of products, including air conditioners. Panasonic air conditioners are known for their reliability, energy efficiency, and advanced features.
The X-Deluxe Inverter Series from Panasonic incorporates the latest nanoe™ X technology. It is accompanied by the Panasonic Comfort Cloud App that ensures the convenience of use and round-the-clock air protection. The POWERFUL mode provides immediate cooling upon activation, while the AEROWINGS facilitate rapid and extended airflow. The AC's inverter technology, R32 refrigerant, and ECO mode allow for energy-efficient cooling without compromising the environment's safety.
Below are some specifications of the Panasonic X-Deluxe Inverter Series Air Conditioner that set it apart from others:
Panasonic Comfort Cloud App allows you to control the AC with your mobile
Nanoe™ X Technology: inhibits various pollutants and deodorises odours
Nanoe-G air purification system
AEROWINGS for further airflow
POWERFUL Mode for faster cooling
ECO Mode with Artificial Intelligence
Energy saving with Inverter
Eco-friendly R32 refrigerant
Compact size: fits anywhere easily
Precise temperature control
2. LG Dual Inverter Deluxe: S3-Q12JA3WA (1.5HP)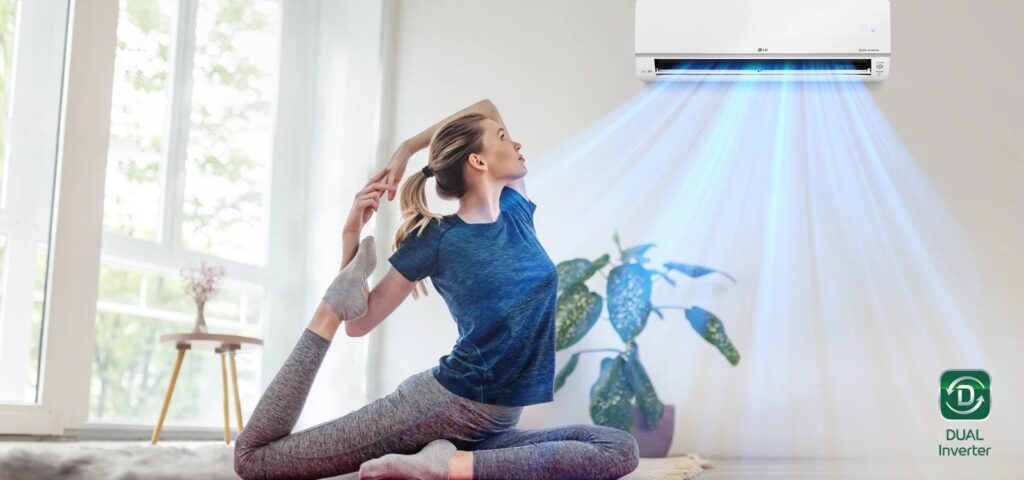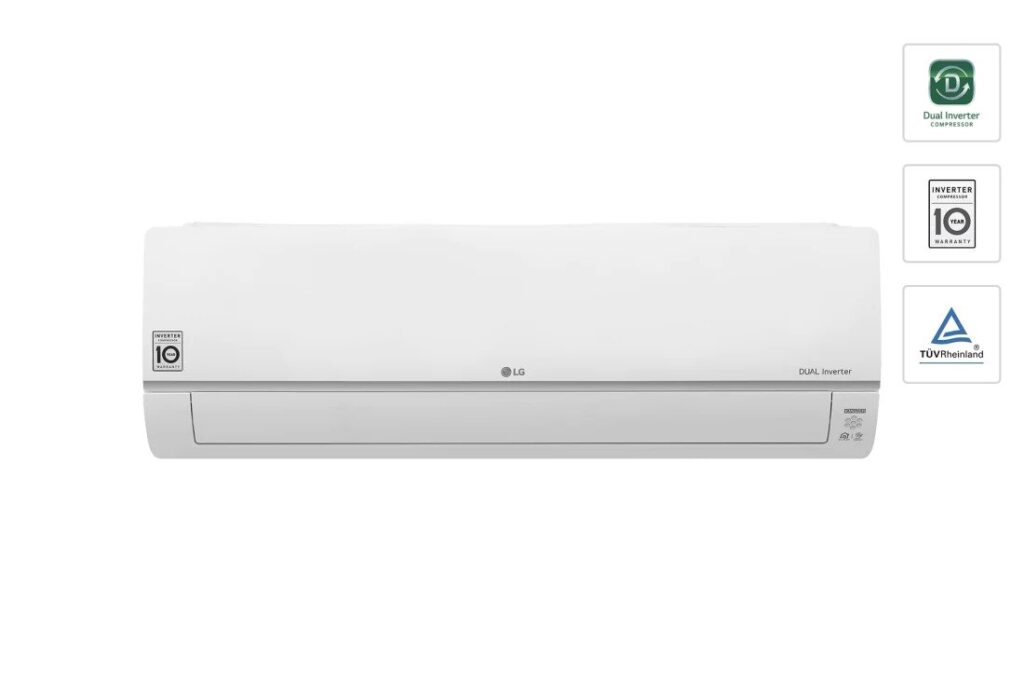 A global manufacturer of electronics, Lucky Goldstar, or LG, is based in Seoul, South Korea. Malaysians trusted this brand because of the minimal designs, reasonable prices, and high quality of their air conditioning systems. Some other qualities that set LG apart from the other best air conditioner brands in Malaysia are the durability of its products and its superior customer support.
Beat this hot weather in Malaysia with the powerful and efficient LG Dual Inverter Deluxe Air Conditioner. Designed with advanced cooling technology and a humidity control system, it's the perfect addition to any home or office. And with its Auto Cleaning mode and double protection filter, you no longer have to worry about respiratory problems.
The LG Dual Inverter Deluxe Air Conditioner features:
Faster and noiseless cooling
Efficient humidity control
Energy saving
Environment friendly
Double protection filter: removes dust particles and traps any dangerous bacteria and fungi
Easy-to-monitor 4 levels of energy consumption
DUAL Inverter Compressor™
Auto Cleaning function
Quick and easy installation
Safety against voltage fluctuation
10-year warranty on the compressor
3. Hisense R32 Standard: AN09CBG (1.0HP)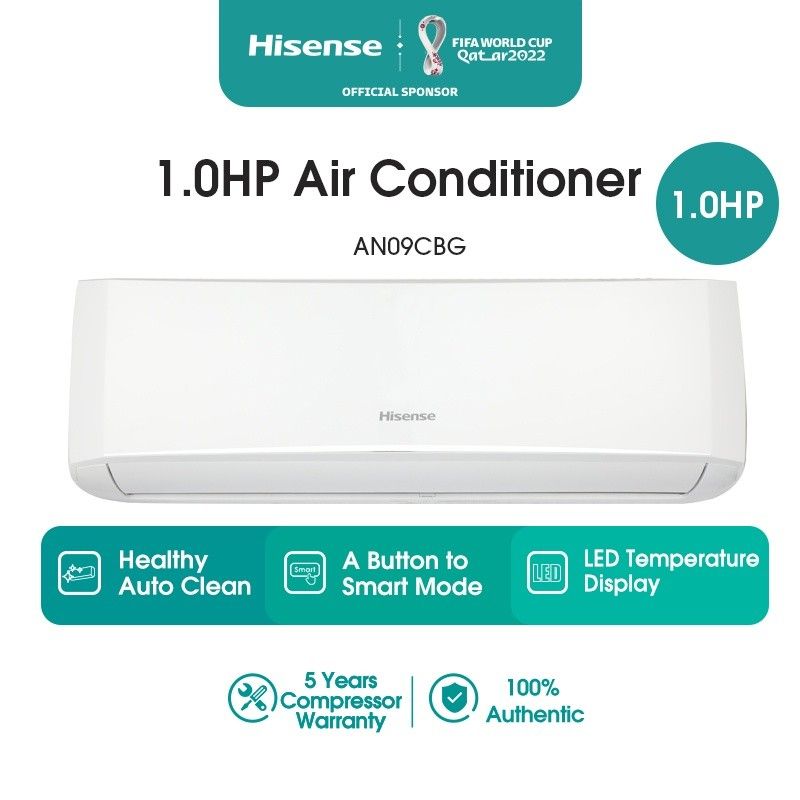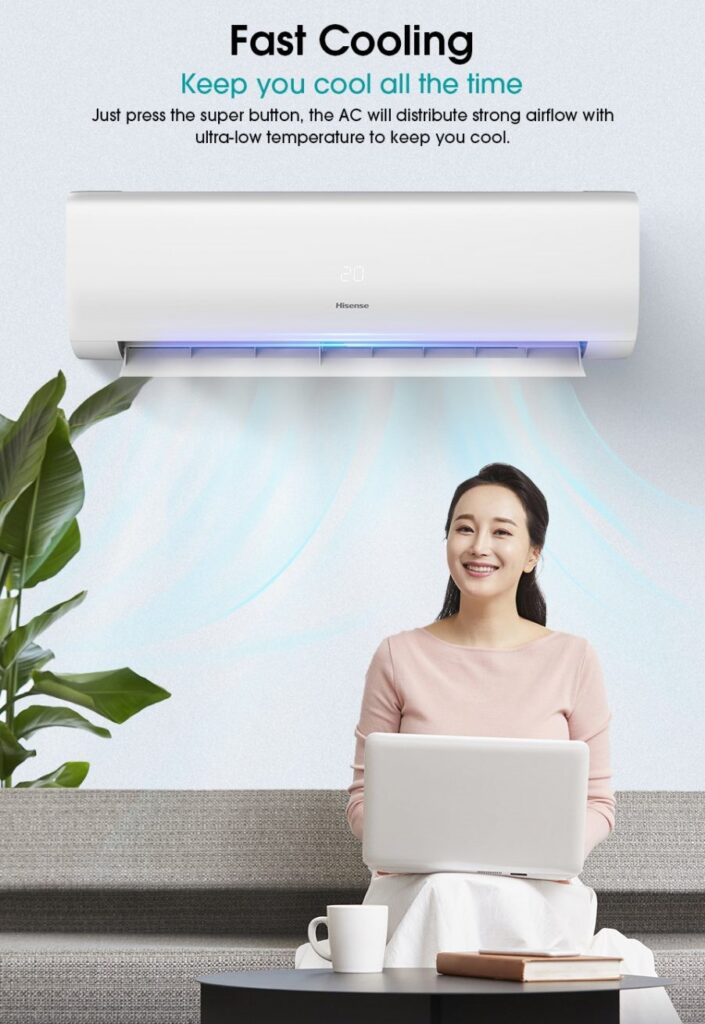 Hisense is a global electronics brand that was founded in 1969 in China. It has grown to become one of the largest manufacturers of consumer electronics and home appliances in the world. With a focus on innovation, quality, and affordability, Hisense offers a wide range of products including televisions, refrigerators, washing machines, air conditioners, and more.
Experience the ultimate in comfort with the Hisense R32 Standard Air Conditioner. Designed with the latest technology and a sleek, minimalistic design, this air conditioner is the perfect choice for anyone looking to stay cool and comfortable in Malaysia. Its energy-saving features let you enjoy comfort all day without worrying about energy bills.
The Hisense R32 Standard Air Conditioner has these cool features:
Smart Mode
Super Quiet Mode: noise levels as low as 25 dB
Auto Clean
LED Display
Gas Leakage Detection
Anti Mildew Running
Multiple Purification Technology
4. Samsung WindFree™ Premium Plus: F-AR1-3BYEAAWK (1.5HP)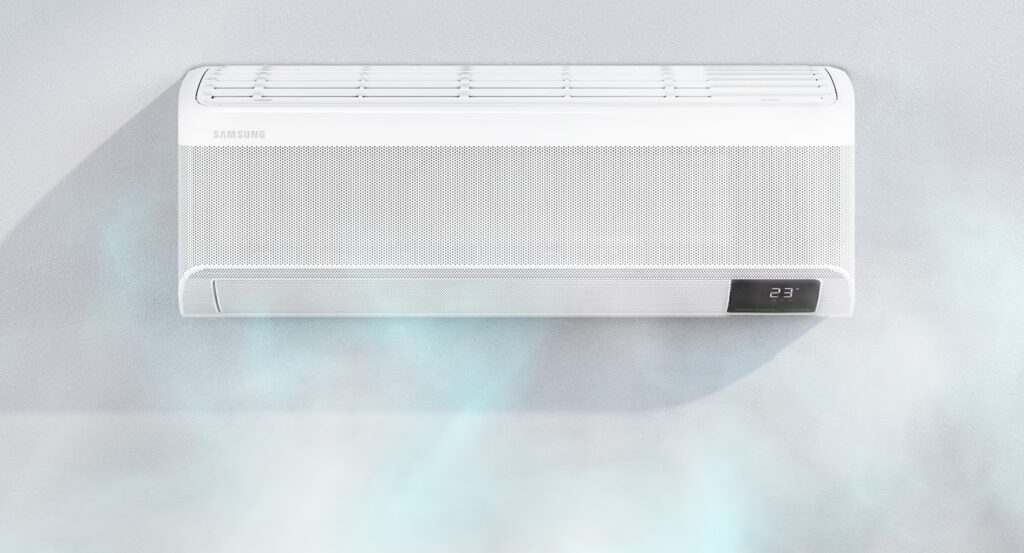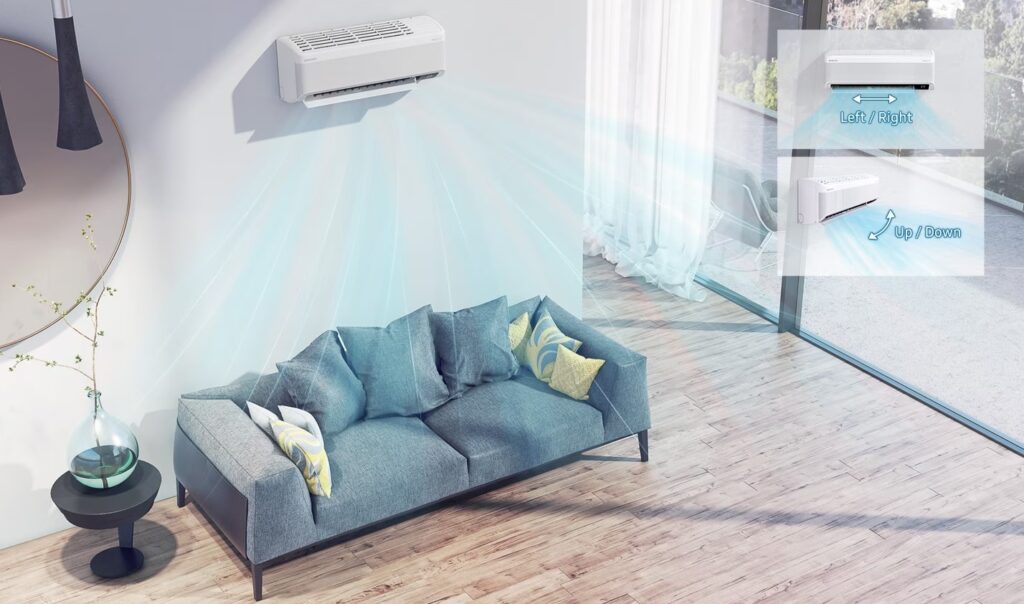 Samsung is a leading global technology company known for its diverse range of electronic products. In the realm of air conditioners, Samsung offers a wide selection of models renowned for their cutting-edge technology and reliable performance. With a focus on energy efficiency, smart features, and sleek design, Samsung air conditioners provide efficient cooling and comfort for residential and commercial spaces.
Looking for a reliable and intelligent way to keep yourself cool this summer? Look no further than the Samsung WindFree™ Premium Plus Air Conditioner. With WindFree™ Cooling, Digital Inverter Boost technology, and AI Auto Cooling, this smart air conditioner is sure to take your air conditioning experience to a whole new level. And with a sleek, modern design and convenient Wi-Fi control, it's the perfect blend of style, comfort, and function.
Some essential features of the Samsung WindFree™ Premium Plus Air Conditioner are:
WindFree™ cooling: gentle and uniform airflow
Tri-Care Filter
ECO Mode
Digital Inverter Boost technology: 43% faster cooling
Dehumidification mode
AI Auto Cooling
Energy saving: uses up to 77% less electricity
WindFree™ Good Sleep mode
Less noise
Freeze Wash
Corrosion-resistant DuraFin™ Heat Exchanger
Triple Protector Plus: protection against harsh conditions and voltage fluctuation
Environmentally friendly refrigerant
Auto Clean
Wide airflow with 4-way auto swing
Smart control with SmartThings app
5. Daikin FTKU Series Deluxe: FTKU35AV1LF (1.5HP)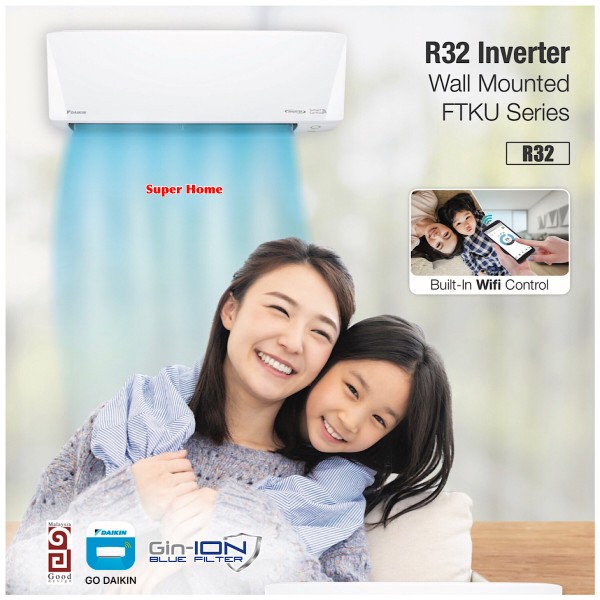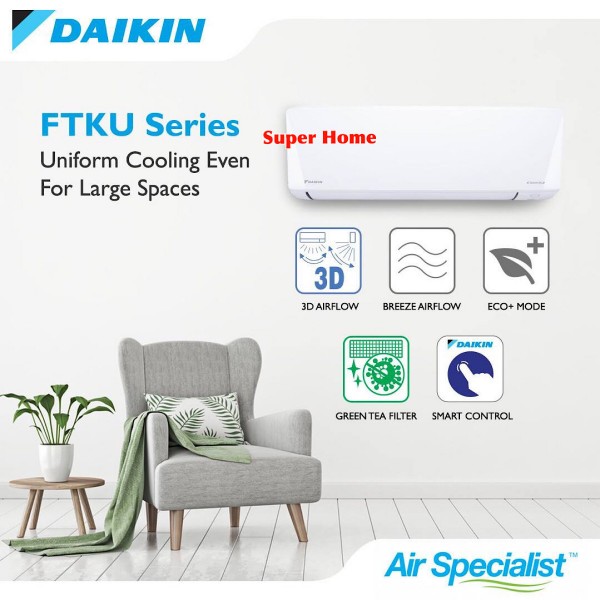 Daikin Malaysia is a subsidiary of Daikin Industries Ltd., a leading global air conditioning and refrigeration company. Established in Malaysia, Daikin has become a trusted name in the local market for its innovative and reliable air conditioning solutions. With a commitment to energy efficiency, comfort, and sustainability, Daikin Malaysia offers a comprehensive range of air conditioners tailored to meet the diverse needs of Malaysian consumers and businesses.
Daikin's FTKU Series is an advanced air conditioning system that is designed to meet all your cooling needs. It provides a unique and comprehensive comfort experience suited to any lifestyle. FTKU Series combines diverse unique airflow patterns to provide optimum cooling environment for your home.
Some prominent features of the Daikin FTKU Series air conditioners are the following:
Ozone-friendly R32 refrigerant
Smart Control (Daikin Mobile Controller)
3D Airflow and Breeze Airflow
Eco+ Mode
Gin-Ion Blue Filter
6. Mitsubishi Electric Mr. Slim JS Series: MSY-JS13VF (1.5HP)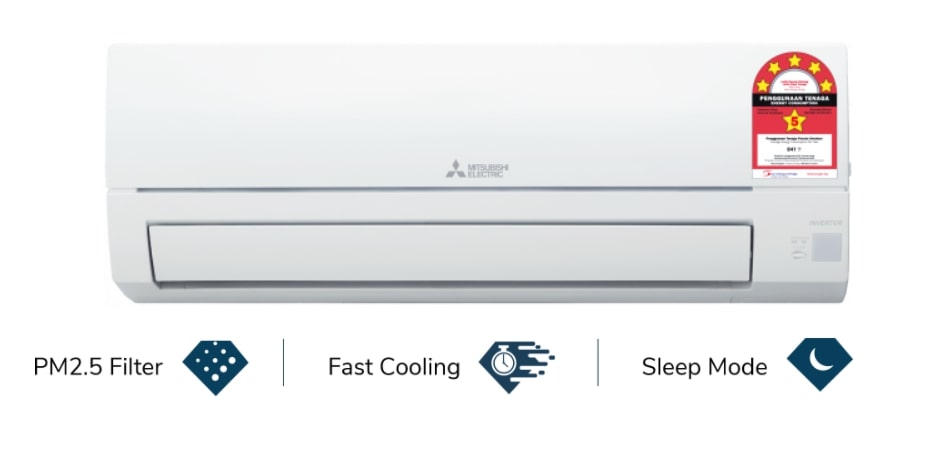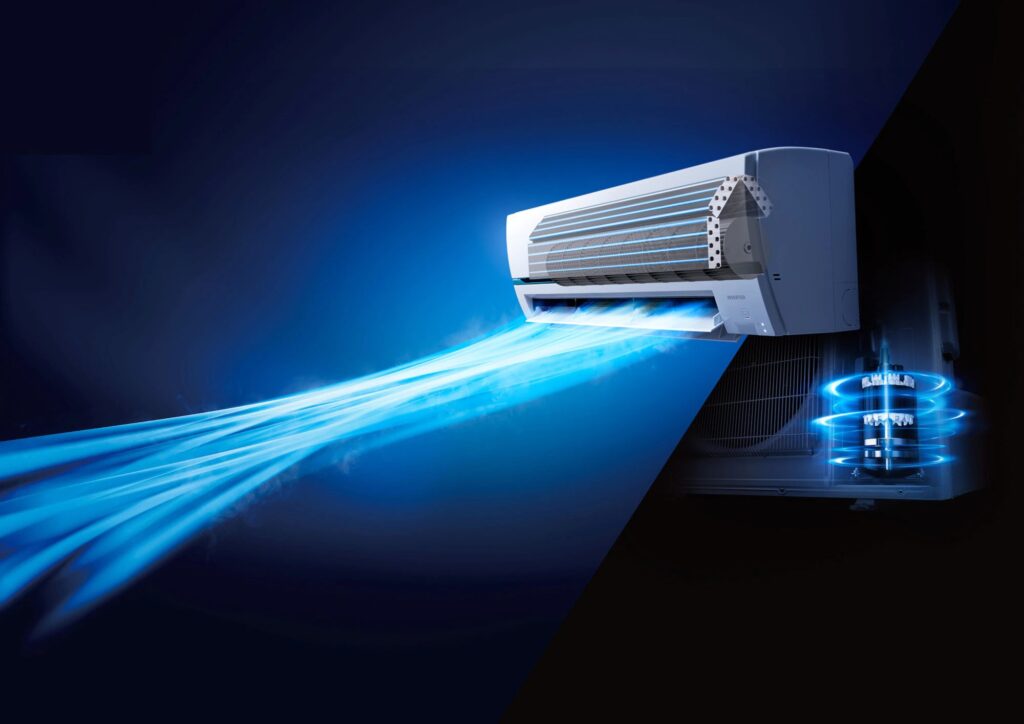 Mitsubishi Electric Malaysia is a subsidiary of Mitsubishi Electric Corporation, a renowned global electronics and electrical equipment company. With a strong presence in Malaysia, Mitsubishi Electric offers a wide range of products, including air conditioners, for residential, commercial, and industrial applications. Known for their advanced technology, energy efficiency, and reliability, Mitsubishi Electric air conditioners are trusted by consumers and businesses in Malaysia for their superior performance and comfort.
The latest air conditioner series from Mitsubishi Electric, the Mr. Slim JS Series will revolutionise the way you cool down during hot weather. This R32 inverter air conditioner is designed to provide fast and efficient cooling for your home or office, all while operating quietly in the background. The AC's sleek design and easy-to-clean components make maintenance a breeze, so you can focus on staying cool and comfortable. With the Auto Fan Mode, you can easily adjust the direction of the airflow to suit your needs.
Here are some features of the Mitsubishi Mr. Slim JS Series air conditioners:
R32 Inverter
Fast Cooling
Air Filter (Prefilter)
Microparticle Catching Filter (PM2.5)
Auto Restart
Blue Fin Condenser
LCD Wireless Remote Controller
7. Acson Avory Premium Wall Mounted Series: A3WMY15APF (1.5HP)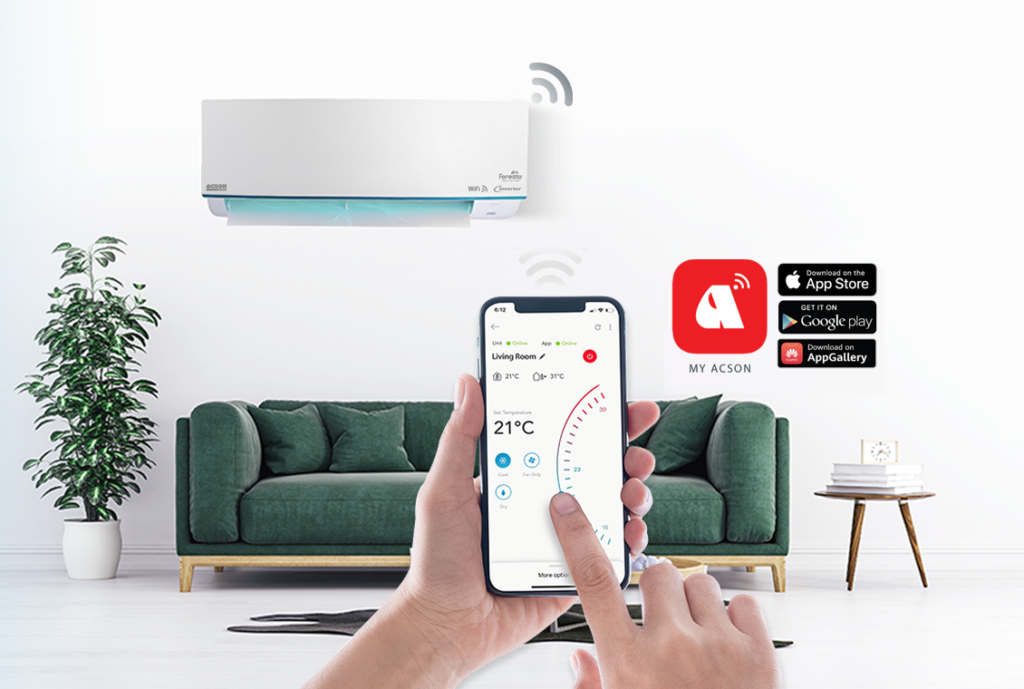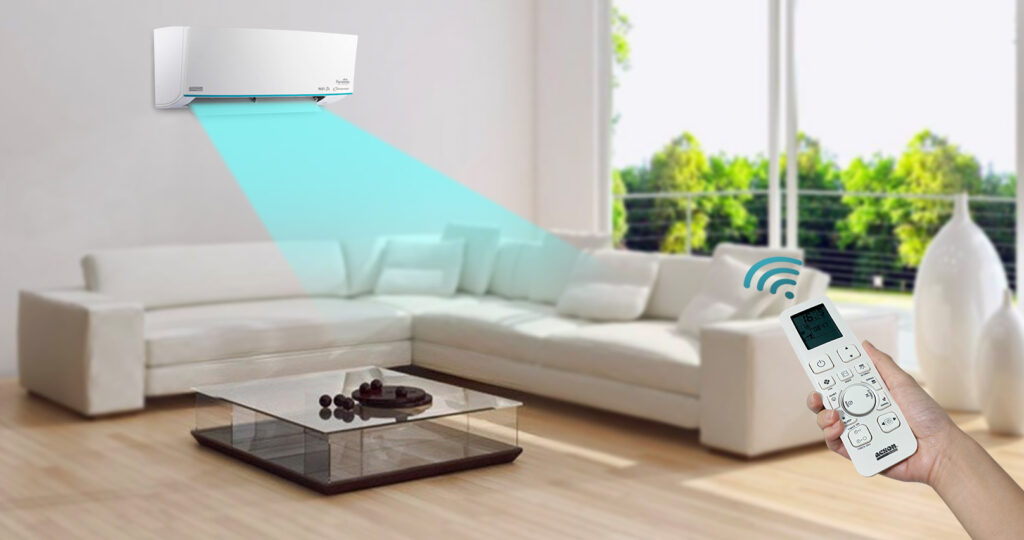 Acson is an exclusively Malaysian air conditioning brand that is known worldwide. It is a subsidiary of Daikin Malaysia. Acson has persisted in offering cutting-edge technologies and a superior cooling experience to Malaysians through its air conditioners. You can even enjoy the natural breeze of the forest in your room, all thanks to the brand's recently developed Foresto Technology.
The Avory Premium Wall Mounted Series from Acson is the perfect combination of style, comfort, and innovation. The air conditioner is equipped with Foresto Technology, which creates the feeling of being surrounded by a lush green forest and breathing in the clean, fresh air. And for those quiet evenings at home, its Silent Mode ensures a peaceful night's sleep by reducing the sound level to an almost undetectable 19 dBA. Trust us, you won't even know it's there!
The Acson Avory Premium Wall Mounted Series has the following specifications:
Foresto Technology
5-star energy efficiency rating with iSave: can save up to 48% of energy
Silent Mode: can achieve as low as 19 dBA
Powerful 3D airflow
R32 greenery refrigerant
PLUSMA (cold plasma technology): deodorize, sterilize, and purify
Filtronz+ filter and HEPA filter
Built-in WiFi
Voice control with Alexa
iSenz+ : detects human presence to direct cool air to the high-temperature region
iTurbo+ : maximum cooling mode for 20 minutes
Multi-functional controller
Sleep Mode
8. Haier R32: HSU-25VQC22 (2.5HP)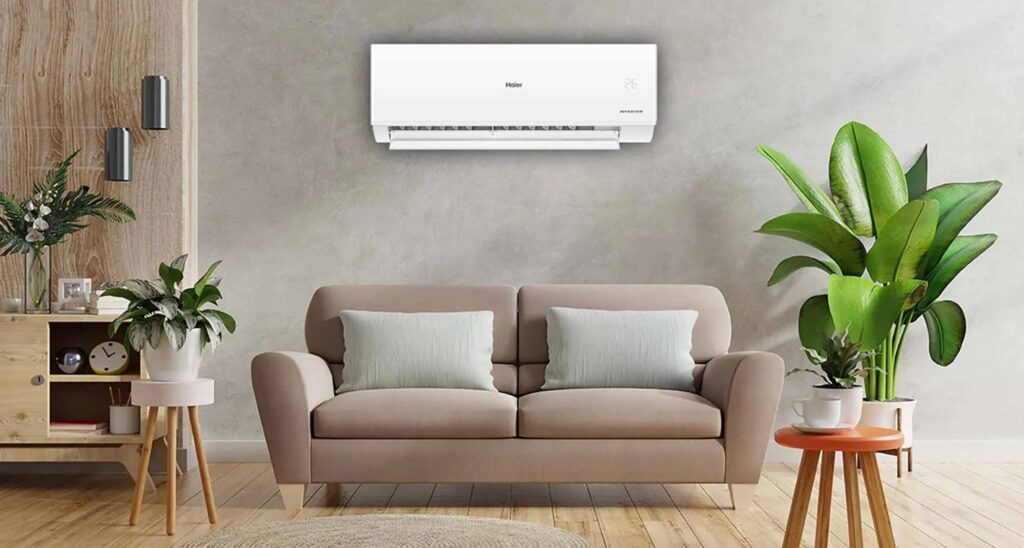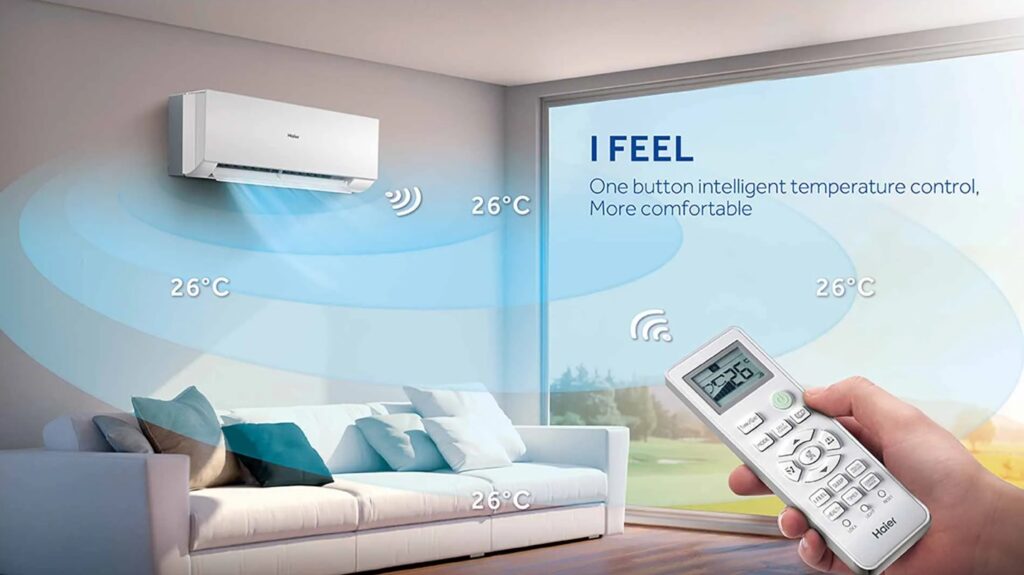 Haier Malaysia is a subsidiary of Haier Group, a multinational home appliances and consumer electronics company based in China. Haier Malaysia offers a diverse range of home appliances, including air conditioners, known for their innovative features, reliable performance, and energy efficiency. With a strong commitment to customer satisfaction, Haier Malaysia provides quality products that cater to the needs of Malaysian consumers, ensuring comfortable and sustainable cooling solutions for residential and commercial spaces.
Whether you're looking to cool a single room or your entire home, this air conditioner from Haier has you covered. With its adjustable louvers and Triple Strong Airflow, it delivers refreshing cool air wherever you need it the most. Moreover, the air conditioner's one-button intelligent temperature control system allows you to customize the perfect temperature for your space easily.
Here are some distinguishing features of this air conditioner:
Inverter technology
R32 refrigerant
Triple Strong Airflow: faster and uniform cooling
UVC sterilization
Anti-corrosion material
Upto 63% energy saving
SmartClean – Cold Expansion Technology
Easy to disassemble and clean
I FEEL: one button intelligent temperature control
Warranty: 10 years for the compressor and 3 years in general
9. Sharp J-Tech Inverter: AHX9VED2 (1.0HP)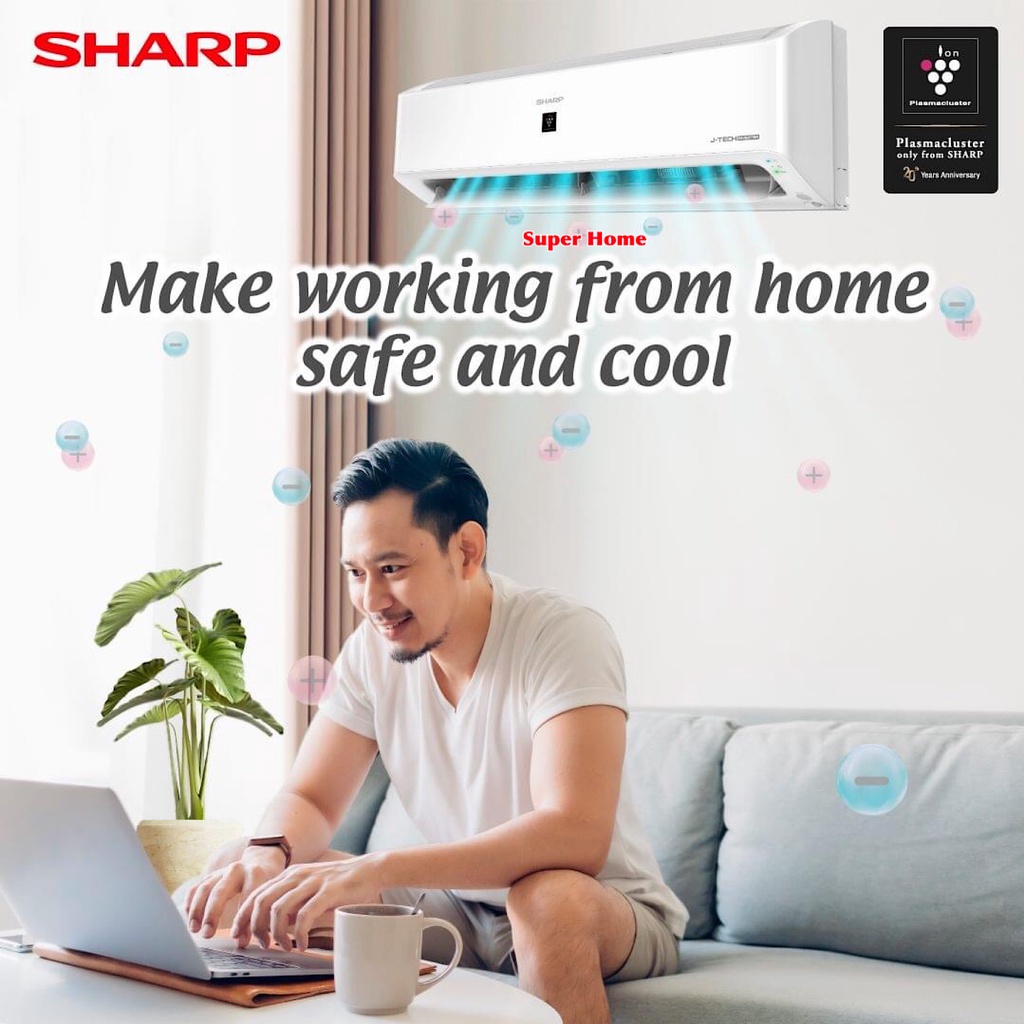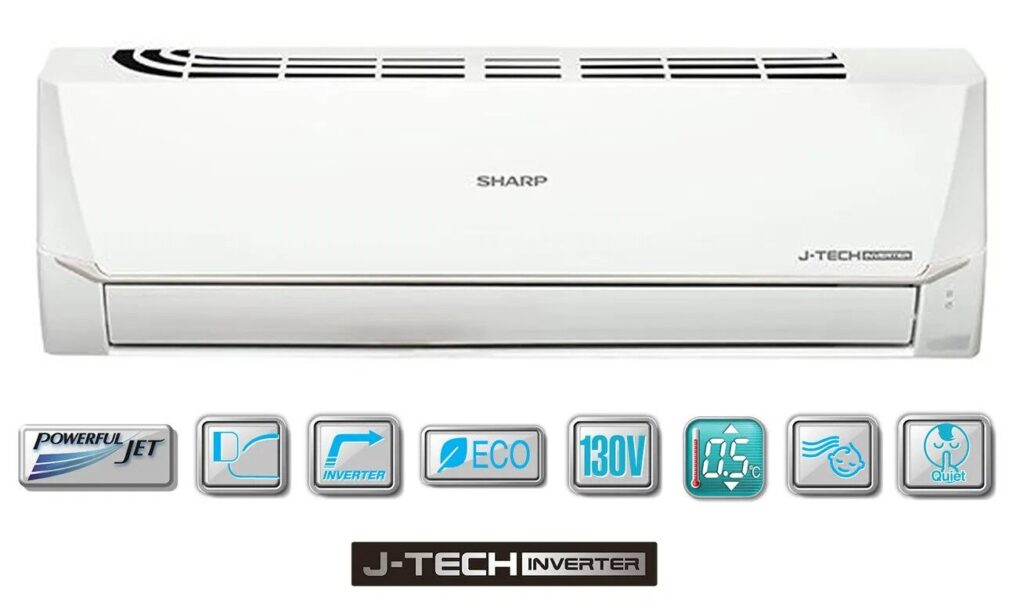 Sharp Malaysia is a subsidiary of Sharp Corporation, a renowned Japanese electronics company. With a strong presence in Malaysia, Sharp offers a wide range of products, including air conditioners, known for their technological innovation and reliable performance. Sharp air conditioners in Malaysia are designed to provide efficient cooling, energy savings, and enhanced comfort for homes and businesses across the country.
Experience ultimate comfort combined with efficient cooling with the Sharp J-Tech Inverter Air Conditioner. Its Super Jet Mode which creates strong blast of chills air in no time. It's proprietary J-Tech Inverter Technology controls power consumption into energy saving and energy-efficient operations to create a cool and pleasant environment for your home.
Some of the distinct features of the Sharp J-Tech Inverter Air Conditioner are:
J-Tech Inverter Technology
Super Jet Mode
Comfortable long airflow coanda technology
Eco Mode
14C Lowest Temperature Setting
10. Toshiba Air Conditioner: RAS-H10J2KG (1.0HP)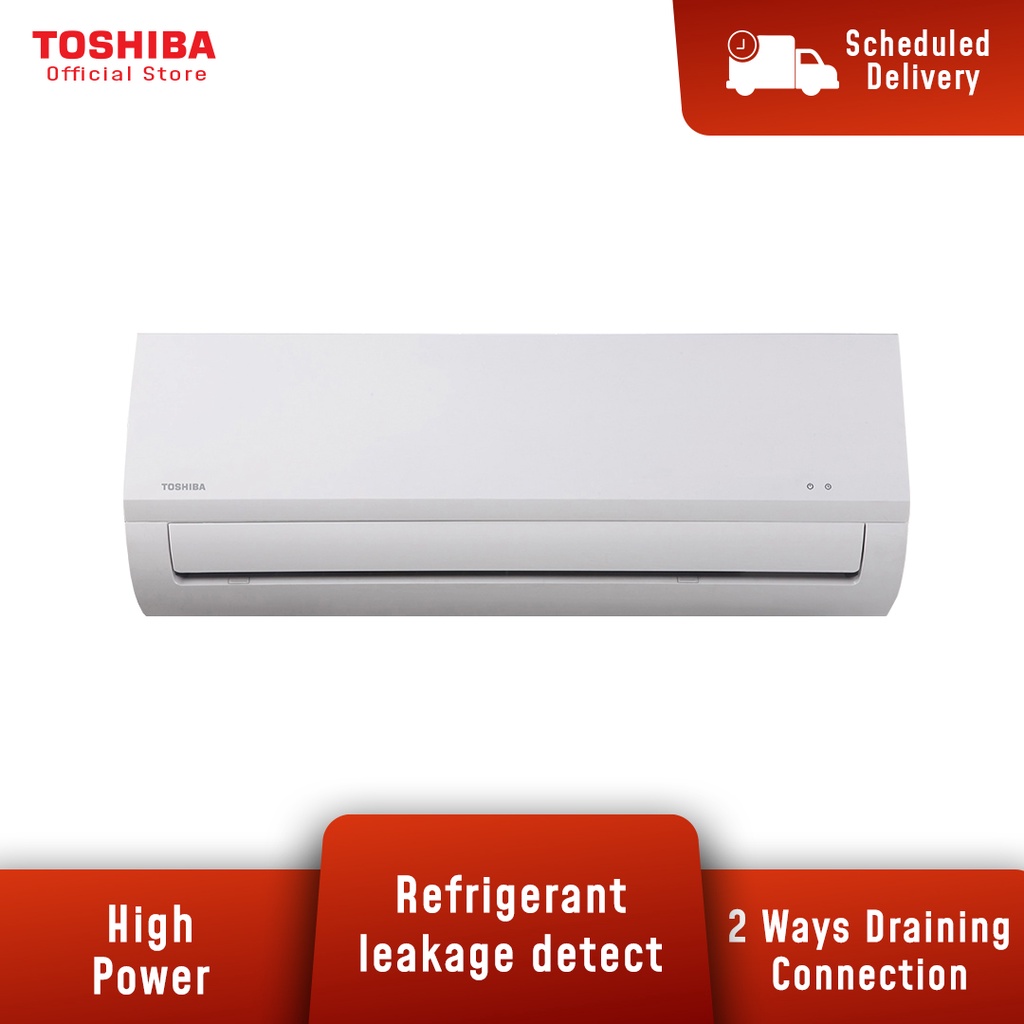 Toshiba Malaysia is a subsidiary of Toshiba Corporation, a respected Japanese multinational conglomerate known for its wide range of electronics and home appliances. In Malaysia, Toshiba offers a diverse lineup of products, including air conditioners, recognised for their technological advancements and quality. With a focus on energy efficiency, durability, and user-friendly features, Toshiba air conditioners in Malaysia provide reliable cooling solutions for residential and commercial applications.
Toshiba air conditioners are designed to provide efficient cooling, advanced air filtration, precise temperature control, and user-friendly operation, ensuring optimal comfort and air quality in any space.
The Toshiba Air Conditioner features are:
ECO Sleep Mode
Refrigerant Leakage Detection
2 Ways Draining Connection
Fast Cooling Speed
Features of a Good Air Conditioner
Before you buy an air conditioner for your home, there are many features to consider to ensure the best pick. We have provided a list of these features below:
1. High Energy Efficiency Ratings and Eco-friendly Design
A good air conditioner should be energy efficient. This implies that it should use less energy to ensure that you can save money on your electricity expenses in the future. Look for models with Energy Star certification or other recognised energy efficiency ratings. Features such as variable speed compressors, advanced thermostats, inverter technology, and optimised airflow design also ensure maximum energy efficiency. Furthermore, make sure your air conditioner is eco-friendly too. For example, the ozone-friendly refrigerants used in modern ACs minimize their environmental impact. So, look for an air conditioner with a refrigerant that has a zero ODP (ozone depletion potential) value.
2. Low Noise Level During Operation
The consistent humming sound of an air conditioner can be quite disturbing, especially at night. So, if you are buying an air conditioner for your bedroom, it is crucial to consider noise levels to promote better sleep quality. It is advisable to opt for an air conditioner with low noise levels during operation. This will ensure a peaceful environment for sleeping, studying, or working. Look for models with low decibel (dB) ratings. Additional features such as variable speed fans and noise-reducing insulation also contribute to quieter air conditioner operation.
3. Effective Air Filters to Remove Pollutants
Indoor air pollution can be a serious problem, especially for people with allergies or respiratory problems. Therefore, a good air conditioner should have effective air filters to remove pollutants, such as dust, pollen, smoke, and pet dander, from the air. Look for a model with HEPA filters or some other advanced filtration system. These filters work by capturing pollutant particles as they pass through the air conditioner, preventing them from circulating through the room. In addition to improving air quality, air filters can also help an air conditioner run more efficiently. They prevent the buildup of dirt or debris on the unit's coils and other components. Consequently, it reduces the need for costly repairs and prolongs the lifespan of the air conditioner.
4. Humidification and Dehumidification Mode
The indoor air in Malaysia has a high level of humidity, usually hovering around 75%, regardless of the time of year. It can lead to problems like mould growth, musty odours, and increased levels of allergens in your house. An air conditioner with a dehumidification mode can help address these issues by reducing the moisture levels in the air. However, excess dehumidification can dry the air out. It causes discomfort and health issues such as dry skin and respiratory problems. Therefore, a good air conditioner should have both humidification and dehumidification modes to maintain optimal humidity levels. Look for models with adjustable humidity settings. Some air conditioners even come with automatic humidity control to ensure maximum comfort.
5. Powerful Airflow
A good air conditioner should have powerful airflow. It should be able to cool your room quickly and efficiently. Look for models with high BTU (British Thermal Unit) ratings or features such as variable speed fans and multi-directional airflow. The multi-directional airflow technology ensures that cool air is circulated to every corner of your room for uniform cooling. Moreover, powerful airflow provides maximum cooling power and prevents any hot or cold spots in your room.
6. Programmable Settings
A good air conditioner should have programmable settings to maximise energy efficiency, convenience, and flexibility. Such Air conditioners allow you to set schedules and temperature preferences and also let you choose your suitable energy consumption levels. Look for models with programmable thermostats, timers, sleep modes, energy-saving modes, auto-restart features, smart home integration functions, and other advanced settings. These will ensure customised comfort and energy savings.
7. Remote Control and Smart Control
A good air conditioner should have remote control and smart control options to provide you with greater convenience, customisation, energy savings, and integration with other smart home systems. With a remote control, you can adjust the temperature, fan speed, and other settings from the comfort of your couch or bed. Even better, with a mobile app, you can control your air conditioner from anywhere at any time. You don't have to be in the same room as the AC or even at home to adjust the settings. Many of these apps are designed to work with smart home systems, such as Amazon Alexa or Google Home. They allow you to control your air conditioner with your voice or by setting up routines and automation. When buying, look for models with Wi-Fi connectivity, mobile app control, and voice control compatibility to ensure easy operation from anywhere.
8. Inverter Technology
Inverter technology is an advanced feature in modern air conditioners that allows them to adjust their cooling outputs based on the temperature needs of the rooms. This feature not only provides you with the optimal temperature for your room but also saves you from costly bills in the future. A good air conditioner should have inverter technology to ensure maximum energy efficiency and comfort. Look for inverter models with variable-speed compressors and advanced control systems to ensure optimal performance.
9. Multiple Operations
A good air conditioner should have multiple operations to allow maximum versatility. For example, many modern air conditioners also function as heaters, fans, or dehumidifiers in addition to their cooling function. Similarly, some air conditioners even come with ventilating and air purification functions. Look for models with multi-function capabilities to ensure maximum value.
10. Easy-to-clean and Maintain Components
A good air conditioner should have components that are easy to clean and maintain. It not only ensures the longevity and efficiency of the AC but also saves you money on regular maintenance by experts. Look for models with removable and washable filters. There must be easy access to internal components for handy cleaning. Some modern air conditioners don't even need maintenance as they come with self-cleaning or auto-cleaning functions.
Final Thoughts
We hope this information has helped you learn more about the best air conditioners for your home in Malaysia. Almost all of the brands we've mentioned are globally renowned, with their units functioning in Malaysia as well. We've also listed the air conditioner models of these brands that we've found to be the best among others. Now, it's time to select the best one out of these and order a new AC for your home!