Nestled amidst Malaysia's lush jungles and breathtaking landscapes, the quest for pure refreshment takes on a new meaning. Picture yourself in the heart of nature, with the soothing sounds of a cascading waterfall in the background, a gentle breeze in the air, and a crystal-clear stream before you. There's nothing quite like sipping from the source, but even in the wilderness, ensuring your water is safe and pure is paramount.
In this quest for untamed purity, we've scoured the Malaysian market to uncover the "9 Best Outdoor Water Filters" that will redefine your outdoor adventures. From the dense forests of Taman Negara to the heights of Mount Kinabalu, these filters are your companions for clean, refreshing hydration.
Features of a Good Outdoor Water Filter
A good outdoor water filter has the following features:
Advanced Filtration Technology: A reliable outdoor water filter should employ cutting-edge filtration methods, such as activated carbon and microfiltration, to remove contaminants and provide safe drinking water, ensuring every sip is pure and refreshing.
Portability and Lightweight Design: Outdoor adventures demand equipment that won't weigh you down. Look for a water filter that is compact, lightweight, and easy to carry, ensuring it won't hinder your exploration.
Long-lasting Durability: When you're in the great outdoors, you need gear that can withstand the elements. A good outdoor water filter should be built to last, with robust construction and materials that can handle rugged terrain and frequent use.
High Flow Rate: Time is precious when you're on an adventure. Opt for a water filter with a high flow rate, allowing you to quench your thirst quickly and efficiently, so you can get back to exploring.
User-Friendly Maintenance: Cleaning and maintaining your filter should be hassle-free. A quality outdoor water filter should have easy-to-follow maintenance procedures, making it a practical and reliable companion for your outdoor escapades.
Our Selection of 9 Best Outdoor Water Filters in Malaysia
Let's find the perfect outdoor water filter, so you can savour every drop of nature's elixir without worrying.
1. Nesh Membrane Queen Outdoor Water Filter
This breakthrough innovation effectively combats harmful impurities present in your tap water, ensuring safe and clean water at every faucet. Bid farewell to the inconvenience of yellowish tap water, even during water disruptions. The Nesh Membrane Queen preserves the integrity of your home's water system, preventing sediment build-up in pipes, water tanks, and water-using appliances, thus extending their lifespan and saving you money. Your health is our priority, and this remarkable water filter safeguards your skin, teeth, and mouth from irritations and allergies caused by impure tap water.
Thanks to its ultra-filtration technology, it captures particles as minuscule as 0.01 microns, including invisible bacteria. Enjoy a worry-free experience with 3X faster water output without compromising your water pressure. Maintenance is a breeze with DIY care, and the durable, rust-resistant stainless steel casing ensures longevity. The Nesh Membrane Queen, equipped with anti-leaking double-lock technology, offers the ultimate solution for water quality and purity in Malaysia.
Here are the highlights of the Nesh Membrane Queen Outdoor Water Filter's amazing features:
Harmful Impurity Blocker
Crystal Clear Water
Prolongs Appliance Life
Skin-Friendly
Ultra-Filtration Tech
High Flow Rate
DIY Maintenance
Durable Steel Casing
Anti-Leak Design
2. Intact Ultra Flow+ Outdoor Water Filter
Discover the ultimate outdoor water filtration solution with the Intact Ultra Flow+ Water Filter. Powered by cutting-edge Ultra Filtration Technology, this robust system boasts an impressive flow rate of 5500 litres per hour, ensuring a rapid supply of crystal-clear water. With filtration efficiency down to an astonishing 0.01 microns, it provides double protection, eliminating impurities such as dirt, rust, sediment, and harmful bacteria. Crafted from high-grade, fully SUS 304 stainless steel, it's not only durable but also chemically resistant and rust-free.
The HPVC Ultra Filtration Membrane System is your defence against impurities, and it can even handle Malaysia's scorching heat. Thanks to its reinforced HPVC membrane, it can withstand up to 10kg with a single fine membrane. This 4th generation system, with 96 holes on a solid-mesh surface, guarantees a high flow rate and is heat-resistant. Made from 100% non-toxic ABS material, it is extra durable and effective against soil, bacterial sediment, viruses, and harmful microorganisms.
Here are the highlights of the Intact Ultra Flow+ Outdoor Water Filter's amazing features:
Ultra Filtration Technology
High Flow Rate
Stainless Steel Build
0.01 Micron Filtration
Chemi-Resist & Durable
HPVC Membrane System
4th Gen Solid-Mesh
Heat-Resistant
100% Non-Toxic Material
Effective Against Impurities
3. 3M AP902 Outdoor Water Filter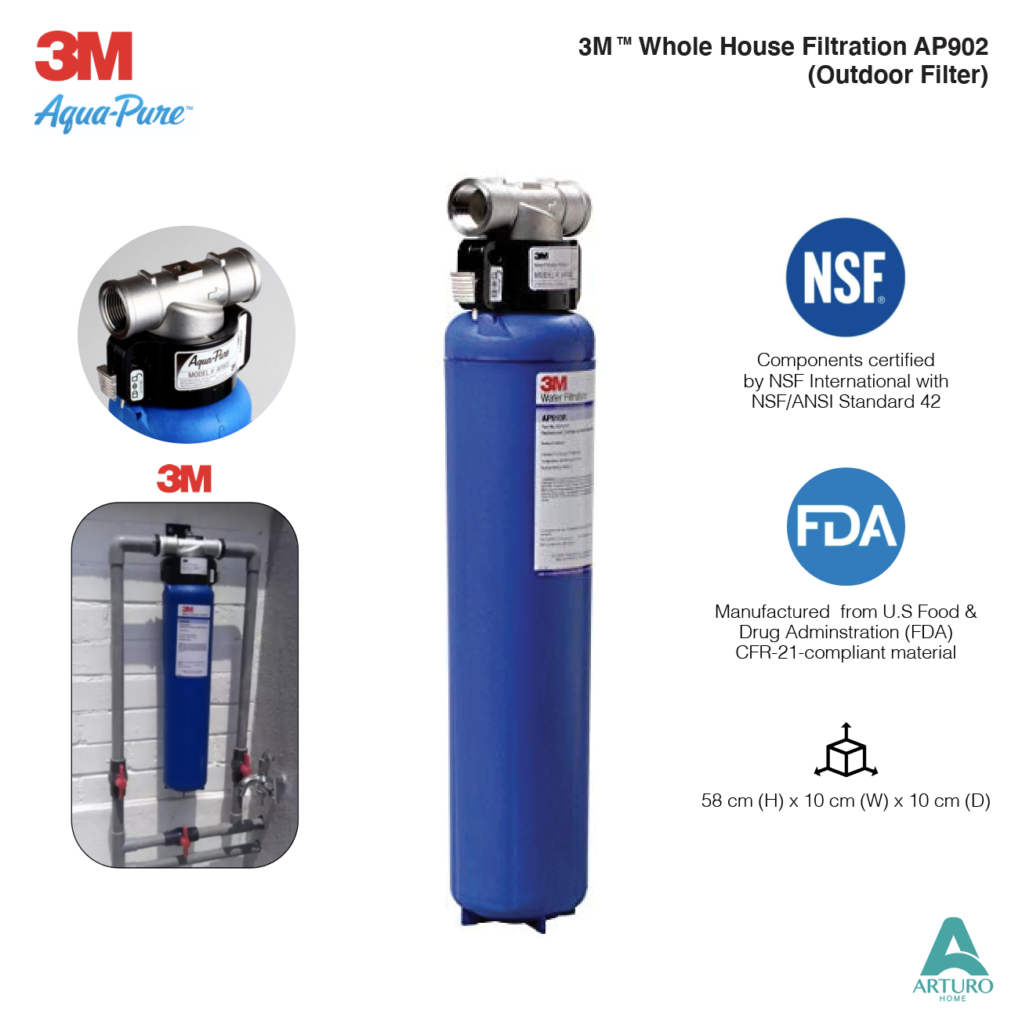 This robust system ensures that from the moment water enters your home, it undergoes advanced single-stage filtration for high output, guaranteeing pure, clean water at every tap. Certified by NSF International to meet NSF/ANSI Standard 42, this filter is your assurance of water safety. Its fully enclosed filter media prevents spillage and mess, while the Sanitary Quick Change (SQC) design facilitates easy cartridge change-out.
Crafted with a 304 stainless steel head and a die-cast zinc locking latch, this filter system is built to withstand the test of time, resisting rust and degradation even when exposed to water for extended periods. It removes visible and invisible dust and sediment particles as small as 5 microns from your water, safeguarding your fixtures and tiles from clogging and discolouration. Enjoy clean, hassle-free filtration with 3M AP902 and the added peace of mind from its 10-year limited system warranty.
Here are the highlights of the 3M AP902 Outdoor Water Filter's amazing features:
Advanced Single-Stage Filtration
NSF Certified
No-Spill, No-Mess Design
Sanitary Quick Change
Durable Stainless Steel
5μm Filtration
10-Year Warranty
Reliable Defense System
4. BACFREE ER19M Stainless Steel Outdoor Water Filter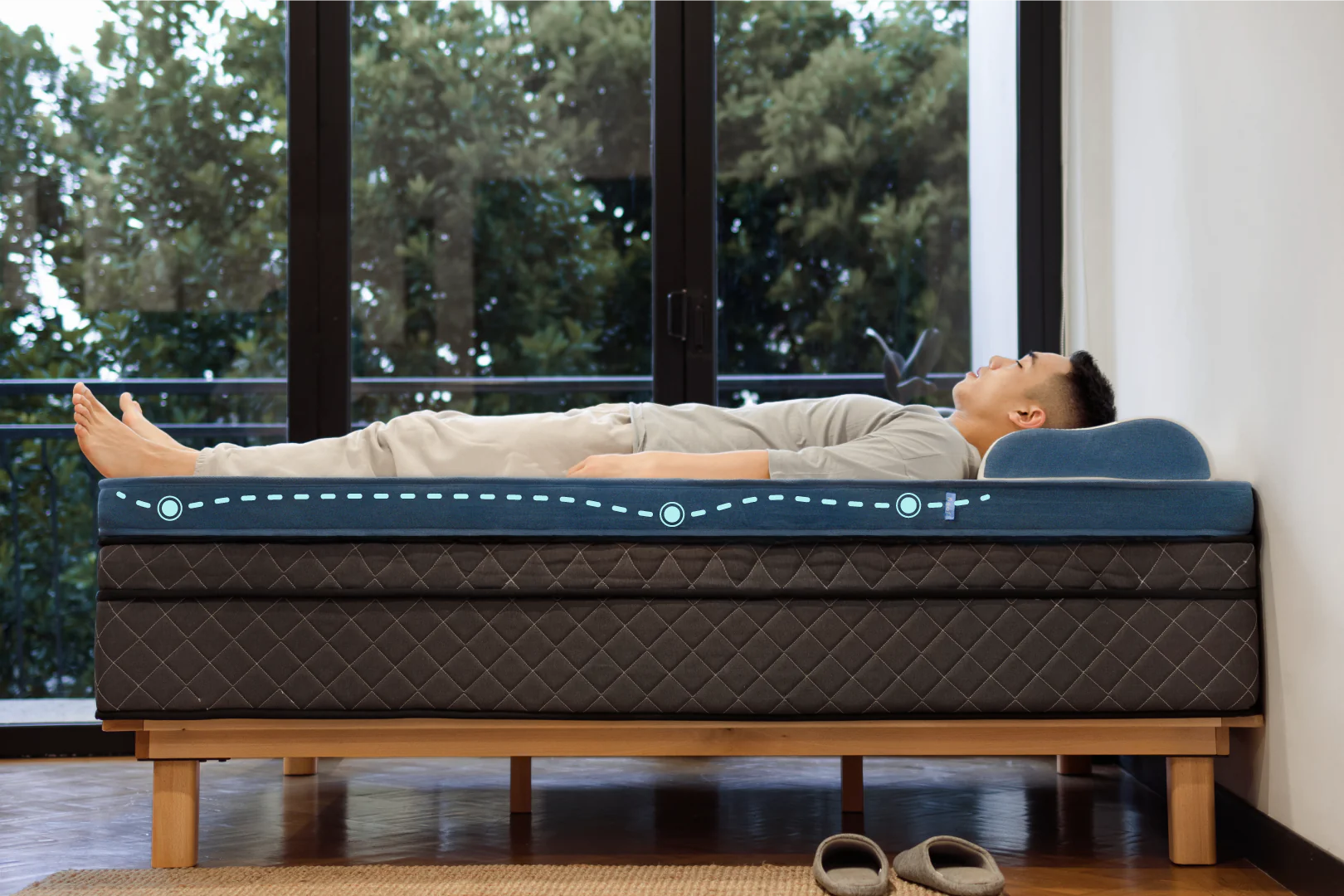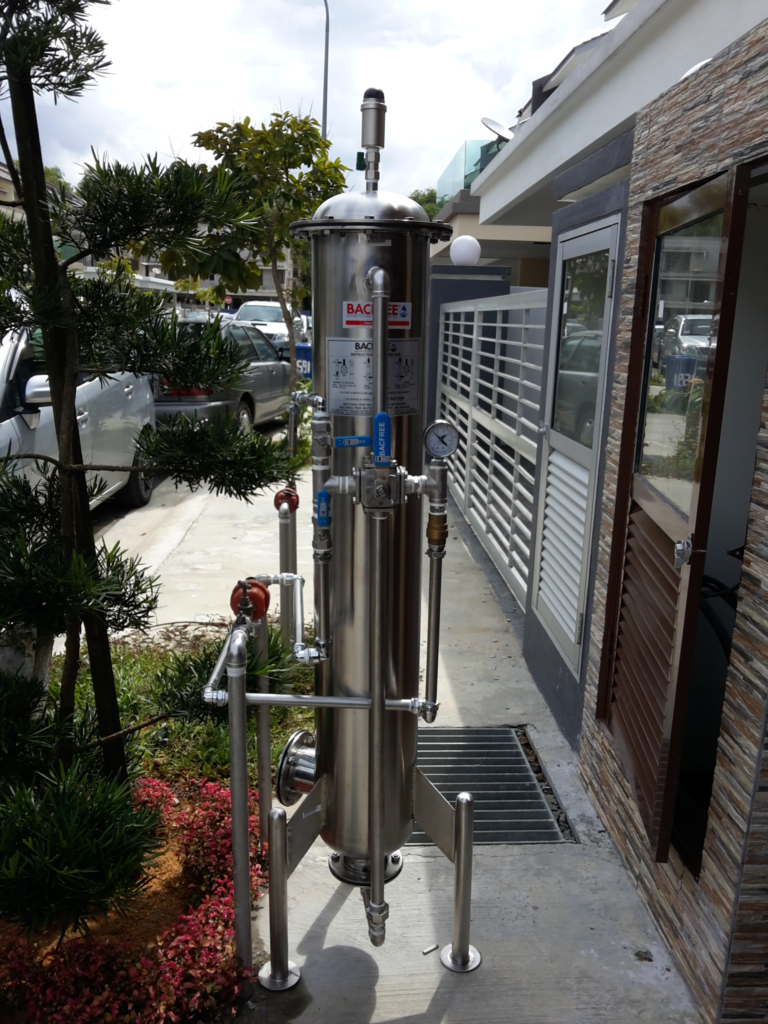 BACFREE ER19M Stainless Steel Outdoor Water Filter – ER-series filter, designed for households and light industrial use, addresses impurities in municipal-treated water supplies at the point of entry. Enjoy the peace of mind that comes with a 10-year casing warranty and a 5-year media warranty, and benefit from added perks such as a free water tank cleaning service, water test service with a comprehensive report, and mystery gifts.
The ER19M, with a maximum flow rate of 2.0m3/hr, is ideal for single-storey intermediate houses serving 4-5 occupants. Its multi-media filtration system, featuring activated carbon, anthracite, fine quartz sand, medium and coarse quartz sand, and special stone, effectively eliminates foul taste, colour, odours, excessive chlorine, rust, fine sediments, and organic matter.
Here are the highlights of the BACFREE ER19M Stainless Steel Outdoor Water Filter's amazing features:
Stainless Steel Build
Free Cleaning & Test
10-Year Casing Warranty
5-Year Media Warranty
High Flow Rate
Multi-Media Filtration
Effective Odour Removal
Fine Sediment Removal
Suitable for 4-5 People
Easy Installation
5. SK Magic SHINE+ Outdoor Water Filter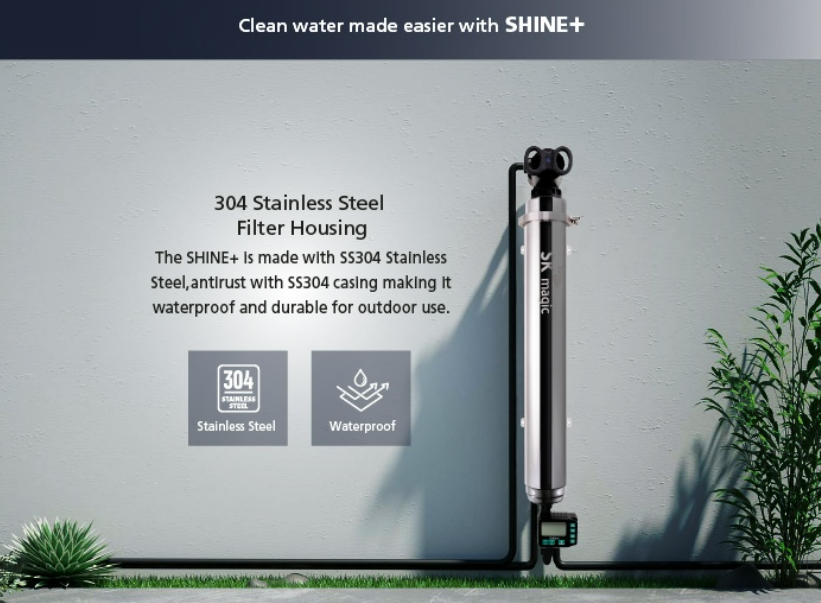 Crafted with 304 stainless steel filter housing, this filter guarantees durability and purity. The PVDF Ultra-filtration Membrane System, combined with a high volume water supply of 4,500 L/H, ensures your taps, water purifier, laundry, basin, and bathroom receive water free from large particles, sediment, and impurities such as dirt, rust, sand, and grit. This outdoor filter not only enhances the quality of your daily water usage but also extends the lifespan and efficiency of home appliances like water purifiers, water heaters, and washing machines by preventing scale build-up and damage.
Eco-conscious in design, it minimises adverse environmental and health effects, making it a responsible choice for your home. Enjoy the benefits of ultra-filtration technology with the SK Magic SHINE+, backed by a 3-year filter replacement cycle and a flow capacity of 3,500 to 4,500 L/H. It operates under a working pressure of 0.1 to 0.4 Mpa and a working temperature range of 5°C to 45°C.
Here are the highlights of the SK Magic SHINE+ Outdoor Water Filter's amazing features:
Stainless Steel Housing
Ultra-Filtration Membrane
High Volume Supply
Automated Flushing
Multi-Mode Valve
Energy-Efficient
Eco-Friendly Design
3-Year Filter Life
High Flow Capacity
Wide Temperature Range
6. Filken Ultra-D Z6 Pro Outdoor Water Filter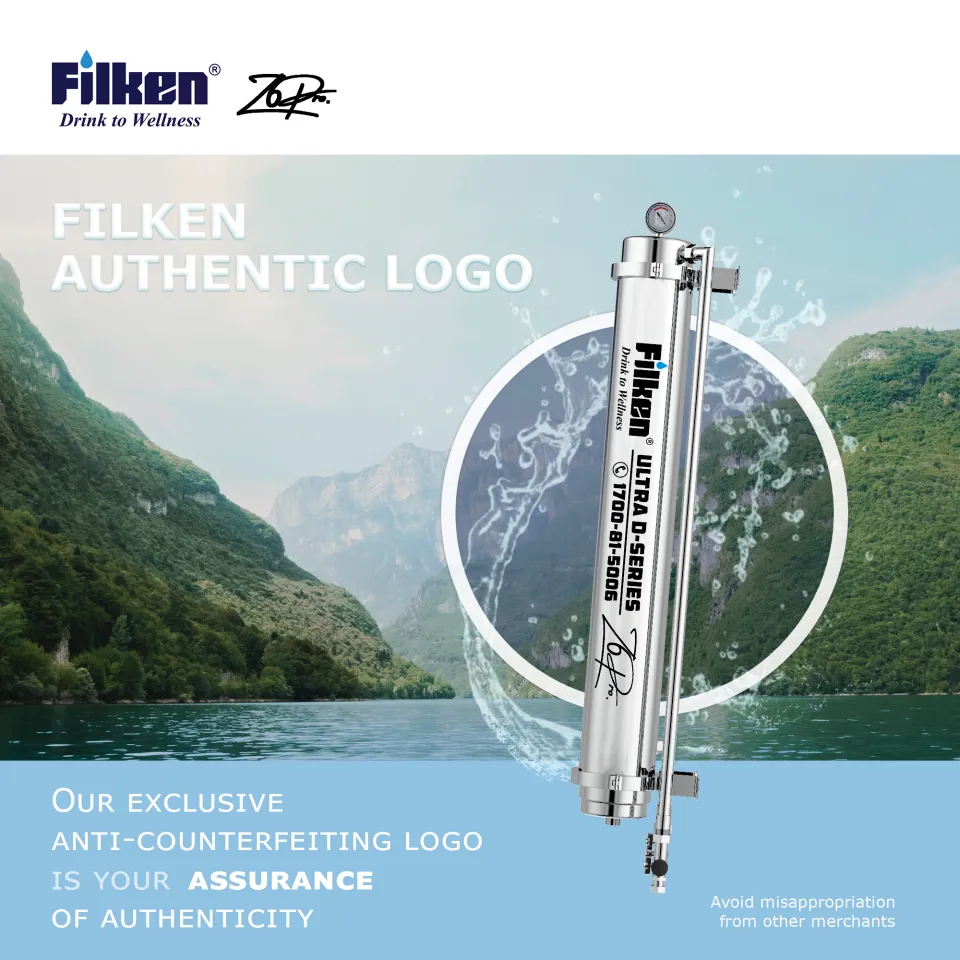 With a maximum flow rate of 4000-5000 L/H, this filter ensures a continuous supply of clean water to every corner of your home. At its core, the Ultra-D Membrane Filter employs cutting-edge technology to remove particles as tiny as 0.01 microns, providing you with the purest water possible. The hidden stainless steel pipe not only adds to the aesthetics but also simplifies installation, keeping your space tidy and uncluttered.
Constructed with a 304 stainless steel casing, this filter is not only anti-corrosive but also durable, ensuring it looks great for years to come. The haute flushing valve, equipped with an H-shape design, offers easy flow direction control, while the manometer allows you to monitor your house's water pressure at your convenience. The FILKEN Authentic Logo is your assurance of authenticity, preventing misappropriation from other sources. With the butterfly clip, installation becomes a breeze, eliminating the need for tools.
Here are the highlights of the Filken Ultra-D Z6 Pro Outdoor Water Filter's amazing features:
High Flow Rate
Ultra-D Membrane Filter
Hidden Stainless Steel Pipe
304 Stainless Steel Casing
Haute Flushing Valve
Manometer Included
Authenticity Assurance Logo
Easy Butterfly Clip Installation
7. WATERBORN W-300Z Stainless Steel Master Filter Outdoor Filter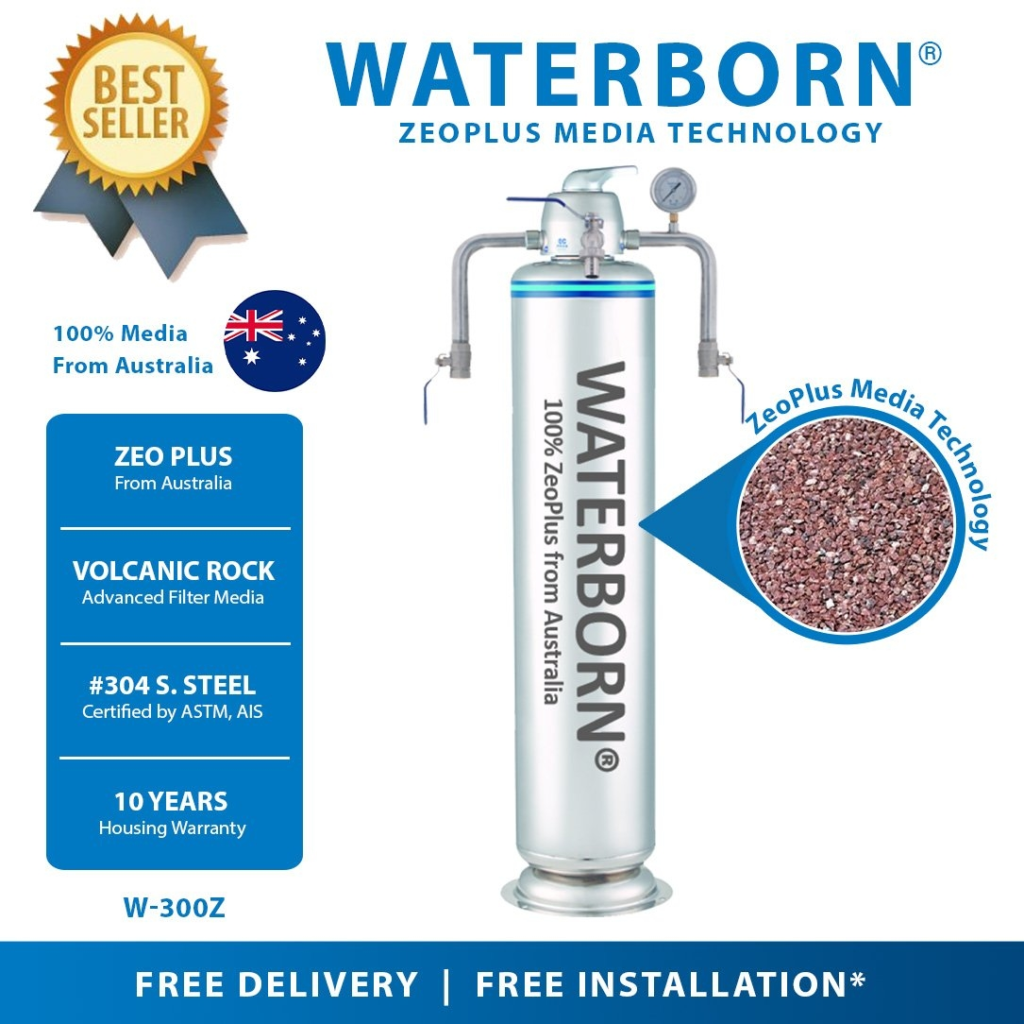 This filter harnesses Zeoplus Media Technology, which incorporates volcanic rock advanced filter media sourced from Australia. The #304 S. Steel certified by ASTM and AIS guarantees both the durability and safety of this filter, and it comes with a generous 10-year housing warranty for your peace of mind. With a bigger base for added stability, it's a reliable choice for your water purification needs.
The filtration process is a three-step journey, starting with sieving to block larger particles, followed by depth filtration within the filter bed, and culminating in adsorption where fine particles adhere to the filter media. Zeoplus, with its enhanced adsorption capabilities, effectively reduces ammonia, softens water, minimises iron content, and elevates the pH of mildly acidic water. Say goodbye to the odours and staining commonly associated with chlorinated water and enjoy a fresher, scale-free water experience.
Here are the highlights of the WATERBORN W-300Z Stainless Steel Master Filter Outdoor Filter's amazing features:
Zeoplus Media Technology
Volcanic Rock Filter
Certified Stainless Steel
10-Year Housing Warranty
Effective Filtration Process
Reduces Ammonia Odours
Softens Water
Reduces Iron Stains
Raises pH Levels
Healthier Water Solution
8. Waterco W250 Outdoor Water Filter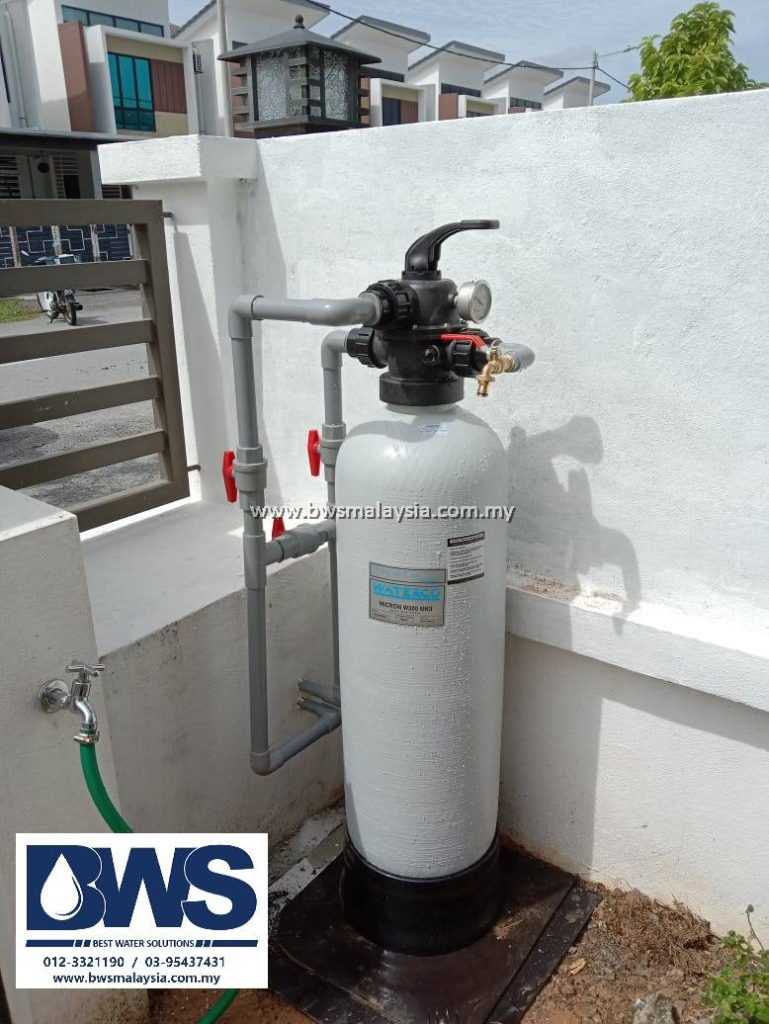 Discover the Waterco W250 Outdoor Water Filter, your key to enhancing water quality and ensuring a cleaner, healthier home. With a generous 30% discount, this filter offers deep filtration, boasting a 600mm filtration depth that effectively retains dirt. Constructed from the highest-grade non-corrosive polypropylene and employing cutting-edge glass fibre winding technology, the Waterco Micron W250 ensures years of trouble-free operation. Its innovative design can withstand working pressures of up to 700kPa.
This filter is your comprehensive solution, purifying all water entering your home to provide clean water for every tap. Enjoy cooking and cleaning with confidence, as well as cleaner, brighter clothes and a refreshing bathroom and shower experience. Plus, it extends the lifespan of your drinking water purifiers. Waterco W250 features ZeoPlus Media, a natural mineral rock with unique microporous properties that significantly improve water quality. It reduces ammonia, softens water, minimises iron content, increases the pH of weakly acidic water, and facilitates efficient backwash processes.
Here are the highlights of the Waterco W250 Outdoor Water Filter's amazing features:
600mm Filtration Depth
Non-Corrosive Polypropylene
Glass Fiber Winding
700kPa Pressure Tolerance
Whole-House Filtration
Water Quality Improvement
Ammonia Reduction
Softens Water
Iron Content Reduction
pH Increase
Efficient Backwash
9. Aqua Kent Fully Stainless Steel AQ1050 Outdoor Water Filter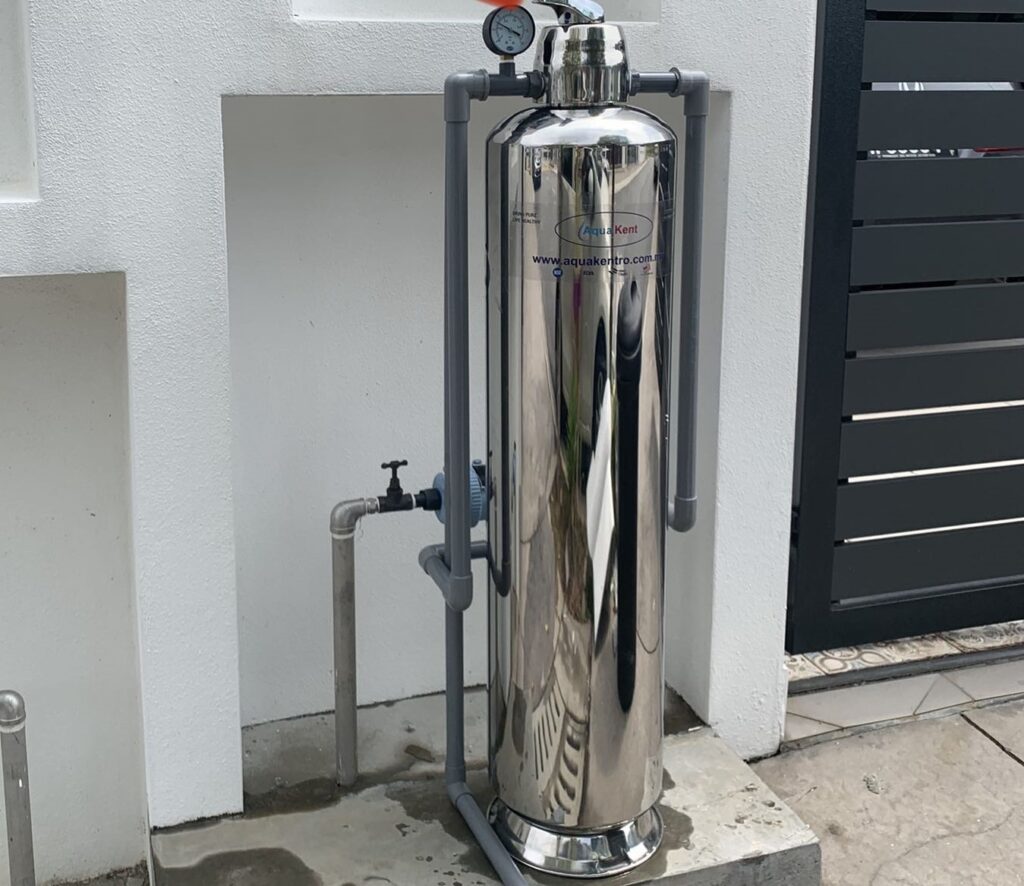 Crafted with high-grade SUS 304 stainless steel, this filter embodies durability and reliability. Its Multi Media POE Filter System combines various filtration media, such as Zeolite Plus from Australia, Anthracite from the USA, and Silica Sand in different grain sizes, offering a comprehensive solution. Zeolite Plus reduces chlorine taste and odour, removes suspended solids, and tackles soluble heavy metals and ammonium. Anthracite excels at removing particles, colloidal impurities, and iron and manganese, while Silica Sand further traps fine sediment.
This 5-stage filtration system has a remarkable flow rate of 3600 L/H, and its efficient backwash, rinse, and filter process ensures your water remains clear, safe, and free from contaminants. Plus, the fully stainless steel 304 construction guarantees long-lasting performance. Transform your water quality with Aqua Kent AQ1050 for a cleaner, healthier home.
Here are the highlights of the Aqua Kent Fully Stainless Steel AQ1050 Outdoor Water Filter's amazing features:
High-Grade Stainless Steel
Multi-Media Filtration System
Zeolite Plus from Australia
Anthracite from the USA
Silica Sand in Multiple Sizes
5-Stage Filtration
3600 L/H Flow Rate
Efficient Backwash System
Durable Construction
Final Thoughts
The quest for pure and refreshing water in Malaysia finds its answer in the "9 Best Outdoor Water Filters in Malaysia for Pure Refreshment." These exceptional filtration systems have been carefully curated to cater to the unique water quality needs of Malaysian households. From innovative technologies to durable stainless steel constructions, these filters offer a range of features designed to ensure that every drop of water you consume is not only clean but also refreshing. They eliminate impurities, reduce odours, and provide you with the peace of mind that comes from knowing your water is safe for drinking, cooking, and bathing.
With a variety of flow rates, filtration methods, and construction materials, these outdoor water filters cater to different preferences and requirements, making it easier than ever to find the ideal solution for your home. Embrace a healthier and more sustainable lifestyle with these top-tier outdoor water filters. Your family deserves the best, and these filters provide pure refreshment right from the source. Say goodbye to water quality concerns and hello to a new level of hydration and well-being.