Showering is an important step in your everyday lifestyle as it is essential to maintain personal hygiene and cleanliness. Either you are kick starting your day or coming back home after a long working day, a good showering experience can wash away your fatigue and calm your nerves.
This is why it's important to choose the best water heater for your new house which can cater for your personalised showering experience.
Introducing Panasonic U Series Jet Pump Water Heater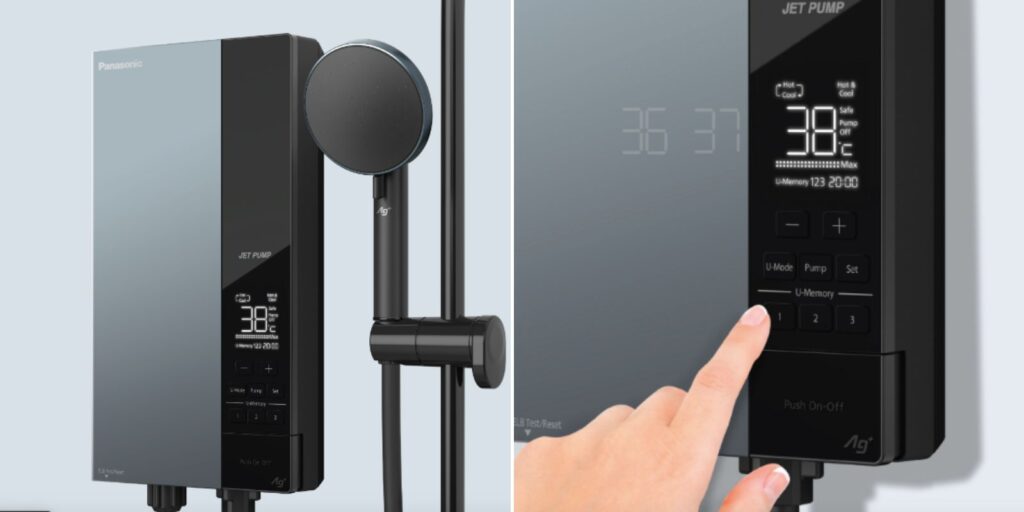 Among all water heaters in Malaysia, Panasonic U Series Jet Pump Water Heater intrigues us the most with its modern, sleek design and many safety features for better shower time.
This water heater is one of their most innovative models to date and it has plenty of amazing features that'll provide a blissful, spa-like experience to enhance your well-being as well as improve your quality of life.
Besides providing a comfortable and relaxing shower time, this water heater is well known for its 9 safety features which will upgrade your home shower experience.
9 Safety Features of Panasonic U Series Jet Pump Water Heater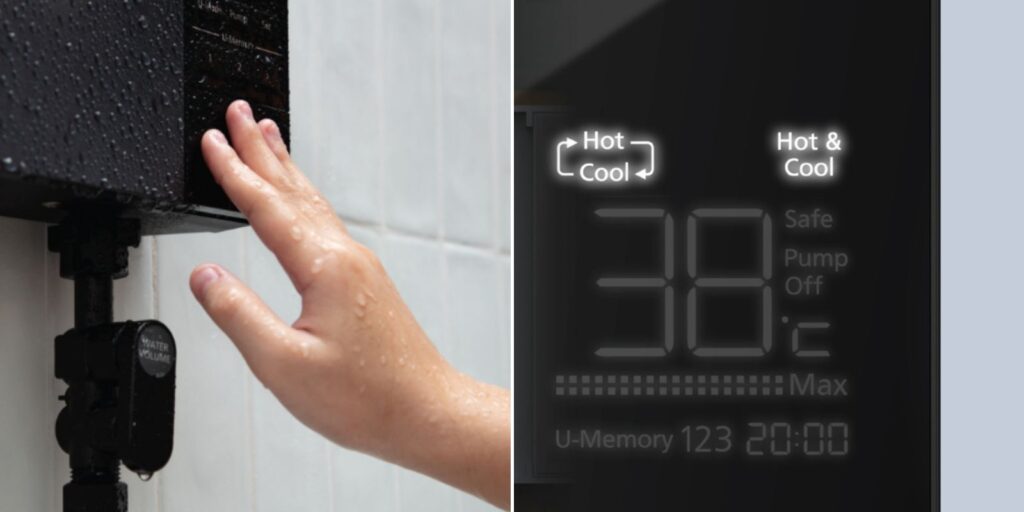 1. Water-Resistant & Splash-Proof Case
Water and electricity don't mix well and can often cause disastrous consequences if something goes wrong. However, you can rest assured when you use the Panasonic U Series Jet Pump Water Heater DH-3UDP1MZ as the inner components are securely protected with a water-resistant and splash-proof case that is compliant with IEC60529 (IP2X) standards. That means that even if your water heater accidentally gets splashed or wet during your shower, you are safe from electric shock and fire.
2. Durable Copper Heater
The heater unit is made from strong and durable copper that quickly heats up your water. In addition, the copper used is a self-extinguishing, non-combustible material that has a higher level of heat resistance, so you don't have to worry about the unit catching fire or overheating from prolonged use.
3. One Push Button
There's no need to fuss around with levers or knobs when switching on your Panasonic U Series Jet Pump Water Heater DH-3UDP1MZ. The convenient button allows you to turn it on and off with just one push and the main power line and water supply line will be switched on or off accordingly.
4. Insulated Structure
The hazardous parts are securely covered by an IEC60529 (IP2X) compliant enclosure that prevents accidental contact with your finger or tools, so you are protected from electric shock at all times.
5. Built-In Earth Leakage Breaker (ELB)
Another worry that people have when using a water heater is the risk of current leakage that leads to unexpected electric shock. With this Panasonic U Series Water Heater, it comes with a built-in ELB that will automatically cut off the power supply if it detects any current leakage. The neutral and live lines are cut off simultaneously for extra safety.
6. Water Flow Sensor
Enjoy comfortable water temperatures at all times as the water heater is equipped with a water flow sensor that is smart enough to cut off the power supply when it detects low water flow. This means that your water flow won't get so hot that it can scald you and it also prevents overheating.
7. Non-Flammable Material
As an added prevention against fire, the Panasonic U Series Jet Pump Water Heater DH-3UDP1MZ's external casing is made of non-flammable material. This material is self-extinguishing and is UL-94-V0 classified with your safety in mind.
8. Manual Reset Thermostat
To ensure that your shower experience is worry-free, the water heater has a manual reset thermostat that will automatically cut off the power supply if any of the components that cause heating fails. This helps to prevent the unit from catching fire.
9. Auto Thermal Cut-Out
You don't have to worry about sustaining any burns if the water gets too hot with the Panasonic U Series Water Heater. This clever water heater has an auto thermal cut-out that turns off the power supply when it detects the water temperature to be above 55°C so you won't get first-degree burns.
Why You Should Consider Panasonic U Series Jet Pump Water Heater for Your Home
1. Pleasant Water Temperature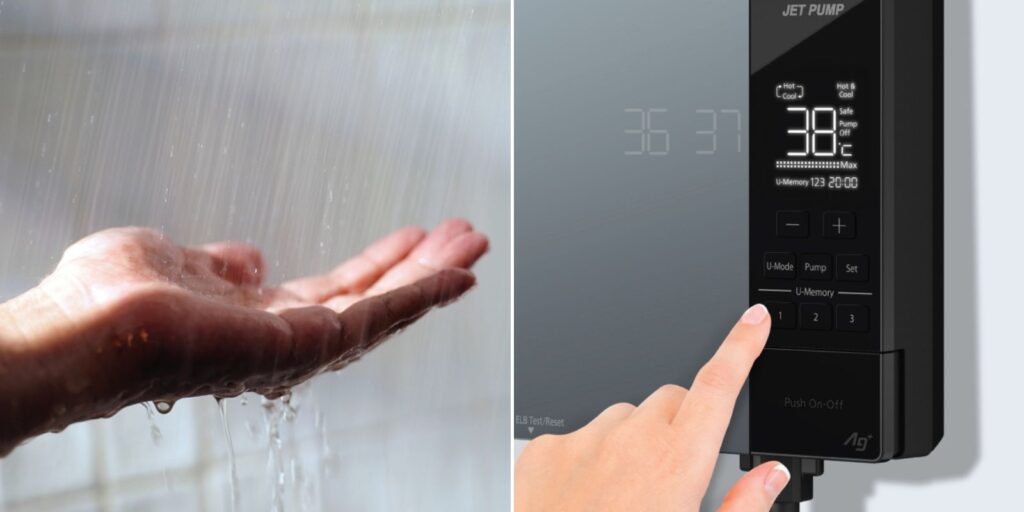 It's common for the temperature of your water to change suddenly, especially when it's warming up. This may come as a shock to your body as you're already used to it and the sudden change may be uncomfortable.
However, the Panasonic U Series Water Heater has three different shower modes known as U Mode that allows you to choose your ideal warmth.
The warm up mode can be used at the beginning of the shower and you won't get scald as it gradually warms up.
The cool down mode is great when you're finishing, as the water temperature gradually decreases so you can adapt to the cool air after your shower.
If you like to mix things up, the hot and cool mode allows you to alternate between hot and cool water which has the added benefit of improving your blood circulation.
Plus, the water heater uses a DC pump that has minimal noise while still providing a strong water flow so you won't disturb the household when taking showers late at night.
2. Personalised Profiles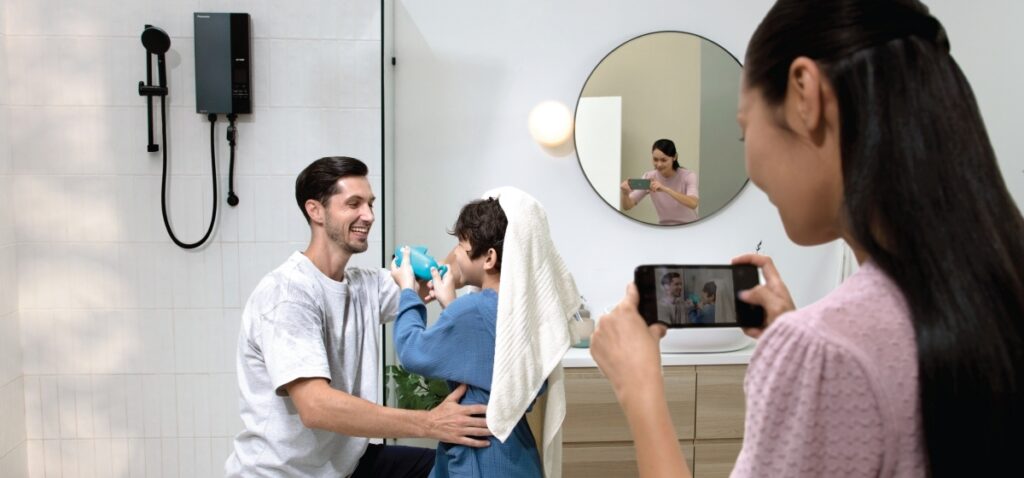 The water heater comes with U-Memory, which enables you and your family to save their individual shower settings for each person, so every shower is as enjoyable as the last.
There's no need to fuss around with the different pressure and temperature each time you enter the bathroom, instead, you can just choose your profile with a touch of a button.
This feature allows you to pre-set your water temperature at a 1ºC increment, set your preferred U Mode, and also turn the pump on or off.
3. Spa-Like Shower Texture

Featuring an improved shower head design that can be switched between three different effects according to your preference.
The first mode is Normal mode, which combines a mixed spray that is soft and soothing.
The Wide mode showers you with intense micro-droplets that relaxes your body after a long day.
Lastly, the Spot mode is a concentrated spray that feels like a massage and you can use it to target tensed areas for the ultimate relaxation.
All you need to do is just move the lever to the left or right depending on which one you like to enjoy a spa-like shower in your own bathroom.
4. Anti-bacterial Material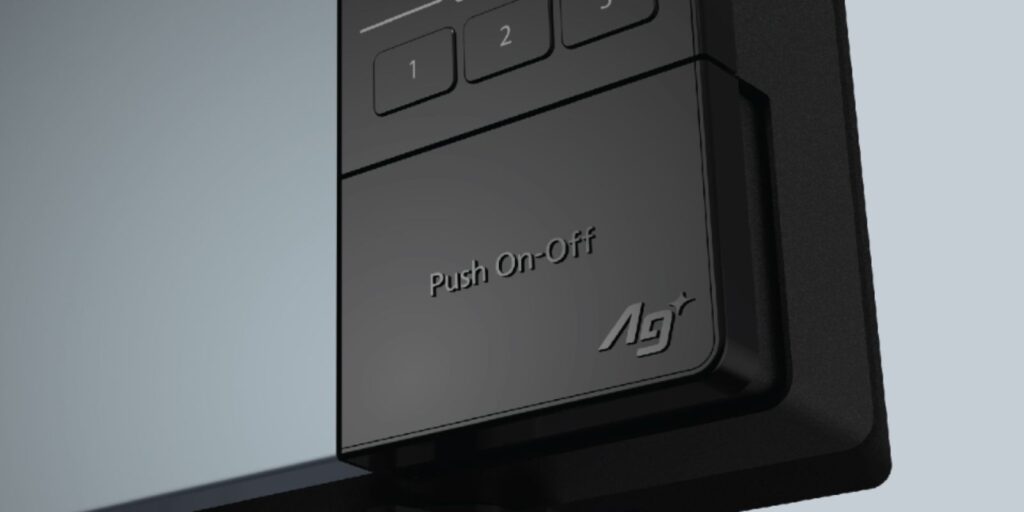 Protect yourself and your family members against bacteria when using the Panasonic U Series Jet Pump Water Heater.
The frequently touched areas such as the shower head, one push on/off switch, filter body, power control knob are made with Ag+ Crystal Material that inhibits the growth of bacteria, ensuring that your family remains clean at all times.
Where to Get Panasonic U Series Jet Pump Water Heater for Your Home
Click here to purchase Panasonic U Series Jet Pump Water Heater DH-3UDP1MZ through Panasonic Official Website
Click here to locate Panashop Authorised Dealers