Malaysia's wine culture has been steadily growing, with wine enthusiasts and collectors seeking the perfect storage solution to preserve their prized bottles. A well-designed wine cellar or chiller can make all the difference in maintaining the quality and flavour of your wines.
Whether you're an avid collector or simply enjoy an occasional glass of wine, we've compiled a list of the best wine cellars and chillers available in Malaysia. From temperature control to storage capacity and stylish designs, these options offer the perfect blend of functionality and elegance.
Features of a Good Wine Cellar and Chiller
A good wine cellar or chiller should possess several key features to ensure optimal storage conditions for wine. Here are some important features to consider:
Temperature Control: The wine cellar or chiller should have precise temperature control capabilities. Wine is best stored at a consistent temperature, typically between 45°F (7°C) and 65°F (18°C), depending on the type of wine. The ability to maintain a steady temperature within this range is crucial for preserving the quality of the wine.
Humidity Control: Proper humidity levels are essential for wine storage. Aim for humidity levels between 50% and 70% to prevent corks from drying out or mold growth. The wine cellar or chiller should have mechanisms in place to maintain appropriate humidity levels.
Insulation: A well-insulated wine cellar or chiller helps maintain a stable internal environment. Look for insulation that minimises temperature fluctuations caused by external factors, such as ambient room temperature or sunlight exposure.
Adequate Storage Capacity: Consider the number of bottles you intend to store and choose a wine cellar or chiller with sufficient storage capacity. Ensure that the shelves or racks are designed to securely hold wine bottles and provide easy access.
Low Noise Level: Some wine cellars or chillers can generate noise, particularly those with compressor systems. If noise is a concern, consider models with quieter operation to avoid any disturbance.
Energy Efficiency: Wine cellars or chillers that are energy-efficient can help reduce electricity costs and minimize environmental impact. Look for models with energy-saving features, such as LED lighting and insulated doors.
Our Selection of 8 Best Wine Cellars and Chillers in Malaysia
So if you're a wine connoisseur, read below as we list some of the best wine chillers and cellars you can buy to store your wine so you can enjoy that perfect glass anytime you want.
1. Liebherr WKB 1712 Barrique Wine Cellar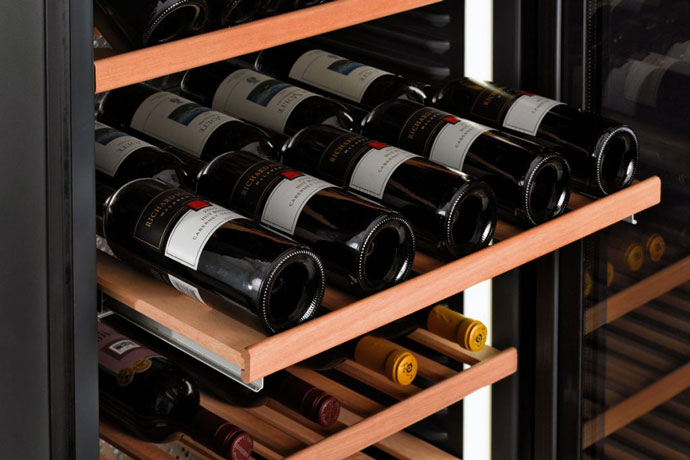 Ensure that your expensive wine bottles are safely stored away with Liebherr WKB 1712 Barrique Wine Cellar that comes with a door alarm. This door alarm will alert you in case the door is accidentally left open for more than 60 seconds. It can also be stored anywhere, as it comes with reversible door hinges. The temperature can be set to anywhere between 5°C and 20°C based on your requirements. Meanwhile, the FreshAir activated charcoal filter keeps odours away when your wines are maturing and the filter can be replaced.
In addition, this wine cellar comes with specially developed, exceptionally low-vibration compressors to help the tannins settle in the bottle while the air humidity in this appliance can be adjusted to keep the wines in perfect condition so the corks do not dry out. The special UV-resistant glass door limits the exposure of your bottles to sunlight and looks stylish at the same time.
Features:
Door alarm
Reversible door hinges
Adjustable temperature
FreshAir activated charcoal filter
Low-vibration compressors
Adjustable air humidity
UV-resistant glass door
2. Tuscani BELLONA 38 (D) Wine Cellar Chiller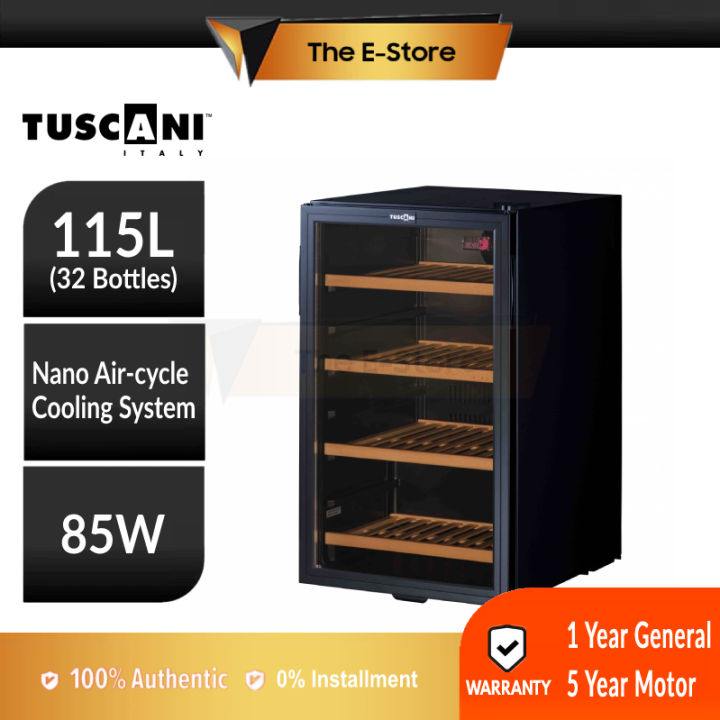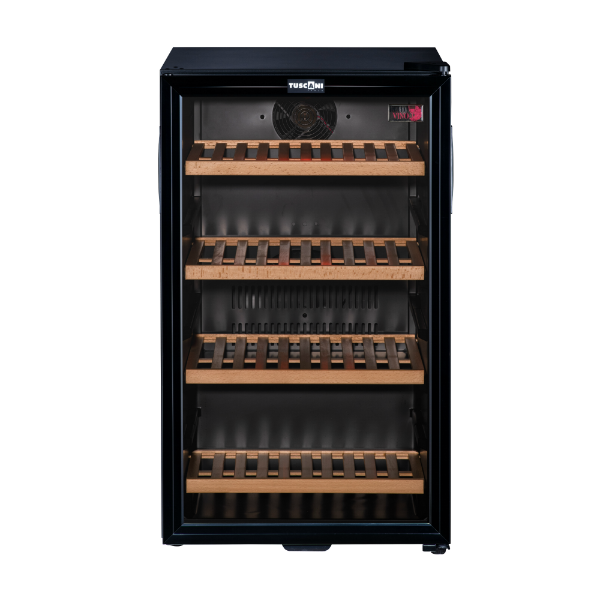 Keep up to 32 bottles of wine and display your collection with Tuscani BELLONA 38 (D) Wine Cellar Chiller for all to admire. The shelves are made from beech wood, which is sturdy, helps absorb vibrations and reduces bad odours. The door hinges allow you to open up to 180° for easy access. The temperature inside can be maintained between 5°C and 18°C for ideal serving chilliness while the ventilation system creates perfect aging conditions.
It has low-vibration compressors so that delicate wines are not harmed while a charcoal filter sanitises the air for a better maturing process. Low-E glass prevents damage from UV rays and minimises energy costs as it keeps the interior cooler for longer.
Features:
Store up to 32 bottles
Beech wood shelves
180° door hinges
Adjustable temperature
Low-vibration compressors
Charcoal filter
Low-E glass
3. Grubel Germany Wine Chiller GWC-TP18BK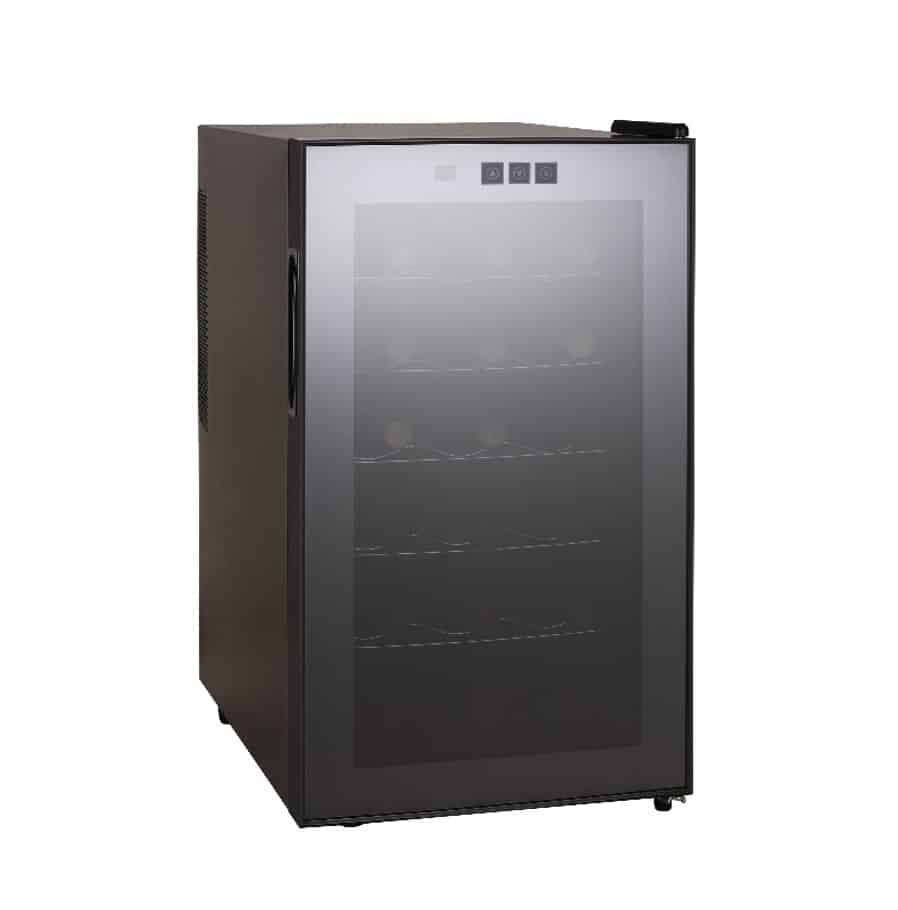 Looking for something smaller to store your more expensive wines? Then this one from Grubel Germany Wine Chiller GWC-TP18BK might be a good choice for you. There's storage for up to 18 bottles and has a stylish black glass door to reduce damaging UV rays. It's humidity controlled and comes with a digital temperature control for 8°C to 18°C and a digital display.
There are five stainless steel racks to store your bottles and adjustable feet to elevate or lower the chiller. There is no vibration and has a low noise level so it won't disturb the peace of your home. The interior LED light allows you to see your bottles well when you're choosing the next one to enjoy.
Features:
Store up to 18 bottles
Black glass door
Humidity controlled
Digital display
Adjustable temperature
Stainless steel racks
No vibration
4. Hisense RW32N4ATB Wine Cooler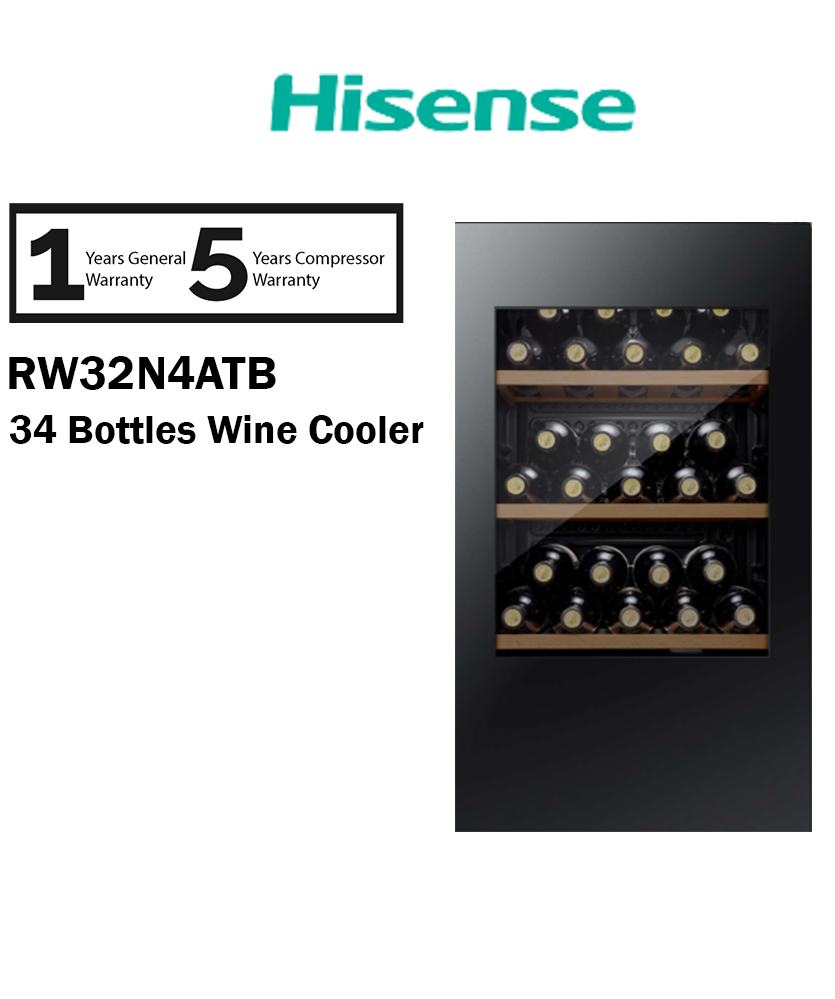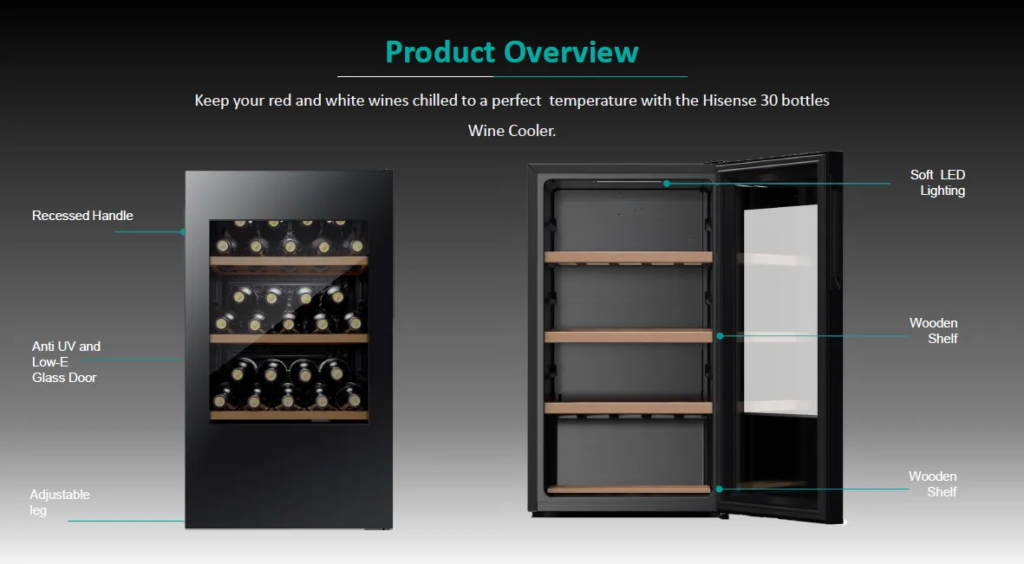 Maintain the freshness of your wine bottles and keep them in the best condition for the maturing process with this Hisense RW32N4ATB Wine Cooler that can store up to 34 bottles for your convenience. The cooler has LED lighting to allow you to check your bottles and has a wide temperature range of 5°C to 20°C for different kinds of wines.
The door has a recessed handle for a sleeker look while the glass is made of Anti-UV and low-E materials to reduce exposure to the sunlight. The inside comes with wooden shelves which are sturdy enough to support the weight of up to 9 bottles in one row.
Features:
Store up to 34 bottles
Adjustable temperature
LED lighting
Recessed handle
Anti-UV and Low-E glass
Wooden shelves
Low vibration
5. Pacifica Wine Cellar – PTW10 Raphael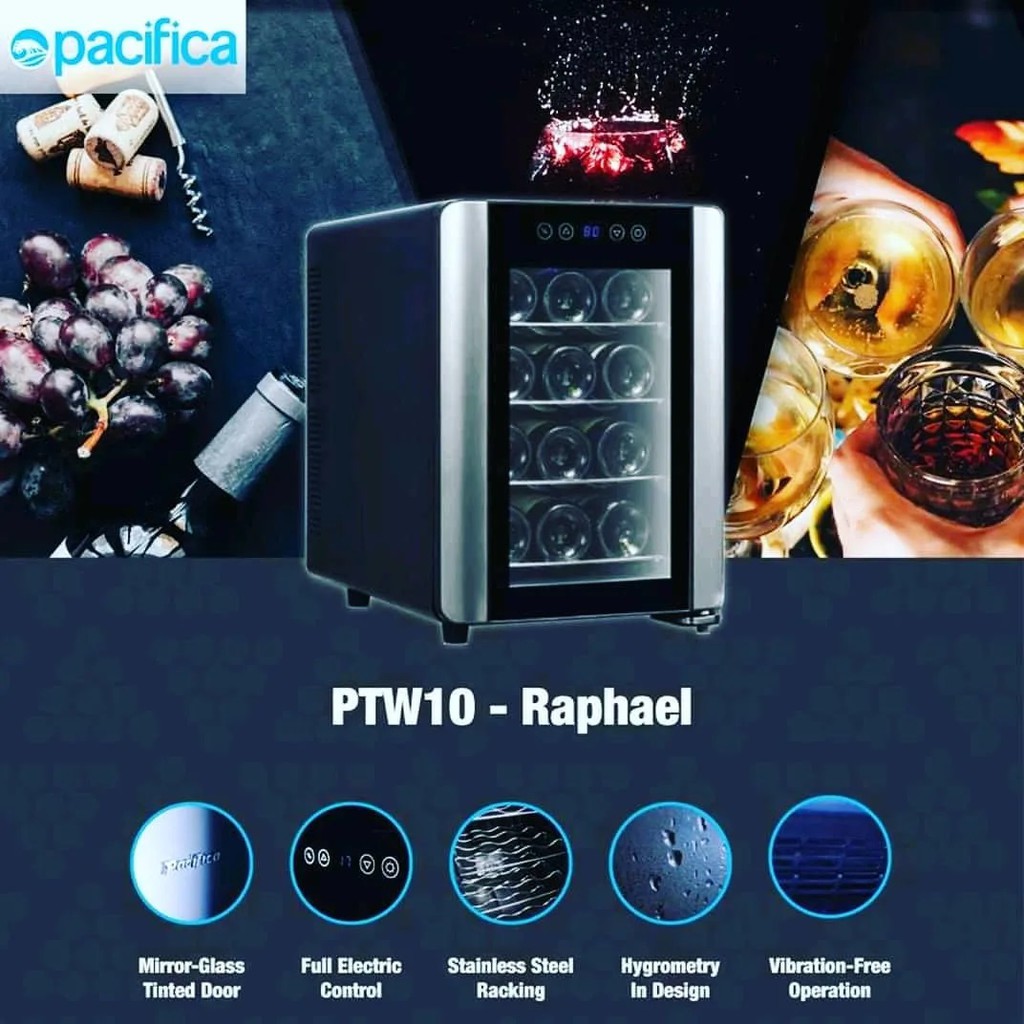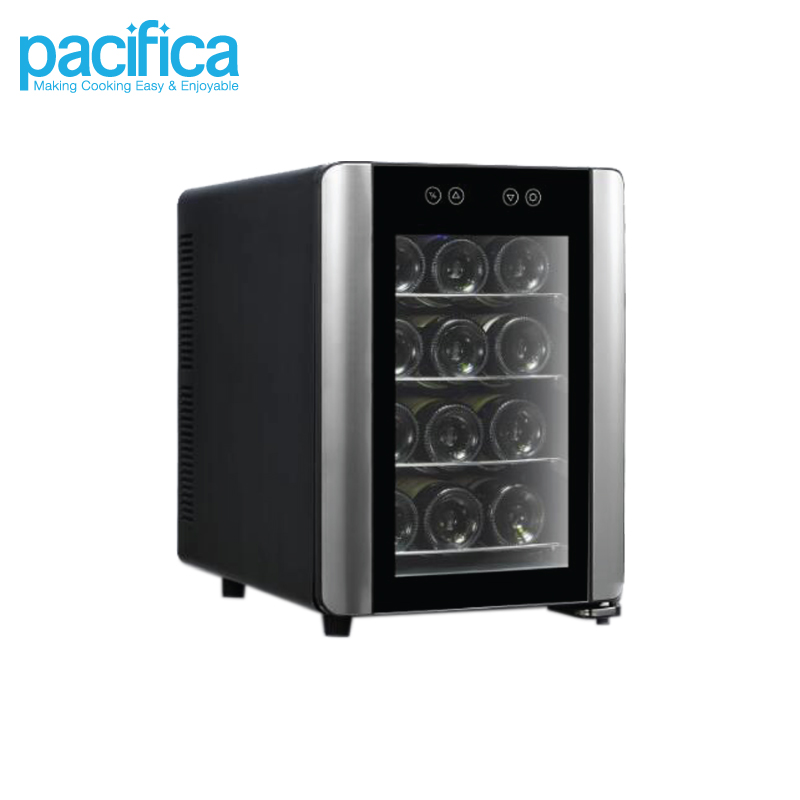 For those who only need a compact wine chiller for their most prized bottles, this mini one from Pacifica Wine Cellar – PTW10 Raphael is a great choice. It's able to hold up to 10 Bordeaux size bottles and uses a thermoelectric cooling system for optimum chilling. You can set the temperature using the soft touch settings on the exterior door, which has dual-layered reflective glass for better UV protection.
It is vibration free and environmentally friendly as it's CFC free which is a great feature. For added dust prevention, there's also a one piece filter so your bottles can mature in a dust-free environment.
Features:
Stores up to 10 bottles
Thermoelectric cooling system
Soft touch temperature setting on exterior door
Dual-layered reflective glass
Vibration-free
CFC-free
One piece filter
6. Liebherr WKB 4611 Barrique Wine Cellar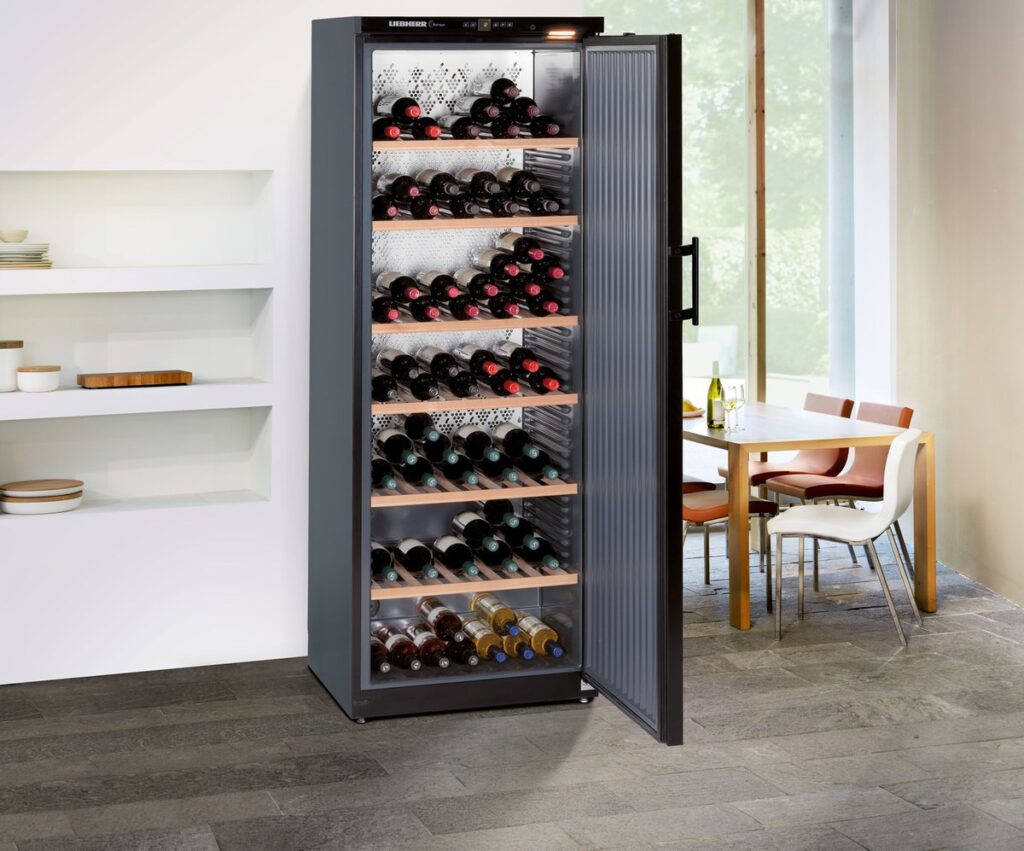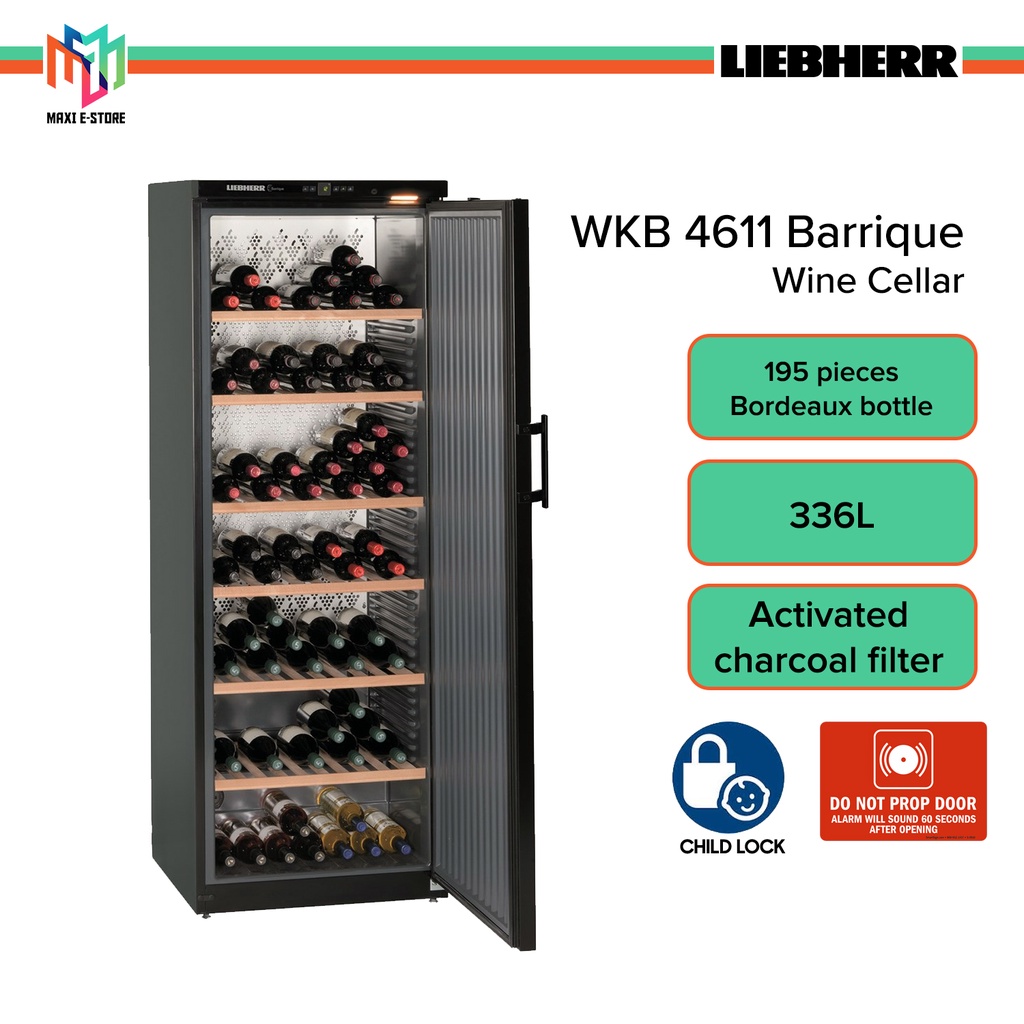 This Liebherr WKB 4611 Barrique Wine Cellar can store an amazing 195 bottles in one place, ensuring that you no longer need to worry about where and how to store your wines. Just like some of the other Liebherr models, this one has a door alarm to alert you if the door is left open. Keep children or unwanted hands from opening the chiller with a child lock and adjust the temperature based on your preference.
Eliminate bad odours from contaminating the taste and smell of your wine with a FreshAir activated charcoal filter and keep vibrations to a minimum with specially developed, exceptionally low-vibration compressors. Corks are kept supple with adjustable air humidity while an integrated heater brings your wines to drinking temperature with ease.
Features:
Door alarm
Store up to 195 bottles
Child lock
Low-vibration compressors
FreshAir activated charcoal filter
Adjustable air humidity
Integrated heater
7. Tuscani BELLONA 110 Wine Chiller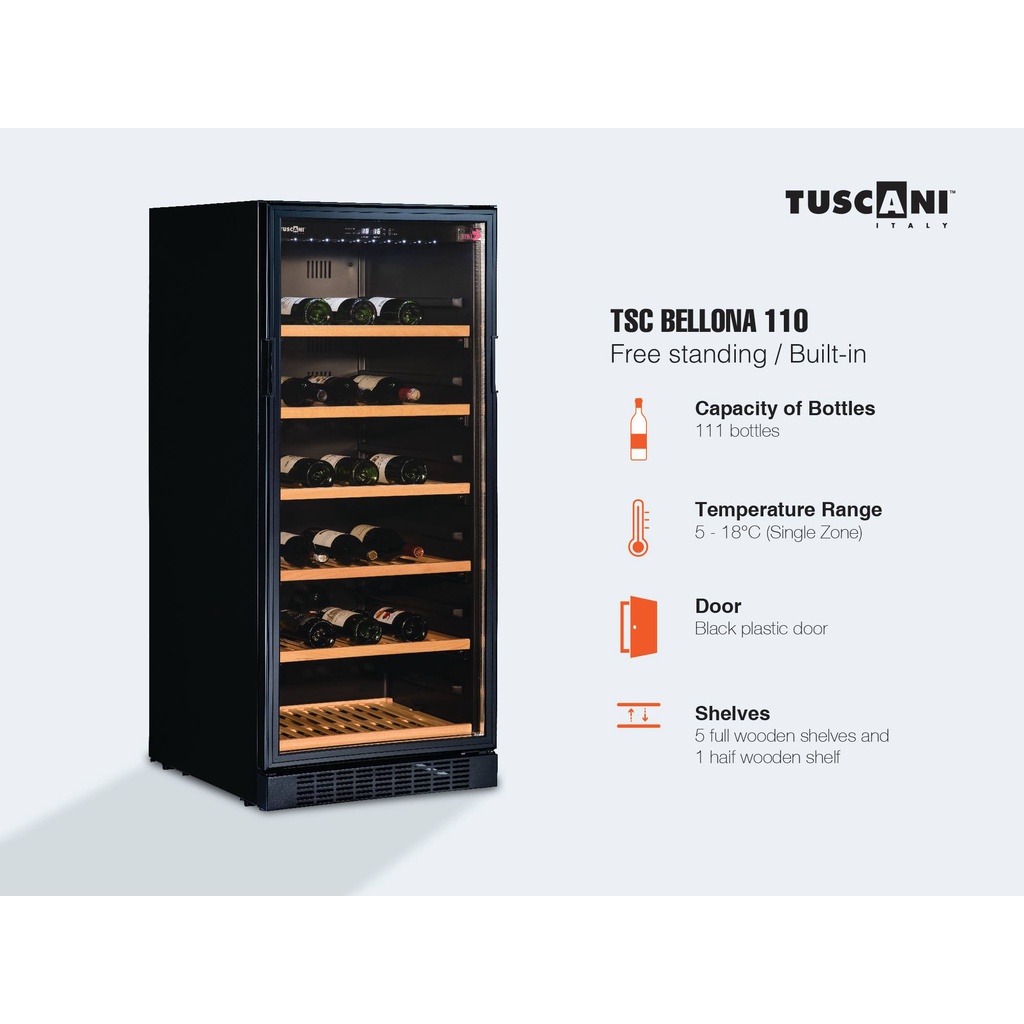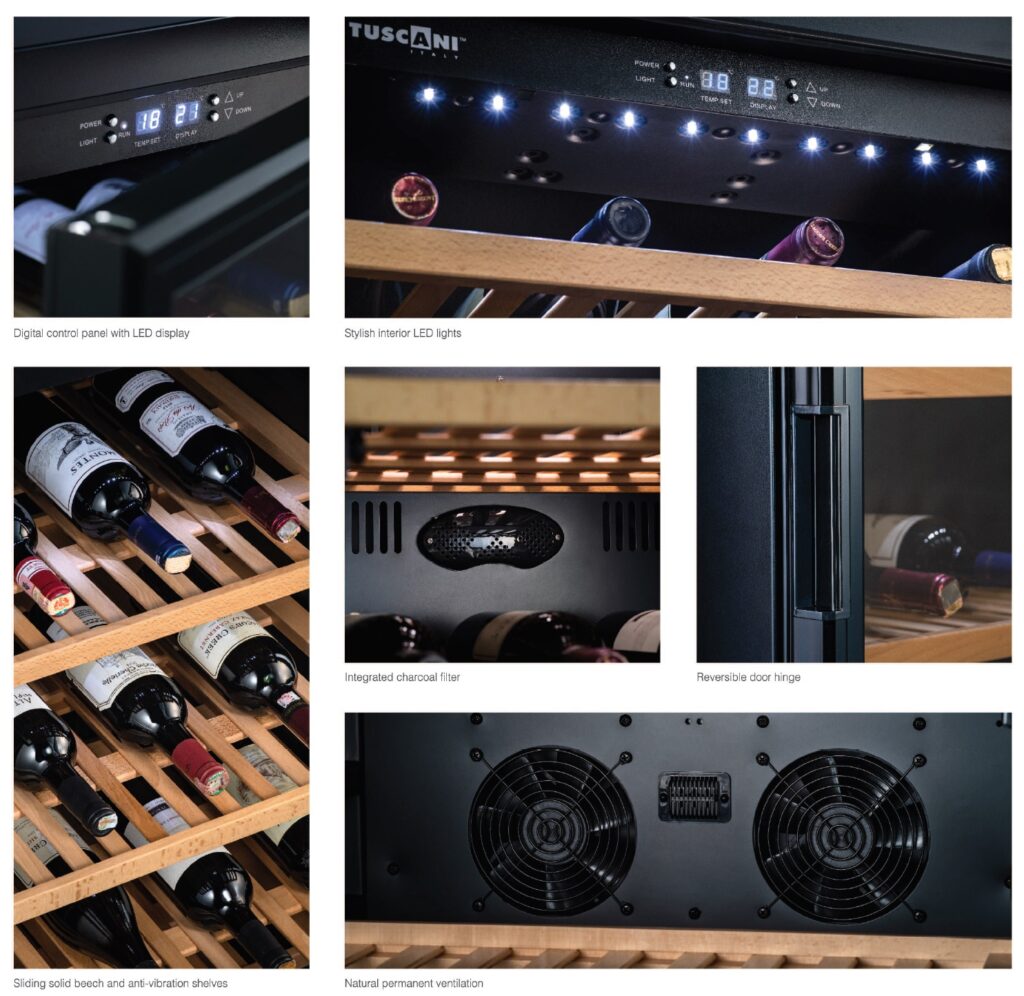 Choose whether you want your wine chiller to be freestanding or built-in with this Tuscani BELLONA 110 Wine Chiller. It can store 111 bottles of wine and has single temperature zones with digital control. It has natural permanent ventilation with Nano Air-Cycle Cooling System compressor to chill your wines.
The glass door is made of triple-glazed UV-protected tempered glass and has reversible hinges. This wine chiller has sliding solid beech wood shelves to place your bottles and an integrated charcoal filter to prevent bad odours.
Features:
Store up to 111 bottles
Single temperature zones with digital control
Natural ventilation
Nano Air-Cycle Cooling System compressor
Triple-glazed UV-protected tempered glass
Solid beech wood shelves
Charcoal filter
8. Forseti Wine Chiller VC 46B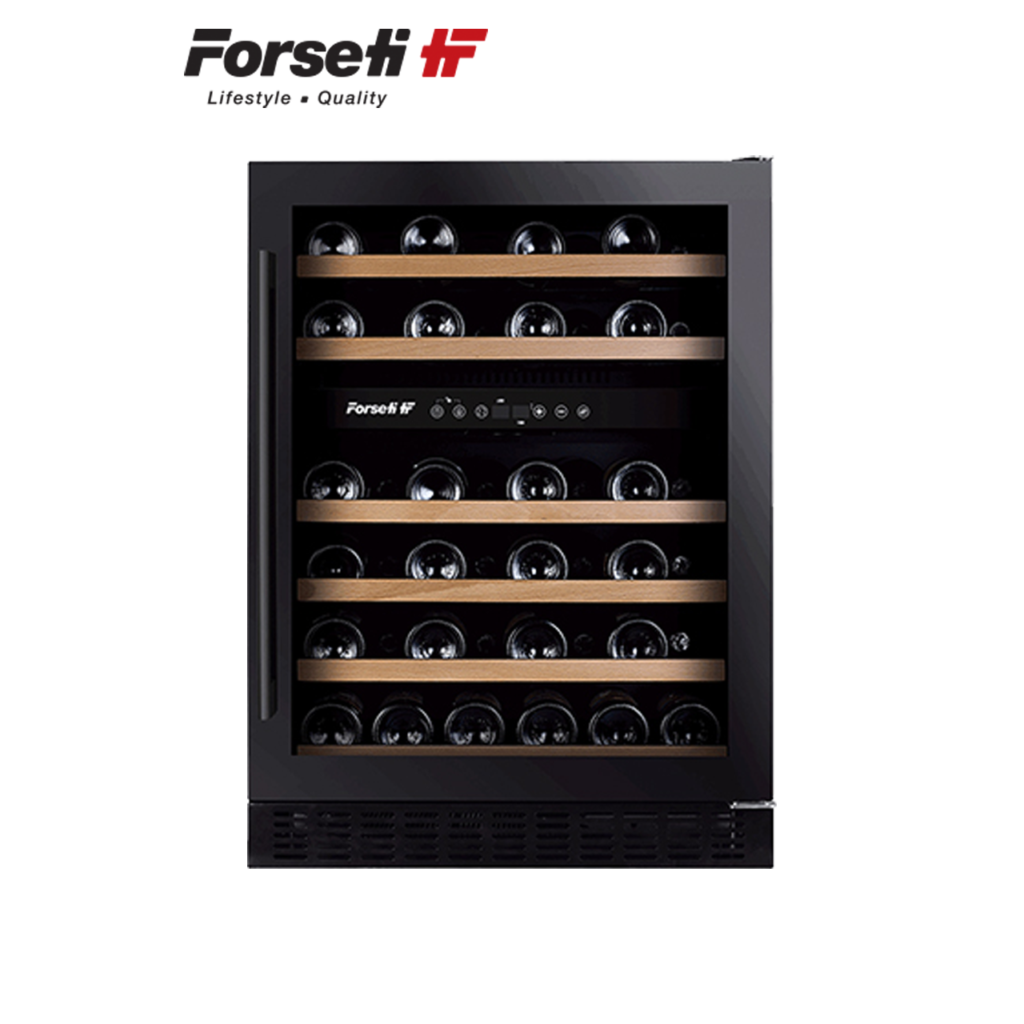 Wine connoisseurs who want to keep their collection safe and maturing in good condition should invest in this Forseti Wine Chiller VC 46B that can be either freestanding or built-in. It is dual-temperature and can store up to 46 bottles. The door is made of tempered glass with dual layers to keep the sunlight away and keep the interior cooler.
The digital display is touch control and inside, it has auto defrosting so your bottles remain at optimum temperature. The temperature is adjustable between 5°C to 22°C with a circulated cooling fan and low vibration design. There are six wooden shelves with stopper to arrange your bottles and the door is reversible.
Features:
Store up to 46 bottles
Dual temperature
Tempered glass
Dual-layered glass
Digital display
Auto defrosting
Circulated cooling fan
Conclusion
Investing in a high-quality wine cellar or chiller is a crucial step for any wine lover or collector in Malaysia. The top 8 options we've explored offer a range of features and designs that cater to different needs and preferences. Whether you prioritise precise temperature control, ample storage capacity, or aesthetic appeal, there's a wine cellar or chiller on our list that will meet your requirements.
With the right wine cellar or chiller by your side, you can embark on a journey of discovering the complex flavors and aromas of your favorite wines, all while knowing that they are perfectly preserved for your enjoyment. Cheers to elevating your wine storage experience with one of Malaysia's best wine cellars and chillers!
Read also: Best of Home Appliances Series