Do you want your house to give off pleasant vibes? Installing an air freshener indoors can help you achieve the goal. It's a substance or device that can refresh the aura of your room with exotic fragrances. You can finally say goodbye to musty odors from different sources like pets, garbage, or a stinky dishwasher. A good air freshener doesn't only mask the smell but eliminates it. However, people mostly associate it with an unhealthy choice considering its chemical composition. Considering your health and well-being our priority; we have searched and reviewed the top natural air fresheners for home. They are 100% free of toxic ingredients. Our every pick has organic resources as a source of their characteristic fragrance.
Before starting with our reviews, let's discuss what factors are worth looking for when purchasing an air freshener for home.
What Should You Look For in an Air Freshener?
With several available options, choosing an air freshener for your home can be challenging. Considering the following factors can help you spend money on a perfect product.
1. Release Mechanism
Air fresheners can have multiple scent-releasing ways, depending on the device like spray cans, plugins, and gel dispensers. Few of these are automatic, while others require manual functioning. For example, you have to insert a plugin in an outlet that constantly releases the fragrance. On the other hand, you must spray an aerosol manually to experience its refreshing vibes. You decide to make a choice according to your convenience.
2. Scent Allergies
You must look at the list of ingredients to ensure it's free from items that you or your family members might be allergic to. Although air fresheners contain natural ingredients, it's important to watch out for the possibility of fragrance sensitivities. You can buy a scent-free freshener to avoid inspecting every ingredient separately.
3. Lasting Hours
Air fresheners usually last for a month or two. You must purchase ones with average sustainability of several weeks to avoid frequent refilling. It's better to buy fresheners with three to four refills, so you don't have to purchase a new room freshener for at least six months.
4. Toxins-Free
It's not difficult to get trapped in an unhealthy environment in your house by installing an air freshener with toxic additives like paraben or BHT. You can inhale chemicals without having a single clue about them. Hence, always buy a product that contains all-natural ingredients causing no health-harming effects.
9 Best Air Fresheners For Home Which You Should Buy
1.   Febreze Air Freshener Plug for Home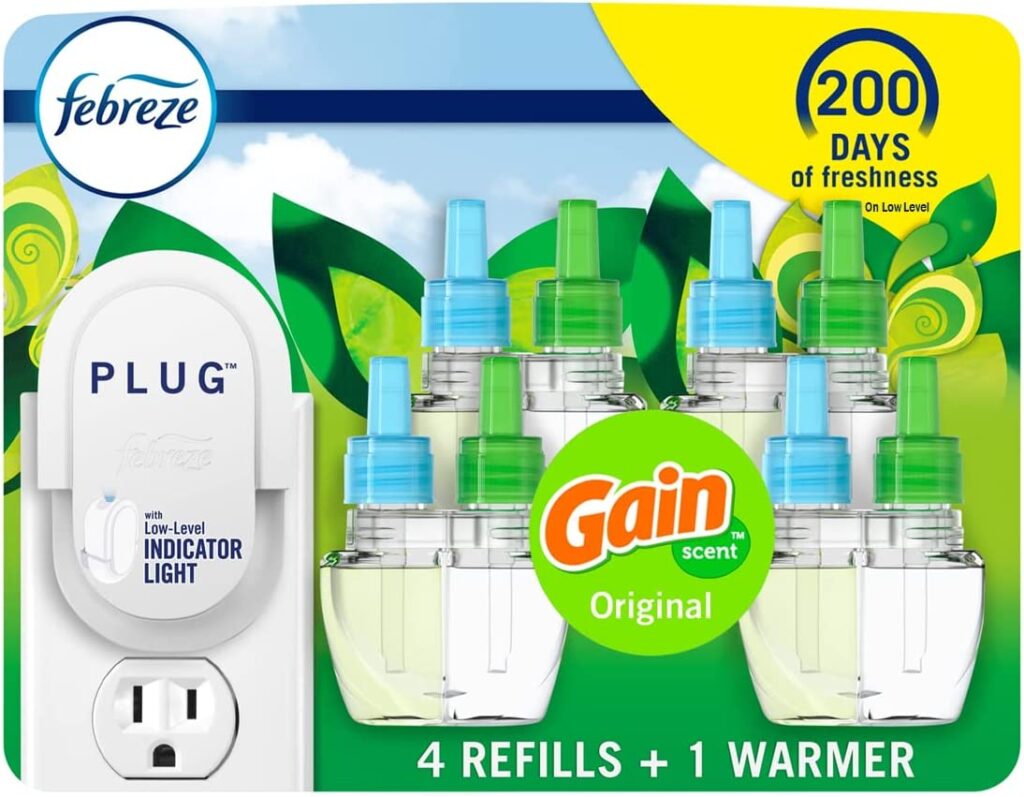 The Febreze Air Freshener for Home is an all-in-one device with several advantages. The scent from a single plugin can last for at least 50 days. You also get four oil refills and one warmer in the pack. It doesn't cover the odor but completely removes it, leaving a pleasant fragrance in your room. The following features of this air freshener make it one of our top choices.
The advanced technology of digitally-controlled scent release ensures the right amount of fragrance spreads in the air.
It contains an indicator light that tells when the device needs a liquid refill to continue its job as before.
Releases a refreshing scent inspired by green amber's floral touch.
The plug lasts at least 1200 hours, with top-notch scent release throughout.
The air freshener plug is compatible with almost all socket types.
2.   Glade Air Freshener for Home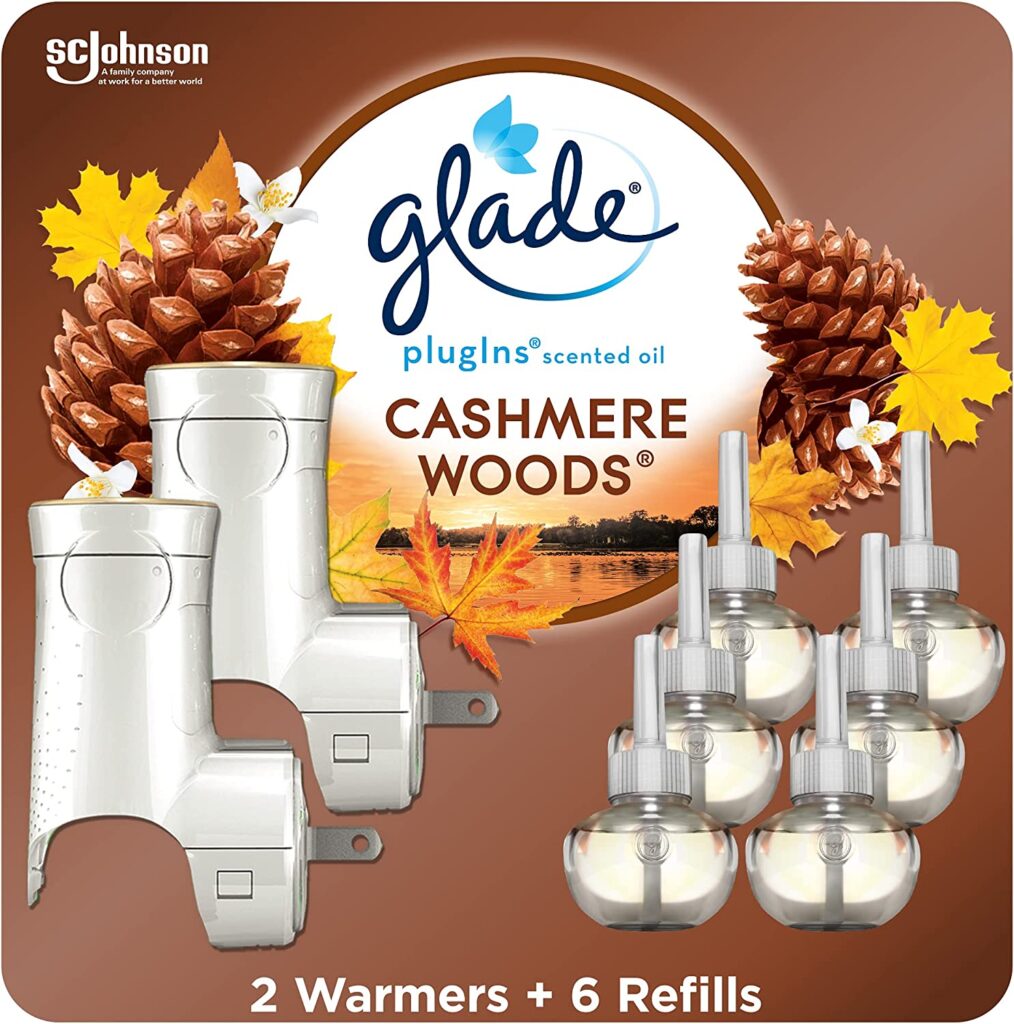 Do you want your room to smell good 24/7 from sandalwood fragrance with a touch of jasmine petals? Don't think much and purchase the Glade Air Freshener. The pack comes with six refills, each lasting for 50 days. You will also get two warmers. This air freshener is the epitome of modern technology, with several exceptional features like a ceramic heater and an optimized airflow system. Let's briefly overview a few other top-notch attributes of this air freshener.
All the ingredients meet safety standards for constant inhalation.
A modern fragrance control feature releases the perfect amount of scent to set the mood right.
The oil bottle is see-through, so you can know when to refill it.
The plugin only consumes as little as 4 watts of power.
You can conveniently adjust the plugin, whether the outlet is vertical or horizontal.
3.   Bright Air Solid Air Freshener for Home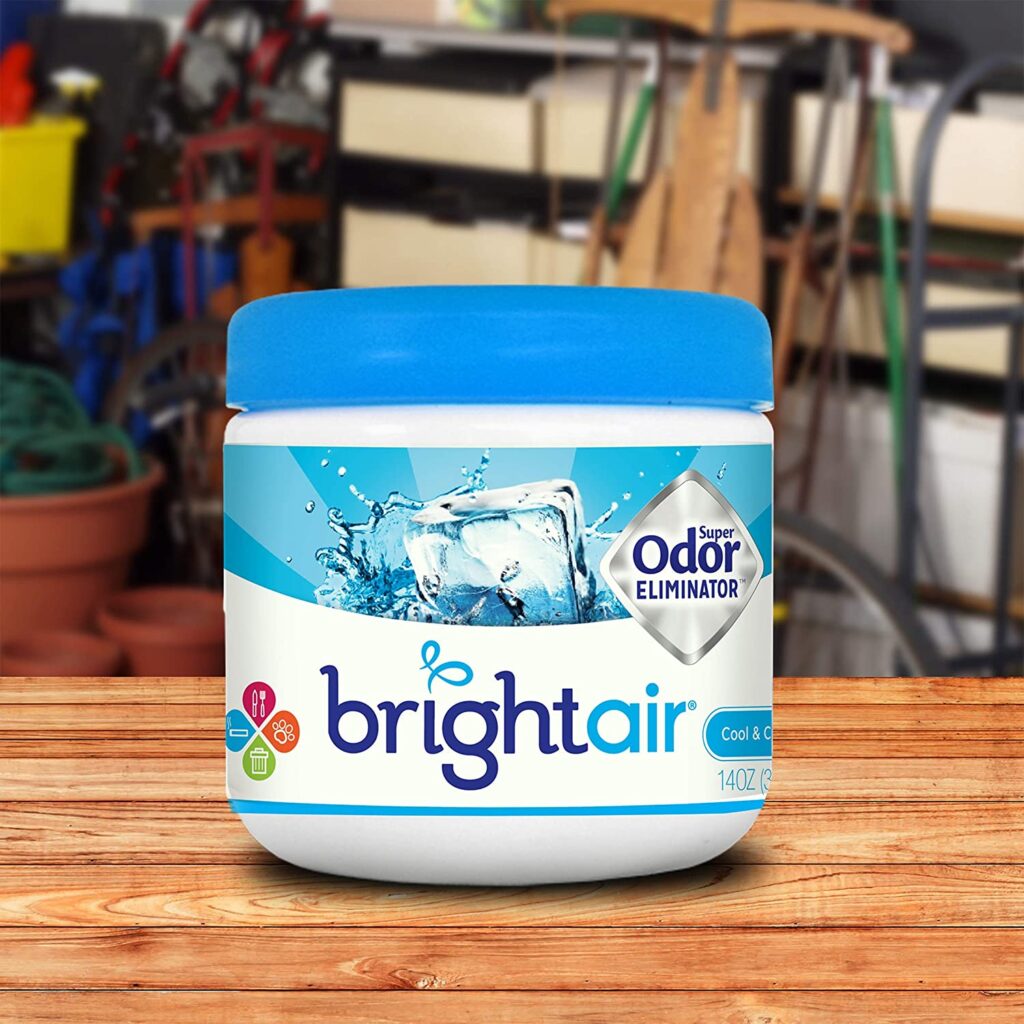 The Bright Air Solid Freshener releases essential oils-infused fragrances to refresh the ambiance of a room. All the ingredients are 100% organic with no artificial additives like phthalates or butylated hydroxytoluene. User safety is one of the priorities of this brand. You will get six packs of 14 oz gel that lasts for 60 days with 24/7 use. Using this solid freshener in any room is flexible, eliminating odors from almost all sources singlehandedly.
Gel's shrinking feature tells you when it needs a replacement.
This solid odor eliminator is ideal for refreshing a mid-sized room with a pleasant fragrance of essential oils.
It requires no electricity or power source to function.
The odor from one pack lasts at least two months with equal strength.
It's simple to allow scent release from the dispenser. You should remove the lid and let the air freshener do its magic.
4.   Air Wick Air Freshener for Home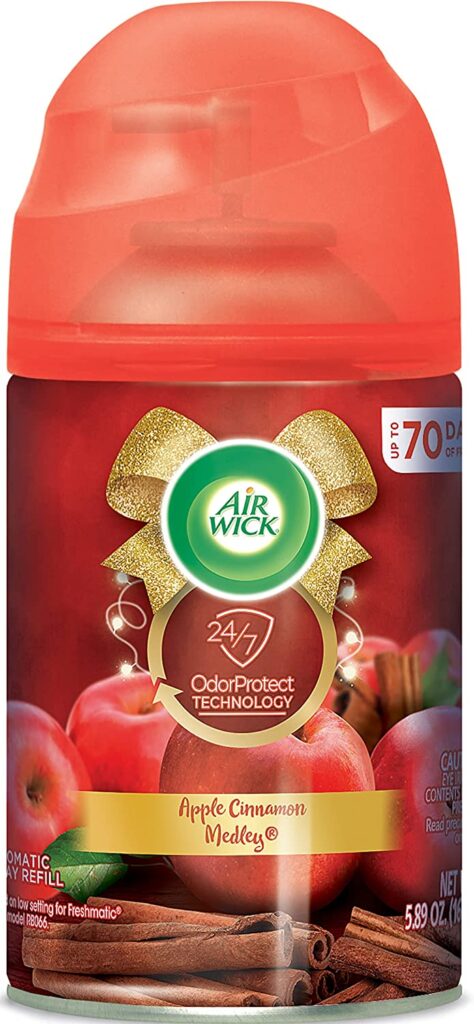 Your house is one purchase away from a fresh wave of essential oils. The Air Wick Freshener's apple cinnamon spray lasts more than two months if you set the device at a low setting of 40 minutes. This odor eliminator requires only a single battery to function. It neutralizes the tough smells and releases an exotic scent, creating a relaxed environment inside your personal space. Let's briefly look at some of its exceptional features below.
This advanced battery-powered freshener releases scent automatically after you adjust a preferred fragrance control setting.
Thanks to its cordless functioning, it has a portable design that you can carry anywhere.
There are three fragrance control options. The low setting bursts the spray at 40 minutes, while the medium one releases the scent at every 18 minutes interval. Similarly, the odor release duration for high settings is every 9 minutes.
Refilling the device is very simple. You twist-open it, insert the refill, and close it. The room freshener is ready for the next 70 days to spread a pleasant scent in your home.
5.   Febreze Unstoppables Air Freshener Spray for Home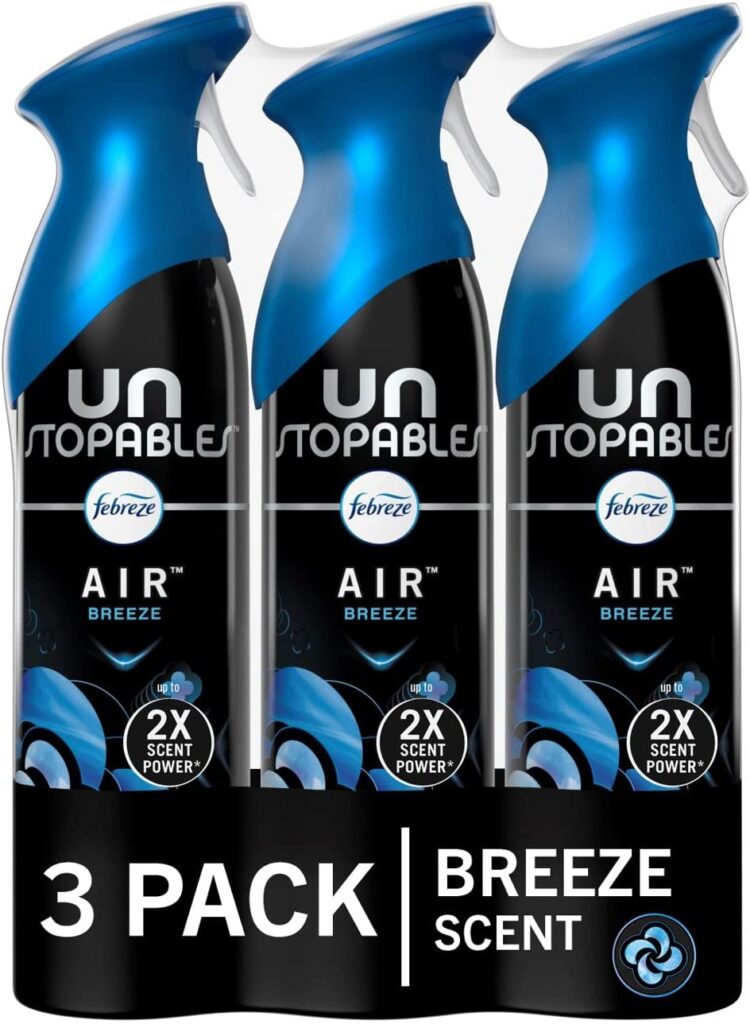 With 2x scent power, the unstoppable Febreze Air Freshener spray can be your go-to solution for effective odor elimination. This freshener's crisp, calm, and coastal air breeze takes you on an imaginary seaside tour. Its exceptional refreshing touch is perfect for deodorizing the air around your restroom, office cabin, gym, and kitchen. You will get three aerosol cans in a single pack, enough for refreshing multiple rooms for one or two months. The below features let this freshener get a spot in our top five picks.
It requires no batteries or electric source to function.
This odor eliminator is very simple to use. You have to lift the can and spray it in an upright position. The scent diffuses in a few seconds to deodorize the air quickly.
The brand uses 100% natural propellant to ensure top-notch safety levels for the users.
You can buy from three flavors: light, fresh, and bold.
6.   Grow Fragrance Air Freshener for Home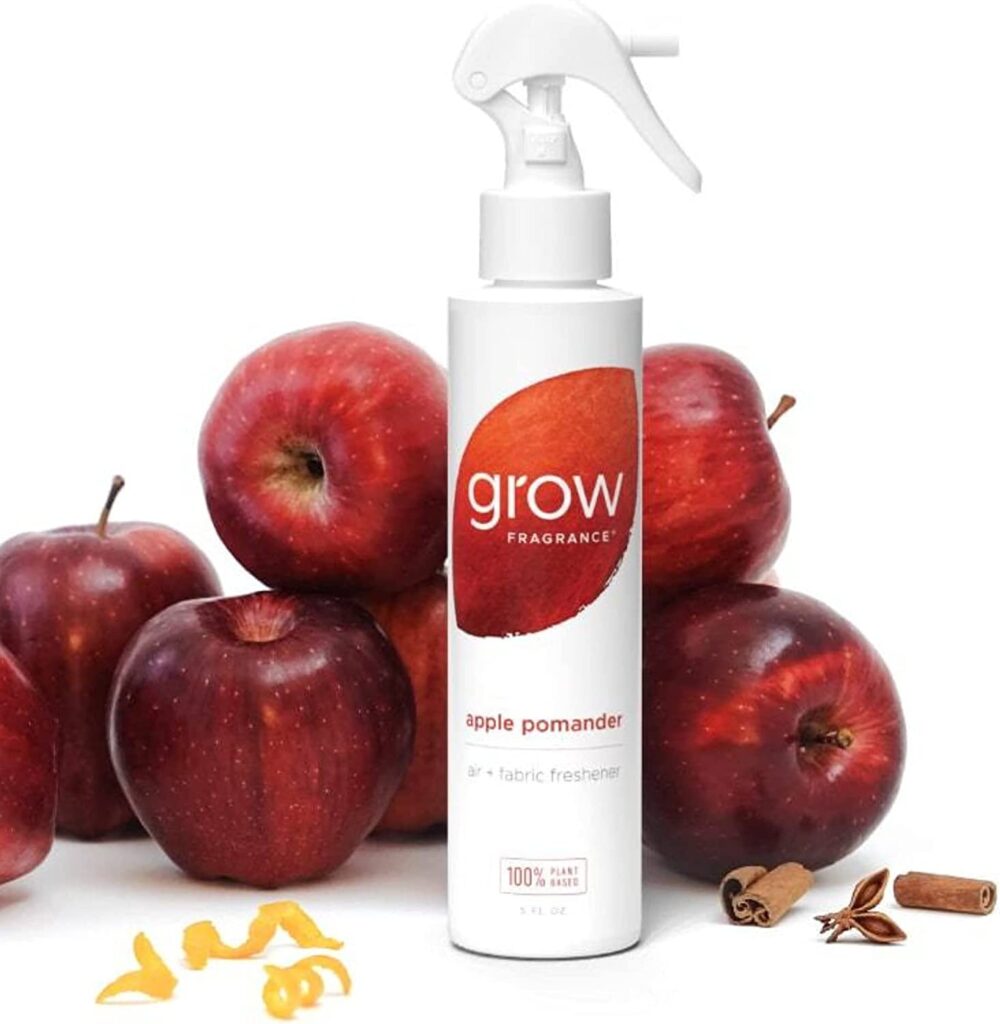 You can use the Grow Fragrance Air Freshener's manual oil-based spray anywhere in your home, including upholstery, yoga mats, and curtains. Thanks to its non-toxic composition, this deodorizer can eliminate tough odors naturally. Its apple pomander scent comes from organic plant sources. Besides being an air freshener, it's also functional for fabric. You can't get a better two-in-one odor eliminator than this at such an economical rate. Read on to learn about some of its excellent features.
You can use it conveniently in a simple three steps process. Unlock, shake, and spray – your room will instantly smell nice, removing all the unpleasant odors from surroundings.
This brand offers complete ingredients transparency. They ensure using no toxins like parabens in preparation for this air freshener.
The fragrance gets maximum marks for its extraordinary longevity.
You can also use this air freshener to refresh your car's ambiance. It can quickly eliminate the musty and smoke odors.
7.   Fresh Wave IAQ Air Freshener for Home
Bring home the Fresh Wave IAQ Gel to revitalize your house's aura. It has no unique requirements for electricity or batteries to release pleasant scents. It's time to say goodbye to stubborn odors and welcome a fresh wave inside your home. Place the container in an accessible space in your room and observe the gel's magical diffusing power. Its strong scent can even neutralize the odor in industrial regions. You can refill the container quickly without replacing it all over again. Let's look at some of the essential features of this solid room-refreshing gel.
EPA approves its composition as non-toxic, qualifying as a safe choice for humans and animals.
It comprises 100% plant-based ingredients that release a pleasantly organic fragrance.
Depending on the room's size, the gel lasts easily for 15 to 60 days.
The fragrance from lime, pine, cedarwood, and anise sources is 100% authentic. Your space can instantly give fresh vibes after opening the container's lid for a few seconds.
8.   Febreze Unstopables Plugin Air Freshener for Home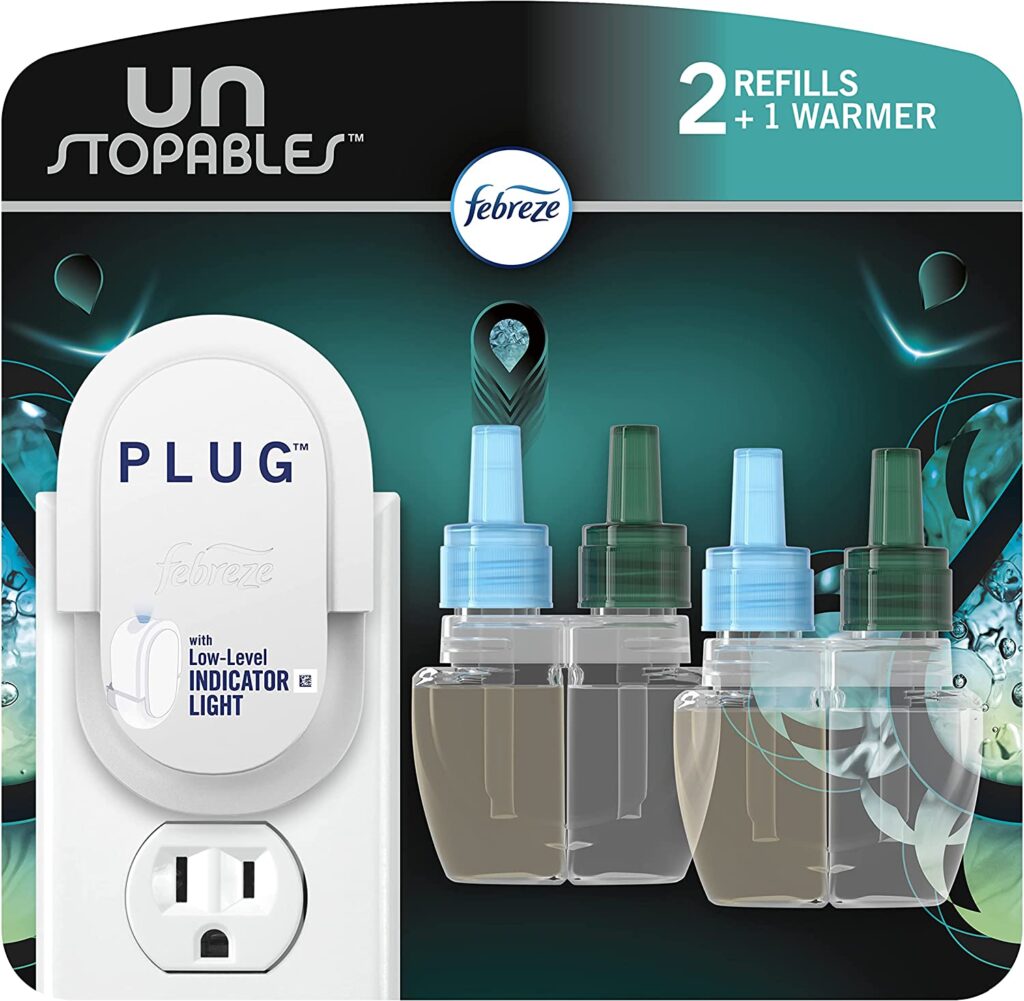 Are you seeking an air freshener for your high-traffic room? Purchase the Febreze Unstopables Air Freshener and get worry-free after plugging it into a nearby socket. The fade-defy technology ensures that the device delivers a bold fragrance for months. Strength of the scent release remains vital for the whole period. Two refill packs come with the plugin for free. Let's overview some of its features.
The indicator lights up as soon as the device needs a refill.
Its plugin device has a long-lasting scent technology, which releases fresh scent for 50 days on low settings.
The pleasant scent comes from a combined organic source of passion fruit, atemoya, and pineapple.
There are no safety risks surrounding the use of this plugin. You can keep it activated 24/7 without fearing any electrical mishap.
9.   Air Wick Essential Mist Air Freshener for Home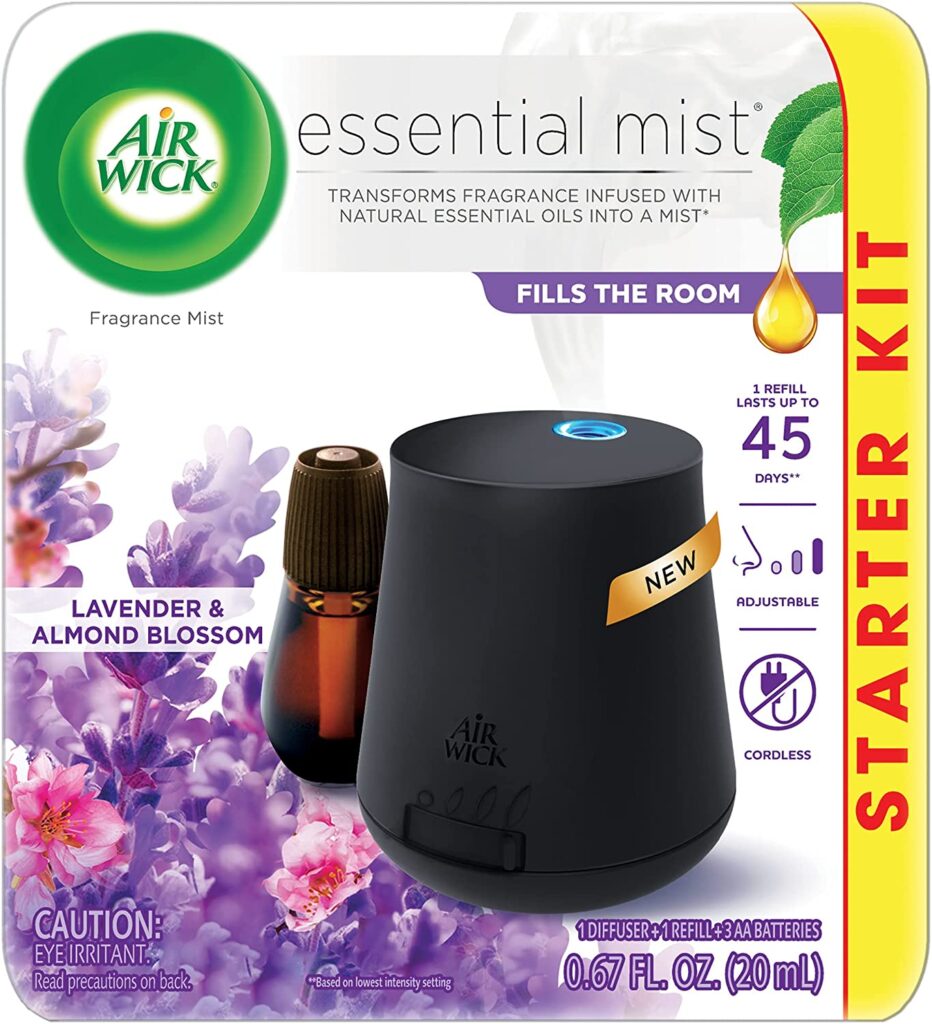 The Air Wick's Mist Device gives off lavender and almond blossom fragrances to refresh your room's ambiance like never before. It doesn't function continuously, instead runs in a cycle of eight hours. Then, it activates the standby mode for the rest of the day. This technology ensures optimum scent release that's perfect for deodorizing the air. The refills are easy to insert with no special requirements like adding water. Below are a few similar top-notch features of this portable air freshener.
You can change the fragrance control settings from low to medium to high. The mist frequency is four, five, and six seconds respectively. Moreover, there's a pause of 10 or more minutes on each setting.
A single refill can sustain for 45 days if you adjust the device on low settings.
You can use this portable mist device in any room of your home. It refreshes the environment of medium to large-sized rooms perfectly.
It comes with a 3AA battery of high power that promotes the device's top-quality functioning.
Wrapping Up
Room fresheners help develop a pleasing indoor atmosphere. To ensure that your rooms smell clean and good, install an automatic freshener that releases fragrance 24/7. However, you can also purchase a manual spray can with organic scents to serve a similar purpose. There are multiple options to choose from. If you want to experience soft, breezy air in your living room, refer to our top 9 picks of air fresheners for home. It will help you choose a freshener that suits your needs perfectly.