Looking for a convenient and reliable air compressor? Don't worry, we have got you covered with the best air compressors you can have in your garage.  Air compressors can power machinery that provides more power than standard tools. Using pneumatic tools makes an air compressor a necessary component of your operation. As someone who enjoys fixing and creating things from their home garage, having a practical and top-quality air compressor is an absolute requirement. Air compressors are a must-have because they may also operate at high temperatures and in places where different kinds of energy are prohibited by explosion and fire risks. There is greater control over usage and air quality due to the possibility of on-site air generation.
We present you with the top 8 air compressors guaranteed to be truly helpful and perfect.
Why air compressor is used in home garage?
Before we look at these recommended products, let's introduce you to the benefits of air compressors.
They can function in any weather condition, even colder temperatures
They can provide ample airflow while also being noise-friendly
Maintaining them takes no effort
They are built to last a very long time
What to look for in an air compressor for home garage?
1. Highest PSI Limit
Standard air compressors require 70-90 psi to work typically. Extensive tools may require higher psi to function adequately.
2. Compact and Lightweight
These are essential characteristics to have in an air compressor. If you have a limited garage space, then a big compressor with messy cords will ruin it in a short period. Look for a compact, lightweight air compressor that can be moved easily and stored in a small space.
3. Specific Air Tools
Air compressors come with various tools that serve different purposes. Make sure to have tools related to the compressor size to have adequate power to function correctly.
4. Compressor Capacity
Compressor capacity is a significant feature before opting for an air compressor. It all depends on the scale of your work. If your work is large-scale, you might want to have a big-sized compressor to store the compressed air for later use. If you plan to use the air compressor for small needs like filling up a tire or a ball, we recommend you look for a small-sized compressor.
Considering these benefits, owning the best quality air compressor seems like a one-time investment. Although, identifying the best one among several options might be a bit challenging. To save you the trouble of choosing the wrong fit, we have reviewed the top 8 air compressors that can be an excellent fit for your home garage.
8 Best Air Compressor For Home Garage in 2022
1. Bostitch Air Compressor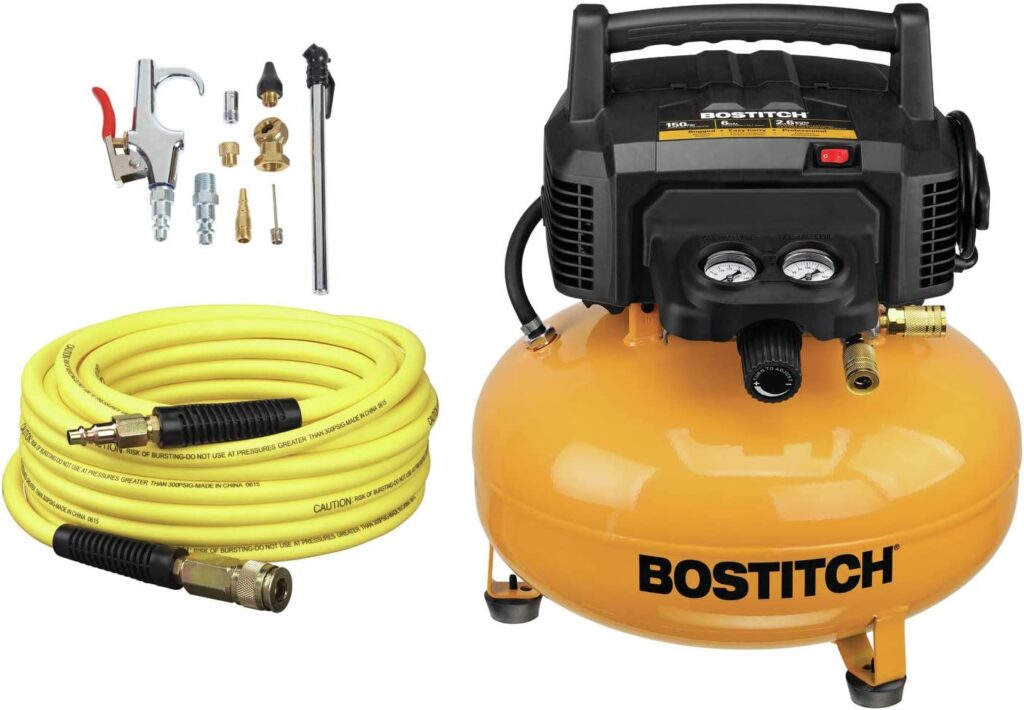 Firstly, let's take a look at this Bostitch air compressor kit. This product is perfect for drilling, airbrushing, spraying, and nailing. It's the epitome of a durable and convenient product. This item is available with a compressor kit and a nailer kit so that you can choose depending on your needs.
Below are some top-quality features that make this air compressor essential.
2. Craftsman Air Compressor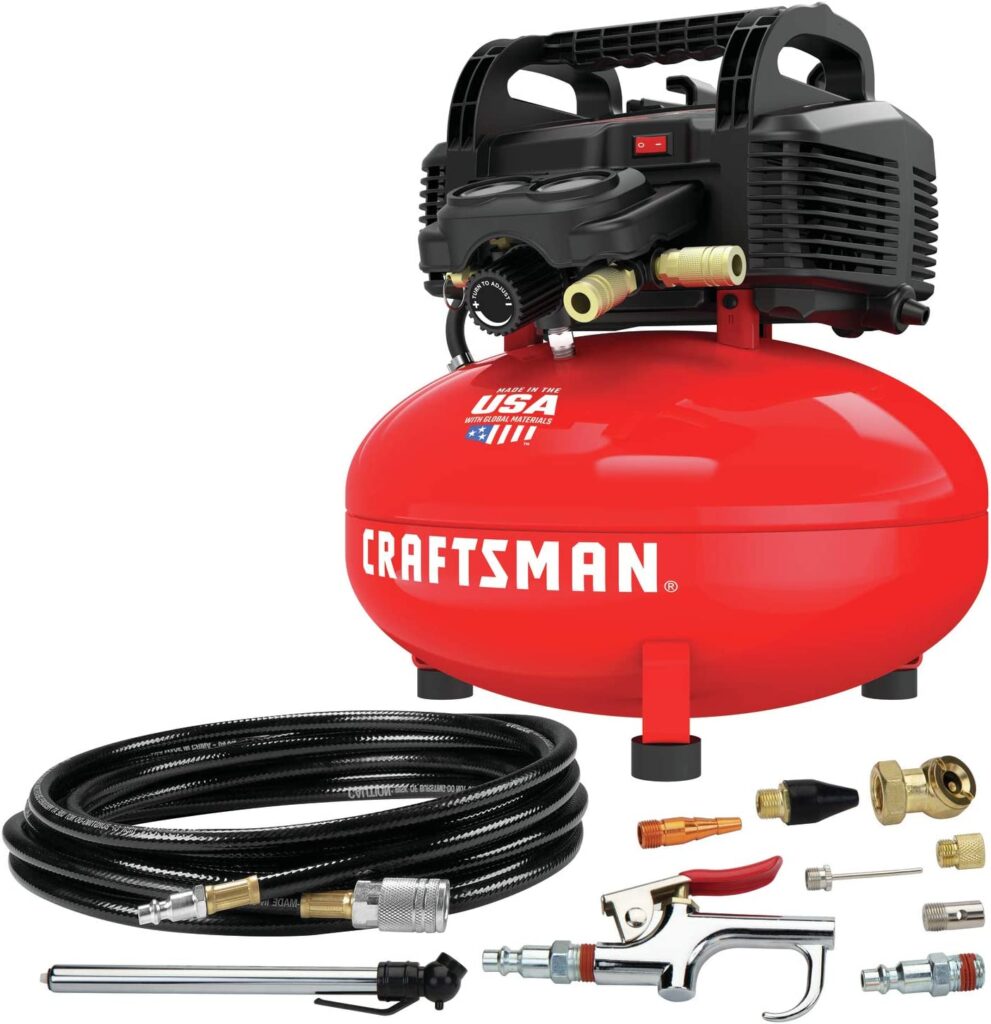 We present you with the ultimate air compressor that will always have your back in any circumstance. Craftsman Air Compressor can function even in higher temperatures, which makes it convenient. This item is designed to require no maintenance and is ensured to last a very long time, which is also why it's a needed product.
Here are the item's features so you can know more about it.
3. Smittybilt Universal Air Compressor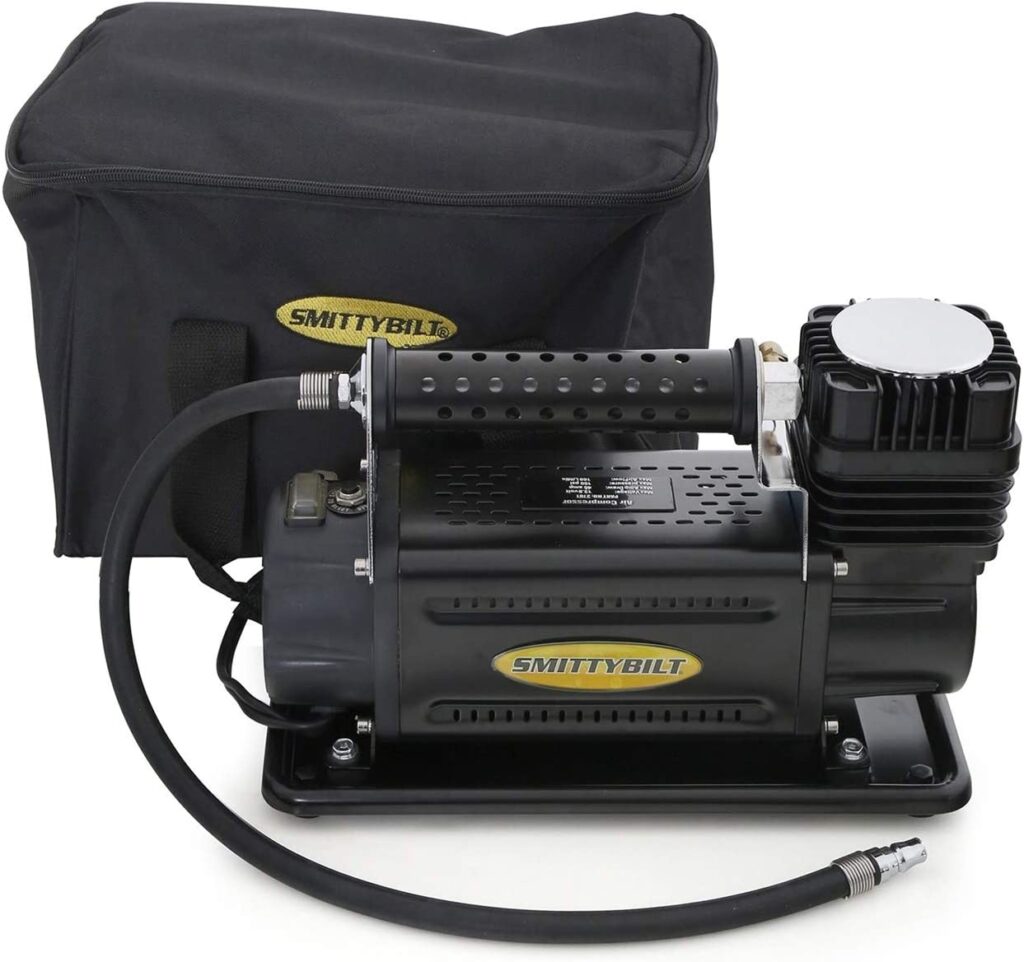 This universal air compressor is perfect and built to be super reliable and convenient. Smittybilt Universal Air Compressor is best recommended for drilling, airbrushing, spraying and nailing. It's needed machinery for a myriad of reasons. It has a built-in cleanable air filter, making it easy to maintain. Anti-vibrate rubber feet and a storage bag are also included.
Let's look at the top-notch aspects of this air compressor that make it a vital product.
4. Kensun Digital Tire Inflator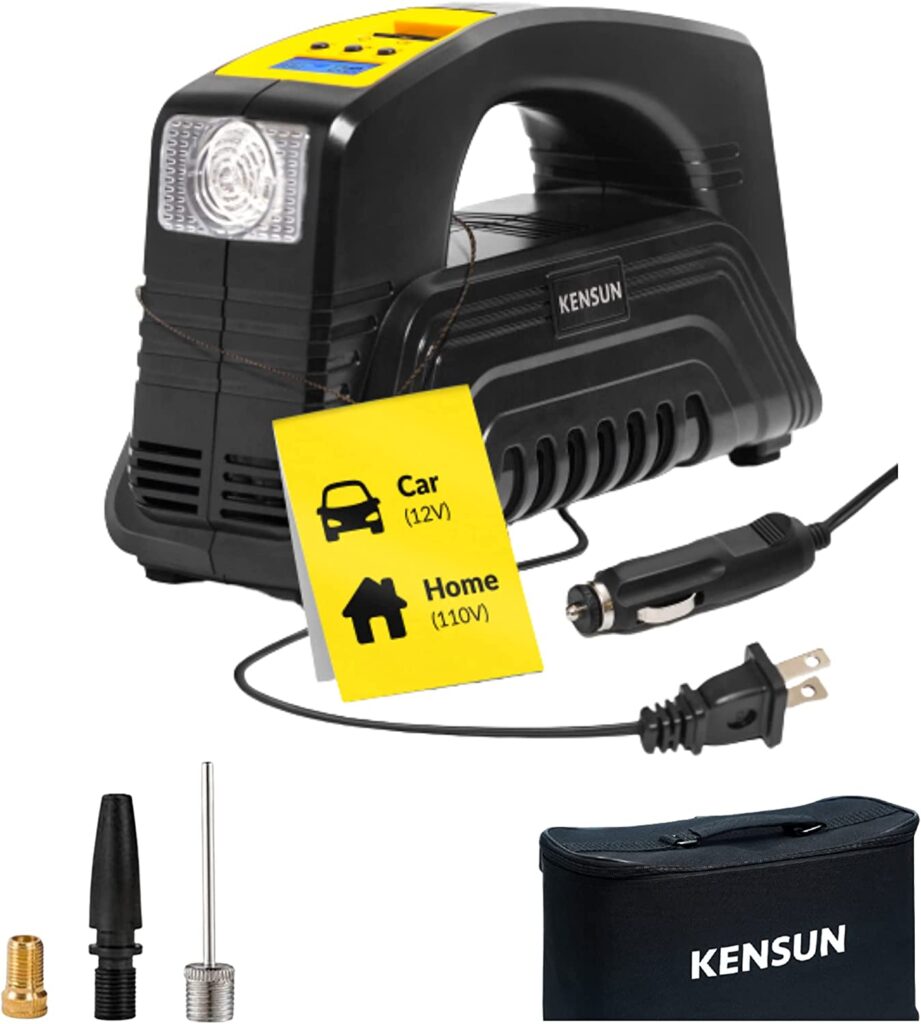 This digital tire inflator makes your rides more manageable and stress-free, the perfect addition to a handy product. Kensun Digital Tire Inflator is ideal for cars, bicycles, motorcycles, basketball and others. The dual motors provide fast inflation; the product is sure to be easy to use and help you in any situation.
Down are some unique aspects of this air compressor.
FAST INFLATION: Thanks to Kensun's cutting-edge engineering, the 120W solid metal motor offers excellent power and will enable super-quick and simple tyre inflation
Kensun's innovative AC/DC switching with a 12V car cigarette lighter plug and a 110V wall plug for a house outlet makes this inflator more practical because you can use it anywhere
When the predetermined pressure is reached, the AUTO SHOT-OFF DIGITAL GAUGE automatically turns off. The use of this machine is straightforward and secure thanks to its large, bright, back-lit LCD with unit conversion (PSI/Bar/KPA)
Tire inflation for motorcycles, automobiles, sedans, and midsize SUVs. This inflator is practical in every situation thanks to the integrated ball and inflatable adaptors, remarkable AC/DC capabilities, and LED work light
STRONGLY BUILT: Our product is made with the highest quality materials that make this compressor long-lasting
5. California Light and Quiet Portable Air Compressor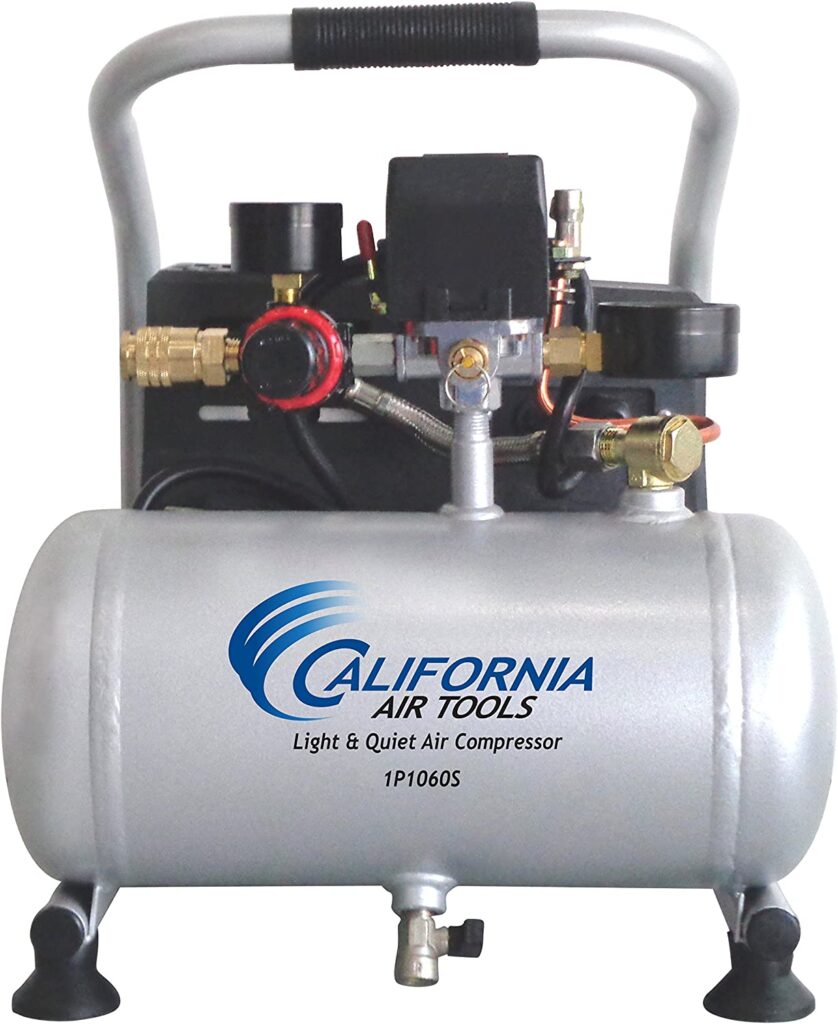 Portable air compressors are truly handy to have. They're practical and easy to carry around, which is what makes this product so essential to have. It's noise-friendly, which is a tremendous advantage for machinery. Since California Air Tools is very light to carry, it is perfect for older people or anyone who needs a more lightweight compressor.
We can't forget the versatile features of this product. Swipe below and get to know them.
An ultra-silent, oil-free pump (just 56 decibels) requires less upkeep
The 1.0-gallon steel tank is lightweight at 29 pounds for simple transportation
0.6 HP (rated/running) and 1.20 CFM at 90 PSI are both strong
Longevity ensured: This air compressor is perfect because it requires little maintenance and is long-lasting. The durability of this product is provided because of the premium materials used for it
6. Air Compressor Tire Inflator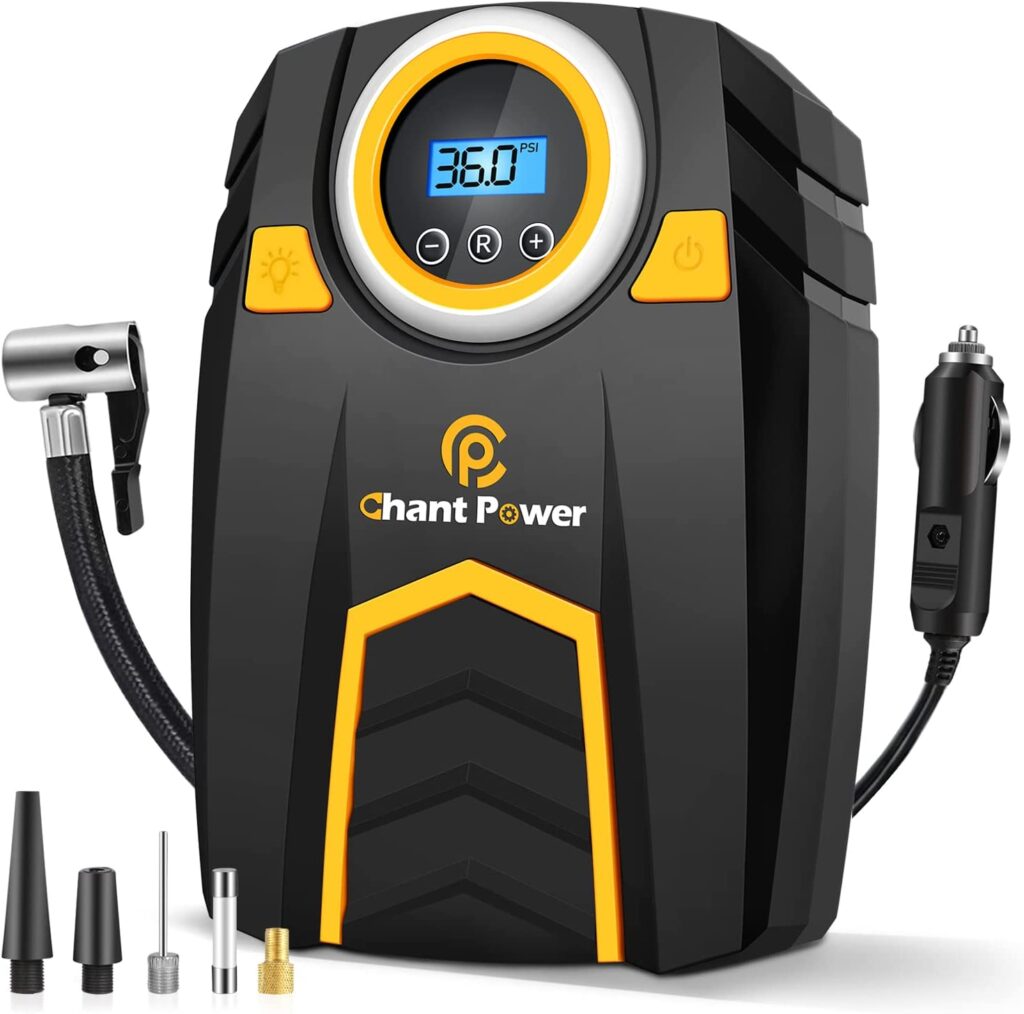 This air compressor is ideal if you want to inflate your tires in just a few minutes. It's perfect for making car rides less stressful because it's versatile. The Air Compressor Tire Inflator is authentically created from excellent quality materials. It's a multipurpose machine used for tires, balls or inflatables.
Now, let's explore the specifications of this functional product.
Simple to Use: Input PSI (BAR, KPA, KG/CM2) by repeatedly pressing the "R" button. You can stop the device when the required pressure is attained by using the "+" and "-" buttons to adjust the air pressure
LED Light Integrated: Pressing the "light" button activates the device's LED work light, which illuminates or responds to any emergency at night
Portable and light: For easy access in a roadside emergency, store it in the trunk or underneath the seat
7. FASTTOBUY TOAUTO A3 PCP Air Compressor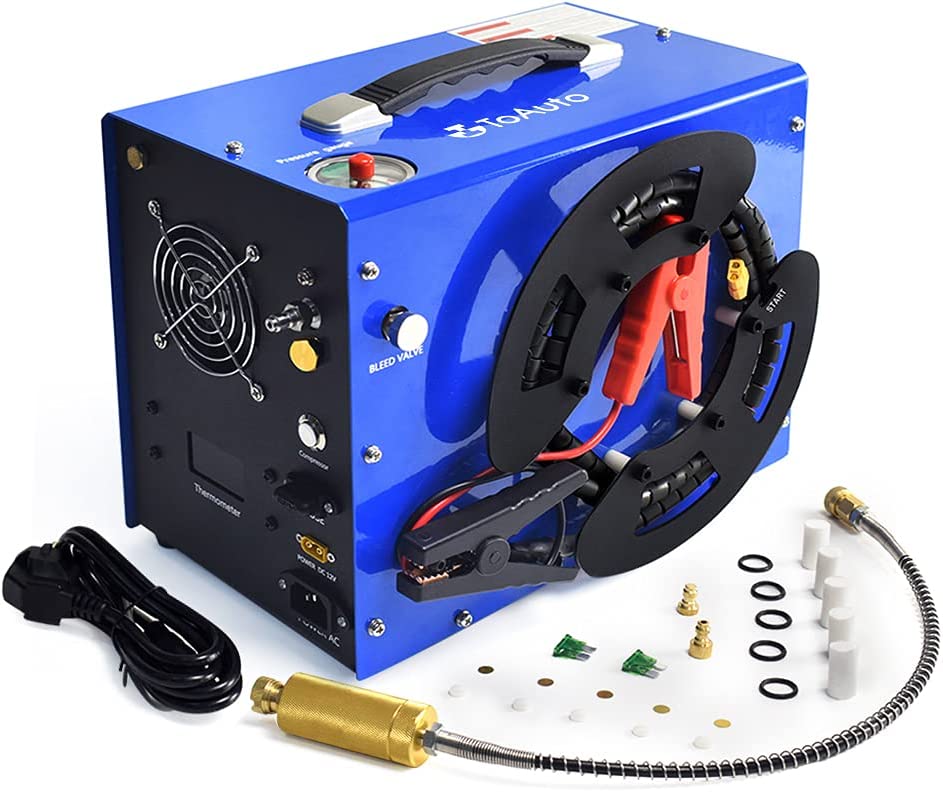 This  FASTTOBUY TOAUTO Air compressor is the perfect tool to own. This product is guaranteed to be highly versatile and not to mention that it's also cost-affective. Owning an air compressor like this greatly helps make your everyday life much easier. The compressor includes a unique vertical + wire spool and many other great features. 
Below are this product's superior features, making it a must-have.
SPECIAL WIRE SPOOL CONCEPT: Have you ever been unable to inflate when hunting because you neglected to bring a 12-volt car clip power cord? You may conveniently move wire reels to the locations where you need them the most with the TOAUTO A3 air compressor WIRE SPOOL.
You can quickly fill up your paintball or PCP airgun anyplace.
Inflates to perfect amount of TOAUTO A3 paintball air compressor with one-button start function.
A Long-Lasting Gadget: The compressor is designed to stay with you for a long time, so you won't have to purchase more machinery.
8. FASTTOBUY TOAUTO A2 PCP Air Compressor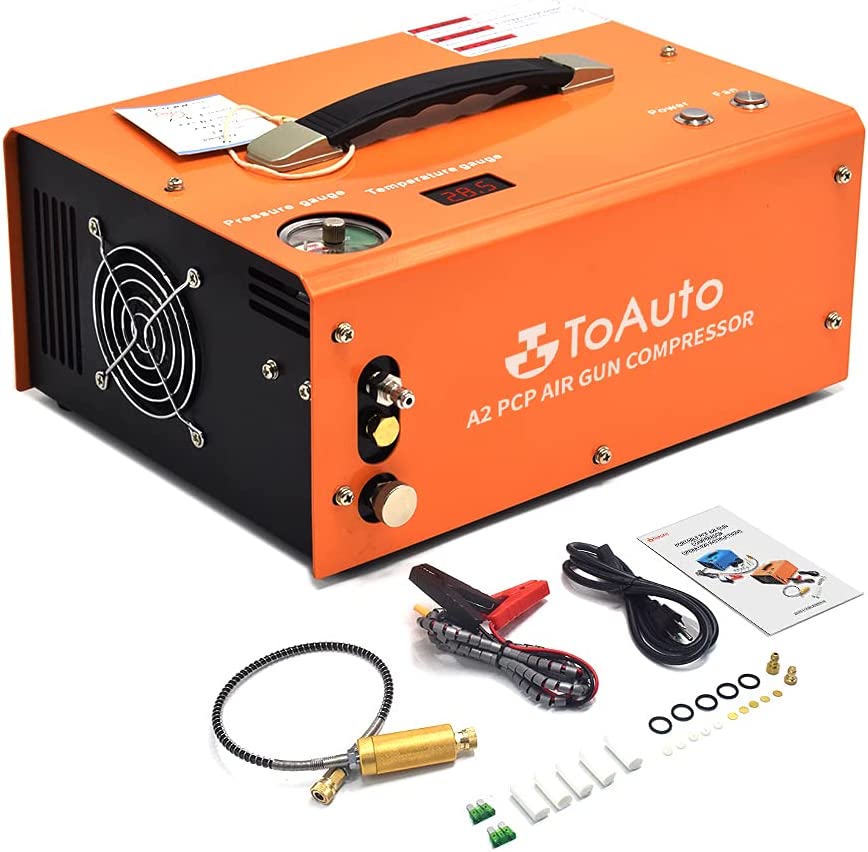 This FASTTOBUY TOAUTO Air Compressor is very convenient and versatile. This product meets every possible requirement that you need in a home garage. It's made to be long-lasting and requires little maintenance.
Below are its features.
The compressor can be powered to a 12-volt battery and also can be powered by the home 110/220v Ac
It requires no oil, and you won't need an external water pump cool. It will save you a lot of energy in future
The product includes an adjustable pressure gauge safety valve and burst disc, which makes the air compressor pump safer
It can easily filter oil and water in the atmosphere. Recommended for use In  PCP Air Rifles, Air pistols, paint guns and HPA tanks
Final Verdict:
Choosing a suitable air compressor for your home garage can be challenging. Various factors need to be considered to choose a long-lasting product. Lightweight and portable air compressors make an ideal choice in a small or limited space like a garage. Secure and high compressor capacity are the features that make any air compressor a perfect investment. Make a wise choice after going through our detailed guide to get the best product to fit your lifestyle.