Best Whole House Humidifier
Did you know why winters bring dry sinuses, lips, and respiratory allergies? It's because there is a lack of optimum moisture in the air in this particular season. Breathing in dry air makes you more susceptible to colds, flu, and similar conditions. A 20% drop in the air's humidity level means you should get a humidifier to increase it. Getting a whole-house humidifier can moisturize the air in an area of several square feet. You can place it in the living room and observe the indoor air quality improve. It's time to say goodbye to uncomfortable breathing and irritated sinuses. You can do so by buying one of the best whole house humidifiers of 2022 from our top 7 picks. Before reviewing them, let's overview the features to look for in a humidifier.
What Should You Look For In A Whole-House Humidifier?
Several brands sell whole-house humidifiers to fight dry air. You may find it challenging to make the right choice. However, considering the below factors can solve your problem efficiently. Let's overview the factors you should look for in a whole-house humidifier.
House's square feet area
You must consider your house's square feet area when selecting a humidifier. Its unit should be capable enough to moisturize the air of your whole home. Every humidifier can store different gallons of water. It influences the device's air-humidifying power. The more the gallons, the longer it will function in a single refill. At the same time, the high-output unit will quickly cover a large area of up to several square feet.
Control type
An automatic humidifier works best in this case. You can get stress-free after setting an optimum humidity level only once. The device will automatically turn on or off to ensure consistent mist evaporation; it helps maintain an ideal humidity in the air.
Size of the device
Considering the dimensions of a humidifier before its purchase is significant. Both height and width matter in this case. A table or console-styled humidifier can work well if you have enough space in the house. However, if your home has less space, buy a device with a compact structure.
Installation type
There are two types of humidifiers concerning their installation type. You can buy a portable design that requires a simple plug-in to a power source to function. However, many brands also sell in-duct systems, which are traditional types. You will need professional help to install this type. Its maintenance costs are also on the higher side.
7 Best Whole House Humidifier to Get in 2022
1.   AIRCARE Whole House Pedestal Humidifier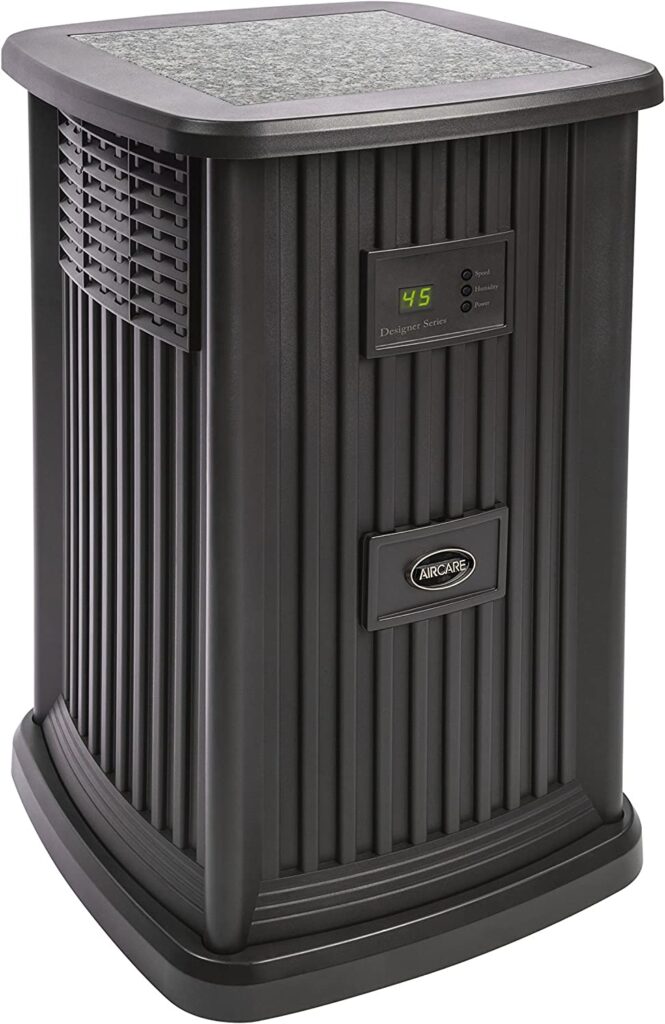 The espresso-colored Whole House Humidifier by AIRCARE is a digital device that functions automatically. You can use it as a decorative table that goes well with your house's interiors. With a run time of 60 hours, this modern humidifier can prove a life-changing decision for you. It's finally time to say goodbye to breathing difficulties caused by dry air by purchasing our top pick. The below features are evident in its top-notch functionality.
It has an automatic function. The device instantly powers off after reaching an ideal humidity level around the house.
You can select from nine different fan speeds according to required humidity level.
There is a digital display system. You can see different functionalities of the humidifier on it. It includes the current and required humidity level and the custom speed of the fan.
This humidifier can easily humidify the air in an area spread up to 2,400 square feet.
This humidifier has a one-time capacity of holding 3.5 gallons of water.
2.   AIRCARE Whole House Horizon Humidifier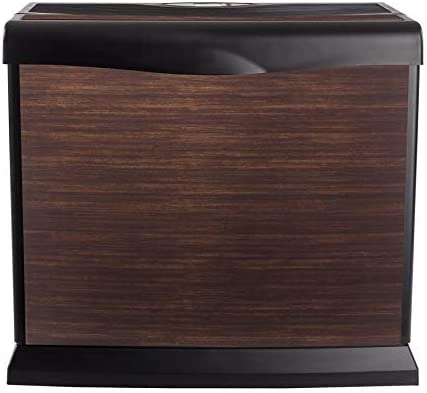 Our second top pick is also by the same brand. However, this AIRCARE Whole House Humidifier has an attractive copper night color. Its style also differs from the table humidifier we discussed as our first choice. This humidifier is ideal for a more widespread area of up to 3,700 square feet. It functions straight for almost two days with a single full gallon. Let's discuss a few of its other vital aspects.
It has a glossy-wooden finish that can suit your house's decor effortlessly.
You can control the airflow digitally. All the controls are easy to operate. Even a beginner can get familiar with them in one or two times of use.
An indicator lights up when this humidifier's gallon requires a refill.
You can set the fan at three different speeds through digital controls.
A capacity of 4.75 gallons can make it work for at least 45 hours before needing a water refill.
3.   AIRCARE Whole House Console Humidifier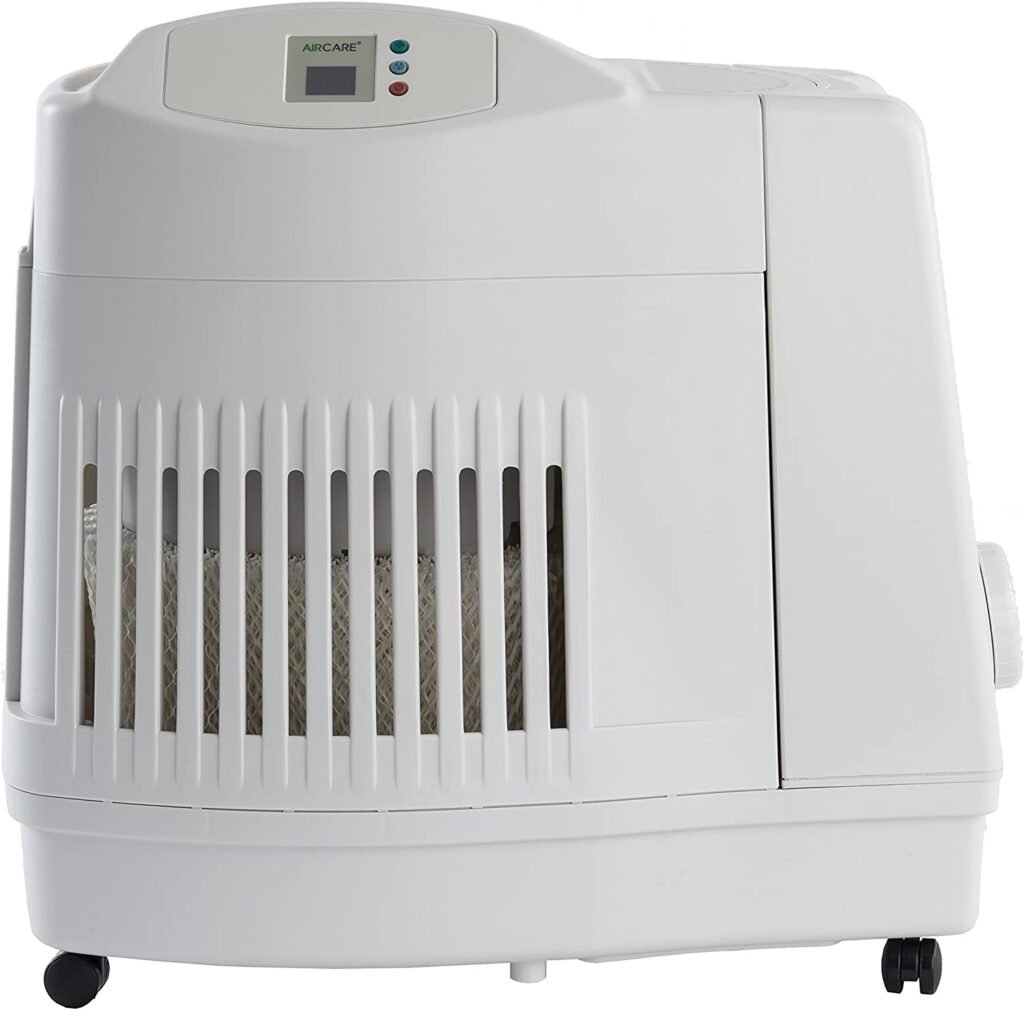 It won't be wrong to regard AIRCARE as one of the best-selling humidifier brands. This Console Humidifier by AIRCARE produces a cool mist to moisturize the dry air. It can easily cover an area of up to 3,600 square feet. There are no questions about its exceptional performance. This air moisturizing device's digital functionality can automatically maintain an optimum humidity level. Let's overview the features that make it our top third choice.
 You can also set a humidity level of your choice. The machine's modern technology adjusts the fan's speed accordingly to provide top-notch results.
Besides auto mode, you can select a manual speed of the fan from four different options.
A single full gallon in this medium-sized humidifier can run up to 36 hours without any breaks.
Casters in this humidifier make it easy to move around. While its lightweight also supports this portable aspect.
You can check the gallon's capacity anytime through a check filter indicator. There's another indicator for refill alerts.
4.   AprilAire 500 Whole House Humidifier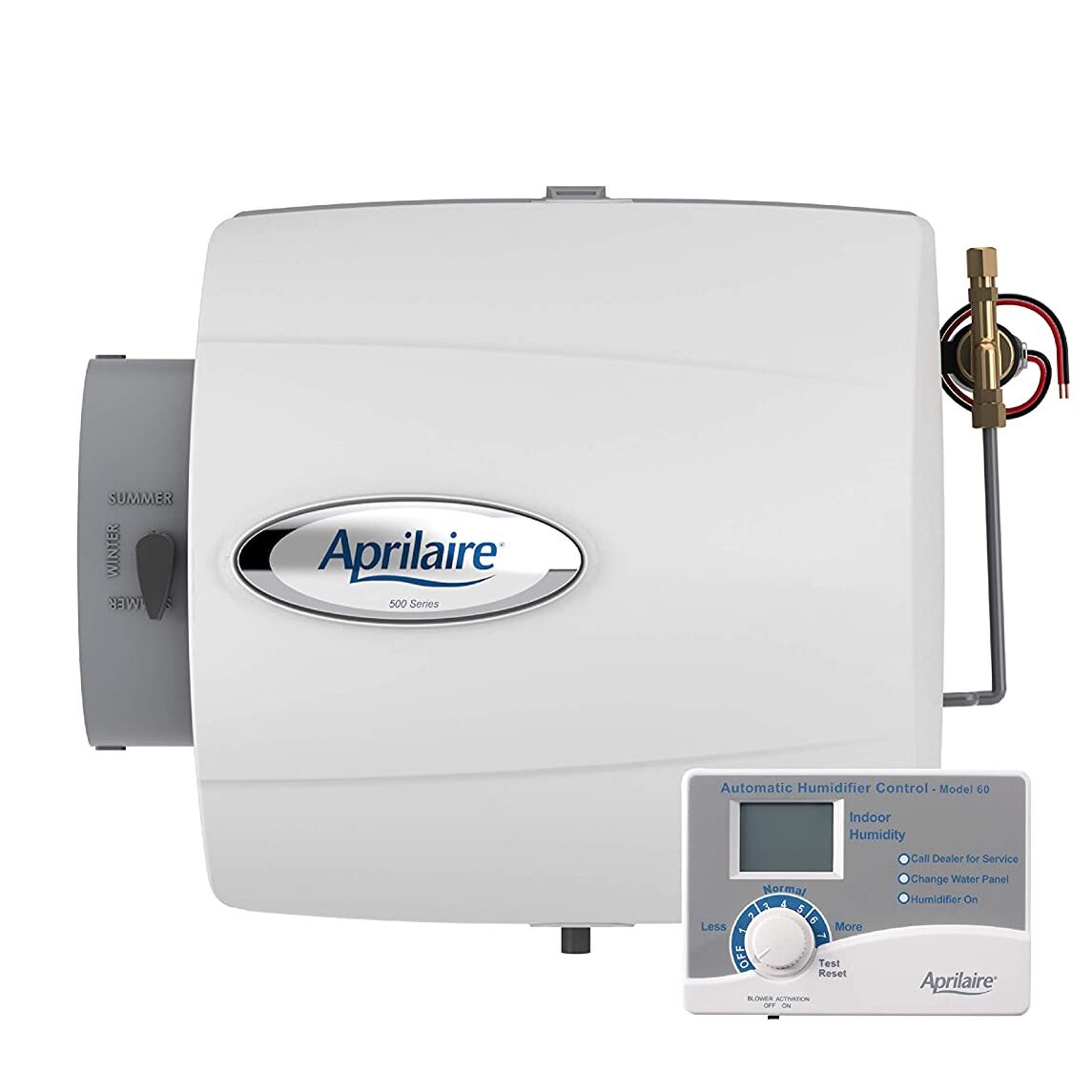 The Aprilaire Whole House Humidifier is one of the best devices to remove dryness from the air. It has an ideal coverage of up to 3,600 square feet. You can use this humidifier indoors and outdoors with equally effective results. Thanks to the dual sensors that can detect temperature and humidity levels. It then humidifies the air accordingly.  Getting this humidifier can save you and your loved ones from respiratory infections. Here are some of its appreciation-worthy features.
It has a compact design. You can conveniently adjust it in a narrow space in your home. It's ideal to purchase if you don't have extra space in your house to place a large-sized humidifier.
A digital screen shows multiple functions at the same time. It includes the humidity level and refill indicator. Also, a laser light indicates the humidifier is switched on.
There is a blower activating button that you can use to keep the humidifier activated 24/7. You can also adjust the settings according to the furnace's activation.
This humidifier comes with a separate outdoor temperature sensor. It makes it suitable for use outside the home.
It has an ideal capacity of 12 gallons for 24 hours.
5.   YOKEKON Whole House Humidifier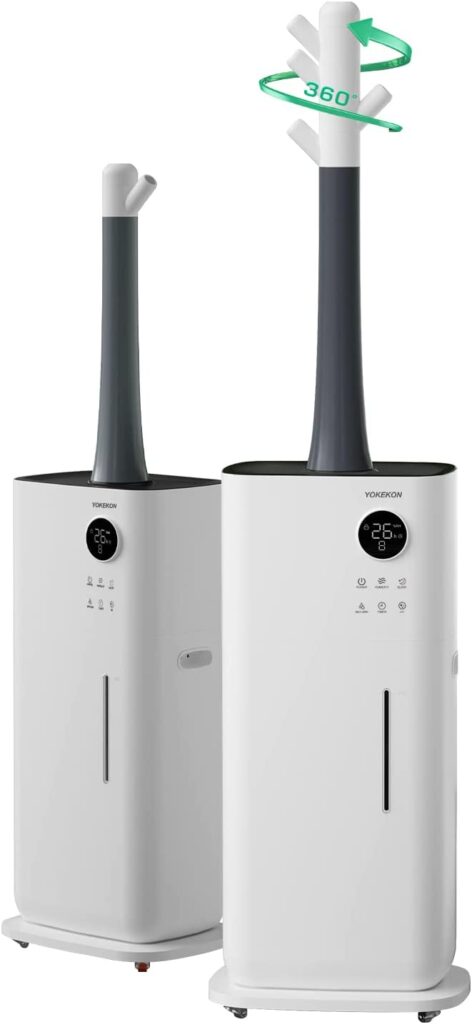 The YOKEKON Whole House Humidifier is used in industrial, commercial, and domestic setups. It delivers a maximum mist level of 2,000 milliliters per hour. You can adjust a custom humidity level from three different low, medium, and high settings. Moreover, you can control it using a digital or manual remote control. Below are some of its features that make it one of the most functional humidifiers for the whole house.
It can efficiently moisturize the air in areas spread up to 2,000 square feet.
A single refill of 5.3 gallons lasts for at least 15 hours if you run it at maximum fan speed.
This humidifier has a self-cleaning feature. It purifies the water before evaporating it into a mist.
Its quiet functioning won't disturb your sleep. You can also turn off the display light at night.
This device automatically shuts off when the water level is low. It prevents fire hazards or damage to the machinery.
6.   AIRCARE Space Saver Whole House Humidifier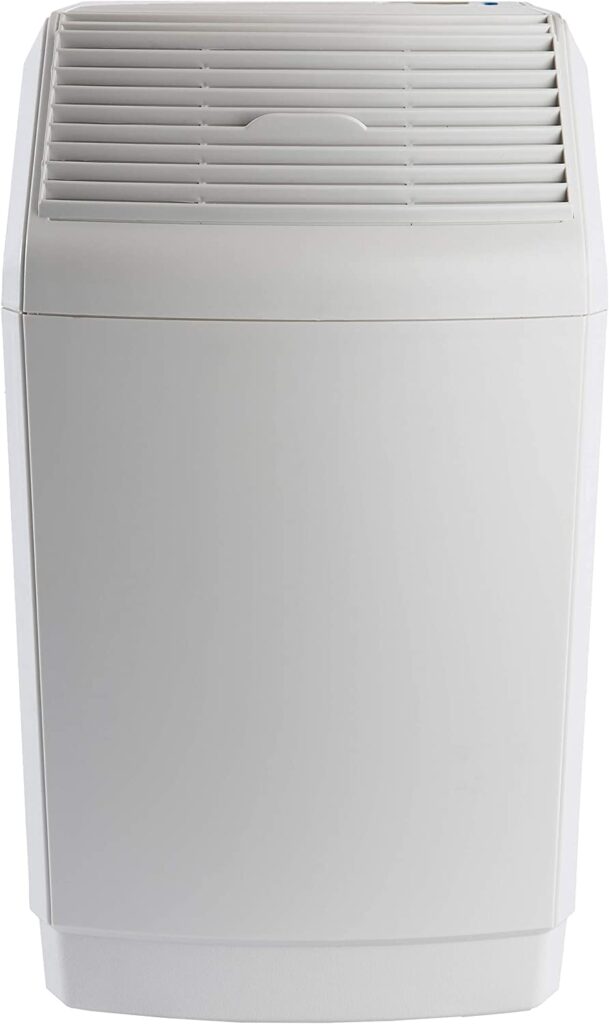 The AIRCARE Space Saver Humidifier can be the ultimate choice for your small house. It doesn't occupy much space. Moreover, the air humidifying power is remarkable. There's an auto humidistat that shuts off by itself. It happens when the tank gets empty and after delivering the optimum humidity level. Thanks to a trap max filter technology, water in the tank stay free from debris and impure particles. Some of its other features are:
This humidifier can store six gallons with a prolonged run time of 70 hours.
Thanks to casters, you can quickly move it around even when filled with water.
You can set a custom fan speed in this humidifier from three different intensities.
It comes with two years of warranty with top-notch after-sales support.
7.   AprilAire 700 Whole House Humidifier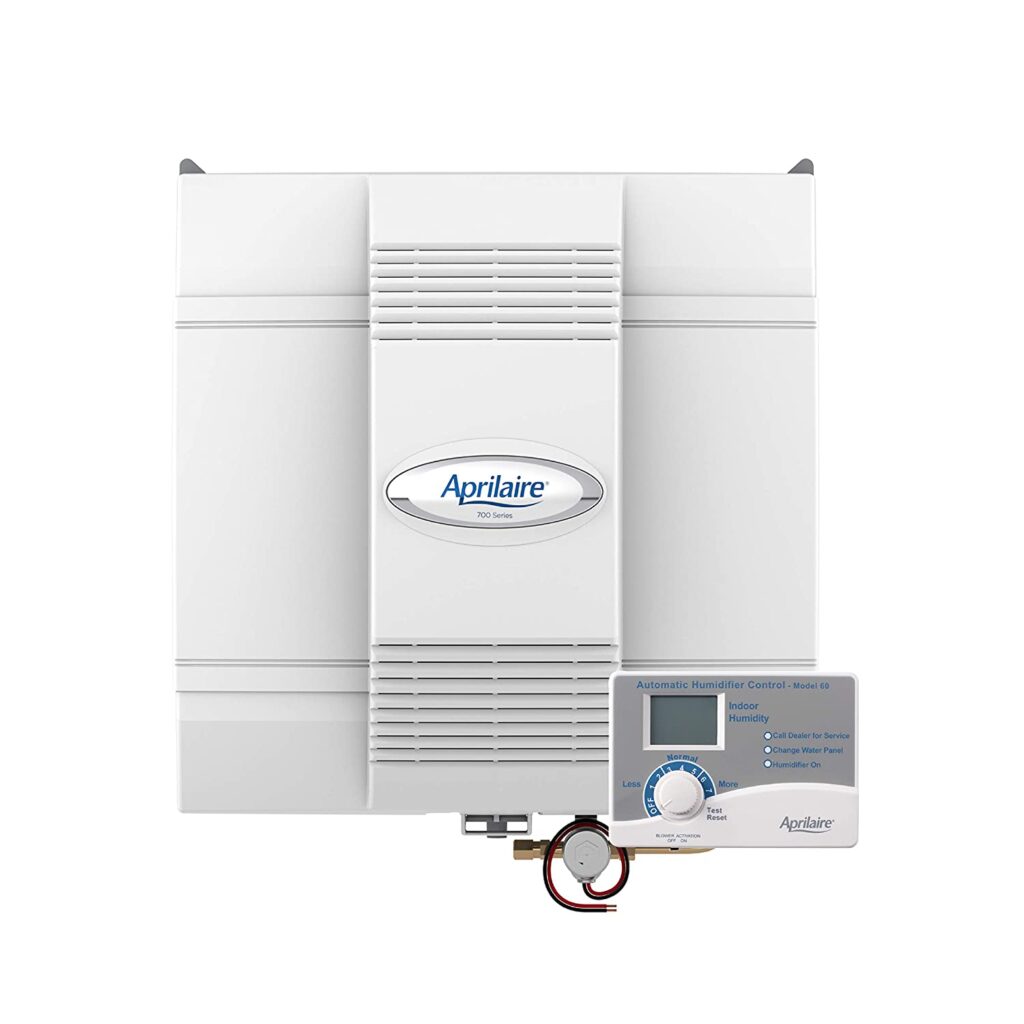 The AprilAire 700 Humidifier with a furnace can effectively cover almost 5,300 square feet. This humidifier has a compact structure making it a suitable choice if your house has no extra space. Thanks to an outdoor temperature sensor, you can also use it outside your home. The lightweight and portable design make it easy to carry around. Let's overview its other functional features.
A dual temperature can detect indoor and outdoor temperatures to keep the air moist 24/7.
Replacing the water panel every season ensures a top-notch performance by this humidifier.
It has a capacity of 18 gallons per day to moisturize the air of your whole house.
Wrapping Up
The dry season can irritate sinuses and cause multiple respiratory issues. It is because of the low humidity levels in the air. You can install a humidifier to eliminate this problem, especially in winter. We have searched and enlisted the top 7 whole house humidifiers of 2022 to make your purchase easier and more effective.