Healthcare interior design plays a major part of our society, especially in designing of hospitals, clinics, healthcare centers, residential care facilities and doctors offices. Unlike standard interior design which focus on aesthetic decor and attractive layouts, healthcare interior design follows a series of code compliances and strict protocols in designing to embrace patient-oriented approach while creating safe environments for both medical practitioners and patients.
Over the years, medical interior design has evolved a lot especially these recent years where COVID-19 pandemic has pushed more transformational changes in the healthcare industry. These changes have helped reduce the spread of disease while creating a clean and safer atmosphere in health facilities.
As 2021 unveils more transformation, it is the best time for traditional healthcare facilities to leverage on these upcoming trends so that they can provide their future patients a better medical environment in the future. Here, we will be discussing the 10 trends for healthcare interior design to watch for in 2021:
1. Biophilic Design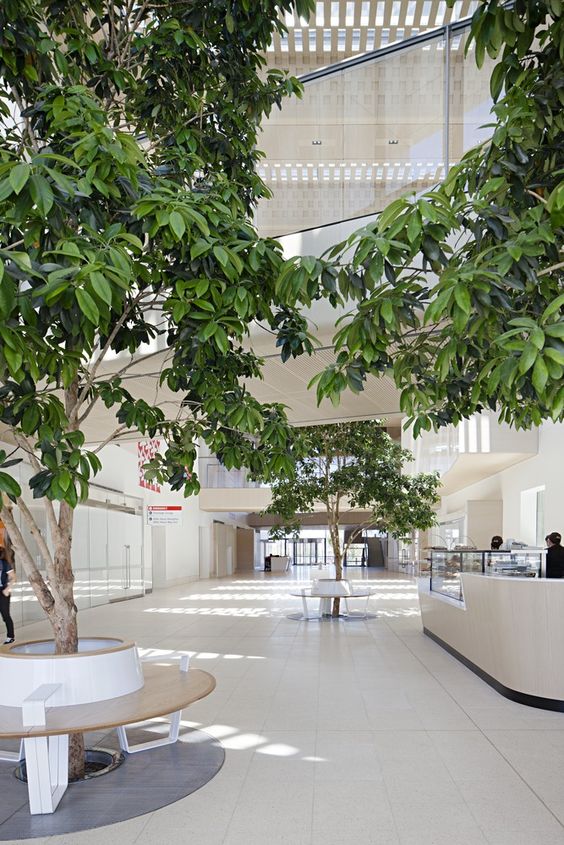 Biophilic Design which means "bringing the outdoor to indoor", is a designing concept to replace man-made space with natural elements such as plants, water, wood. All these natural elements can help to create the perfect nature ambience in your space and is helpful for the recovery of patients.
Contact with nature elements such as natural lighting, water features and views of nature can have a positive impact on both physical and psychological health. It also has the power to ease anxiety and provide comfort for its occupants.
There are many successful case studies on biophilic design on hospital interior design, whereby the patients recover faster and got well sooner with the help of nature connection.
2. Evidence-Based Design (EBD)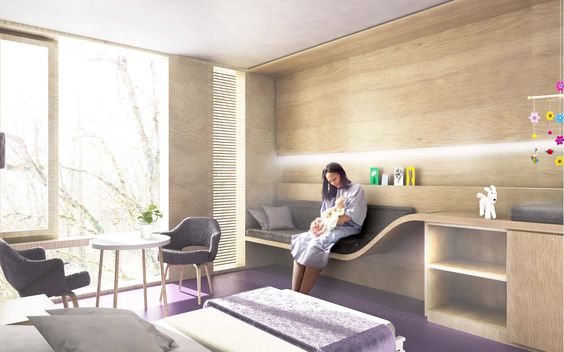 One of the growing trends of medical interior design is Evidence-Based Design, which focus heavily on gathering large amounts of credible data to influence the design process of healthcare facilities.
For example, one study shows exposure of nature views can highly reduce the aggressiveness of patients instead of blank, white walls. Another one shows patients with mental illness spend lesser days in the hospitals when situated in room with big wide windows which welcomes natural sun light.
Therefore, healthcare interior designers can design the space effectively using these scientific researches and case studies as benchmark. The goals are to increase the recovery potential and well being of the patients, at the same time reduction of their anxiety and stress.
3. Technological Approach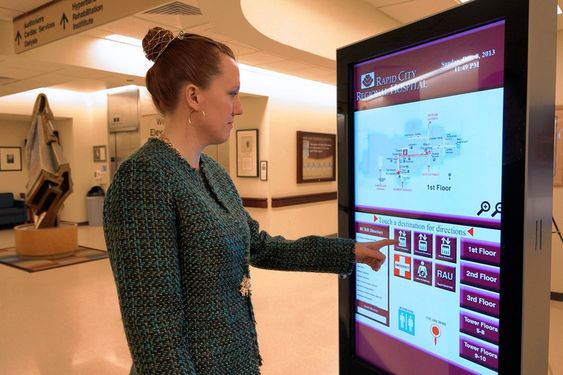 As technology advances every single day, so is the technological approach in medical and healthcare sector where people lives are the utmost importance. Technology can help to build a sustainable, interconnected system whereby medical doctors can retrieve the patient's record faster, thus shorten the diagnosis process and saving more lives.
To increase patients' hospitality experience, an enclosed reception area should be avoided. Instead, station a few digital kiosks to facilitate the check-in process while keeping everybody safe and social distance.
Connecting devices such as personalised tablet in patient's room can also be used to empower patients to collect real-time feedback on their conditions. Using these data, medical facilities can then improve on their services to provide better care and attention to the patients on the path of their recovery.
4. Wayfinding System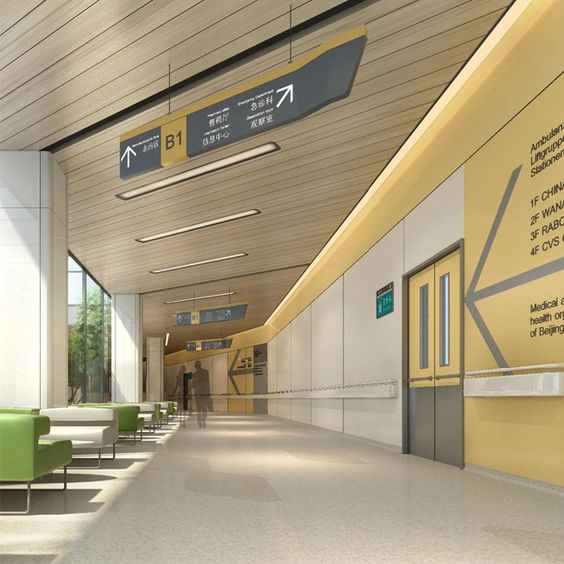 Wayfinding is a must-have feature in healthcare facilities. Considering that hospitals are sizable, a clear wayfinding system serves as a map, giving patients, visitors, and staffs a clear guide throughout the large, unfamiliar facility.
The idea behind wayfinding is creating flooring designs, patterns, directional signage, and using room labels to make it easy for people to identify different sections and departments within the facility. Thankfully, there are tons of options that help designers create clear, distinctive, and aesthetically pleasing pathways.
To align with the healthcare setting, wayfinding systems should feature durable and cleanable materials that can withstand spills and messes. The choice of color, finishes, and patterns should also offer value and help people navigate the space peacefully with ease of mind.
5. Usage of Color Accent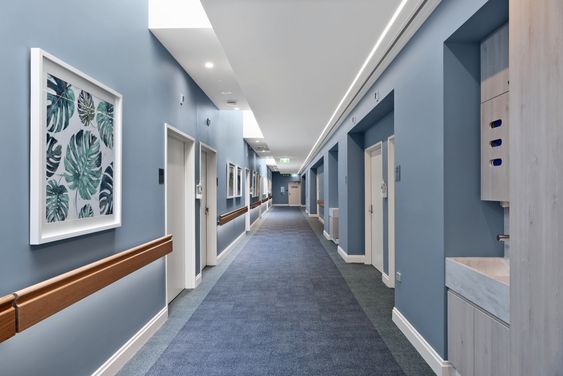 For most traditional hospital and medical care centers, white color tone is the most overuse color for all of the walls. Although white color represents cleanliness, it has also negative impact on the hospital's welcoming image.
Now, it is quite common to see a hospital with different hues and accents to brighten up the spaces around it. Some hospitals even come out with different thematic designs for rooms, so that patients can experience a positive healing environment and improve their welfare.
6. Cleanability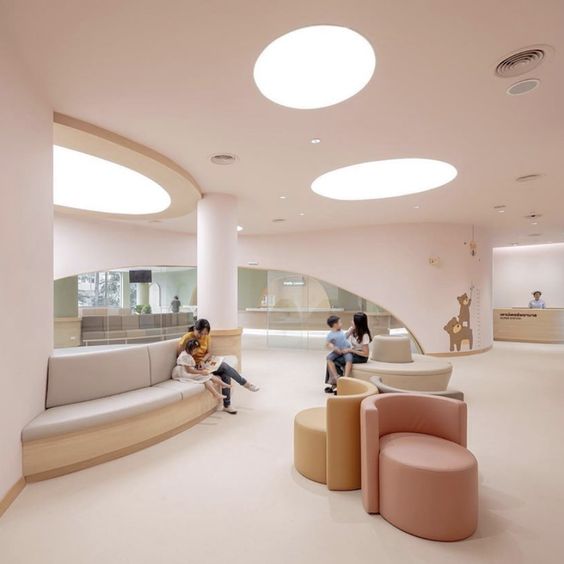 Many healthcare facilities has starting to introduce anti microbial fittings to combat the spread of diseases and ensure total cleanliness within the area. These specialized fittings can withstand repetitive cleaning while the surface can fight stains and growth of bacteria.
Layout design also plays a big role in cleanability especially in tight corners and surfaces with seams and joints.  Healthcare interior designers must ensure that constant cleaning by facility staffs can be achievable with their design. This is to minimize the risk of these places to harbour infectious pathogens or bacterias that could be harmful to the patients.
7. Large Windows & Glass Ceilings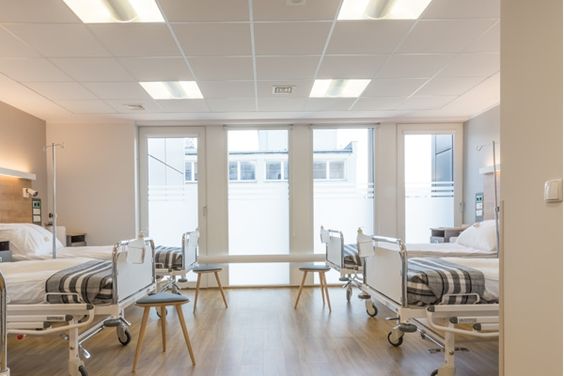 Long gone are the boring patient rooms with blank walls as healthcare facilities have adopted modernistic approach to their current healthcare interior design. Nowadays, hospitals and medical centers are installing large windows and glass ceilings to brighten up the spaces and providing great scenic views to their occupants.
These large windows enhances natural daylight and reduces glare for its occupants, while reduce their stress and anxiety during their process of recovery. Glass ceilings also encourage more nature sunlight to penetrate inside the healthcare centers, providing positive signs of vitality within the area.
8. Concierge Healthcare Services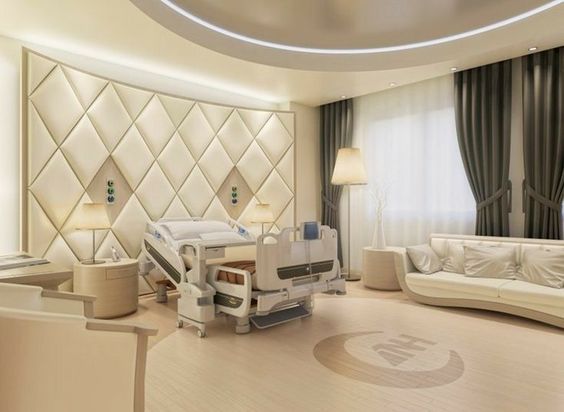 There are patients that wouldn't mind paying extra dollar to get the best healthcare experience within the facility. That's why there is a growing trend to design a support system in place to offer concierge healthcare services whenever needed.
Many reputable hospitals right now are offering their own concierge healthcare services; from private physician practises, patients house calls, extra assistance, private lab tests to larger rooms and private waiting area.
These secluded, private large rooms usually come with large, comfortable bedding, personal TV set and mobile tablet to surf the web. Patients can also relax comfortably on arm chairs and sofas while focus on their own health recovery.
9. Convenience Spaces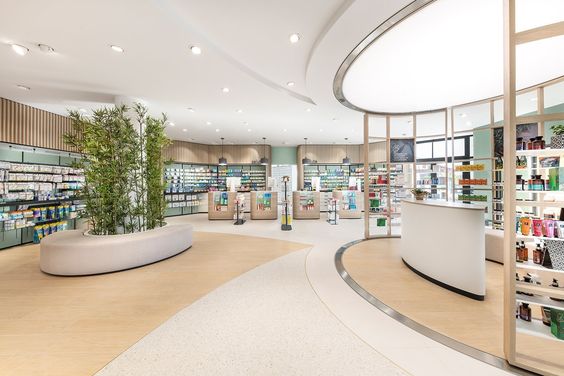 Another growing trend to watch is the convenience being brought to hospital spaces. After all, convenience is the key to the growth of every industry.
Designers in the healthcare industry are designing spaces that allow enough room for social distancing, are easy to clean, and promote a positive working environment. The convenience being brought into facilities serves as an incentive for employees and also optimizes patient's experience.
In some facilities, you will find multi-use spaces featuring coffee shops, flower shops, hair salons, and on-site gift shops. You may also find private test labs and pharmacies in the same space, which induces a sense of comfort and convenience.
Summary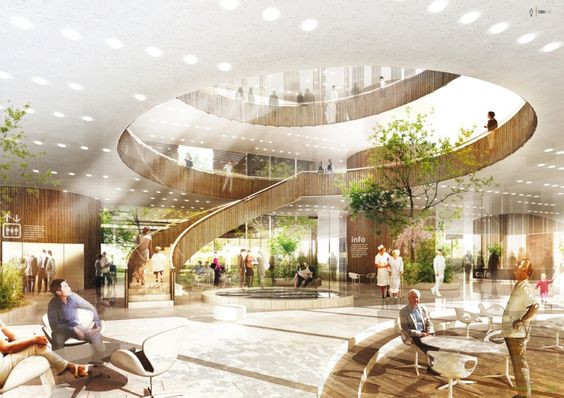 There's no denying that smarter designs mean smarter care, and, of course, every healthcare facility that leverages the new technologies and interior designs gains a competitive edge.
Thanks to advanced healthcare technologies, the healthcare industry is rapidly growing and shows no signs of clowning back. That said, healthcare interior design helps create more space, improve space efficiency, improve the functional usage of spaces in healthcare facilities; and bring into board elements that create an outstanding healing experience for patients, visitors, and staff.
All images taken from Pinterest