#home #homedecor #interiordesign #decor #diyMost of us would love to spend our days by the beach but as this is not a possibility for many of us, sometimes we have to do the next best thing which is to deck our homes with a little nautical flair. There's no better way to bring a little of the ocean into your homes than by using some of the beautiful seashells you have amassed through the years.
1. Seashell Chandelier
This bright and airy room is pretty enough on its own but when crowned with the attention-grabbing seashell chandelier, it just looks more striking. To complement the chandelier, shades of green and blue are used as accents around the room.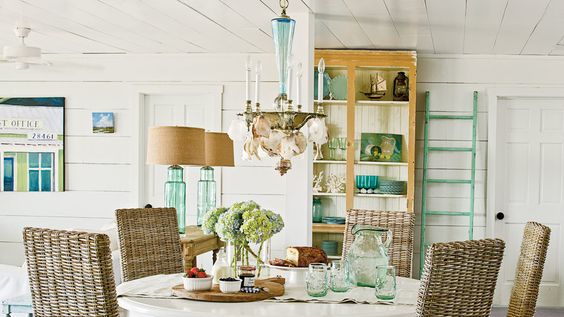 2. Shelf Decoration
If you're wracking your brains to think of a way to showcase your seashell collection, try adorning your bookshelf with some of these beautiful pieces of nature. There's no hard and fast rule here, you can arrange them anyway you like to bring a coastal air to the room.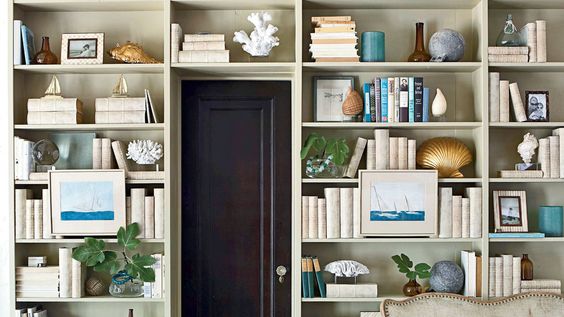 3. Seashell Bottle Toppers
This makes a very creative and beautiful collection that will look good in any home. All you need to do is stick some of your most wonderful pieces on top of the bottles and then just artfully arrange the bottles to make them look like a carefully curated collection.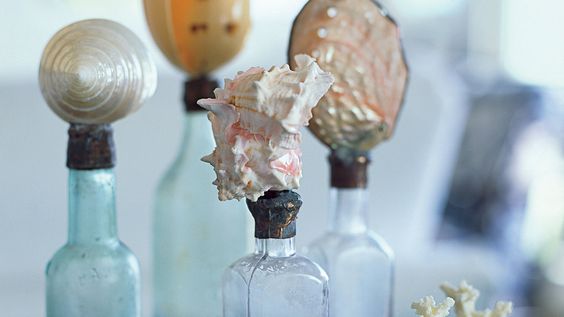 4. Seashell Border
Jazz up a boring piece of furniture or wall with some awesome seashells just like this plain old mirror. You don't even have to follow any set pattern because that's the beauty of nature, each piece is unique so just allow your creative juices to flow.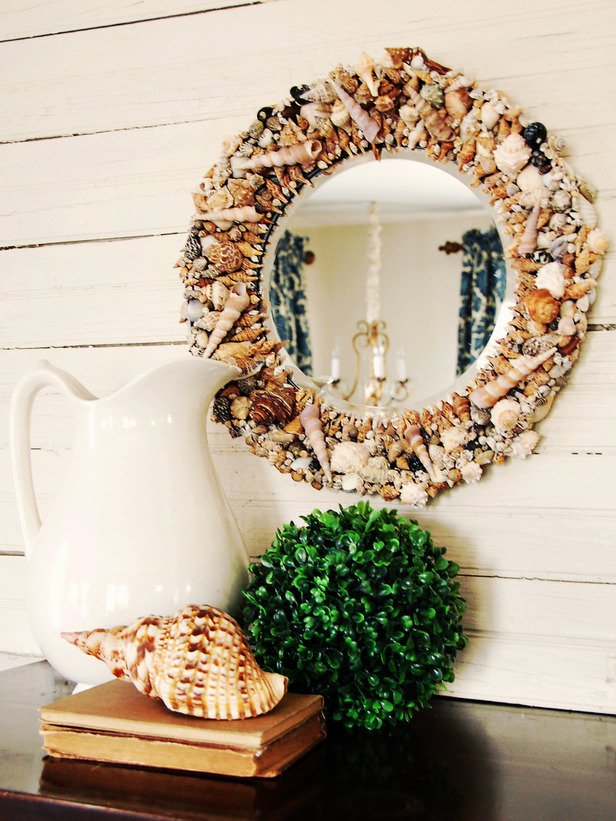 5. Seashell Curtain
Transforming your seashells into a soft and whimsical curtain is certainly a great idea for your home which gives it a suitably nautical air. It's super simple to do as all you need is to string the shells on some sturdy rope and hang them up.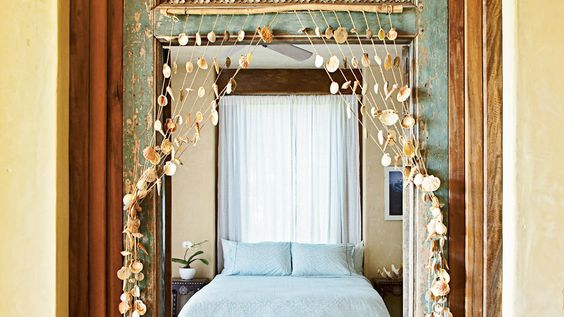 6. Seashell Bowl
Now, not all of us are lucky enough to be able to find unbroken and large seashells but if you really crave this look, then buying a few manmade ones won't hurt either. They are big enough to be a catch-all for your essentials and you can scatter a few of your matching small ones to make it look prettier.