Nobody can deny the attractiveness of having their own MUJI style house, especial in Malaysia. Many Malaysians had taken upon the challenge to actually create their own version of this design which suit their preferences and lifestyle.
One of the key component of MUJI style is actually the wooden cabinetry. I would safely say that cabinetry takes up to 70% of the total renovation cost. This is why choosing the right cabinetry is crucial for your MUJI style home and I'm here to guide you on which cabinetry to have for your house project:
1. TV Cabinet
(Floating Unit is the wood cabinet below the TV, Wall Unit is the white colour cabinet attached to the wall)
As Malaysians love watching TV shows, especially with the rise of streaming platforms like Netflix and HBO Max, it is important to have a suitable TV cabinet design which embraces the MUJI style concept.
The most simple combination of TV cabinet is having the Floating Unit combined with the Wall Unit to create a unique yet functional design for your living room.  You can use one colour for both of them or use 2 separate colour to create a dual tone to please your liking.
Ensure that there is also LED strip light installed at the bottom part of the Floating Unit to create the mesmerising lighting effect.
2.  Kitchen Cabinet
(Base Unit is the wood colour cabinet below, Wall Unit is the white colour cabinet attached on the wall) 
One of the main area of your house is your kitchen. This is also where you will be spending the most of your budget on renovation especially if you want to create the perfect MUJI style kitchen.
You can go for dual tone cabinet for Base Unit and Wall Unit. My favourite design is having wood colour for Base Unit and white colour for Wall Unit. The reason is white colour is not easy to maintain and I would rather having it attached on the wall. However if you are confident in maintaining the colour white, you can go for all white kitchen cabinet which will definitely make your guest go wow.
Wood countertop is not recommended as it will have defect and stain over time, especially if you do heavy cooking at home. Go for stone countertop, for example quartz countertop so that it can be durable, clean and aesthetically beautiful all at once.
3. Foyer Cabinet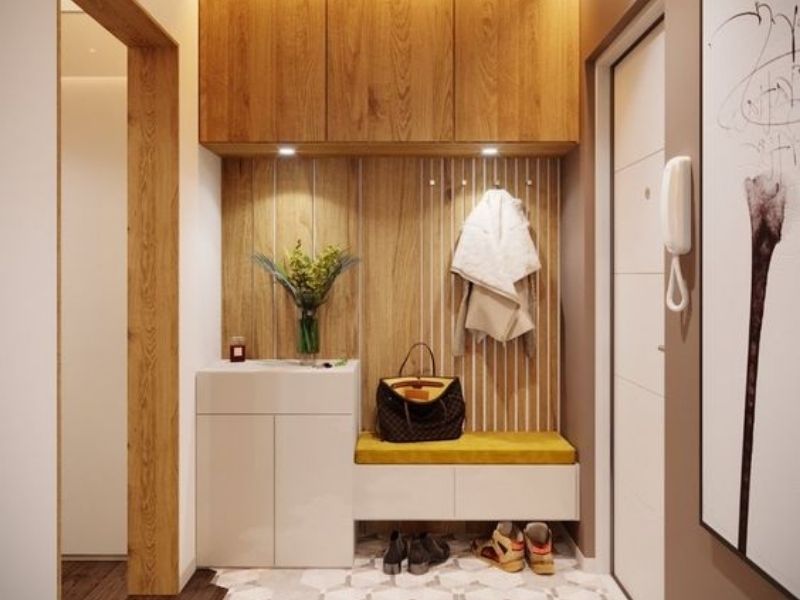 The first thing you will see upon entering your home is your foyer cabinet. This is usually where you will drop your wallet, keys and coins whenever you come home after a long day. Therefore it is important to install a MUJI style foyer cabinet which is warm and cosy to welcome you home.
Most people would double Foyer Cabinet as a shoe cabinet as well, so that they can use it to store their footwear and change into comfortable house shoes. You can go for either a simple foyer cabinet for the minimalistic outlook; or go for cabinet with bench attached so that you can take your sweet time taking off your working shoes.
4. Storage Bench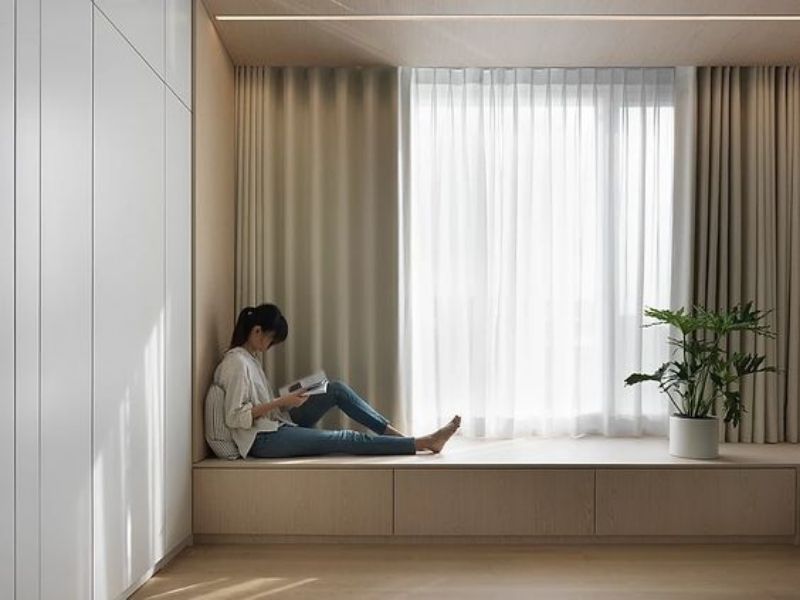 If you are looking for a quiet spot in your house to relax and chill, you can opt to build a storage bench at your window. Also known as window seat, you can enjoy your personal space while welcoming natural light into the room.
This multipurpose bench can be used as a storage area; whereby you can store your belongings to keep your house clean. To make it more comfortable, you can add in some comfy pillows on top of it; and also decorate it with some greenies in white pots.
5. Working Table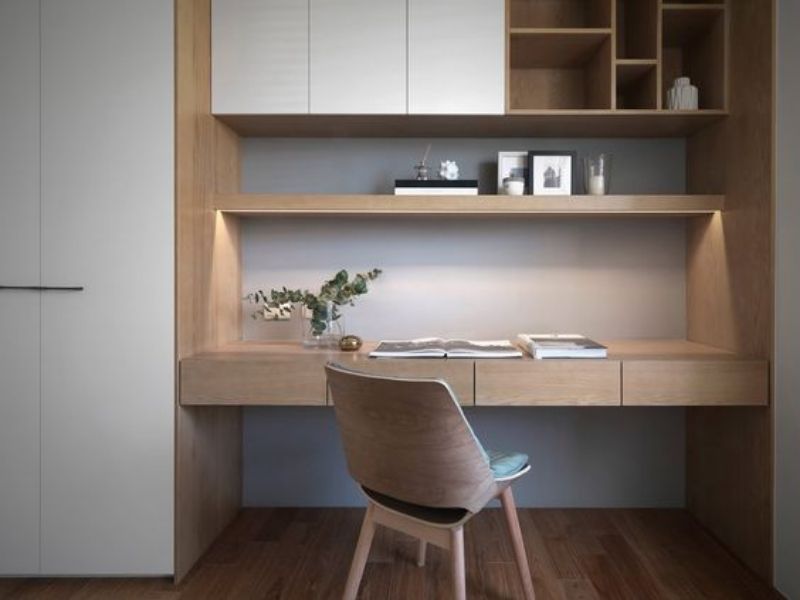 (Floating Unit is the wood colour cabinet, Wall Unit is the white colour cabinet attached on top of the wall)
The pandemic has affected our lives in many ways during the time this article was written. Therefore, many people sought to work from home to adhere to staying home SOP.
In order to able to work with minimal distraction, it is important to have a working room that can increase your productivity. I personally loved to have a Floating Unit with solid wooden top as my working table; and Wall Unit as storage for my documents and important files.
You can also include a side drawer if there is enough space to provide additional storage.  Remember to add in well lit lights to provide sufficient illumination when you are working.
6. Wardrobe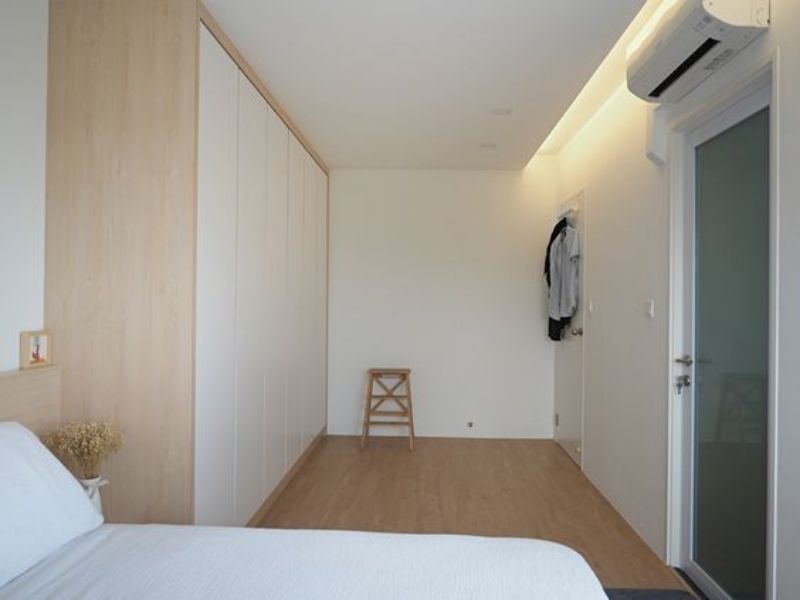 The difference between custom-built wardrobe and wardrobe that you can purchase in shops is that you can build a wardrobe according to the size of your room. Shop purchased wardrobe is not recommended as the size might not fit your room layout.
Go for full height, minimalist wardrobe so that it can fit perfectly while blending seamlessly with the wall. Try to reduce on knobs and handles so that it looks clean and nice.
7. Tatami Bed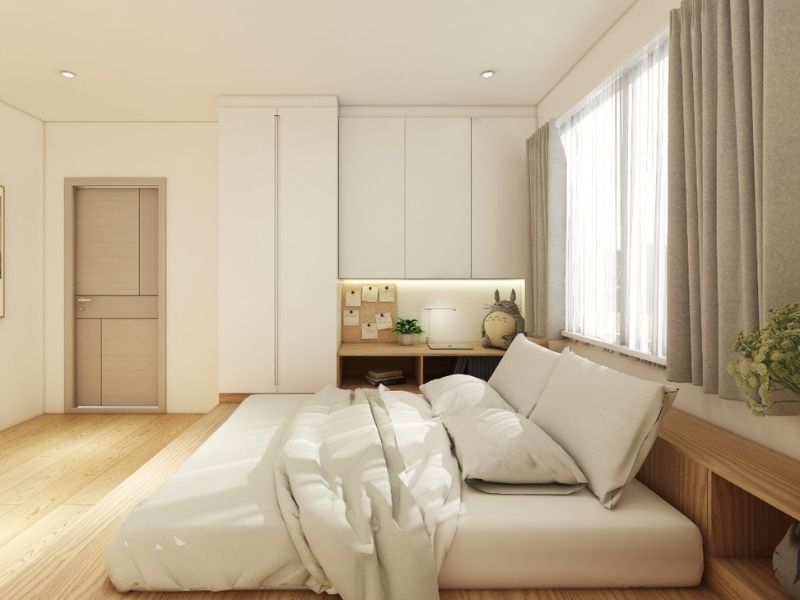 The main feature of MUJI style home is the Tatami Bed. Tatami beds are minimalistic, low platform beds with storage underneath them. Bed frames are not needed as you can put your mattress directly on top of it.
Go for plain, white bed sheets and duvet covers so that it can enhance the MUJI style vibe. However not many people can accept this type of bedding as it is hard to get up from the bed, especially old people.
For MUJI enthusiast like myself, I will always go for this bedding as it looks aesthetically beautiful and tidy. The extra storage beneath helps a lot by keeping the bedroom uncluttered and clean.
It is not that hard to create your perfect MUJI style home if you know which cabinetry is important for your daily lifestyle. Get inspired with this article and I hope you can appreciate the beauty of this minimalist design style. In case that you need more inspiration, kindly visit our Facebook page for more ideas on home renovation.
Remember! More with less.
(Pictures all source from Pinterest)