Indulge in the vibrant world of wellness with our curated selection of the best juicers in Singapore, each promising to deliver not just juices, but a refreshing sip of vitality. In a fast-paced world, the pursuit of good health remains paramount, and what better way to invigorate your journey than with the enriching goodness of freshly extracted juices?
From the crisp crunch of apples to the vibrant allure of greens, these juicers are here to transform nature's bounty into liquid nourishment. Whether you're a seasoned health enthusiast or simply seeking a more vibrant lifestyle, join us as we explore these top-tier juicers that stand ready to infuse your days with the goodness of nature, one revitalising sip at a time.
Features of a Good Juicer
A good juicer should have the following features:
Efficient Extraction Technology: A superior juicer boasts advanced extraction mechanisms that ensure maximum yield from fruits and vegetables, extracting every last drop of nutritious goodness.
Versatile Processing: Look for a juicer with the versatility to handle a wide range of produce, from soft fruits to tough greens, offering the flexibility to create a diverse array of revitalizing juices.
Easy Cleanup Design: A good juicer minimises the cleanup hassle with removable parts that are easy to disassemble, clean, and reassemble, making your juicing experience a breeze.
Quiet Operation: Modern juicers embrace quiet motor technology, allowing you to enjoy your juice preparation without the noise disruptions typically associated with traditional models.
Durable Build: Longevity is key, and a well-constructed juicer with durable materials ensures it withstands daily use, providing you with years of vibrant, health-boosting concoctions.
Our Selection of 8 Best Juicers in Singapore
Discover our handpicked compilation of the top 8 juicers available in Singapore, each chosen for its exceptional performance, innovative features, and ability to infuse your life with the vitality of freshly extracted juices.
1. Kuvings B1700 Whole Slow Juicer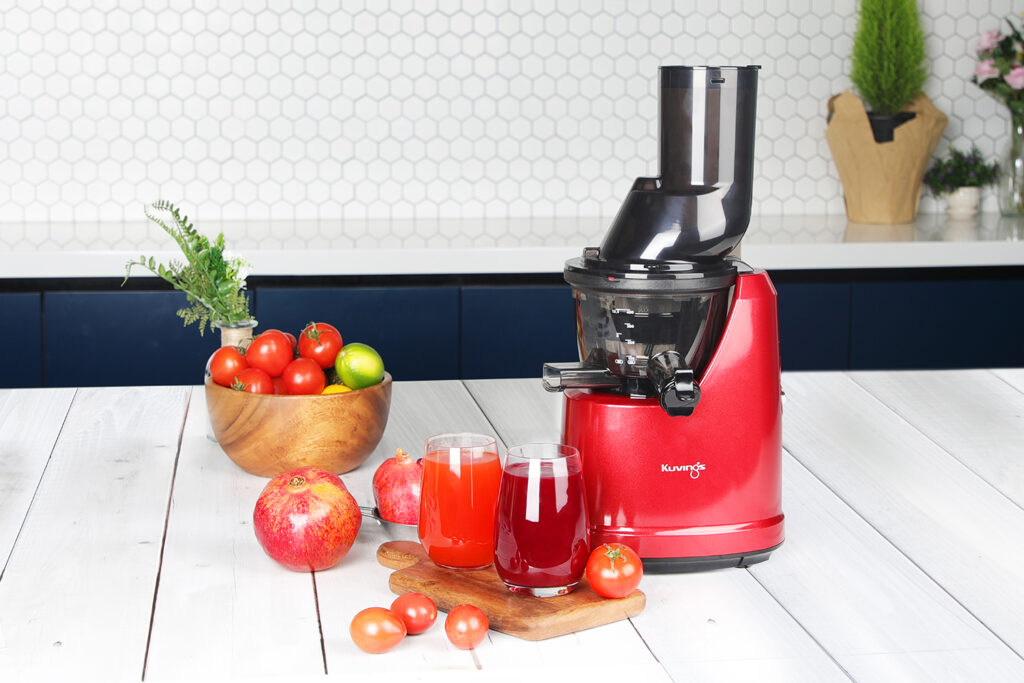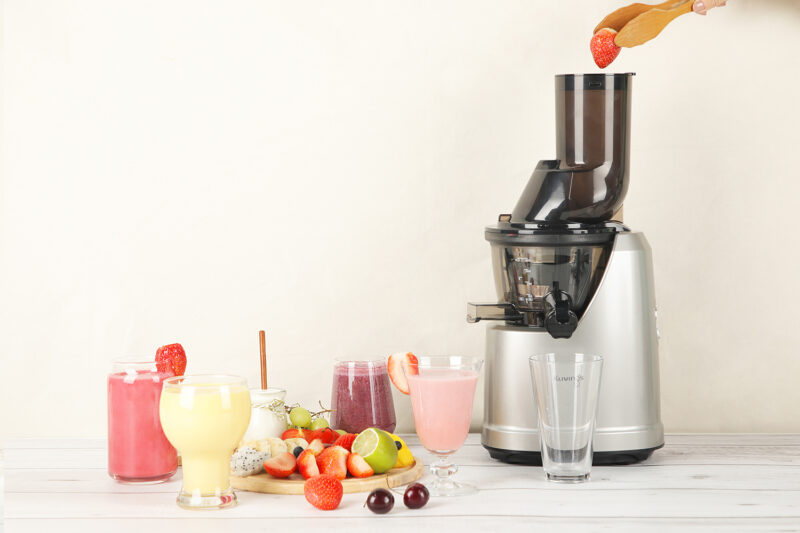 Kuvings B1700 Whole Slow Juicer is a powerhouse of innovation tailored to elevate your juicing experience. This remarkable juicer boasts a 76mm-wide feeding tube, effortlessly accommodating whole fruits while its patented J. M. C. S technology ensures nutrient-rich extraction. Embrace versatility with its 3-in-1 Multi-Function capabilities, allowing you to create juices, smoothies, and sorbets with ease. The slim design not only saves precious kitchen space but also exudes modern elegance.
Experience pure, additive-free refreshment with the Kuvings B1700, aided by the Smart Cap for mess-free mixing and leakage prevention. Uniting safety and convenience, it features a safety-lock system and a cooling mechanism. Enjoy a quiet kitchen with its low-noise operation and revel in effortless maintenance thanks to the rotating cleaning brush. This whole fruit juicer with an oversize feeder mouth ensures efficiency, making healthy living a seamless part of your routine.
Here are the highlights of the Kuvings B1700 Whole Slow Juicer's amazing features:
76mm-wide feeding tube
J. M. C. S technology
3-in-1 Multi-Function
Slim design
Additive-free freshness
Smart Cap innovation
Safety-lock system
Cooling mechanism
Low-noise operation
Rotating cleaning brush
Whole fruit efficiency
2. Philips Viva Collection Fruit Juicer – HR1832/00
Philips Viva Collection Fruit Juicer – HR1832/00 is where maximum juice extraction meets minimal hassle. This compact marvel with 500W power offers an all-in-one design, making juicing effortless. Equipped with QuickClean technology, it ensures easy cleanup in under a minute, thanks to its integrated pulp container and smooth surfaces. Embrace convenience as you juice directly into your glass using the integrated tap, all while the drip stop prevents mess.
With a generous 1.5L capacity, there's no need to pause for pulp container emptying. The transparent lid and pulp container provides an interactive experience, while the sleek round design aids in easy rinsing under the tap. Spare yourself the stress with dishwasher-safe parts and enjoy the streamlined efficiency of the Philips Viva Collection Fruit Juicer, your countertop's perfect companion for fresh and hassle-free juicing.
Here are the highlights of the Philips Viva Collection Fruit Juicer – HR1832/00's amazing features:
Compact 500W Design
QuickClean Technology
Juice into Glass
1.5L Capacity
Transparent Design
Drip Stop Spout
Dishwasher-Safe Parts
Easy Rinsing Design
3. Tefal ZE3708 Frutelia Plus Juicer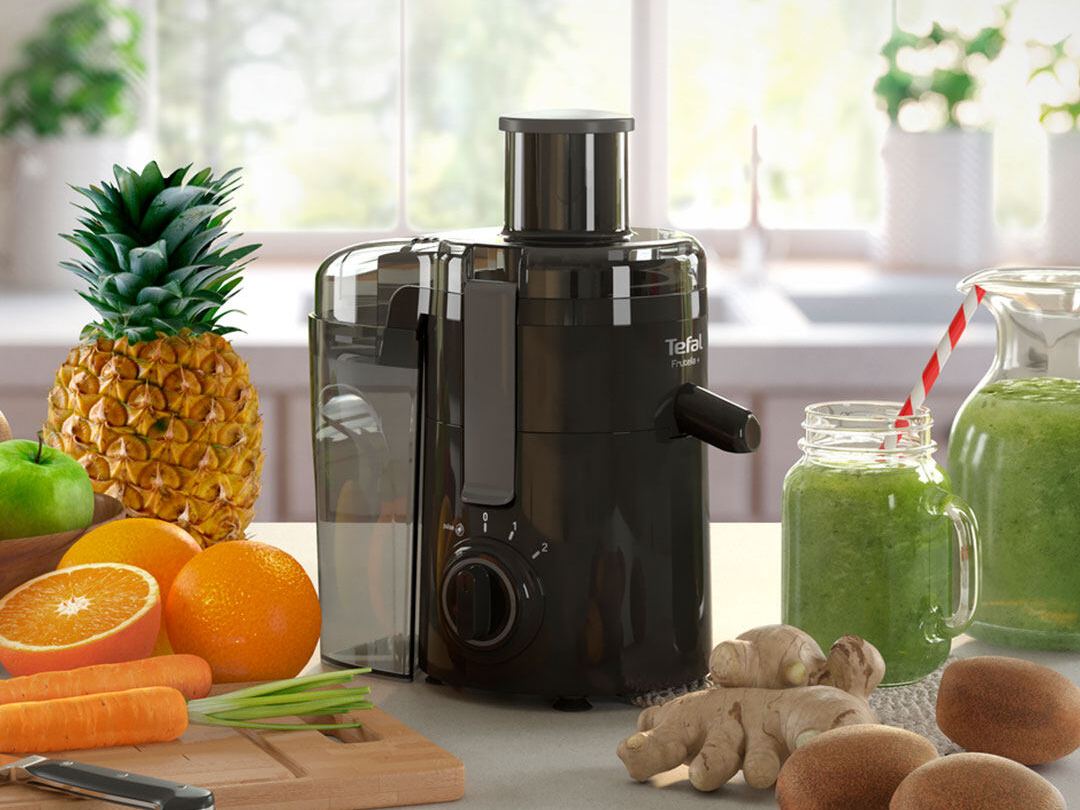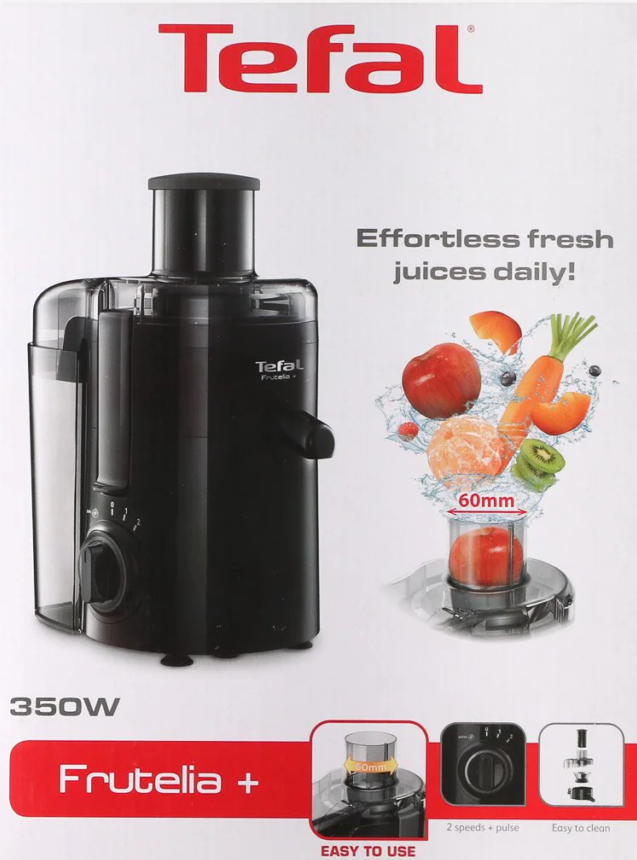 Elevate your daily routine with the Tefal ZE3708 Frutelia Plus Juicer, your gateway to fresh and wholesome juices. Crafted for seamless performance, this juicer effortlessly produces delicious concoctions with its 350W power, 2-speed control, and pulse function. The stainless steel filter ensures enduring quality, while the 950 ml pulp collector offers optimal capacity for various occasions.
Experience the ultimate convenience with the compact design, perfect for easy storage. Cleaning is a breeze, thanks to dishwasher-safe removable parts. Non-slip feet ensure stability, while the wide opening accommodates large chunks of fruits. From busy mornings to entertaining evenings, the Frutelia Plus Juicer stands as your reliable everyday centrifugal companion, effortlessly combining health, taste, and efficiency.
Here are the highlights of the Tefal ZE3708 Frutelia Plus Juicer's amazing features:
350W Power
2-Speed Control
Pulse Function
Stainless Steel Filter
Compact Design
Dishwasher-Safe Parts
Non-Slip Feet
Wide Opening
950 ml Pulp Collector
4. Panasonic Centrifugal Juicer MJ-CS100WSP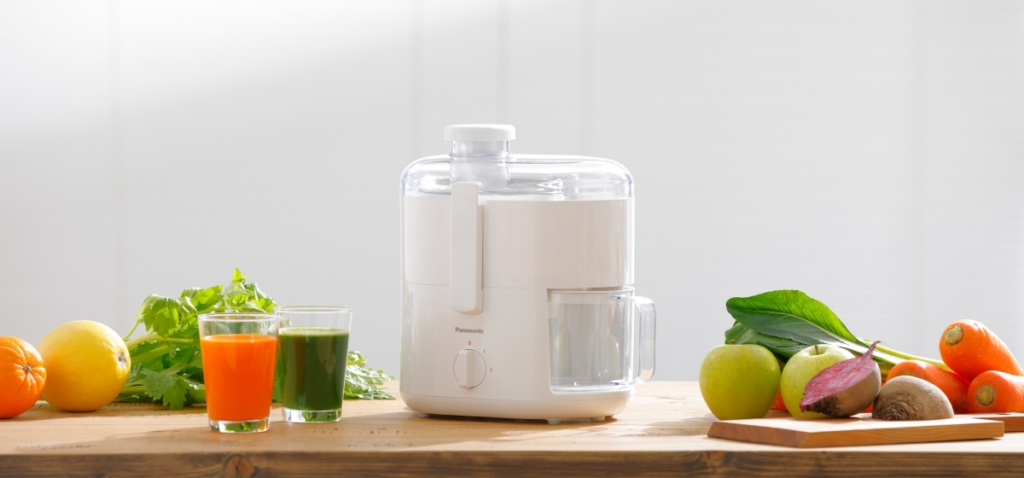 Panasonic Centrifugal Juicer MJ-CS100WSP is a powerhouse of efficiency and convenience. Its powerful cutter ensures maximum juice extraction, meticulously chopping fruits to release every drop of nourishing goodness. The filter mesh guarantees a velvety-smooth juice, ideal for all ages. Choose between two-speed controls to accommodate diverse ingredients: Speed 1 for soft fruits and Speed 2 for harder produce. The user-friendly design seamlessly integrates a built-in juice container, saving kitchen space, while square-shaped handles offer a secure grip.
Cleaning is a breeze as most parts are dishwasher-safe, ensuring hassle-free maintenance. With a sleek, compact build and a durable full metal spinner, this juicer is designed to provide precise results and lasting performance. Elevate your juicing experience with the Panasonic Centrifugal Juicer – a harmonious blend of efficiency and taste.
Here are the highlights of the Panasonic Centrifugal Juicer MJ-CS100WSP's amazing features:
Powerful Cutter
Smooth Juice Extraction
Two-Speed Control
User-Friendly Design
Built-In Juice Container
Square-Shaped Handles
Easy Cleaning
Compact Build
Durable Metal Spinner
Max. 400W Power
Dishwasher-Safe Parts
5. Toyomi Cold Press Masticating Slow Juicer SJ 9000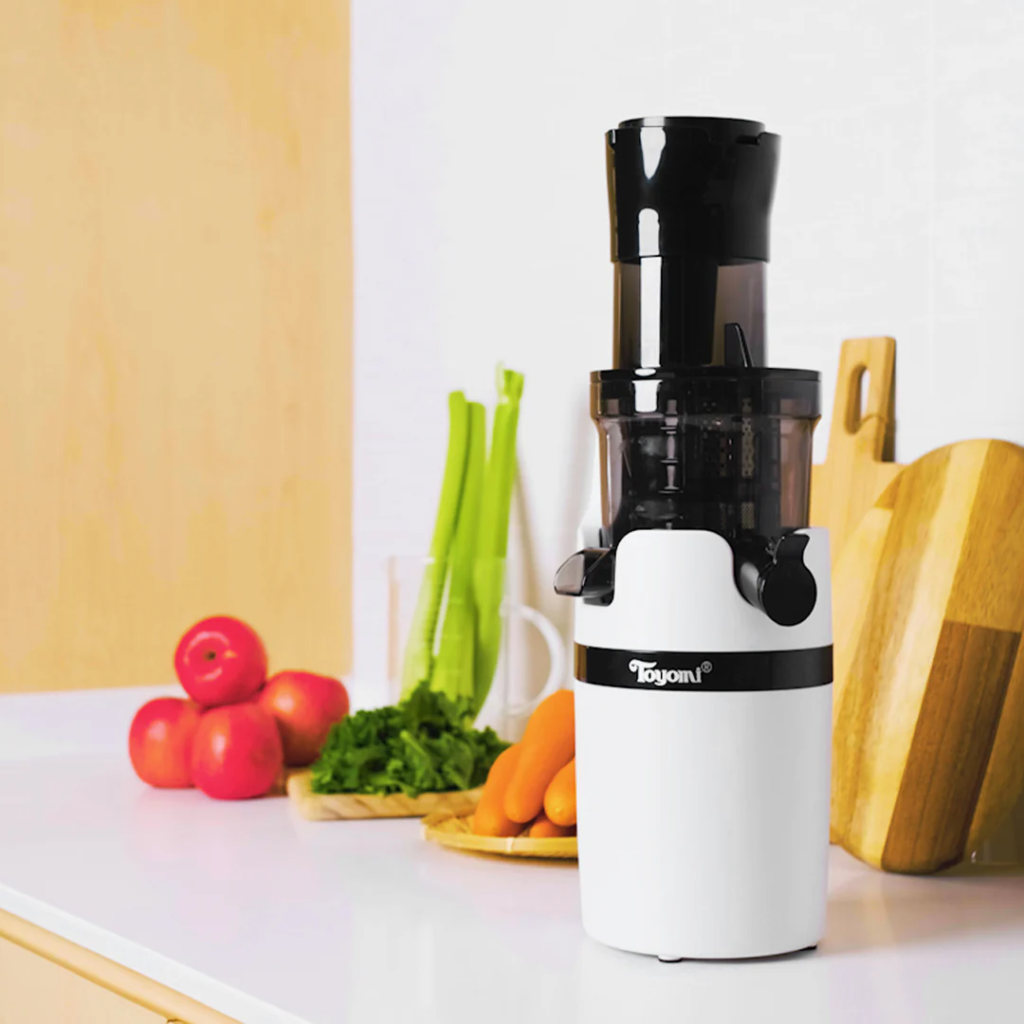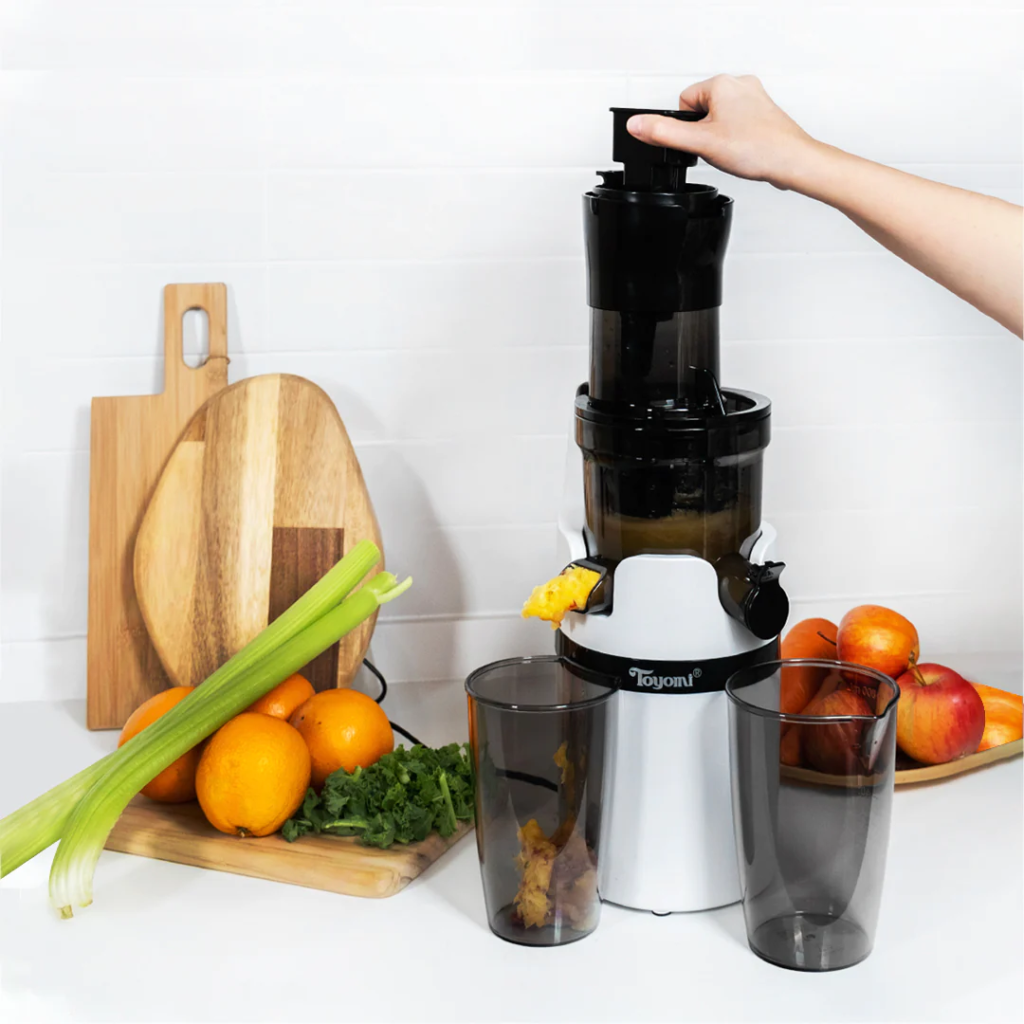 Toyomi Cold Press Masticating Slow Juicer SJ 9000 is a revolutionary addition to your healthy lifestyle. Boasting a remarkable 30% higher juice rate, this juicer employs innovative masticating technology to unlock the purest juice essence from fruits and vegetables. The unique screw shaft performs a mesmerising combination of squeezing, grinding, and pressing, reminiscent of traditional stone mills.
Experience optimal nutrition retention with the dual mesh pulp filter, offering a choice between 2.0mm and 0.8mm meshes for perfectly customised results. The Tritan BPA-free construction ensures safety and easy cleaning, while the 78mm large feeding hole accommodates whole fruits effortlessly. With leak-proof and juice-pressure plugs ensuring efficiency, this juicer stands out with its quiet DC motor, promising a peaceful juicing process.
Here are the highlights of the Toyomi Cold Press Masticating Slow Juicer SJ 9000's amazing features:
30% Higher Juice Rate
Masticating Technology
Dual Mesh Pulp Filter
Screw Shaft Innovation
Nutrient Retention
BPA-Free Tritan Build
78mm Feeding Hole
Leak-Proof Design
Juice-Pressure Plug
Quieter DC Motor
6. Hurom H200 Easy Series Slow Juicer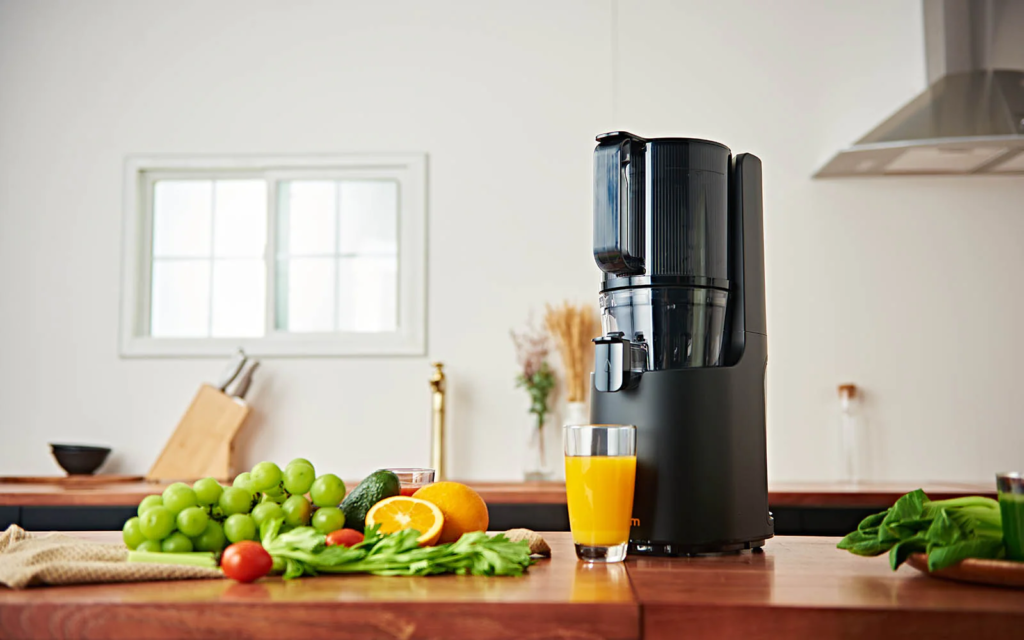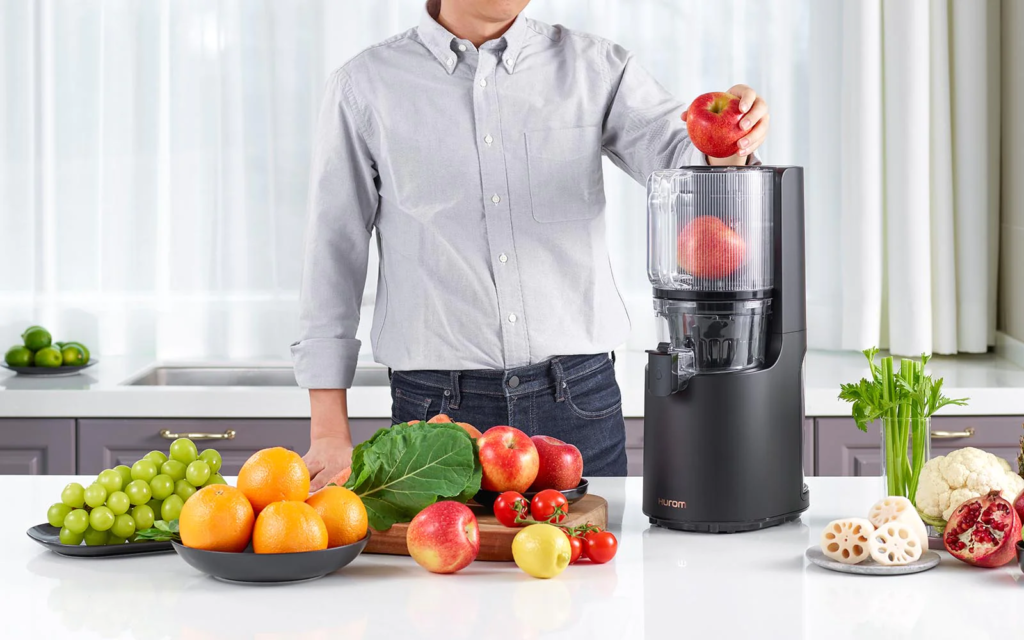 The Hurom H200 Easy Series Slow Juicer is a pinnacle of convenience and efficiency for your daily juicing needs. With its cutting-edge 'Mega Hopper', this juicer allows for the effortless insertion of larger ingredients without the need for pre-chopping. The dual strainer design ensures swift and thorough cleaning, while the 400-millilitre chamber capacity caters to your juicing requirements.
Experience a smooth and quiet operation with the low-noise, low-vibration AC motor, working in harmony with the slow rotational speed of 50 rpm for optimum nutrient retention. The double-edged, high-strength auger ensures efficient extraction, and the versatile juice cap adds a layer of convenience. With its user-friendly lift lever and meticulous design, the Hurom H200 Easy Series Slow Juicer is the perfect fusion of functionality and style, available in Matte Black and Pearl White.
Here are the highlights of the Hurom H200 Easy Series Slow Juicer's amazing features:
'Mega Hopper' Design
Dual Strainer Cleaning
Slow 50 RPM
400ml Chamber Capacity
High-Strength Auger
Easy-to-Use Lift Lever
Versatile Juice Cap
Low-Noise AC Motor
Matte Black, Pearl White
7. Tefal ZC420E Juice n Clean Slow Juicer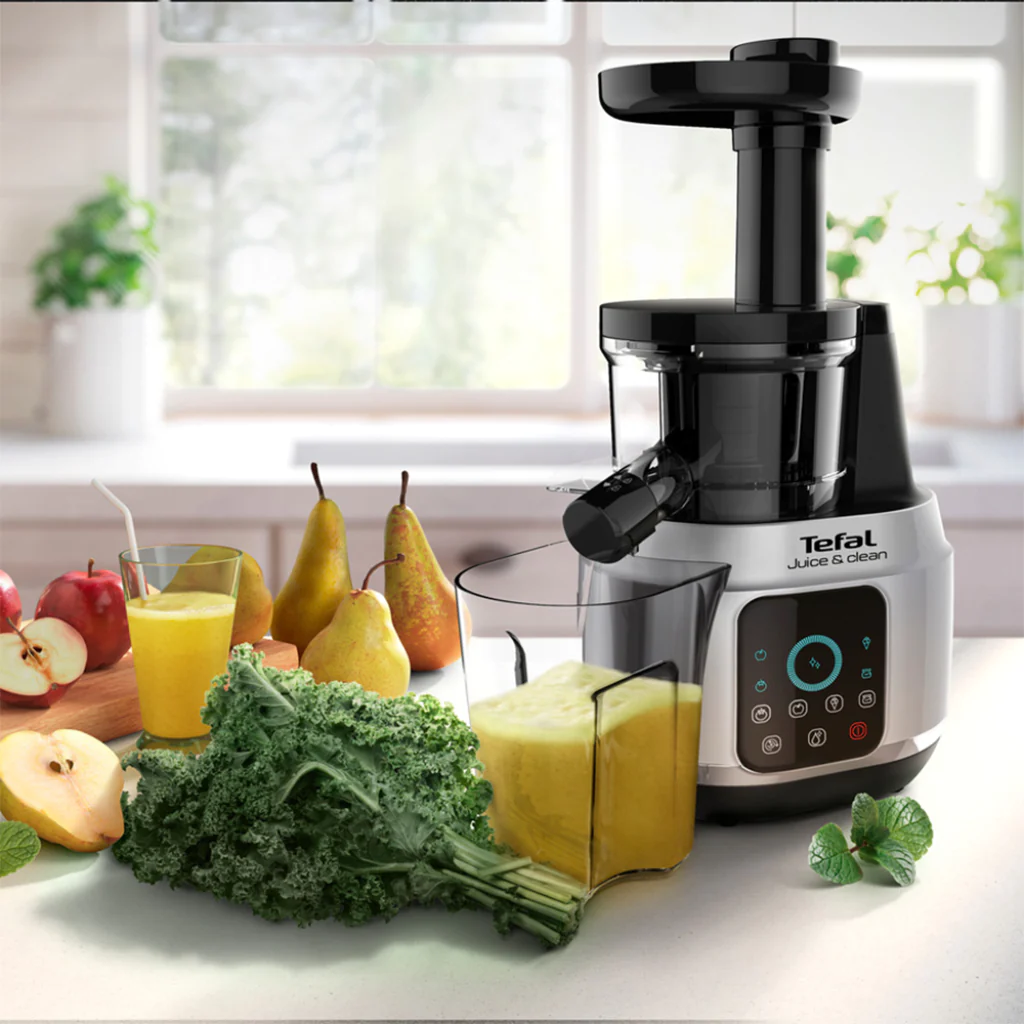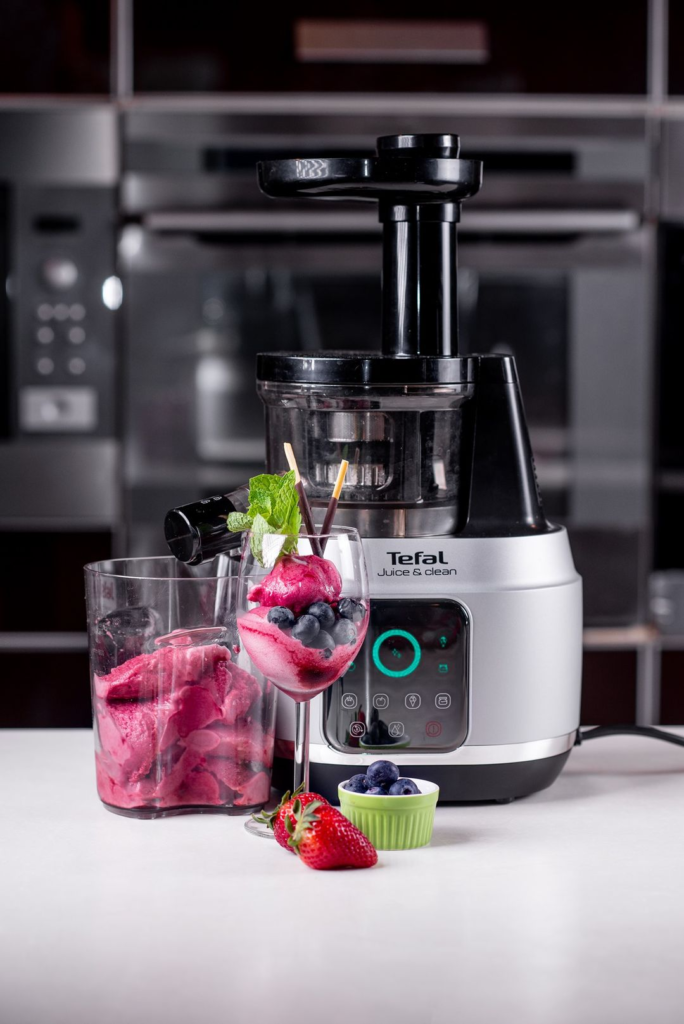 Experience effortless juicing and cleaning with the Tefal ZC420E Juice n Clean Slow Juicer. This innovative kitchen companion delivers maximum flavour and nutrition while minimising the effort required. The EasyClean technology takes care of the cleanup, leaving you more time to savour your creations. The intuitive touchscreen panel offers 4 programs tailored for different ingredients and recipes, including a reverse function for any stuck pieces. Cold Press Technology ensures optimal juice extraction, preserving natural flavours and nutrients.
With two filters for versatility and adjustable pulp control, you can customise your juice to perfection. The generous juice jug, quiet technology, and drip stop function enhance the user experience, while dishwasher-safe parts simplify maintenance. Compact and elegant, this slow juicer elevates your culinary space. Rediscover the joy of juicing with Tefal's Juice n Clean.
Here are the highlights of the Tefal ZC420E Juice n Clean Slow Juicer's amazing features:
EasyClean Technology
Intuitive Touchscreen Panel
Cold Press Extraction
Versatile Dual Filters
Adjustable Pulp Control
Maximum Flavor and Nutrition
Quiet Technology
Reverse Function
Generous Juice Jug
Drip Stop Function
Compact and Elegant Design
8. PowerPac Juice Extractor, Slow Juicer, Cold Press Juicer (PP3407)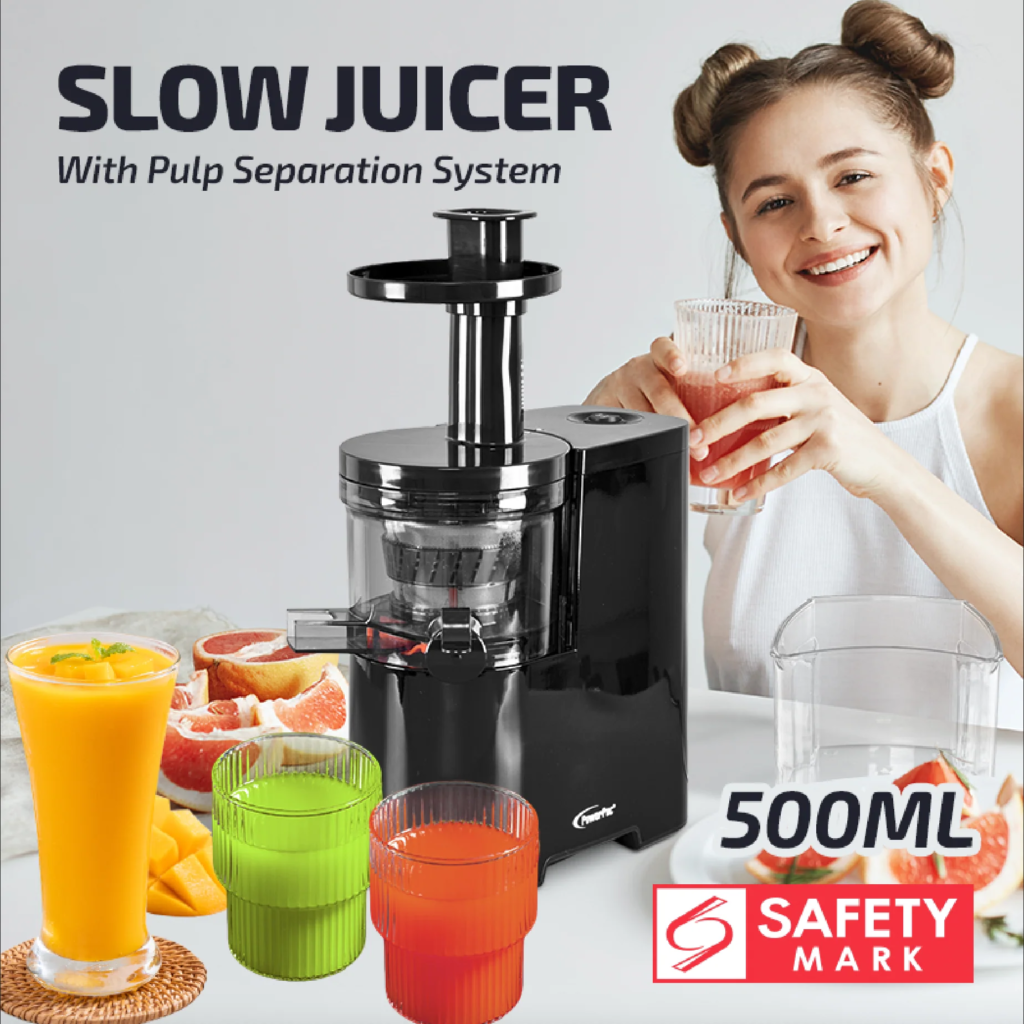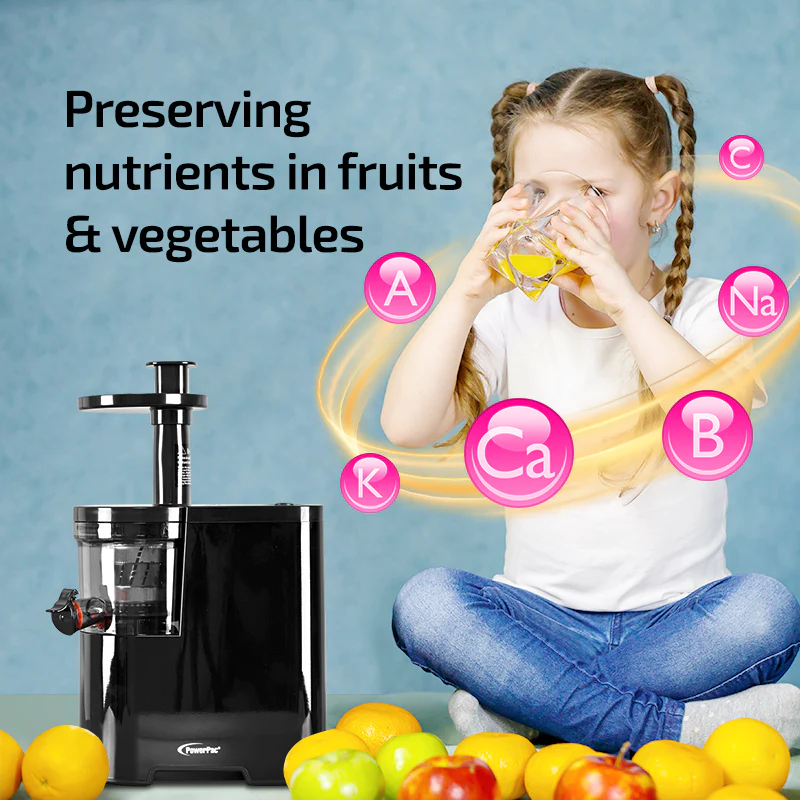 PowerPac Juice Extractor, Slow Juicer, Cold Press Juicer (PP3407) is your key to nutrient-rich, smooth, and pulp-free juices. Embrace the goodness of fruits and vegetables while preserving their essential nutrients. With PC components and an easy-to-assemble design, this juicer ensures convenient setup and hassle-free cleaning. Experience higher and denser yield with its innovative cold press technology, resulting in a noise-free operation. The anti-drip spout and skid-resistant base enhance usability, while the wide chute accommodates whole ingredients.
Safety is paramount, thanks to the built-in safety mechanism and advanced lock system, ensuring easy and secure operation. With a low-speed motor and quiet operation, this juicer is perfect for quiet kitchens. Elevate your juicing journey with PowerPac, where health and convenience blend seamlessly.
Here are the highlights of the PowerPac Juice Extractor, Slow Juicer, Cold Press Juicer (PP3407)'s amazing features:
Nutrient Preservation
Easy Assembly and Cleaning
Pulp-Free Yield
Quiet Motor
Anti-Drip Spout
Skid-Resistance Base
Wide Chute
Advanced Safety Lock
Low-Speed Operation
Maximum 30-min Use
Conclusion
In the pursuit of a healthier and more vibrant lifestyle, choosing the best juicer is paramount, and our exploration has led us to discover a range of exceptional options. From efficient extraction to nutrient preservation, each juicer on our list brings a unique blend of features designed to cater to various preferences. Whether you're an avid health enthusiast or a busy individual seeking convenient nutrition, these juicers have proven their worth in Singapore's diverse landscape.
The technology behind these juicers not only simplifies the juicing process but also enriches your well-being by delivering fresh, revitalising sips of nature's finest offerings. Embrace the art of juicing with these top choices, and let the vibrancy of your health journey flourish with every sip.