Say goodbye to the hassle of tangled cords and limited mobility while cleaning. In today's fast-paced world, convenience is paramount, even when it comes to household chores. Our quest for the most efficient cleaning solutions has led us to unveil the 'Best Cordless Vacuum Cleaner in Singapore.'
Embrace a new era of cleaning freedom as we explore a curated selection of cutting-edge cordless vacuum cleaners designed to simplify your cleaning routine. From powerful suction capabilities to sleek designs that effortlessly glide around furniture, these innovative devices are engineered to provide a seamless and efficient cleaning experience.
Features of a Good Cordless Vacuum Cleaner
A good cordless vacuum cleaner should have the following features:
Powerful Suction: A top-notch cordless vacuum cleaner boasts powerful suction capabilities that effortlessly lift dirt, debris, and pet hair from various surfaces. This ensures a thorough and efficient cleaning experience without the need for multiple passes.
Long Battery Life: An essential feature, a good cordless vacuum offers an extended battery life that allows you to cover more ground without interruption. Look for models with lithium-ion batteries for optimal performance and extended runtimes.
Versatile Attachments: The ability to adapt to different cleaning tasks is crucial. Look for a cordless vacuum cleaner with various versatile attachments such as crevice tools, upholstery brushes, and motorised floor heads. These attachments enhance its usability on various surfaces and hard-to-reach areas.
HEPA Filtration System: A high-efficiency particulate air (HEPA) filtration system is a must-have for allergy sufferers and those concerned about indoor air quality. It traps allergens, dust, and microscopic particles, ensuring the expelled air is cleaner and healthier to breathe.
Compact and Lightweight Design: Portability is vital for hassle-free cleaning. Opt for a cordless vacuum cleaner with a compact, lightweight design that allows for easy manoeuvrability around furniture and tight spaces. This feature ensures you can effortlessly clean every nook and cranny of your home without strain.
Our Selection of 12 Best Cordless Vacuum Cleaners in Singapore
Get ready to revolutionise your cleaning routine with our selection of the 12 best cordless vacuum cleaners available in Singapore, each offering a perfect blend of innovation and convenience.
1. Airbot Supersonics 3.0 Cordless Vacuum Cleaner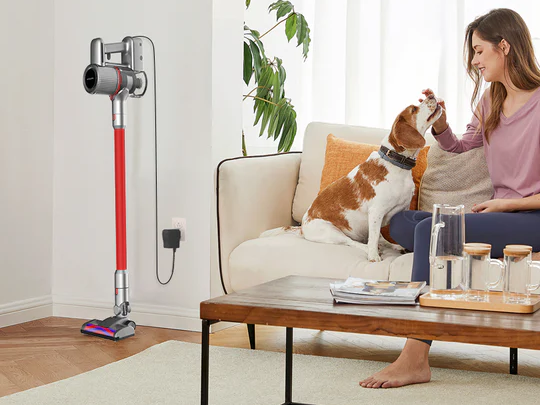 With a sleek and lightweight design, this vacuum boasts a new slim handle for comfortable manoeuvring, while the top smart LED provides real-time battery feedback for optimal charging timing. Experience effortless cleaning with the press of a button, thanks to the innovative new dust cup design that smoothly glides to unlock and release dust into the bin. Equipped with the latest cyclonic technology, this vacuum quickly compresses dust and hair, effectively separating them from the airflow.
The E-grade HEPA filter, featuring an up-sized circular design, ensures superior micro dust filtration. Offering a powerful 19000Pa suction, dual speeds, and an impressive 45-minute runtime in Eco mode, the Supersonics 3.0 adapts to all cleaning needs. From soft brushes for delicate surfaces to a crevice nozzle for precise cleaning, this vacuum redefines efficiency. With washable components and worry-free charging from the built-in Li-ion battery, cleaning has never been this seamless.
Here are the highlights of the Airbot Supersonics 3.0 Cordless Vacuum Cleaner's amazing features:
Slim handle design
Lightweight (1.2 KG)
Smart LED battery indicator
Easy dust cup release
Cyclonic technology
E-grade HEPA filter
Washable components
Powerful suction (19000 Pa)
45-min runtime (Eco mode)
Dual speed
Soft brush included
Crevice nozzle
0.6L dust capacity
4-hr charging
Low sound (60-65 db)
2. Dyson V8 Slim ™ Fluffy Cordless Vacuum Cleaner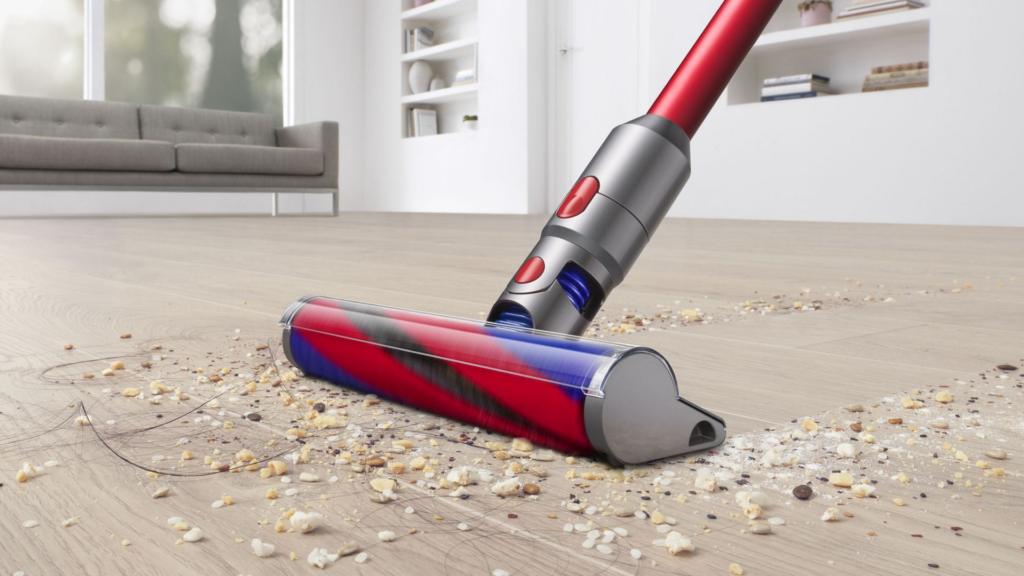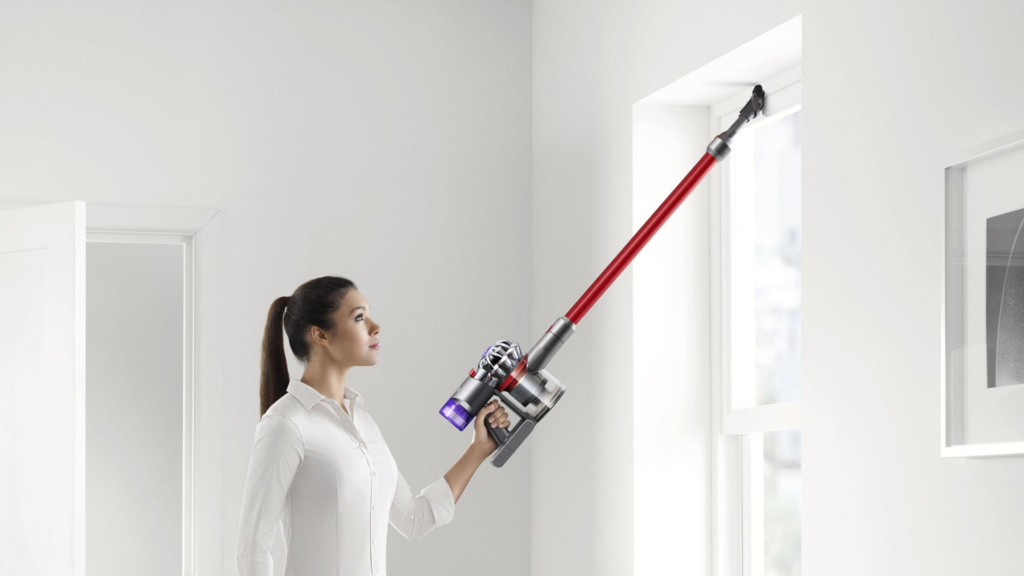 Powered by the Dyson digital motor V8, it generates an astounding 115 Air Watts of suction, rivalling the power of a Formula One car engine. With advanced 2 Tier Radial™ cyclones, microscopic dirt is effortlessly flung into the clear bin. Benefit from up to 40 minutes of fade-free suction in Powerful mode and experience quieter cleaning, thanks to its acoustic engineering. The re-engineered Slim Fluffy cleaner head performs with excellence, while the Combination tool switches surfaces seamlessly.
Transition effortlessly between Powerful and MAX modes for customised cleaning. This vacuum effortlessly transforms into a handheld for versatile cleaning and reaches high places with ease due to its lightweight design. Hygienic bin emptying ensures cleanliness and the docking station keeps the vacuum and tools organised and ready. The Dyson V8 Slim™ Fluffy redefines your cleaning experience, providing extraordinary power and adaptability.
Here are the highlights of the Dyson V8 Slim ™ Fluffy Cordless Vacuum Cleaner's amazing features:
Dyson digital motor V8
Powerful suction
Advanced filtration
2 Tier Radial™ cyclones
Quieter cleaning
Up to 40 mins runtime
The slim Fluffy cleaner head
Combination tool
Two power modes
Transformable handheld
Reach high places
Hygienic bin emptying
Docking station
0.54L bin volume
5 hours charge time
3. Dibea F20 Max Cordless Vacuum Cleaner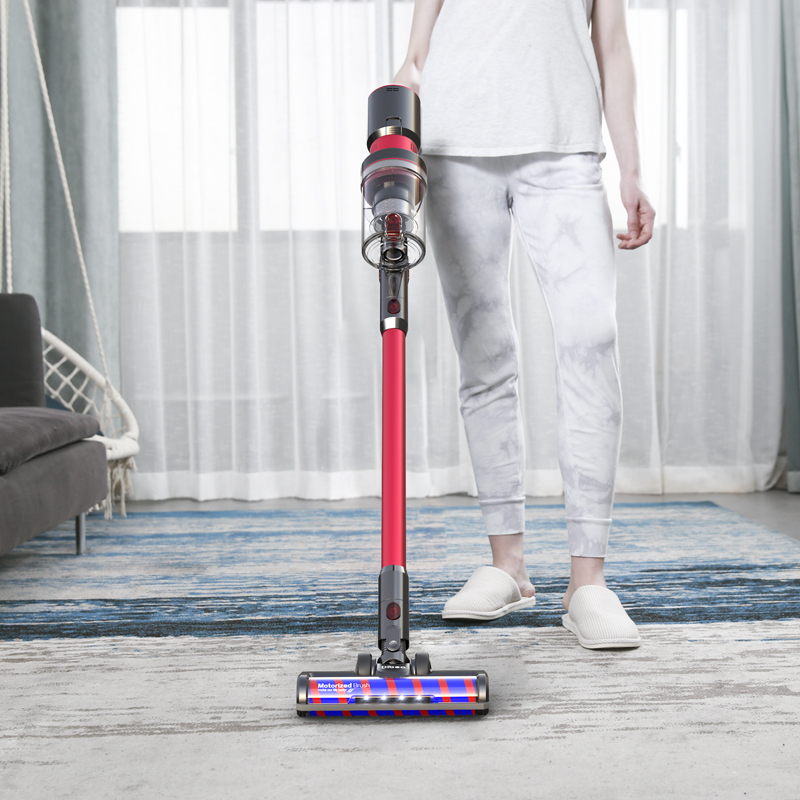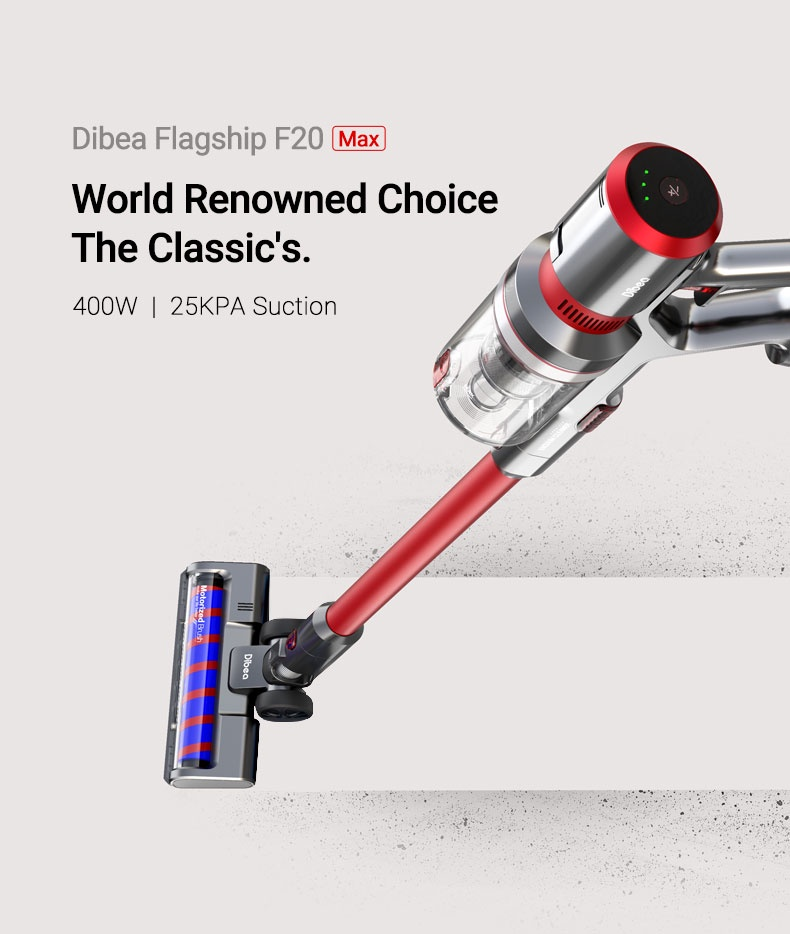 Dibea F20 Max Cordless Vacuum Cleaner is a powerhouse of cleaning prowess. With a staggering 25,000 PA true power suction, this vacuum ensures thorough dirt removal from all surfaces. Its versatile 2-in-1 design allows for both handheld and vertical usage, offering unmatched flexibility. The cordless convenience, coupled with a robust 60-minute runtime in Eco mode, guarantees uninterrupted cleaning sessions.
Equipped with a multi-stage cyclone separation system and high-efficiency filter cotton, the F20 Max efficiently captures particles of all sizes. The roller floor brush, featuring power-saving LED headlights, ensures visibility while cleaning. The vacuum's large-capacity dust bucket and bag-less design further enhance convenience. With various accessory applications and a durable aluminium extension tube, every cleaning task becomes effortless.
Here are the highlights of the Dibea F20 Max Cordless Vacuum Cleaner's amazing features:
25,000 PA suction
2-in-1 design
3 Speed Mode
LED Headlights
Cyclone separation
Efficient filtering
Power indicator
Large dust bucket
Hand washable filter
Multiple accessories
High-Grade Aluminium
Up to 60 mins runtime
4-5 hours charge time
Low noise (75dB)
Bag-less design
4. Dreame H12 Pro Cordless Vacuum Cleaner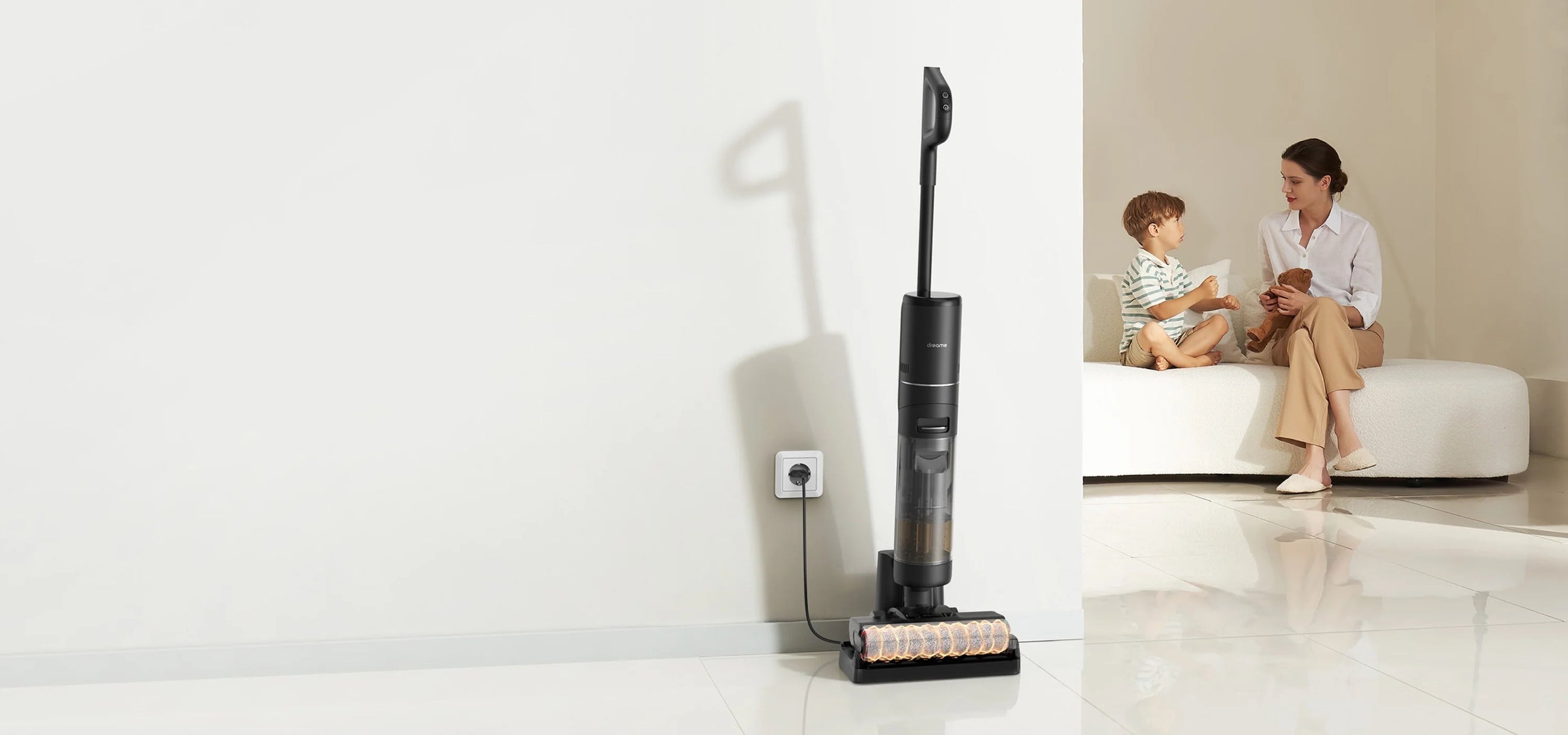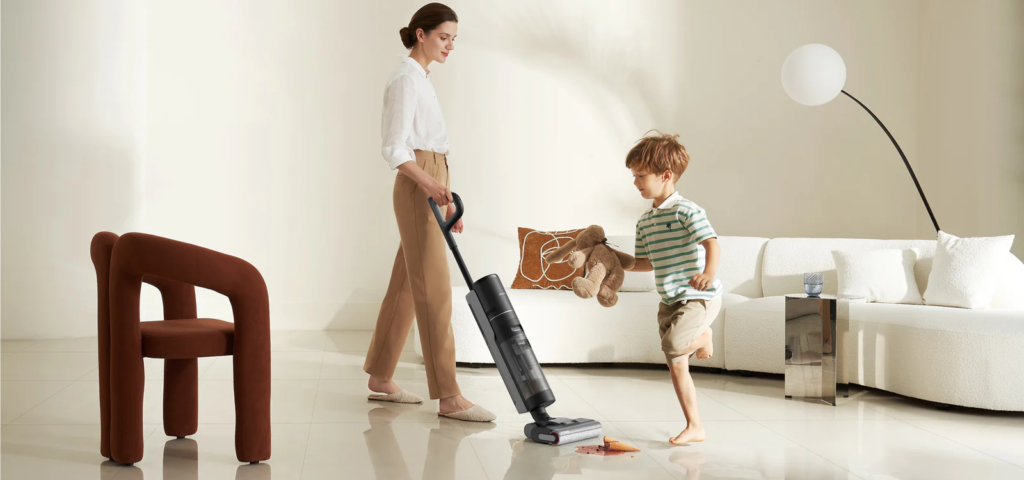 With its intelligent features, this vacuum takes cleaning to a whole new level. Automatically drying while charging, the H12 Pro ensures that the brush remains mould and odour-free. Its simultaneous vacuuming, mopping, and washing capabilities tackle tough messes effectively. The vacuum's smart dirt detection optimises cleaning, while three versatile modes offer tailored cleaning options.
Featuring a high-capacity battery pack, the H12 Pro provides longer cleaning sessions. The self-cleaning system and large dust capacity streamline maintenance. Its powerful traction and noise-optimised design make cleaning effortless and quiet. Elevate your cleaning routine with the Dreame H12 Pro, where intelligence meets power for exceptional cleaning results.
Here are the highlights of the Dreame H12 Pro Cordless Vacuum Cleaner's amazing features:
Automatically drying while charging
Ideal Suction Adjustment
Smart Dirt Detection
Three Versatile Modes
High Capacity Battery
Self-cleaning
Powerful Traction
Less Noise
Mould Prevention
Long-lasting battery
5. Tineco Floor One S5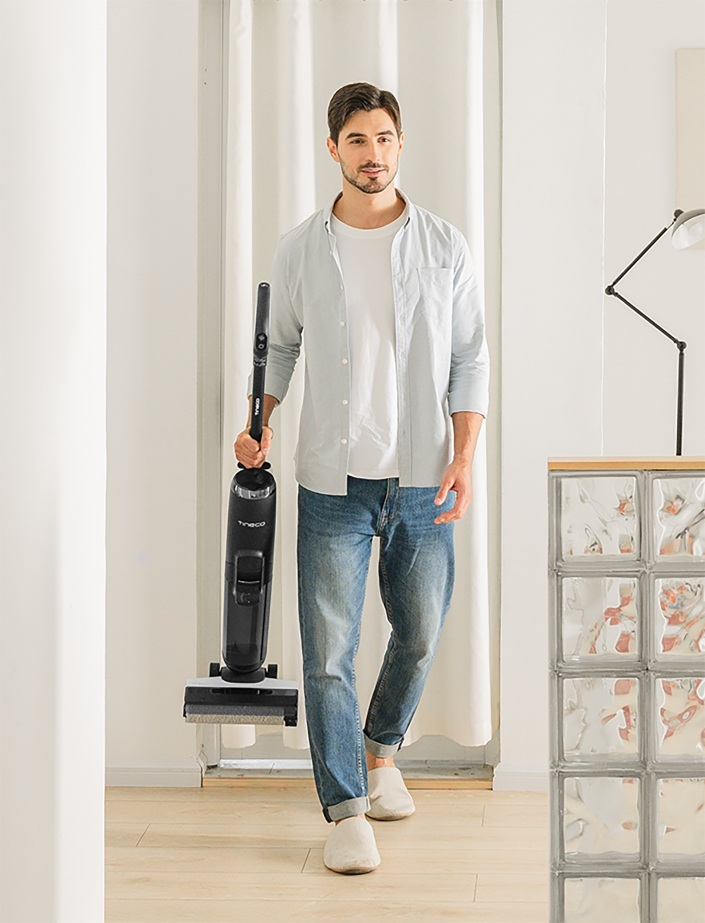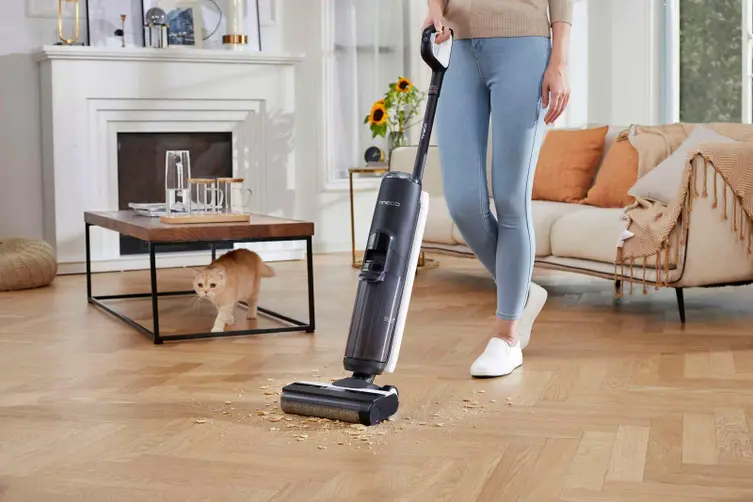 With innovative features and smart technology, this cordless cleaner takes the hassle out of cleaning. Experience effortless cleaning with our iLoop™ Smart Sensor Technology, automatically adjusting suction power, roller speed, and water flow to tackle wet and dry messes. Monitor your progress with the iLoop display that changes colour when your floor is clean. Enjoy up to 35 minutes of cordless runtime, thanks to smart battery optimisation, while larger clean and dirty water tanks facilitate uninterrupted cleaning.
The dual-tank system ensures continuous fresh water cleaning, eliminating the need to push around dirty water. Enhanced edge and corner cleaning, streak-free drying, and easy maintenance through self-cleaning cycles streamline your cleaning routine. With whisper-quiet operation and app connectivity, the Tineco Floor One S5 offers a seamless, efficient, and intelligent cleaning solution for your home.
Here are the highlights of the Tineco Floor One S5's amazing features:
iLoop™ Smart Sensor Technology
Smart iLoop display
Bigger Tanks, Longer Cleaning
Continuous Fresh Water Cleaning
Quick Drying
Self-Cleaning for Maintenance
Whisper-Quiet Operation
App Connectivity & Voice Assistant
6. Roborock Dyad Pro Vacuum Cleaner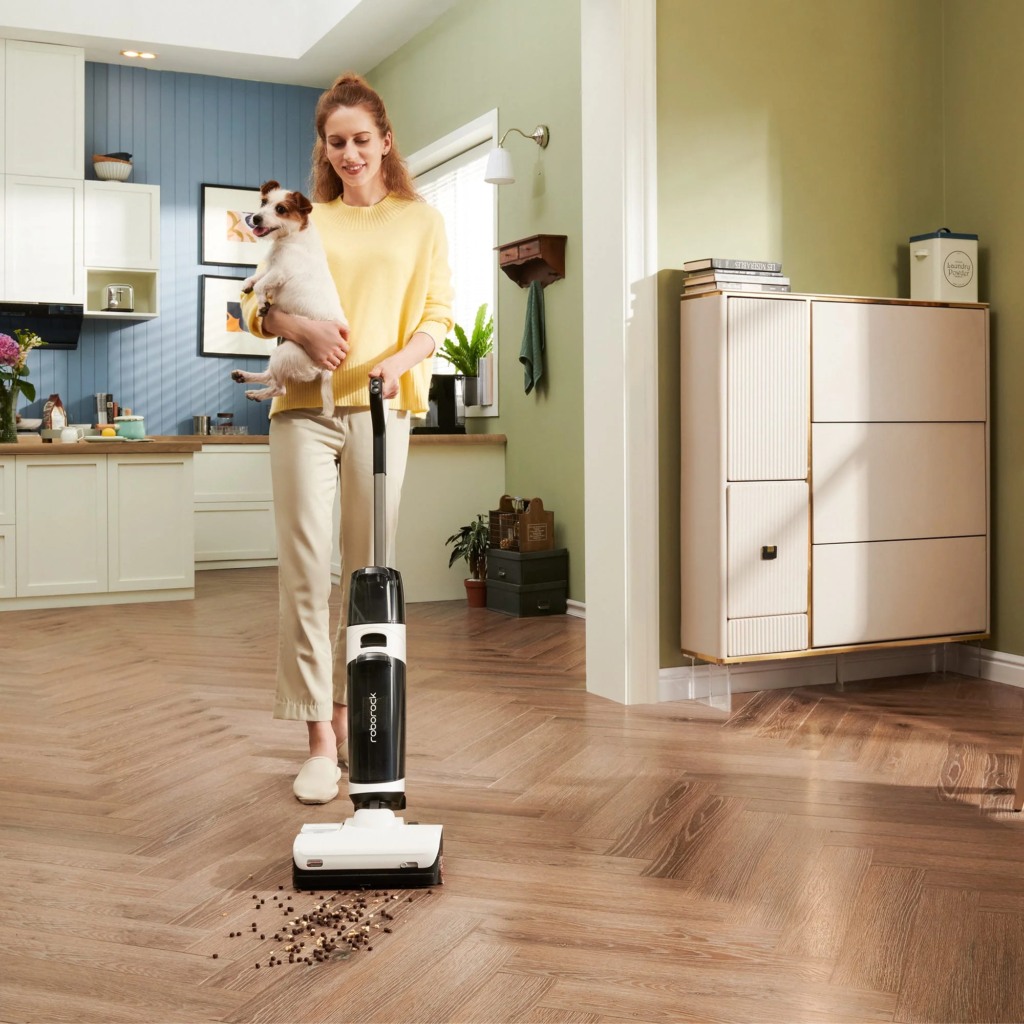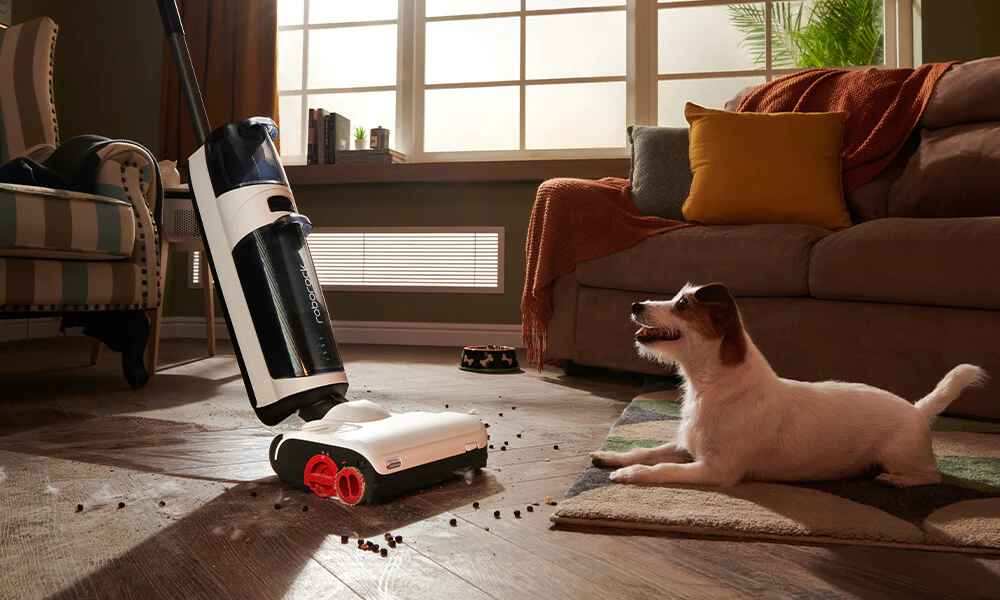 Roborock Dyad Pro Vacuum Cleaner is the epitome of cleaning excellence that combines powerful suction, advanced technology, and intelligent design. With an astounding 17,000Pa suction capability, it excels at both vacuuming and washing hard floors. The enhanced dual rollers reach as close as 1mm to the wall, ensuring thorough cleaning. Experience improved edge-to-edge cleaning with its full-length roller and two front rollers. The self-cleaning system transforms dirty rollers instantly, while the self-drying system eliminates lingering odours.
Its adaptive cleaning with DirTect™ Smart Sensor adjusts cleaning power and water flow dynamically, resulting in a perfect clean. The Dyad Pro's intuitive app control, voice alerts, and durable design further elevate your cleaning experience. Effortlessly cover up to 300 sqm on a single charge with 30% higher battery efficiency.
Here are the highlights of the Roborock Dyad Pro Vacuum Cleaner's amazing features:
17,000Pa Suction Power
Dual Rollers
Edge-to-Edge Cleaning
Self-Cleaning System
Self-Drying System
Adaptive Cleaning
Auto Solution Dispenser
App Control & Voice Alerts
Durable Design
Covers up to 300 sqm
7. Dyson V12 Detect ™ Slim Absolute Cordless Vacuum Cleaner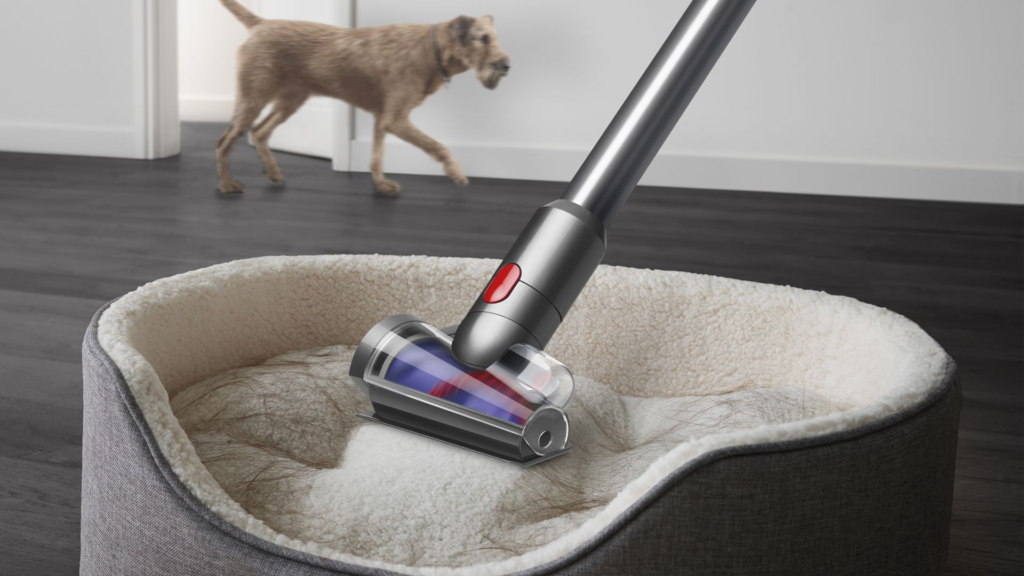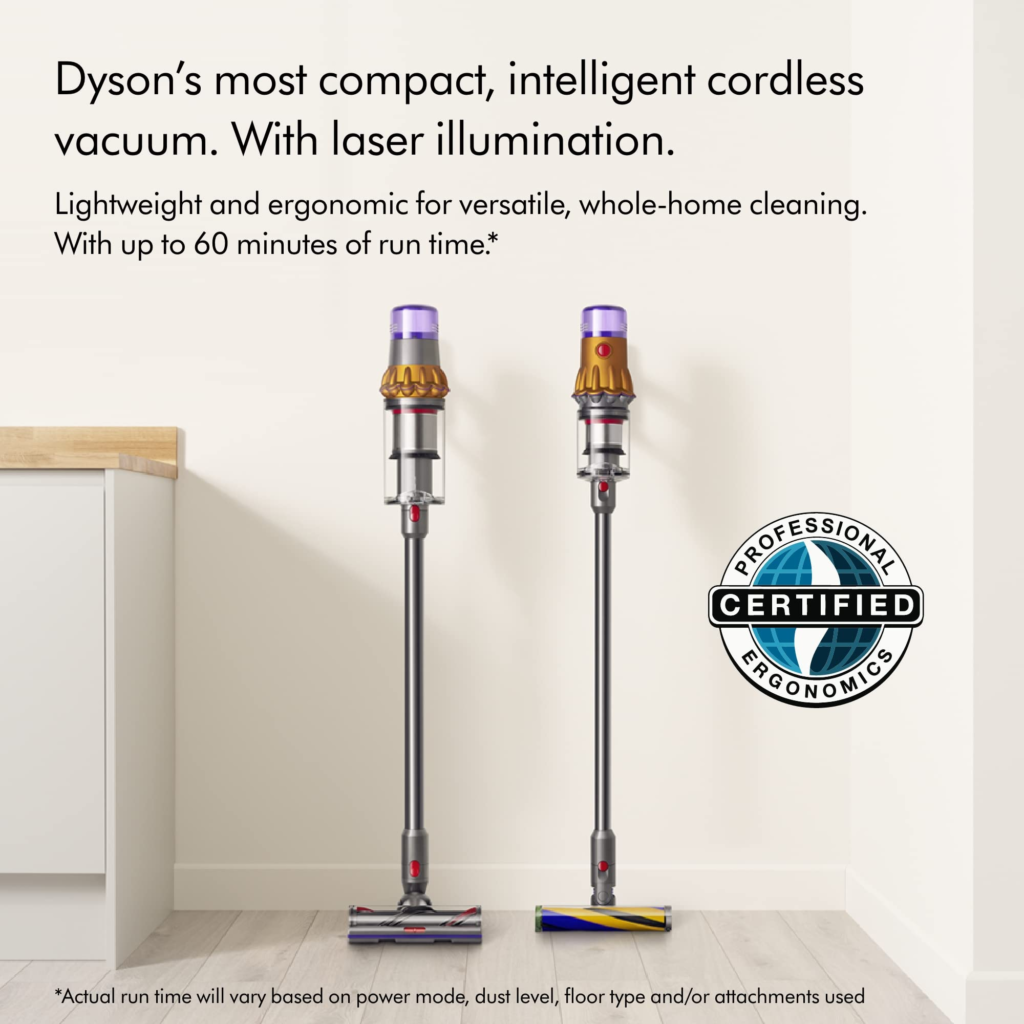 Dyson V12 Detect™ Slim Absolute Cordless Vacuum Cleaner is an extraordinary blend of cutting-edge technology and unbeatable cleaning performance. With the Fluffy Optic™ cleaner head, you'll reveal twice as many microscopic particles on hard floors. A piezo sensor adjusts suction power automatically, and the LCD screen offers real-time insight into your cleaning progress. Experience unrivalled suction power, as the lightest cordless vacuum delivers an impressive 150AW.
The precisely-angled laser detects invisible dust on hard floors, leaving no trace behind. The Fluffy Optic™ and direct drive cleaner heads cater to diverse surfaces, while the hair screw tool handles long and pet hair effortlessly. With three power modes and a hassle-free design, cleaning becomes a breeze. The LCD screen keeps you informed, while the wall dock and hygienic bin emptying enhance convenience.
Here are the highlights of the Dyson V12 Detect ™ Slim Absolute Cordless Vacuum Cleaner's amazing features:
Fluffy Optic™ cleaner head
Powerful suction (150AW)
Upgraded HEPA filter
Invisible dust detection
Piezo sensor technology
Real-time LCD display
Direct drive cleaner head
Hair screw tool
Single-button power control
Three power modes
Wall dock
No-touch bin emptying
Hygienic ejection mechanism
LCD screen reporting
8. Airbot Hypersonics PRO Smart Cordless Stick Vacuum Cleaner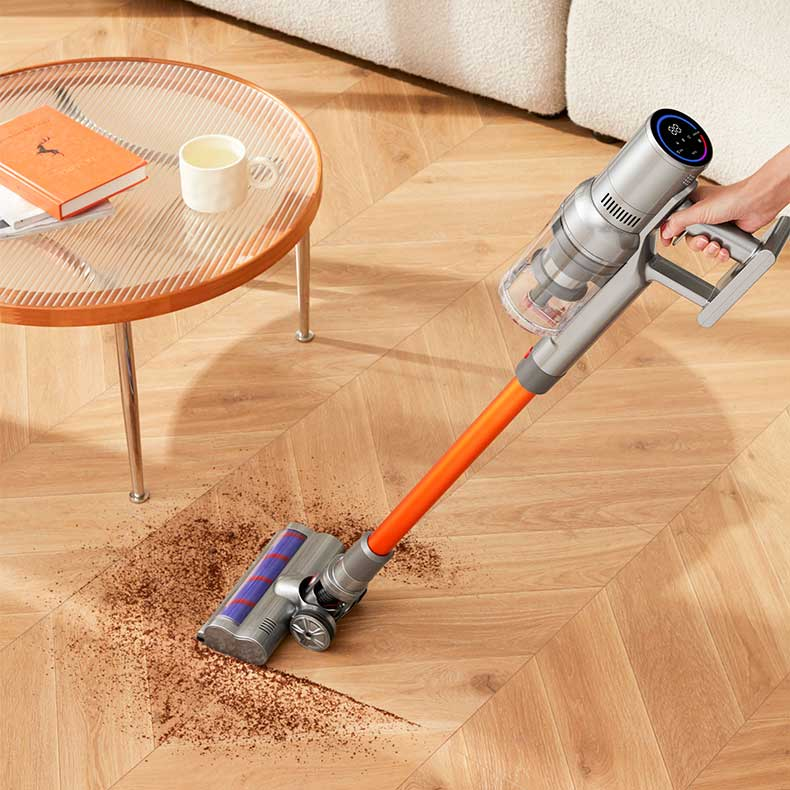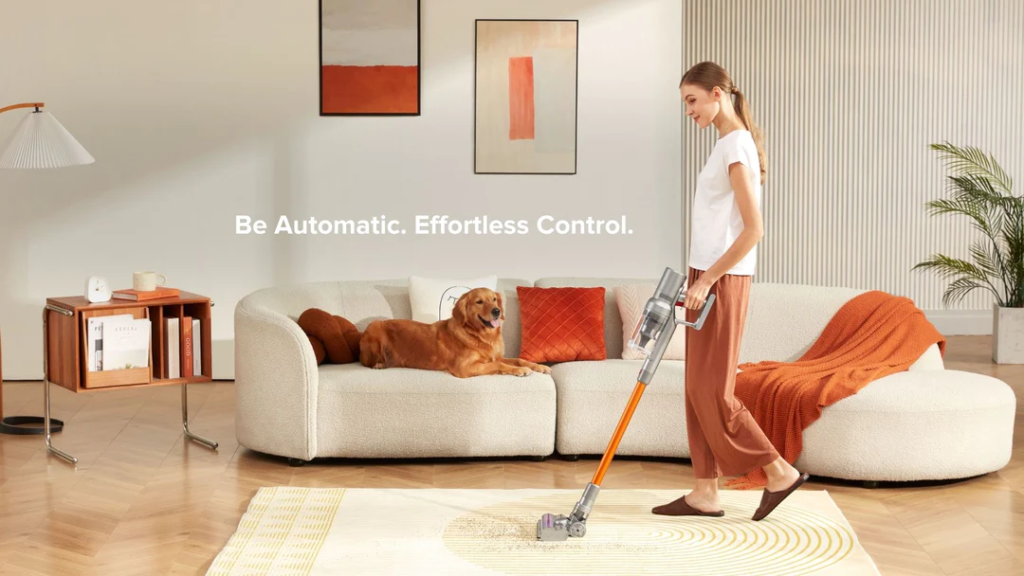 Introducing the Airbot Hypersonics PRO Smart Cordless Stick Vacuum Cleaner, where intelligence meets powerful cleaning performance. Equipped with infra-red dust sensing, it dynamically boosts motor speed to tackle micro-size particles. The built-in processor chip ensures optimal motor efficiency, while the colourful LED touchscreen provides real-time insights into vacuum speed, battery level, and cleaning progress. With a max power of 27000 Pa, this vacuum effortlessly extracts invisible particles from gaps. The state-of-the-art cyclonic technology and multi-stage filtration separate fur and dust from the airflow.
The LED display ring visually represents the cleaning process, while the E13 grade HEPA filter removes 99.97% of small dust particles. Versatility is key, with a detachable wind tube for portable cleaning, a floor brush LED light, a crevice nozzle, and a soft brush. The Airbot Hypersonics PRO redefines cleaning convenience with its advanced features, making your cleaning journey effortless and efficient.
Here are the highlights of the Airbot Hypersonics PRO Smart Cordless Stick Vacuum Cleaner's amazing features:
Infra-red dust sensing
Built-in processor chip
Colourful LED touchscreen
Digital battery display
Auto/Manual mode switch
Max 27000Pa power
Cyclonic technology
LED display ring light
E13 grade HEPA filter
Portable mode option
Floor brush LED light
Versatile attachments
0.8L dust cup
9. Shark Shark Cordless Vacuum With Self Cleaning Brushroll – IZ202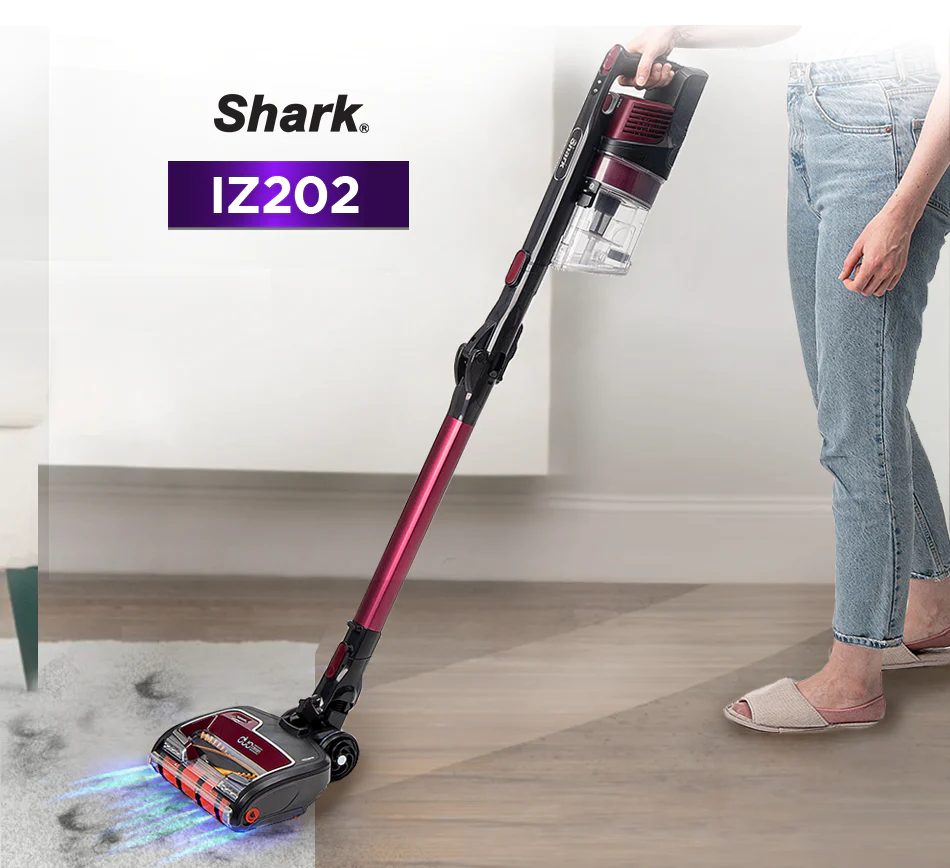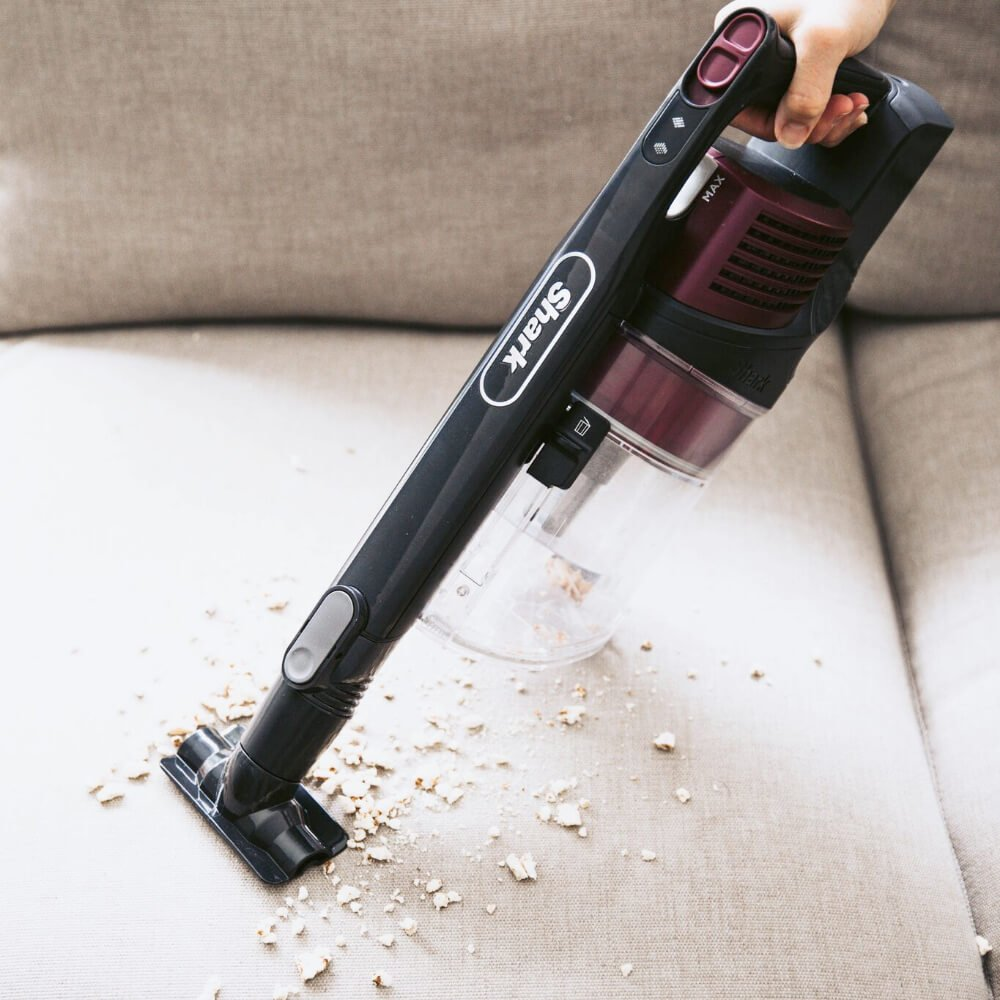 Shark Cordless Vacuum with Self-Cleaning Brushroll – IZ202 is a powerful and versatile cleaning companion that tackles every mess with ease. Boasting robust suction, it effortlessly removes dirt, debris, and pet hair throughout your home. Its innovative self-cleaning brush roll ensures hair doesn't tangle, making it ideal for both long and pet hair. Equipped with DuoClean® Technology, this vacuum seamlessly transitions between hard floors and carpets, efficiently handling all types of particles. With up to 40 minutes of runtime, the Flexiwand provides flexible reach under furniture, and its 180-degree bending capability makes storage a breeze.
The Anti-Allergen Complete Seal Technology® and HEPA filter ensure allergens are trapped, while LED headlights expose hidden debris. The XL Dust Cup with CleanTouch™ Dirt Ejector and washable dust cup offer easy maintenance. Transforming into a handheld vacuum, it comes with a range of accessories for versatile cleaning.
Here are the highlights of the Shark Shark Cordless Vacuum With Self-Cleaning Brushroll – IZ202's amazing features:
Powerful suction
Self-cleaning brush roll
DuoClean® Technology
Triple Particle Cleaning
Up to 40 mins runtime
180° bending capability
Anti-Allergen Complete Seal
Advanced Swivel Steering
LED headlights
XL Dust Cup
CleanTouch™ Dirt Ejector
Washable dust cup
Versatile handheld mode
Washable HEPA filter
10. Philips SpeedPro Aqua Cordless Stick Vacuum Cleaner FC6728/01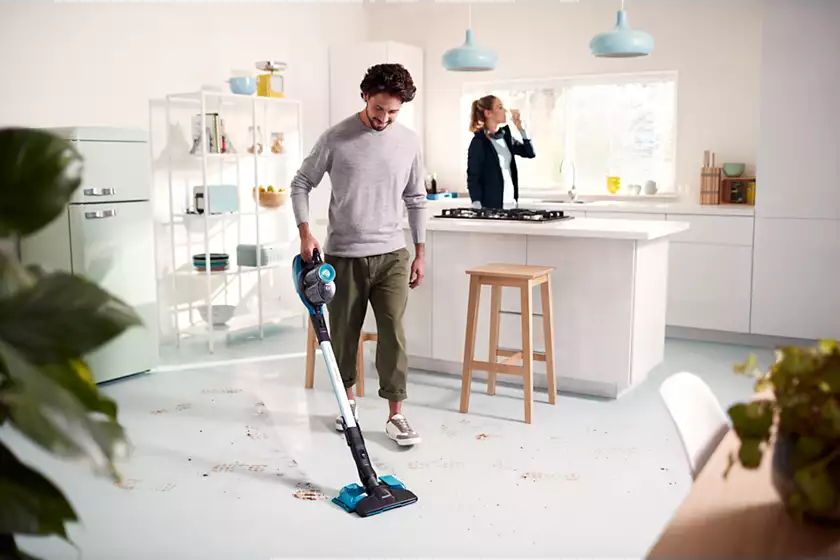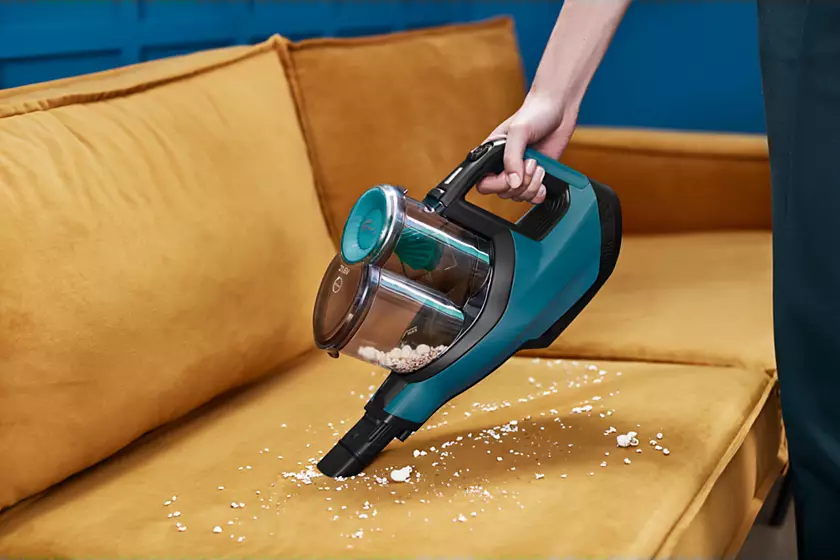 Philips SpeedPro Aqua Cordless Stick Vacuum Cleaner FC6728/01 is a versatile cleaning powerhouse that effortlessly handles various tasks. This 3-in-1 device functions as a vacuum, mop, and handheld unit, ensuring thorough cleaning across all floor types. The 180° suction nozzle efficiently captures up to 98% of dust and dirt, even in hard-to-reach spots. Equipped with LEDs in the nozzle, hidden dust and dirt are illuminated, enhancing visibility during cleaning. The vacuum and mop system removes up to 99% of bacteria, maintaining optimal wetness for hard floors.
With AquaBoost mode for tougher dirt, the SpeedPro Aqua delivers exceptional cleaning power. Powered by a high-performance 21.6V Li-Ion battery, it provides up to 50 minutes of cleaning. The integrated handheld unit, crevice tool, and brush offer versatility, while the innovative design reaches under low furniture effortlessly. The PowerBlade motor, PowerCyclone 7 technology, and washable filter ensure powerful, lasting performance.
Here are the highlights of the Philips SpeedPro Aqua Cordless Stick Vacuum Cleaner FC6728/01's amazing features:
3-in-1 functionality
180° suction nozzle
Up to 50 min runtime
LED lights in the nozzle
Captures up to 98% dust
Vacuum, mop & handheld
Reveals hidden dirt
Up to 99% bacteria removal
AquaBoost mode
Integrated handheld unit
Fast reach under furniture
PowerBlade motor
PowerCyclone 7 technology
Unique dust bucket design
Washable filter
Accessories included
11. Cornell Corded Handheld Vacuum CVC-E59CHC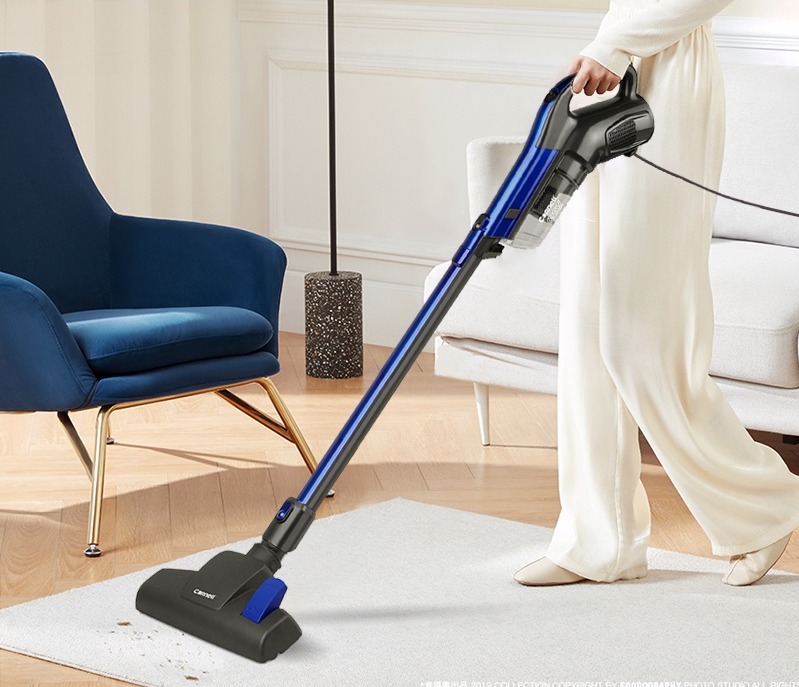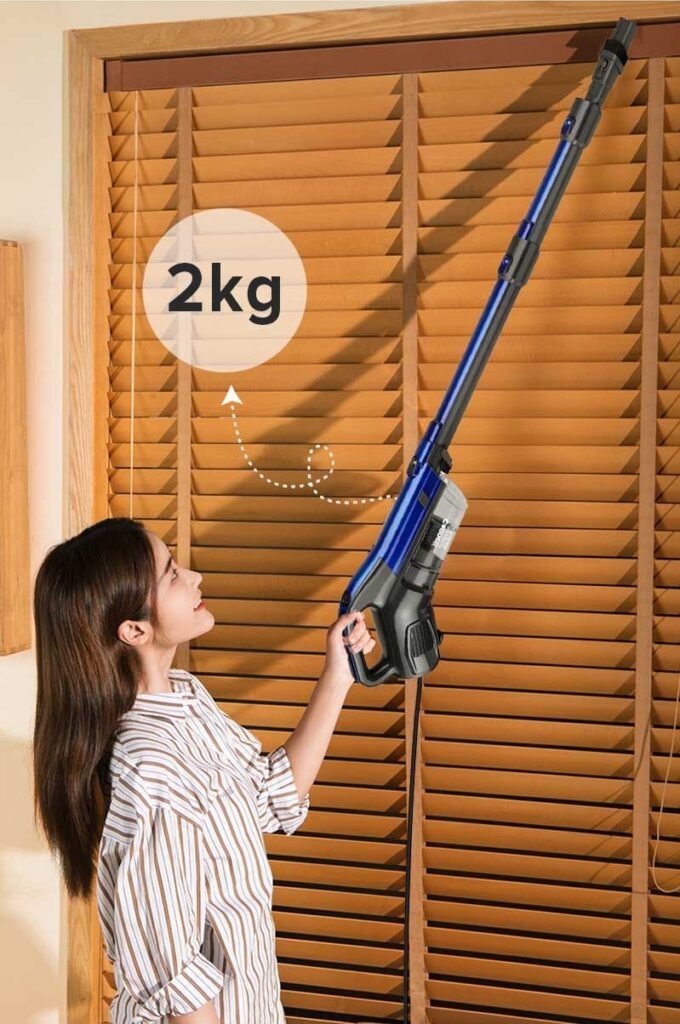 With a robust 600W motor, it delivers an impressive 14000 Pa suction for continuous cleaning. The dual-position floor head effectively removes embedded debris from hard floors, and its 5-metre power cord ensures versatile usage throughout your home. Lightweight and versatile, this vacuum comes with an extension tube for cleaning curtains and ceilings. Easily convert it into a handheld vacuum by detaching the extension tube. The advanced cyclone HEPA filtration captures even the tiniest particles, making it suitable for households with pets and children.
Emptying and cleaning are effortless, thanks to the one-click dustbin emptying and washable filters. Wall-mounted storage simplifies organisation, while the vacuum comes with a one-year warranty. Accessories include adjustable extension tubes, a floor brush, a 2in1 dusting/crevice tool, and a wall mount bracket.
Here are the highlights of the Cornell Corded Handheld Vacuum CVC-E59CHC's amazing features:
14KPa Powerful Suction
5m Long Cord
Lightweight & Multi-purpose
Extension Tube
Advanced Cyclone HEPA Filtration
Easy to Empty & Clean
Wall Mounted Storage
One-Year Warranty
Accessories Included
12. Eluxgo EC19C Cordless Vacuum Cleaner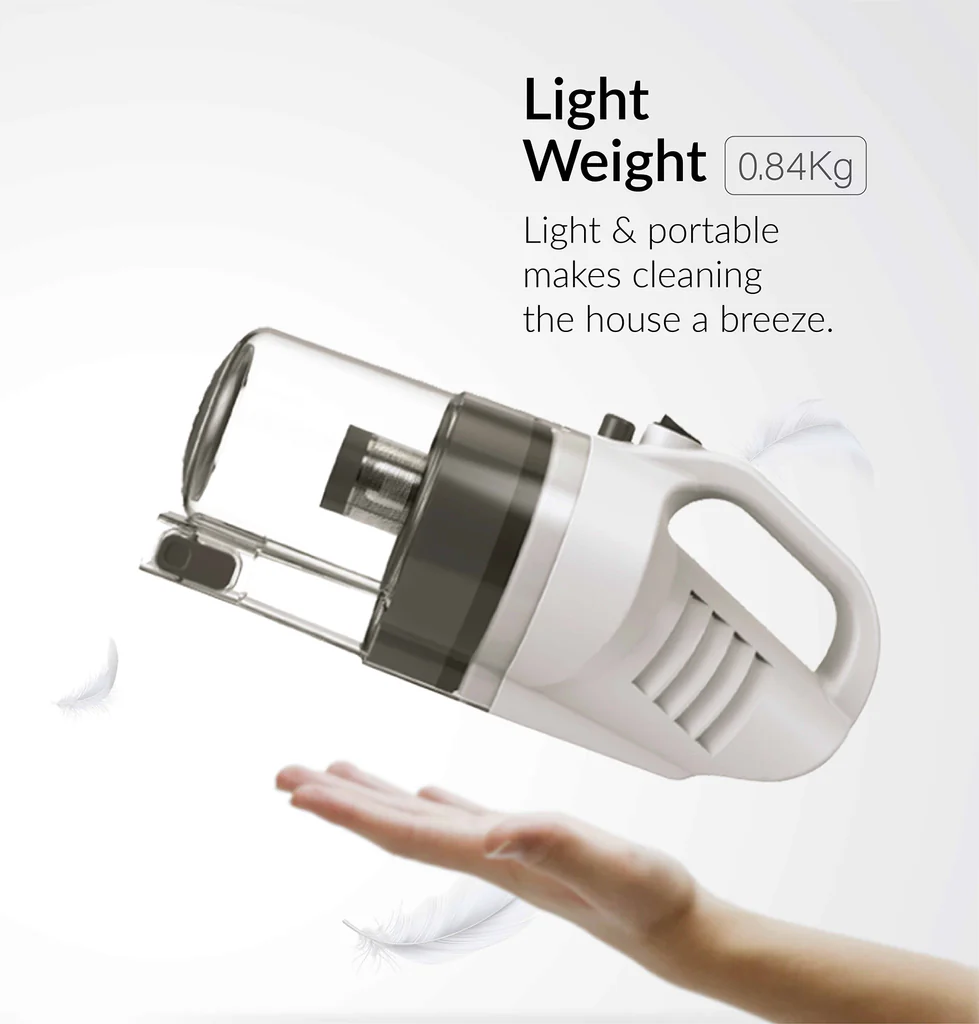 Eluxgo EC19C Cordless Vacuum Cleaner is a versatile cleaning solution designed to make your cleaning routine effortless. With a maximum power of 45/80W, it offers dual power modes for up to 30 minutes in Normal mode and 15 minutes in Power mode. This lightweight vacuum weighs only 0.84kg, making it easy to carry around for quick cleanups.
The included accessories enhance its functionality, featuring a flexible floor brush, static brush for fabrics, angled brush for uneven surfaces, crevice tool for tight gaps, and extension pipes for hard-to-reach areas. The base stand conveniently displays accessories for easy access. Noise reduction technology ensures quiet cleaning with a decibel level of <64dB, allowing you to clean without disturbing your family or neighbours.
Here are the highlights of the Eluxgo EC19C Cordless Vacuum Cleaner's amazing features:
Max Power: 45/80W
Dual Power Modes
Floor Brush
Static Brush
Angled Brush
Crevice Tool
Extension Pipes
Base Stand
Lightweight & Portable
Decibel <64dB
Conclusion
In the bustling world of cleaning technology, cordless vacuum cleaners have emerged as essential companions in maintaining a pristine home. With their powerful suction, versatile attachments, and hassle-free mobility, these devices are redefining convenience. In Singapore, where space is often at a premium, the choice of a cordless vacuum cleaner becomes crucial.
From the sleek designs to the advanced features, the options presented in this article cater to various needs, ensuring a cleaner living environment for all. Whether you seek the efficiency of smart sensors or the convenience of multi-purpose tools, the best cordless vacuum cleaners in Singapore offer a range of solutions. Embrace the future of cleaning technology and elevate your home maintenance with the innovation and practicality that these remarkable devices bring.