Imagine you're late for a meeting and want to shower quickly. But all that comes out of the faucet is cold water. What would you do? Heat water on a stove or geyser? But that would take time, won't it?
People need warm water to endure the day in areas where winters are brutal. That's where water heaters come into the picture. These appliances are some of the most crucial equipment in a house, especially in colder regions. They heat water for bathing, washing, and cooking and offer a steady supply of warm water throughout the residence.
Since winters in Malaysia can be challenging, with temperatures ranging from 22 to 33 degrees Celsius, people need a constant supply of warm water. It has also been proven that using hot water for drinking, bathing, and washing helps ease muscle tension and rejuvenate the body. It is also the perfect middle ground for all skin types.
Now that we understand the benefits of a water heater in residence, let's learn about its most trustable suppliers throughout Malaysia. Here are the top seven brands supplying the appliance throughout the country.
1. Panasonic U-series Jet Pump Water Heater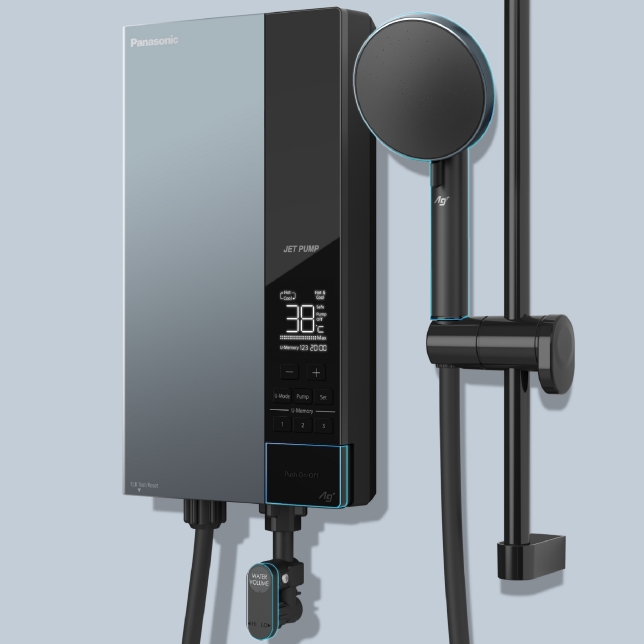 If you wish to begin and conclude your day with a relaxing and personalized shower, nothing could be better than this U-series heater by Panasonic. It is a Malaysian brand that has been selling water heaters to residents according to their personal needs for over 45 years. Anyone looking for a water heater for their home can rely on Panasonic without a second thought, as it manufactures highly innovative and pocket-friendly products.
The U-series heater has protection and sanitary components to make your bathing time tension-free. You can switch between shower heads to unwind and rejuvenate. The bathing panel keeps the internal parts secure, while Ag+ Crystal controls the development of bacteria for a more easygoing experience.
It has a low-noise function to let you shower early in the morning and late at night without disturbing anyone's sleep. Its quality and modern structure contribute to the aesthetics while letting the users select personalized profiles with U-Memory. Family members can change their profiles of desired water temperature and surface with a simple touch.
Key Differentiators:
Waterproof and Splash-proof Covering
Personalized Pre-set Bathing Settings
3-way Shower Head: Regular, Broad, Spot
Multiple Modes: Sizzling, Lukewarm, Cold
Quiet Operation DC Pump
2. Joven Electric Water Heater SB11 Series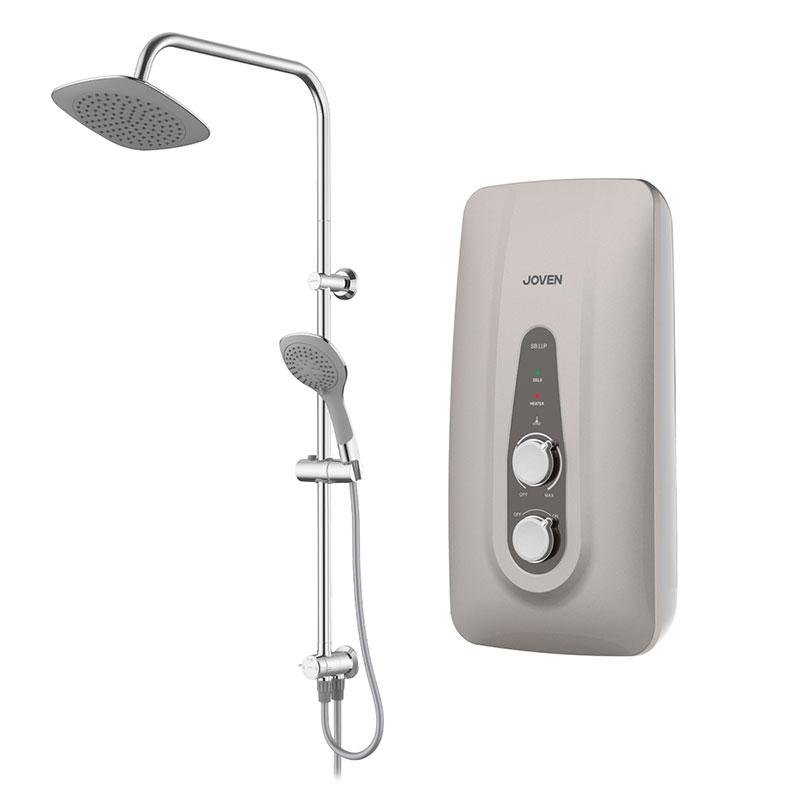 Joven is a reputed brand established in 1983 by James YG Tan to provide affordable water heaters to Malaysian residents, so they don't have to depend on imported and expensive ones. It holds the reputation of being the first Malaysian electric water heater manufacturer across the country. So, you can undoubtedly rely on its quality.
The SB11 series instant water heater by Joven is equipped with all the features one looks for in a heater. Unlike other devices in the market, it is easy, convenient, and safe to use. Once installed and switched on, it instantly provides hot water from the faucet, thus staying true to its name. People don't need to wait long hours to bathe in warm water, especially during the colder months.
These devices come in an elegant yet stylish case to enhance the aesthetics of a house. Other characteristics include a power-saving inverter DC pump, quiet operation, and an electric power monitor, among others. By taking innovation at its core, Joven aims to build safe and reliable water heaters that operate for a long time.
Key Differentiators:
Thermostat with Protection Cut-off
Water-proof Covering
SVF Valve with Built-in Filtration
Power Conserving Inverter DC Pump
Quiet Operation
Stepless Electric Power Monitoring
3. Toshiba Instant Electric Water Heater
People might not know this, but a heated water tank helps save the earth by conserving energy and water. Electrical appliances are considered the best to accomplish such purposes as they save energy through quick heating. One such appliance that helps accomplish the purpose is this instant electric water heater from Toshiba.
Toshiba is a renowned Japanese brand manufacturing and marketing advanced electronic and electrical products. One of its finest innovations so far has been the instant electric water heater that assures the utmost safety of the users. It comes with a Real-time Monitoring System that activates when the earth wire is well-connected. In the absence of an earth connection, power will cut off automatically.
The best feature of this appliance is the three water-using modes, suitable for different life scenarios, and the 99.99% bacteria-free spiral flow heating system made of red copper. This system helps promote even and efficient heating while the spiral design stretches its lifespan. It has a built-in ELCB to detect electric leakages and a splash-proof design to protect against water seepage into the interior, thus avoiding short circuits.
Key Differentiators:
Strong Leakage Protection with ELCB
Constant Temperature System
Splash-proof Protection
Cool, Morning, and Evening Modes
Bacteria-free Spiral Flow Heating System
Real-time Earth Monitoring Connection
4. Rinnai Sen Electric Water Heater (Sky Blue)
Rinnai is a Japanese multinational manufacturing and supplying energy-efficient tankless water heaters for global citizens. The tankless systems supplied by the brand are highly flexible as they can be placed anywhere in a house, whether in the kitchen or the washroom. Such heaters don't consume much space compared to traditional ones, all thanks to advanced technology.
Although there are different types of heaters in the market, tankless ones are the best as they conserve energy. This Sen series by Rinnai comes in an aesthetically pleasing sleek, parallel finish that imitates the beautiful lines on sandy beaches. It has a minimalist design with a temperature control system. With a simple turn, users can regulate the water from lukewarm to invigorating hot in seconds.
The best feature of the appliance is the pump, which promotes quiet operation and conserves power. Besides, it is cost-effective and maintenance-free.
Key Differentiators:
Temperature Protection Cut-off
Water and Dirt-resistant Casing
Quiet and Power-efficient Function
Lightning and Overflow Safety
Sturdy Leakage Security with ELCB
5. Haier EI36MP1 DC Inverter Water Heater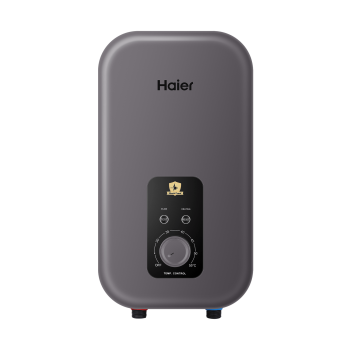 If you're searching for a brand that offers the ultimate peace of mind with warm water, you can put your bets on Haier. This water heater uses advanced safety technology to eliminate any electric leakage hazard. It features a DC Pump to allow powerful flow with silent operation and lets users enjoy clean water with its anti-scale tankless design.
Since it has a shock-proof and water-resistant casing, people can enjoy baths without worries while selecting from the three shower modes. It also offers the users multiple installation options and a two to six years warranty.
Key Differentiators:
Constant Temperature Control with Japanese SCR
DC Inverter Ultra Silent Pump
3-way Shower Ways with Monitor Switch Button
3D Heating Technology
Leakage Protection with ELCB and Double Relay
6. Rubine Cetus Series Black Water Heater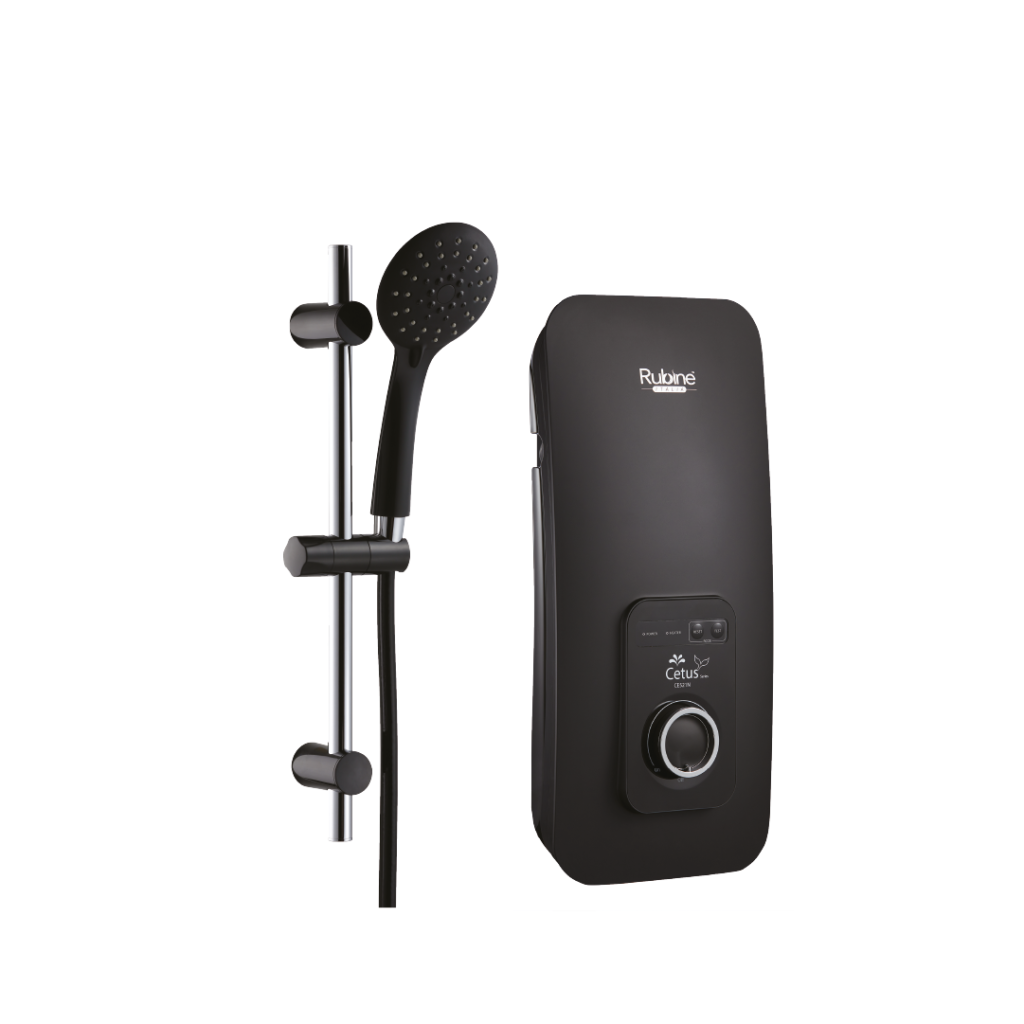 Rubine has been a leading house appliances supplier across Malaysia for the past 20 years. It manufactures products using the latest technology and creative structures. If you're searching for a high-quality, long-lasting, and resource-efficient heating device that functions for a long time, you can turn to Rubine.
This Cetus series water heater is one of its finest products until now. It provides a minimum discharge rate of 2 liter/minute with a 4.25kW 240V 50Hz power rating and 0.2 bar pressure. Anyone looking for an environmentally friendly heater with less energy should invest in this one.
Key Differentiators:
Two Liter Per Minute Water Flow Rate
Stepless Electronic Temperature Control
7. ELBA Galaxy Black DC Pump Water Heater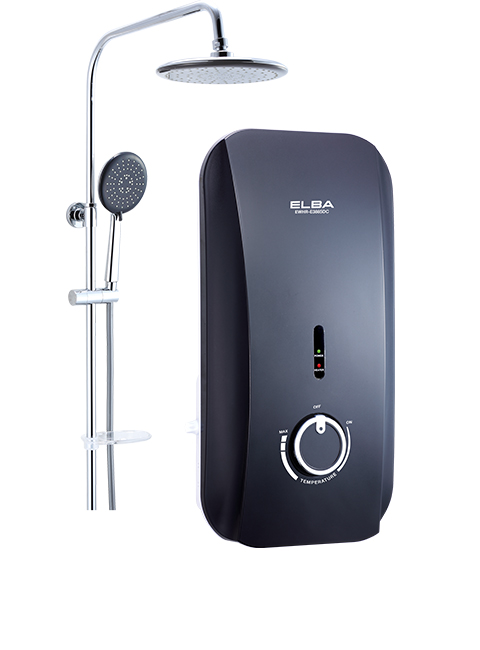 An efficient heater provides constant hot water in no time for cleaning and washing. It works quietly, disturbing no one while conserving power and contributing to the aesthetics. This black appliance might be perfect for you if you're searching for an environmentally friendly heater. It operates with an inverter noise-proof pump and waterproof covering to let you bathe peacefully.
This appliance is equipped with a three-spray pattern hand shower for convenient bathing. Since ELBA has been supplying home and electrical appliances since 1979, its products can be trusted for quality, long-term durability, and first-class after-sales service.
Key Differentiators:
Inverter Low-Noise DC Pump
Power Conservation of up to 60%
Wrapping Up
Gone are the days when people had to warm water on a stove. Although the world witnessed an advancement with geysers, now they have water heating devices that are a lot more advanced than a geyser. Unlike geysers that take almost an hour before supplying warm liquid, electric devices provide a 24/7 supply whenever needed.
Almost every house has a water heater today that fulfills their constant need for hot water. To make the most of these devices, purchasing from a trustable supplier who provides high-quality at reasonable prices is vital.
If you live in Malaysia and are looking for a water heater supplier, we hope this blog helps you out. All the brands listed here are trustable as they have been in the market for a prolonged period, fulfilling the needs of Malaysian and global residents. We hope you don't need to linger for hours to get warm water!