Imagine you're late for a meeting and want to shower quickly. But all that comes out of the faucet is cold water. What would you do? Heat water on a stove or geyser? But that would take time, won't it?
People need warm water to endure the day in areas where winters are brutal. That's where water heaters come into the picture. These appliances are some of the most crucial equipment in a house, especially in colder regions. They heat water for bathing, washing, and cooking and offer a steady supply of warm water throughout the residence.
Since winters in Malaysia can be challenging, with temperatures ranging from 22 to 33 degrees Celsius, people need a constant supply of warm water. It has also been proven that using hot water for drinking, bathing, and washing helps ease muscle tension and rejuvenate the body. It is also the perfect middle ground for all skin types.
Now that we understand the benefits of a water heater in residence, let's learn about the best water heaters in Malaysia for a great shower experience. Here are the top sixteen models to choose from.
Features of a Good Water Heater
Here are some features to look for when buying a water heater:
Energy Efficiency: A good water heater should be energy efficient. Look for heaters with a high Energy Factor (EF) rating, which measures how efficiently the unit uses energy to produce hot water. The higher the EF value, the better the energy efficiency. It, in turn, will help you save on your energy bills.
Capacity: Look for a water heater with an appropriate capacity to fulfill the hot water requirements of your household. For example, a larger family with five or six members will need a heater with a larger capacity. However, if your home has a smaller number of occupants, a tankless water heater might be sufficient.
Durability: A good water heater must be durable. It should be made of sturdy materials that can withstand regular use and environmental factors. This not only ensures that the unit lasts for many years to come but also minimizes the need for frequent repairs. Moreover, choose a reputable brand and look for models with a good warranty.
Recovery Rate: A good water heater should have a high recovery rate. By recovery rate, we mean how quickly the water heater can heat up a new batch of water after the existing water supply has been depleted. A higher recovery rate means you won't run out of hot water as quickly.
Easy Maintenance: The water heater you choose should be easy to maintain. It should consist of accessible parts to make cleaning and maintenance easy. The instructions should be easy-to-follow for better upkeep over time.
Safety Features: Look for a water heater with safety features. These usually include temperature or pressure relief valves, thermostats, vents, automatic shut-offs, and fusible plugs.
Cost: Finally, a good water heater should be affordable. It should offer good value for the features it provides. Also consider the upfront cost, energy cost, and maintenance cost when comparing different models.
1. Panasonic U-Series Jet Pump Water Heater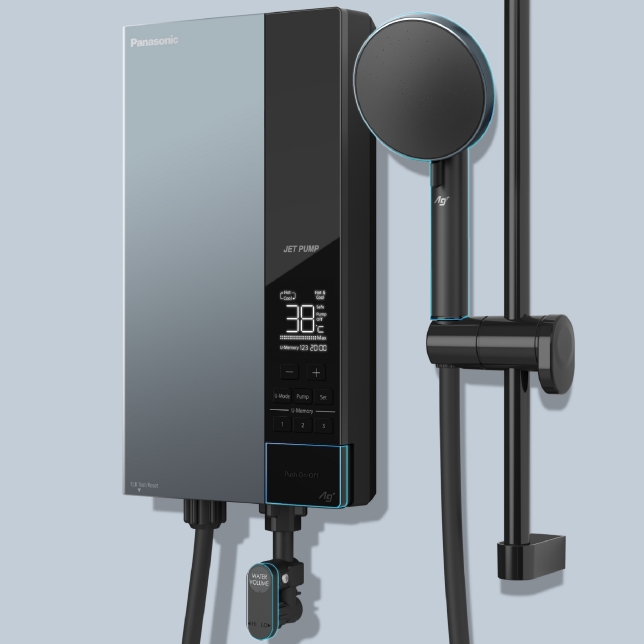 If you wish to begin and conclude your day with a relaxing and personalized shower, nothing could be better than this U-series heater by Panasonic. It is a Malaysian brand that has been selling water heaters to residents according to their personal needs for over 45 years. Anyone looking for a water heater for their home can rely on Panasonic without a second thought, as it manufactures highly innovative and pocket-friendly products.
The U-series heater has protection and sanitary components to make your bathing time tension-free. You can switch between shower heads to unwind and rejuvenate. The bathing panel keeps the internal parts secure, while Ag+ Crystal controls the development of bacteria for a more easygoing experience.
It has a low-noise function to let you shower early in the morning and late at night without disturbing anyone's sleep. Its quality and modern structure contribute to the aesthetics while letting the users select personalized profiles with U-Memory. Family members can change their profiles of desired water temperature and surface with a simple touch.
Key Differentiators:
Waterproof and Splash-proof Covering
Personalized Pre-set Bathing Settings
3-way Shower Head: Regular, Broad, Spot
Multiple Modes: Sizzling, Lukewarm, Cold
Quiet Operation DC Pump
2. Electrolux 3.6kW ComfortFlow 800 Electric Instant Water Heater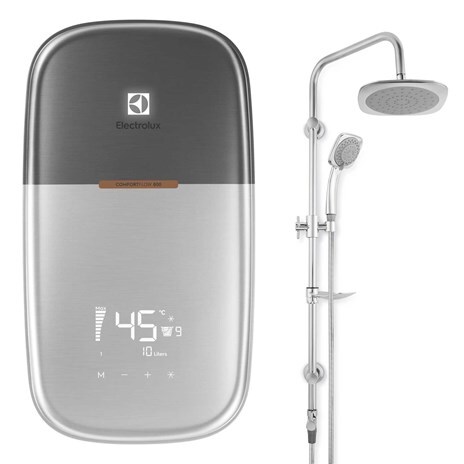 Say goodbye to the frustration of waiting for hot water with the latest line of instant water heaters from Electrolux. As a leading appliance manufacturer known for its commitment to innovation, Electrolux has once again outdone itself with some state-of-the-art water heaters. With cutting-edge technology, these heaters provide instant hot water while being energy-efficient and easy to maintain.
Don't settle for anything less than the best. Choose the Electrolux ComfortFlow 800 Electric Instant Water Heater for all your hot water needs. Its SafeReady touch screen automatically tests the electrical components before use, while the Dynamic Power Control adjusts the heating power, ensuring optimal water temperature even with water supply fluctuations.
This instant water heater comes with an antibacterial shower head that reduces up to 99.9% of harmful bacteria. It also features an EcoShower function that saves electricity and monitors your water consumption. Plus, its intuitive touchscreen displays all essential shower information, including temperature and water consumption.
Key Differentiators:
ComfortFlow: maintains a stable temperature
Energy Efficient
Double Action Thermostat
SafeReady Intuitive Touch Screen
Automatic Temperature Control
Reduces up to 99.9% of harmful bacteria
Dynamic Power Control
Built-in Auto Flow Sensor
Water Filter (Single 3-in-1 Valve)
5 Shower Head Settings
3. Rubine RWH-SSE891D-BCB Smart Slim Elegant Series Water Heater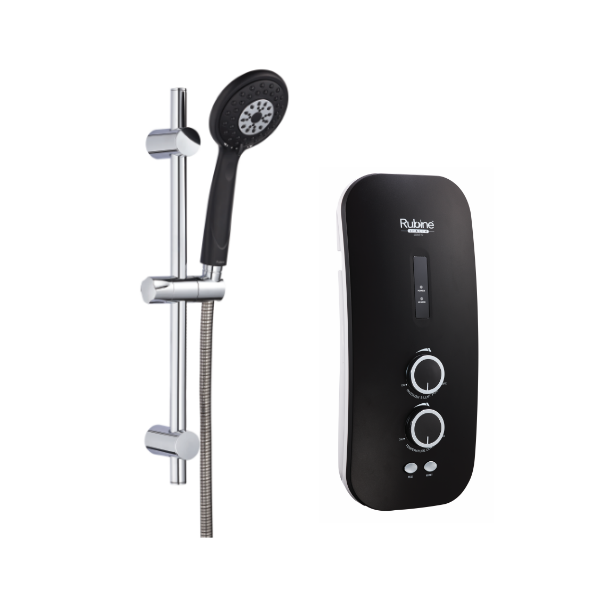 Get ready to enjoy hot water like never before with Rubine's Smart Slim Elegant Series. With features like stepless electronic temperature control, energy-efficient design, and enhanced safety elements, these water heaters offer unparalleled performance and efficiency.
This Smart Slim Elegant Series water heater stands out as one of the best products offered by the company. It boasts a minimum discharge rate of 2 liters per minute. The heater has a power rating of 3.6 kW, operates at 240 volts and 50 Hz, and has a pressure of 0.2 bar. This eco-friendly water heater is an excellent investment for anyone looking to conserve energy and reduce their carbon footprint.
Key Differentiators:
Two Liter Per Minute Water Flow Rate
Safety Elements
Stepless Electronic Temperature Control
Energy Efficient
4. Panasonic 3RL1 Non-Jet Pump Standard Series Home Shower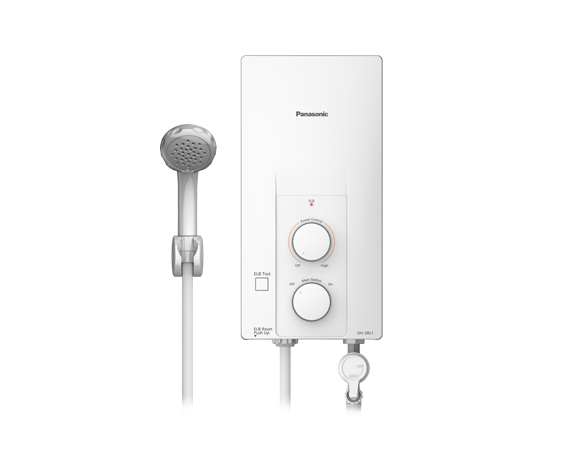 Panasonic 3RL1 Non-Jet Pump Standard Series water heaters are a reliable and affordable choice for any home. These are equipped with advanced safety features to provide you with a worry-free hot water supply. They are designed with an insulated structure that prevents electric shocks. Their splash-proof cases prevent water splashes from entering the units, further enhancing safety.
This 3RL1 series water heater is easy to install and maintain, making it a convenient choice for any household. Its auto thermal cut-off feature shuts off the power supply automatically when the water temperature exceeds a control limit. Moreover, the flow sensor feature ensures that the heater shuts off automatically when the water flow is too low, preventing overheating of the water.
Key Differentiators:
Non-flammable Material Compliance
Insulated Structure
Built-in Electric Leakage Breaker (ELB)
Water Splash Proof Case
Reinforced Polyamide Heater Tank
Manual Reset Thermostat
Auto Thermal Cut-Off
Flow Sensor
5. Joven SA Series Instant Water Heater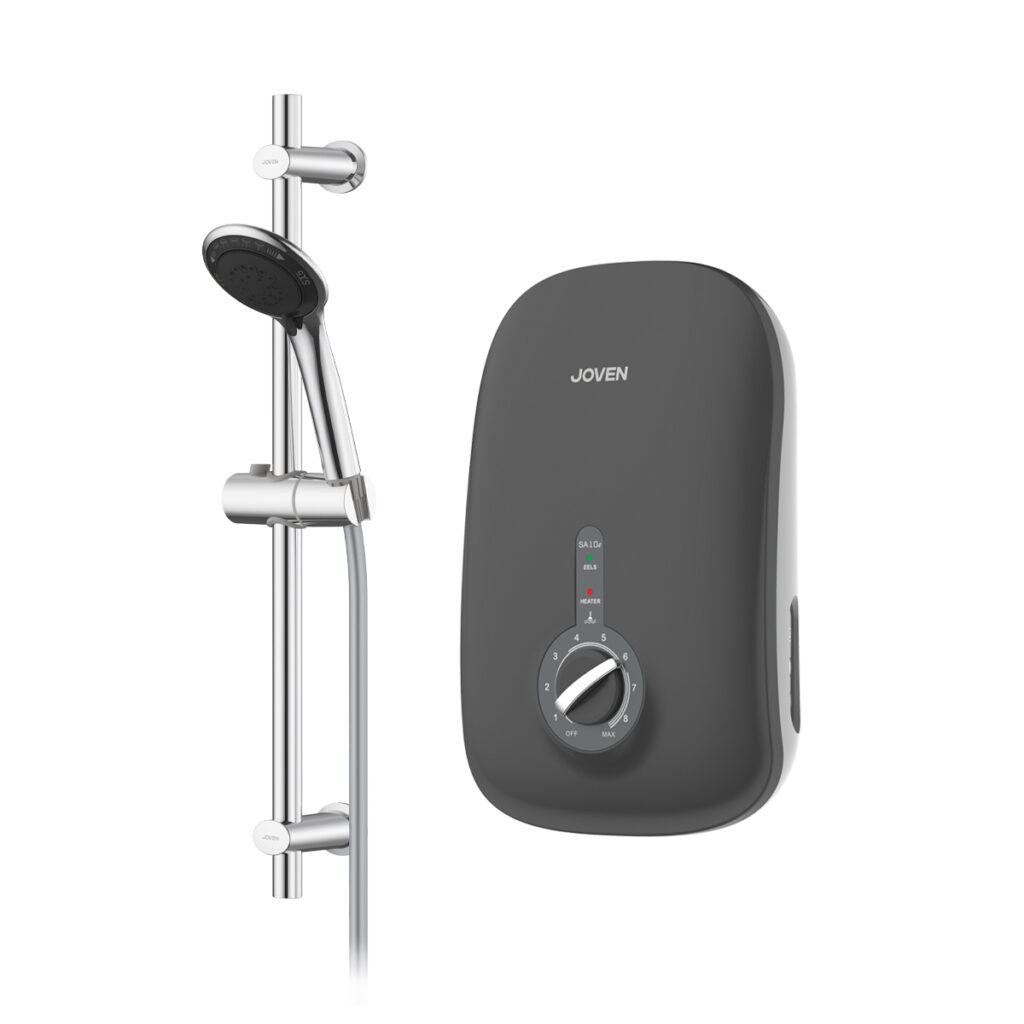 Here comes another water heater from Joven: the SA10 Series Instant Water Heater. It has a compact, slim, and stylish design with a double-layer 2K spray paint finish. The heater features a stepless electronic power control system for smooth temperature settings. It includes multiple safety features, such as an EELS anti-scalding device and a cut-out for overheating to prevent fire hazards.
The SA10 Series features a durable copper heating element, Swirl technology to prevent scalding and a nylon fiber insulated tank. The water flow of these heaters can be controlled with a 1/4 turn SVF valve. The showerheads are completely adjustable, and their hoses are reinforced with triple layering for durability and safety.
Key Differentiators:
Stepless Electronic Power Control
5 Spray Showerhead
Durable, Safe, and Hygienic Triple Reinforced Non-Conductive Hose
Thermostat with Safety Cut-Out
Splashproof IP25 Casing
Premium and Long Lasting Colour Finish
Surge Protector
Anti-Scalding Technology
Safety Flow Sensor
SVF Valve with Built-In Filter
6. Elba Instant Water Heater ACQUA Series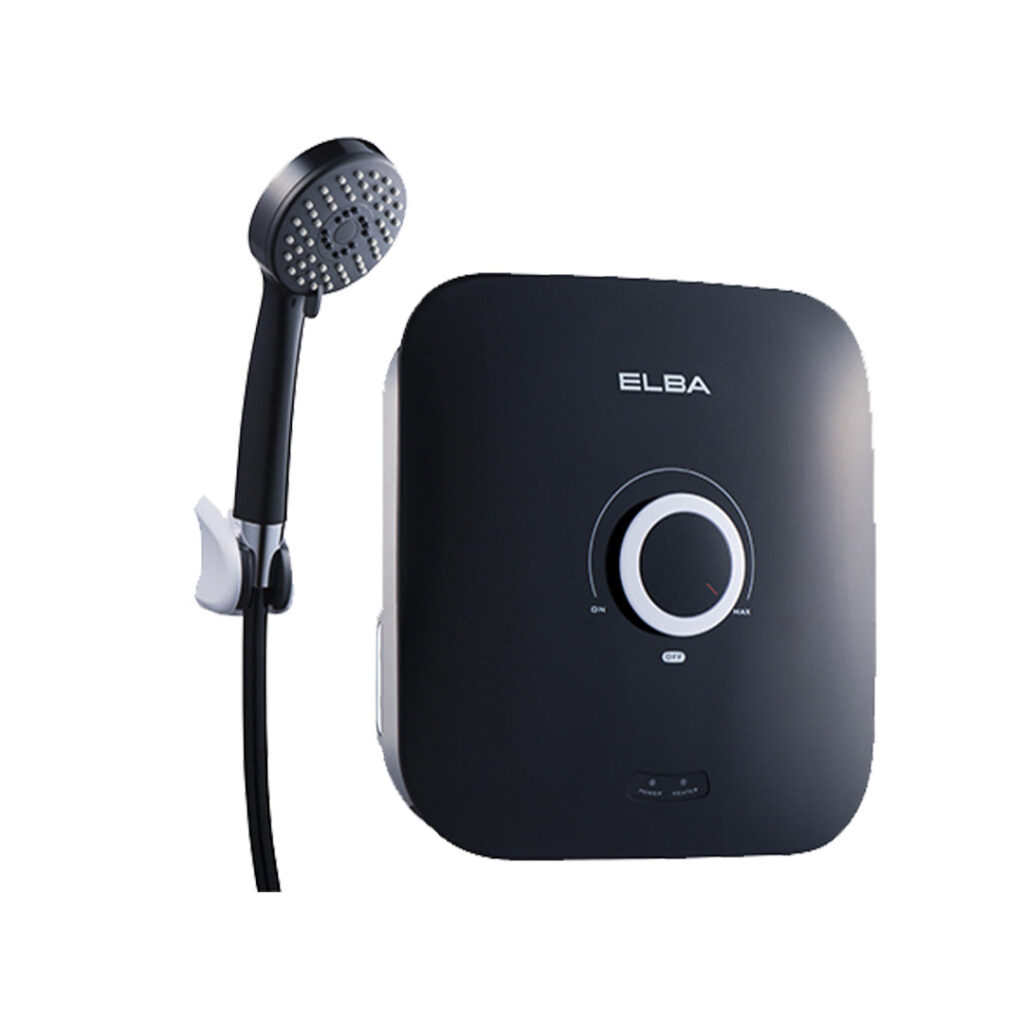 Another amazing instant water heater series from Elba is the ACQUA Series. These water heaters are designed with cutting-edge technology that ensures hot water is always available when you need it. With durable materials, efficient heating elements, and user-friendly controls, ACQUA Series water heaters offer reliable and convenient hot water solutions for any home.
The instant water heater from the ACQUA Series also features multiple safety components that guarantee your protection. These include ELSD, a built-in auto water flow switch, splashproof protection (IP25 standard), UL-approved high-quality heating element technology from the UK, a 3-in-1 compact stop, and a flow & filter valve.
Key Differentiators:
Power Conservation of up to 60%
2L/min Minimum Water Flow Rate
Enhanced Safety Features
Low Power Consumption
7. Deka PRO 600 Water Heater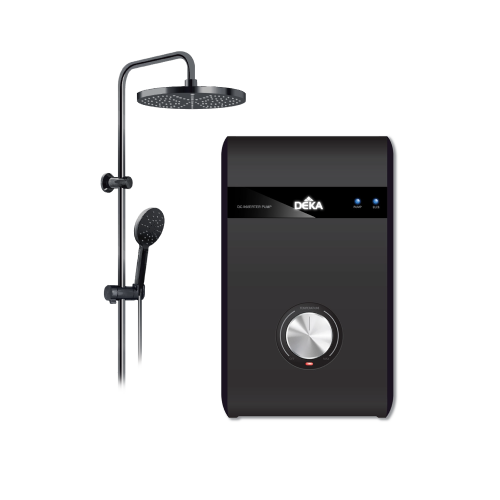 If you're looking for a water heater brand that combines style, functionality, and performance, then Deka is the way to go. Their water heaters are engineered to provide optimal heating performance while also looking great in any home. Not only this, Deka's water heaters are also easy to install and maintain.
Our favorite from Deka is the PRO 600 Water Heater. This heater has a powerful 4.2 kW heating element that is capable of heating water instantly up to the desired temperature. It has a minimum water flow rate of 2 liters per minute, ensuring that you always have a steady supply of hot water. Moreover, you can use this water heater in areas with low water pressure without any issues.
The PRO 600 Water Heater has an IP25 rating, which means it is protected from water splashes and is safe to use in a bathroom environment. Its tank is made from nylon, which is durable and corrosion-resistant, ensuring long-lasting performance. This water heater is an ideal solution for households of all sizes.
Key Differentiators:
Minimum Water Flow Rate of 2 Litres/min
Threaded 1/2″BSP Water Connection
DC Pump
Nylon Tank
8. Haier EI36MP1 DC Inverter Water Heater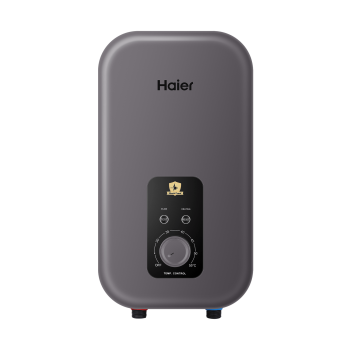 If you're searching for a brand that offers the ultimate peace of mind with warm water, you can put your bets on Haier. This water heater uses advanced safety technology to eliminate any electric leakage hazard. It features a DC Pump to allow powerful flow with silent operation and lets users enjoy clean water with its anti-scale tankless design.
Since it has a shock-proof and water-resistant casing, people can enjoy baths without worries while selecting from the three shower modes. It also offers the users multiple installation options and a two to six years warranty.
Key Differentiators:
Constant Temperature Control with Japanese SCR
DC Inverter Ultra Silent Pump
3-way Shower Ways with Monitor Switch Button
3D Heating Technology
Leakage Protection with ELCB and Double Relay
9. Elba Instant Water Heater FIOTTO Series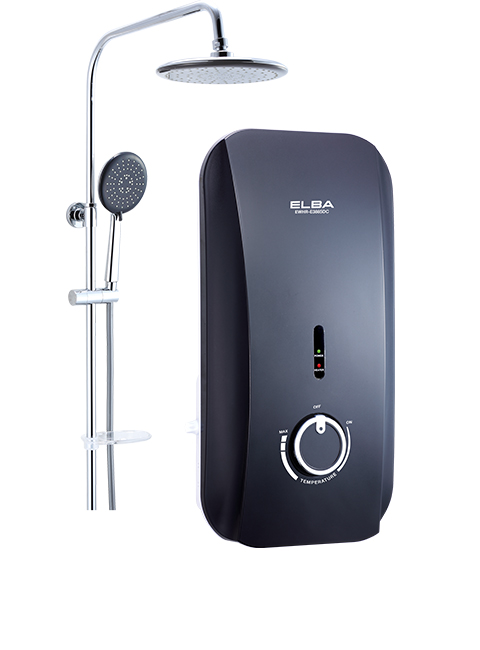 An efficient heater provides constant hot water in no time for cleaning and washing. It works quietly, disturbing no one while conserving power and contributing to the aesthetics. This black appliance might be perfect for you if you're searching for an environmentally friendly heater. It operates with an inverter noise-proof pump and waterproof covering to let you bathe peacefully.
This appliance is equipped with a three-spray pattern hand shower for convenient bathing. Since ELBA has been supplying home and electrical appliances since 1979, its products can be trusted for quality, long-term durability, and first-class after-sales service.
Key Differentiators:
Inverter Low-Noise DC Pump
Power Conservation of up to 60%
10. Joven Electric Water Heater SB11 Series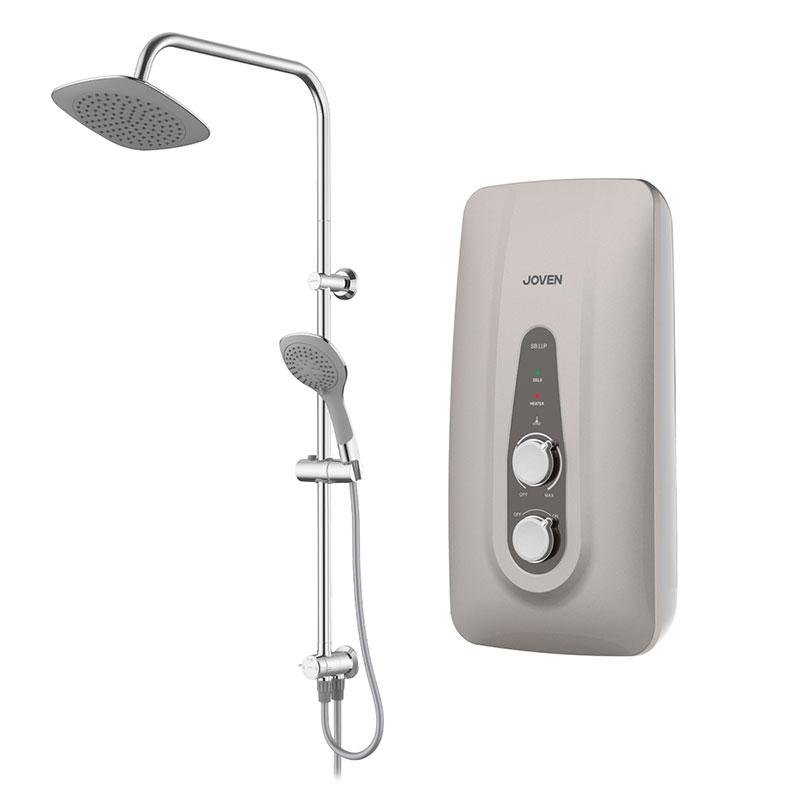 Joven is a reputed brand established in 1983 by James YG Tan to provide affordable water heaters to Malaysian residents, so they don't have to depend on imported and expensive ones. It holds the reputation of being the first Malaysian electric water heater manufacturer across the country. So, you can undoubtedly rely on its quality.
The SB11 series instant water heater by Joven is equipped with all the features one looks for in a heater. Unlike other devices in the market, it is easy, convenient, and safe to use. Once installed and switched on, it instantly provides hot water from the faucet, thus staying true to its name. People don't need to wait long hours to bathe in warm water, especially during the colder months.
These devices come in an elegant yet stylish case to enhance the aesthetics of a house. Other characteristics include a power-saving inverter DC pump, quiet operation, and an electric power monitor, among others. By taking innovation at its core, Joven aims to build safe and reliable water heaters that operate for a long time.
Key Differentiators:
Thermostat with Protection Cut-off
Water-proof Covering
SVF Valve with Built-in Filtration
Power Conserving Inverter DC Pump
Quiet Operation
Stepless Electric Power Monitoring
11. Midea 3.8kW Water Heater without Pump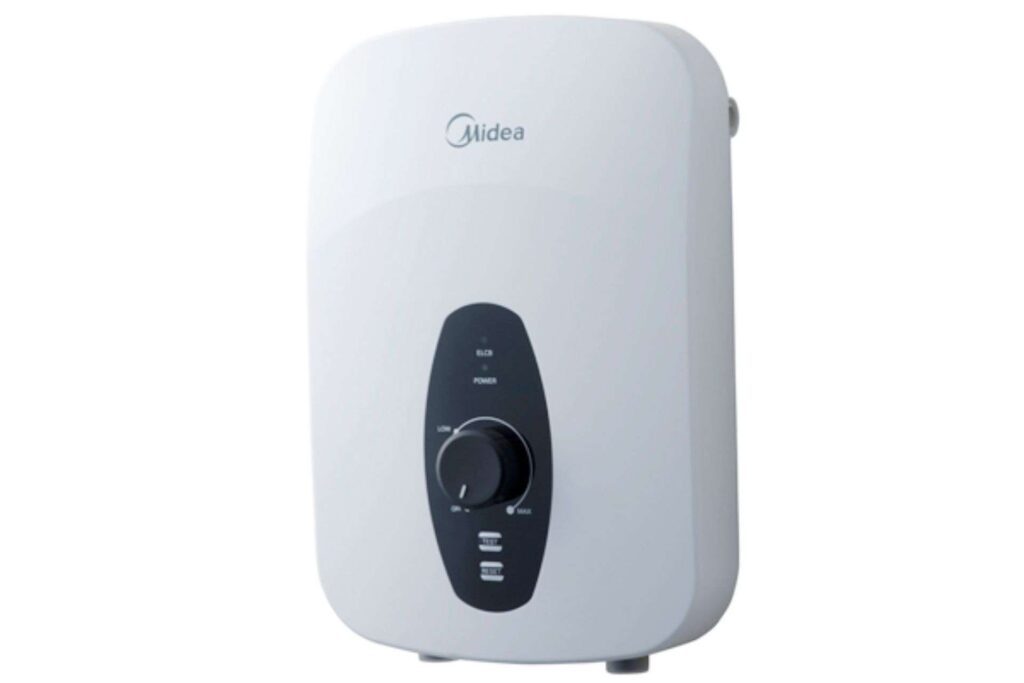 Intuitive controls, fast heating, easy installation, energy efficiency, and whatnot? This is all you can find in Midea's water heaters. They are the perfect choice for anyone looking for a straightforward yet reliable hot water solution. In fact, Midea offers the most comprehensive range of water heaters for residential use.
Say goodbye to complicated water heating systems with the Midea 3.8 kW Water Heater. This water heater does not require a pump, making it more energy-efficient and cost-effective. Its built-in ELCB ensures your safety, by cutting off power to the heater in the event of a current leakage. And with overheating protection, a thermal cut-out feature, and anti-dry heating protection, you can be assured that the unit will not pose any safety hazards.
This water heater is splash-proof and meets IP25 standards, making it safe to use in damp environments. Its nylon-glass fiber construction ensures the unit is durable and long-lasting. Additionally, the Whirl Flow Technology of this heater ensures even distribution of hot water, providing you with a comfortable shower experience.
Key Differentiators:
No Pump
Built-in ELCB
Enhanced Safety: Overheat Protection, Grounding Fault Indicator, Anti Dry-Heating Protection, and Earthing Protection
Built-in Auto Flow Sensor
Copper Heating Element
Splash-proof IP25 Standard
Nylon Glass Fibre
Whirl Flow Tech
Low Noise DC Pump
Precise Thermal Cut-out
Double Relay
12. KPI K-2 Series Instant Water Heater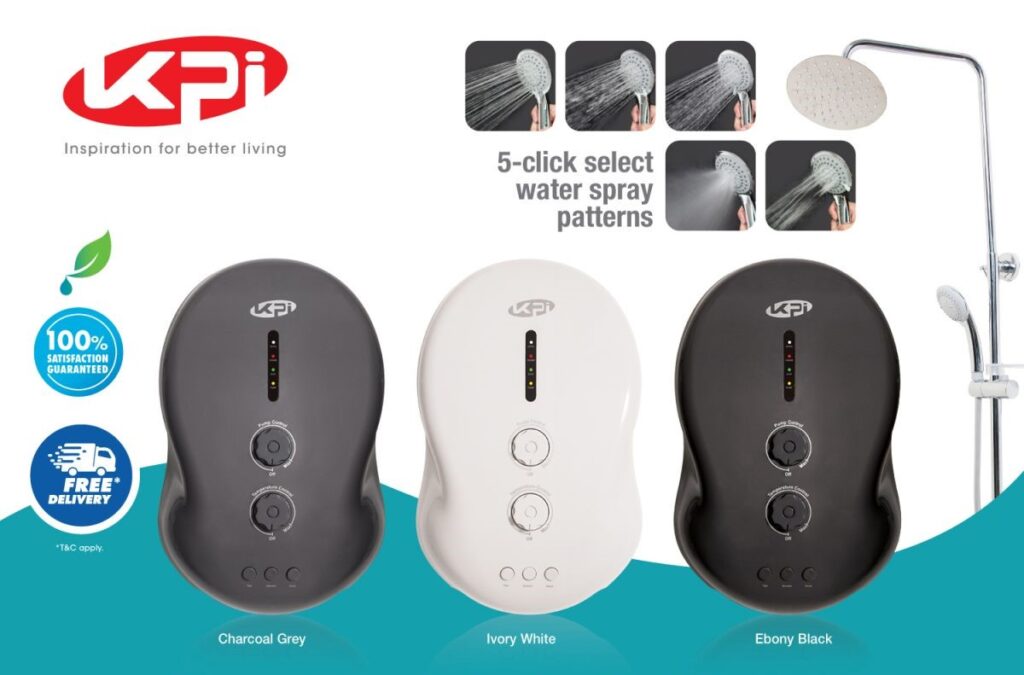 Let's conclude by introducing KPI Electrical, a manufacturer of water heaters that makes heating water easy and hassle-free. This Malaysian company offers a wide range of instantaneous water heaters suitable for all kinds of homes. With advanced features like electronic water temperature control, energy-efficient design, and durable build quality, the KPI K-2 Series water heaters are a reliable, safe, and efficient solution for all your hot water needs.
The KPI K-2 Series water heater heats up water instantly when turned on. It saves energy and reduces your electricity bills. The unit has double safety protection features, including an ELCB, thermal cut-out sensors, and an IP25 waterproof casing. It has a compact, wall-mounted design that saves space and is available in three subtle colors: black, gray, and white.
Key Differentiators:
Electronic Water Temperature Control
IP25 + Earth Leakage Circuit Breaker (ELCB)
Contemporary and Sleek Space-Saving Design
Energy Efficient
Wrapping Up
Gone are the days when people had to warm water on a stove. Although the world witnessed an advancement with geysers, now they have water heating devices that are a lot more advanced than a geyser. Unlike geysers that take almost an hour before supplying warm liquid, electric devices provide a 24/7 supply whenever needed.
Almost every house has a water heater today that fulfills their constant need for hot water. To make the most of these devices, purchasing from a trustable supplier who provides high-quality at reasonable prices is vital.
If you live in Malaysia and are looking for a water heater supplier, we hope this blog helps you out. All the brands listed here are trustable as they have been in the market for a prolonged period, fulfilling the needs of Malaysian and global residents. We hope you don't need to linger for hours to get warm water!