Investing in one of the best air purifiers in Malaysia can greatly improve your life. While the air around you may look clean, there are a lot of tiny airborne particles floating about like allergens, pollutants, germs, and dust. Choosing from the array of air purifier options can be a daunting task. This collated list of the best air purifiers in Malaysia will help you breathe a little easier. 
1. Sterra Breeze Air Purifier 
Perfect for bedrooms, living rooms, and play areas, this hospital-grade air purifier is a superhero that eliminates smoke particles, pollutants, and allergens to keep your family and you safe and sound.
A state-of-the-art air purifier, the Sterra Breeze is one of the best-performing air purifiers in Malaysia. Its compact form, whisper-quiet operation, and medical-grade True Hepa-12 filter make it a great catch for an economical price.
What's more, Sterra Breeze Air Purifier also comes with a brand new UV Variant. The UV Variant is 63.7% more affordable than other UV air purifiers. Other than that, it also helps you to save 40% more money on utility bills since it's more efficient in conserving energy. Besides helping you to save space, you wouldn't have any problem carry it around with you because it weights less than half of any other air purifiers in the market.
Key Differentiators: 
Whisper-quiet
Medical-grade filter
Industry-leading features
UV Variant
Affordable
Pay less for utility bills
Save space
Weight less
Visit them via:
Website | Facebook | Instagram
2. Coway Breeze
Stylish and quietly powerful, the Coway Breeze is proof that good things come in small packages. Armed with four-step custom filters that offer coverage of up to 33.9 sq.m, the air purifier has an LED indicator whose color indicates indoor air pollution levels.
Slim and light, it comes with unique features and smart modes that let you control and adjust settings such as airspeed. The best part is its Smart ECO mode, which automatically puts the purifier on standby when the air is clean, maximizing your energy savings.
Key Differentiators: 
Controllable LED indicator
4-step custom filters
Smart modes
Visit them via:
Website | Facebook | Instagram
3. Cuckoo K Model
The Cuckoo K Model delivers on its promise of ultra wide 710 sq ft coverage, with its powerful fan that's paired with impressive engineering. Its seven-stage filtration system is breathtakingly thorough and ensures that every nook and cranny is filled with clean, fresh air. 
The air purifier also comes with its fair share of bells and whistles, including an air quality indicator and a one-button control system that lets you set the purifier on six modes depending on different scenarios. Simplicity is key when it comes to this air purifier.
Key Differentiators: 
710 sq ft coverage
One-button control system
Seven-stage filtration system
Visit them via:
Website | Facebook | Instagram
4. Cosmo Pro Air Purifier 
With an unusual, out-of-the-box design that makes it the talking point of any room, the Cosmo Pro air purifier is equipped with simple, yet genius features such as an AI-powered sensor. 
Designed to cover an area of up to 100 sq. m, the purifier's five-in-one filter neutralizes odors, prevents bacterial growth, kills harmful pollutants, and filters large, unhealthy particles. Built to last and easily portable, the Cosmo Pro is unbeatable.
Key Differentiators: 
Compact and portable
Five-in-one filter
AI-powered sensor
Visit them via:
Website | Facebook | Instagram
5. Sharp FPJ80LH Air Purifier
The Sharp air purifier works wonders at eliminating viruses, microbes, and other particulates that contaminate the air you breathe, with its innovative Plasmacluster technology. 
Apart from quiet operation, the thing that truly sets this air purifier apart, is its Plasmacluster ion generator that releases positive and negative ions, to latch onto harmful particulates and destroy their activities. It is a dependable workhorse of a purifier that puts impeccable performance above all else.
Key Differentiators: 
Plasmacluster technology
Intelligent control
Filter status monitor
Visit them via:
Website | Facebook | Instagram
6. Daikin MCK55UVMM Air Purifier
Delivering exceptional performance in a compact, attractive form, the Daikin air purifier leverages its patented Streamer Technology to effectively combat harmful bacteria, allergens, and mold in the air. 
The model's electrostatic HEPA filter removes 99.7 percent of fine dust particles, whereas its deodorizing filter absorbs odors and adjuvants, resulting in a clean, fresh, and healthy home environment.
Key Differentiators: 
Streamer technology
Electrostatic HEPA filter
Econo mode for energy efficiency
Visit them via:
Website | Facebook | Instagram
7. Electrolux Pure A9
Designed to cover areas of 88 sq. m, the Electrolux Pure A9 filter promises excellent value and high-quality performance. Small, sleek, and unobtrusive, it has a unique PureSense system that automatically adjusts air, for your comfort. 
Easy on the ears, the purifier's AirSurround system generates a smooth, spiral movement around the house that seamlessly circulates filtered air. The purifier comes with a custom app that helps you monitor and customize air quality on the go. Sit back, relax, and let your air purifier help you breathe better. 
Key Differentiators: 
Quiet operation
Temperature sensor 
Child lock 
Visit them via:
Website | Facebook | Instagram
8. Aurabeat AG + Pro Silver Ion Antiviral Air Purifier
Aurabeat's standout air purifier has cemented a place among the top air purifiers in Malaysia, and for good reason. Equipped with smart sensors that monitor air quality changes and activate cleaning, this air purifier has a lot to offer. 
Ultra-efficient, the purifier's selling point is that it is certified by MRI global, and can eliminate 99.9 percent of viruses, including the COVID-19 virus, in just fifteen minutes. This Aurabeat purifier is the number one choice of medical professionals in Malaysia. 
Key Differentiators: 
MRI Global certification
Smart sensors 
Sleep mode, quiet mode, child lock
Visit them via:
Website | Facebook | Instagram
9. Philips 3000i Series
A globally-renowned brand, Philips doesn't shy away from technological innovation. The Philips 3000i Series is designed to remove the finest of particles from the air, with the touch of a button. 
The purifier's efficiency is bolstered with intelligent sensing and automatic purification to remove ultra-fine particles and purify the air in a 20 sq. m space in less than eight minutes.
Enjoy an undisturbed quiet sleep at night by turning on the purifier's Sleep Mode, certified by Quiet Mark. Connect it with the CleanHome+ App to control air quality in your home, anywhere, at any time. 
Key Differentiators: 
Clean Home+ App
Intelligent sensing
Automatic purification
Visit them via:
Website | Facebook | Instagram
10. Sk Magic All Clean Virus Fit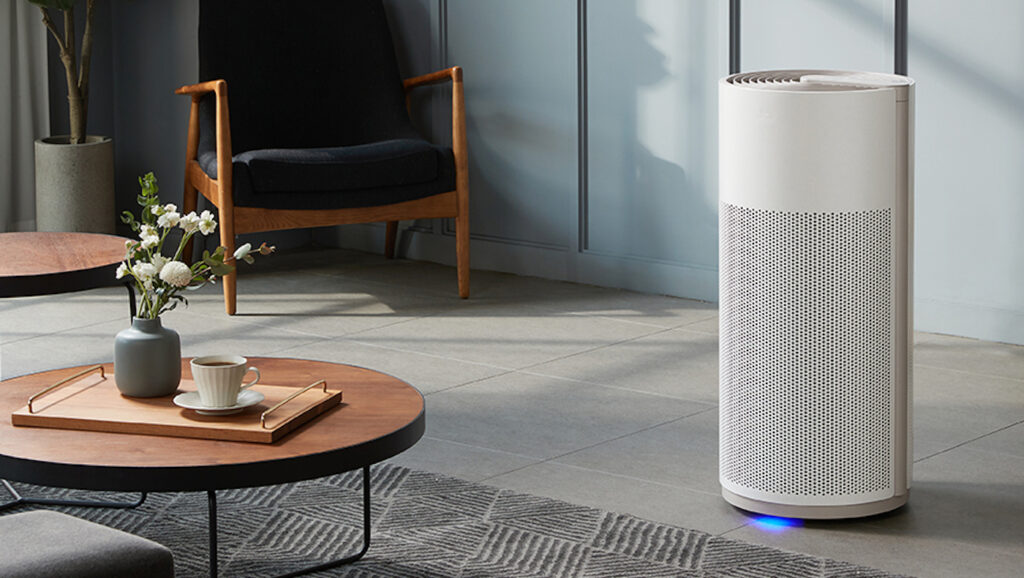 The hallmark of quality, SK Magic's All Clean Virus Fit has a lot more to offer than what meets the eye. With a unique detachable and washable structure that simplifies maintenance, the filter's eight-stage all-in-one filter removes ultra-fine dust and disease-causing germs from the air. 
The purifier is also fitted with a double antibacterial filter and offers 360-degree purification in an ergonomic form. When paired with the brand's UV Arc Core Sterilization technology, this purifier is a force to be reckoned with. 
Key Differentiators: 
Detachable and washable structure
8-stage filter
UV Arc Core Sterilization technology
Visit them via:
Website | Facebook | Instagram
Best Air Purifiers In Malaysia
Air purifiers offer relief from seasonal allergies, make the air around you smell fresh, and eliminate any negative effects of air pollution. A clean home is the best home, so say goodbye to subpar living, and enjoy a fresh breath of air with one of the best air purifiers listed above.