When you are stressed out from working long hours on the computer or just need to relax and unwind after a hard day of running a business, massages can be very soothing. A massage chair provides comfort and relief according to your needs. The best massage chairs in Malaysia help to make you more relaxed so that you can take better care of yourself and get rid of stress.
Massage chairs are a lot more than just a massage therapy pad and wires. Massage chairs were created for businesses that are in need of massage chairs in Malaysia to increase their revenue. The use of most massage chairs has become common among the public because of its many health benefits as compared to other forms of therapies and exercises like yoga, meditation, etc.
Features of a Good Massage Chair
There are many types of massage chairs available on the market today, but not all of them have all the features that you need to get relief from back pain and other health issues. Here are some important features that every good massage chair should have:
Massage Techniques: An ideal massage chair should feature different massage techniques including full body massage, tapping, kneading, and shiatsu.
Settings: A massage chair should have the variable speed or intensity settings so the settings can be adjusted according to the person using it. For example, you can lower the intensity when your little ones are sitting on this chair.
Coverage: A good massage chair provides you with full coverage of your body including your back, neck, and shoulders too. Some chairs include a massage system for your feet too.
Adjustability: If the chair is not adjustable then there is no reason to buy it. A good chair is always adjustable which gives you maximum comfort. 
Zero Gravity: The zero gravity function is found in almost all good massage chairs. Zero gravity means that the backrest of the chair can lean all the way down taking your legs to the level of your heart. This function is really helpful to boost blood circulation in your body. 
Memory: A memory or recall function is a must-have in an adjustable massage chair. It helps you save your favourite position so others can adjust it to their preferred level.
Our Selection of 9 Best Massage Chairs In Malaysia
Considering the above features, we have found you the best massage chairs on the market that are sure to relieve your stress.
1. OGAWA Smart Vogue Prime Massage Chair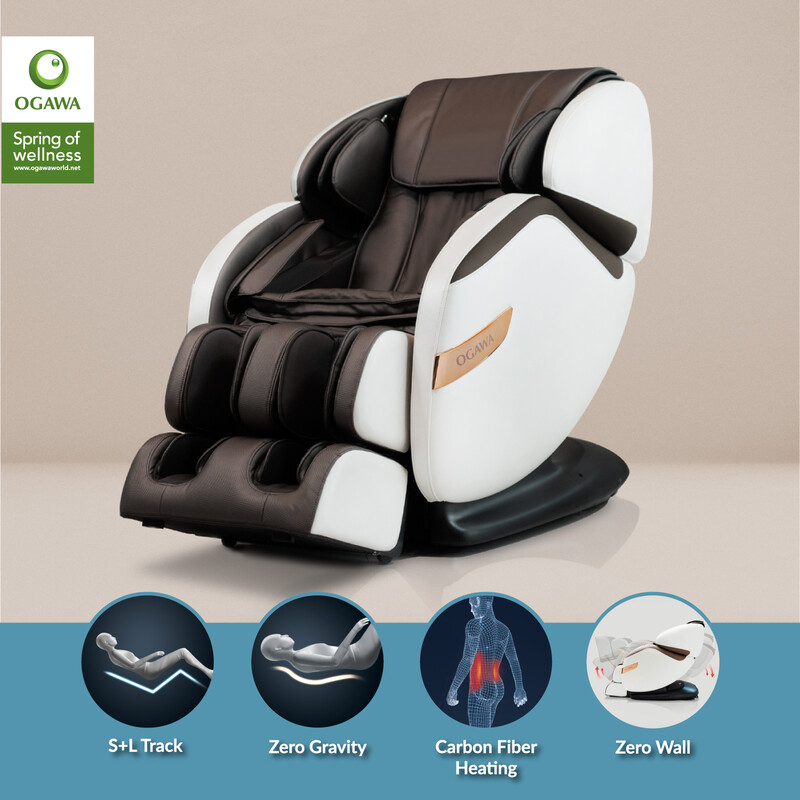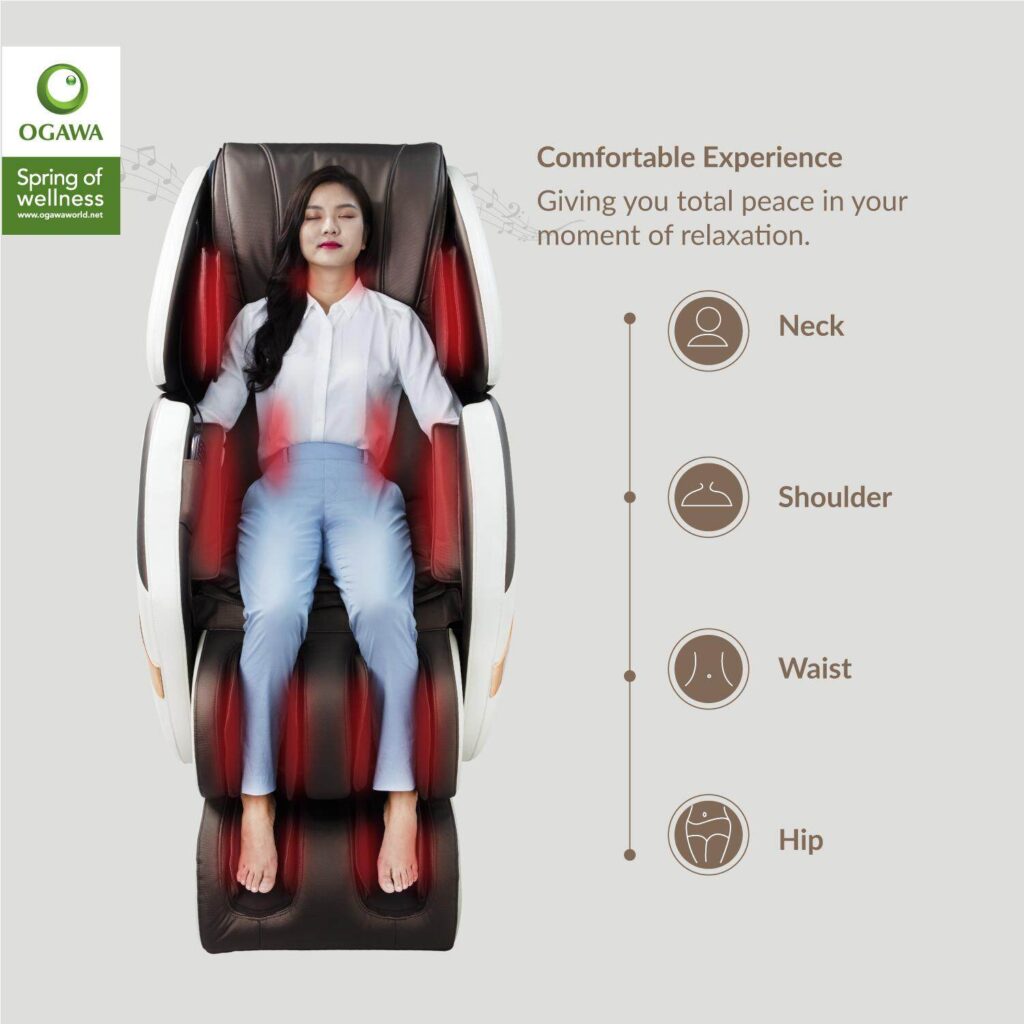 OGAWA is a well-known brand in Malaysia that specialises in healthcare and wellness products. OGAWA offers a wide range of massage chairs, foot massagers, fitness equipment, and other wellness products. OGAWA's massage chairs are designed to provide relaxation, stress relief, and targeted muscle relief.
To counter urban lifestyle of long hours of staring at the computer, wrong sitting posture and wearing high heels for a long time, OGAWA Smart Vogue Prime massage chair is the ultimate massage chair to help you combat these muscles aches and discomfort experienced throughout the day.
Check out this amazing massage chair features summarised below:
SL-Track system to massage neck and back, effectively helping to decompress vertebrate in your spine. Specially for those who spends long hours in front of computer and desk bound.
Zero wall design which helps to save space in your house. Allows gap of 12cm between the massage chair and the wall.
Zero Gravity Capsule which includes 3 levels of zero gravity angles. Adjust the best reclining position of your comfort, just like floating in space.
Lower back heat therapy which improves blood circulation around the body and helps the healing of damaged or sore tissues.
Comprehensive hand like massage experience by using 4 rollers to mimic the feeling of human thumbs. Enhancing the massage experience through 4 processes: kneading, clapping, rolling and tapping.
2. GINTELL S3 SuperChAiR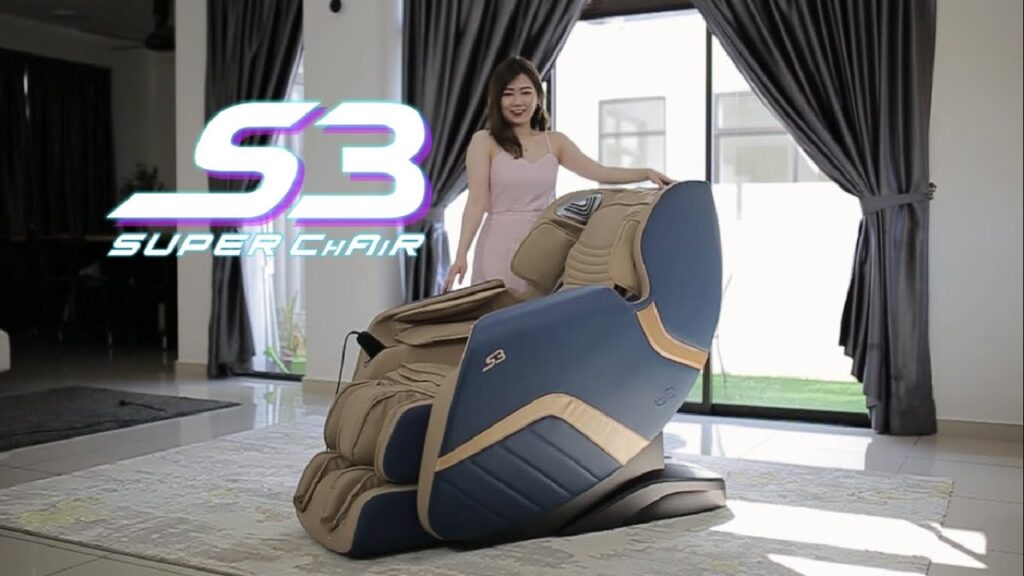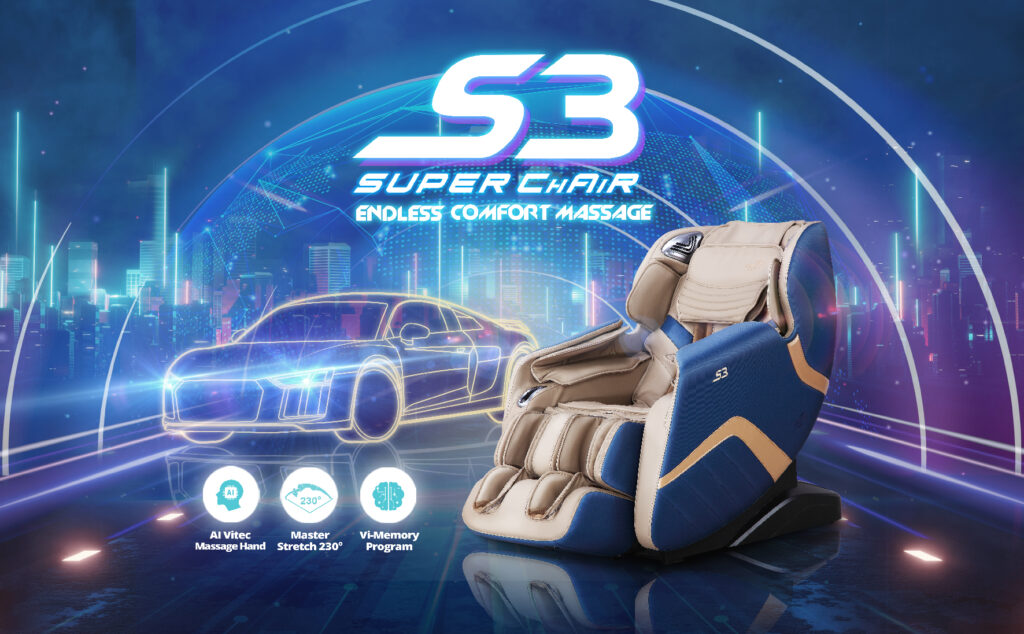 Gintell is a well-known brand in Malaysia that specializes in healthcare and wellness products. The company offers a range of massage chairs, foot massagers, fitness equipment, and other wellness products. Gintell is committed to promoting health and well-being through their innovative products.
One of the best massage chair in Malaysia is Gintell S3 SuperChAiR with is shaped like a supercar model in Royale Blue colour. Don't underestimate this massage chair as it is equipped with AI-Vitec which is the latest artificial intelligence technology that includes voice control. Gintell S3 SuperChAiR also provides 230° Chiro Stretch which is a full body stretching programs that covers buttock, waist, lower back, upper back and shoulder massage.
Take a look at this high quality massage chair which includes the features below:
AI-Vitec is a voice control intelligence function that is able to listen and speak. It also provides the most humanised massage experience.
S-3D Roller Ball provides comfortable, humanise and deeper massage penetration with 8cm+3cm protrusion
Vi Memory program able to memorise your favourite massage techniques and store it intelligently. Helps to store up to 3 slots of customised programs so that you can conveniently enhance your massage experience with ease.
230° Chiro Stretch is a full body stretching program that reliefs muscle tension all around your body. This program is also specially endorsed by Dato' Seri Master Chris Leong.
4D Detoxology which helps to improve blood circulation, immune system and relieves abdominal pain
3. SNOWFIT Oasis Full Body Multifunctional Smart Massage Chair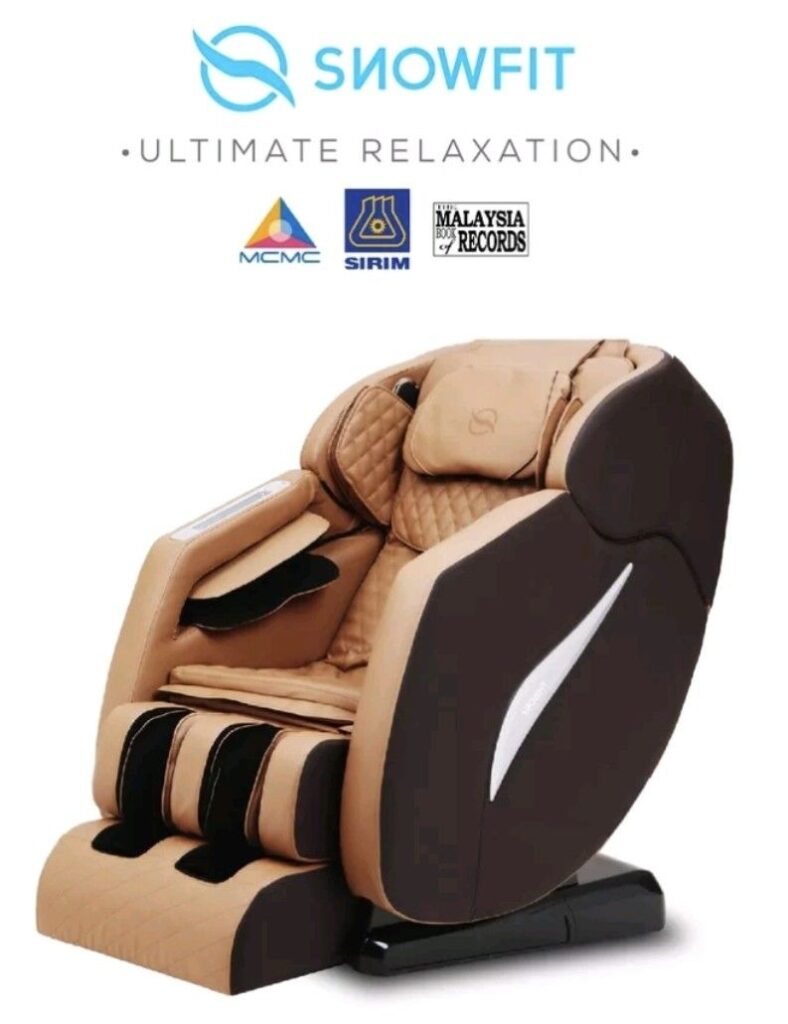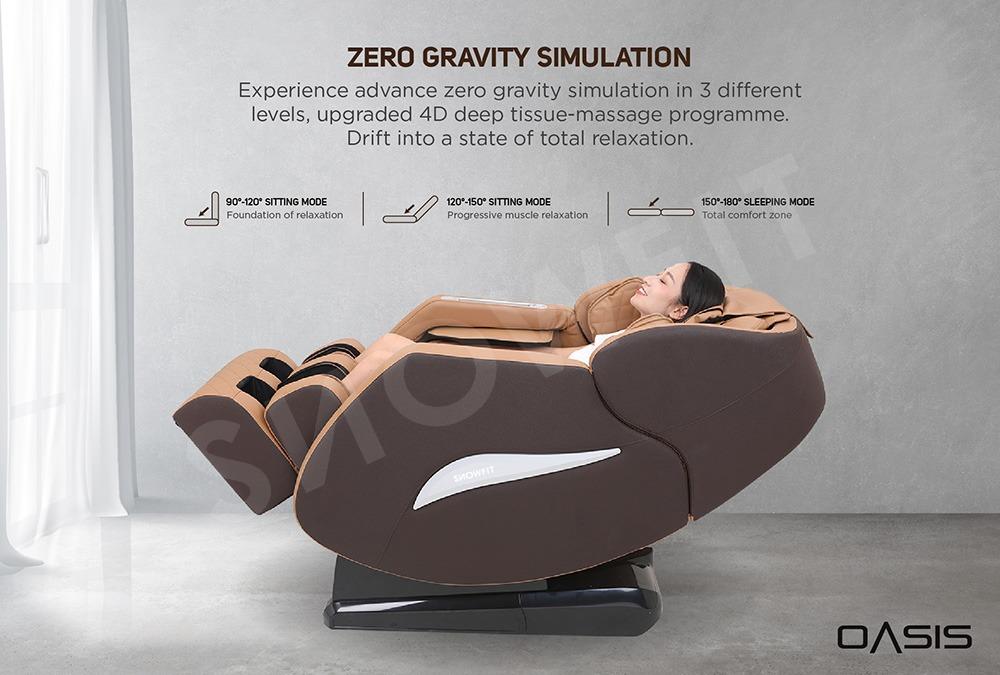 Snowfit is a Malaysia-based company that offers affordable, comfortable and luxurious massage and fitness equipment. The company's mission is to offer each household the pleasure of owning a luxurious massage equipment with affordable pricing.
One of Snowfit's best seller is the Snowfit Oasis Full Body Multifunctional Smart Massage chair. It includes 12 unique upgraded functions to better your massage experience. Besides its dynamic design, it uses the latest technology in its massage chair and also provide entertainment through its bluetooth speaker.
Explore Snowfit Oasis Full Body Multifunctional Smart Massage Chair's features below:
Zero Gravity Simulation which you can experience advanced zero gravity simulation in 3 different levels for you to drift away into a state of total relaxation.
Multi-Cavity Airbags is used to improve blood flow and relief tension in tight muscles
Back Heating Therapy helps to dilates blood vessels around the spine, causing significant blood circulation throughout the body.
Customised Neck Roller can be manually customised to instantly relief neck pain. All these can be controlled with ease via remote control.
4. JOHNSON J-Relax Massage Chair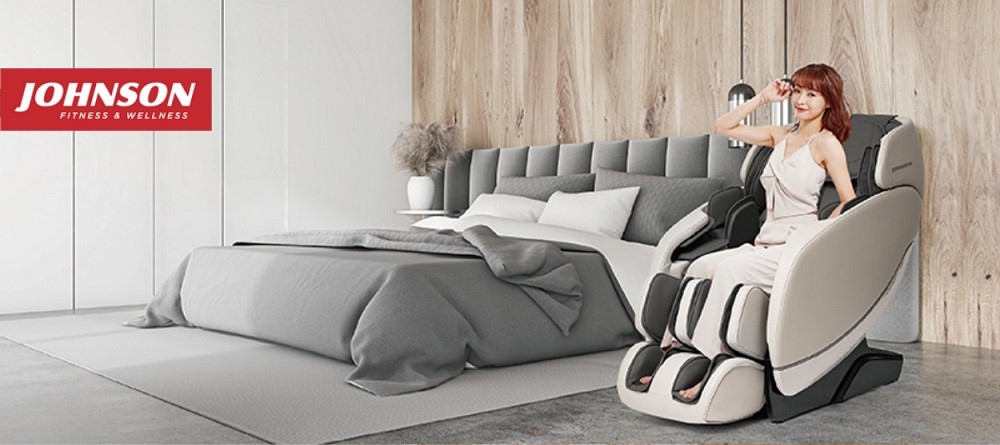 The last chair on the list is the product of the brand Johnson. Johnson is a fitness brand that manufactures a wide range of fitness equipment at an affordable price. The J-Relax massage chair is made according to your needs.
If you live in West Malaysia, then you will get this chair without any delivery charges.
This chair is available in a grey color that will fit just well in any type of room. 
Massage therapy from head to toe can ease tense muscles and increase blood flow, leaving you feeling revitalised and prepared to face the day.
This chair also has a warranty of 1 year so that you can replace the chair if it comes with any damages.
5. GETHA Star Luxury Massage Chair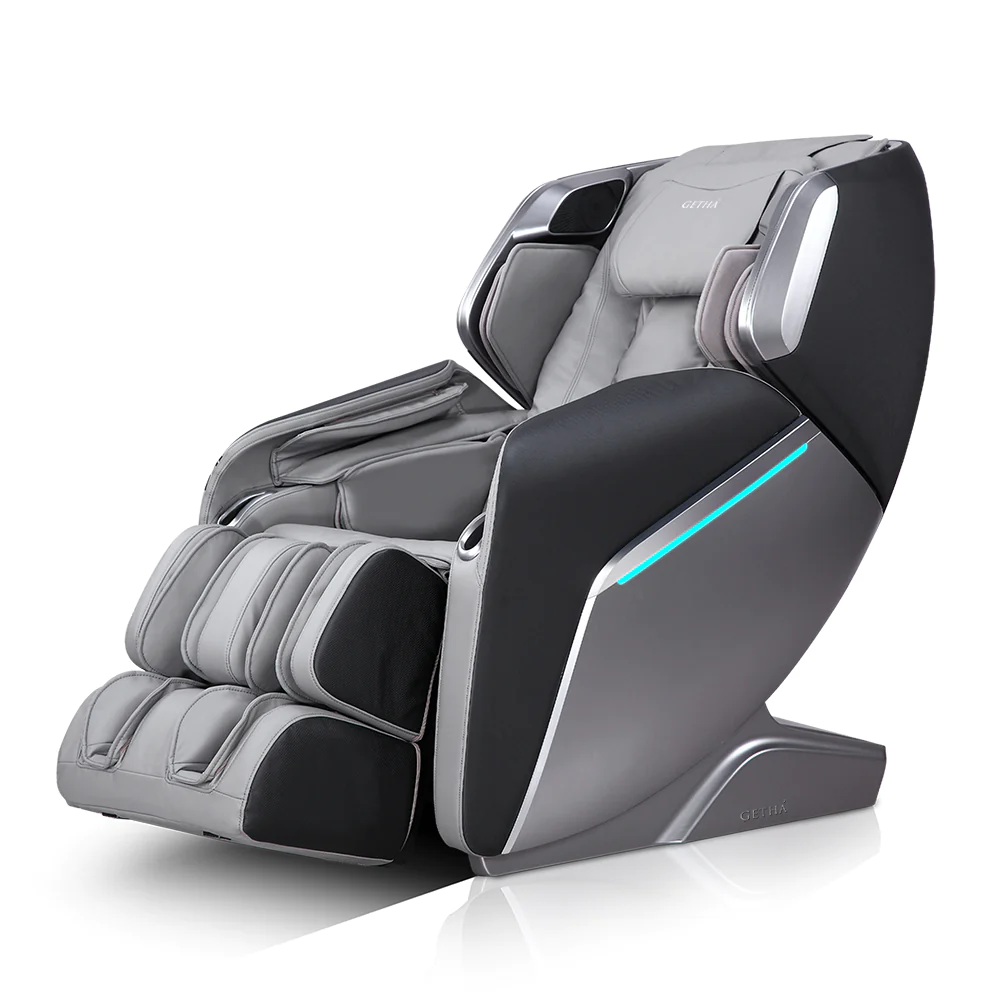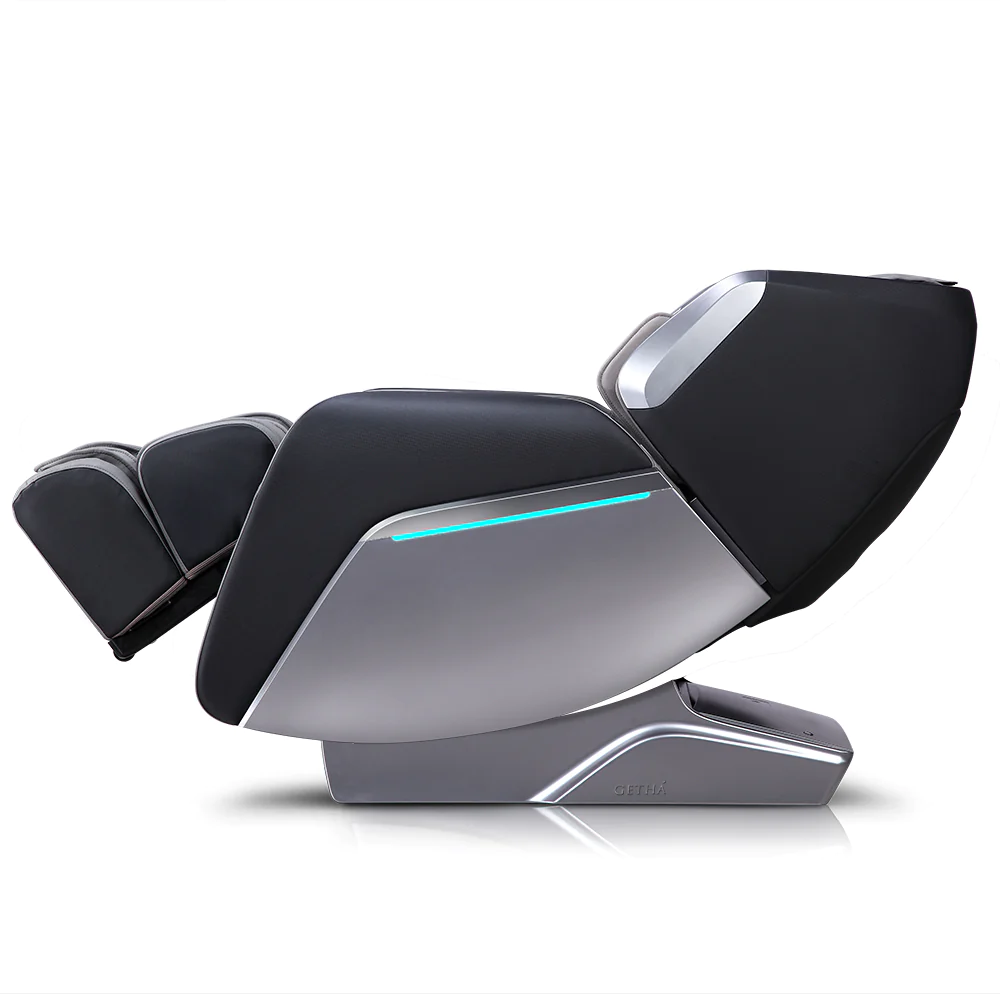 Getha is a well-established brand in Malaysia known for its high-quality natural latex bedding products. The company mainly specialises in producing mattresses, pillows, and bedding accessories using natural latex materials. However if you are into luxurious massage chair with unique experience, you can check out Getha Luxury Star Massage Chair.
Equipped wit the latest German technology, Getha Luxury Star Massage Chair provides ultimate luxurious massage experience through its SL type long rail, various air massage functions and 8 auto massage programs to choose from
Read on to find out the main features of this massage chair below:
German technology with wide open back massage that covers all parts of the body
135cm SL type long rail supports all types of weights and heights
Air massage functions that includes upper arm, arm, upper leg, leg and foot air pressure function. 3 levels of air intensity can be selected according to your preference
8 auto programs to conveniently start your massage session to target full body massage of specific area of the body to relief muscle tension
Gua Sha Thai foot massage, airbag and roller massage for feet to help blood circulation
6. Zero Healthcare uFairy Massage Chair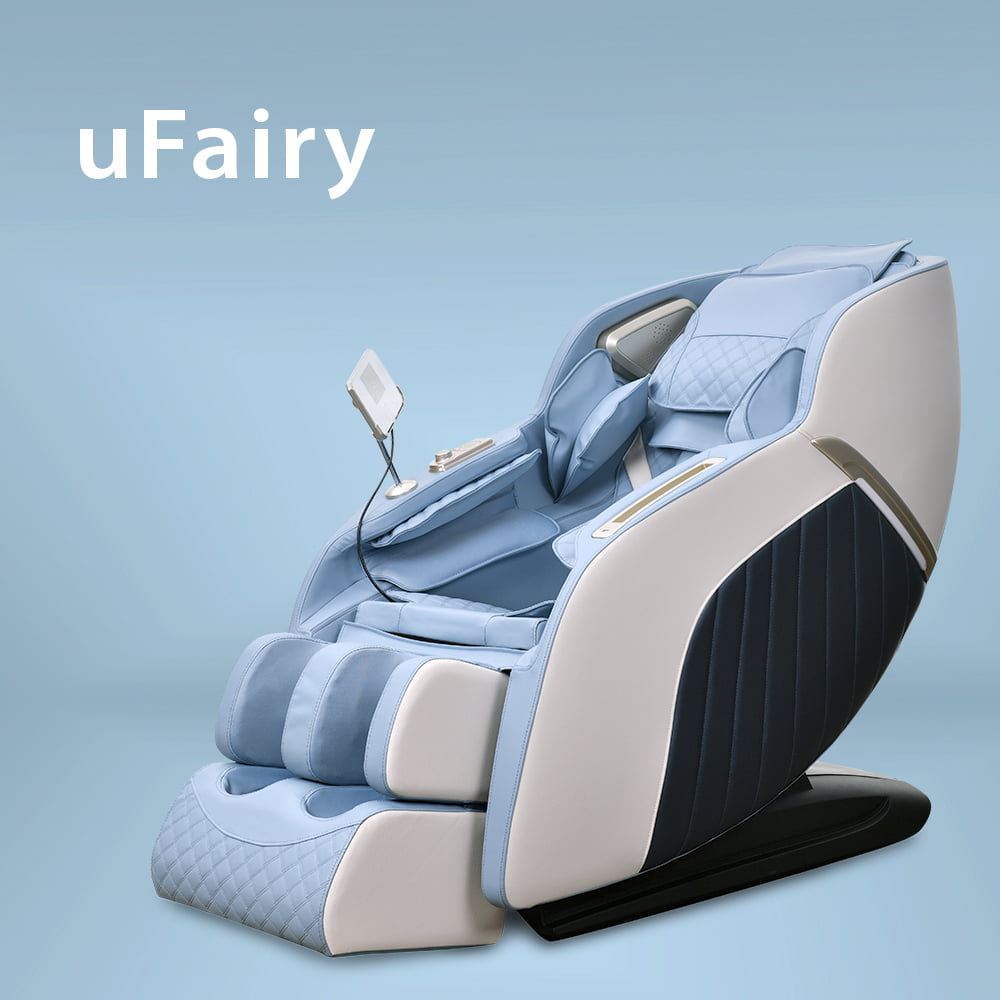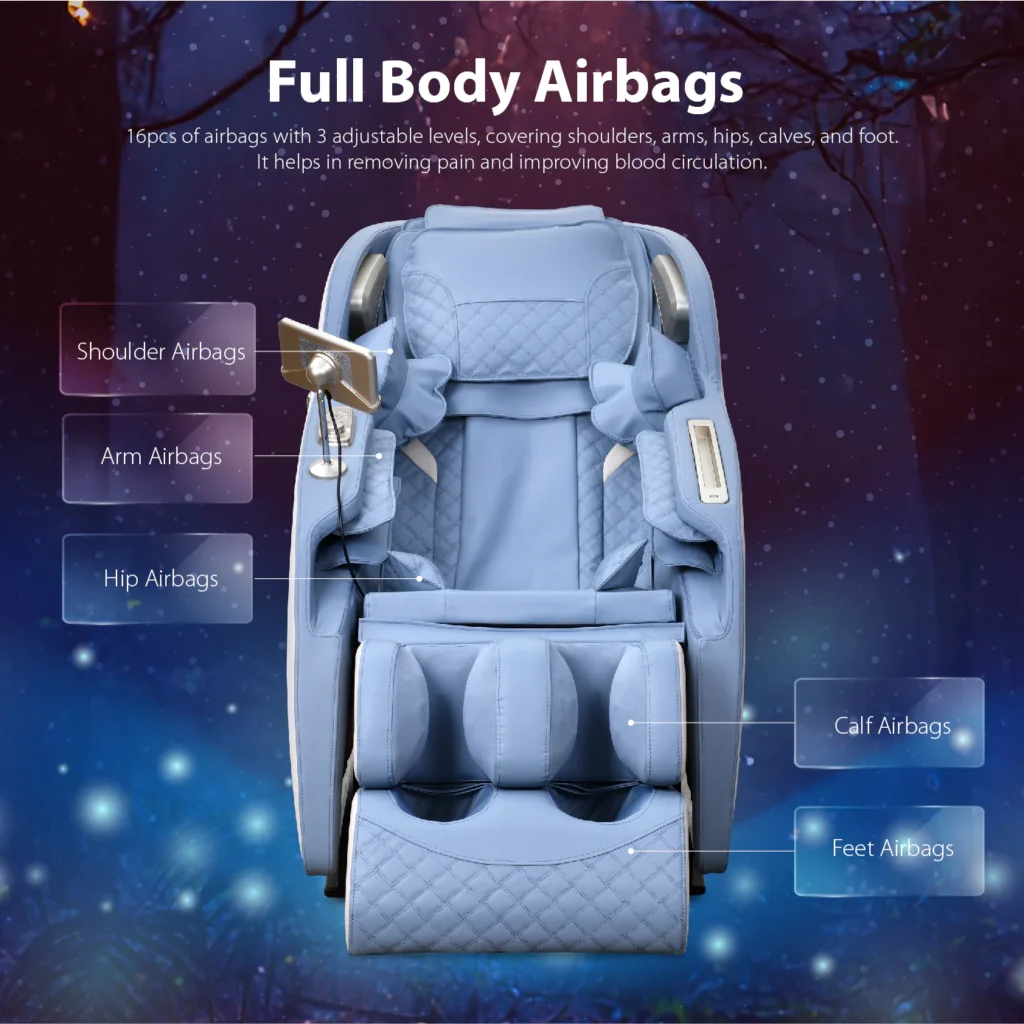 Zero Healthcare is a brand that specialises in massage chairs and other wellness products. They offer a range of massage chairs designed to provide relaxation, pain relief, and therapeutic benefits. Zero Healthcare massage chairs are known for their advanced features and technology.
The Zero Healthcare uFairy Massage Chair is a popular model known for its advanced features and therapeutic massage capabilities. It is designed to provide a luxurious and immersive massage experience in the comfort of your own home.
Zero Gravity Positioning: This feature allows the chair to recline into a position where your body weight is evenly distributed, minimising the strain on your spine and joints.
Multiple Massage Techniques: The uFairy Massage Chair offers a wide range of massage techniques, such as kneading, tapping, rolling, shiatsu, and a combination of different movements to target specific areas of the body.
Air Compression Massage: The chair is equipped with airbags that provide compression massage to different parts of the body, including the shoulders, arms, hips, and legs. This helps to improve circulation and relieve muscle tension.
Heat Therapy: The uFairy Massage Chair incorporates heat therapy in the backrest and footrest, which can help relax muscles and enhance the massage experience.
Customizable Settings: Users can personalize their massage experience by adjusting the intensity, speed, and focus areas of the massage according to their preferences.
7. ITSU iClass Massage Chair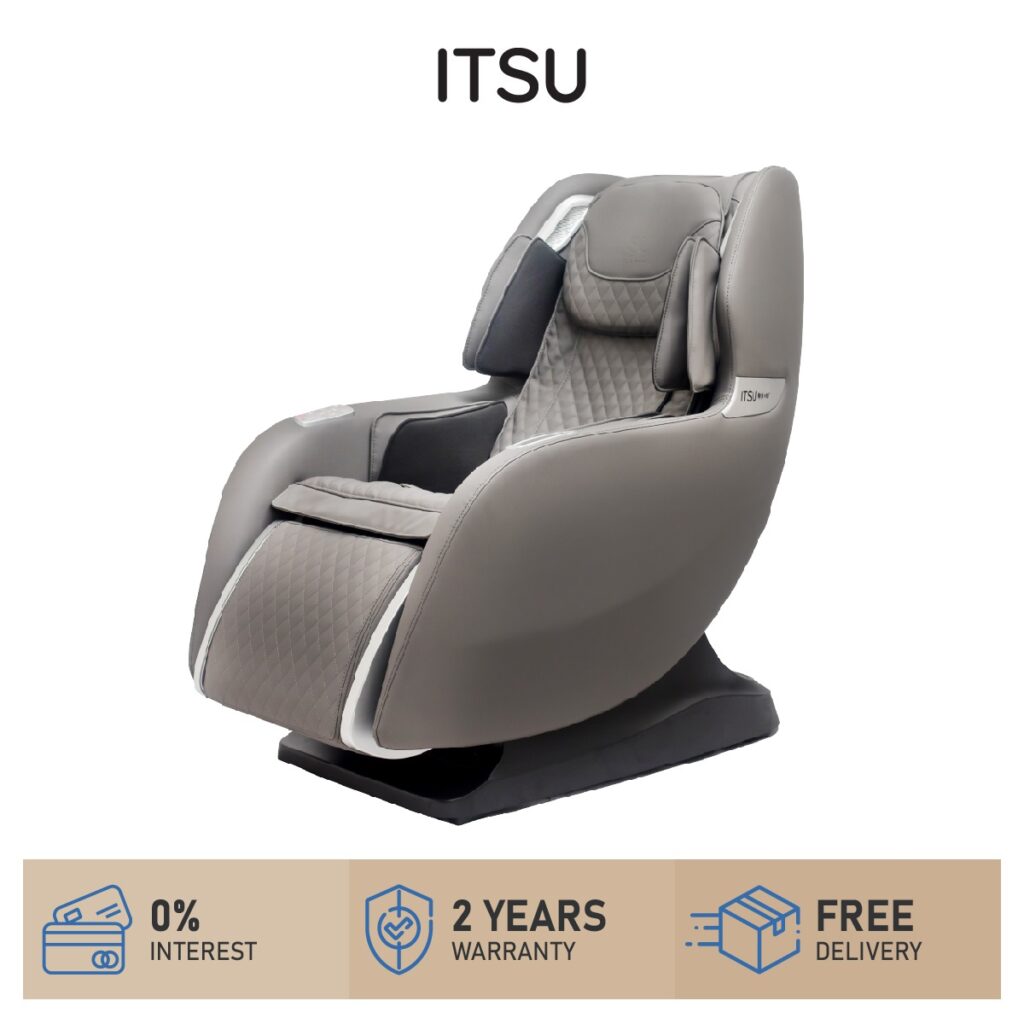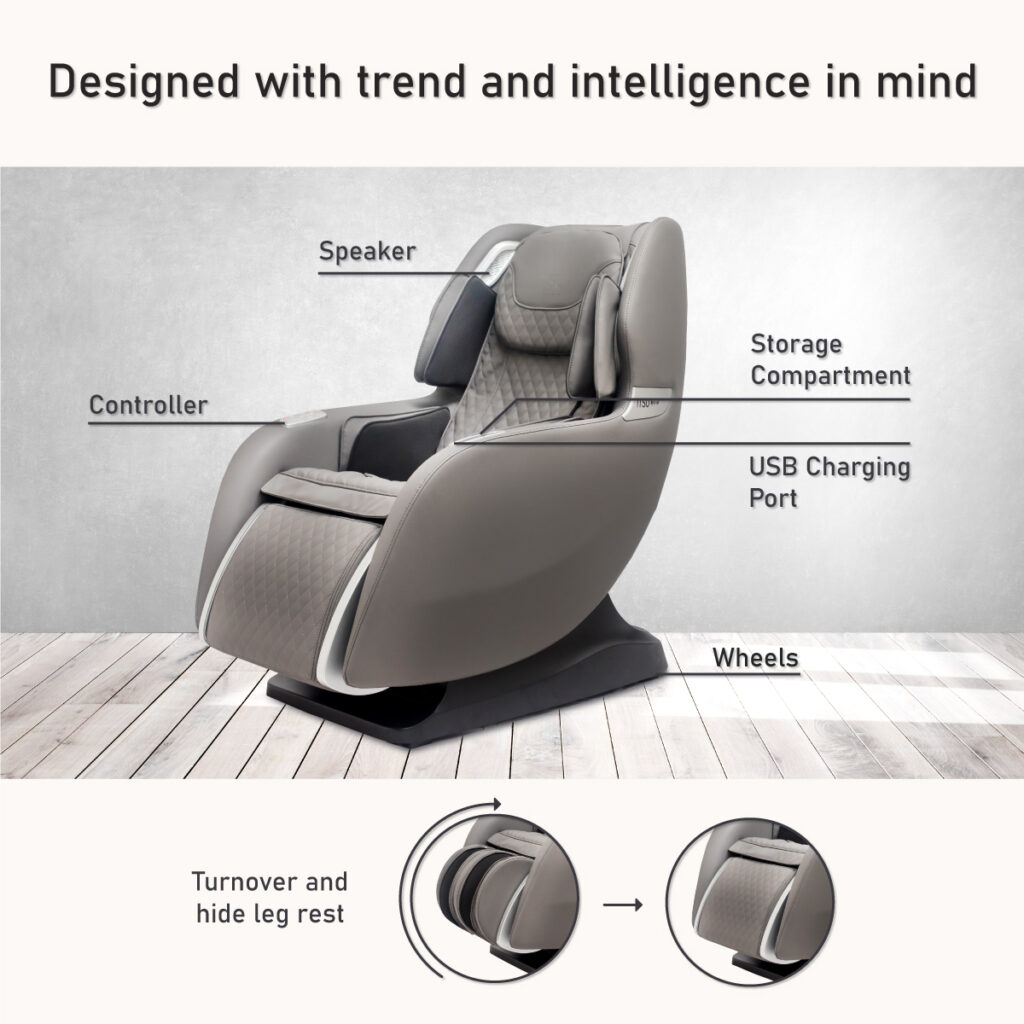 With more than 20 years of experience in the massage chair industry, ITSU fuses cutting-edge technology with the art of traditional massage techniques to deliver "The Real Sensei Experience"- the ultimate indulgence as though they are performed by hand.
The all new ITSU iClass massage chair combines trendy design with advanced technology in mind. It is the first massage chair with shoulder function along with 16 airbags with 6 levels of intensity for greater muscle relaxation.
You can never be wrong with this massage chair with its wide range of features below:
Its zero gravity technology allows you to deeply relax your muscles and experience weightlessness when your body is in a neutral position and the weight is distributed throughout the body. 
It comes with 16 airbags and 6 adjustable of intensity to customise your own personal massage experience
First massage chair with shoulder massage function to get rid of fatigue and tension on your shoulders
It also has accurate body scanning sensor that detects and analyse different body shape and sizes to provide the best massage experience individually.
8. GINTELL DéSpace UFO Royale Blue Massage Chair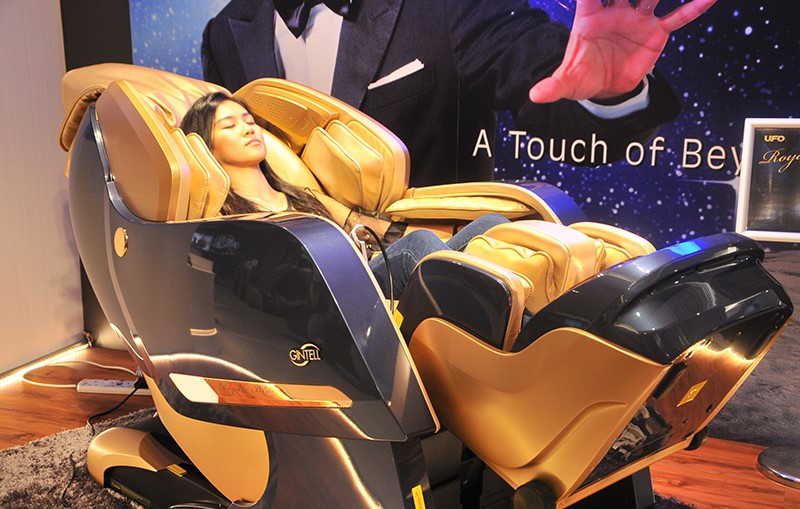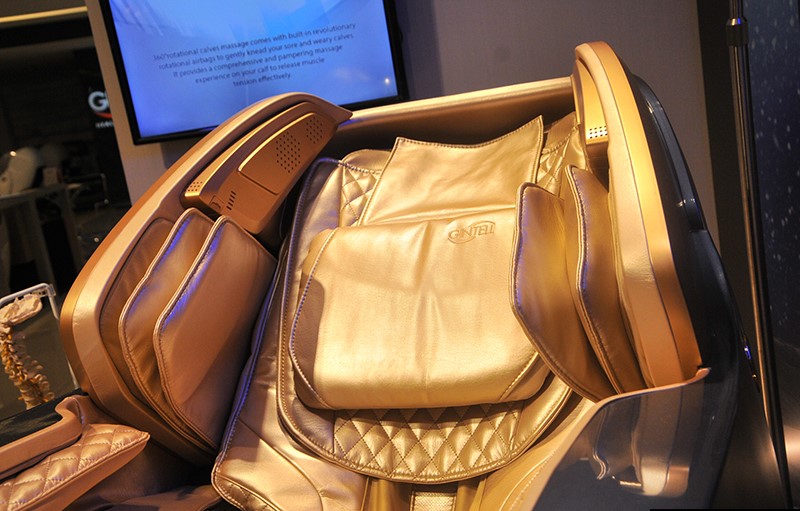 This chair is a product of the brand Gintell. This brand is renowned for selling furniture online and has satisfied a lot of customers. The Gintell DéSpace royal blue massage chair is heavenly. Its color, design, and appearance are just excellent.
It has a lot of features that make this chair a wonderful choice for professionals to release the stress of the whole day. 
Quad 3D Massage Roller Balls with a 12-centimeter auto-protrusion are integrated, enhancing your massage experience by giving you a uniquely humanized massage.
Its Bluetooth operating system enables you to connect, play, and enjoy your own personal music while getting a soothing massage.
Its 360-degree foot and calf reflexology enhances the immune and respiratory systems while assisting with purifying and boosting circulation and oxygen flow to all organs.
With a 135 cm extension, it gives you 45% more massage coverage that reaches your thighs and buttocks while also giving you the freedom to move the rollers from the top of your head to the bottom of your legs.
It is designed solely for your comfort and provides every type of massage including air pressure massage, kneading, tapping, and shiatsu.
9. OGAWA Master Drive AI 2.0 Massage Chair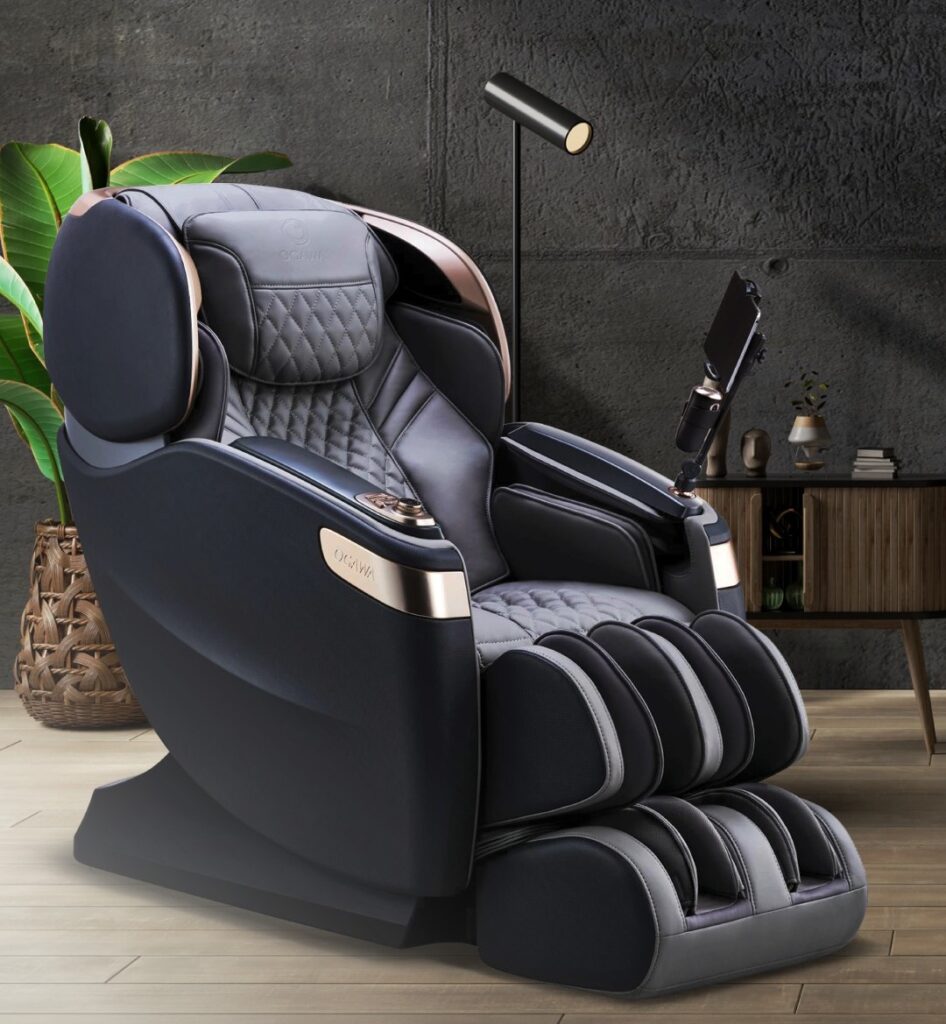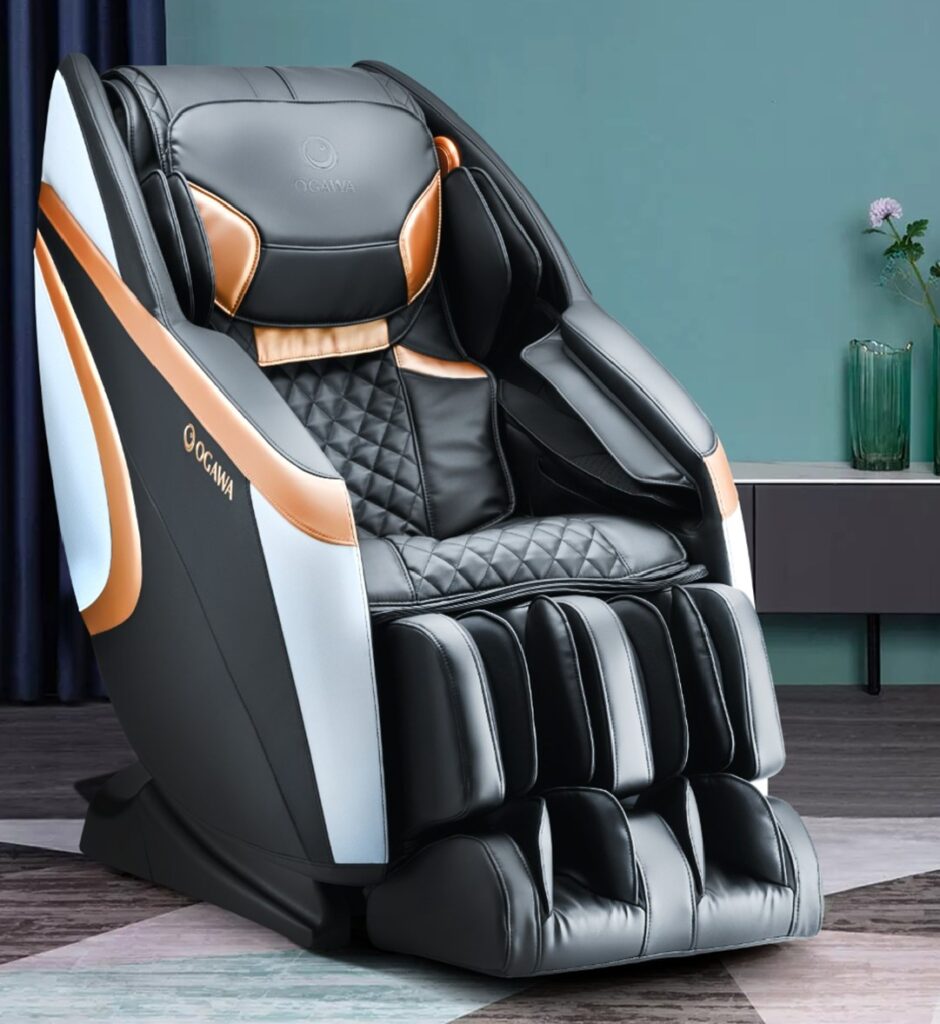 Ogawa is one of the top brands in Malaysia and provides the best chairs, foot massagers, and exercise equipment. This brand is working day and night to boost your physical and mental health and give you ultimate comfort. 
You can find various massage chairs from Ogawa in different designs and sizes. But, the goal of every chair is to relieve your stress after a hectic day. All the chairs from Ogawa are popular because of their satisfying and reliable features. 
Your customized massage experience is made possible by OGAWA Massage Chairs.
These chairs feature cutting-edge Master Drive with AI technology.
Ogawa produces affordable yet best-quality chairs while considering your budget and requirements too. 
No matter which chair you choose from Ogawa, it is going to be the best for you and your family. All the chairs are made to pamper you.
Final Thoughts
A massage chair is an ideal component for homes and offices. It not only offers a method of stress relief but also helps with body relaxation. It fulfills the purpose of taking pressure off a person's mind and body, especially after long hours at work or strenuous exercise. The massage chairs are designed to massage many parts of the body, except the head and face, which can calm down stress or give a good feeling after tiring work. A massage chair can realign your back and move the pressure away from sore muscles. The gentle rolling movements that go up and down your body help stimulate the production of serotonin in your brain, which makes you happy.
If you are looking for the best massage chairs in Malaysia, a good place to start is to search online shops. There are many massage chairs available at some online retailing sites in Malaysia, and it will be easy to gather information on these products. We found the best quality massage chairs from the best sellers in Malaysia, so you don't have to do the research.