The world of gaming has undergone a remarkable transformation since its modest beginnings. As gamers, we've watched in awe as technology has advanced, paving the way for immersive, captivating experiences that were once mere fantasies. However, it's not just the games themselves that have evolved; the tools and equipment we use to delve into these digital realms have also seen a profound shift. In this ever-changing landscape, gaming chairs have emerged as an essential component of the gaming experience.
One such evolution is the Razer Iskur Gaming Chair. Designed for the serious gamer, this ergonomic masterpiece promises to transform your gaming experience by ensuring you're not just comfortable but also in the perfect posture. In this comprehensive review, we'll delve into the description, features, pros, and cons, and provide you with the expert insights you need to make an informed decision.
Introducing the Razer Iskur Gaming Chair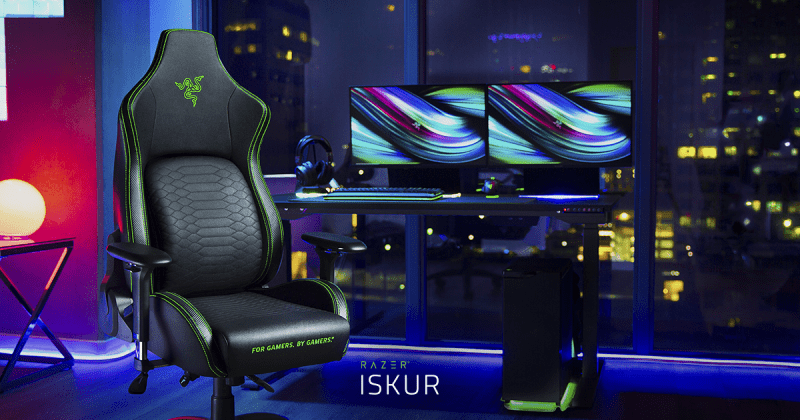 ✅ Get your Razer Iskur Gaming Chair today: click here
The Razer Iskur Gaming Chair isn't your ordinary gaming chair; it's a game-changer. Designed to provide the utmost comfort, this chair allows you to keep your focus on the game while taking care of your body. With a sleek, contemporary design, the Iskur fits seamlessly into any gaming setup, whether you're a casual player or a hardcore enthusiast. It's available in classic black and an eye-catching black/green combo, catering to a variety of style preferences.
Features of Razer Iskur Gaming Chair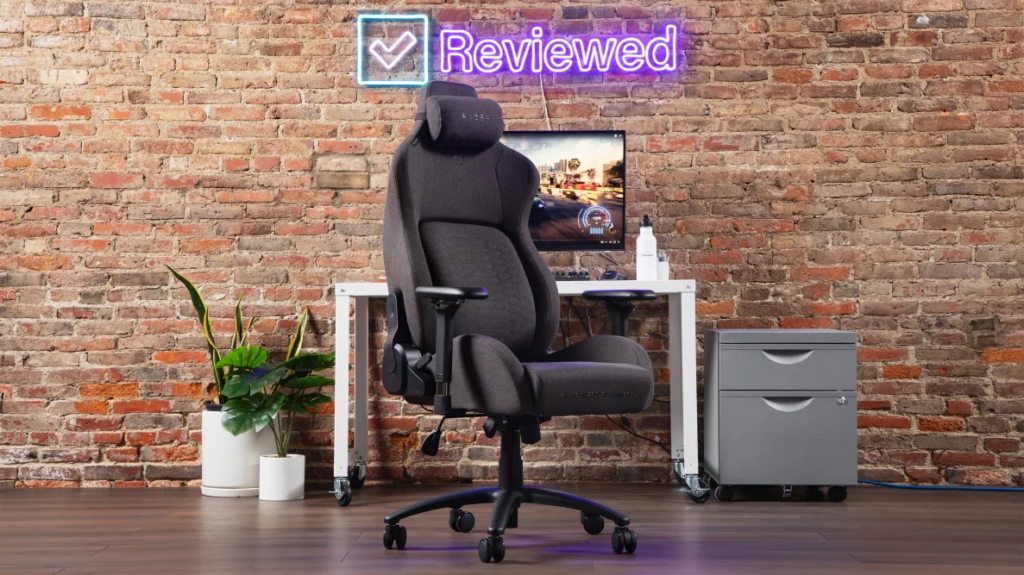 ✅ Get your Razer Iskur Gaming Chair today: click here
The Razer Iskur Gaming Chair has the following amazing features:
Perfect Gaming Form: Razer knows that maintaining top gaming forms is critical, and the Iskur is here to ensure just that. The chair is crafted for ergonomic excellence, guaranteeing you stay in your posture-perfect comfort zone during even the longest gaming marathons.
Ergonomic Lumbar Support System: Unlike many gaming chairs with lumbar pillows that constantly shift or fixed supports that can't be adjusted, the Iskur boasts a built-in, fully adjustable lumbar curve. This curve closely aligns with your spine, providing exceptional lower back support and promoting an ideal gaming posture.
Multi-Layered Synthetic Leather: The chair is wrapped in a material that not only feels incredibly comfortable but is also more durable than standard PU leather. This added durability ensures that the Iskur can withstand the rigours of daily use, without showing the wear and tear that often plagues lesser chairs.
High-Density Foam Cushions: The Iskur strikes the perfect balance between support and comfort with its plush, dense cushions. They contour to your unique body shape, ensuring that your weight is distributed comfortably, no matter how long your gaming sessions last.
4D Armrests: Customisation is key in gaming, and Iskur's 4D armrests provide just that. You can adjust them up and down, forwards and backwards, left and right, and even rotate them inwards or outwards. This level of customisation allows you to find the perfect armrest position for your unique needs.
Engineered to Carry: The chair's steel-reinforced body, armrests, and wheelbase give it impressive durability and a weight capacity of up to 299 lbs/136kg. It's ideal for gamers with a height range of 5'6"–6'2"/170–190cm. Additionally, the angled seat edges maximise the resting surface area, further enhancing your comfort.
Memory Foam Head Cushion: The Razer Iskur doesn't forget about the finer details. It comes with a head cushion made of highly dense, yet malleable memory foam. This cushion moulds to the shape of your head, offering just the right amount of support and comfort.
Pros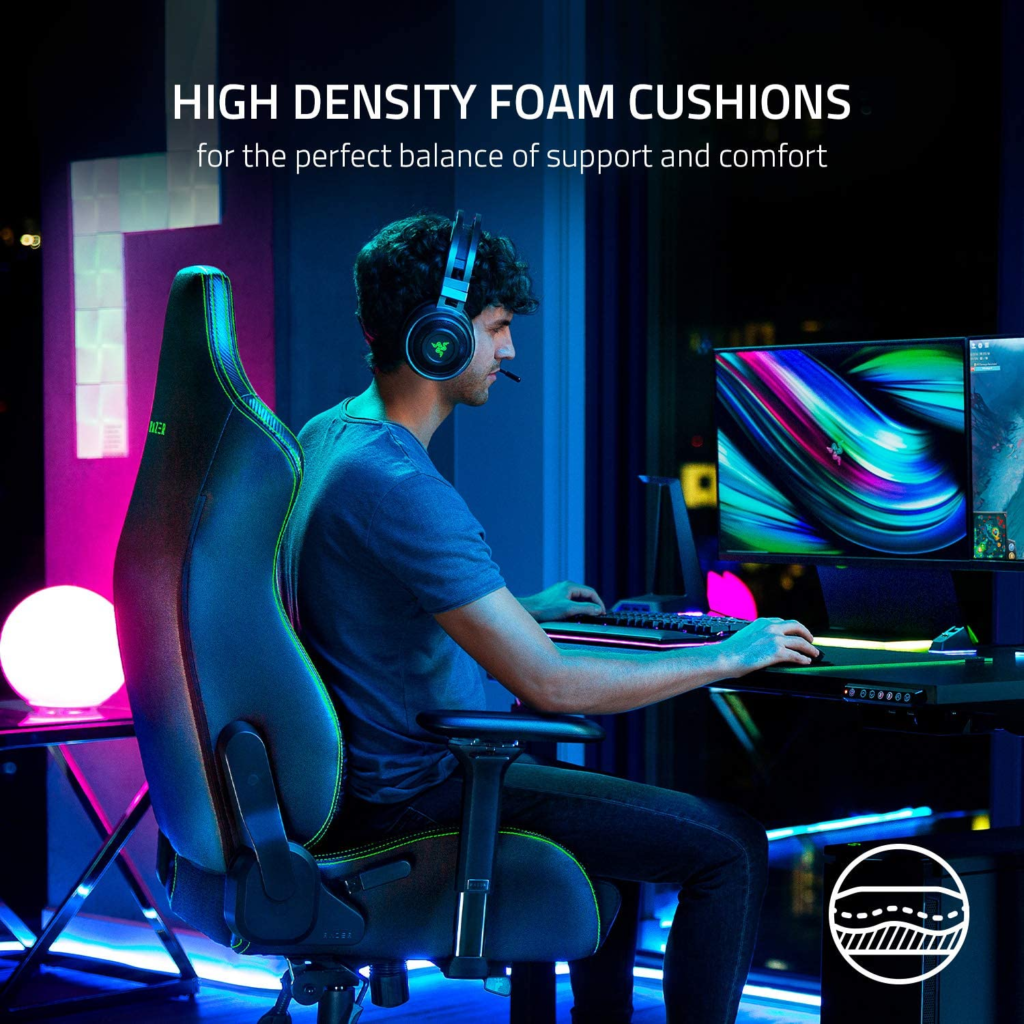 The following are features of the Razer Iskur Gaming Chair that we liked the most:
Superior Ergonomics: The Iskur's built-in lumbar support and high-density foam cushions ensure that your posture remains perfect, even during long gaming sessions.
Durable Materials: The multi-layered synthetic leather is built to withstand daily use, preventing the peeling and wear common in other chairs.
Customisable Comfort: The 4D armrests provide an impressive range of adjustability, allowing you to find the perfect position for your arms and shoulders.
Impressive Weight Capacity: With its steel-reinforced body, this chair can accommodate a wide range of body types and sizes.
Stylish Design: The Iskur's sleek and modern design will complement any gaming setup.
Cons
Following are the features of the Razer Iskur Gaming Chair that some users have to compromise with:
Price Tag: The Razer Iskur Gaming Chair, while feature-rich and comfortable, comes with a premium price tag. It might not be the most budget-friendly option for all gamers.
Limited Colour Options: While classic black is versatile, the choice of colours may be limited for those who prefer more customisation in the aesthetics of their gaming setup.
Final Thoughts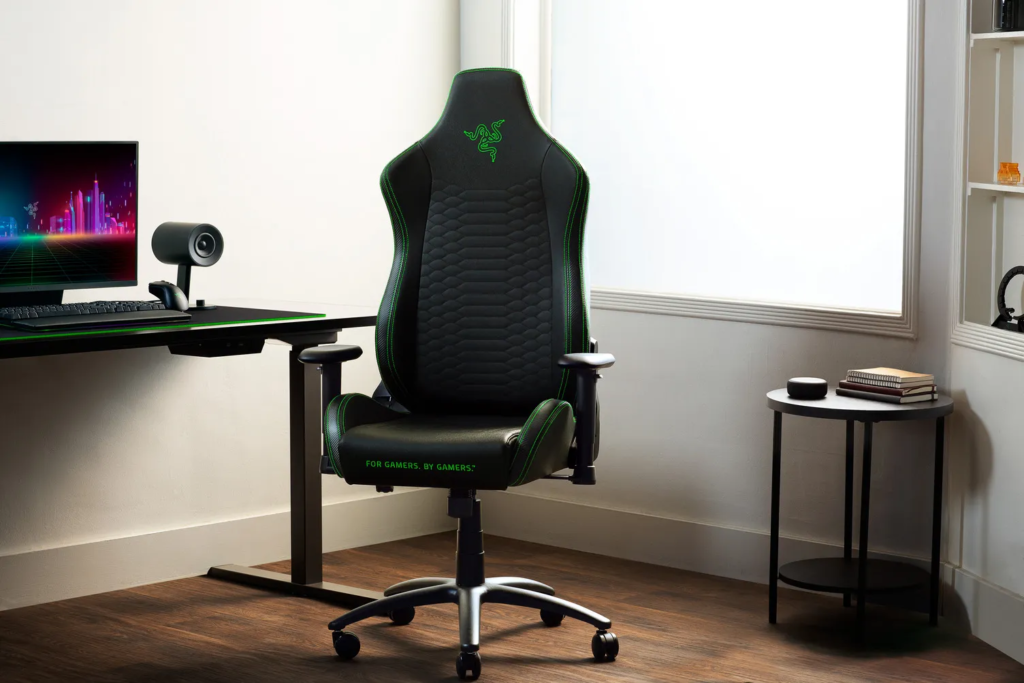 ✅ Get your Razer Iskur Gaming Chair today: click here
In the realm of gaming chairs, the Razer Iskur stands out as a true champion. Its exceptional ergonomic design, durable construction, and customisable features make it an ideal choice for both casual and hardcore gamers. While it does come with a premium price, the investment in your comfort and health during long gaming sessions is well worth it. The Iskur doesn't just provide a seat; it offers a throne for immersive gaming. So, if you're looking to take your gaming experience to the next level and elevate your comfort, the Razer Iskur Gaming Chair is a choice that won't disappoint.