Your bedroom is more than just a place to rest your head; it's your personal retreat, a haven of tranquility where you recharge your mind, body, and soul. And at the heart of this personal space of yours lies the centrepiece of serenity—your beloved bed. Although a bed frame may seem like a simple piece of furniture, it holds the key to transforming your bedroom into a captivating blend of charm and comfort. So, if you're seeking the perfect bed frame to elevate your bedroom in Malaysia, your search ends here.
Join us as we explore the exquisite world of Malaysian bed frames, revealing hidden gems and unrivalled masterpieces that have won the hearts of many. These bed frames stand tall above the rest, thanks to their thoughtful designs, impeccable craftsmanship, and the use of premium materials that ensure both aesthetics and durability. Whether you lean towards modern minimalism, rustic charm, or opulent extravagance, we have curated a diverse selection to suit every taste and preference.
Features of a Good Bed Frame
A good bed frame possesses several essential features that contribute to both its functionality and aesthetic appeal. Here are some key features to look for in a high-quality bed frame:
Sturdiness and Durability: A good bed frame should be sturdy and built to last. It should be made from durable materials, such as solid wood, metal, or high-quality engineered wood, that can withstand the weight and movement of the mattress and sleepers.
Proper Support: The bed frame should provide adequate support for the mattress, ensuring that it stays in place and doesn't sag or deform over time. A center support beam and slats or a solid base are common elements that promote proper mattress support.
Compatibility: The bed frame should be compatible with your mattress size, ensuring a snug fit and preventing any unnecessary movement or gaps between the mattress and the frame.
Style and Design: Aesthetics matter, and a good bed frame complements the overall bedroom decor. It should have a design that aligns with your personal taste and the room's ambiance.
Safety: Safety is paramount, especially if you have children or pets. Look for bed frames with rounded edges or smooth surfaces to minimize the risk of injury.
Easy Assembly: A well-designed bed frame should be relatively easy to assemble without the need for complex tools or professional assistance.
Noise Reduction: Nobody likes a creaky or squeaky bed frame that disrupts a peaceful night's sleep. A good bed frame will have features in place to minimize noise and vibrations during use.
Versatility: Some bed frames come with additional features like under-bed drawers or the option to adjust the height, offering more versatility and practicality.
Our Top Picks for the 9 Best Bed Frames in Malaysia
Ready to unveil the magic that lies within Malaysia's best bed frames? Let's redefine your bedroom experience and inspire a world of sweet dreams with our top picks:
1. Sonno Signature Bed Frame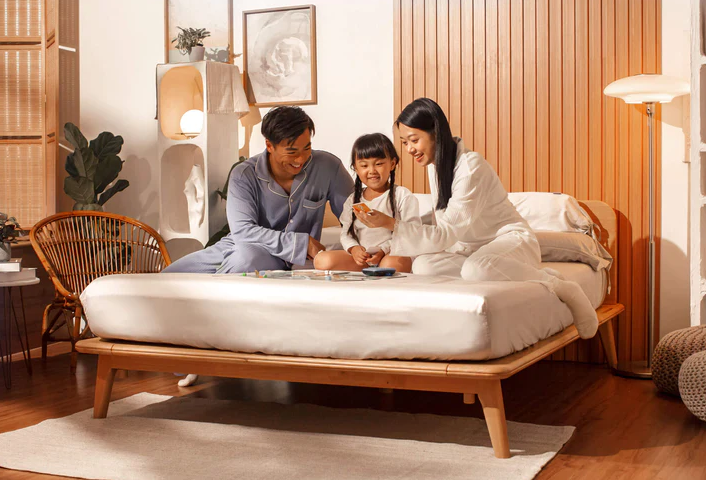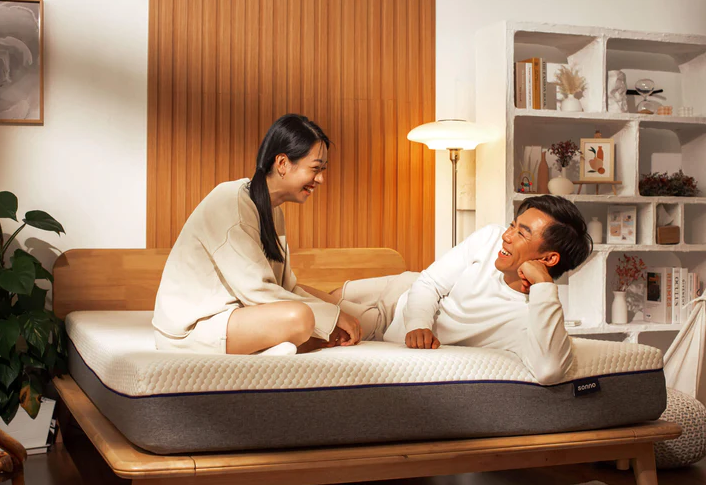 Transform your bedroom into a dreamy haven with the Sonno Signature Bed Frame. This exquisite and adaptable frame is designed to effortlessly elevate any bedroom decor. Crafted with utmost precision from 100% solid wood, it promises unwavering durability that will withstand the test of time. Not only does it provide reliable support for your mattress, but it also adds a touch of timeless elegance to your space. So, get ready to doze off in a bed that's as stunning as it is sturdy.
Say goodbye to complicated setups and hello to more snoozing time! The Sonno Signature Bed Frame is incredibly easy to assemble and requires no tools for set-up. With just a few simple steps, you'll have your bed ready in no time. Proudly made in Malaysia, this frame is a true testament to the dedication to quality craftsmanship.
Now, let's dive into the fantastic features of the Sonno Signature Bed Frame that will make your sleep experience truly exceptional:
Super easy to assemble
Made of 100% solid wood
Perfect for any room decor
Provides adequate support for the mattress
Rounded edges and corners for extra safety
Available in three sizes
Made in Malaysia
2. Goodnite AK101 Bedframe (Queen/ King)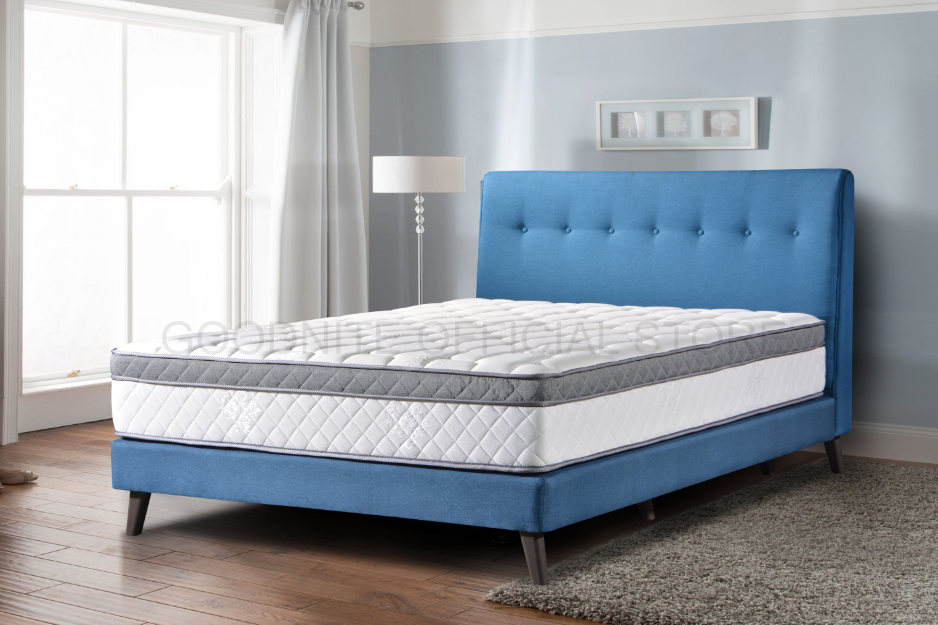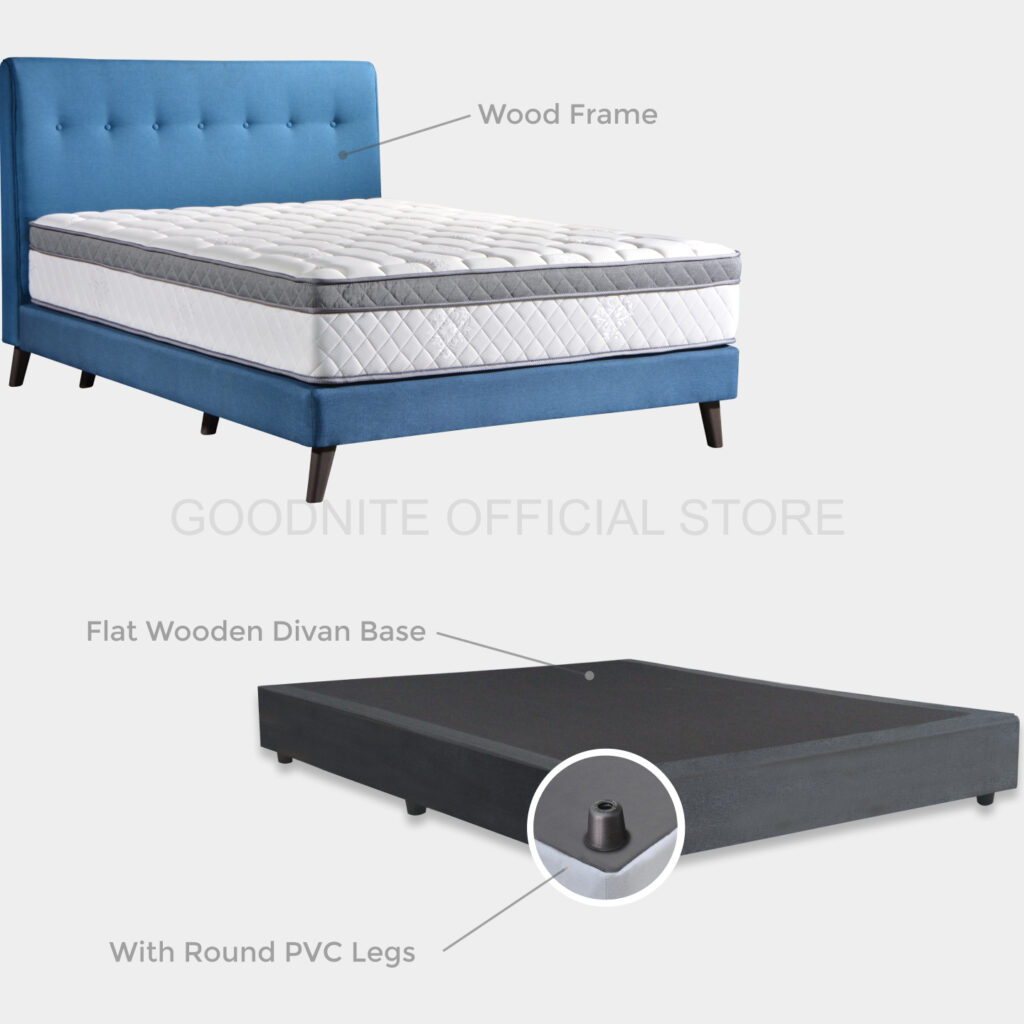 Let your dreams take flight in a space that's both captivating and enduring with the Goodnite AK101 Bed Frame. With its sleek lines and uncluttered design, this masterpiece adds a touch of grounding elegance to your bedroom ambiance. It serves as a captivating backdrop that complements any decor seamlessly. Moreover, its thick and gently curved headboard adds an extra touch of sophistication to your room.
Rest easy on the wooden divan base, which ensures not only supreme comfort but also enhances the frame's overall durability and stability. The bed frame stands on sleek, round PVC legs that add modernity to its timeless design. Plus, with nine fabric color options to choose from, you can customize this bed frame to suit your personal style and bedroom decor effortlessly. Last but not least, the installation service provides you with the convenience of having your dream bed put together without any hassle.
Some specifications of the Goodnite AK101 Bed Frame are listed below:
Minimal style with clean lines
Uncluttered design
Thick and gently curved headboard 
Flat wooden divan base
Round PVC legs
9 fabric color options
Installation facilities are included
3. Getha 3 in 1 Bed Frame – Pull Out Bed with Drawer Storage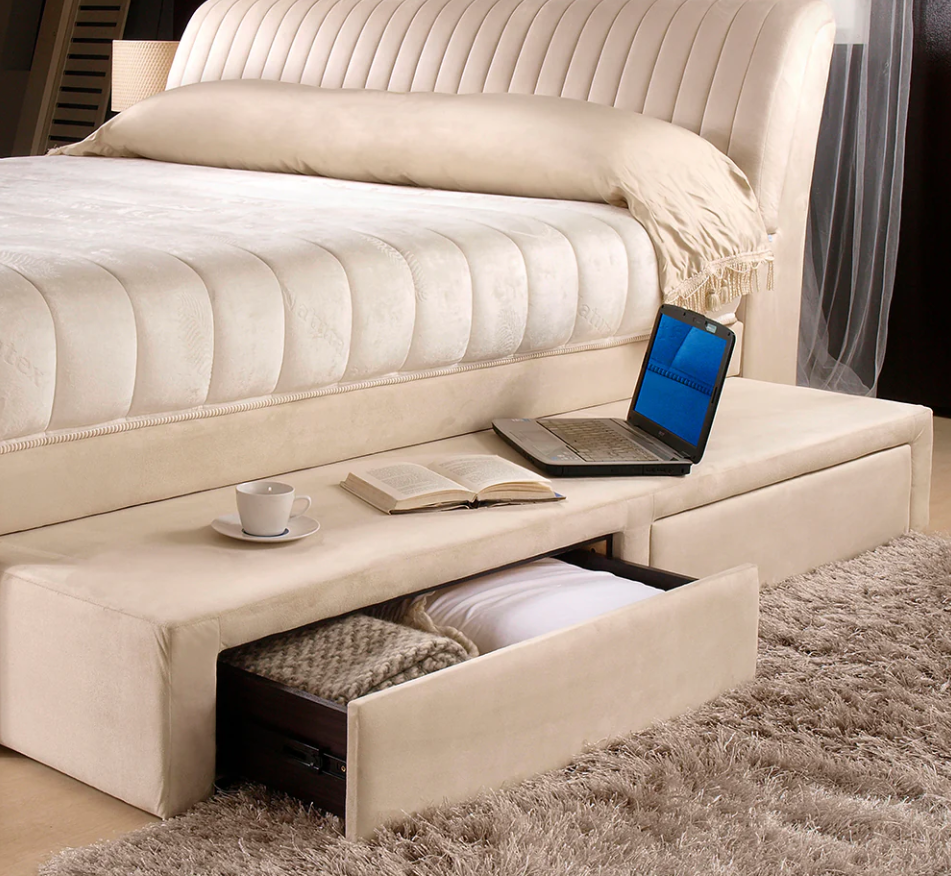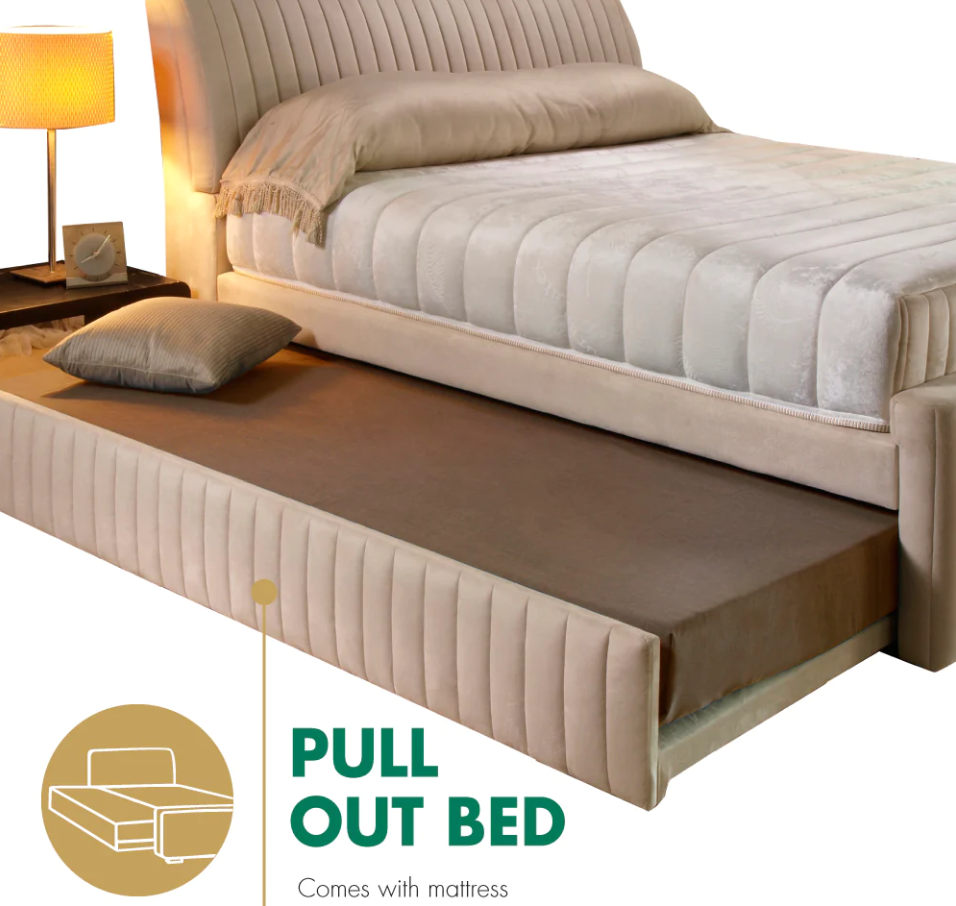 The Getha 3 in 1 Bed Frame is a versatile bed frame that is designed to maximize space and functionality. It offers you the best of both worlds: a comfortable bed for relaxation and a practical solution for accommodating guests and organizing your essentials. With its elegant design and robust construction, this bed frame ensures a solid and comfortable foundation for both you and your mattress. Its flexibility makes it a perfect fit for any room, whether it's the master bedroom, a kid's room, or a guest room.
What sets this bed frame apart is its innovative 3-in-1 functionality, offering multiple benefits in a single piece of furniture. It boasts an extra pull-out bed compartment that provides you with the convenience of accommodating additional sleepers when needed. It also incorporates strategically placed storage drawer units. These ample storage spaces allow you to keep your room organised and clutter-free. Moreover, you can easily switch between the various compartments of this frame to suit your room arrangement or changing needs.
The amazing features of the Getha 3 in 1 Bed Frame include:
Practical and multi-use
Space-saving design
Functional drawer storage on one side
Pull out bed, including mattress on another side
Easily interchangeable between drawers and pull out
Solid supportive structure
Medium-height cushioned headboard
Elegant design to match any room
Easy to care for a velvet feel fabric
Free of metal and electromagnetic wave
4. MUJI Wooden Storage Bed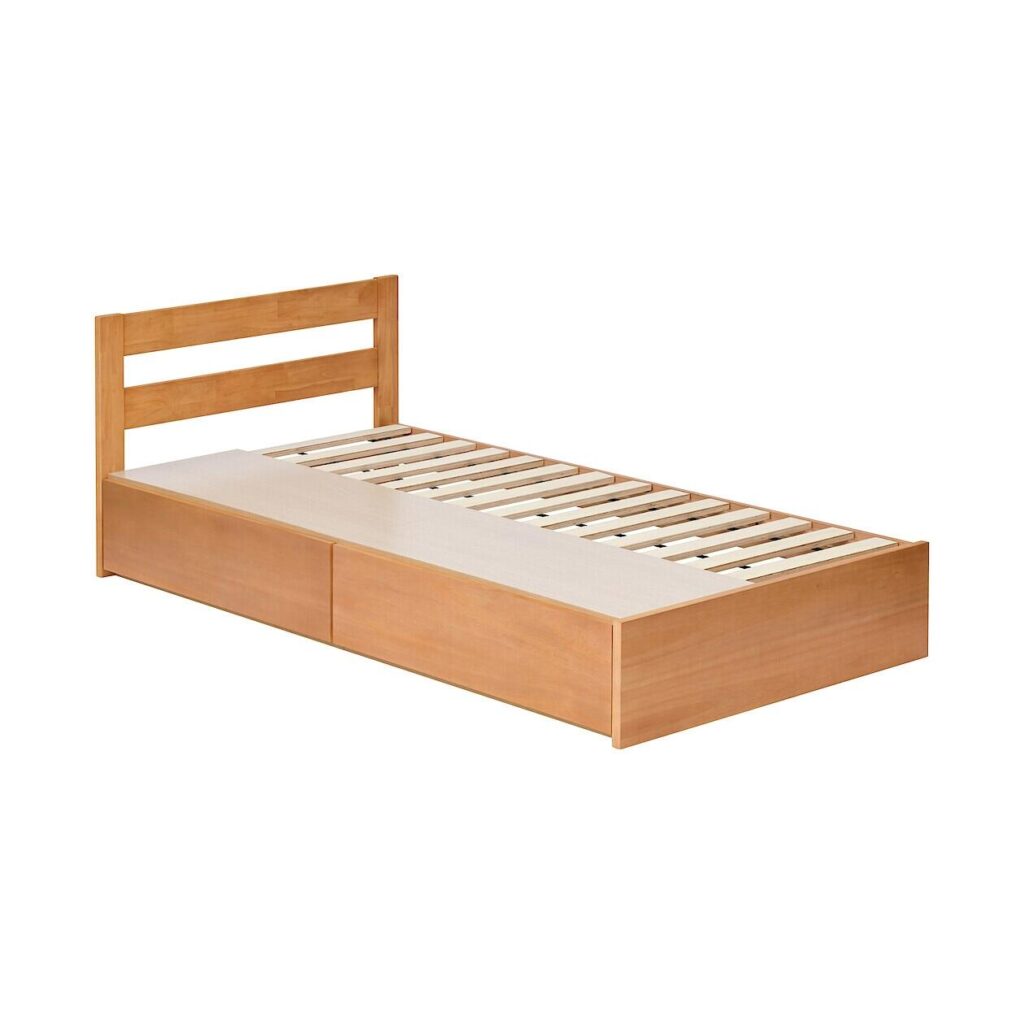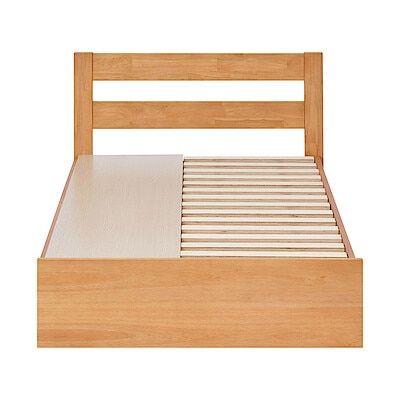 Worried about your bedroom's limited floor space? Fear not! The thoughtful design of the MUJI Wooden Storage Bed Frame ensures that no valuable space goes to waste. Designed with a paramount focus on ample storage space, this exceptional piece of furniture redefines how you organise your bedroom. Its prowess lies in its spacious under-bed storage drawers. Slide them out effortlessly to reveal a cavernous space, perfect for stowing away extra bedding, pillows, seasonal clothing, or even your precious shoe collection.
With its elegant and contemporary design, the bed frame complements your space seamlessly. Crafted from high-quality materials, it boasts exceptional durability, ensuring years of reliable use and continued storage convenience. The sturdy construction not only supports your mattress and ensures a restful night's sleep but also secures your belongings with confidence.
The following features of the MUJI Wooden Storage Bed frame make it an indispensable addition to any modern home:
Light brown aesthetic color
Durable and sturdy
Plenty of storage space
Versatile use
Perfect for limited space
Easy to assemble
Made in Vietnam
5. Natural Signature Landmass Queen Bed frame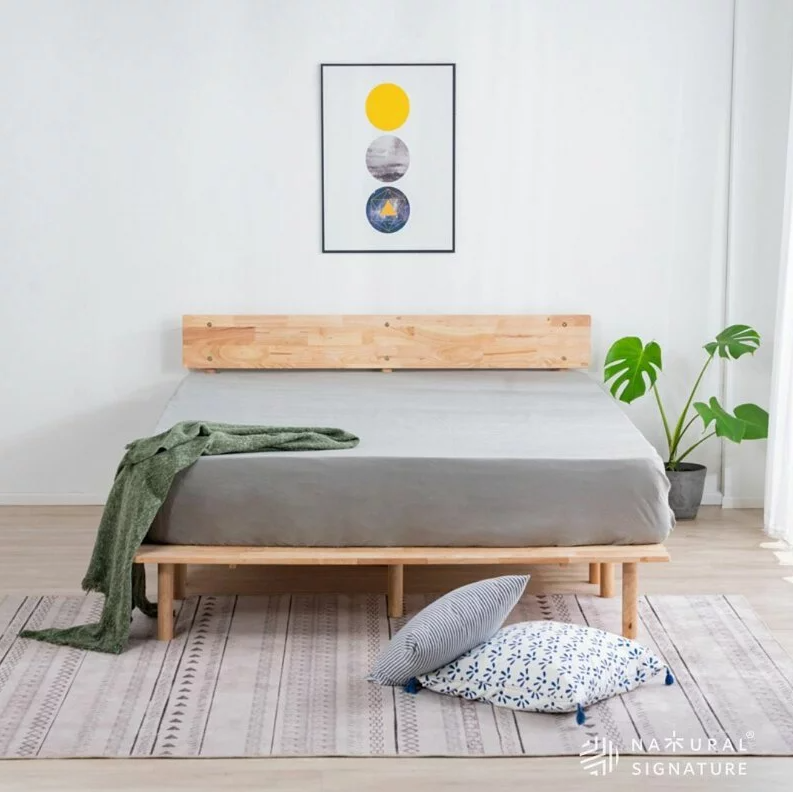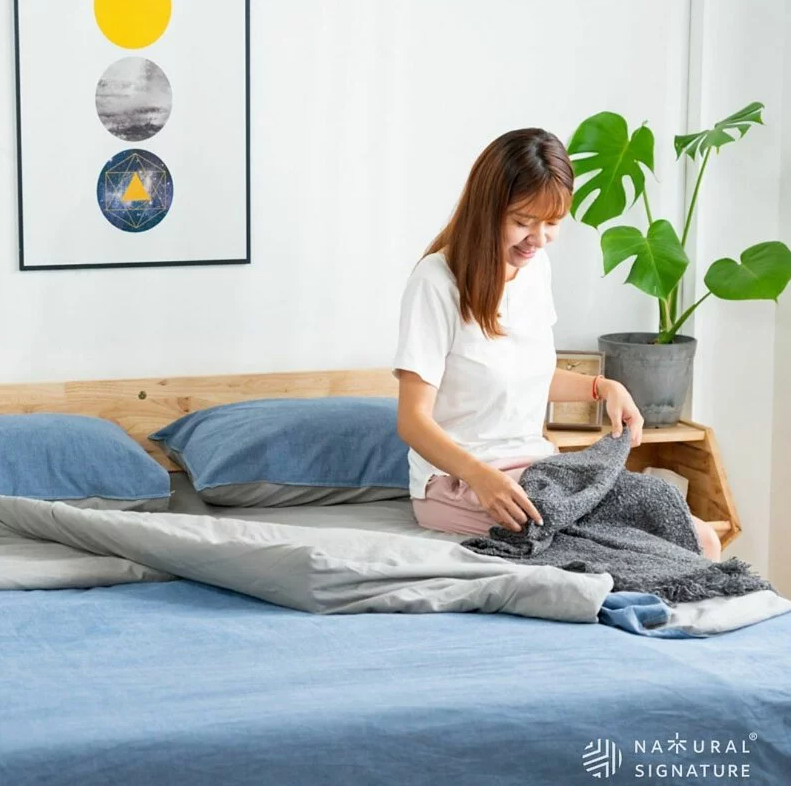 The next bed frame on our list is the Natural Signature Landmass Queen Bed Frame—the epitome of versatility, style, and functionality. Its flat and even base not only ensures the longevity of your mattress but also distributes pressure evenly, cradling you in unparalleled comfort. The base panel, ingeniously crafted from three pieces of solid wood, streamlines packaging. It means no more frustrating delivery arrangements; the flat packing allows you to carry your parcel in your own car! Its compact size takes up minimal space, making it a lifesaver for those living in limited space.
Say goodbye to cumbersome bed frames with its frameless design, which makes changing bed sheets a breeze. The frame embraces nature's charm with preserved wood knots and other organic elements found in rubberwood furniture. It meets the strictest global safety standards for formaldehyde and coating content. Most of all, this bed base can sustain paint and stains efficiently, so you can unleash your creativity and make it exclusively yours.
The features of the Natural Signature Landmass Queen Bed Frame that make it the best choice for Malaysian homeowners are:
Made of solid rubberwood
Space saving
Export quality
Frameless design
Safe, durable, and stable
Budget-friendly
Easy to assemble
Environmentally friendly
Flat packing
6. Neckpro Domies Solid Wood Bed Frame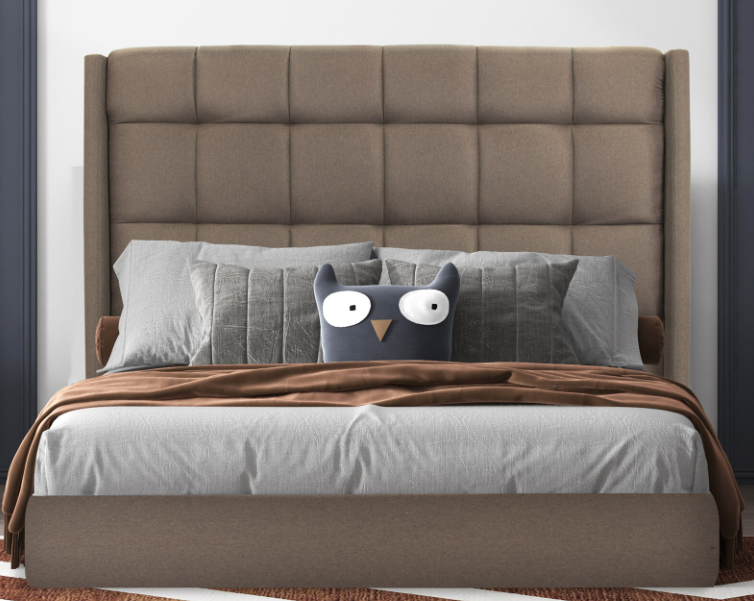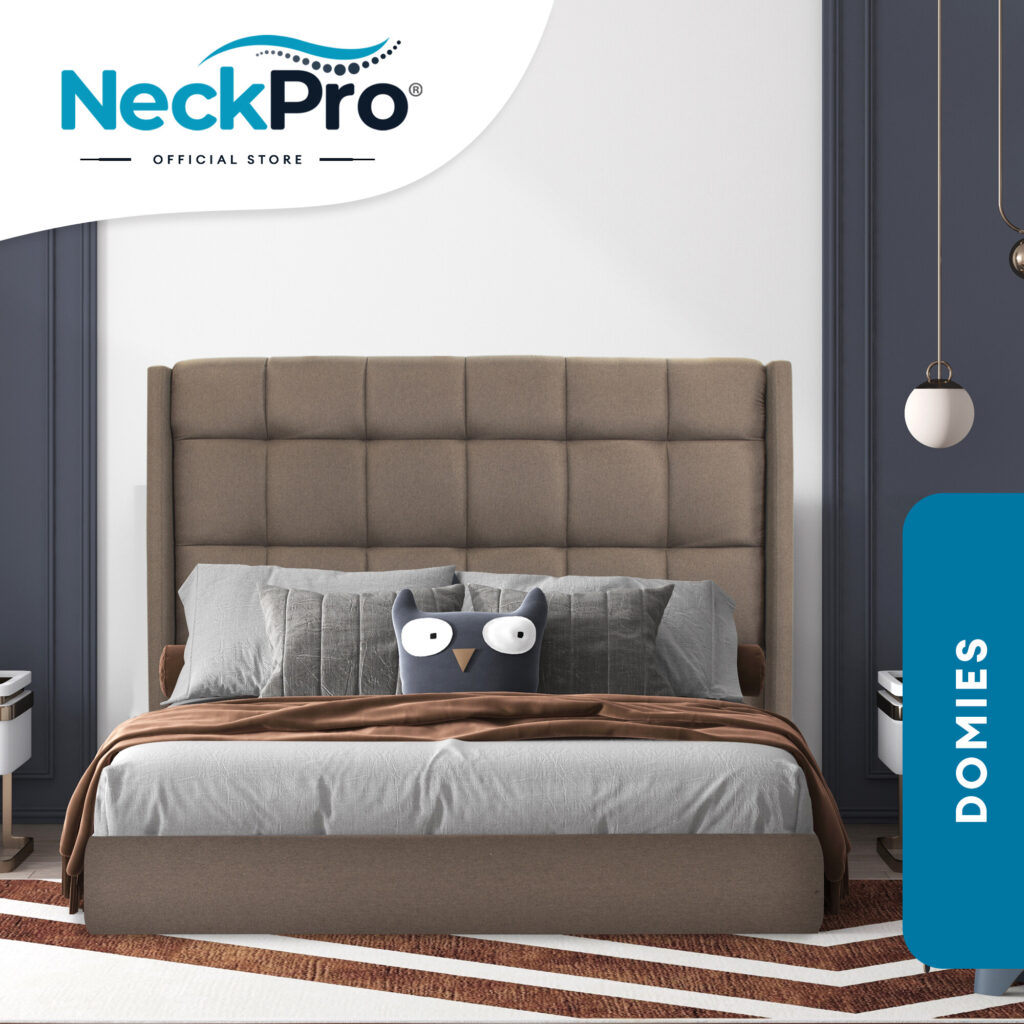 Sleep soundly and live smartly with the Neckpro Domies Solid Wood Bed Frame. Crafted with 100% solid wood, this bed base stands tall with its remarkable durability and stability. No more worries about uncomfortable nights or skin irritations; the specially curated fabric ensures a soft and soothing touch for a restful slumber. The water-repellent fabric ensures that spills won't ruin your precious investment. Simply wipe away any mishaps, and your bed frame will look as good as new.
The frame's wide backrest provides you with ample support while reading, watching TV, or simply unwinding after a long day. Nestled within the frame is a high-density foam that offers you the perfect combination of comfort and durability. Its solid legs ensure steady support throughout its lifetime, eliminating any worries about wobbling or creaking. Moreover, you have the choice to customise this frame with multiple fabric options, an array of stunning colors, and various sizes to match your unique style and bedroom space.
Dive into a world of luxurious comfort with the features of the Neckpro Domies Solid Wood Bed Frame, as described below:
Anti-rash fabric
Water repellent
Sturdy form
Wide backrest
High-density foam
Comfortable and durable
Solid legs for extra support
Multiple fabrics, colors, and sizes to choose from
7. First Knight by King Koil Cambridge Comfort Bedframe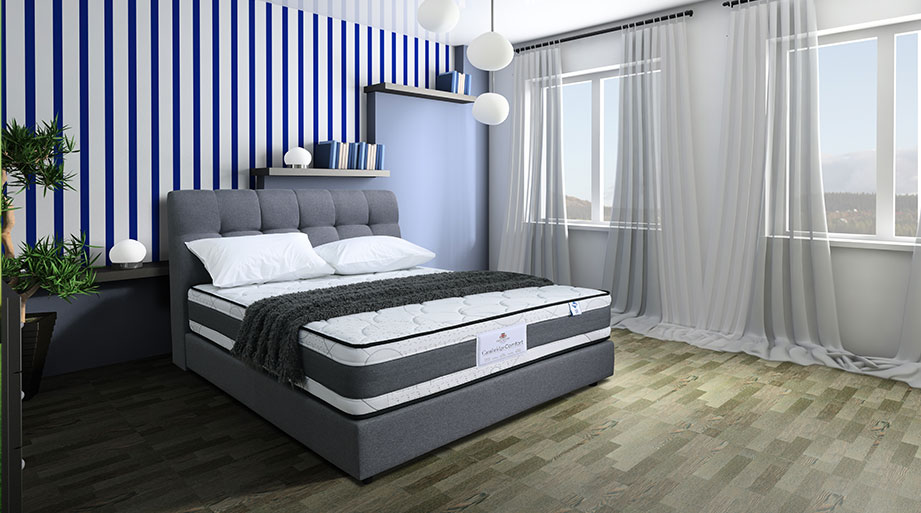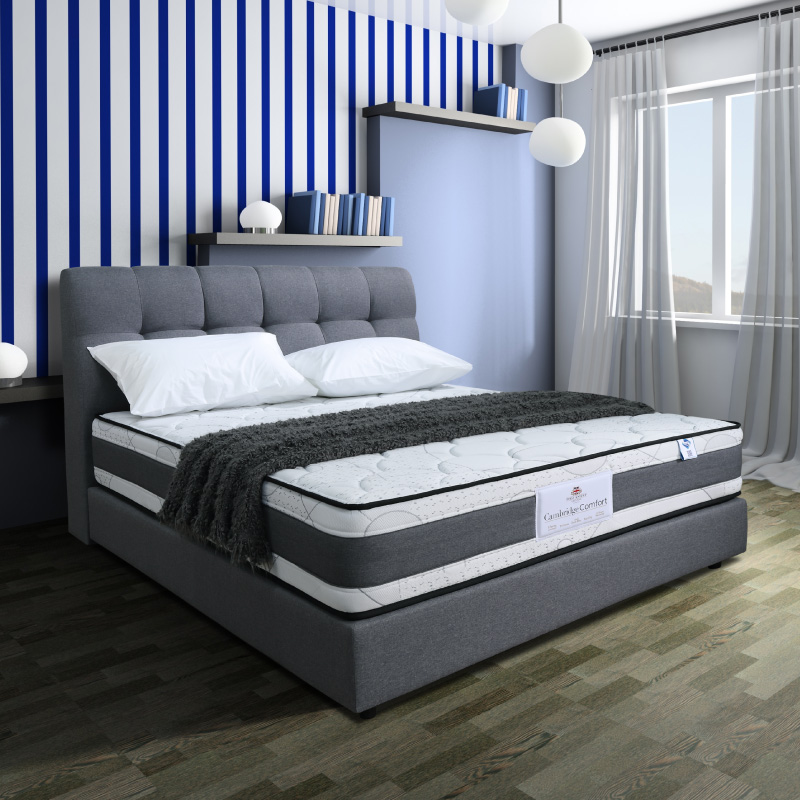 Experience unwavering support and stability night after night with the First Knight Cambridge Comfort Bedframe by King Koil. This exquisitely crafted bedframe boasts the timeless allure of solid wood and the plush embrace of comfortable fabric. Crafted from the finest, hand-selected solid wood, the bed frame promises not only enduring beauty but also exceptional durability. Each piece of it is masterfully carved and expertly joined to ensure a sturdy and robust foundation for your bed.
But what truly sets this bedframe apart is the sumptuous fabric that gracefully wraps around the frame. Soft to the touch and meticulously upholstered, it invites you to sink into a cocoon of pure bliss. It is available in an elegant grey color that goes with any room's aesthetics perfectly. With easy assembly and exceptional quality, the frame is a testament to both form and function.
Enhance your sleeping experience and upgrade your bedroom aesthetics with the following features of the First Knight Cambridge Comfort Bedframe by King Koil:
Supportive and stable
Made of solid wood
Upholstered with plush and durable fabric
Elegant grey color
Easy assembly
8. BAHAGIA Tatami Bedframe
Transform your bedroom into a haven of sophistication with the BAHAGIA Tatami Bedframe, a harmonious blend of wood and fabric that exudes a distinct touch of elegance to complement your decor. Designed with your utmost comfort and convenience in mind, the headboard of this frame features a plush cushioned center, providing a cozy resting place for your head. This large frame also boasts ample multi-storage compartments, such as side drawers and floating shelves on the headboard, that can help you keep your bedroom clutter-free.
The bed frame showcases a simplistic yet stylish design, with its rich brown color lending a touch of class to your space. The ambiance is further enriched by the soft LED lights gracing the headboard. And did we mention the unbeatable value for money? Not only does the frame come at an affordable price, but it also includes free delivery and installation services. With this cost-effective solution, you'll have an extra budget to allocate for other furniture needs to complete your dream bedroom.
The features that make the BAHAGIA Tatami Bedframe your best choice are:
Simple yet stylish
Made from solid rubberwood material
Brown color wood
Cushion fabric headboard in center
Storage saving
Sturdy and durable construction
The headboard features an LED light
Side drawers and shelves
Free installation and delivery services
9. Zinus 15″ Mia Metal Platform Bedframe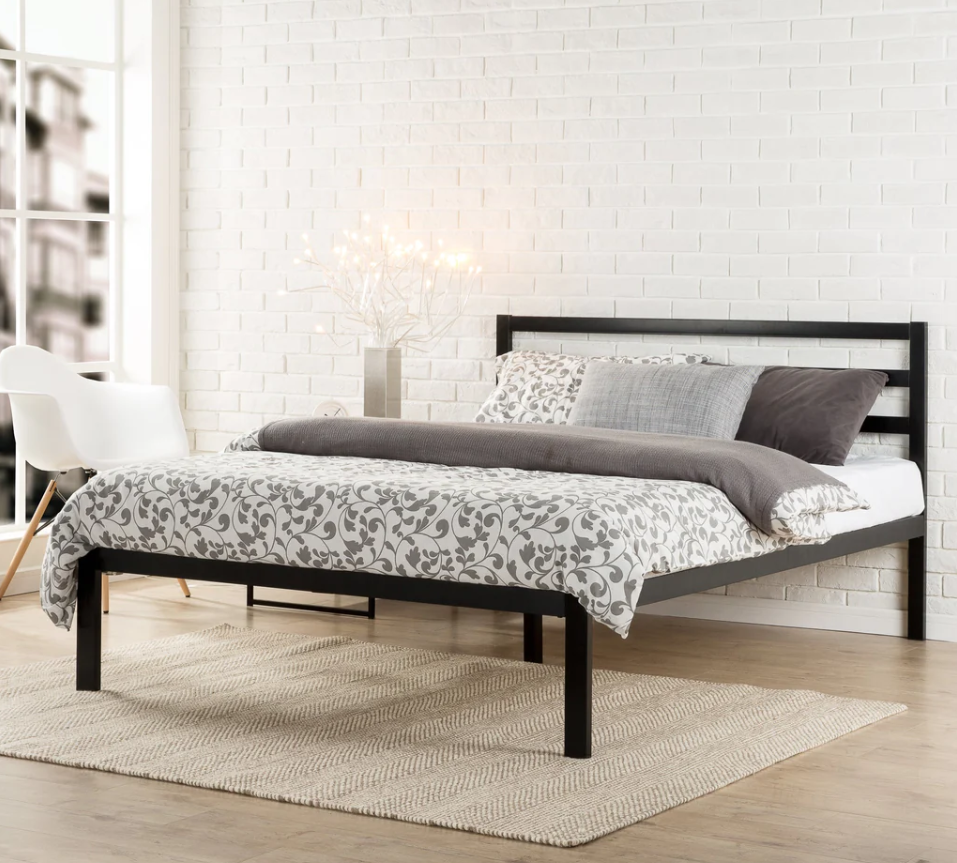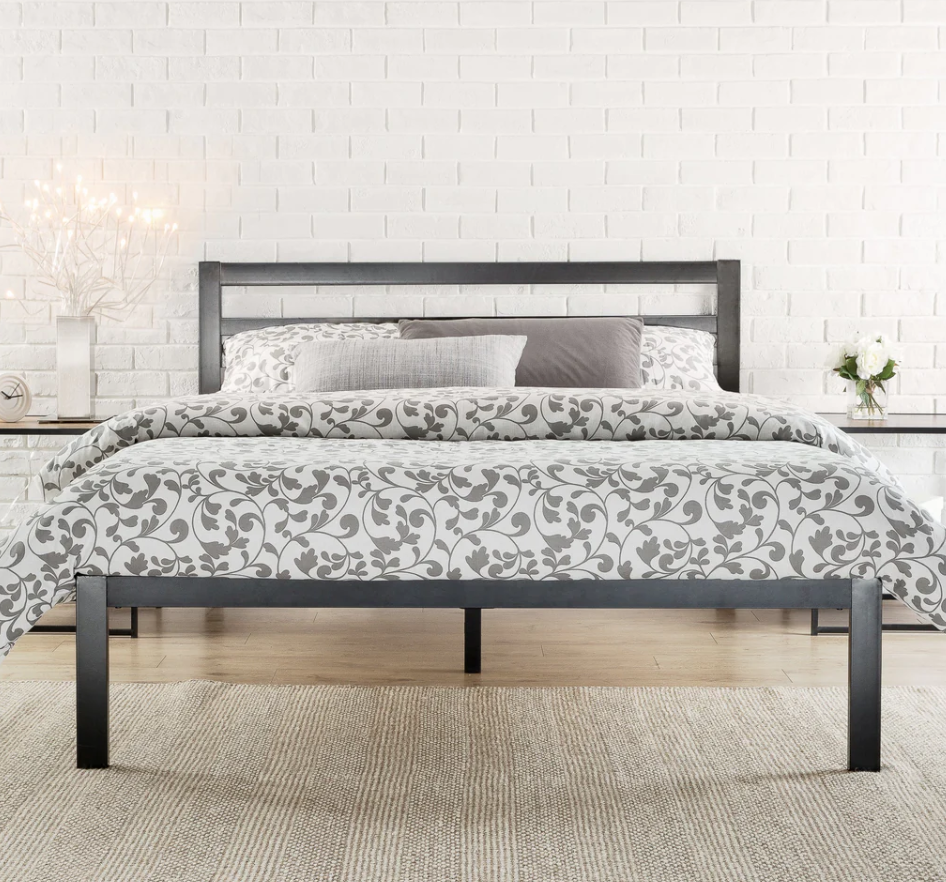 The last bed frame on our list is the Zinus 15″ Mia Metal Platform Bedframe, where minimalism meets durability to create the perfect sleeping solution for modern living. Crafted from strong and durable solid steel, this bed frame brings a clean and minimalist look to your bedroom while providing unparalleled support for your mattress. Its sturdy wooden slats are designed to extend the life of your mattress without the need for additional support like a box spring. The center support reinforces overall stability, ensuring this bed frame is built to last.
The black metal finish of this bed frame effortlessly complements any furniture, giving your room a contemporary edge. Assembly is a breeze with the frame's easy-to-follow instructions and included tools, all conveniently packed into one box and delivered straight to your doorstep. No need to worry about the future either, as the Mia Metal Platform Bedframe comes with a worry-free 5-year limited warranty for your peace of mind.
The features of the Zinus 15″ Mia Metal Platform Bedframe that make it a no-regret choice are:
Strong metal frames
Sturdy wooden slats
No box spring needed
Minimal modern look
Easy and quick self-assembly
5-year warranty
Wrapping Up
Investing in the right bed frame not only enhances the aesthetics of your bedroom but also adds value and comfort to your space. We've curated this guide to inform you about the best bed frames available in Malaysia. From the Sonno Signature Bed Frame for timeless elegance to the Getha 3 in 1 Bed Frame offering practicality with its pull-out bed and storage drawers, this guide covers a diverse selection to suit every taste. Whether you're cuddling up with a good book, enjoying a lazy Sunday morning, or simply indulging in a night of uninterrupted slumber, these bedframes promise unparalleled comfort for every situation. So, make the right choice and create the bedroom of your dreams today!