After a long day at work, you finally get home, and your stomach starts growling for a tasty meal. But guess what? You don't feel like spending hours in the kitchen, right? That's where a clever kitchen trick comes in handy – turning basic ingredients into mouth-watering dishes. And the secret weapon? The pressure cooker! These awesome kitchen companions have become a hit in food-loving Singapore, where both home cooks and busy folks can't stop raving about how efficient they are.
So, if you're hunting for the best pressure cooker in Singapore, you're in the right place. We've done all the hard work and testing to create this super helpful guide. It'll walk you through finding the perfect pressure cooker that suits your culinary needs and makes your cooking experience even better. Whether you're a cooking pro or just want to make things quicker in the kitchen, we've got some really great options for you. So say goodbye to long cooking times and get ready for a new way of cooking that's both delicious and speedy!
Features of a Good Pressure Cooker
A good pressure cooker typically has the following features:
Safety Mechanisms: Look for features like pressure release valves, locking systems, and indicator rods that ensure safe operation by preventing excessive pressure buildup.
Pressure Settings: Adjustable pressure settings allow you to cook a variety of dishes at different pressures, which is essential for versatile cooking.
Durability: Opt for models made from high-quality materials that can withstand regular use and high temperatures.
Sufficient Size and Capacity: Choose a size that suits your cooking needs. Pressure cookers come in various capacities, so select one that can accommodate your typical meal sizes.
Cooking Programs: Some modern pressure cookers come with preset cooking programmes for specific dishes, making cooking even easier.
Quick Release Feature: A quick pressure release option helps to rapidly reduce pressure after cooking, making it safer and quicker to open the cooker.
Easy-to-Clean: Look for designs with removable and dishwasher-safe parts for hassle-free cleaning.
Pressure Indicator: A clear pressure indicator helps you monitor and control the pressure level inside the cooker during cooking.
Steam Release Mechanism: An efficient steam release valve prevents steam from escaping too quickly, minimising the risk of burns.
Multi-functionality: Some models act as multi-cookers, allowing you to perform tasks like sautéing, steaming, and slow cooking in addition to pressure cooking.
Our Selection of 10 Best Pressure Cookers in Singapore
Included below are our prime recommendations for the best pressure cookers in Singapore:
1. Tefal CY601 Home Chef Smart Electric Pressure and Multicooker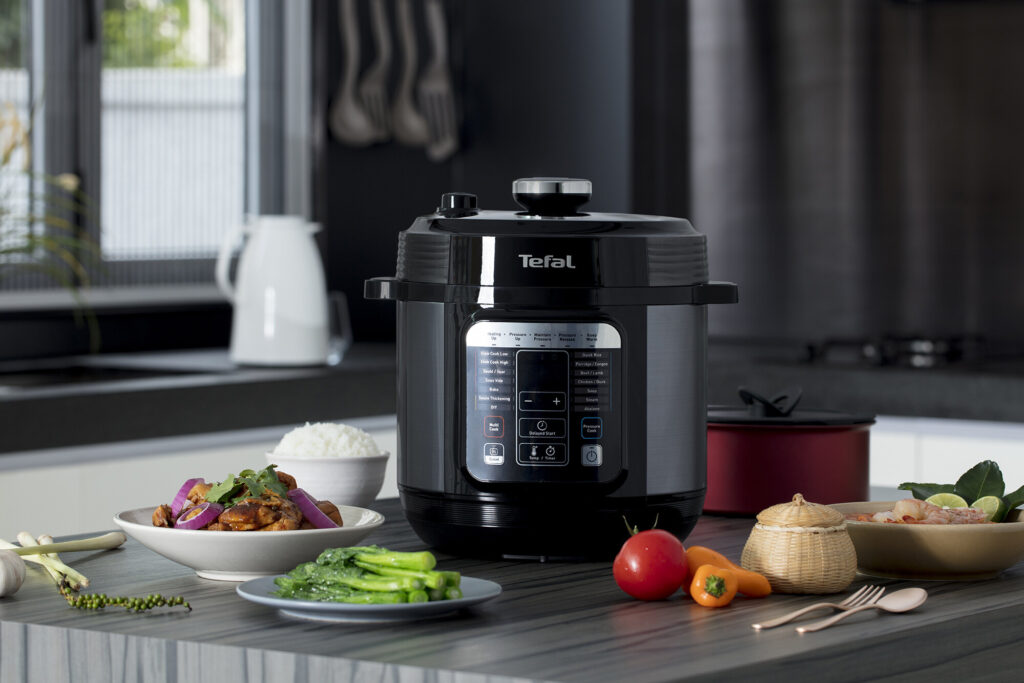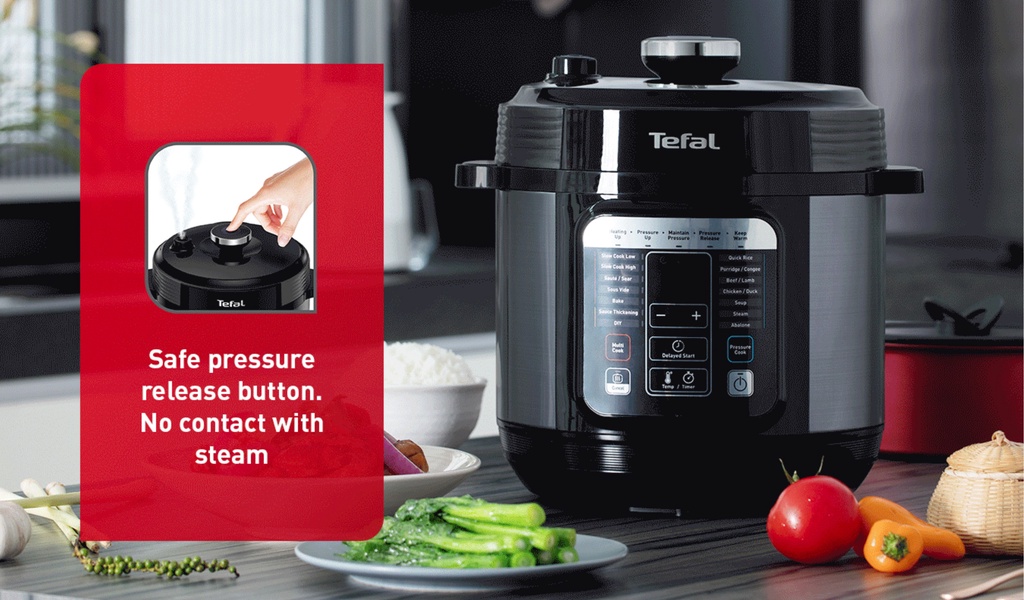 Enjoy more quality time with your loved ones and less time in the kitchen! The Tefal Home Chef Smart Multicooker is your fast and versatile solution for preparing delicious family meals quickly. With 15 pre-set programmes, it handles everything from rice to special recipes like sous-vide cooking and abalone. There are two additional functions that let you tweak cooking times and temperatures. The cooker has 12 built-in safety features that ensure your peace of mind. It goes the extra mile with automatic keep-warm and preset timer functions, both extending up to 24 hours. Plus, it's designed with a family-sized capacity in mind and offers hassle-free cleaning with removable parts and accessories.
Let's explore some fantastic attributes of the Tefal CY601 Home Chef Smart Electric Pressure and Multicooker:
15 pre-set programmes
2 special functions
Special recipes
12 built-in safety features
Automatic keep-warm function
Sauce thickening programme
Timer function
Delayed start
80% faster cooking
Family-sized capacity
Safe pressure-release button
LCD control panel
Easy to clean
2. Philips HD2137/62 Viva Collection All-In-One Cooker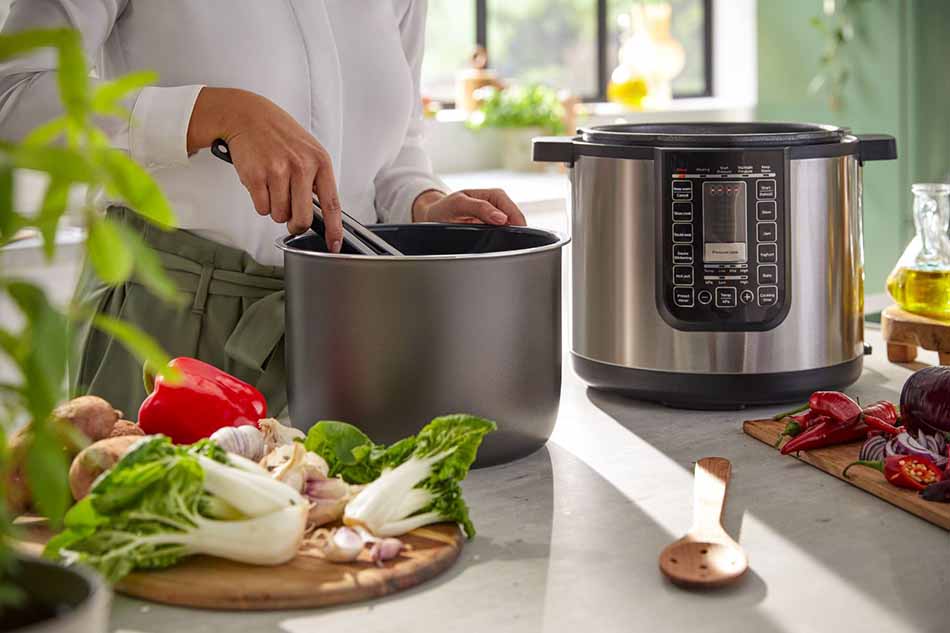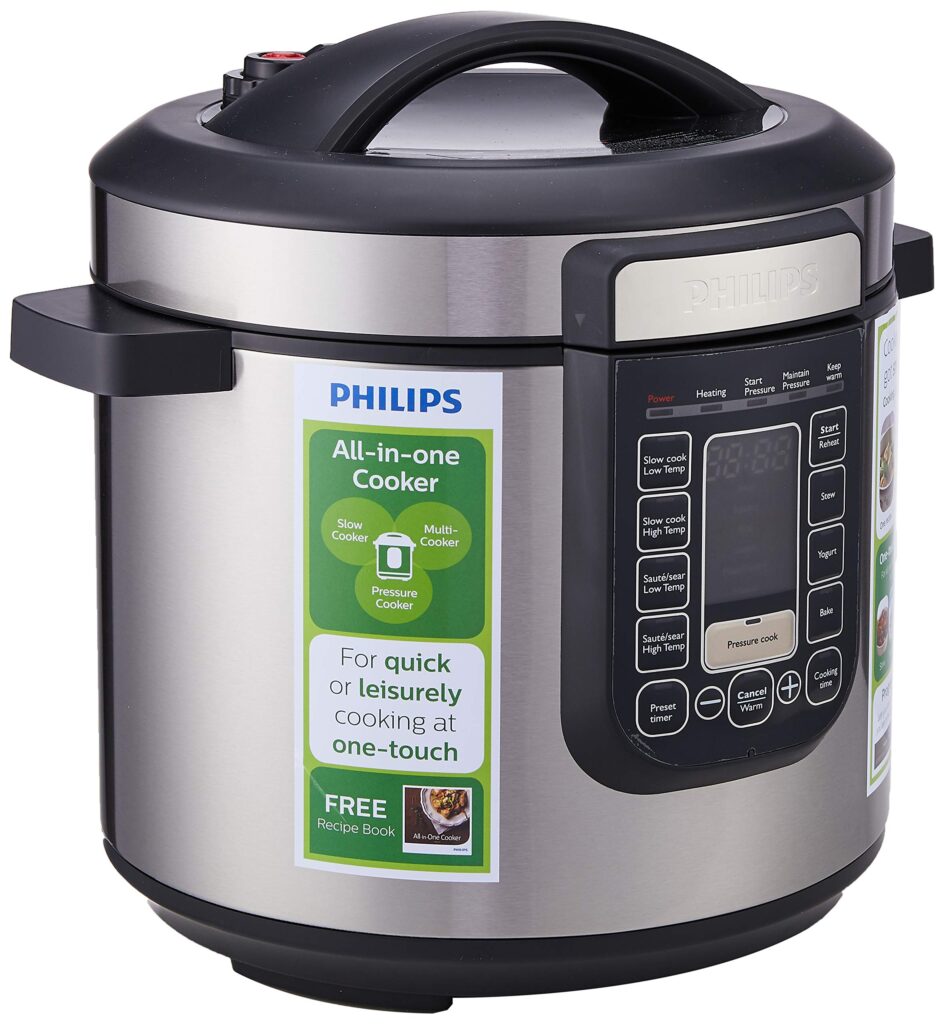 The Philips HD2137/62 Viva Collection Cooker is your all-in-one solution for cooking perfection. With customisable cooking styles and times, this digital powerhouse simplifies meal preparation. It boasts a nine-point protection system for worry-free cooking. The aluminium alloy inner pot ensures efficient heat conduction, featuring a special Whitford golden coating for durability and non-stick convenience. Programming your dishes is effortless with user-friendly timer functions and direct menu buttons. Its auto pressure release ensures your safety, and you can keep dishes warm for up to 12 hours with its handy reheat function.
Here are some exceptional features of the Philips HD2137/62 Viva Collection All-In-One Cooker:
6 litre capacity
9 safety protection systems
Auto pressure release
The durable and non-stick inner pot
Easy to programme timer
Various direct menu buttons
Automatic keep warm and reheat functions
Multi cook menus
Saute/sear with high and low temperatures
Easy-to-clean detachable inner lid design
3. Mayer 1.6L Electric Pressure Cooker MMPC1650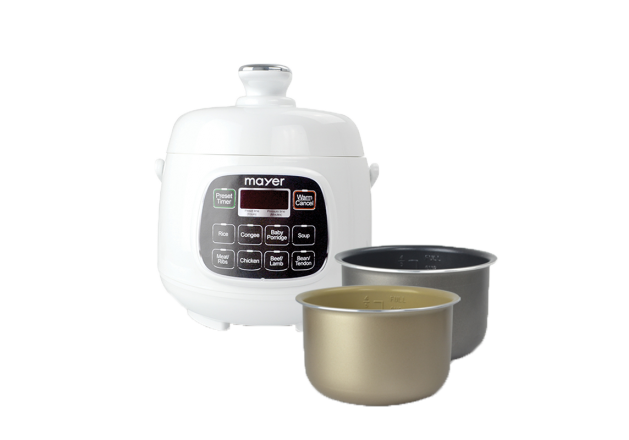 Experience the culinary revolution with the Mayer Intelligent Multi-Cook Pressure Cooker. This kitchen dynamo cooks up to 70% faster than traditional methods, all while preserving those essential nutrients. With its vibrant 4 digital LED display, 8 preset functions, and a 24-hour preset timer, meal prep has never been this convenient before. You can customise your cooking further with its 99-minute cooking time settings. Worried about safety? Fear not! The user-friendly steam-release button ensures your well-being, and its fold-down handle adds portability to the cooker. Plus, there are eight protective measures built right into it to ensure your safety while cooking.
The Mayer Multi-Cook Pressure Cooker is a healthier, faster, and smarter way to cook. Its amazing features are summarised below:
4 digital LED display
8 preset functions
24-hour preset time
99 minutes cooking time setting
Stainless steel lid with plastic cover
Steam-release button
Fold-down handle for easy  carry
Low energy consumption
Power cut memory function
Auto keep warm
8 safety measures
4. Instant Pot Duo 7-in-1 Multi-Use Smart Pressure Cooker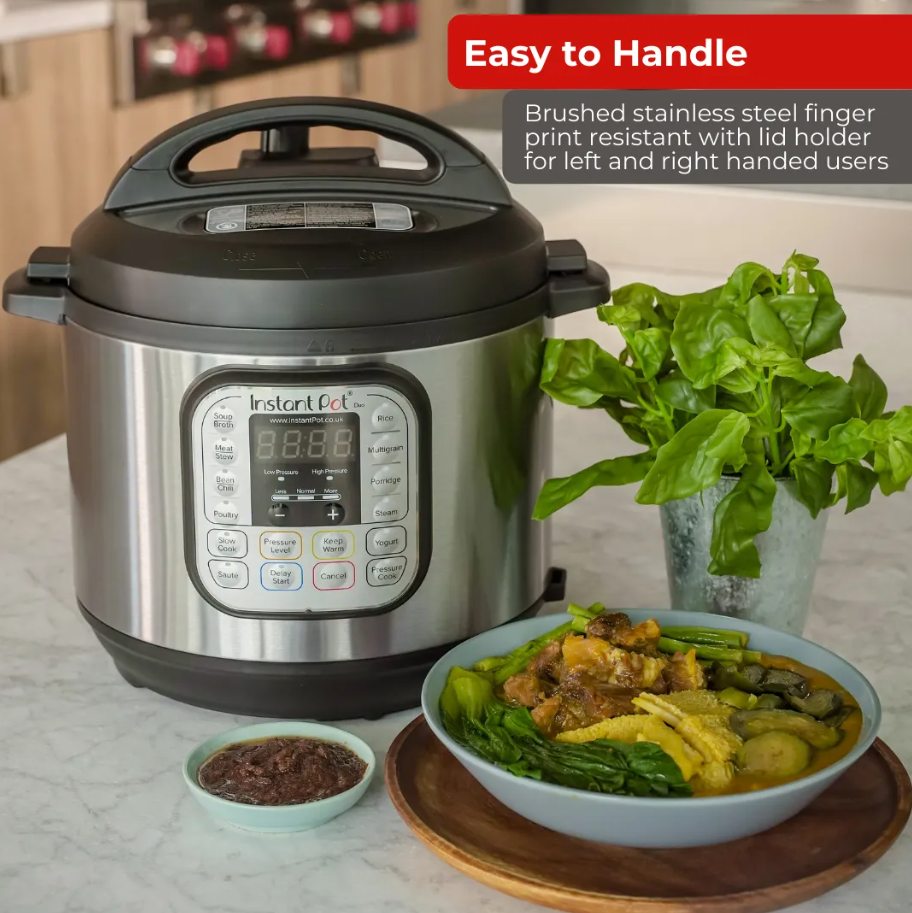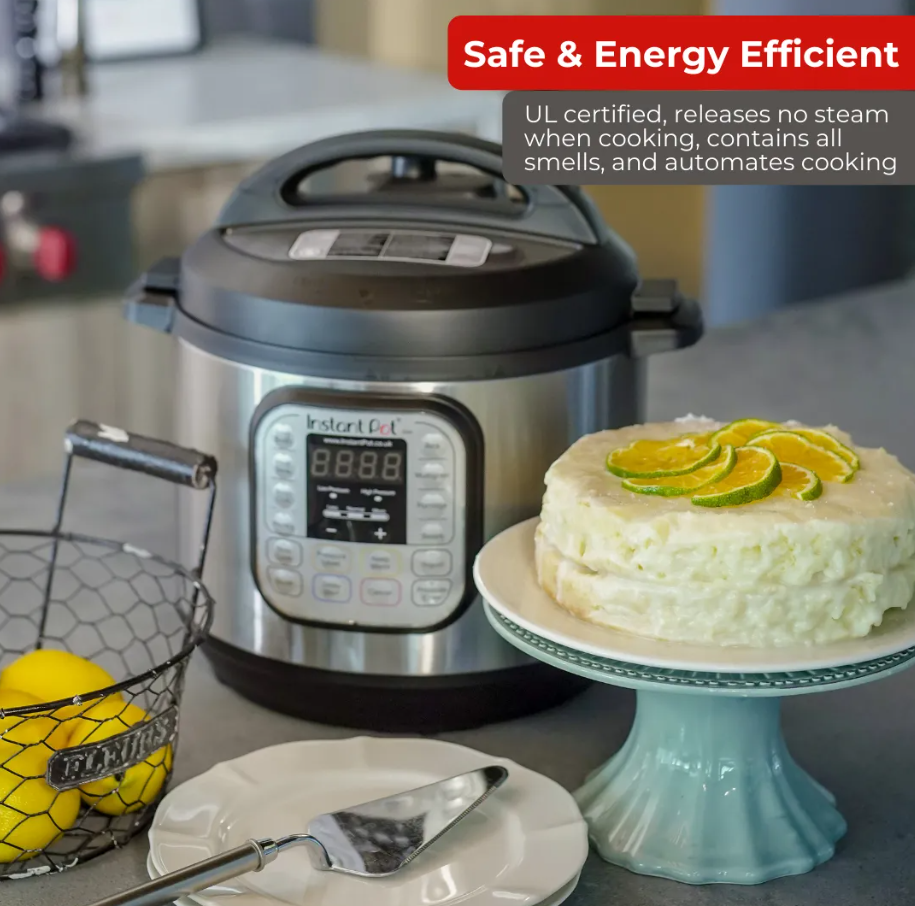 Next comes the chart-topping Instant Pot Duo™ multicooker, a kitchen marvel that not only replaces 7 appliances at a time but also turbocharges your cooking speed by 2-6 times while slashing energy use by up to 70%. Within this intelligent pressure cooker, you'll find a suite of ingenious Smart Programmes and features that will redefine the way you cook. The Duo offers a sufficient size to accommodate any family or cooking requirements. Utilising cutting-edge 3rd generation technology, this appliance employs an advanced microprocessor that actively keeps pressure and temperature levels in check. It also tracks cooking time and intuitively adapts heating intensity and duration for optimal results.
Let's take a closer look at the outstanding features of the Instant Pot Duo 7-in-1 Multi-Use Smart Pressure Cooker:
7-in-1 functions: sauté pan, steamer, slow cooker, rice cooker, food warmer, and yoghurt maker
6 Quart size
14 Smart Programmes
Latest 3rd generation technology
Sealed cooking chamber
Durable 3-ply stainless steel bottom inner pot
Fingerprint resistant exterior
10 proven safety mechanisms
5. Tefal CY638 Home Chef Smart Pro Induction Electric Pressure Cooker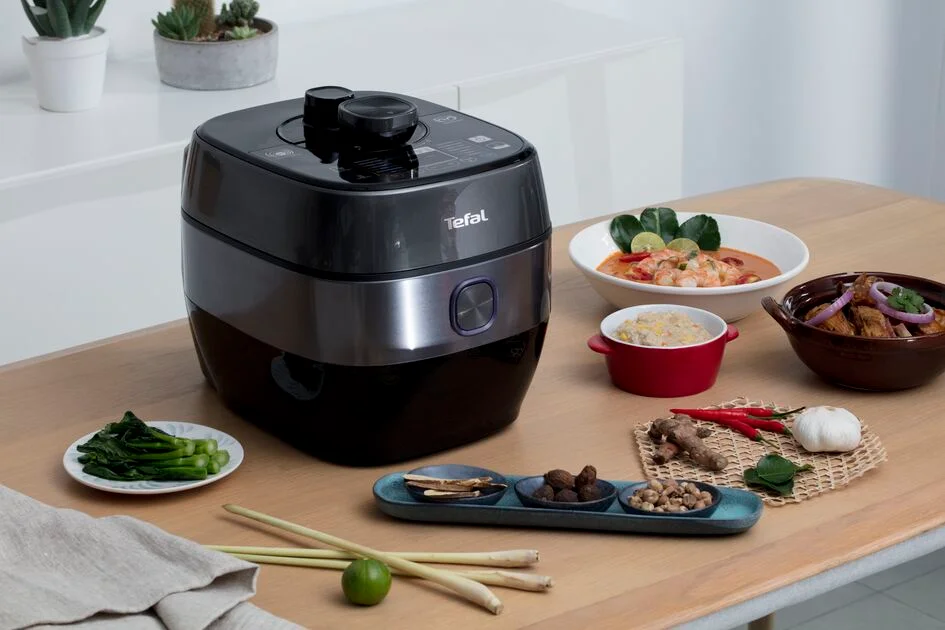 Meet the Tefal Home Chef Smart Pro IH Multicooker, your ultimate cooking partner that never compromises on taste. It wields Opti-Taste technology and induction heating to elevate the natural flavours of your ingredients. The cooker's clever spherical pot design partners seamlessly with customised cooking programmes for effortless meal preparation. It has a remarkable 19 pre-set programmes that cover everything from rice to sous-vide cooking. Plus, you have the freedom to fine-tune your cooking experience with three adjustable functions for time, pressure, and temperature. This Multicooker is safe to use with 18 protective features and also includes 24-hour keep-warm and timer functions.
Experience perfection, speed, and versatility in one appliance with the amazing features of the Tefal CY638 Home Chef Smart Pro Induction Electric Pressure Cooker:
19 pre-set programmes and 3 special functions
Opti-Taste technology
Induction heating
Spherical pot design
80% faster cooking than a gas cooker
18 safety features
Auto pressure release
Electrical pressure valve
My Recipes programme
Automatic keep-warm function
Pre-set timer function
Family-friendly capacity
Easy-to-clean design
2 cooking pots included
LED control panel
6. Joyoung 5L Electric Pressure Cooker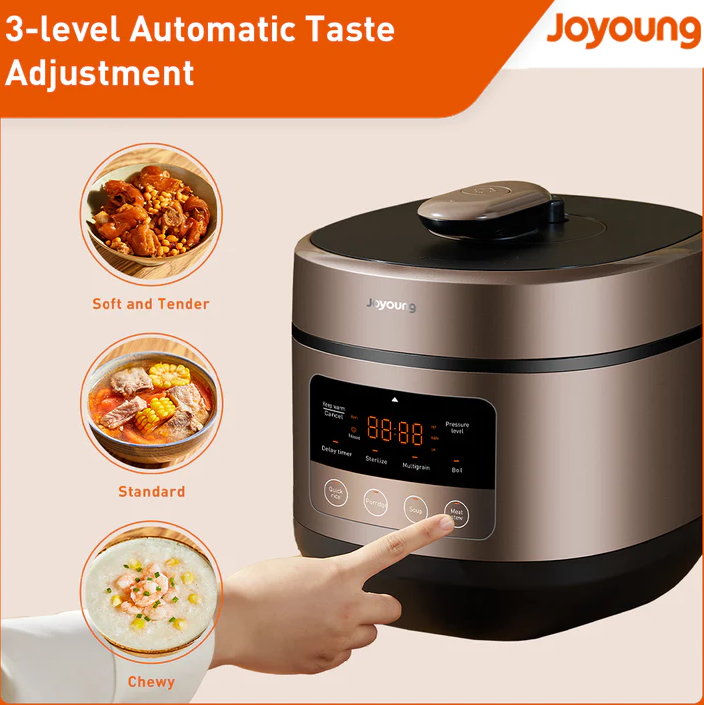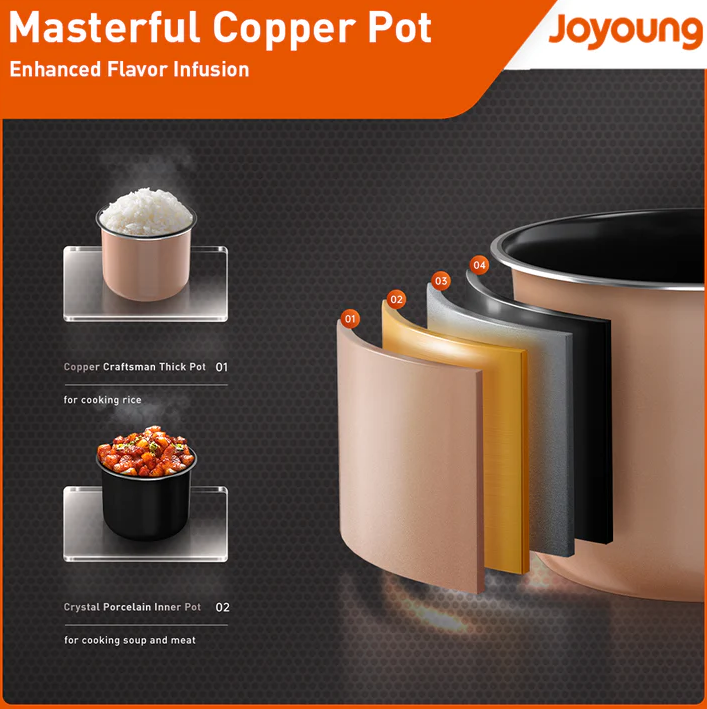 The Joyoung 5L Electric Pressure Cooker features an ingenious design that incorporates two layers of pots into one, creating a lightweight and stackable solution for convenient storage. This dual-layer design opens the door to preparing multiple dishes simultaneously, freeing up valuable time and effort. Ideal for 1-8 people, this cooker boasts a compact base and increased height, reducing the need for excessive cooking water while retaining the highest nutritional value. Enjoy the freedom to experiment with various cooking times and flavours at distinct pressure levels, all thanks to the real-time pressure display. It empowers the cook to craft culinary delights with precision and expertise.
The features that make the Joyoung 5L Electric Pressure Cooker our favourite include:
Double-layered pots for easy storage
Aluminium inner pot for efficient heat conduction
Thick porcelain outer pot for better heat retention
Non-stick cooking
Easy to clean
5L deep soup pot
6 in 1 function
3-level automatic taste adjustment
24H Smart Keep Warm Timer
Reverse exhaust for quick pressure release without scalding 
High-pressure sterilisation for effectively eliminating bacteria
Chinese-style open-lid cooking
7. La Gourmet Healthy Electric Pressure Cooker 6L with Full Accessories Set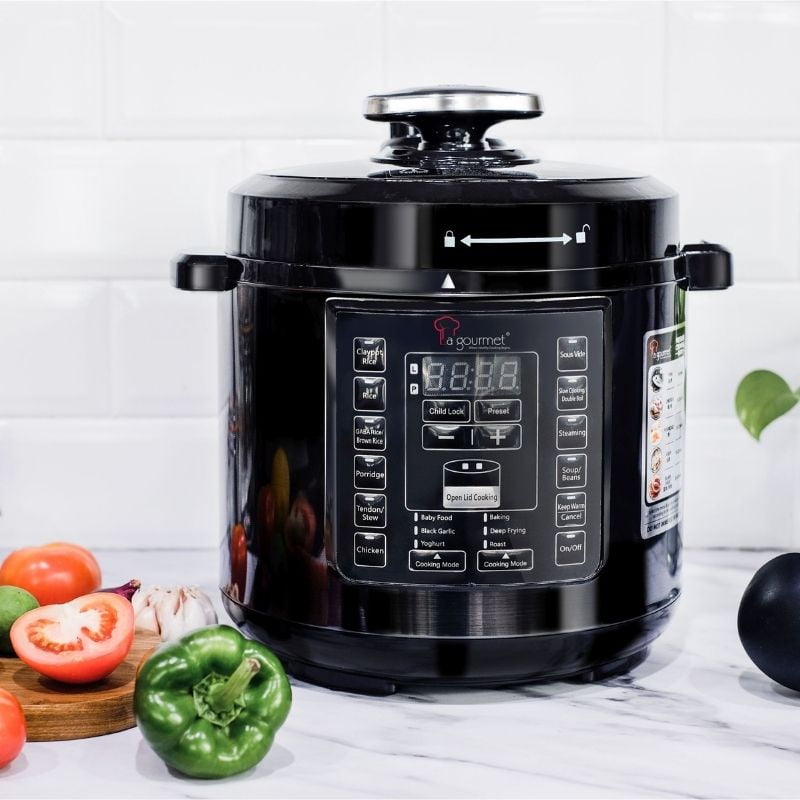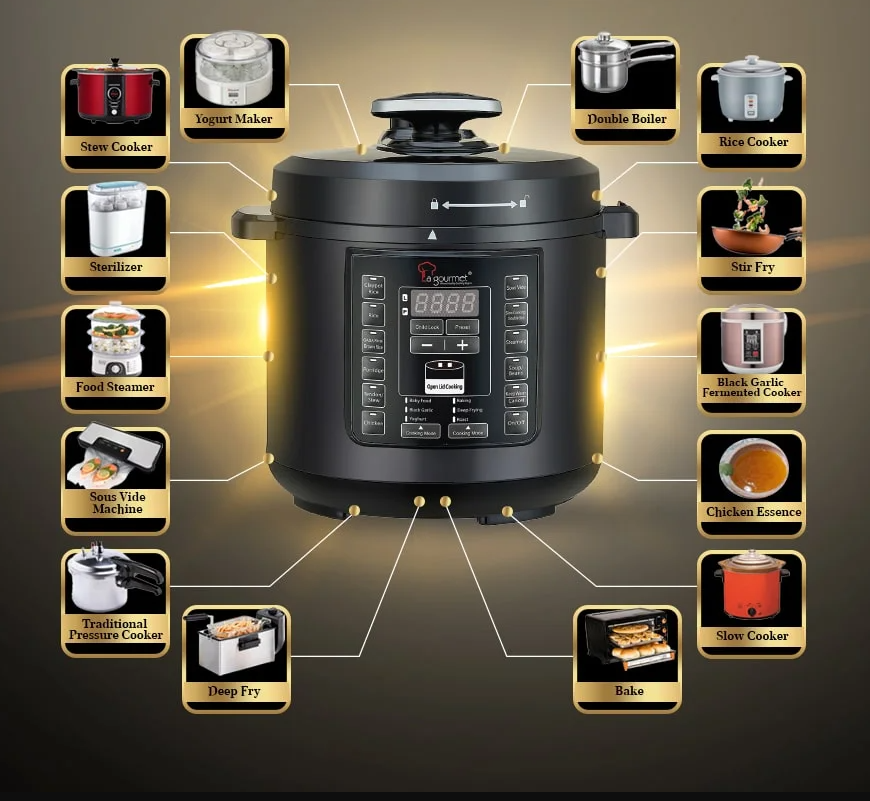 La Gourmet Healthy Electric Pressure Cooker is not just any pressure cooker; it's a culinary wizard that transforms your kitchen into a gourmet haven. Experience the magic of its 17 one-touch preset cooking programmes, including sous vide, black garlic, and Gaba Rice integration. Cook fast, cook slow, and cook perfectly with the touch of a button. Its 6L capacity means you can whip up feasts for the whole family, while the Instant pressure release button ensures safety and convenience. The 24-hour preset timer lets you schedule meals to fit your day. Above all, the lock-in-nutrient pressure-seal cooking system ensures your dishes are as healthy as they are tasty.
The following features of the La Gourmet Healthy 14-in-1 Electric Pressure Cooker make it a standout choice:
Large capacity of 6 L
14-in-1 functions
Faster cooking
One-touch pressure release button
17 one-touch cooking programmes
24-hour preset timer
Adjustable cooking times
Nonstick pot
Auto cover sensor
Lock-in-nutrient pressure-seal cooking system
Overheating protection
Cool grip handles
Easy to clean, detachable lid
Child lock
Complete accessories set
8. WMF Perfect Premium Pressure Cooker Stainless Steel 6.5L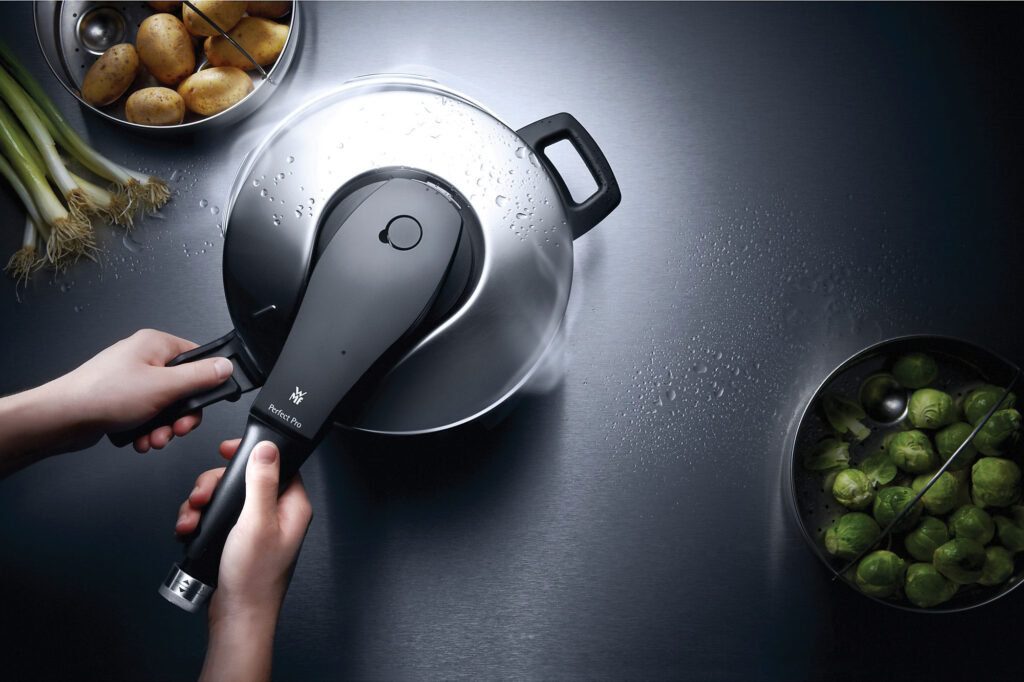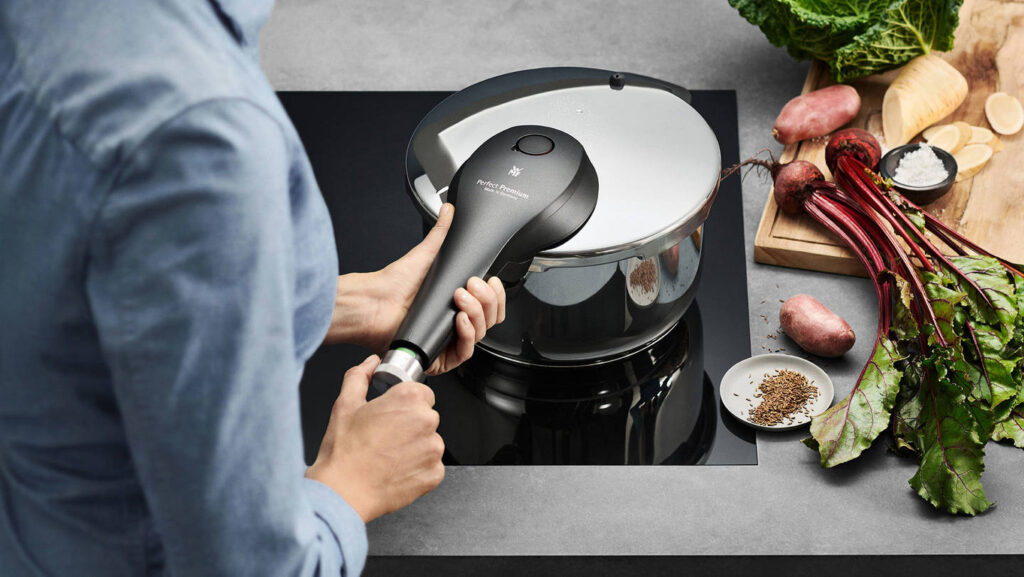 Cook smarter, not harder, with the WMF Perfect Premium Pressure Cooker. It has an all-in-one control knob that simplifies operation. The cooker's intuitive cooking indicator, featuring two cooking levels, guarantees delicious results whether you're preparing vegetables, meat, fish, or more. With Perfect Premium, you can explore endless recipes, from soups and stews to fried and stewed meats, steamed or stewed vegetables, fish, poultry, grains, and legumes. This pressure cooker boasts a seven-level safety system for your protection. Moreover, it has a one-click removable handle and a dishwasher-safe pot and lid for effortless cleaning. It even includes a practical inner scale.
Exhibiting the features below, the Perfect Premium is the must-have pressure cooker for every kitchen:
All-in-one control knob
Cooking indicator
Seven-level safety system
2 cooking programmes
Extra-soft steam release function
Easy cleaning
TransTherm® universal base
Compatible with all stovetops, including induction
Cromargan® lid and pot: stainless steel 18/10, for exceptional durability
6.5 L capacity
9. Midea MY-CS6037P 6L Inner Chef Pressure Cooker


The next cooker on our list is the Midea MY-CS6037P 6L Inner Chef Pressure Cooker. Operating at an adequate 60 kPa pressure, it's a kitchen marvel designed to simplify your cooking routine and unleash your inner chef. With 12 pre-programmed functions accessible at the touch of a button, you have endless culinary options to choose from. From high-pressure quick cooking to DIY manual settings, this cooker is perfect for everything. It also offers a 24-hour pre-set timer, enabling you to plan meals in advance. Plus, its customisable features empower you to create personalised recipes with ease.
Listed below are the specifications of the Midea MY-CS6037P 6L Inner Chef Pressure Cooker:
Multi-functional
6 L capacity
1 touch kick-start 12 programmes
24-hour pre-set timer
High-pressure quick cook
DIY manual setting
Customised digital recipes
9 safety features
10. PowerPac Pressure Cooker Electric 6L (PPC611)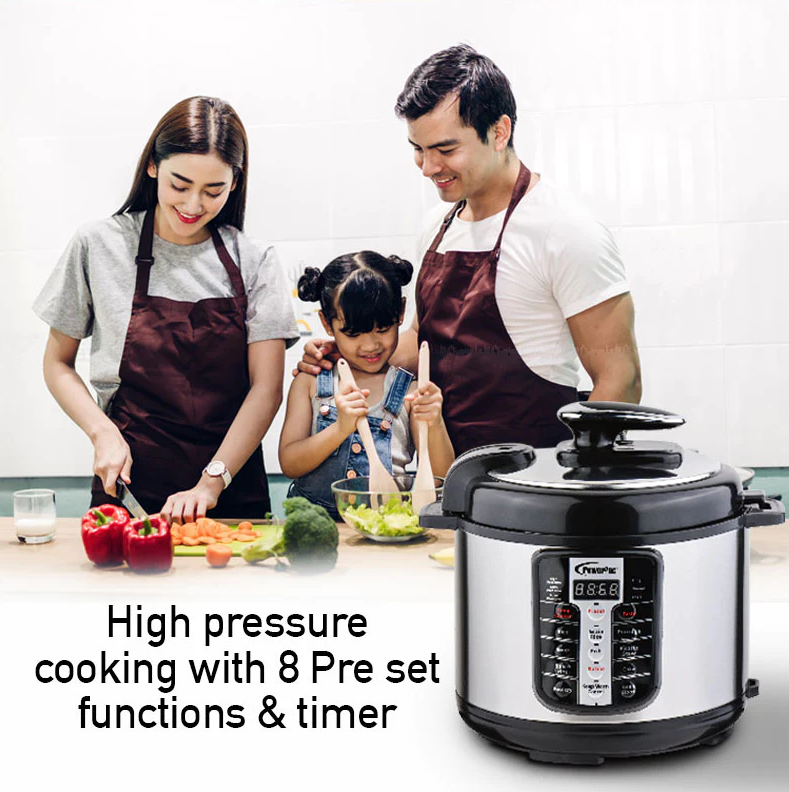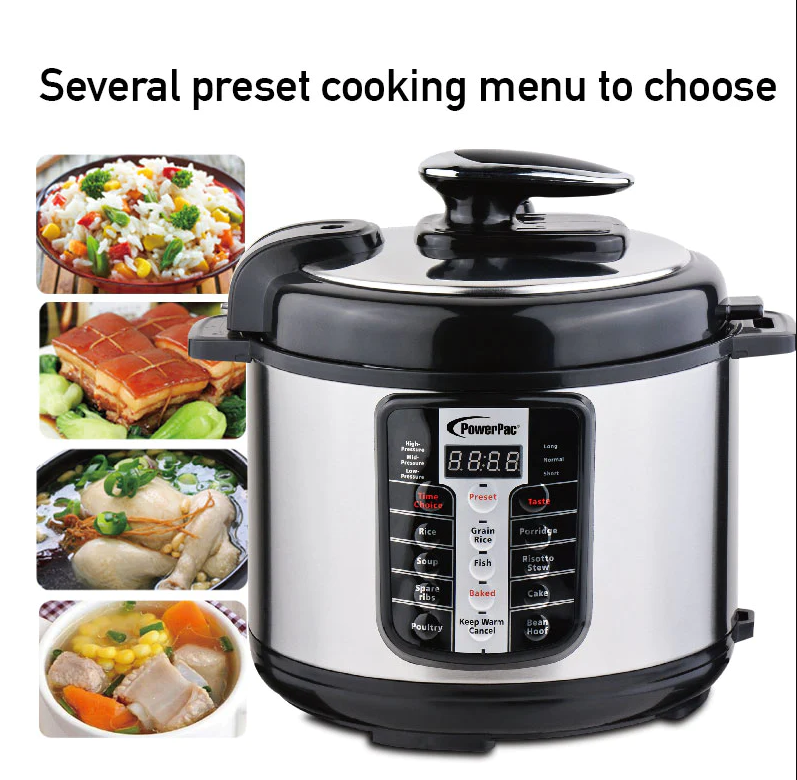 The PowerPac 6L Digital Pressure Cooker PPC611 is your kitchen companion for easy, precise, and hygienic cooking. This speedy pressure cooker frees up your time for creative recipes like cakes and biscuits. It not only accelerates cooking but also promotes healthier, tastier meals while conserving energy. Safety is a top priority with its heat-resistant, rubberised handle and automatic pressure adjustment.
Benefit from the convenience of auto Keep Warm and pre-set timers, all within a non-stick steel inner pot that's a breeze to clean. With its spacious capacity and user-friendly digital display, your cooking possibilities are endless. Rest assured, it's equipped with numerous safety features, such as anti-block, pressure control, and temperature control, ensuring your and your family's safety.
Cook confidently with the following features of the PowerPac PPC611:
Heat-resistant rubberised handle
Automatic pressure adjustment
Auto Keep Warm function
Pre-set timers
Non-stick steel inner pot
Large 6 L capacity
User-friendly digital display
Multiple safety features
Conclusion: Best Pressure Cooker in Singapore
We've meticulously researched and selected a range of top-quality pressure cookers, each with its own unique set of features to cater to different cooking preferences. From the Tefal Home Chef Smart Electric Pressure and Multicooker with its 15 pre-set programmes to the PowerPac Digital Pressure Cooker PPC611 with its multiple safety features, there's a pressure cooker on our list to suit every need. So say goodbye to long cooking times and hello to a new era of culinary convenience. With these pressure cookers by your side, you'll be whipping up mouthwatering dishes in no time!