In the bustling landscape of modern work, where productivity and well-being intertwine, the search for the ideal workspace companion becomes paramount. Enter the realm of standing desks – a fusion of innovation, comfort, and health-conscious design. In the heart of Singapore's dynamic market, the quest for the "Best Standing Desk in Singapore" unveils a world where ergonomics meets elegance in unprecedented ways.
Elevating your work experience to new heights, these remarkable desks go beyond conventional office furniture. They effortlessly harmonise with your workspace, enhancing both style and functionality. But it's not just about aesthetics – these desks are meticulously crafted to promote well-being, offering a healthier alternative to sedentary routines.
Features of a Good Standing Desk
A good standing desk should have the following features:
Adjustable Height Precision: A reliable standing desk should offer seamless height adjustment, allowing you to effortlessly switch between sitting and standing positions. This promotes optimal posture and comfort throughout your workday.
Sturdy Construction: A robust and stable frame ensures that your workspace remains secure even when transitioning between positions. Look for desks built from high-quality materials that guarantee durability over time.
Ergonomic Design: A well-designed standing desk should prioritise ergonomics, offering features like keyboard trays at the right height, cable management solutions, and spacious work surfaces that accommodate various tasks comfortably.
Smooth Transition Mechanism: The transition between sitting and standing modes should be smooth and noise-free. A quality standing desk incorporates a reliable lifting mechanism, reducing disruptions to your workflow.
Customisable Settings: The ability to save preferred height settings and recall them at a touch adds convenience to your daily routine. Customisable memory presets allow for effortless adjustments tailored to your individual needs.
Our Selection of 9 Best Standing Desks in Singapore
Join us on a journey to explore the finest standing desks in Singapore, where cutting-edge technology converges with timeless design, revolutionising the way we work, one desk at a time.
1. Omnidesk Essential Height-Adjustable Desk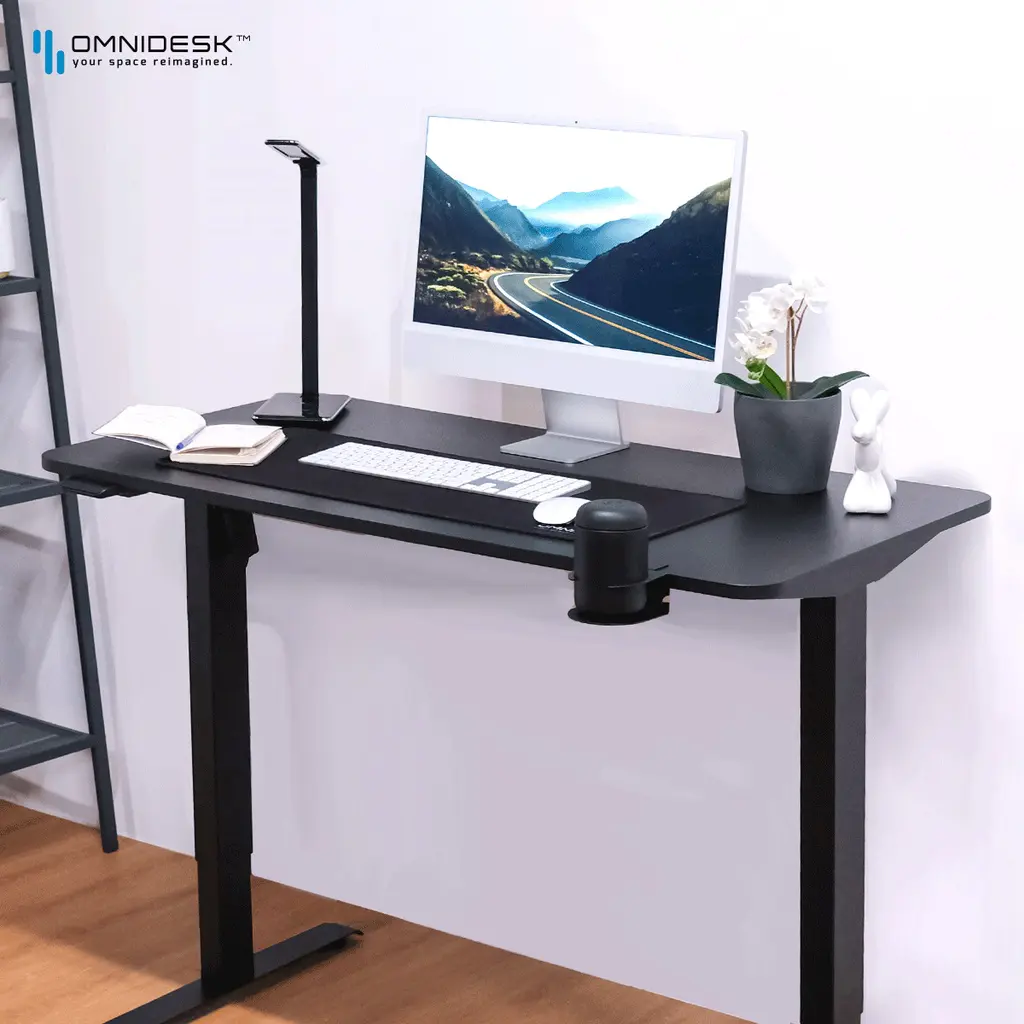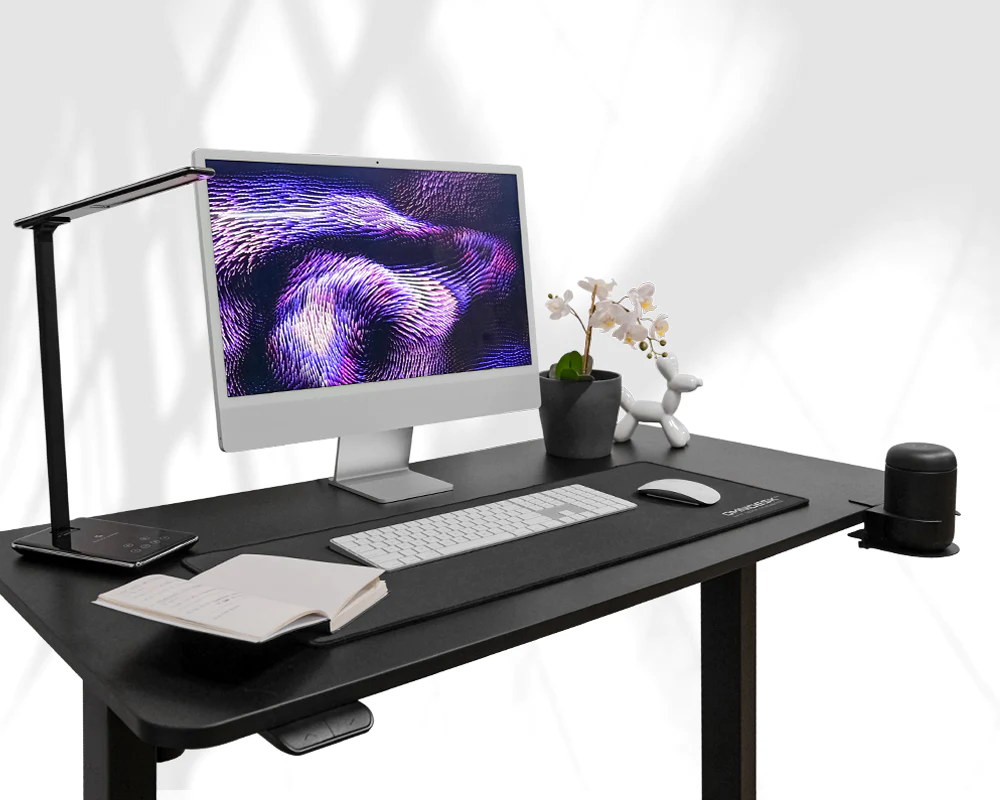 Omnidesk Essential Height-Adjustable Desk is a pinnacle of functionality and style for your workspace. Crafted with precision, its steel-forged centralised leg columns ensure unwavering stability, eliminating wobbling for an uninterrupted workflow. The desk's robust build, capable of supporting up to 70kg, embodies durability that withstands the rigours of daily use. A testament to practicality, the Omnidesk Essential boasts a scratch-resistant and spill-safe surface, built to withstand the demands of your daily grind. Its thoughtful design extends to rounded edges, safeguarding against minor impacts and making it child-friendly.
Embrace an ergonomic haven as this desk seamlessly integrates with the Omnidesk Ecosystem, allowing you to personalise your workspace with an array of accessories. With a height range of 720mm to 1200mm, find your ideal ergonomic sweet spot effortlessly. Elevate your workspace with the Omnidesk Essential, where strength, elegance, and adaptability converge.
Here are the highlights of the Omnidesk Essential Height-Adjustable Desk's amazing features:
Strong & Stable
Scratch-Resistant
Child-Proofed
All-Rounded Ergonomics
Maximum Load 70kg
Height Range 720mm-1200mm
2. TTRacing Titus Ergonomic Smart Standing Desk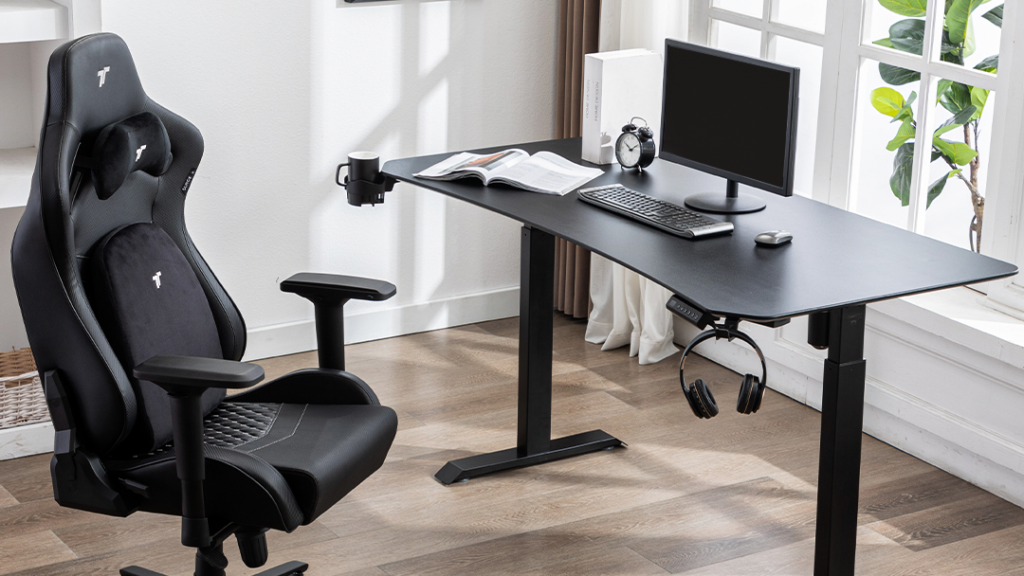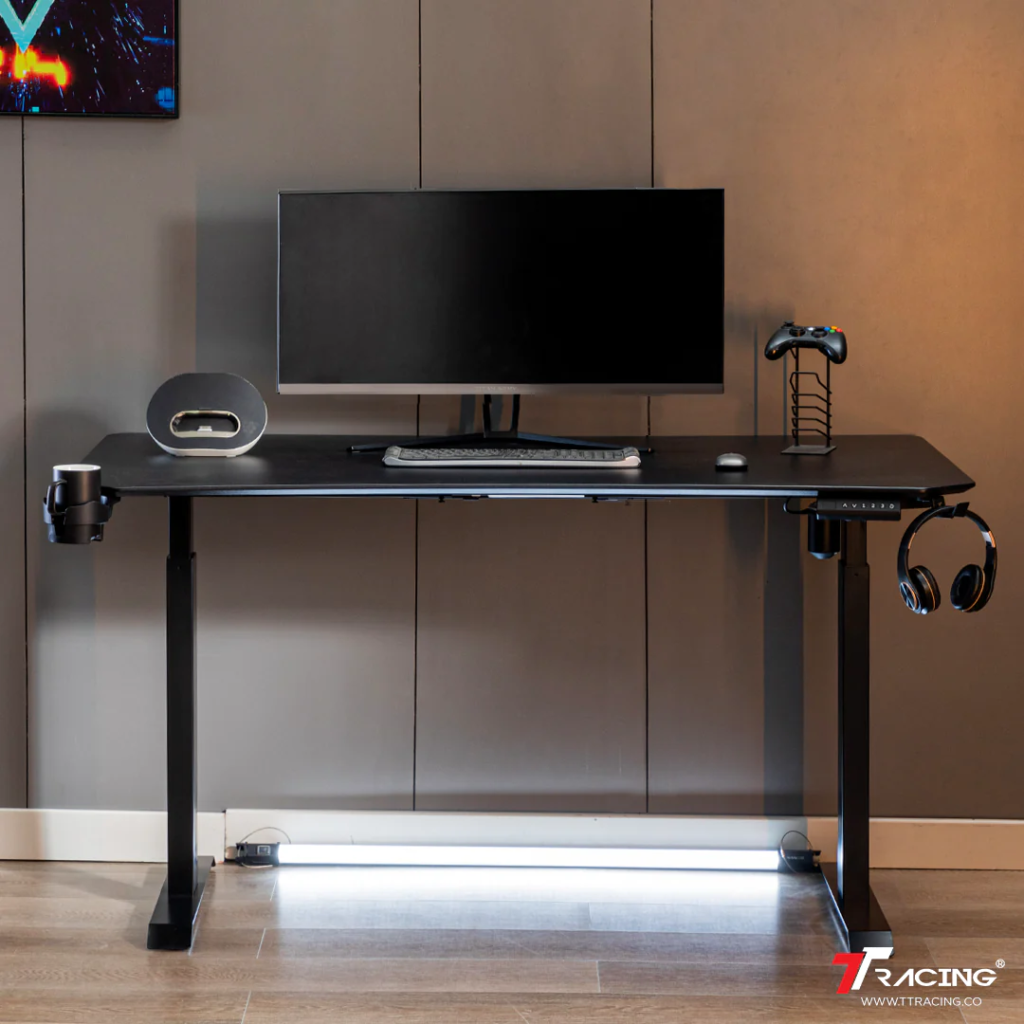 Experience the epitome of workspace innovation with the TTRacing Titus Ergonomic Smart Standing Desk. Designed for enduring performance, the Titus Smart Desk meets BIFMA safety standards, ensuring a reliable and secure workspace solution. Its ergonomically curved matte powder-coated tabletop, paired with an industrial-grade steel frame supporting up to 80kg, signifies a harmonious blend of resilience and elegance. Crafted for longevity, the sleek matte powder-coated finish safeguards against scratches and spills, guaranteeing enduring quality.
With an impressively spacious tabletop, available in various sizes, this desk redefines workspace freedom. Seamlessly adjustable, its electric height adjustment system caters to your preferred sit-to-stand positions. Stay active with built-in reminders, and enjoy ergonomic comfort with cut-in edges and pre-set height memory presets. Enhance your efficiency further with optional cable management. Discover a new era of workspace adaptability and elegance with the Titus Smart Desk.
Here are the highlights of the TTRacing Titus Ergonomic Smart Standing Desk's amazing features:
Long-lasting Performance
Scratch-Resistant Surface
Industrial-Grade Steel Frame
Spacious Table Top
Electric Height Adjustment
Stay Active Reminders
Ergonomic Contour Design
Memory Presets
Retractable Holders
Cable Management (Optional)
3. Flujo SmartTrax Ergonomic Standing Desk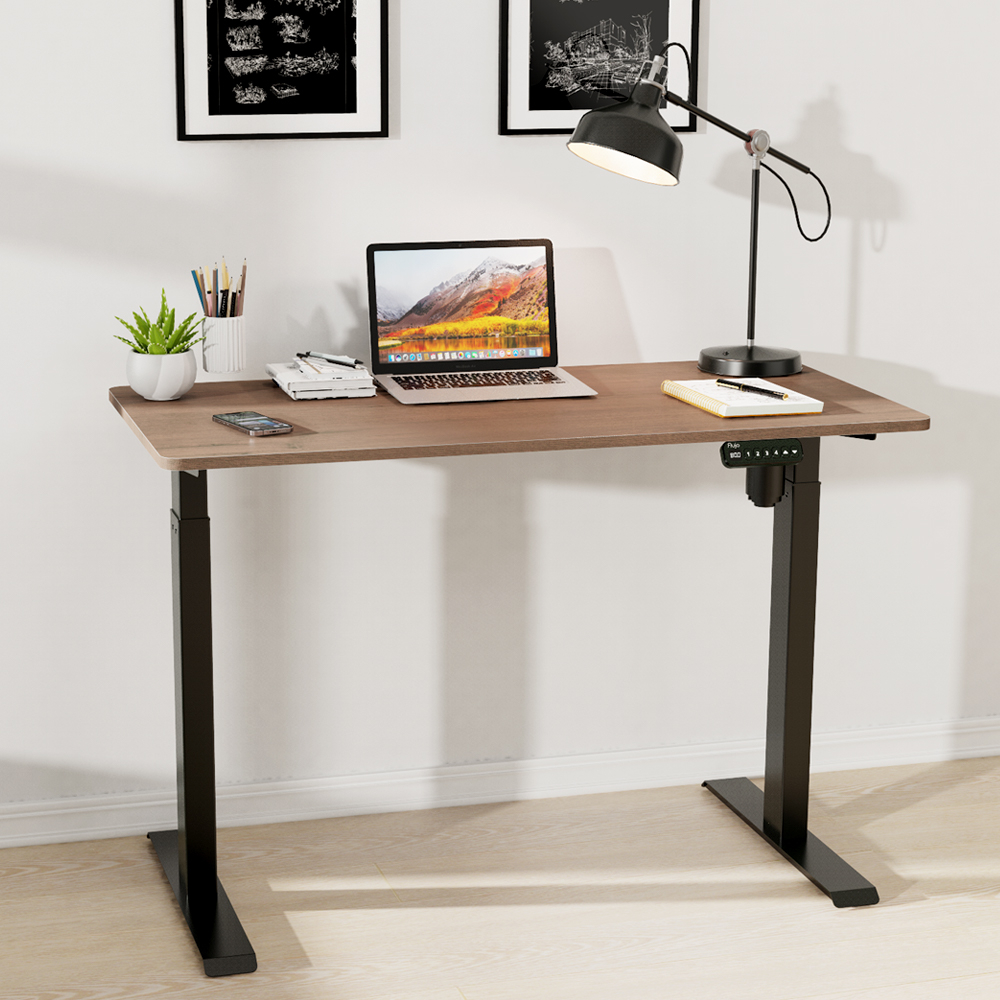 Equipped with an intuitive Smart Control system, this desk offers 4 Programmable Preset Memories for personalised comfort. The Digital OLED Screen displays precise height measurements within the adjustable range of 73cm to 122cm. Crafted for both style and substance, the desk frame, made from durable iron, extends from 90cm to 135cm to accommodate various tabletop sizes. With a remarkable max load capacity of 80kgs, it ensures stability and resilience for your workspace essentials. The Top Grade MDF Board table top features a natural wood grain texture, creating an elegant and eco-friendly workspace environment.
Safety is paramount with Anti-Collision Technology, automatically preventing collisions. The single motor operation, coupled with an adjustable control panel, streamlines usability. Say goodbye to distractions with the Anti-wobble structure, guaranteeing a focused work experience. Elevate your work routine with the Flujo SmartTrax, where innovation and ergonomic excellence converge.
Here are the highlights of the Flujo SmartTrax Ergonomic Standing Desk's amazing features:
Smart Control with Presets
Digital OLED Display
Adjustable Height Range
Extendable Frame Design
Max Load 80kg
Premium MDF Table Top
Natural Wood Texture
Anti-Collision Technology
Single Motor Operation
Anti-Wobble Structure
4. Squirrey Electric Height Adjustable Desk Advanced Version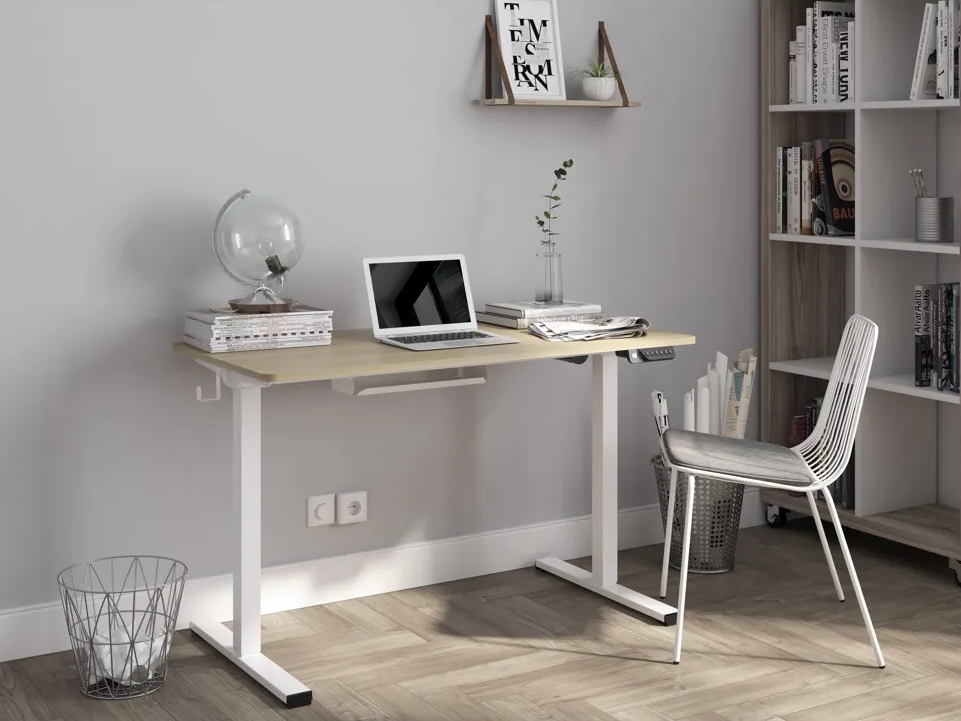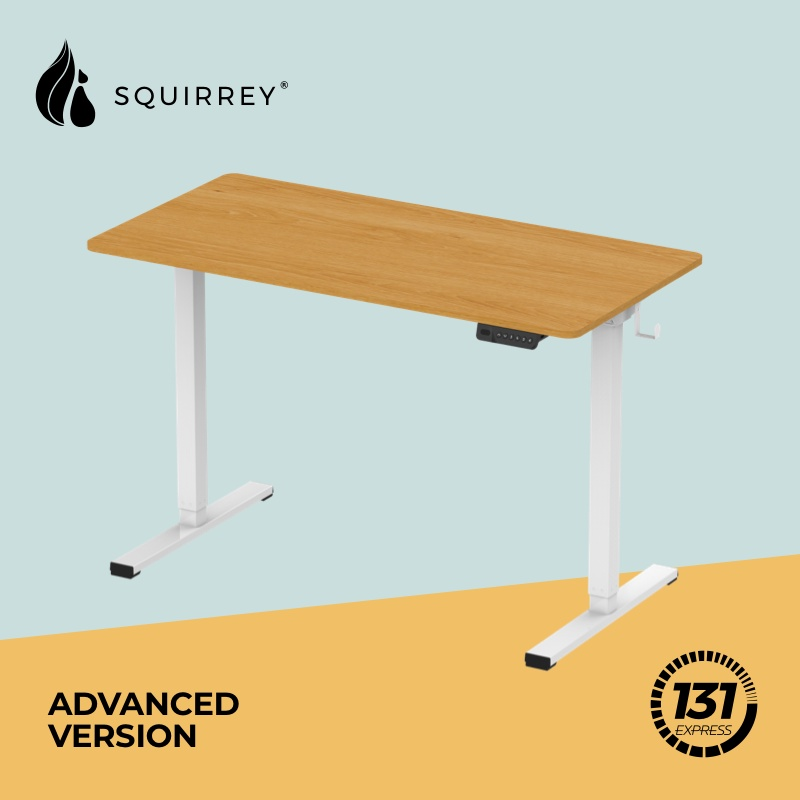 Discover the Squirrey Electric Height Adjustable Desk Advanced Version, a testament to the perfect blend of innovation and functionality. Seamlessly switch between sitting and standing modes with this ergonomic workstation, promoting comfort and productivity. With a spacious 120 x 60cm tabletop, enjoy an expansive workspace that accommodates your needs. Experience effortless customisation with the 730-1210mm height adjustment range, equipped with 4 Memory Positions for quick transitions.
The desk offers a minimalist design that saves space while enhancing aesthetics. Boasting a sturdy load capacity of up to 50kg, it assures durability and reliability. Powered by single-motor technology, the desk operates with whisper-quiet precision. The Anti-Collision System guarantees added safety, while the multifunctional hook and cable management keep your workspace organised. Enjoy stable and smooth lifting, and experience a hassle-free setup with the provided English handbook.
Here are the highlights of the Squirrey Electric Height Adjustable Desk Advanced Version's amazing features:
Ergonomic Workstation
Spacious Tabletop
4 Memory Positions
Multifunctional Hook
Minimalist Design
Strong & Durable
Single Motor Technology
Anti-Collision System
Quick Installation
5. Xiaomi Mi Desk Electric Height Adjustable Desk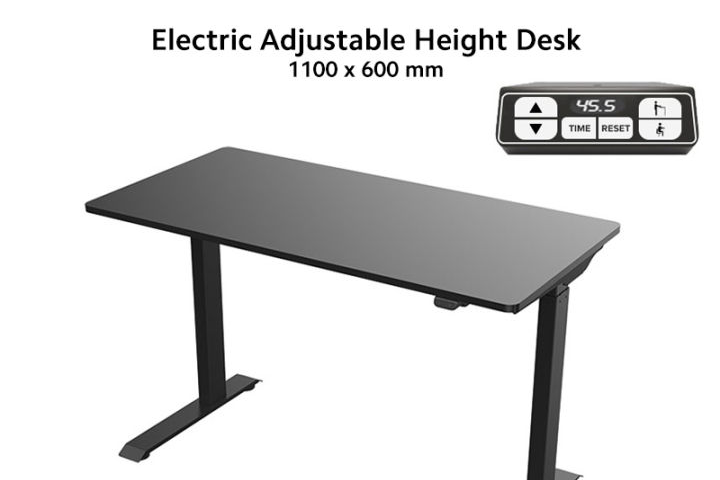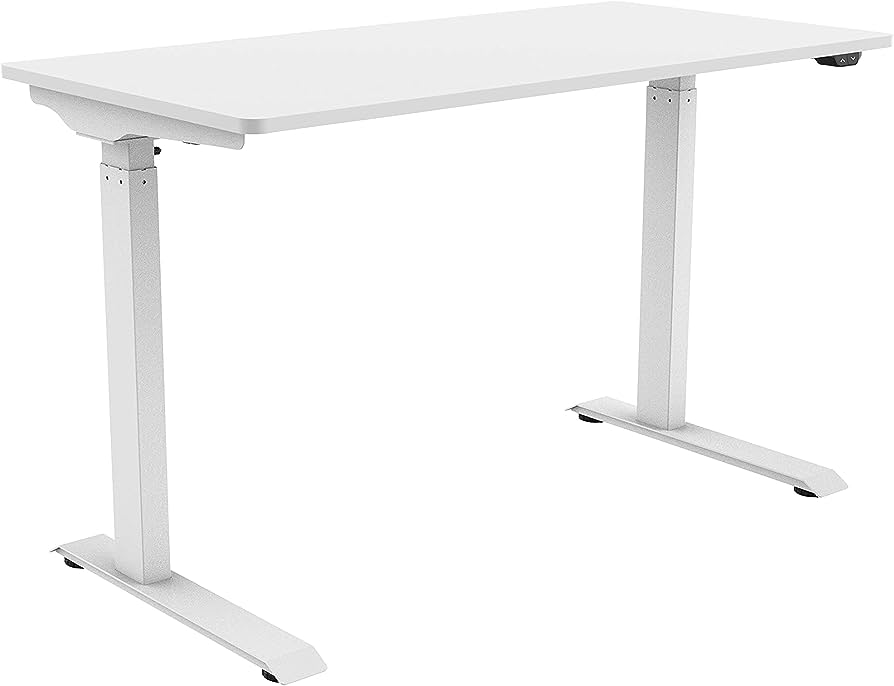 Xiaomi Mi Desk Electric Height Adjustable Desk is a pinnacle of convenience and sophistication. Crafted with a 2-stage column design, this desk allows seamless height adjustments within the range of 730 to 1190 mm. The spacious 1100 x 600 mm tabletop provides ample workspace, while the sleek Black or Wood colour options blend seamlessly with your environment.
Experience smooth transitions with a lifting speed of 25 mm/s, all while operating at a noise level under 50 dB. Designed for durability, the desk boasts a loading capacity of 50 kg, and its powder-coated surface ensures a refined finish. With a universal power range of 100V to 240V, along with low power consumption, it aligns with your energy-conscious preferences.
Here are the highlights of the Xiaomi Mi Desk Electric Height Adjustable Desk's amazing features:
2-Stage Column Design
Height Range: 730-1190mm
Spacious Tabletop: 1100x600mm
Black/Wood Colour Options
Speed: 25 mm/s
Low Noise: < 50 dB
Loading Capacity: 50 kg
Universal Power Range
Low Consumption
Powder-Coated Surface
6. EverDesk Max Standing Desk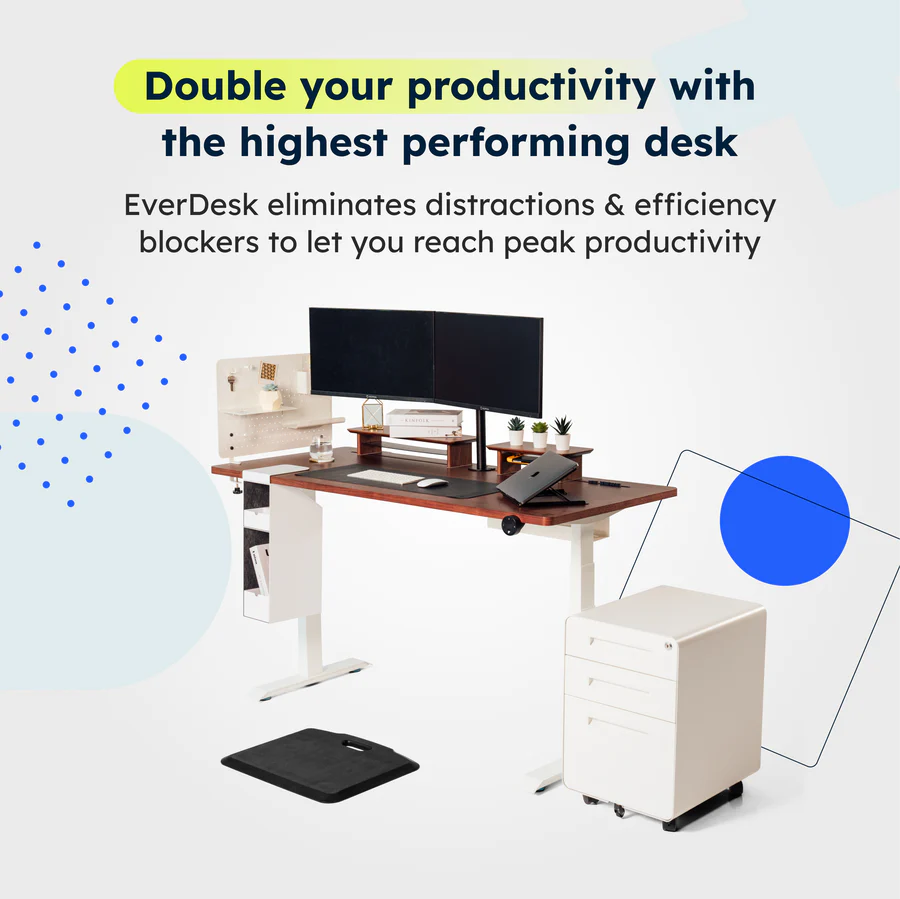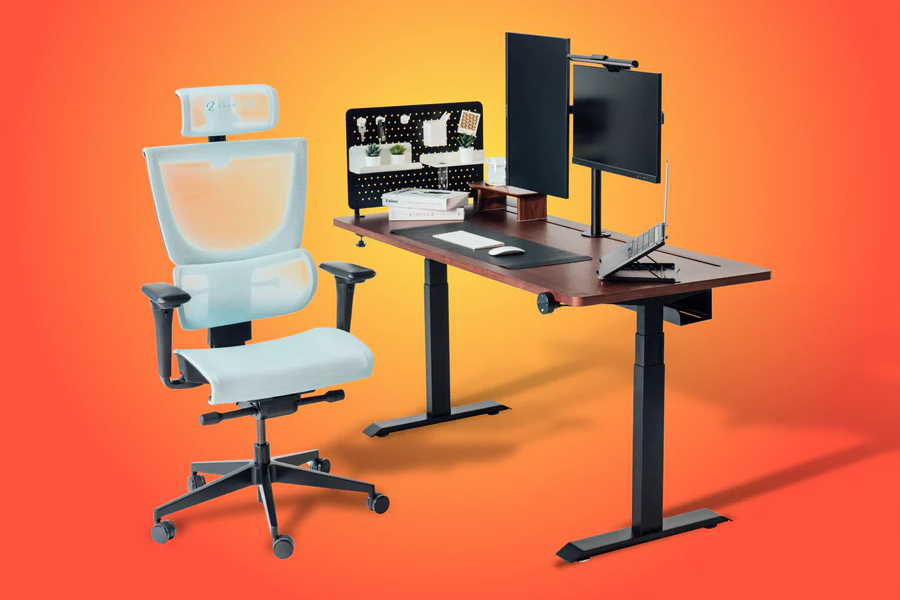 EverDesk Max Standing Desk is your pathway to unparalleled productivity and ergonomic excellence. This innovative desk empowers you to reach peak performance by eliminating distractions and inefficiencies, paving the way for a seamless work experience. Embrace a holistic approach to productivity with the perfect pairing of the EverDesk standing desk and an ErgoTune ergonomic chair. The EverDesk Max redefines convenience with its one-touch adjustment and 3 height presets. Engage with the Health Coach™ Controller for personalised sit-stand alerts that encourage an active work routine.
Benefit from the UniGroove™ tabletop organiser, efficiently managing cables and storing devices. Experience unwavering stability with the TriTier Frame Advantage and its anti-collision system. The extended height range and Dual Motor System adapt to your body's needs, ensuring focus and comfort. With quiet operation, rapid transitions, and robust endurance, the EverDesk Max Standing Desk promises an elevated work journey like no other.
Here are the highlights of the EverDesk Max Standing Desk's amazing features:
Double Productivity
Distraction-Free Efficiency
Ergonomic Work Setup
One-Touch Adjustment
Health Coach™ Controller
Smart Sit-Stand Reminders
UniGroove™ Organiser
TriTier Frame Stability
Anti-Collision Safety
Extended Height Range
Dual Motor System
Quiet Operation
Rapid Transitions
Robust Endurance
7. Flight Pro Standing Desk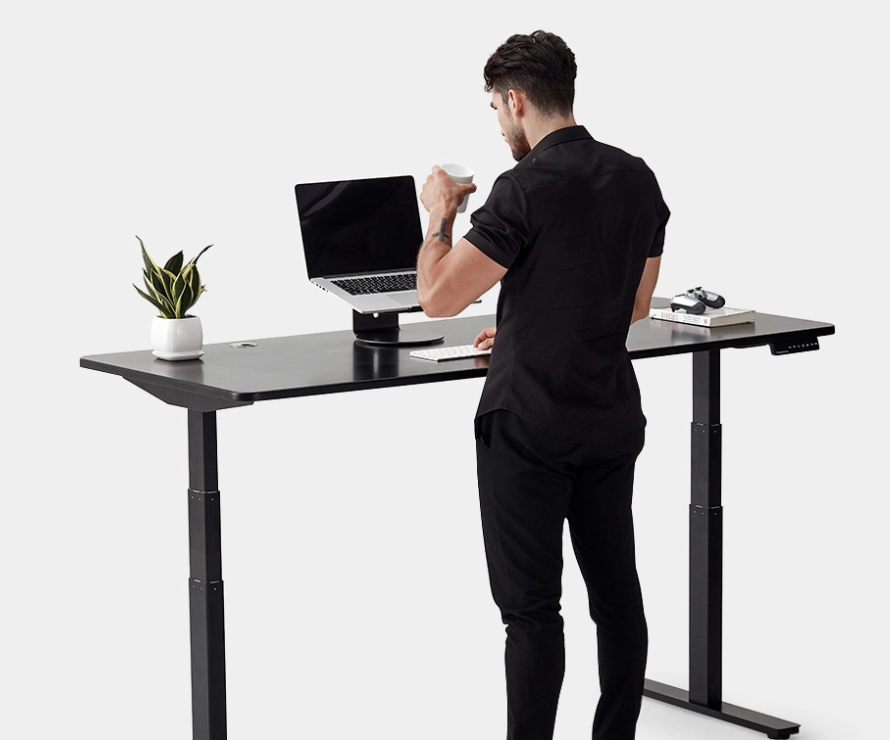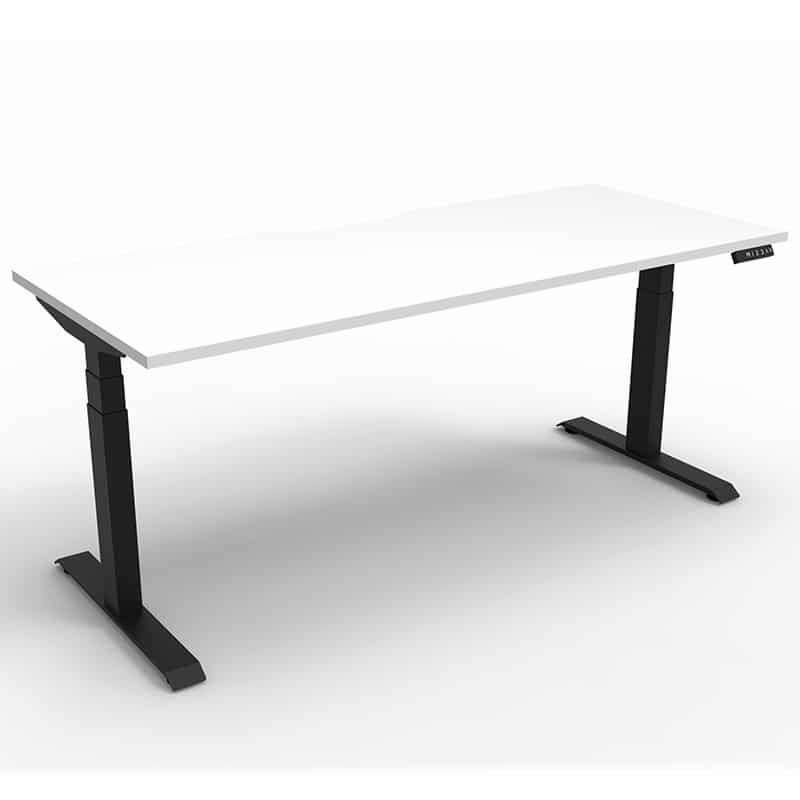 Flight Pro Standing Desk is meticulously designed to elevate your workspace experience. Safety takes centre stage with the anti-collision function, ensuring seamless adjustments. This desk seamlessly integrates TiMotion's premium components, enhancing quiet motor performance and memory display with sleep mode for optimal usability. TiMotion, renowned for its quality, contributes its expertise in the control box, motor, and controller.
Our commitment to excellence is evident in the eco-friendly 25mm thick table tops, resistant to scratches and water. Reinforced with 1mm thick edging, your desk stays protected against minor impacts. Rounded corners eliminate sharp edges, reflecting our dedication to comfort and safety. Stability is paramount, achieved through a 650mm long slope inclined footplate. Elevate your workspace with the Flight Pro Standing Desk – where innovation meets ergonomic integrity.
Here are the highlights of the Flight Pro Standing Desk's amazing features:
Anti-Collision Function
TiMotion Integration
Premium Components
25mm Thick Table Tops
Scratch & Water Resistant
Protective Edging
Rounded Corners
Enhanced Stability
8. Visionwipe Standing Desk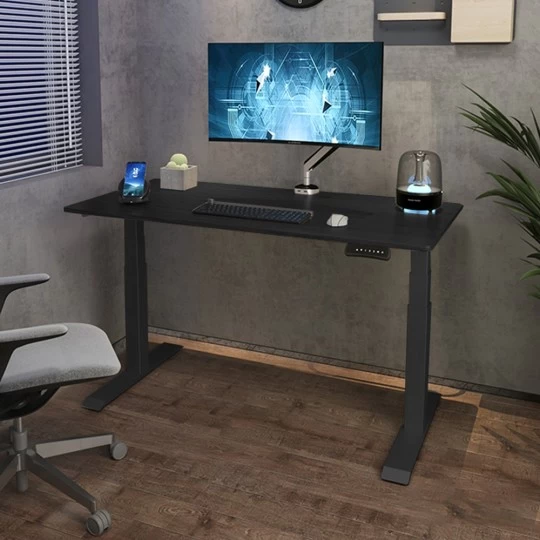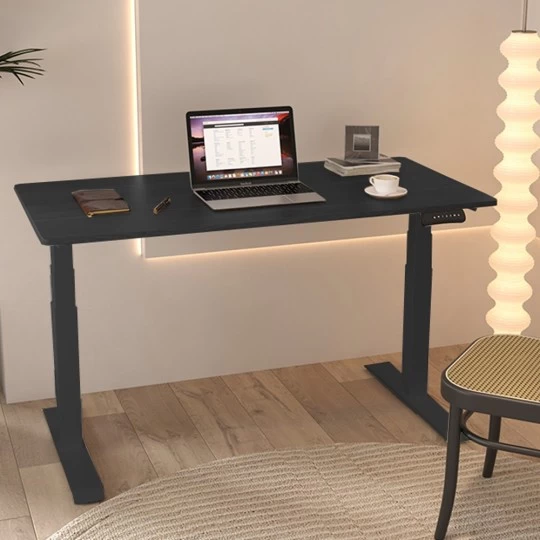 Visionwipe Standing Desk is an embodiment of innovation and convenience. Powered by a single motor, this desk excels with quiet operation, producing noise levels of less than 50 dB. Enjoy the efficiency of cable management with provided 3M Cable ties, ensuring a clutter-free workspace. Tailor your experience effortlessly with 4 memory settings, an LED display, and an Anti-Collision System. The desk's rapid lifting speed of 25mm/s and impressive load-bearing capacity of 70kg enhances its versatility.
Compatible with a wide range of power outlets (100-240v), its standby power consumption is impressively low, less than 0.5w. Designed for seamless functionality, the Visionwipe Standing Desk combines precision and performance, all backed by a power cord length of 3.1m.
Here are the highlights of the Visionwipe Standing Desk's amazing features:
Single Motor
Low Standby Power
Quiet Operation
Cable Management
Memory Settings
LED Display
Anti-Collision System
Rapid Lifting Speed
High Load Bearing
Wide Voltage Range
9. Orthodesk Modern Standing Desk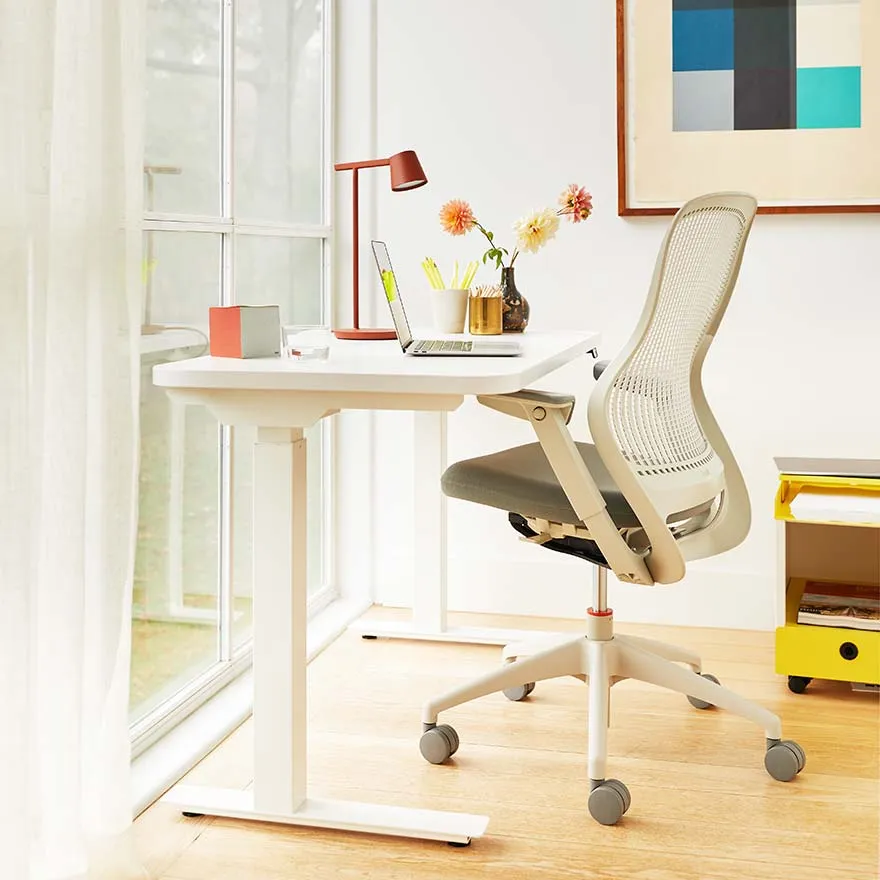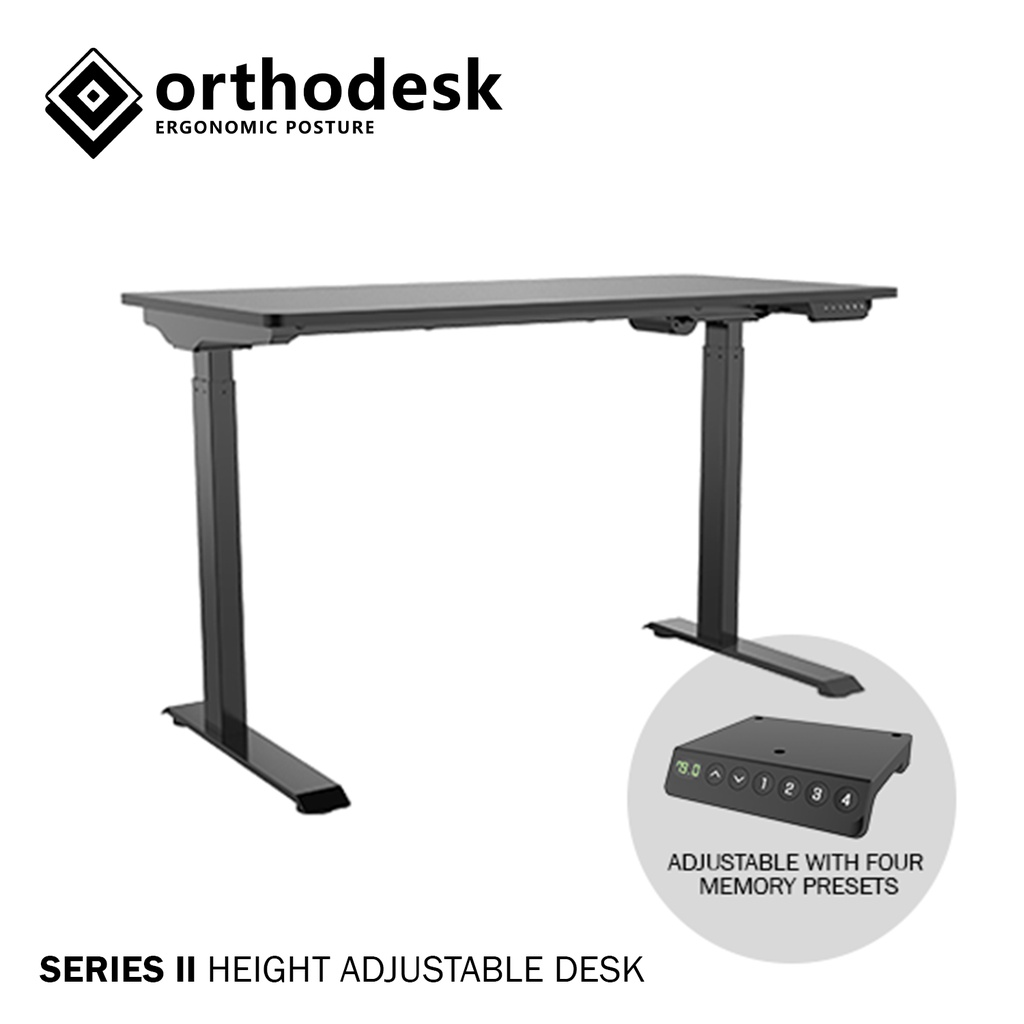 Experience the epitome of modern workspace innovation with the Orthodesk Modern Standing Desk. Unveiling a new era of convenience, it features an integrated control pad and control box, offering seamless control at your fingertips. Assembling effortlessly in under 5 minutes, its pre-assembled design ensures a swift setup. Powered by single-motor technology, this desk blends power with precision for smooth height adjustments. Four programmable memory presets enhance personalisation, while the advanced anti-collision feature ensures safety.
The desk's integration of desktop and lifting columns simplifies installation and transportation, emphasising efficiency. With a 50KG max load capacity and a rapid speed of 25mm/s, it guarantees durability and responsiveness. Emitting less than 50dB, its operation is whisper-quiet. Explore the versatile height range of 730 – 1230mm on the spacious 1200mm x 600mm x 18mm tabletop.
Here are the highlights of the Orthodesk Modern Standing Desk's amazing features:
Integrated Control Pad
Swift Assembly
Smooth Height Adjustments
Programmable Memory Presets
Advanced Anti-Collision
All-in-One Packaging
High Load Capacity
Rapid Speed
Whisper-Quiet Operation
Versatile Height Range
Spacious Tabletop
Conclusion
In the dynamic landscape of modern work, the quest for the perfect workspace companion has never been more vital. The exploration of the "Best Standing Desk in Singapore" has led us to a realm where innovation, comfort, and productivity intersect harmoniously. As we conclude our journey through the top-tier options available, one truth becomes evident: the standing desk is not merely a piece of furniture, but a transformative tool that enhances both work and well-being.
From sleek designs to ergonomic excellence, these desks embody the essence of productivity. They stand as a testament to the evolving nature of work, adapting to our needs while keeping health at the forefront. As we bid farewell, remember that the right standing desk can elevate your workspace, fostering an environment where productivity, comfort, and vitality thrive hand in hand.