Are you seeking a seating solution for your living room that offers the perfect balance of comfort and style? Do you want to elevate the ambiance of your living room and add a touch of elegance to your space? Then, look no further than a luxurious sofa. Not only does a sofa enhance the aesthetic appeal of your space, but it also offers comfort that is unmatched by any other piece of furniture. And when visitors enter your home, the first thing that catches their attention is that big sofa in your living room. It is the perfect investment to bring your space to life.
But where can you find the perfect sofa to complement your Singaporean home? Fear not, for we have scoured the market to bring you the best selection of sofas in Singapore. In this blog, we will take you on a journey through the different styles of sofas available, highlighting their unique features and explaining how each can perfectly suit your living room. Whether you're looking to snuggle up with your partner or impress your guests, this guide has it all. So, let's dive right in!
How to Choose the Perfect Sofa For Your Home
Prior to purchasing a sofa for your home, it's essential to be aware of certain features that are imperative to ensuring the ideal fit. The following are some of them:
Durable Upholstery: A good sofa should be crafted using the highest quality upholstery. Its padding, springs, and webbing must be durable to withstand wear and tear during daily use. Its fabric cover shouldn't easily tear off and the leather cover shouldn't peel off.
Solid Frame: A well-constructed sofa frame not only provides structural integrity but also contributes to the longevity of the piece. The frame should be able to withstand the wear and tear of daily use. Any movement or weight applied to it should not cause any creaking or instability. Some of the most durable sofa frames are made of hardwood or metal.
Comfortable: Comfort should be your top priority when choosing a sofa. Take into account the depth of the seat, the backrest height, the firmness of the cushions, and the reclining ability to ensure maximum relaxation. And don't forget about practicality – make sure it's easy to get in and out of, too!
Stain-resistant: The best sofas, especially those with leather covers, are designed to be stain-resistant. The tanning process employed during their manufacturing imbues them with the ability to resist different types of stains.
Color and Style: While buying a sofa, you must consider the color of the walls and curtains, and the overall style of your living room. Maybe you want to choose a neutral color with a sleek design that will look good with every room's decor. Or you may go for a bold statement with a bright color or patterned fabric.
Our Top 8 Picks for the Best Sofas In Singapore
Now that you are familiar with how to select the perfect sofa, it is time to discuss the sofas that are worth purchasing. The following are our top picks for the best sofas in Singapore: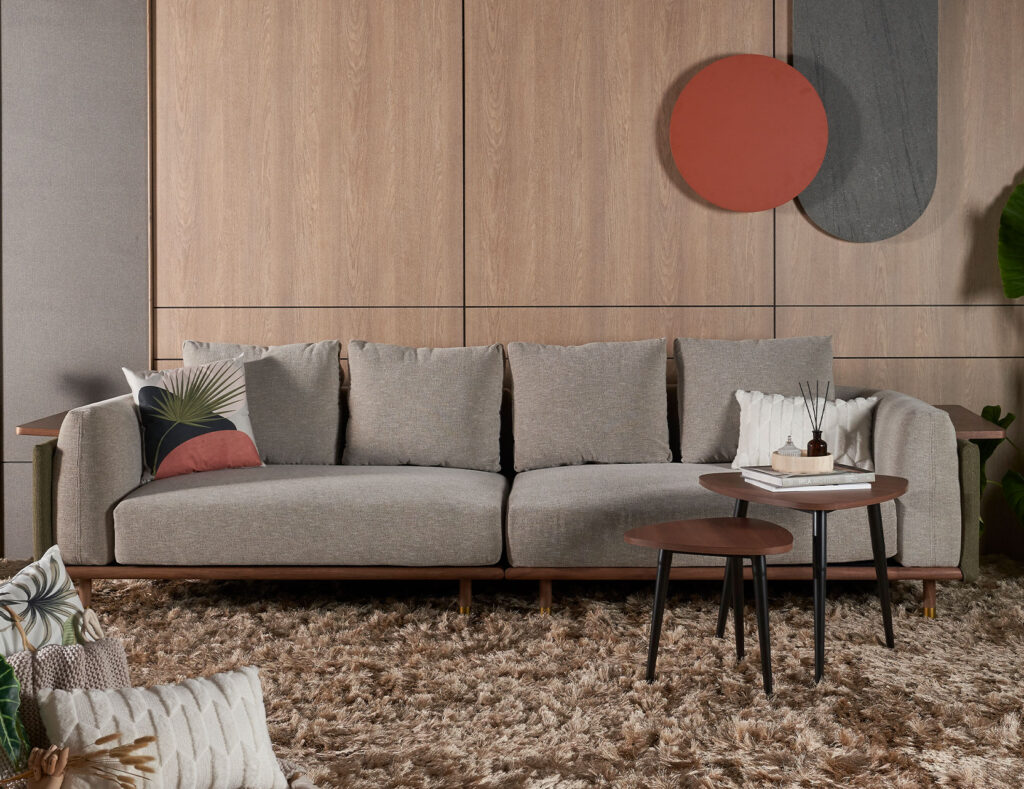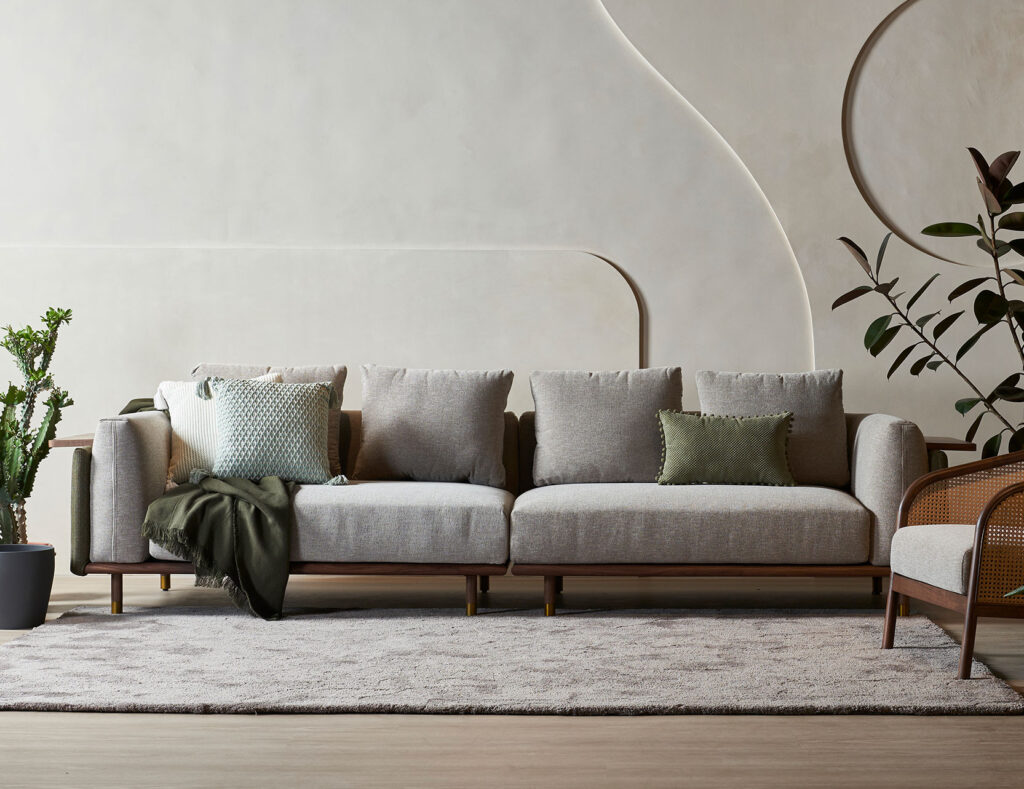 Cellini's collection of sofas boasts a range of models to suit your unique preferences. From motorized recliners to L-shapes, their designs offer not only comfort but also practicality with built-in storage solutions. And the best part? With Cellini, you can enjoy the most competitive prices around, thanks to their direct-to-consumer approach. 
Our favorite sofa from Cellini is the Celadon 4-seater modular fabric sofa with a movable side table. This masterpiece comes complete with a sleek side table that seamlessly slots into the side or back padding of the sofa, so you can enjoy your favorite beverage or snack without ever having to get up. Its clean and contemporary style is complemented by a steel laminated metal base, natural American walnut veneer, and gold-tipped legs that give off subtle vintage vibes. The wide seating and stylish quilted back make Celadon a showstopper, perfect for placing in the heart of your living room where it can bask in all its glory.
Here are some highlights of this model:
Durable fabric upholstery
4 Seater, available in L-shape as well
Quilted padded fabric
Steel frame for extra strength
Box spring seat
Suitable for large apartments and landed homes
Comes with a modern side table that may be slotted into the side or back padding, and can also be freely positioned
Quilted stripes provide visual contrast to the wide seat
Visit them via:
Website | Facebook | Instagram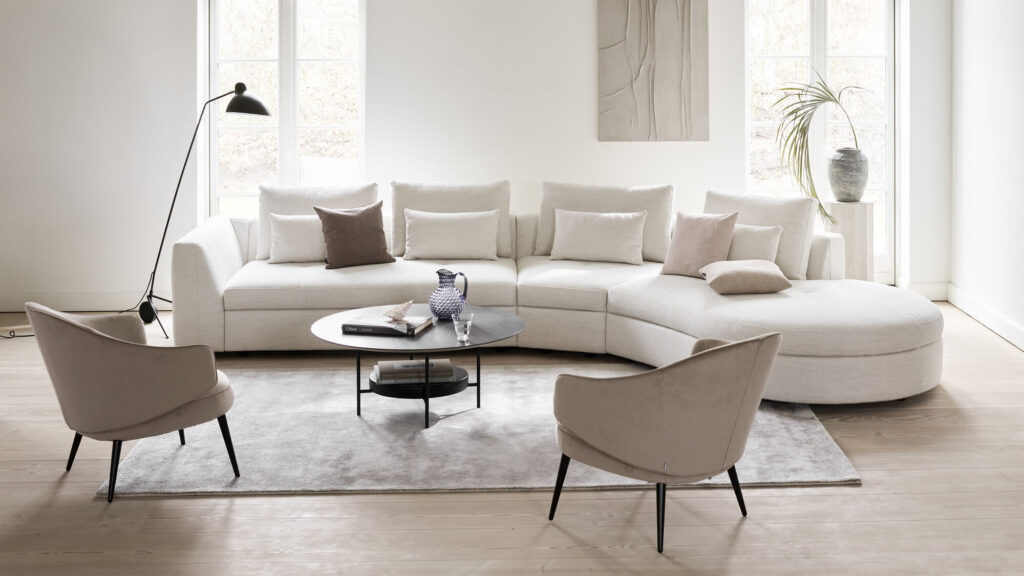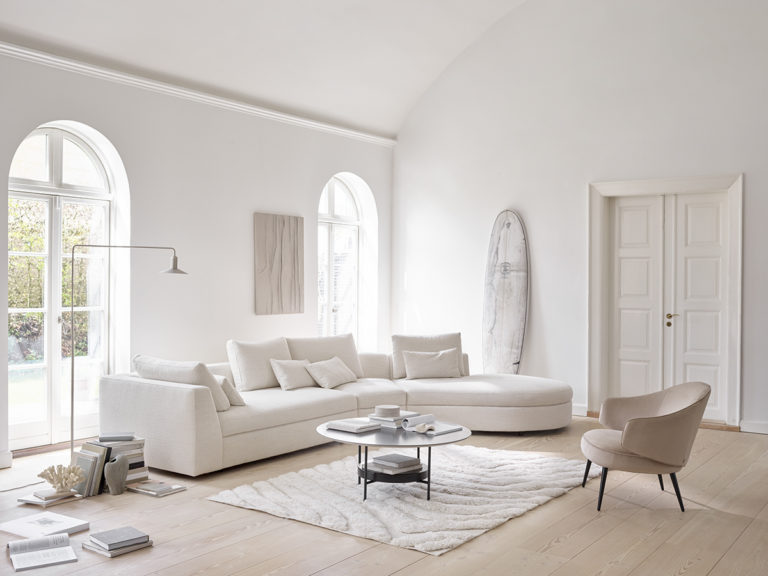 BoConcept is not some run-of-the-mill furniture brand in Singapore. They bring you the best of both worlds with their unique concept of "affordable premium" furniture retail. They offer a wide range of Danish contemporary furniture, accessories, and lighting that will tick all the boxes for your living room, dining room, bedroom, home office, and outdoor spaces. Be spoiled for choice with their array of couches, 3-seater sofas, 4-seater sofas, chaise lounge sofas, and more.
Our top pick from BoConcept is the Bergamo corner sofa with a lounging unit. Designed by Morten Georgsen, this sofa is the epitome of organic luxury and comfort. It has a sleek and elegant design that is combined with durable upholstery. It is a totally customizable sofa: you can choose between different types of fabrics and leather for the upholstery, which is available in a number of different colors. Since it is a corner sofa, you also have the choice to choose the direction as left or right.
Whether you're looking to curl up with a good book or entertain guests, the Bergamo sofa delivers on all fronts. Some of its features are listed below:
Loose back cushions
Floating design with discreet invisible legs
Comfortable and durable
Comes with a lounging unit
Clean and unifying stitching design
Minimal lines with organic shapes
Customizable upholstery
Visit them via:
Website | Facebook | Instagram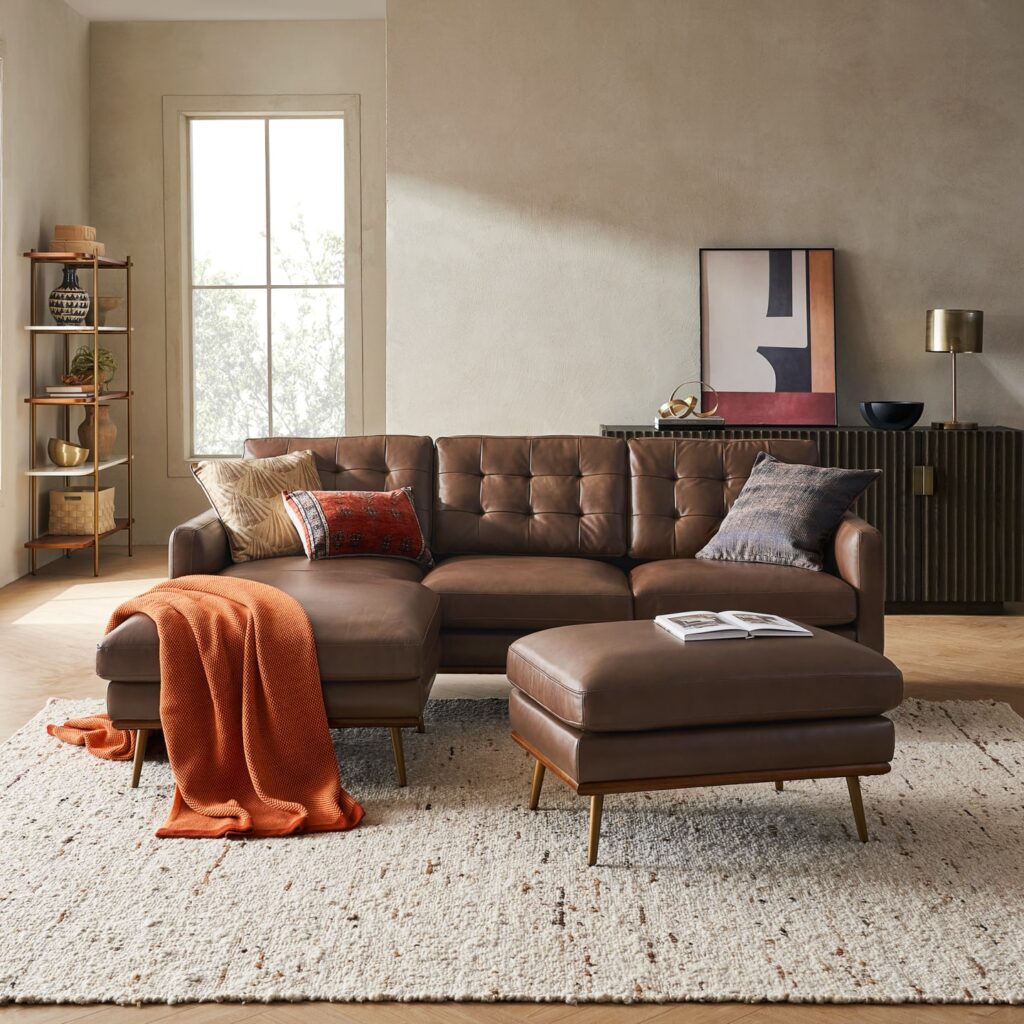 Castlery, founded by visionary Singaporean entrepreneur Declan Ee in 2013, has quickly become a household name among homeowners in Singapore. This homegrown furniture brand offers a comprehensive range of furniture that caters to every aspect of your home. Whether you're looking for a stylish sofa that exudes comfort or exquisite home furniture that reflects your unique taste, Castlery has everything you may need.
With a reputation for quality and innovation, the sofas from Castlery are the talk of the town. Among their Isaac Collection, our favorite is the Isaac leather reversible sectional sofa. It has three versions: terminal chaise, reversible chaise, and terminal with ottoman. It brings a comfortable vintage touch to your living area, thanks to its leather cover, grid-tufted cushions, and plush roomy seats. Moreover, this full-leather sofa comes with a 3-year warranty.
The features that make this sofa a no-regret choice for Singaporean homeowners are:
Highly durable frame made of solid rubber wood
Grid tufted cushions
Brass powder-coated metal legs
Removable seat cushion covers
Super soft and comfortable
Available in three different versions
Visit them via:
Website | Facebook | Instagram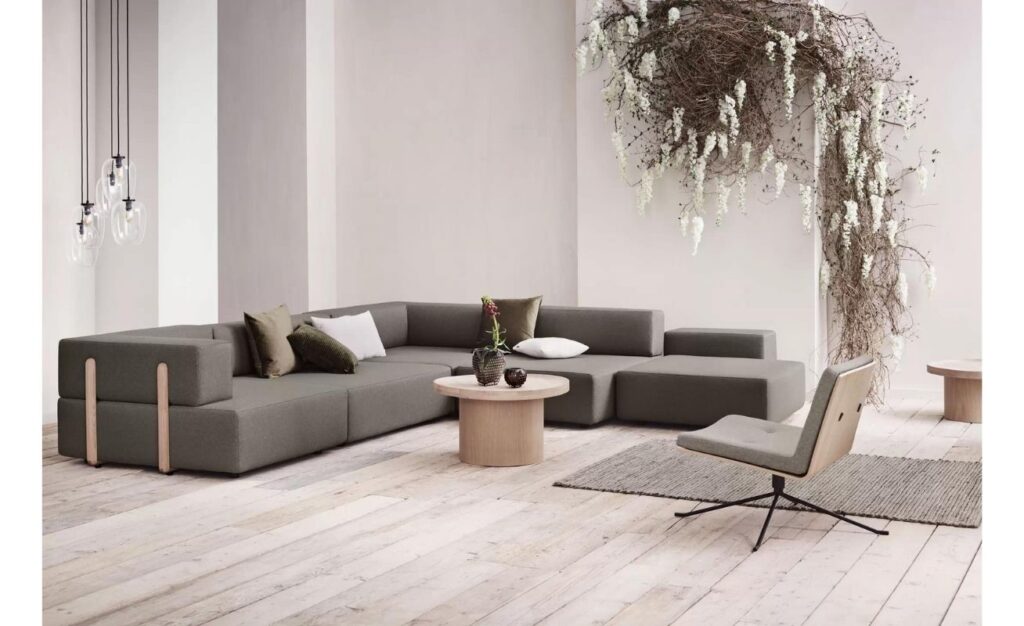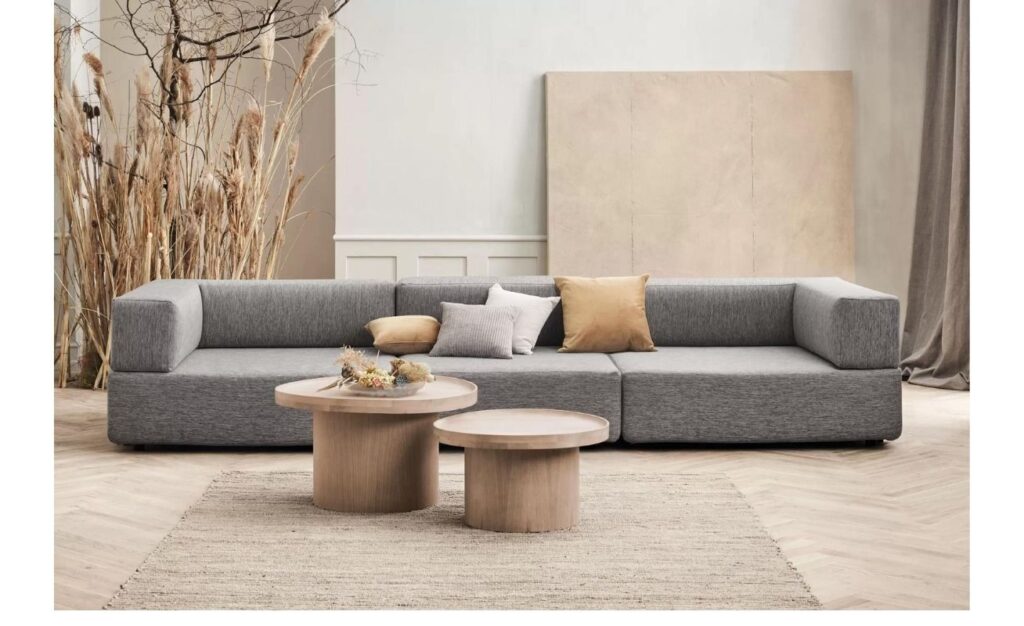 From its beginning in 2006, Danish Design Co has come a long way, establishing itself as a leading provider of Danish furniture in Singapore. Their handpicked collection of furniture from the best design houses in Scandinavia is a testament to their commitment to quality, thoughtful designs, and skilled craftsmanship. Each piece in their collection showcases the timeless beauty and excellence of Scandinavian design, crafted by seasoned artisans who take pride in their work.
Danish Design Co offers contemporary sofas of all types to discerning homeowners in Singapore. Our top pick from their designs is the Recover modular sofa from their New Modern Collection. This sofa is crafted from reusable and recycled materials, including surplus foam from local manufacturers. It is an eco-friendly masterpiece designed for sustainability. This modular sofa boasts a durable wooden base that provides exceptional comfort and longevity.
With its timeless design and lasting quality, the Recover Modular Sofa is an excellent investment for generations to come. Following are some of its amazing features:
Modular and sustainable
Durable wooden base
Scandinavian chic design
Eco-friendly
Customizable
5-year warranty
Visit them via:
Website | Facebook | Instagram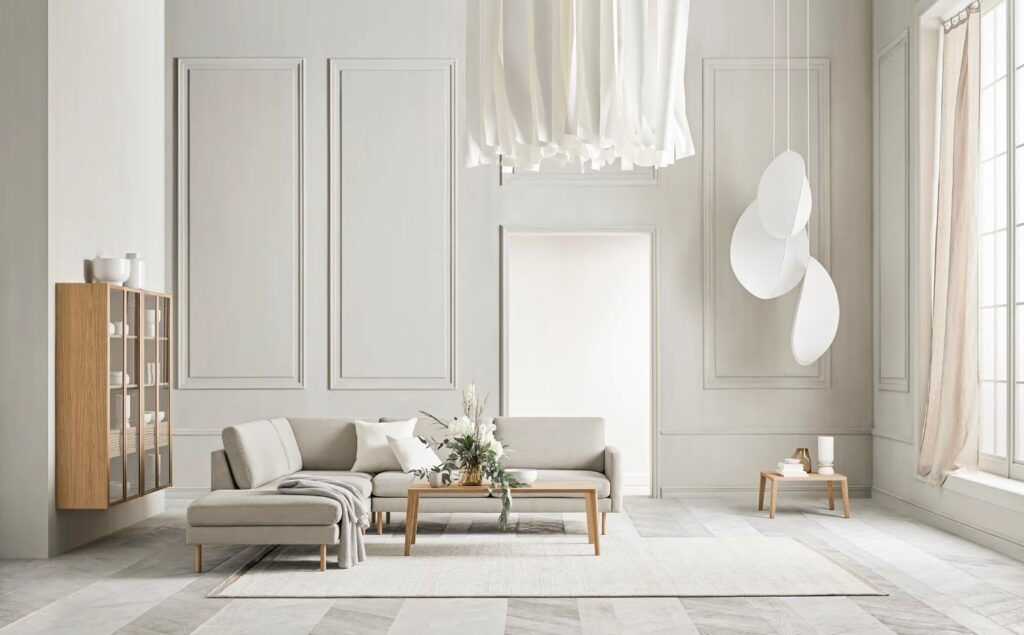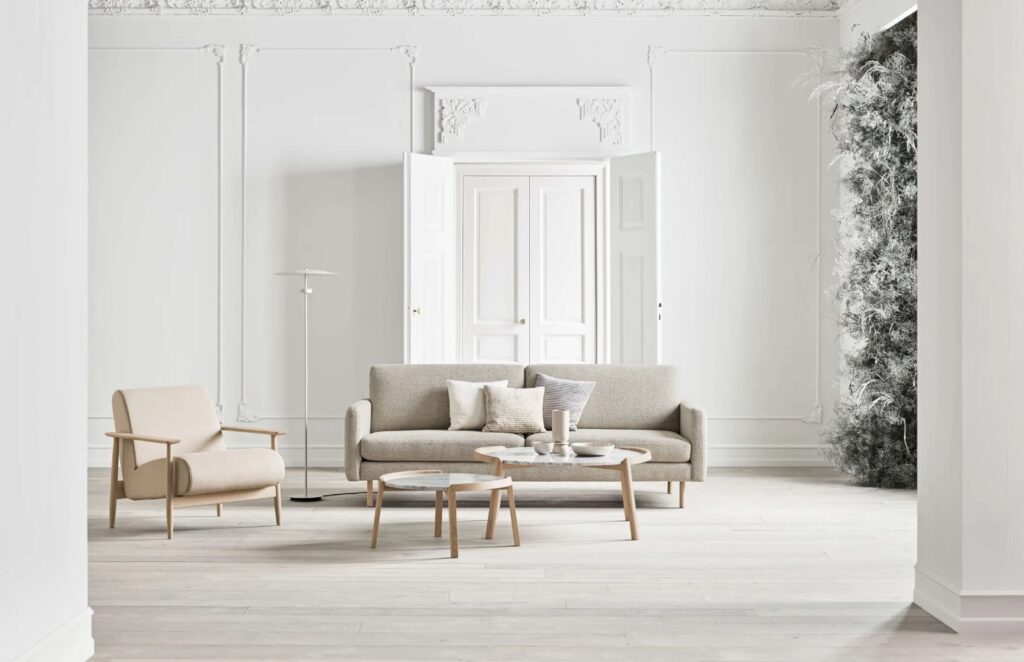 Bolia, a Danish brand founded in 2000, is known for its instantly recognizable furniture designs in many parts of the world. The brand recently opened its first flagship store in Singapore on November 15, 2022, located at 215 Henderson Road. The spacious, modern store showcases the brand's latest designs, from sofas and armchairs to tables, lighting, and accessories.
One of Bolia's standout sofa designs is the Scandinavia Remix, available in a range of configurations, from 1 to 6 seats. The Scandinavia Remix 3-seater sofa, designed by Glismand & Rüdiger, features a modern, streamlined silhouette, plush cushions, a light grey color, and a flat woven fawn cover. The cover is made of polyester and nylon fibers, which are durable and easy to maintain. This sofa can also be customized to your liking.
Following are the specifications of the Scandinavia Remix 3-seater sofa:
Highly durable material: 100% polyester with cold foam filling and oiled oak solid base
110 kg of maximum weight capacity per seat
Natural subtle look
Customizable design
OEKO-TEX® certified quality
10-year warranty
Visit them via:
Website | Facebook | Instagram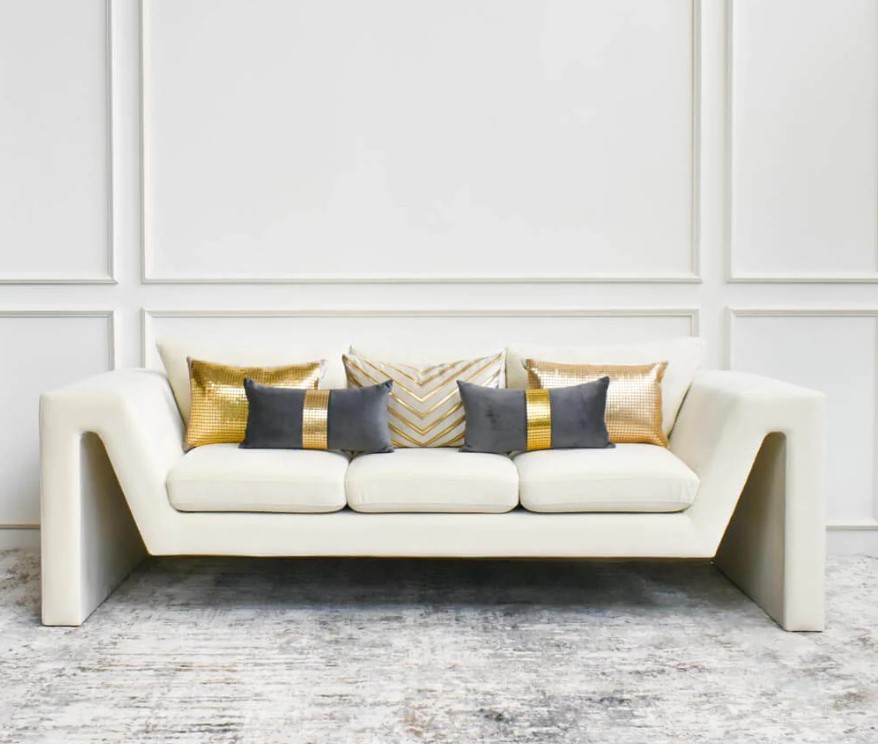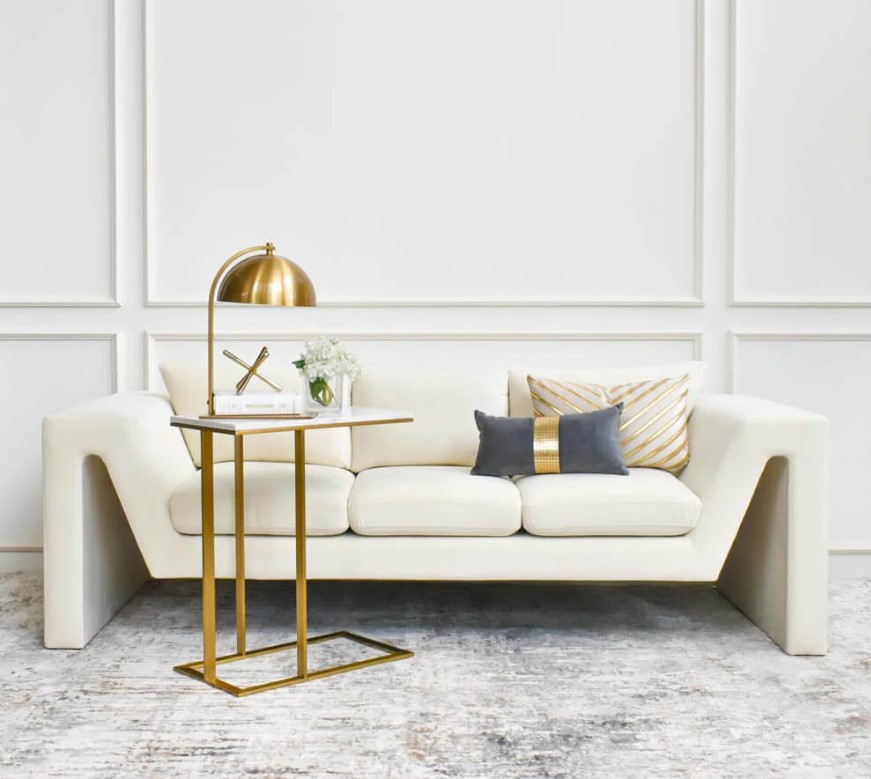 Finn Avenue is a treasure trove for those seeking exquisite yet affordable designer furniture and home decor products. From stunning couches to coffee tables with matching marble tops, their diverse range of products has made them a popular choice among homeowners in Singapore. Finn Avenue sources its materials and collaborates with designers from all corners of the globe, including the chic streets of France and the trendsetting United States.
Our couch of choice from Finn Avenue is the M Velvet Sofa, available in ivory cream and taupe gray. Boasting a sleek and captivating Mid-Century Modern design, this sofa makes a bold statement in your living room with its understated yet impactful style. Its wooden frame is cushioned with foam and wrapped in sumptuous velvet fabric for a soft, medium-firm seating experience. The sofa includes three plush back cushions filled with multi-density foam, providing a comfortable and supportive seat for you and your guests.
Sink into the cozy embrace of the M Velvet Sofa with the following amazing features:
Bold statement style
Medium firm seats and upright backrest for maximum support
Solid hardwood and engineered wood frame
Multi-density foam filling
Hand-upholstered
Highly resilient velvet polyester fabric cover
Visit them via:
Website | Facebook | Instagram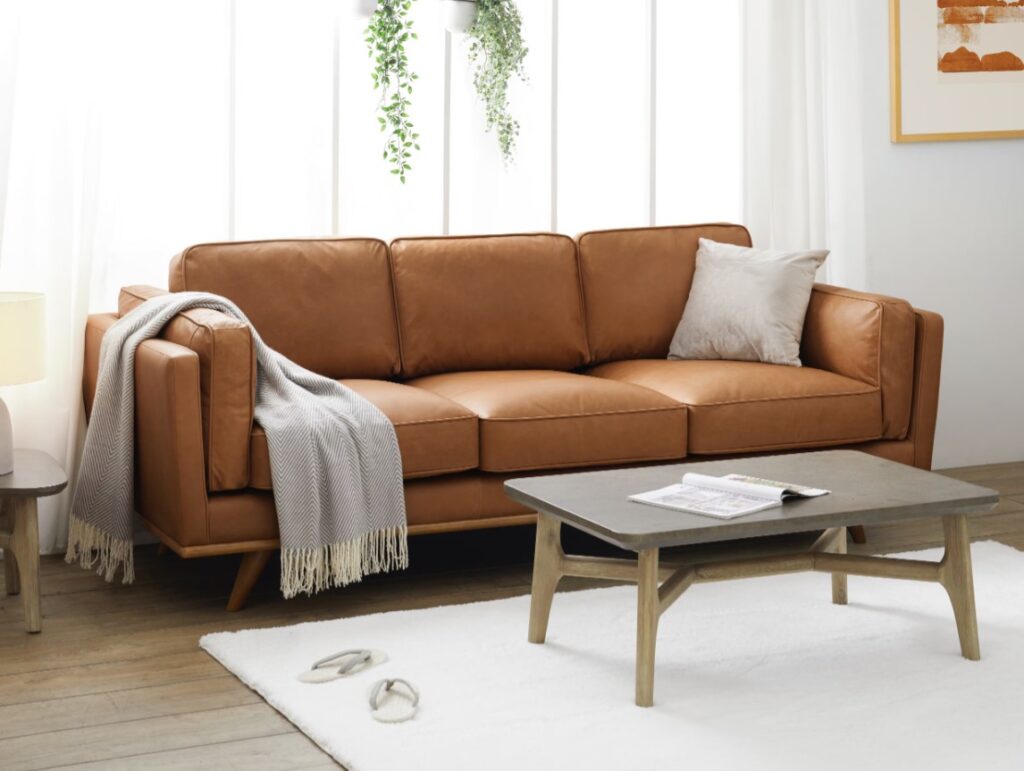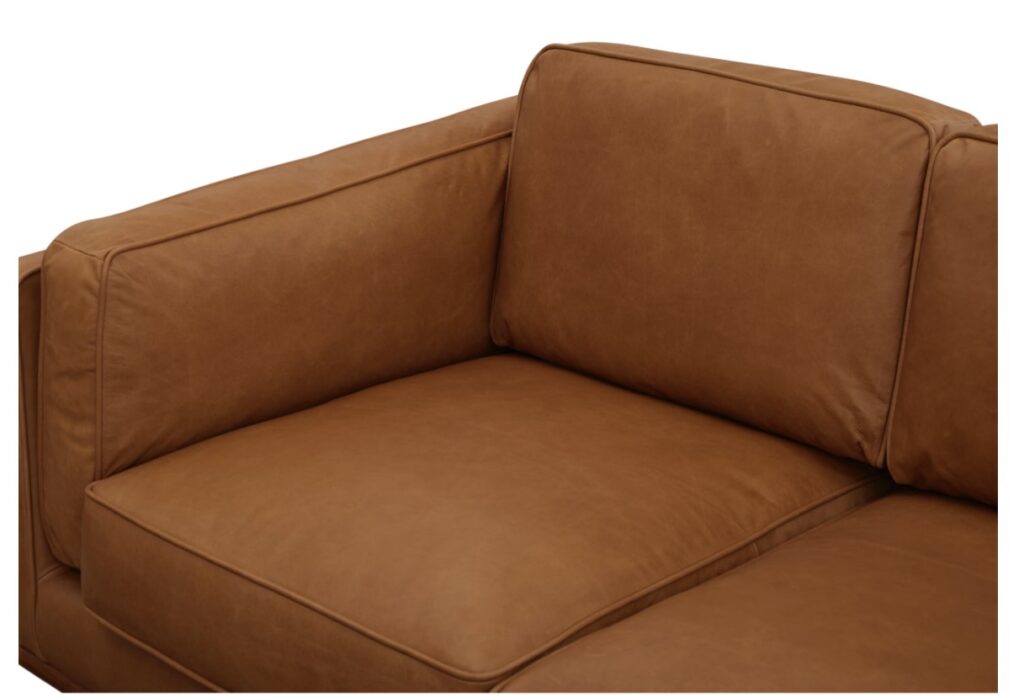 HipVan, founded in 2013 by Deborah Wee and Danny Tan, has become a household name among Singaporean homeowners. Their affordable furniture pieces have captured the hearts of many, with their bed frames, TV consoles, coffee tables, and sideboards being some of the most popular items. With over 240 unique sofa designs available, HipVan offers a wide range of choices to suit any budget. These range from loveseats to 3-seater leather sofas.
The sofa we liked the most from HipVan is the Charles 3 seater sofa, which is made of premium aniline leather. It is a timeless piece of furniture that features a classic mid-century design. Available in two different leather colors, this spacious sofa is perfect for accommodating big families or those who enjoy lounging in style. Its loose cushions not only provide excellent comfort but also make cleaning a breeze.
The Charles Sofa is sure to become your go-to spot for relaxation with its following features:
Made of pure aniline leather
140 kg of maximum weight capacity per seat
Two different colors: Russet and Cigar
Solid rubberwood frame
Layered filling of high-density foam
Solid oak legs and base frame
Easy to clean
Visit them via:
Website | Facebook | Instagram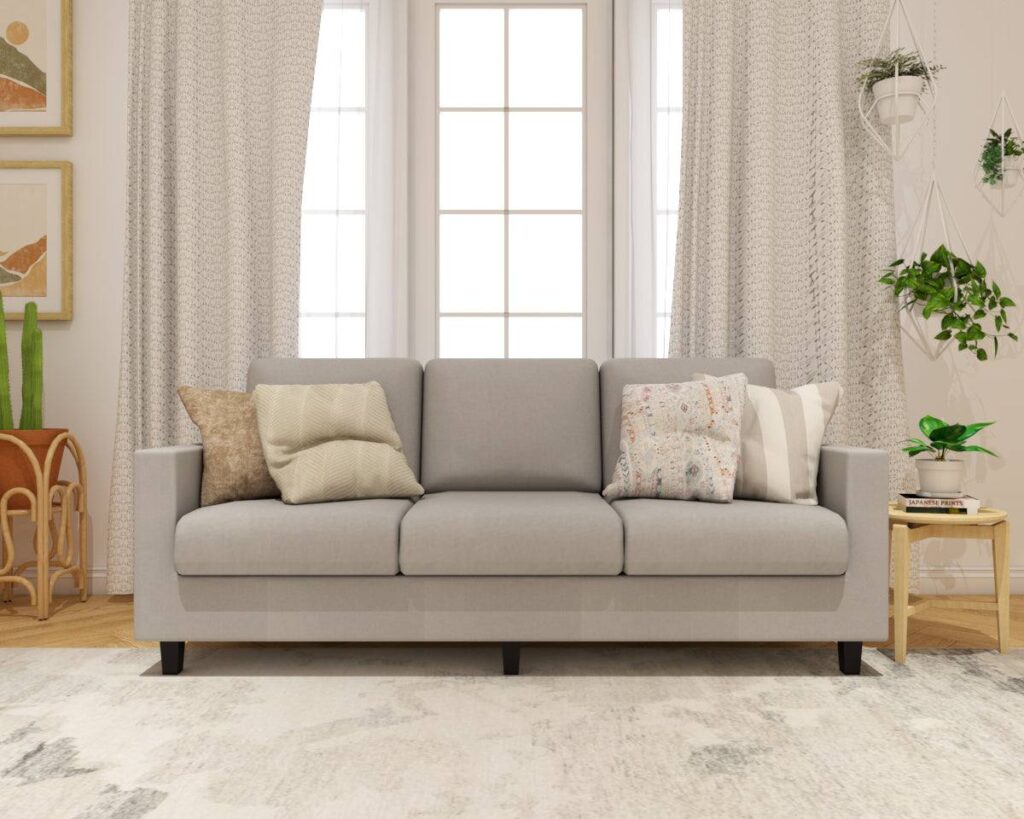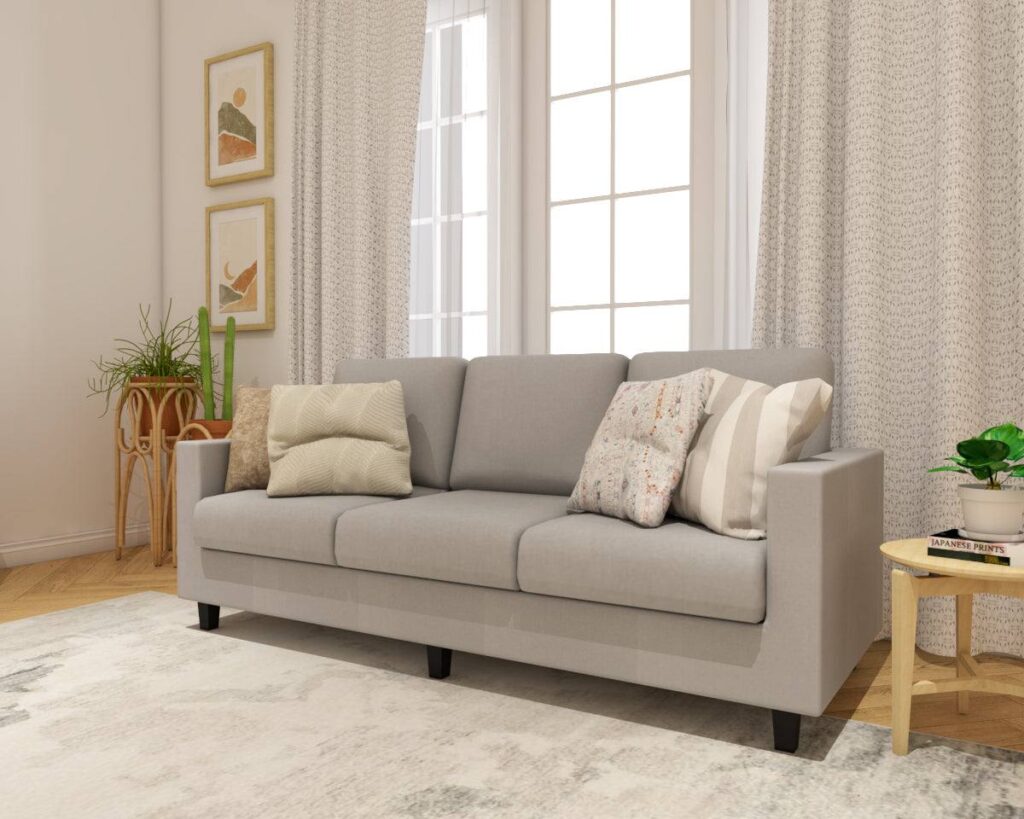 MegaFurniture is a Singaporean furniture retailer that has been in operation since 2017. They offer a diverse selection of furniture pieces that are designed to be elegant, comfortable, and sturdy. These pieces are a great choice for anyone looking to transform their interior design. MegaFurniture is known for offering versatile and cost-conscious furnishings that are specifically curated to bring life to any room. 
Our top pick from MegaFurniture is the Harry L-shaped grey fabric sofa. It is a versatile and stylish furniture piece that can seamlessly blend into any interior design. Its configuration comprises a comfortable 3-seater sofa upholstered in a non-removable, water-repellent, and cozy fabric. It comes with a roomy ottoman that can serve as an extra seat, a coffee table, or a footrest. The tufted backrest adds a distinctive touch to this sofa, making it a memorable and eye-catching addition to any living space.
The features of the Harry L-shaped grey fabric sofa that are worth mentioning include:
High-quality fabric upholstery
3-Seater design
Non-detachable fabric cover
Water-repellent and stain resistant
Comes with an ottoman
Solid wood inner structure
Tufted backrest
High-density foam padding
Heavy-duty fiber plastic legs
Elegant design
Visit them via:
Website | Facebook | Instagram
Final Thoughts
A sofa is an essential piece of furniture for any home. It is the heart of every living room. Whether you're looking for a comfortable spot to relax, an eye-catching centerpiece in your living room, or a spot to entertain guests, a sofa can meet all your needs. When shopping for a sofa, it's crucial to consider factors such as durability, comfort, style, and practicality. In this guide, we have highlighted the top 8 picks for the best sofas in Singapore, which offer a perfect balance of comfort and style. From Cellini's modular Celadon sofa to MegaFurniture's Harry L-shaped sofa, these sofas can transform any living space into a haven of relaxation and elegance. So, invest in a high-quality sofa today and enjoy the ultimate comfort for years to come!