If you consider yourself a true rice aficionado, you know that the secret to achieving perfectly fluffy grains lies in using a top-notch rice cooker. Whether you prefer fragrant Jasmine rice, long-grain Basmati, or sticky sushi rice, choosing the right rice cooker can make a difference in the taste and texture of your favourite dishes.
With many options available on the market, we have meticulously handpicked and reviewed the 11 best rice cookers that promise to deliver excellence in every grain. Join us as we unveil the cutting-edge technology, innovative features, and unparalleled performance of these rice cookers that will leave you marvelling at the art of rice cooking.
Features of a Good Rice Cooker
A good rice cooker should have the following features:
Smart Cooking Technology: A good rice cooker comes equipped with intelligent cooking technology that adjusts cooking time and temperature for various rice types automatically, ensuring perfectly cooked grains without any guesswork.
Multiple Cooking Settings: Look for rice cookers with versatile settings, allowing you to prepare various rice varieties like white, brown, sushi, and even quinoa, expanding your culinary possibilities beyond just rice.
Keep Warm Function: The essential feature of a quality rice cooker is a reliable keep-warm function, which keeps the rice at an ideal serving temperature for extended periods, maintaining its freshness and taste.
Non-Stick Inner Pot: Opt for rice cookers with a non-stick inner pot to prevent the rice from sticking and burning, making cleaning a breeze and ensuring even heat distribution for consistent cooking results.
User-Friendly Controls: A good rice cooker should have an intuitive control panel that is easy to navigate, allowing you to operate the appliance effortlessly and customize your cooking preferences with convenience.
Our Selection of 11 Best Rice Cookers in Singapore
In this list, we will take you on a culinary adventure through Singapore's finest rice cookers, curated to elevate your cooking experience.
1. Tefal RK7301 Easy Compact Fuzzy Logic Rice Cooker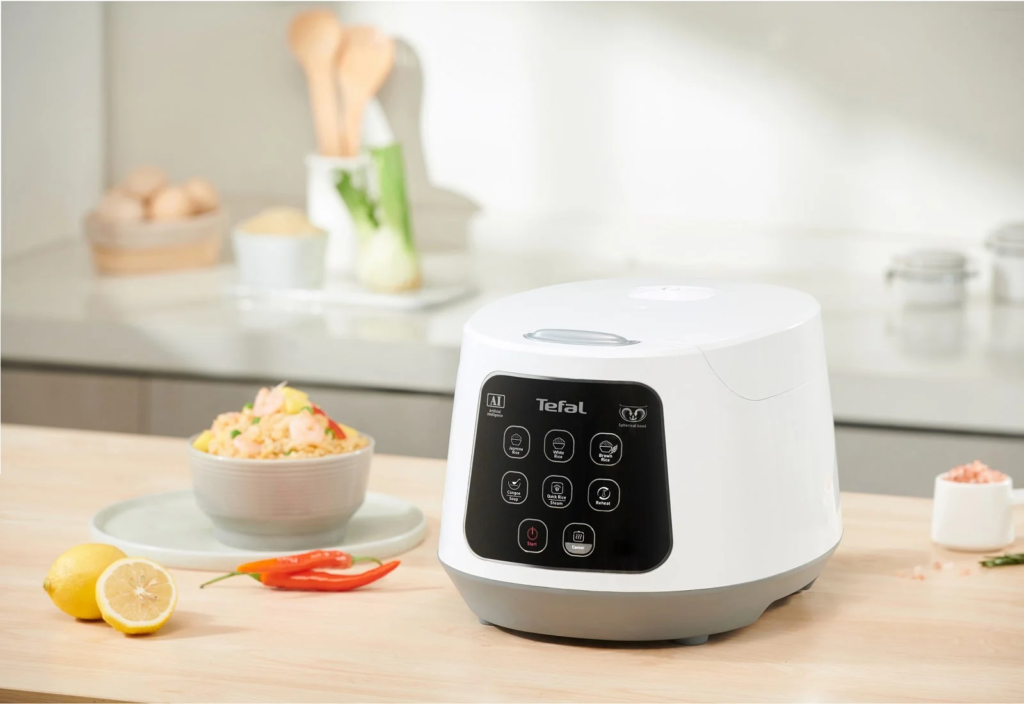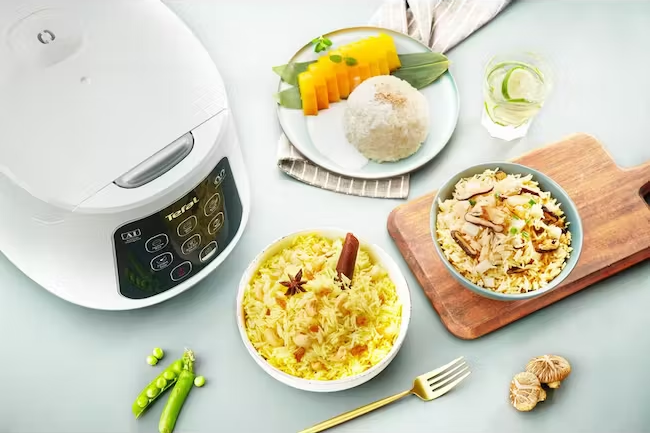 Equipped with a 4-layer nonstick inner bowl coating, this rice cooker ensures easy food release and effortless cleaning, making it a delight to use after every meal. Harnessing the power of AI Smart Cooking Technology and the innovative Spherical Pot, Tefal guarantees evenly cooked and fluffy rice with every press of a button. The large and intuitive control panel simplifies the cooking process, allowing you to explore a world of flavours with its eight cooking programs. From fragrant jasmine rice to wholesome brown rice and delectable steam dishes, the possibilities are limitless.
With a generous 1L bowl capacity, you can easily prepare enough rice to satisfy the entire family's appetite. The inclusion of a steam basket expands your cooking horizons. Plus, the automatic keep-warm function ensures your rice remains fresh and warm until mealtime. Embracing eco-consciousness, the Tefal Easy Rice Compact consumes low standby power, saving up to 70% on energy. The removable cord adds to its practicality, allowing for effortless storage and mobility.
Here are the highlights of the Tefal RK7301 Easy Compact Fuzzy Logic Rice Cooker's amazing features:
Nonstick Inner Bowl
8 Cooking Programs
Spherical Pot Technology
Intuitive Control Panel
1L Bowl Capacity
AI Smart Cooking
Steam Basket Included
Automatic Keep Warm
Low Standby Power
Removable Cord
Precision Cooking
Family-Friendly Design
2. Philips Digital Rice Cooker 3000 Series 1.8L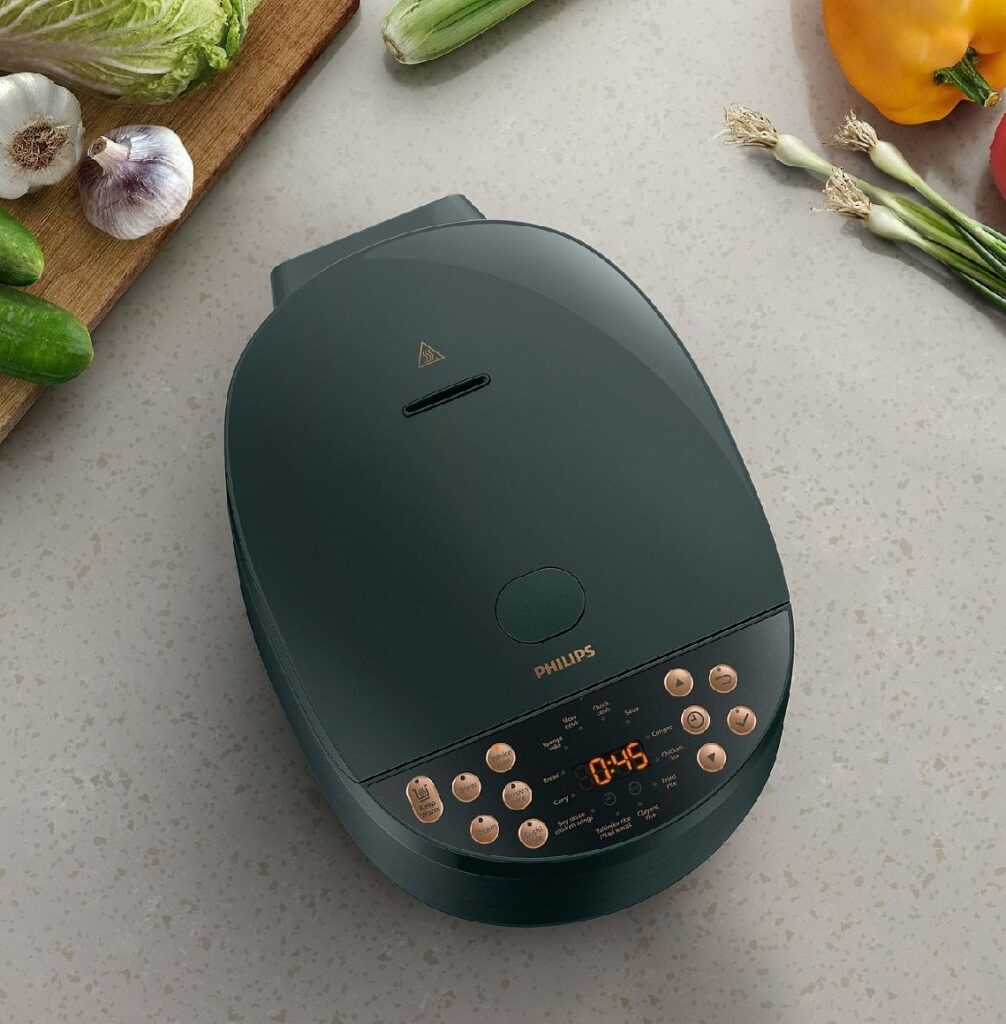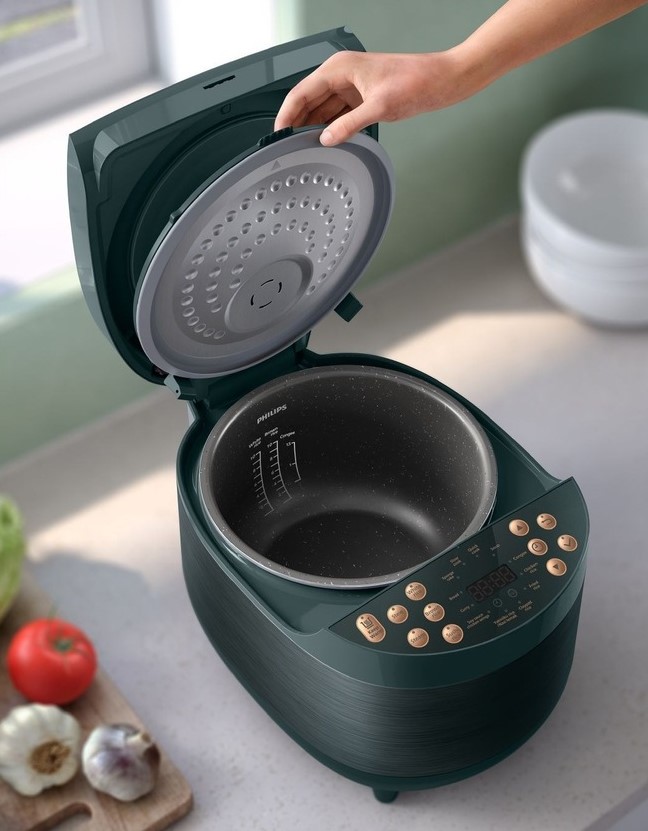 Equipped with an intelligent 3D heating system, this rice cooker harnesses smart temperature sensors to monitor and optimise heat energy, resulting in flawlessly cooked rice with the perfect aroma, flavour, and texture. The 6-layer Alloy inner pot with Maifanshi coating offers unmatched cooking convenience, boasting non-toxicity and up to 6 times improved scratch resistance. Integrated with alloy and ceramic, this pot ensures even heat distribution, allowing you to cook with ease and achieve consistently delightful results.
Say goodbye to cooking mishaps, as the anti-overflow valve prevents water overflow in case of excessive water input, ensuring a smooth and hassle-free cooking experience. With the convenient Keep Warm function, your rice remains fresh, fluffy, and at the perfect temperature for up to 24 hours, ready to be enjoyed whenever you're ready.
Here are the highlights of the Philips Digital Rice Cooker 3000 Series 1.8L's amazing features:
Smart 3D Heating System
Powerful Heat Energy
6-layer Alloy Inner Pot
Maifanshi Coating
Non-Toxic & Scratch-Resistant
Anti-Overflow Valve
Hassle-Free Cooking
Keep Warm Function
Intuitive Control Panel
1.8L Bowl Capacity
Smart Temperature Sensors
Versatile Cooking Options
3. Panasonic SR-CN188WSH Fuzzy Logic Rice Cooker (1.8L)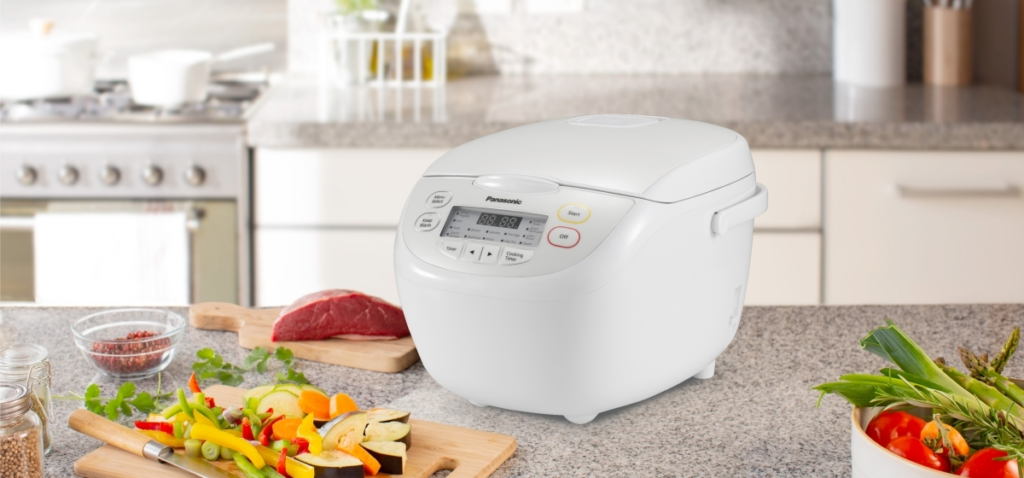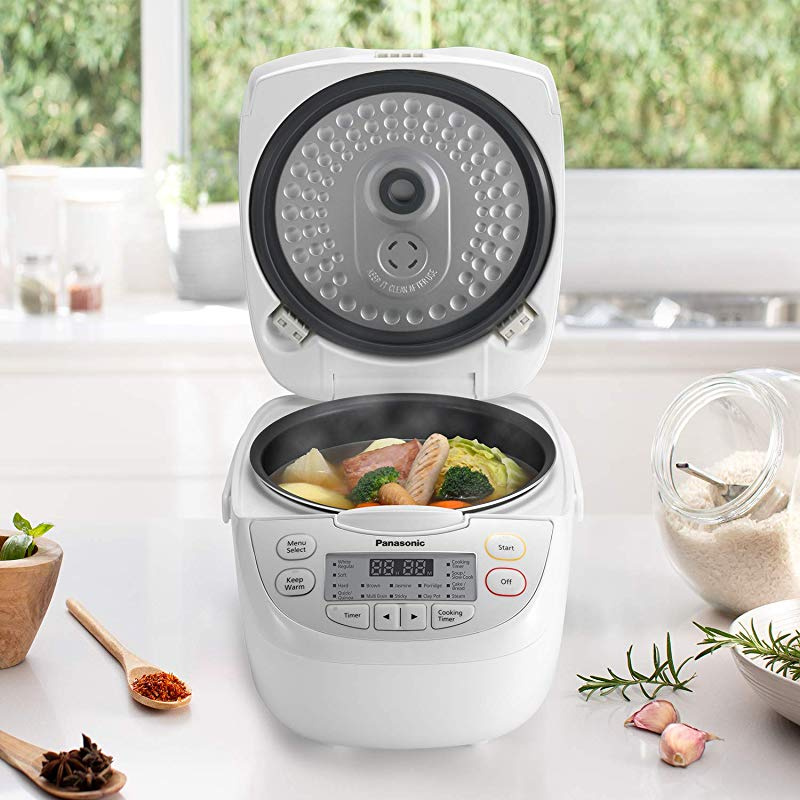 With a 2.2 mm thick inner pan, this rice cooker ensures even heat distribution, infusing every grain with the sweet aroma of perfectly cooked rice. The 6-layer Inner Pan, intelligently designed with heat-transmitting and heat-retaining materials, brings you one step closer to the ideal rice cooking process, delivering consistently delicious results. Choose from an array of 16 auto menus, including regular, soft, or hard texture options for white rice, as well as healthier choices like quinoa, brown rice, and multigrain.
Additionally, explore versatile menus to satisfy your cravings for jasmine rice, sticky rice, porridge, clay pot rice, soup, slow cook, cake, bread, and steamed dishes. Operating this rice cooker is a breeze, thanks to the easy-viewing white LED display on the top panel, providing clear visibility at any time of the day. Cleaning is also a breeze with the detachable inner lid and steam vent, making maintenance a simple task.
Here are the highlights of the Panasonic SR-CN188WSH Fuzzy Logic Rice Cooker (1.8L)'s amazing features:
2.2 mm Thick Inner Pan
16 Auto Menus
White Rice Options
Healthy Rice Modes
Versatile Cooking Menus
Easy Viewing LED Display
Detachable Inner Lid
Steam Vent
Fuzzy Logic Technology
Sweet Aroma Infusion
Easy Cleaning
6-Layer Inner Pan
4. Tefal RK7321 Easy Fuzzy Logic Rice Cooker 1.8L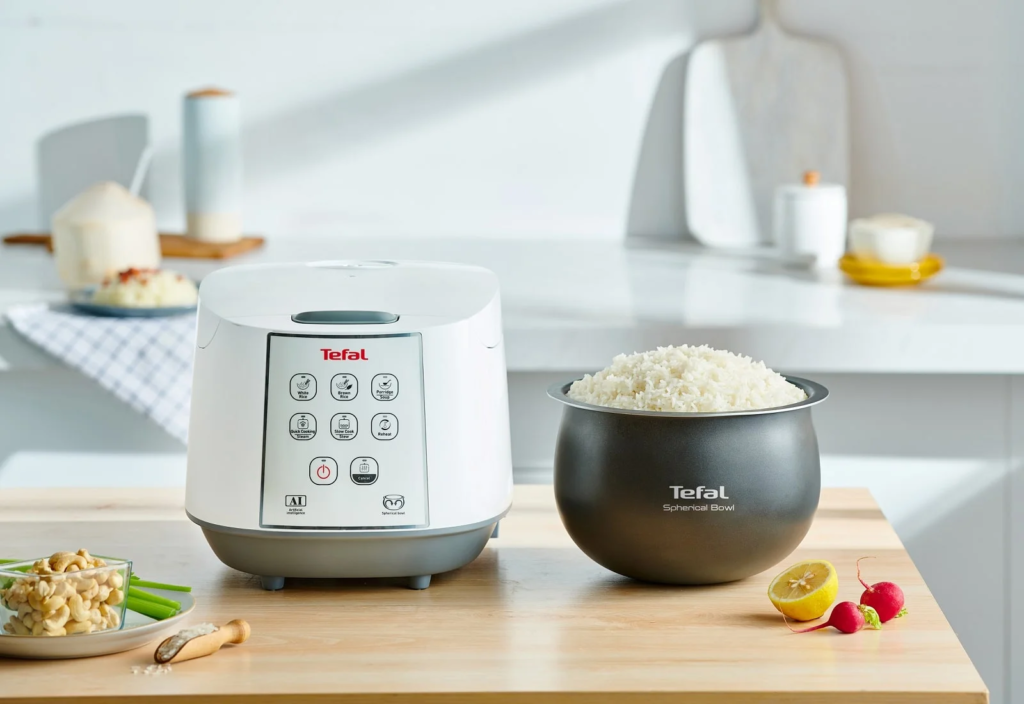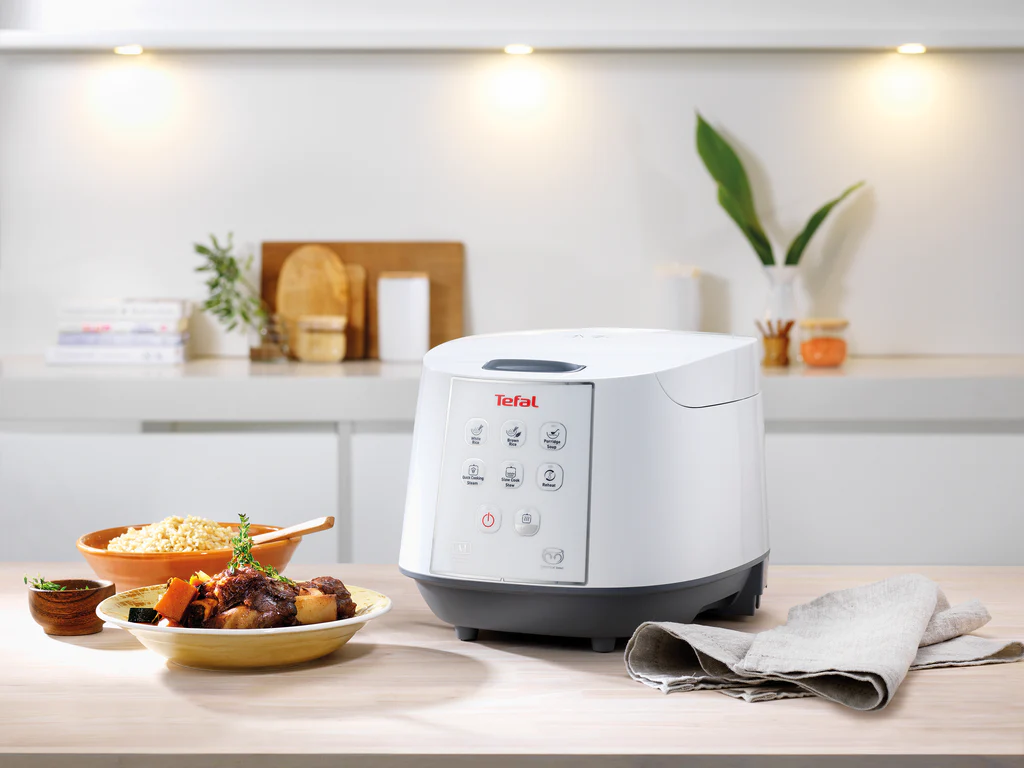 Designed with the utmost precision, this rice cooker boasts a spherical rice pot that ensures flawless results with maximum flavour, making every dish a delight to savour. With Fuzzy Logic artificial intelligence, the Tefal Easy Rice Cooker offers exceptional cooking precision by automatically adjusting the cooking time and temperature for optimum results. Choose from eight cooking programs, providing unlimited possibilities for a variety of rice types and slow-cooked recipes. The high-quality 4-layer inner pot features a non-stick coating, preventing food from sticking and facilitating effortless cleanup after use. Its 1.8L / 10-cup capacity makes it ideal for daily meals or when entertaining guests.
Additionally, this easy-to-use rice cooker comes with a range of smart features, including a steam basket, automatic keep-warm function, and a removable cord, ensuring convenience at every step. Dishwasher-safe components further enhance the ease of maintenance, providing perfect taste and hassle-free cooking every day.
Here are the highlights of the Tefal RK7321 Easy Fuzzy Logic Rice Cooker 1.8L's amazing features:
Fuzzy Logic Technology
Eight Cooking Programs
4-Layer Non-Stick Inner Pot
Spherical Rice Pot
1.8L / 10-Cup Capacity
Automatic Keep Warm
Smart Design
Steam Basket Included
Removable Cord
Dishwasher Safe
Convenient Control Panel
Mini Rice Cooker
5. Toshiba RC-10IRPS Low GI Rice Cooker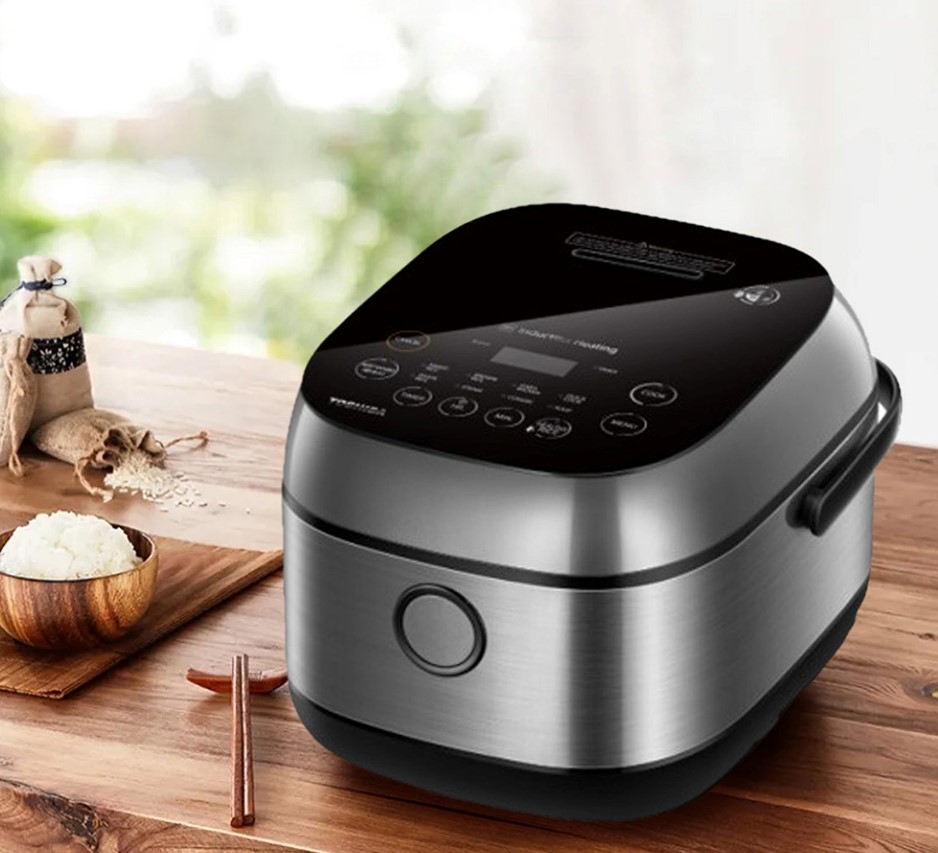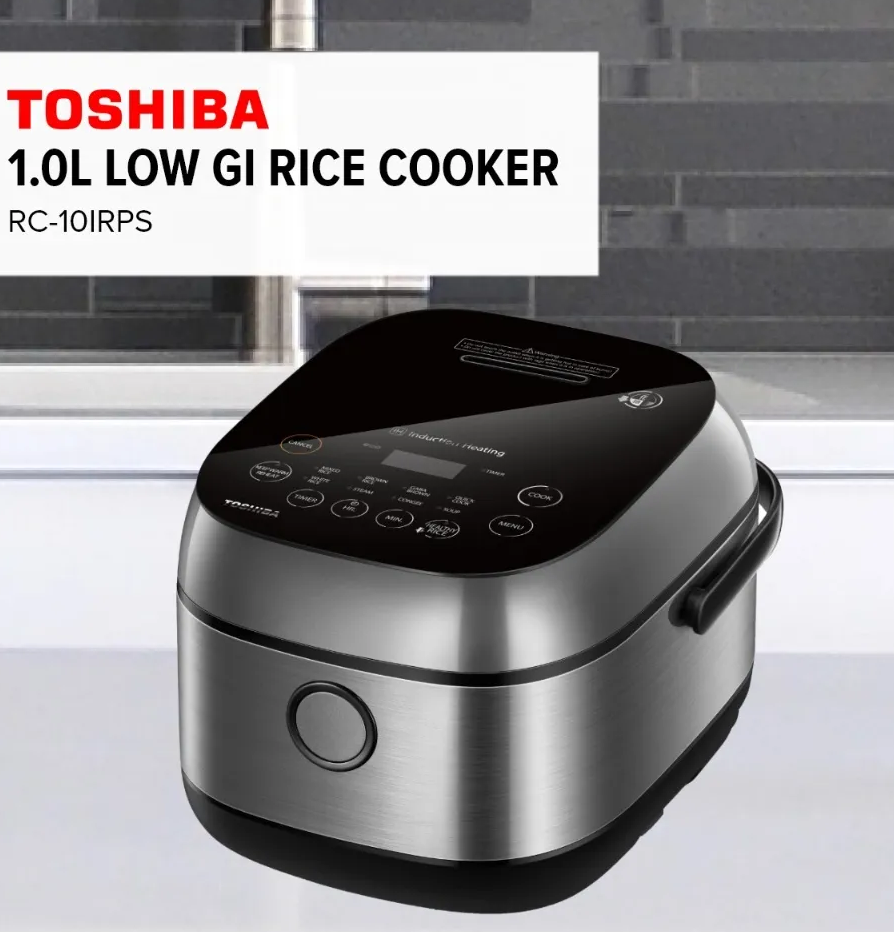 With its innovative features, this rice cooker ensures that you savour every bite of rice while maintaining a balanced and healthy diet. The Toshiba healthy cooker goes beyond simply cooking rice; it provides you with low Glycemic Index (GI) rice that keeps you feeling full and energised for longer, reducing the need for extra snacking and promoting effortless weight control.
Featuring a sugar-removing basket, this cooker effectively isolates unhealthy digestive starch from the rice, reducing it by up to 41%, all while preserving essential nutrients. The 3mm 7-layer inner pot, lined with Japan Bincho Charcoal, optimizes the simmering process to increase health benefits, resulting in rice rich in resistant starch (RS), which is not converted into fat or sugar in our bodies. With 17 pre-programmed menus, it offers versatility and convenience.
Here are the highlights of the Toshiba RC-10IRPS Low GI Rice Cooker's amazing features:
Sugar-Removing Basket
Japan Bincho Charcoal Pot
Optimal Simmering Process
17 Pre-Programmed Menus
Low Glycemic Index (GI) Rice
Precise Temperature Control
Energy-Efficient Cooking
3mm 7-Layer Inner Pot
6. Panasonic SR-CEZ18SPH Jar-type Rice Cooker (1.8L)
Panasonic SR-CEZ18SPH Jar-type Rice Cooker is a versatile and efficient addition to your kitchen. With a generous 1.8L capacity, this cooker effortlessly prepares ample servings of perfectly cooked rice. Equipped with essential accessories including a measuring cup, scoop, and steam basket, it provides all you need for a seamless cooking experience. Featuring a Black Fon Pan 2 coated inner pot, your rice is cooked to perfection while the innovative technology ensures easy release and cleaning.
The keep-warm function maintains your rice's temperature for up to 5 hours. The programmable menu options cater to your culinary needs, offering choices for white rice and steaming. The convenience of a removable steam vent and inner lid ensures effortless cleaning and maintenance, simplifying your cooking routine.
Here are the highlights of the Panasonic SR-CEZ18SPH Jar-type Rice Cooker (1.8L)'s amazing features:
1.8L Capacity
Accessories Included
Black Fon Pan 2 Coated
5-Hour Keep Warm
Programmable Menu Options
Removable Steam Vent
Easy Cleaning
Efficient Design
Culinary Convenience
Inner Lid Maintenance
7. Russell Taylors ERC-30 Rice Cooker 1.8L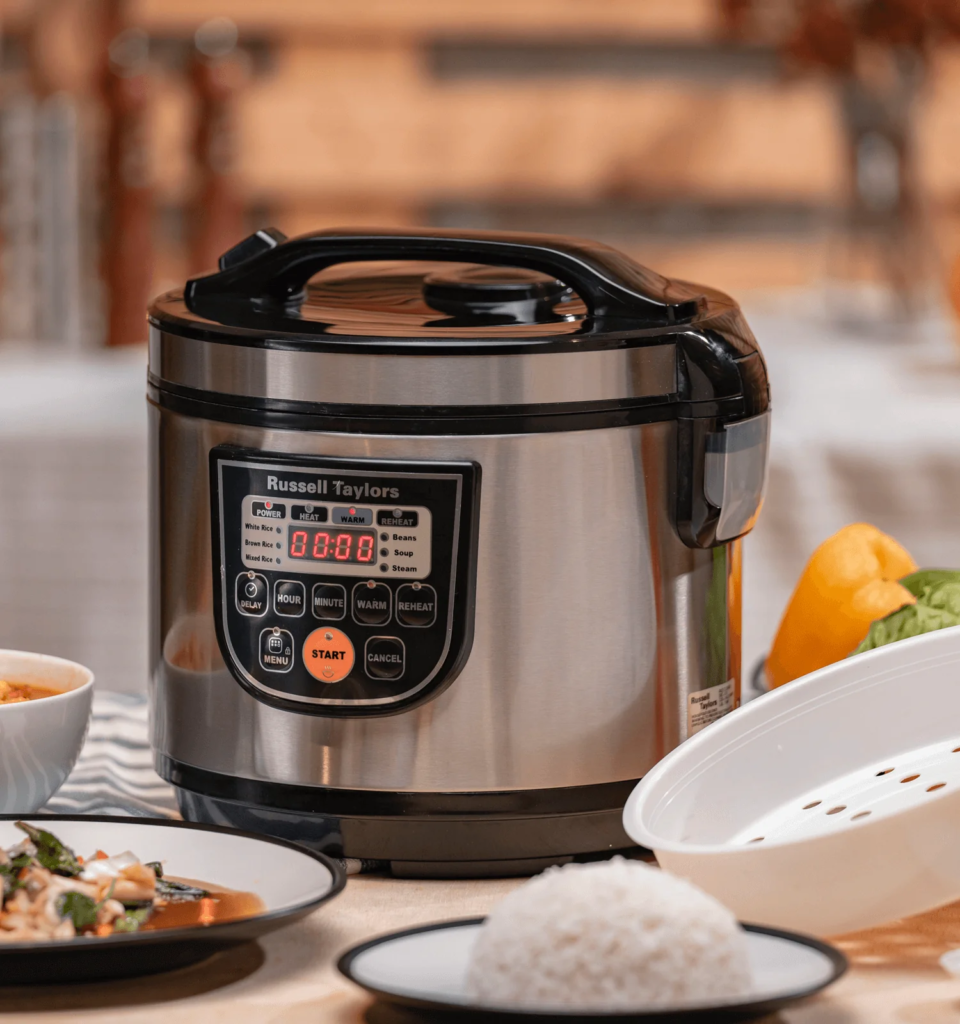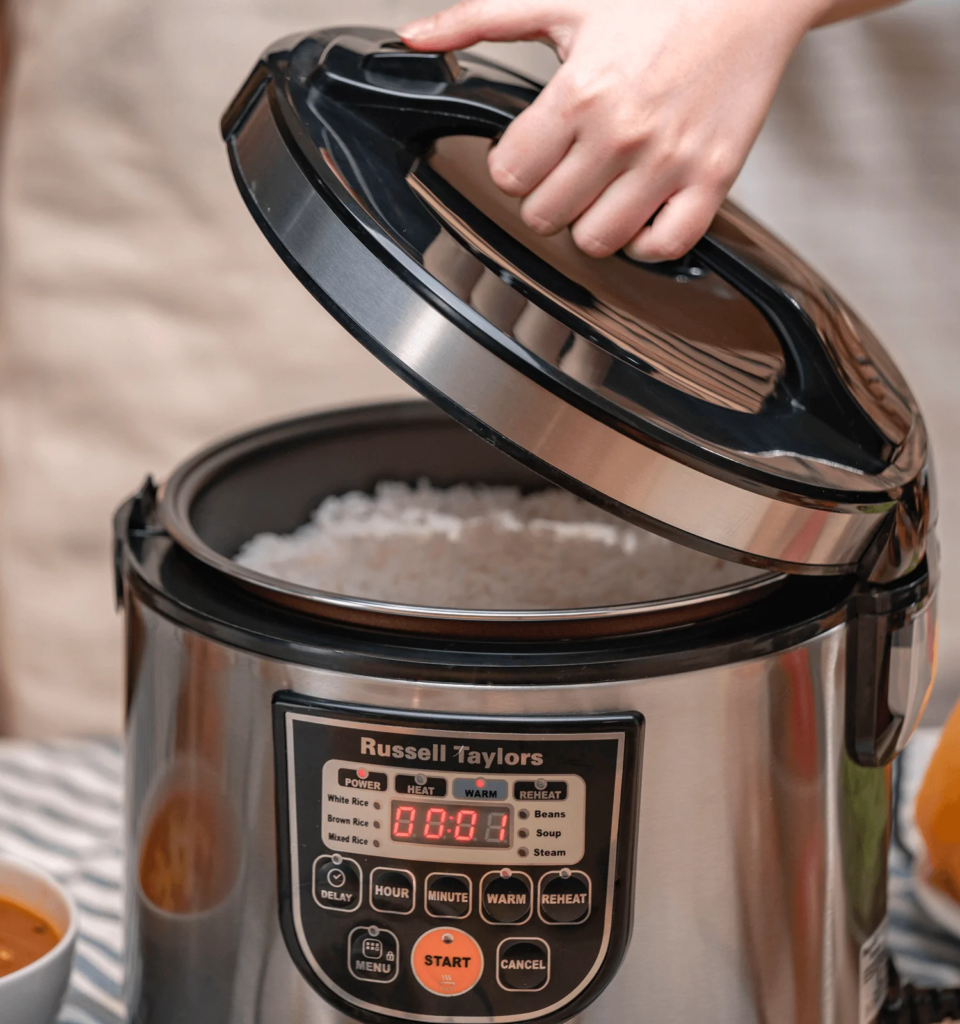 Russell Taylors ERC-30 Rice Cooker 1.8L is your ultimate kitchen companion for effortless and efficient rice cooking. With a promise of ease, this cooker requires no manual intervention, providing foolproof cooking with quick results in less than 20 minutes. Designed for versatility, it accommodates various grains and lentils, delivering perfectly cooked rice of any type, be it brown, basmati, or jasmine. The automatic switch to warm mode ensures your rice stays ready-to-serve for up to 12 hours, catering to your convenience.
This compact and portable cooker is a versatile culinary powerhouse, offering multiple cooking styles including steaming and boiling, expanding your food preparation options. With its contemporary design, it seamlessly blends with any kitchen decor, while the powerful 700W capacity guarantees efficient cooking. The added value of a free steam rack and a digital LED display further enhance your cooking experience.
Here are the highlights of the Russell Taylors ERC-30 Rice Cooker 1.8L's amazing features:
Foolproof Cooking
Ready in <20min
Versatile Grains Compatibility
Compact & Portable
Multi-Verse Cooking
12-Hour Warm Function
Energy-Efficient
Digital LED Display
High-Quality Cookware
Contemporary Design
Powerful 700W
1.8L Capacity
Free Steam Rack
8. Cornell 1.8L Jar Rice Cooker CRCJS18A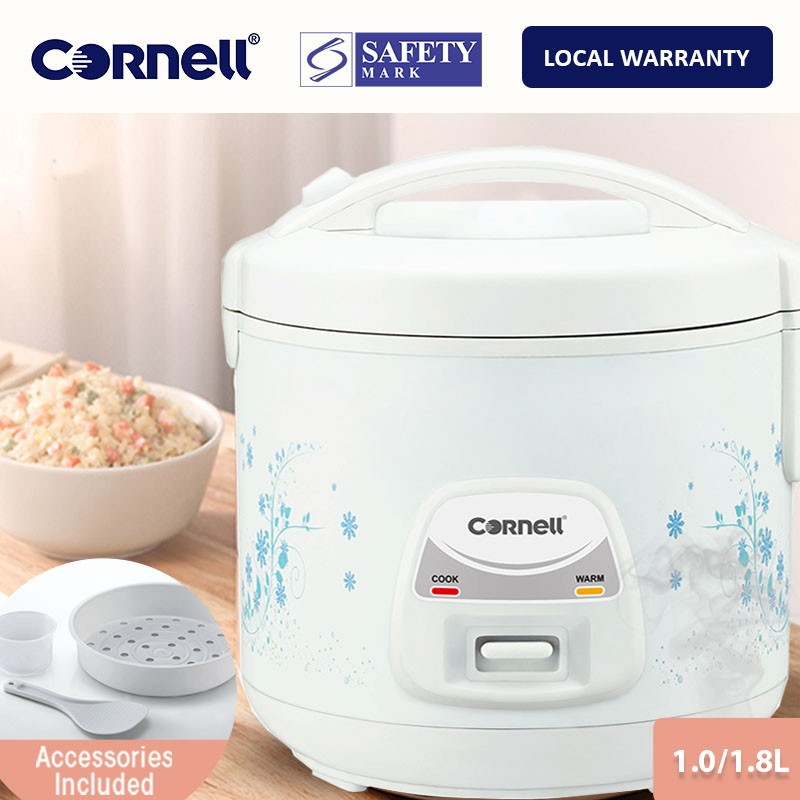 Cornell 1.8L Jar Rice Cooker CRCJS18A is a culinary essential designed to simplify your rice cooking experience while delivering delightful results. Enjoy perfectly cooked white rice in a fraction of the time, with the convenience of the non-stick inner pan and spatula for easy serving. Say goodbye to cold rice, as this cooker automatically transitions to the 'Keep Warm' mode once cooking is complete, ensuring your rice remains at the ideal temperature.
With a generous 1.8L / 10-cup capacity, it's the ideal solution for serving 5 to 10 people, making it perfect for larger families or gatherings. The Cook & Keep Warm function ensures that your rice is not only cooked to perfection but also stays warm until you're ready to enjoy it. This rice cooker also comes with a plastic steam tray, measuring cup, and spoon, enhancing your cooking versatility and convenience.
Here are the highlights of the Cornell 1.8L Jar Rice Cooker CRCJS18A's amazing features:
Perfect White Rice
Automatic Keep Warm
1.8L / 10-Cup Capacity
Non-Stick Inner Pot
Plastic Steam Tray Included
Measuring Cup & Spoon
Ideal for Families
Effortless Serving
Versatile Cooking
9. TOYOMI 0.3L Micro-com Mini Rice Cooker RC 919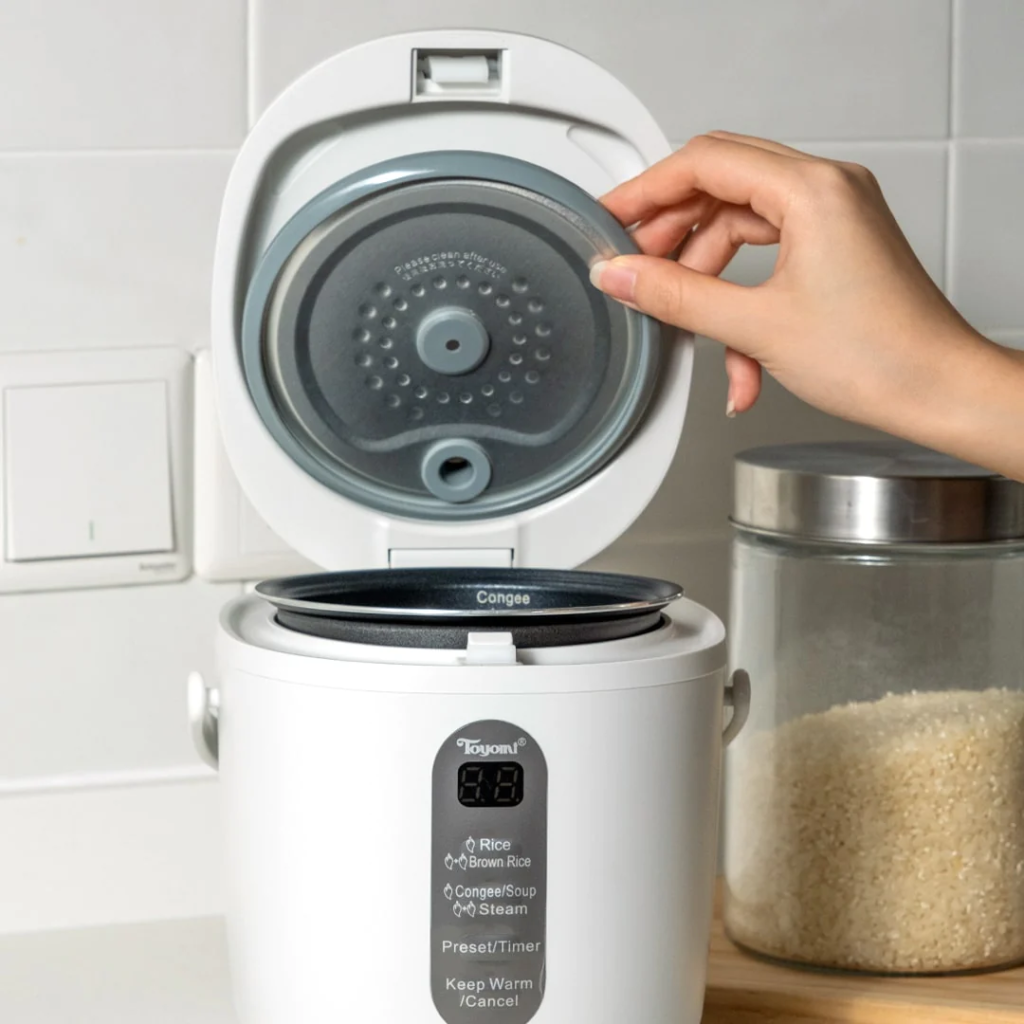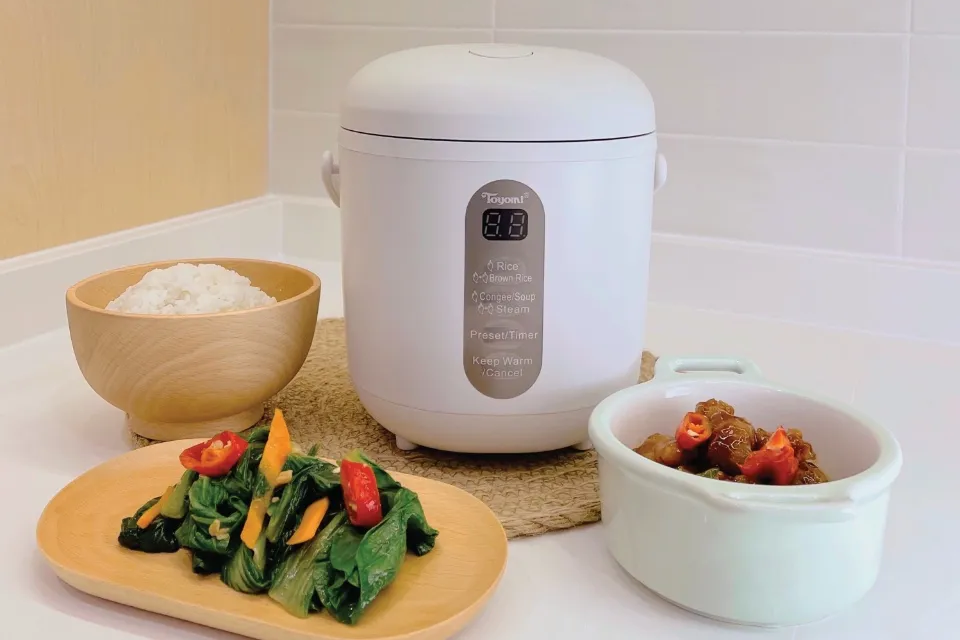 With 6 default functions including Rice, Brown Rice, Congee/Soup, Steam, Timer, and Keep Warm, it caters to a range of cooking needs. The 2mm Thick Crystalloid Duo-Side Non-Stick Coating Pot ensures effortless cooking and cleaning, preventing rice from sticking and simplifying maintenance. The detachable inner lid and auto upspring lid add to the convenience, making cleaning and lid operation a breeze. Experience extended freshness with the 72 Hours Keep Warm Function, which retains the warmth and deliciousness of your meal for up to 72 hours.
The Auto Temperature Control optimizes cooking by adjusting heat and temperature, ensuring perfect results while preventing overheating. Anti-overflow sensors enhance safety, making it a reliable choice for worry-free cooking. Compact yet versatile, the TOYOMI 0.3L Micro-com Mini Rice Cooker RC 919 is your partner for quick and delicious meals, from rice to soup and beyond.
Here are the highlights of the TOYOMI 0.3L Micro-com Mini Rice Cooker RC 919's amazing features:
6 Default Functions
Crystalloid Non-Stick Pot
Detachable Inner Lid
Auto Upspring Lid
72 Hours Keep Warm
Auto Temperature Control
Anti-Overflow Sensors
Versatile Cooking Options
Compact Design
Effortless Maintenance
Convenient Timer
10. Mayer 0.8L Rice Cooker with Ceramic Pot MMRC20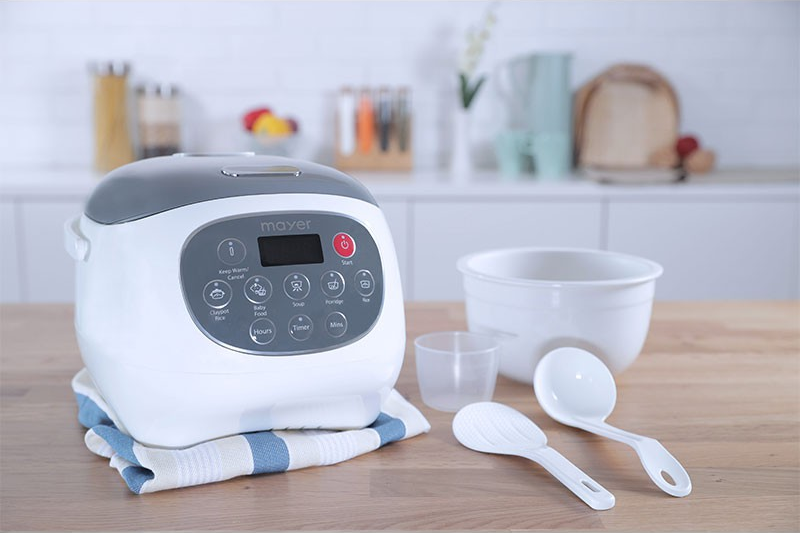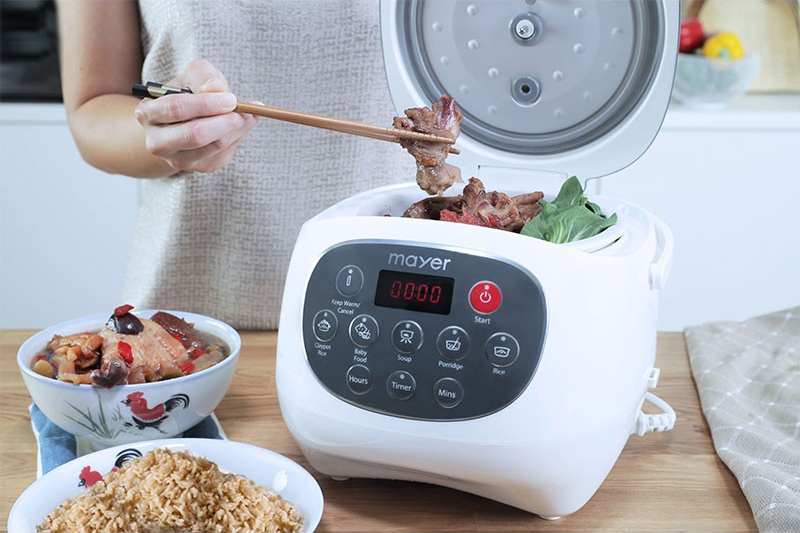 Mayer 0.8L Rice Cooker with Ceramic Pot MMRC20 is a culinary gem that promises an exceptional cooking experience. With a non-stick ceramic cooker and multiple cooking functions, it ensures every meal is a masterpiece. Safety is paramount, thanks to its multiple safety protections. The unique and robust heat retention system guarantees perfectly cooked dishes, while the detachable inner steam cap ensures easy cleaning.
Enjoy both the comfort of fluffy rice and the retention of food nutrients, enhancing the taste and health quotient of your meals. With a maximum water capacity for 4 cups of rice, equivalent to 0.8L, this cooker is designed to meet your family's needs. The Mayer MMRC20 boasts a rice capacity of 0.8L and a gross capacity of 2.0L, making it the perfect addition to your kitchen.
Here are the highlights of the Mayer 0.8L Rice Cooker with Ceramic Pot MMRC20's amazing features:
Non-Stick Ceramic Cooker
Multiple Cooking Functions
Safety Protections
Strong Heat Retention
Detachable Steam Cap
Fluffy Rice Texture
Nutrient Retention
Family-Friendly Size
Culinary Versatility
Innovative Design
0.8L Rice Capacity
2.0L Gross Capacity
11. Midea 1.0L Digital Rice Cooker MMR3018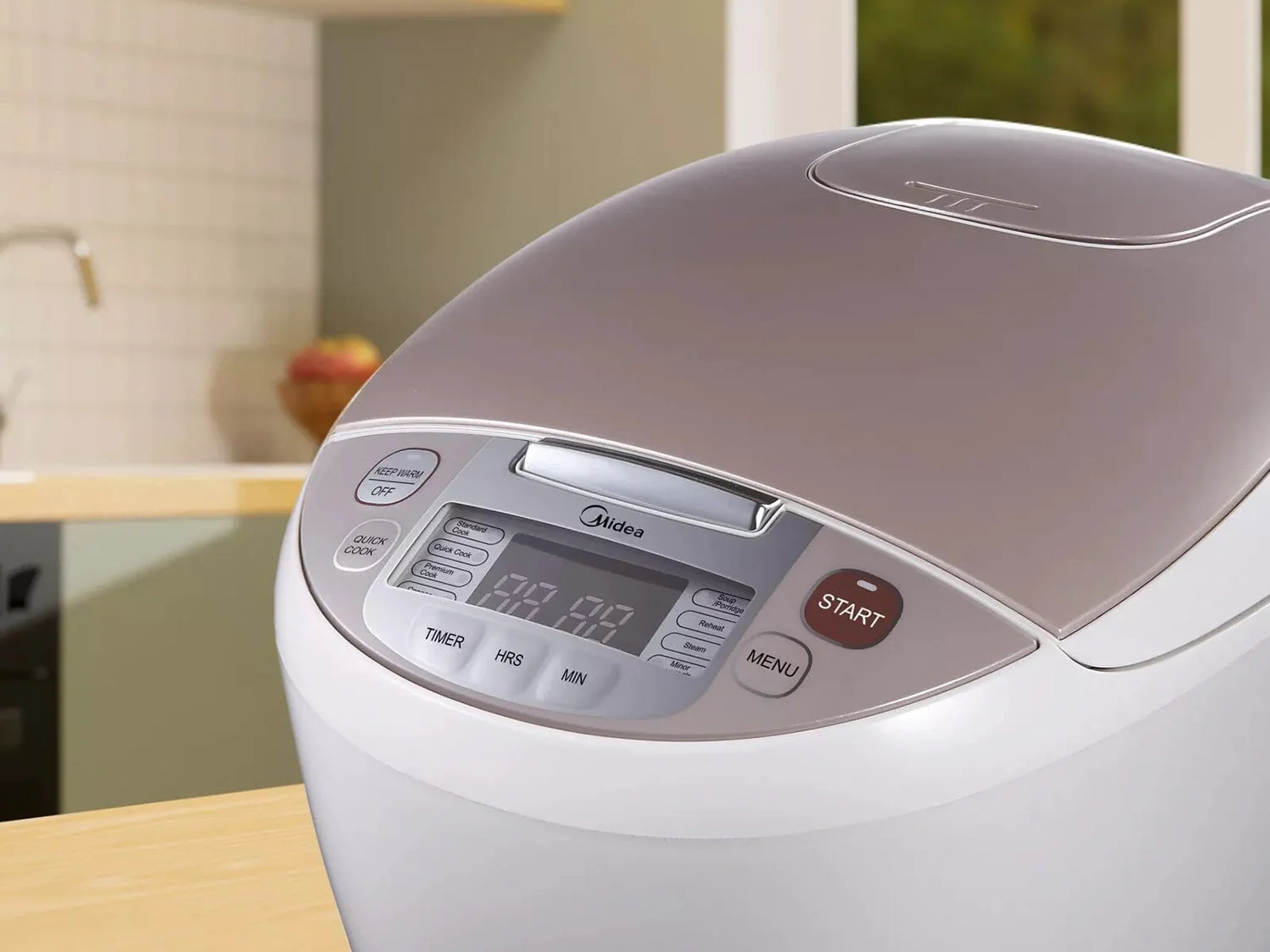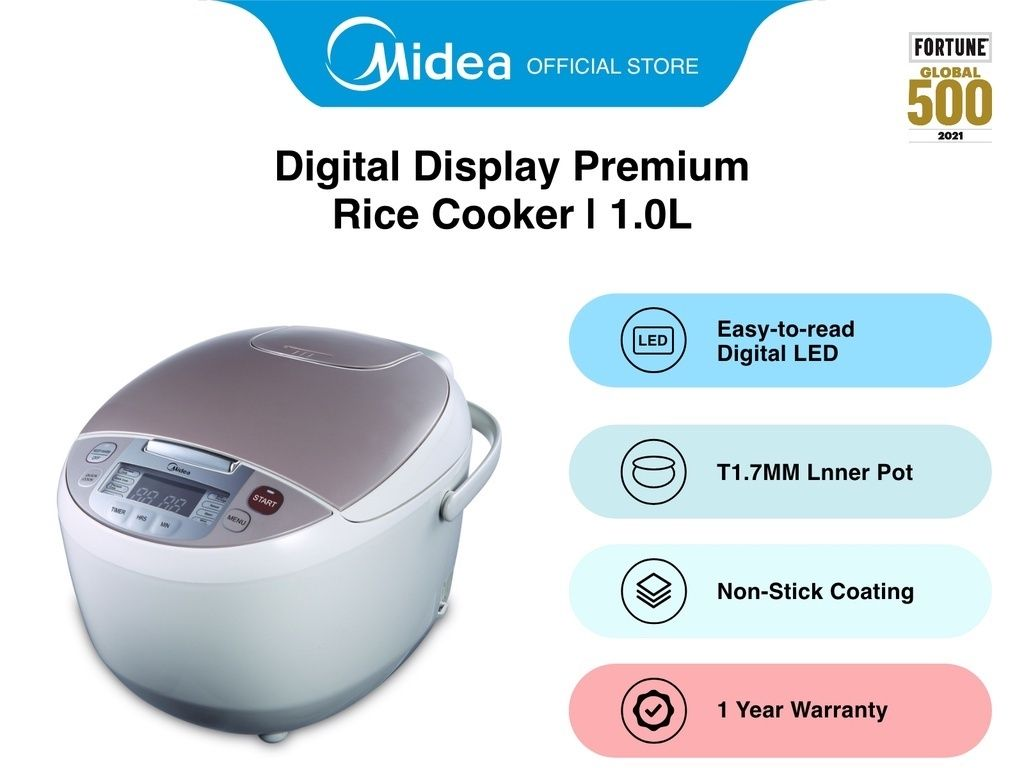 From perfect rice to gourmet delights, Midea empowers your inner chef with this rice cooker, ensuring beautifully cooked dishes every time. Equipped with a smart temperature sensor, LED display, and multifunctional capabilities, this cooker allows you to explore a variety of recipes beyond just plain rice. The T1.7mm inner pot with non-stick coating ensures hassle-free maintenance and easy cleaning, while the detachable inner lid plate adds to hygiene and convenience.
The unique honeycomb interface design enhances heat conduction and cooking efficiency, while the curve-shaped heating element guarantees even heating for fluffy rice. With multiple pre-set menus, including rice, baby food, congee, slow cook, porridge/soup, brown rice, and steam modes, your cooking options are endless. Enjoy easy control and visibility with the wide LED display and soft-touch control, allowing you to tailor your cooking modes at the touch of a finger.
Here are the highlights of the Midea 1.0L Digital Rice Cooker MMR3018's amazing features:
Versatile Cooking Abilities
Digital LED Display
T1.7mm Inner Pot
Non-Stick Coating
Detachable Inner Lid
Smart Temperature Sensor
Enhanced Heat Conduction
Multiple Pre-set Menus
Soft Touch Control
Gourmet Cooking Made Easy
Easy Maintenance
Conclusion
In the realm of kitchen appliances, the rice cooker emerges as a true culinary companion, redefining the art of cooking rice. This journey through the realm of rice cookers has unveiled a range of options that go beyond convenience, delving into precision, versatility, and health-conscious cooking.
From smart technology that ensures precise results to compact designs that cater to various needs, these rice cookers are a testament to innovation. The quest for perfectly cooked rice has led to appliances that effortlessly align with modern lifestyles, offering features like multiple cooking functions, easy maintenance, and enhanced safety measures.
As we conclude this exploration of rice cookers, it's clear that these appliances have evolved into much more than cooking vessels. They are reliable partners in the culinary journey, transforming simple grains into delightful, nourishing, and flavorful dishes.