Are you tired of sitting in the same chair for long periods and feeling fatigued while gaming? Then you might be here searching for a comfortable gaming chair. Let us tell you beforehand: you might have trouble selecting from the many options available in Singapore. But don't fret; we're here to help.
By playing video games for hours while seated in them, we thoroughly tested a range of gaming chairs. After careful consideration, we have compiled this list of the best gaming chairs that strike the perfect balance between comfort and style. Our list includes a wide range of product options, from basic to high-end, and from simple to stylish. So, if you've already decided to invest in a gaming chair, it's best to save up some money to get additional features and better quality.
What to Look for When Buying a Gaming Chair?
When selecting the best gaming chair, there are several factors to consider to ensure that you make the right purchase. These include:
Customization: It refers to the ability of the gaming chair to be adjusted to suit your specific needs and preferences. This includes features such as adjustable armrests, seat height, and tilt tension, all of which can significantly enhance your gaming experience.
Comfort: Comfort is another essential consideration. It can greatly impact your ability to focus and perform well during long gaming sessions. Look for a chair that offers ample cushioning and support. It must have elements like lumbar and neck pillows to help prevent strain and fatigue.
Quality and Weight Capacity: Look for a chair with high-quality upholstery and a sturdy frame. The materials used in the construction of a gaming chair can impact its durability and comfort. Furthermore, make sure the chair can accommodate your body weight comfortably.
Ergonomics: A chair that is designed with proper ergonomics will provide proper support for your spine and promote good posture. An ergonomic chair also reduces the risk of discomfort or injury. It can improve your overall health and well-being.
Reclining Capabilities: The ability to recline is another important factor to consider when selecting a gaming chair. This feature can help you relax and stay comfortable during extended gaming sessions. It can also be useful for taking short breaks or even napping between gaming sessions.
While design and aesthetics are also important, they are less crucial if your priority is "comfort" during prolonged gaming sessions. Dedicated gamers are sure to prioritize reliability over appearance!
Our Top Picks for Battle-Ready Gaming Chairs in Singapore
The following are our eleven favorite gaming chairs in Singapore that promise to level up your gaming experience:
1. Razer Iskur Gaming Chair with Built-in Lumbar Support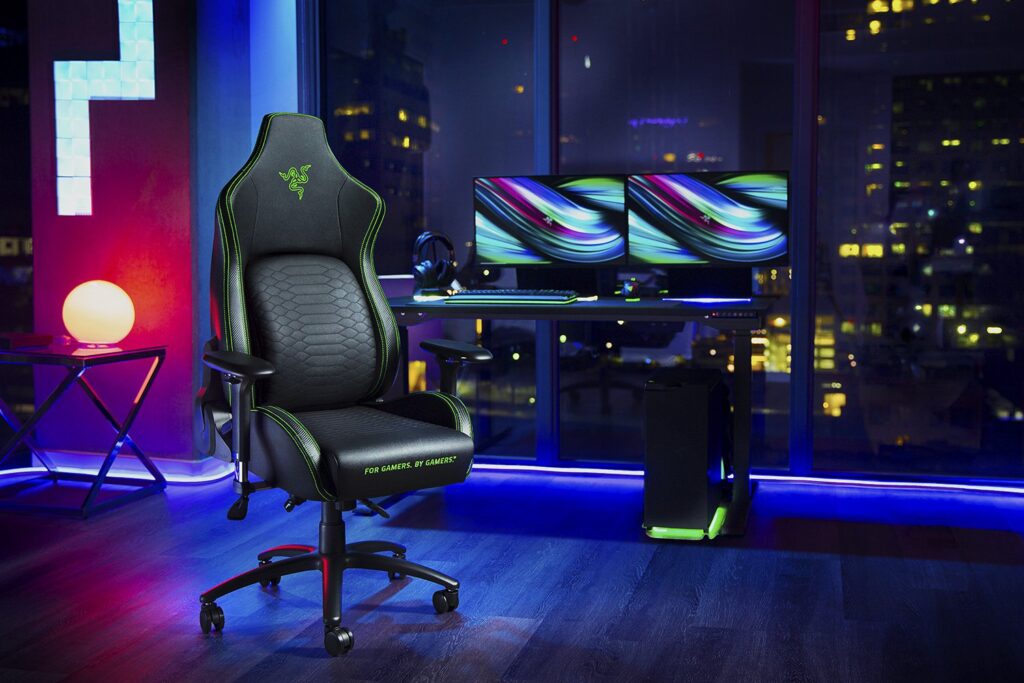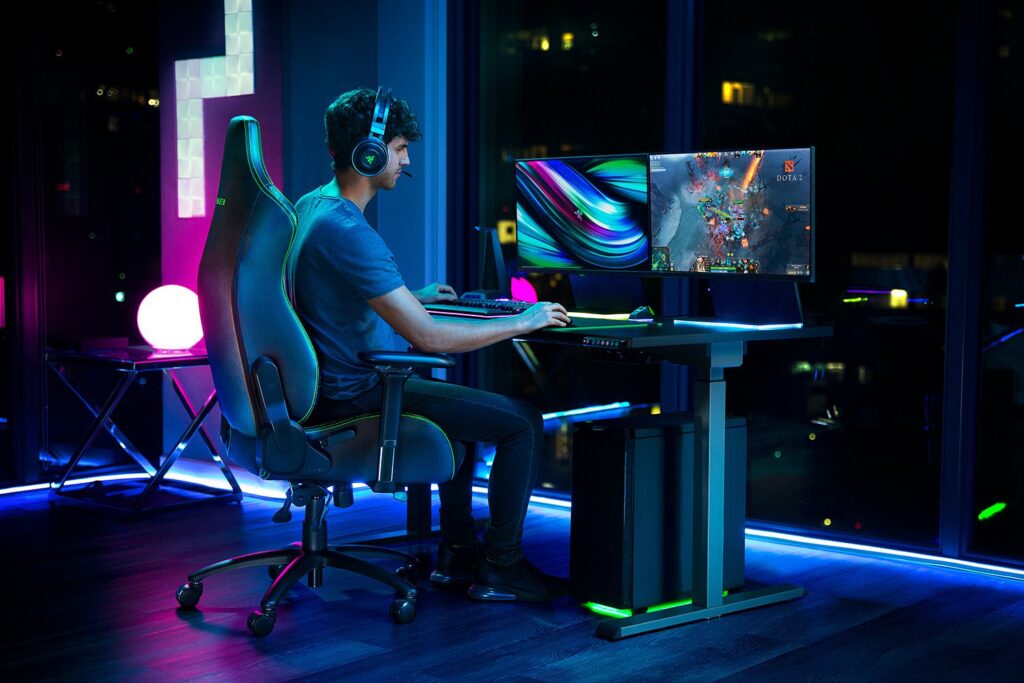 Nowadays, it's hard to find a gamer who isn't familiar with Razer's recognizable triple-headed snake logo. This company, which was started and is run by seasoned players, has established a reputation in the gaming industry. Razer offers a wide range of gaming equipment and software. Along with its primary gaming products, it also sells a range of lifestyle products, including some truly outstanding gaming chairs.
One such example is the award-winning Razer Iskur gaming chair. This chair boasts an ergonomic design that is particularly well-suited to professional gamers who spend long hours in front of their computers. The chair is designed to provide maximum comfort and support. It features built-in lumbar support and a multi-tilt mechanism that allows users to adjust the chair to their preferred angle. Moreover, it is made from high-quality materials, ensuring durability and longevity.
The features that make the Razer Iskur the best gaming chair in Singapore are:
Fully sculpted lumbar support
High-density molded foam cushioning and PVC leather cover
Ergonomic design

Improves posture
Reduces fatigue and muscle strain

Recliner: stable and supportive even when reclining
Customizable: adjustable back angle, headrest, and lumbar cushion
Two types of seat materials: synthetic leather and fabric
Available in 12 innovative designs with different color schemes
14-day risk-free trial
2. TTRacing Duo V3 Gaming Chair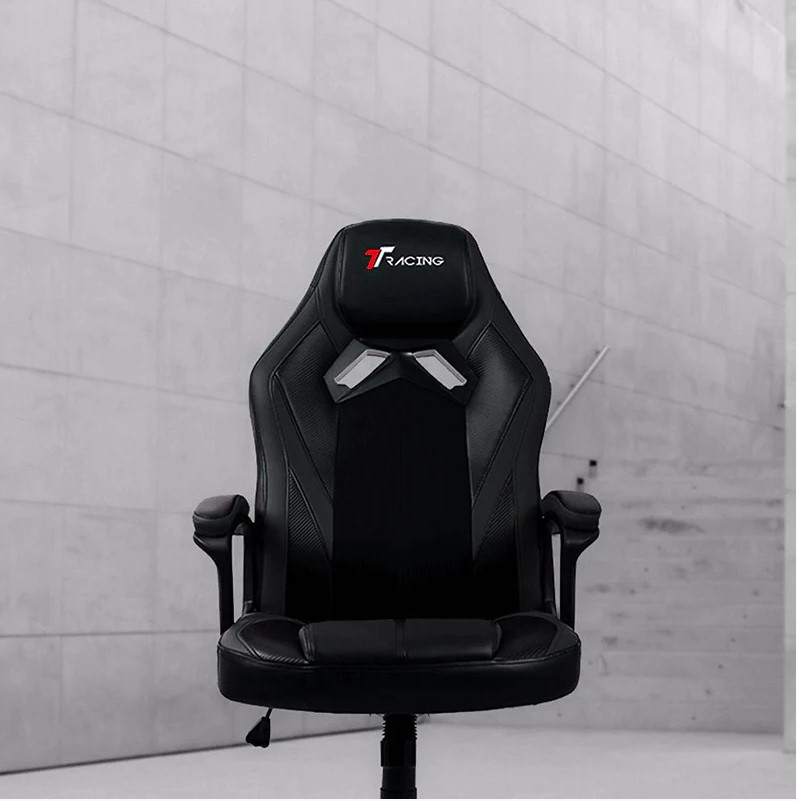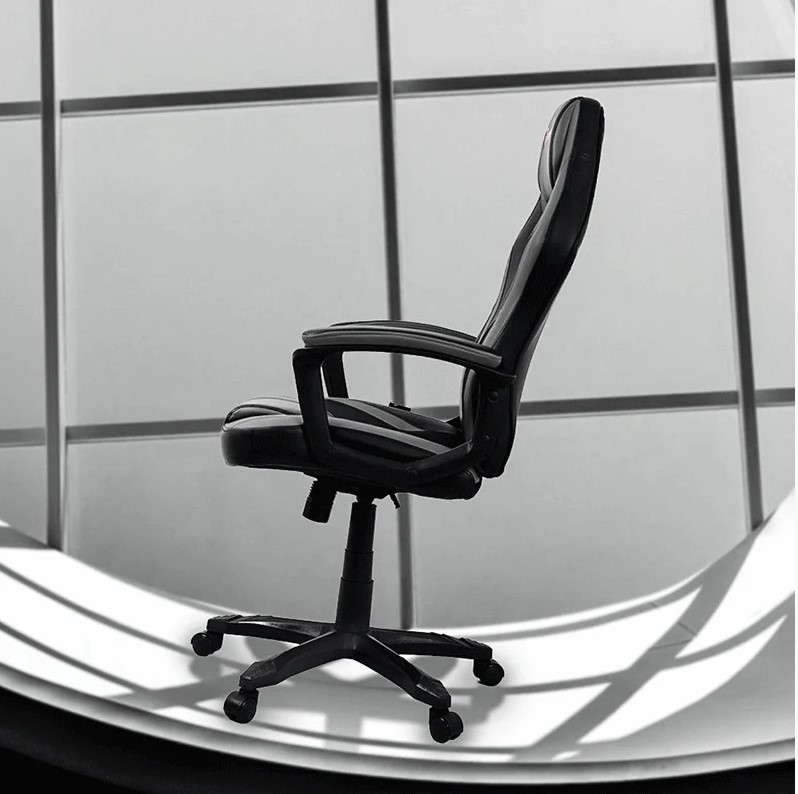 TTRacing is a well-trusted brand in the gaming chair industry. The company is renowned for producing top-tier ergonomic products that improve the gaming experience while putting the needs of the user's comfort and health first. They are well known for their exceptional performance and efficiency in the markets of Malaysia, Singapore, and the Philippines.
Among the range of gaming chairs offered by TTRacing, the Duo V3 is the best entry gaming chair. It has been specifically created to offer gamers a comfortable sitting experience while showcasing a chic design. The chair's ergonomic and adjustable features ensure that users can customize it to their unique needs. It reduces the risk of strain or injury from prolonged use.
Some really cool features of the Duo V3 throne are the following:
Recliner with a maximum of 155° of full recline
Wider and taller body and seat
Coated with Carbon Fibre PU leather
Cold cure foam to dissipate heat and enhance breathability
Heavy Duty SGS certified hydraulic
Butterfly mechanism for improved stability
Large weight capacity
Sturdy aluminum body for greater durability 
Heavy-duty PU castors
3. OSIM uThrone V Gaming Massage Chair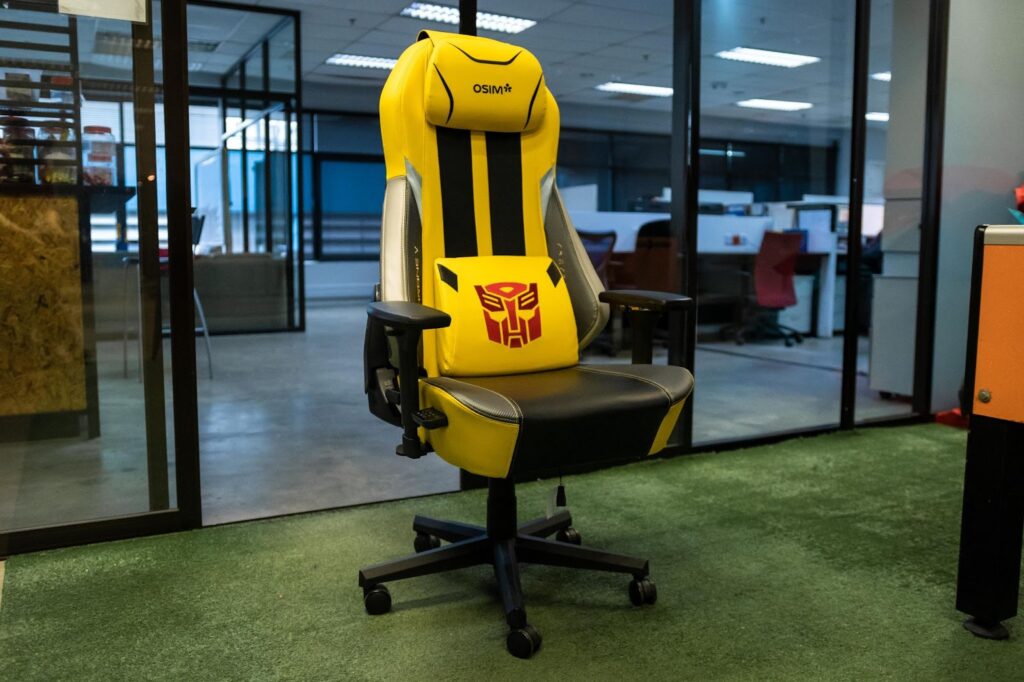 OSIM, which is a subsidiary of V3 Brands, is a pioneer in the Wellness Tech industry. It is the leading brand in Asia's premium massage chair market. Since its founding in 1979, the company has been conducting research and development to produce ergonomic chairs. The main goal of OSIM is to enhance consumers' general health and well-being through its products, technologies, and retail ideas.
The uThrone V from OSIM is the first-ever chair that combines gaming ergonomics and massage features in one product. Intended for gaming enthusiasts, this chair can help users experience the joy of gaming without worrying about body aches. With uThrone V's massage sessions, gamers can take a break from their gaming sessions to relieve pain in their neck, shoulders, and lumbar area while re-energizing their entire body. By sharpening their focus in the game, users can unleash their inner strength and conquer epic challenges.
OSIM's uThrone V Gaming Massage Chair is the perfect combo of gaming and massage that offers the following benefits:
V-Hand ™ Massage Technology
Ergonomic and customizable
Shoulder GRIP: 360° massage rollers for neck and shoulders
Lumbar Press: Glides and presses along the lumbar to relieve back pain
6 different shoulder positions
4D adjustable armrest
Adjustable height
Recline up to 145°
Intelligent control panel
Side hook to hang your gaming gear
4. Cooler Master Caliber R2 Gaming Chair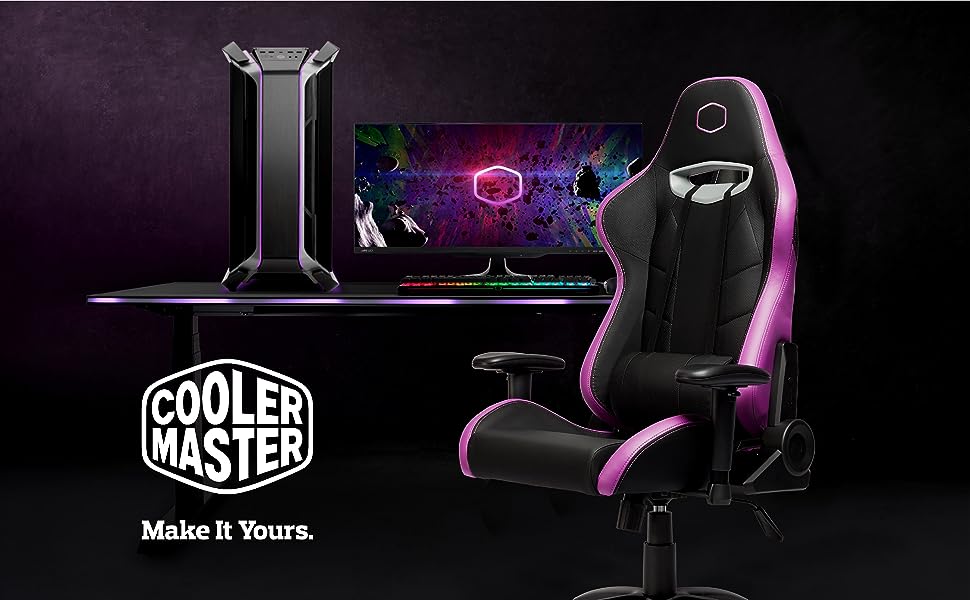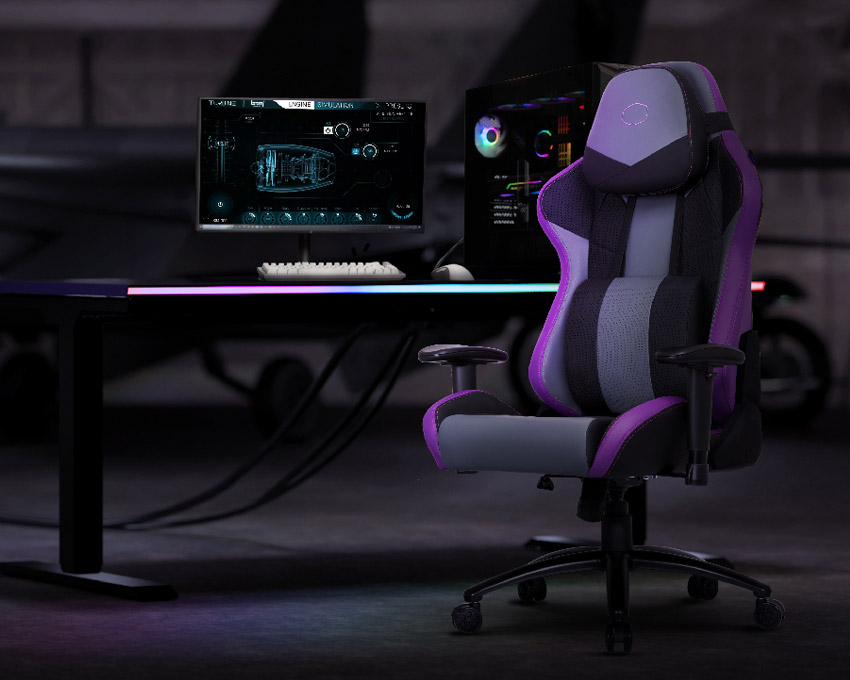 Cooler Master is dedicated to crafting personalized gaming chairs and custom-built PCs that reflect each customer's unique personality and style. With a strong passion for thermal innovation, the company's PCs surpass technological expectations. On the other hand, their gaming chairs offer exceptional comfort, support, and style tailored to individual needs. The company aims to attain a sense of self-expression and gaming excellence, ensuring that every product is genuinely personalized and mirrors the individual preferences of its customers.
Surpass the competition with Cooler Master's Caliber R2 racing gaming chair, where affordable performance meets exceptional style. With its reliable class 4 gas lift, the R2 effortlessly elevates a maximum load of 150kg. It allows instant relaxation with its adjustable tilt function and supportive neck pillow and prioritizes perfect posture with its adjustable armrests. Furthermore, its perforated, breathable premium PU material enhances ventilation and circulation, effectively reducing heat build-up and ensuring a cool experience during extended gaming sessions.
The features that make the Caliber R2 Gaming Chair your best gaming partner are:
90-180 degree recline
2D soft-padded armrests
Ergonomic headrest
Neck pillow for support
Cold molded foam seat
Perforated, breathable premium PU material
Class 4 gas lift: can lift a maximum load of 150 kg
Fully cast steel base
5 smooth rolling race-style casters
5. TTRacing Maxx Gaming Chair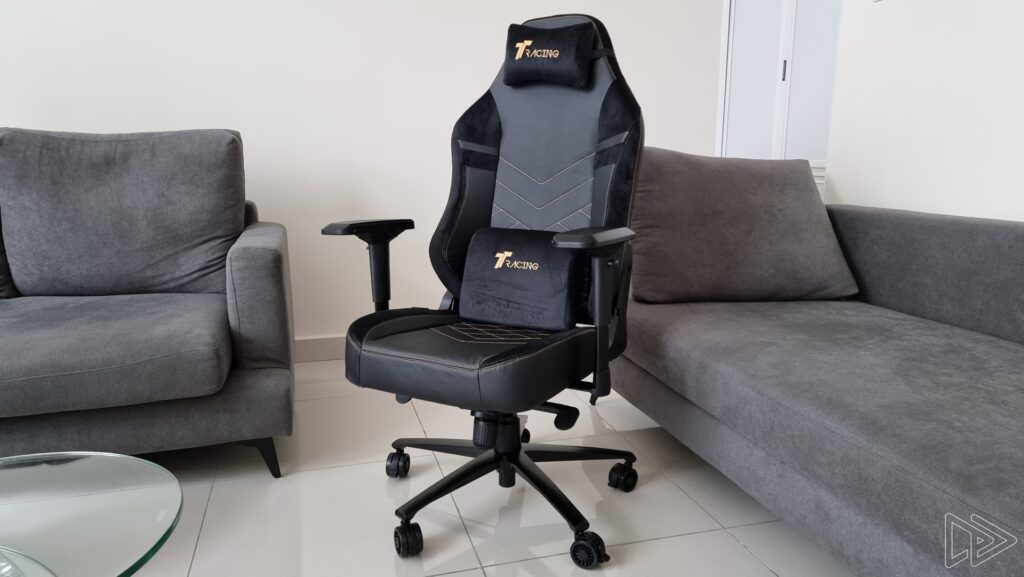 Here comes another fantastic chair from TTRacing: the all-new Maxx series gaming chair. With its wide and tall body, this chair offers the ultimate comfort. It is a product of meticulous design and thoughtful decision-making. Wrapped in a luxurious faux leather-plush-velour-mix, the chair minimizes heat-trapping. It quickly dissipates heat thanks to top-quality cold cure foam. Wrapped in a gentle cushioned material, its armrests offer numerous adjustment possibilities to position your arms at your desired angle.
Maxx goes above and beyond by providing users with the advantage of customizing the main recliner and multi-tilt mechanism to their preferred comfortable angles. The Class 4 SGS-certified hydraulics ensure smooth 360-degree rotation and adjustable height levels. Additionally, the hydraulic system incorporates a 4cm lower shaft, ensuring a well-balanced center of gravity for improved stability. The chair's robust aluminum body enhances its durability, making it highly resistant to damage.
The combination of the following features makes the Maxx Gaming Chair an immaculate fit for all components:
Top-quality cold cure foam
Premium faux leather
155-degree full recline
Multi-tilt mechanism
4D adjustable armrest
Neck and lumbar pillows
Heavy duty class 4 SGS-certified hydraulics
Sturdy aluminum body
Rust and corrosion-resistant
65mm XL novel locking castors
6. Apol Sphinx Gaming Chair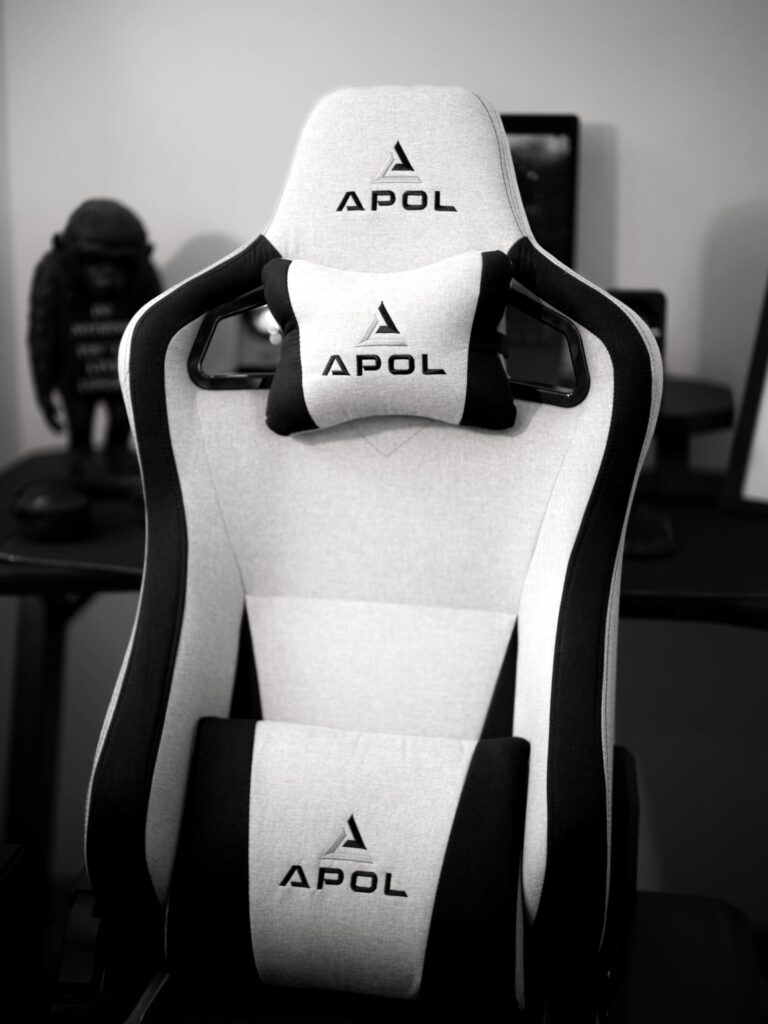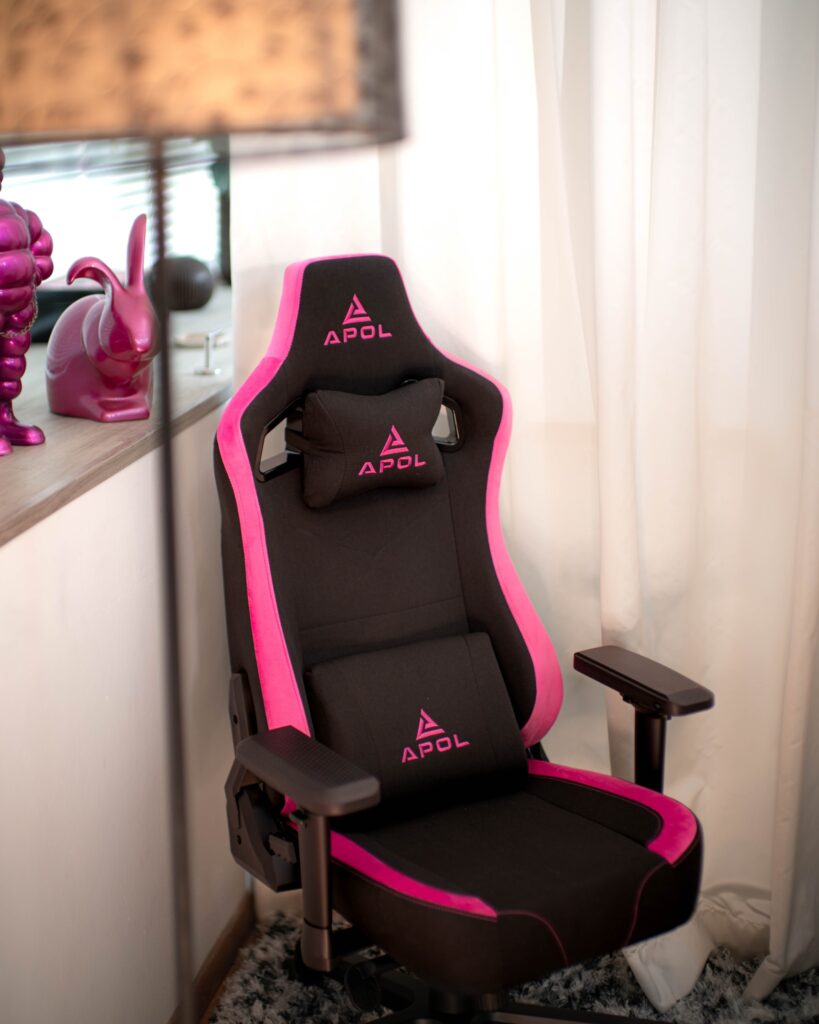 Apol is a Singaporean company that produces high-quality gaming chairs. They have quickly become one of the most popular gaming chair manufacturers in Singapore. Apol's chairs are meticulously designed with serious gamers in mind in order to deliver the best gaming experience possible. With their collection of ergonomically designed chairs that exude aesthetic appeal, you can take your productivity, efficiency, and comfort to new heights.
Apol's Sphinx Chair is the smallest gaming chair ever! This chair is specially designed for petite individuals. It provides unparalleled support for every sitting posture and position. One of the key features of this chair is its Cloud Tech™ Foam which is engineered to adapt to your body weight and shape. This means that you can lean back and sink into the chair as the foam contours to your body for the ultimate personalized comfort experience.
Whether you prefer keeping your feet planted firmly on the ground or enjoying a subtle rocking motion, the Sphinx Chair has got you covered. Some of its amazing features are:
Cloud Tech™ Foam padding 
Memory foam head pillow and lumbar pillow
Breathable, durable, and water resistant: microfiber PU leather cover
Premium upholstery fabric
Reclining ability: reclines up to 165 degrees
Four-directional adjustable armrest
Multi-functional tilt mechanism
Class 4 hydraulics
Superior quality caster wheels
Aluminum wheelbase: rust and corrosion resistant
7. Acer Predator Gaming Chair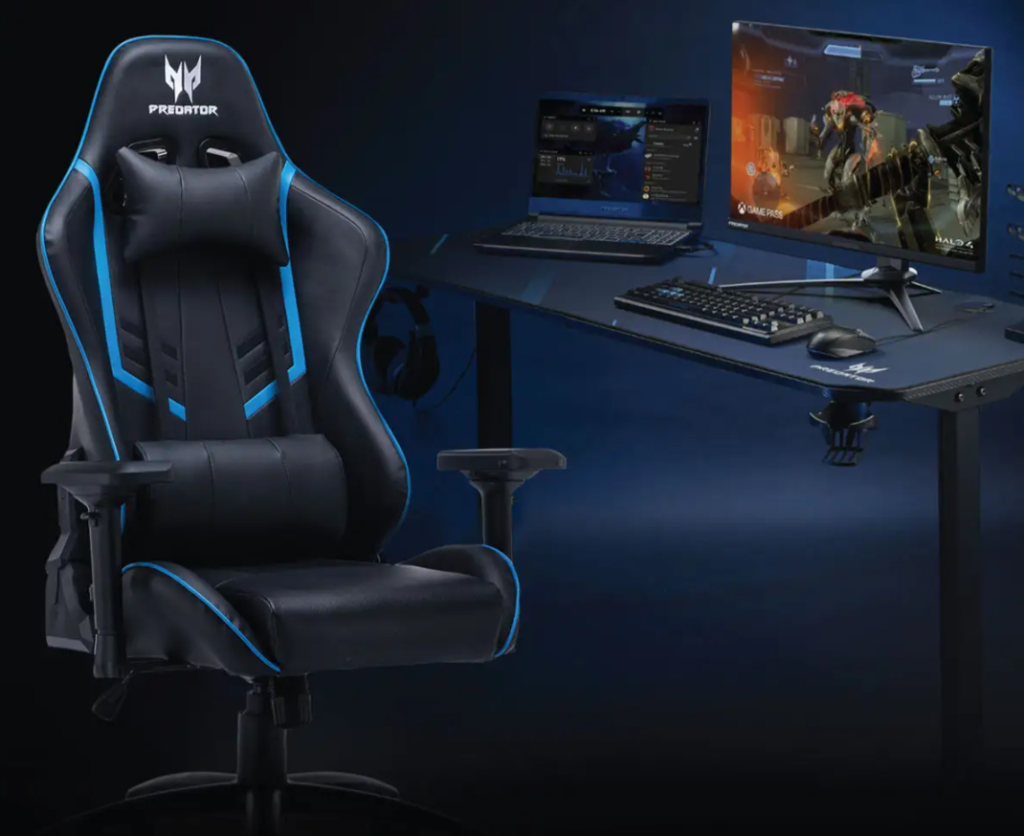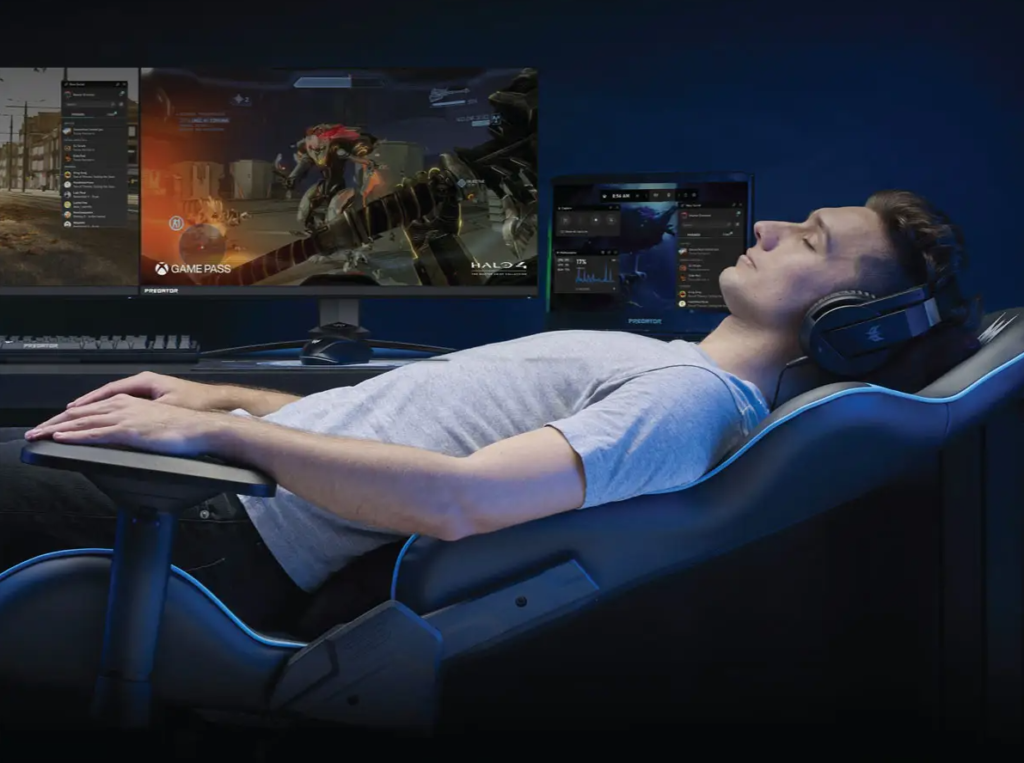 Acer, the unrivaled brand in its league, needs no introduction among tech aficionados. This hardware and electronics powerhouse is synonymous with cutting-edge innovation. From PCs to laptops and all things electronic, Acer offers a comprehensive range of top-notch products. Among its impressive lineup are gaming chairs that stand head and shoulders above the rest, just like its gaming laptops.
Introducing the Predator – Acer's latest masterpiece in gaming chair design. Crafted with the utmost care, this ergonomic throne features plush cushions enveloped in luxurious PU leather. Immerse yourself in unparalleled comfort as you can customize its headrest, armrests, and backrest to your liking. The chair is expertly tailored to embrace you snugly while alleviating any strain on your body while gaming.
Embark on epic gaming adventures with Acer's exceptional features, as described below:
Ergonomic design 
PVC material with covered cushions
A detachable headrest and lumbar support
4D Armrests which adjust according to the height of the user
The backrest is tiltable from 90° to 160° with a lock paddle
Super durable with sturdy material and a metal base 
Class 3 100mm gas lift 
Can support as much as 150 kg of weight
1-year carry-in warranty
8. Armaggeddon Shuttle II Gaming Chair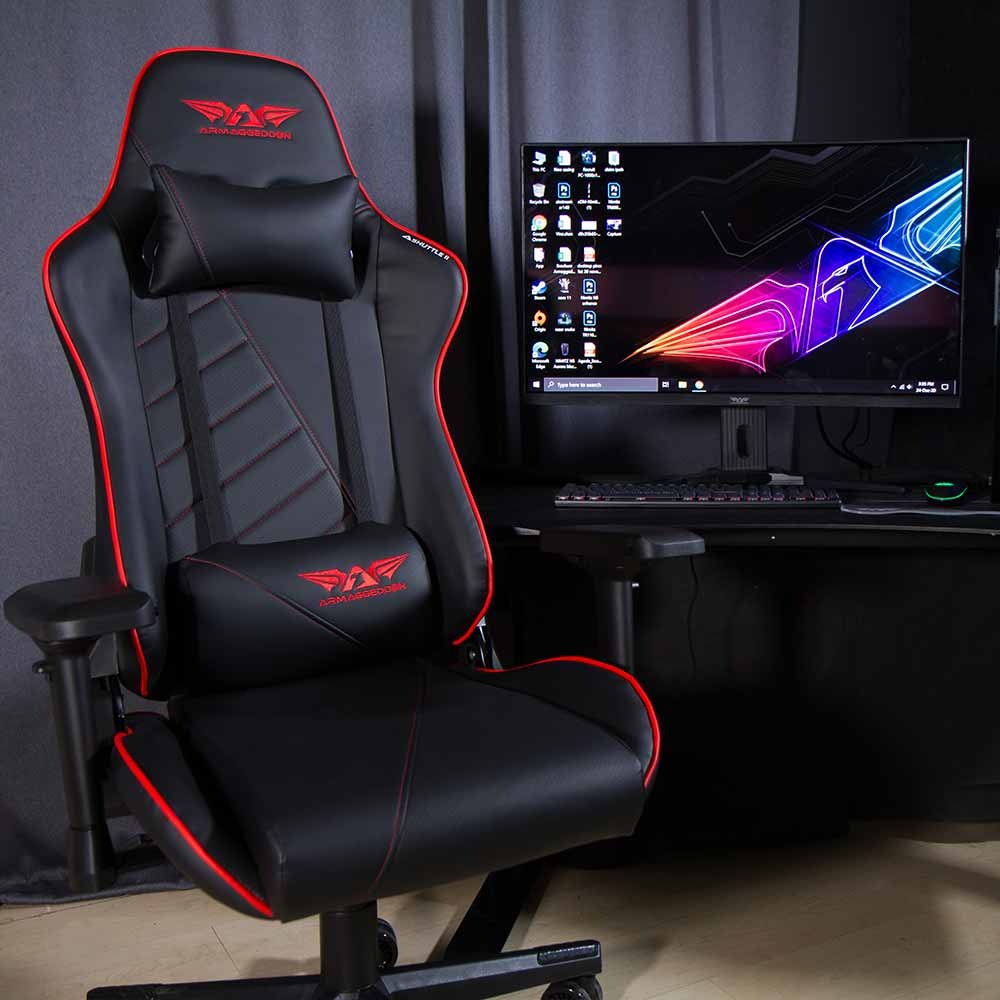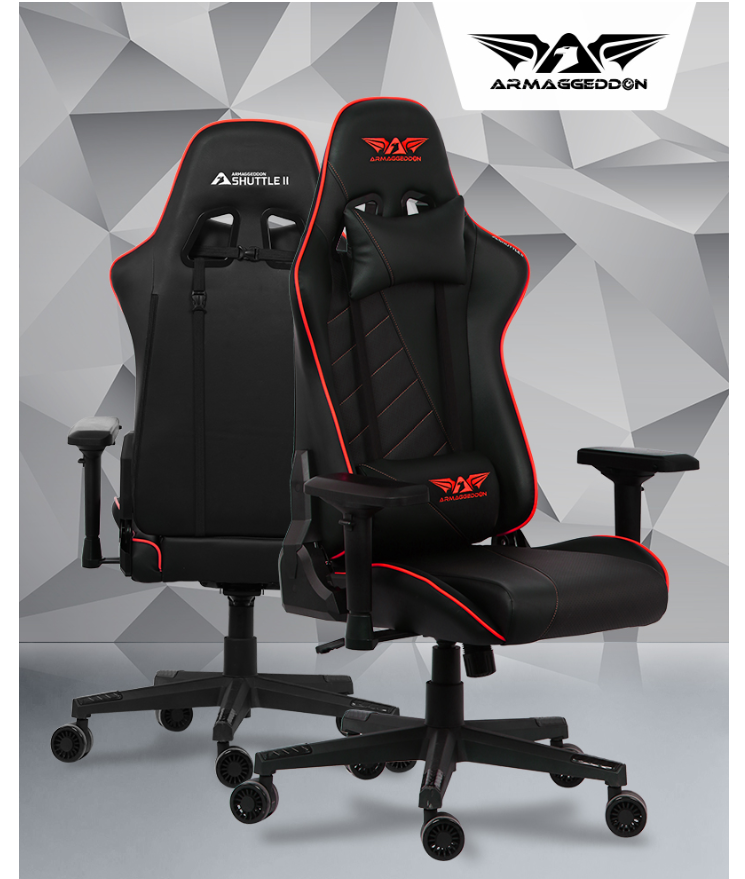 Armaggeddon was established in 2011 by a group of enthusiastic people with a specific objective in mind: to produce specialized and reasonably priced professional gaming equipment. As the years passed, the company grew significantly, winning over the hearts of countless gamers and fans alike. Today, Armaggeddon is a renowned name in the gaming community, known for its commitment to providing top-quality gaming gear at budget-friendly prices.
The company offers some high-end gaming chairs to choose from. Among these, our favorite is the Armaggeddon Shuttle II Gaming Chair. This chair is naturally styled with premium upholstery that combines both comfort and style. It is an excellent option for long gaming sessions. The chair's ergonomic design helps to reduce strain, improve posture, and provide ample support for the back and neck. And thanks to the high-density foam and ultra-thick pillows, its seat is as plush as a marshmallow.
The features of the Armaggeddon Shuttle II Gaming Chair that are worth mentioning include:
Premium PU leather with natural Togo leather grain texture
Neck and back support: adjustable and ultra-thick
Recliner angle: 160 degrees adjustable
4 Directional armrests
Butterfly swivel and tilt functions
Plush seat and ultra-thick pillows
Heavy-duty castors and aluminum base
Class 3 hydraulic piston
Cold-cure, ultra-high-density memory foam
Support up to 150 kg
2 Year Warranty
9. ErgoTune Supreme V3 Mesh Chair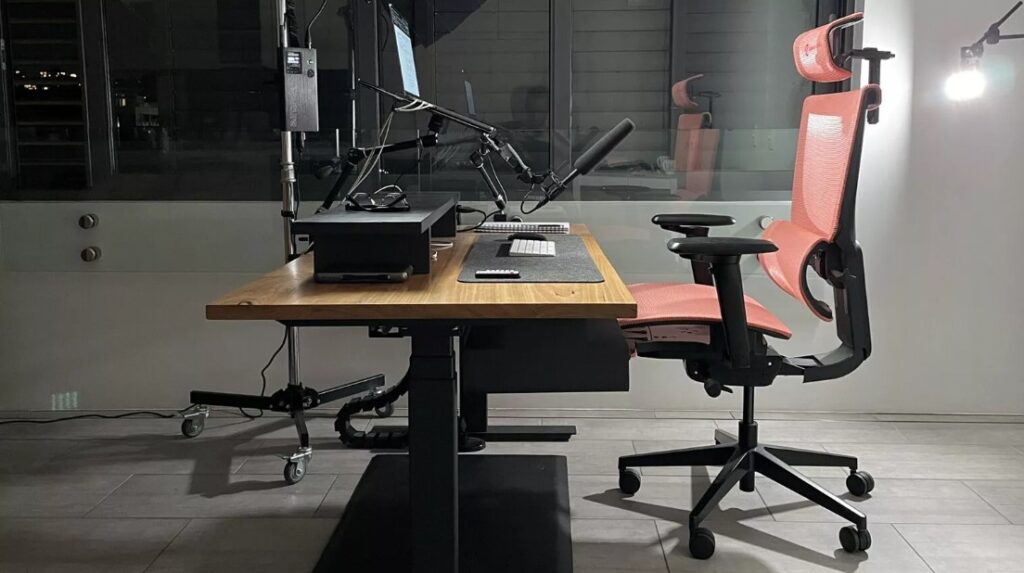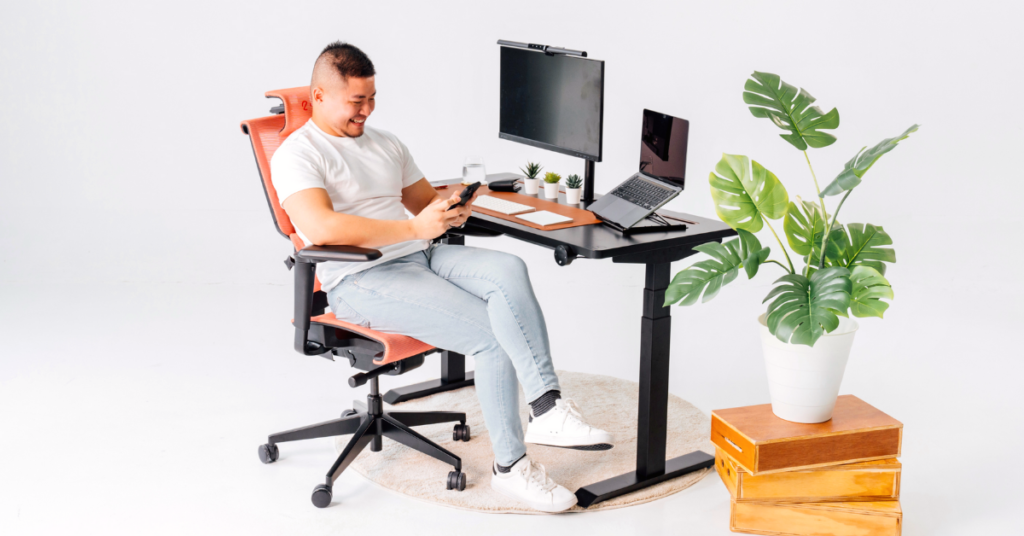 Singapore-based ErgoTune is a manufacturer of gaming chairs with a focus on ergonomic seating. The company's main objective is to create chairs that are both comfortable and supportive of good posture during extended gaming sessions. Their chairs have adjustable features that allow users to customize their seating experience for optimum comfort. ErgoTune chairs are made with high-quality materials to ensure durability and long-lasting use.
The ErgoTune Supreme V3 Mesh Chair is the ultimate solution to long hours of gaming or working. It comes with TriTune™ Enhanced 3D Headrest that can be customized to your preferred height, depth, and angle to give you the perfect neck and head support. This chair also features an auto-adjusting lumbar support system that fits your body's natural curve and reduces pressure on your lower back. ErgoTune Supreme V3's breathable hybrid mesh keeps you cool and comfortable, even during intense gaming sessions. It is perfect for Singapore's hot and humid climate.
The features of the ErgoTune Supreme V3 Mesh Chair that'll make you fall in love with it are:
TriTune™ enhanced 3D headrest
ATLAS™ lumbar support: fidget-proof back support
Adjustable seat depth and height
DuraWeave™ hybrid mesh
GyroBrace™ armrest: adjustable in 4 ways
Natural pain relief with 11 adjustment points
TrueTilt™ precision recline upto 136°
10. Asus ROG Chariot Core Gaming Chair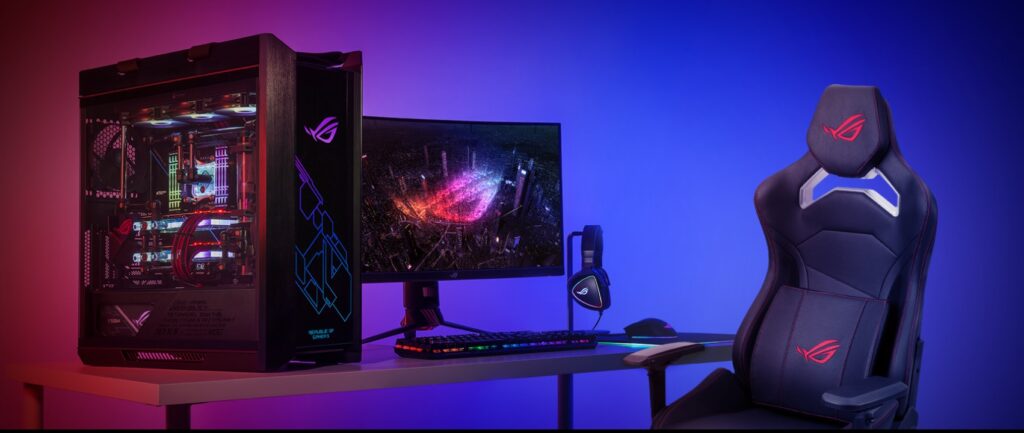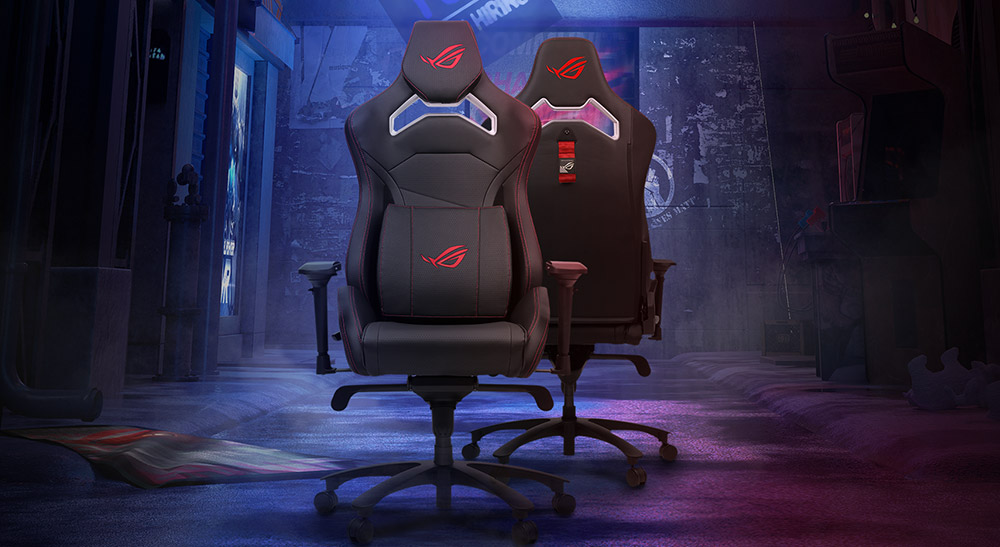 ROG (Republic of Gamers) is a subsidiary brand owned by ASUS, a technology company headquartered in Taiwan. It was established in 2006 with the primary objective of catering to the requirements of professional gamers and gaming enthusiasts. ROG is committed to providing superior gaming hardware and accessories that offer high performance. These include gaming laptops, desktops, motherboards, graphics cards, monitors, and peripherals like gaming chairs, etc. 
The ROG Chariot Core Gaming Chair is designed to replicate the sensation and style of sitting in the driver's seat of a high-performance racing car. The chair has a lockable tilt mechanism, a high-density foam headrest, memory-foam lumbar support, breathable PU leather, 4D-adjustable armrests, and robust parts. All these work together to provide a secure and comfortable gaming experience. In addition to providing exceptional comfort, the chair also enables users to display their unique style in any gaming environment.
All the specifications of the ROG Chariot Core Gaming Chair are summarized below:
Ergonomic design 
High-density foam headrest and memory-foam lumbar cushion
4D-adjustable armrests
Up to 145°-recline backrest
Articulated and lockable tilt mechanism
Convenient rear hook
Highly durable: made of tactile leatherette and high-density, cold-cure foam
Superior safety: all-steel frame and class 4 gas lift
Durable PU casters and aluminum-alloy, five-star base
11. Flujo Triton Gaming Chair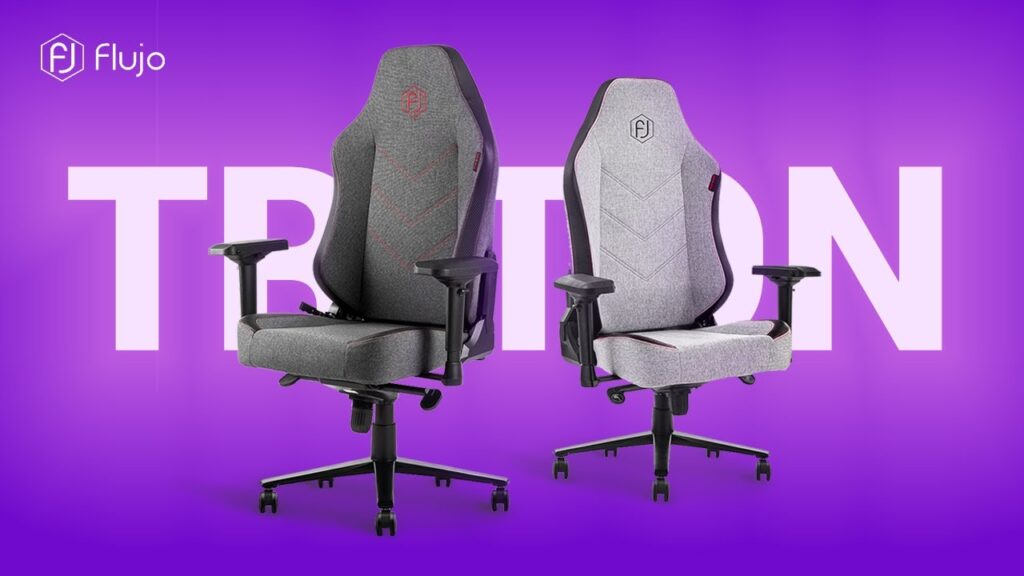 Originally based in Singapore, Flujo has made a name for itself as the top manufacturer of ergonomic products in the country. It has been producing top-notch products since 2016, with its desks and chairs being highly sought after due to their superior quality, comfort, and durability. With its top-quality gaming chairs, the brand has garnered the trust of gaming enthusiasts and office workers alike.
The Triton Gaming Chair is a testament to Flujo's commitment to excellence. This gaming chair has been designed keeping the three most important factors in mind: performance, power, and comfort for users. To ensure durability over time, a lot of research has been used to support the chair's design. It means you can enjoy your gaming sessions without worrying about wear and tear.
All the amazing features of the Flujo Triton Gaming Chair are listed below:
Ergonomic design
Synchro Mechanism: distributes your body weight and supports your back and spine
Lockable recline: 90-160 degree
High-quality and high-density foam
4D armrest
TUV-certified Class 4 explosion-proof gas rod: 100,000 times lifting
Linen fabric for better breathability and less wear and tear
Final Thoughts
We've carefully compiled this list of the top 11 gaming chairs available in Singapore, ranging from the Razer Iskur Gaming Chair to the Flujo Triton Gaming Chair. All of these gaming chairs have been chosen for their ergonomic designs, ensuring that you can enjoy extended gaming sessions without sacrificing comfort. By investing in one of these chairs, you can significantly enhance your gaming experience and take your gameplay to the next level. Whether you're a casual gamer or a dedicated pro, there's a chair on this list that will meet your gaming needs. So why settle for an uncomfortable chair when you can upgrade to one of the best gaming chairs available in Singapore?