If you're tired of spending hours battling dust and debris, it's time to invest in a top-notch vacuum cleaner that can make cleaning a breeze. In this article, we've meticulously curated a list of the 12 best vacuum cleaners available in Singapore, each handpicked for their exceptional performance and reliability.
From powerful corded models to versatile cordless wonders, we've scoured the market to bring you a comprehensive selection that caters to all types of cleaning needs and preferences. Whether you're dealing with pet hair, stubborn dirt, or simply aiming for a spotless abode, our expert recommendations are sure to meet your expectations.
Features of a Good Vacuum Cleaner
A good vacuum cleaner should have the following features:
Powerful Suction Technology: A good vacuum cleaner boasts advanced suction technology that efficiently lifts dirt, debris, and even embedded pet hair from various surfaces, ensuring a thorough cleaning in a single pass.
Versatile Attachments and Accessories: Look for a vacuum cleaner equipped with a range of attachments, such as crevice tools, upholstery brushes, and dusting brushes, to tackle every nook and cranny of your home, from floor to ceiling.
HEPA Filtration System: A HEPA (High-Efficiency Particulate Air) filter is a must-have feature as it traps microscopic particles like allergens and dust mites, improving indoor air quality and making it ideal for allergy sufferers.
Easy Maneuverability: Opt for a vacuum cleaner with swivel steering and lightweight construction, allowing you to effortlessly navigate around furniture and tight spaces without strain or hassle.
Low Noise Operation: A good vacuum cleaner operates quietly, reducing noise pollution while maintaining powerful performance.
Our Selection of 12 Best Vacuum Cleaners in Singapore
Get ready to revolutionise your cleaning routine and discover the perfect vacuum cleaner that will leave your home immaculate and refreshed. Let's dive in and explore Singapore's finest cleaning companions!
1. Dreame H12 Pro Cordless Wet & Dry Vacuum Cleaner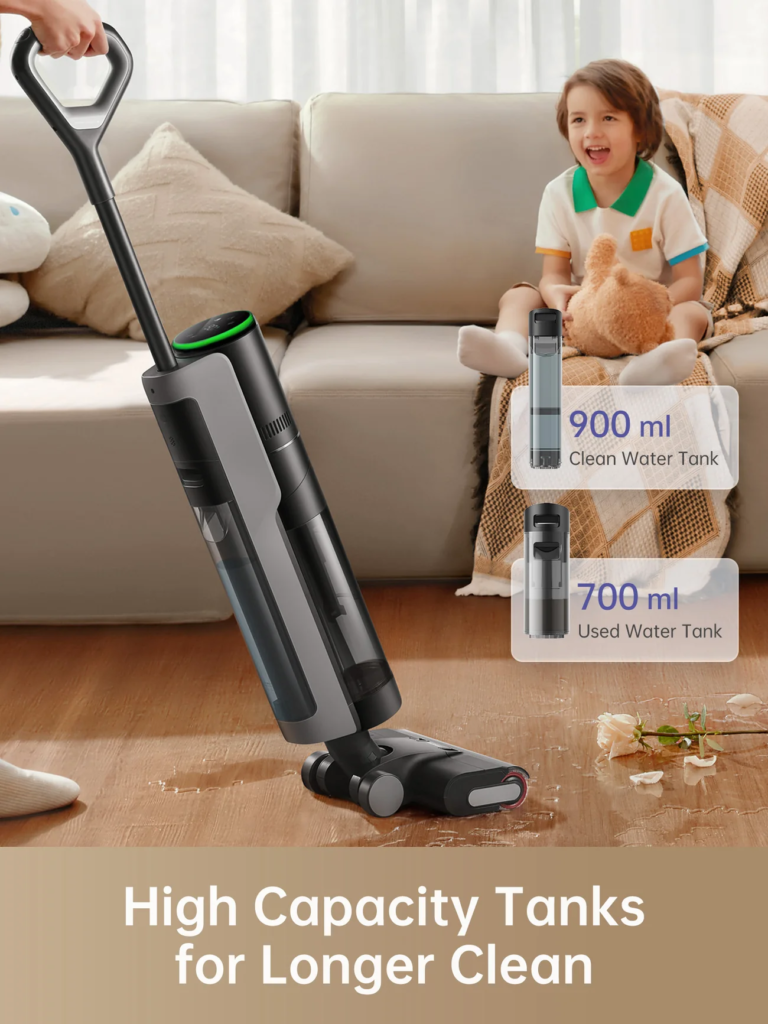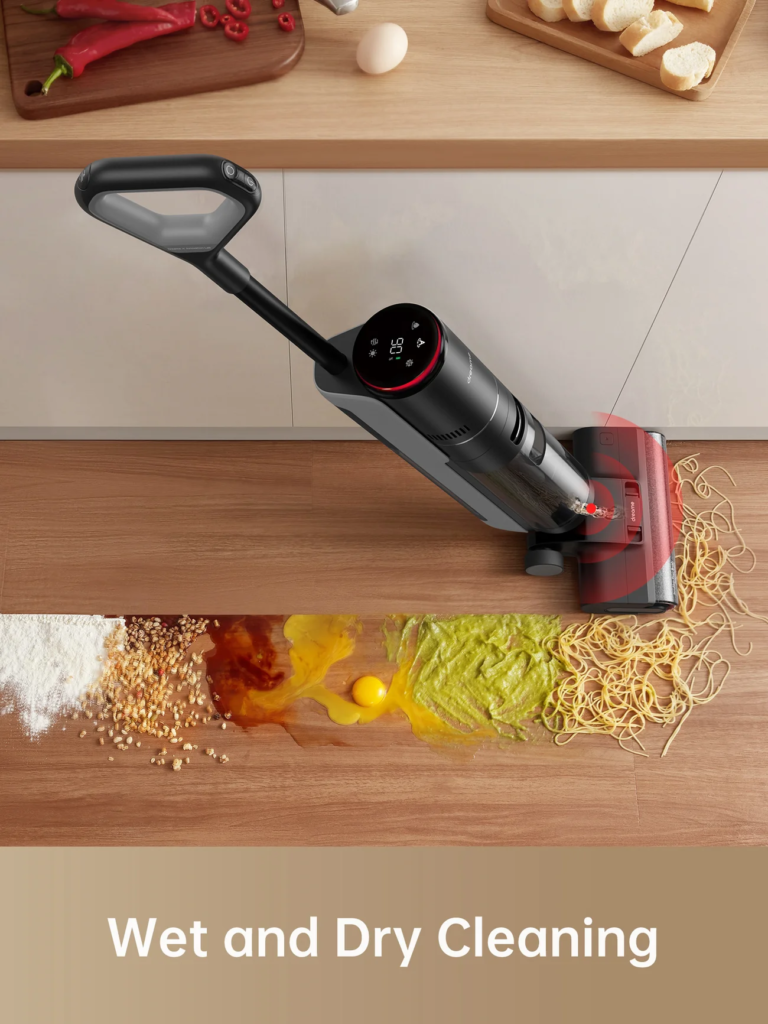 Experience automatic drying while charging, as the brush is thoroughly dried with hot air inside after self-cleaning, preventing mildew and unpleasant odours. Enjoy the freedom of simultaneous vacuuming, mopping, and washing, effortlessly eliminating tough hard floor messes with every edge cleaning. Thanks to its intelligent suction adjustment, this vacuum effortlessly tackles any mess on the first pass while optimising power efficiency.
The Dreame H12 Pro provides a truly intuitive cleaning experience with its large LED display and real-time voice prompts, guiding you to optimise your cleaning routine. Choose from three versatile modes, including auto, ultra, and suction mode for customised cleaning needs. The self-cleaning capability ensures a clean brush every time, and the powerful traction allows for smooth operation during use. With a brushless motor and noise-optimised design, the H12 Pro ensures less noise while maintaining strong suction power.
Here are the highlights of the Dreame H12 Pro Cordless Wet & Dry Vacuum Cleaner's amazing features:
Automatically Drying While Charging
Every Edge Cleaning
Ideal Suction For Every Mess
Intelligent, Intuitive Cleaning
Three Modes for Versatile Cleaning
Thorough Self-Cleaning
Large Capacity
Powerful Traction for Every Cleanup
Less Noise with Strong Suction
2. Tineco Floor One S7 Pro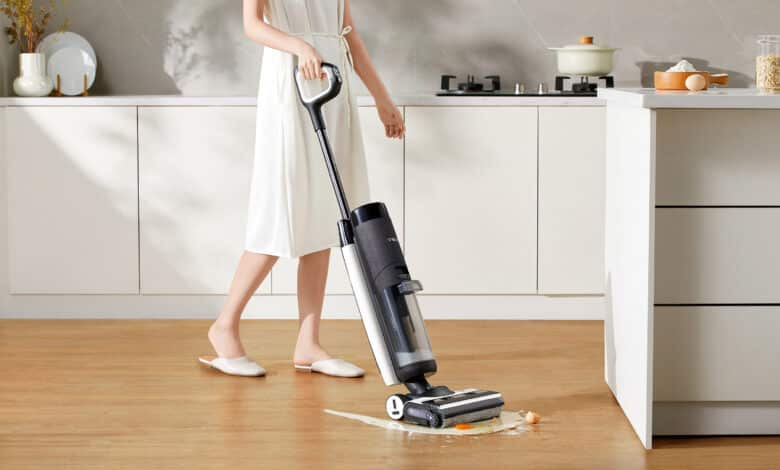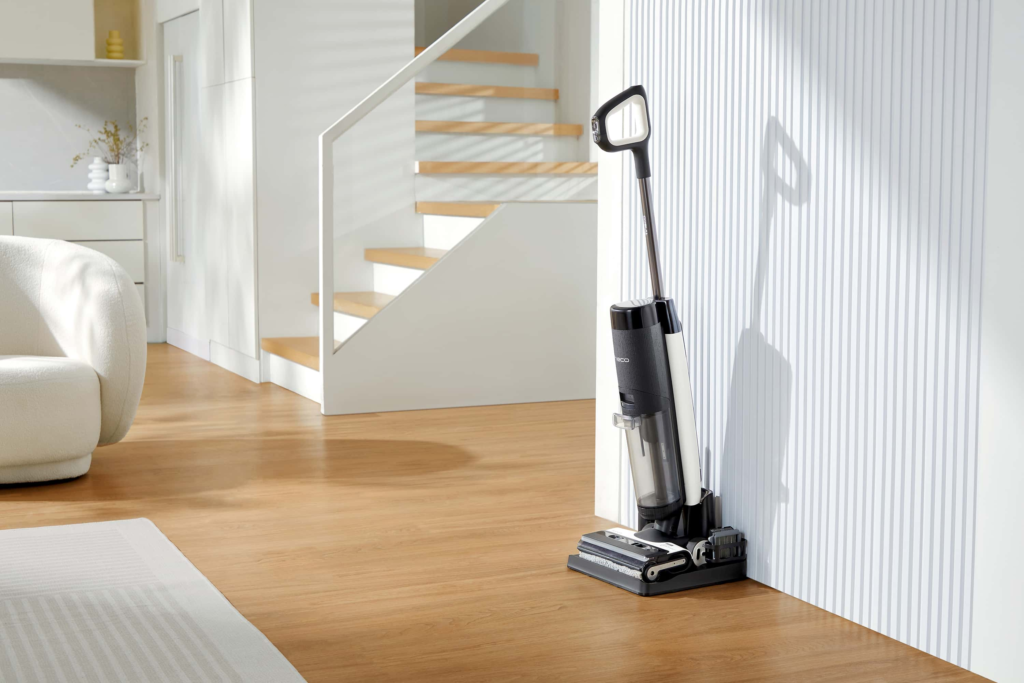 This smart floor cleaner redefines the concept of pristine floors, offering a perfect blend of deep cleaning and user-friendly operation, making cleaning a delightful experience. The Floor One S7 Pro boasts a Balanced-Pressure Water Flow System, ensuring that your floors are always cleaned with fresh water. Its Thorough Self-cleaning feature offers hands-free maintenance, and deep cleaning of the brush roller and tube to prevent mould and bacteria growth. The SmoothPower self-propulsion system intelligently detects rear wheel movement, making cleaning an easy task.
With up to 40 minutes of runtime and Tineco iLoop™ smart sensor technology, this floor cleaner continuously adjusts water and battery power for uninterrupted cleaning, while the dual-sided enhanced edge cleaning leaves no mess behind. The full 3.6" LCD screen allows easy interaction and real-time status updates. With four operating modes, convenient storage, and a minimalist docking station, the Tineco Floor One S7 Pro provides an unparalleled cleaning experience.
Here are the highlights of the Tineco Floor One S7 Pro's amazing features:
Balanced-Pressure Water Flow System
Thorough Self-cleaning
Up to 40 Minutes of Runtime
Dual-sided Edge Cleaning
Full 3.6" LCD Screen
SmoothPower Self-Propulsion System
Tineco iLoop™ Smart Sensor Technology
Four Operating Modes
Convenient Storage
3. Dyson V8 Slim Fluffy Cordless Vacuum Cleaner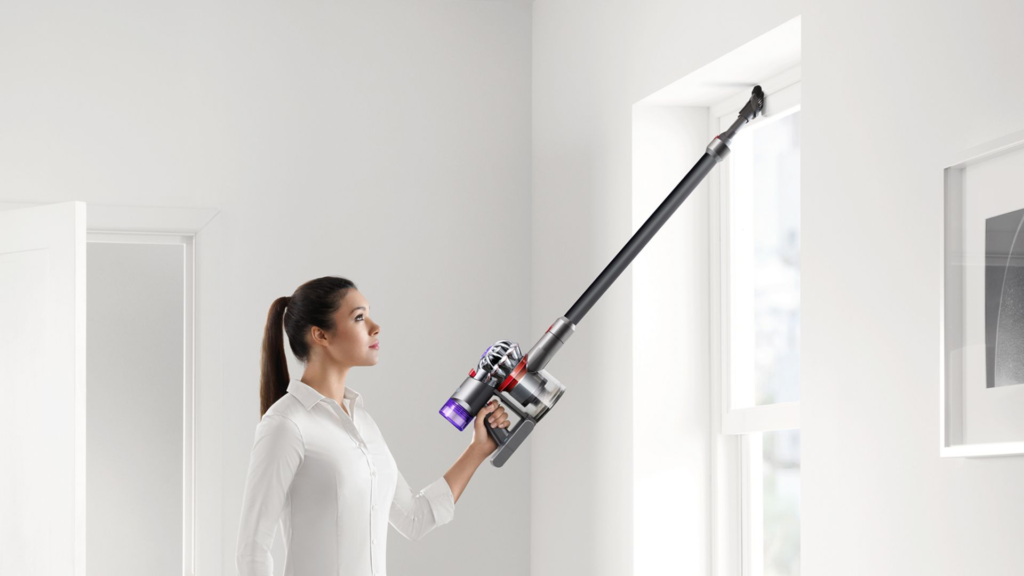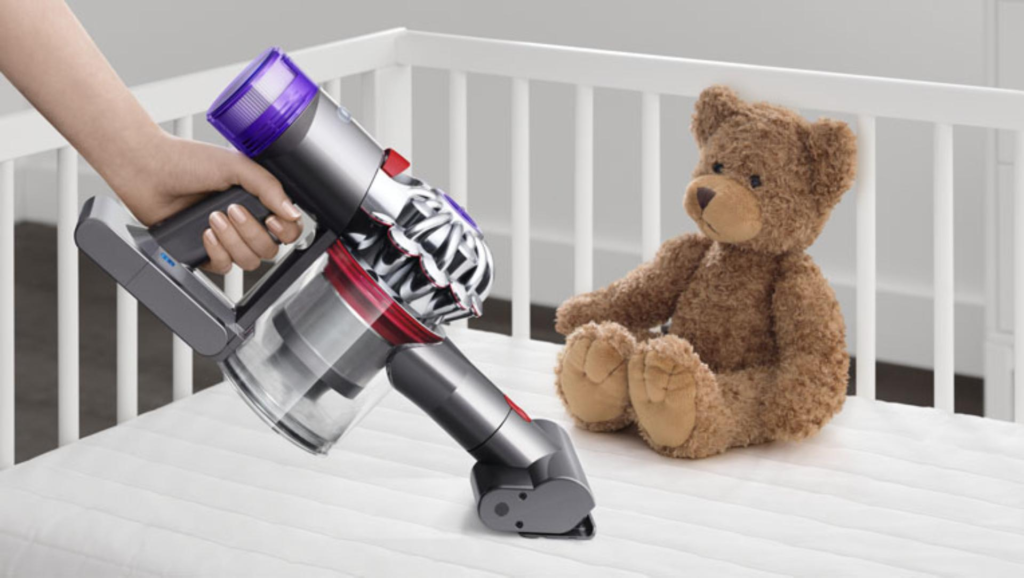 Powered by the Dyson digital motor V8, this vacuum generates an impressive 115 Air Watts of suction. With its advanced filtration system, it captures 99.97% of particles as small as 0.3 microns. Equipped with Dyson cyclones, the 15 Tier Radial™ cyclones create strong centrifugal forces, efficiently flinging microscopic dirt into the clear bin. This vacuum is acoustically engineered to absorb vibrations and reduce noise levels. With up to 40 minutes of fade-free suction, the Dyson V8 Slim Fluffy effortlessly cleans your entire home in one go. The re-engineered Slim Fluffy cleaner head is 40% smaller and lighter while maintaining exceptional performance.
Easily switch between surfaces using the versatile Combination tool, and enjoy the convenience of two power modes for varied cleaning needs. Transforming from a stick vacuum to a handheld with just one click, the Dyson V8 Slim makes above-floor cleaning a breeze. Its hygienic bin emptying feature ensures you never have to touch the dirt, and the docking station keeps your vacuum and tools organised and charged, always ready for use.
Here are the highlights of the Dyson V8 Slim Fluffy Cordless Vacuum Cleaner's amazing features:
Dyson digital motor V8
Fade-free suction
2 Tier Radial™ cyclones
Quieter cleaning
Up to 40 minutes of run time
Combination tool
Two power modes
Transforms to handheld
Hygienic bin emptying
Docking station
4. Dibea F20 Max Cordless Vacuum Cleaner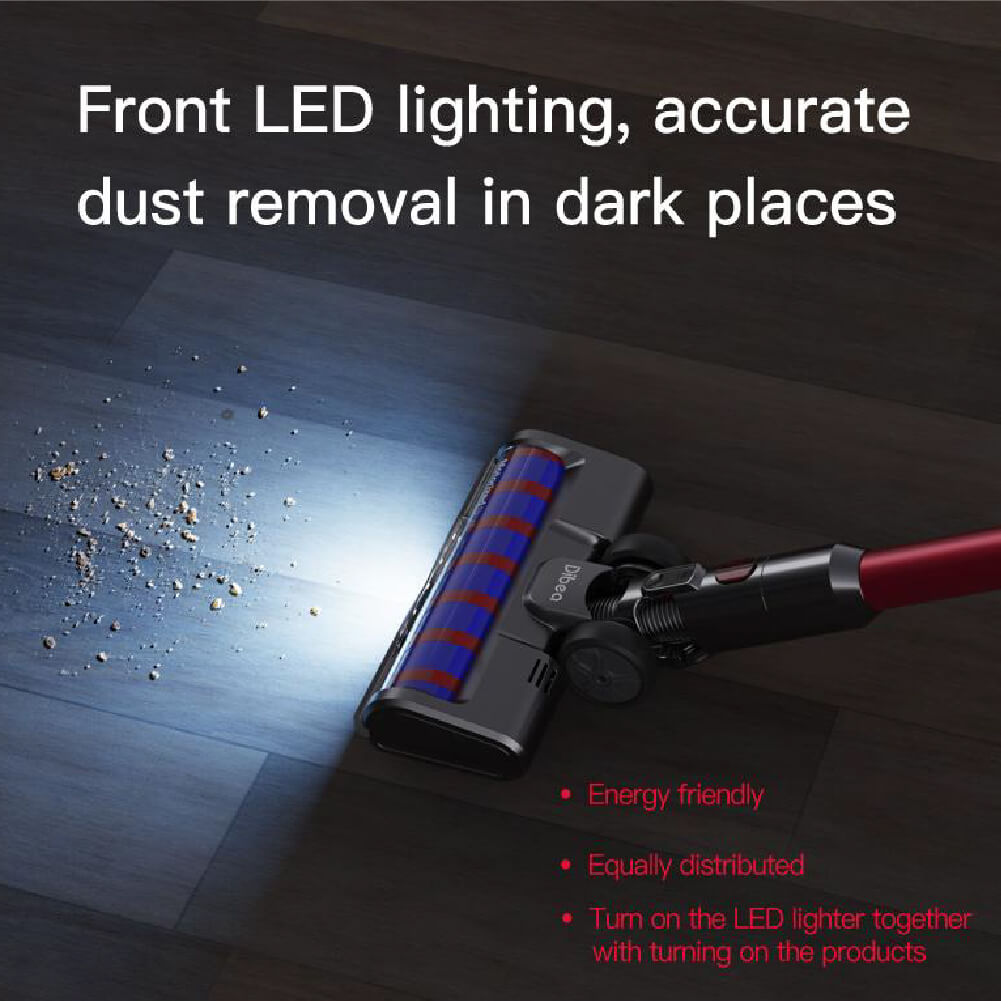 With a whopping 25,000 PA true power suction, this vacuum effortlessly tackles dirt, debris, and even embedded pet hair. Experience the versatility of 2-in-1 use, easily transforming the vacuum from a hand-held for above-floor cleaning to a vertical mode for thorough floor cleaning. The cordless design allows movement around the home without restrictions. Choose from 3 Speed Modes to suit your cleaning needs, and let the new design Roller floor brush with bright power-saving LED Headlights illuminate your cleaning path. The Multistage cyclone separation system and efficient filtering function ensure excellent dust and dirt capture.
Keep track of the cleaning progress with the Power indicator light bar, and enjoy the convenience of a large capacity dust bucket with a bag-less design, making emptying hassle-free. The hand-washing filter cotton and multiple accessories applications further enhance the F20 Max's efficiency. Crafted with high-quality materials, the ABS floor brush and High-Grade Aluminium extension tube ensure durability.
Here are the highlights of the Dibea F20 Max Cordless Vacuum Cleaner's amazing features:
Whopping 25,000 PA suction
2-in-1 use: Hand-held and vertical
Cordless design
3 Speed Mode
Bright LED Headlights
Multistage cyclone separation
Power indicator light bar
Large capacity dust bucket
Bag-less design
Hand-washing filter cotton
Durable materials: ABS and Aluminium
5. Airbot Hypersonics Max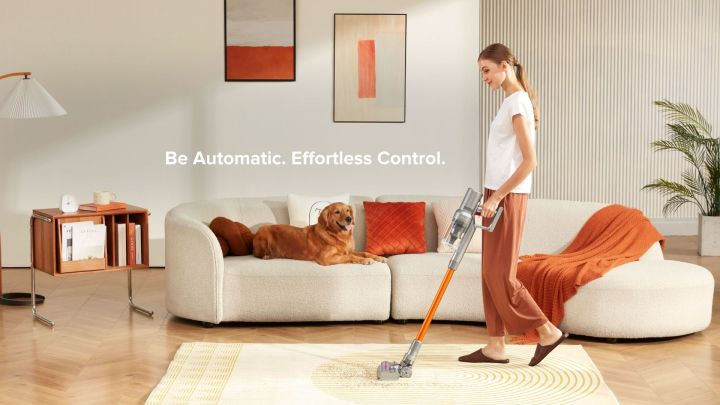 With its smart dust-sensing technology, the Hypersonics Max adapts to different flooring surfaces. The inclusion of a mite brush allows for the effective removal of dust mites from bedsheets and sofas. Featuring a digitally controlled water tank and smart mop moisture level, this device precisely dispenses water based on floor dust amount. The dual spinning roller enhances efficiency by mopping twice in one go, while the powerful BLDC motor delivers a max suction of 33,000 Pa, effectively capturing invisible particles. The Airbot Hypersonics Max incorporates a medical-grade HEPA filtration system, removing 99.97% of small dust particles.
The washable cyclone, HEPA, roller, and mopping cloth ensure hassle-free maintenance, while the colourful LED touch screen provides real-time updates on vacuum speed, battery level, and cleaning progress. With its multifunctional accessories, including crevice nozzles and soft brushes, you can achieve deep cleaning on various surfaces, including car seats, sofas, and delicate furniture.
Here are the highlights of the Airbot Hypersonics Max's amazing features:
Smart 3in1 Solution
Digitally Water Tank
Smart Mop Moisture Level
Dual Spinning Roller
Max 33,000Pa Suction
Infra-Red Dust Sensing
Colourful LED Touch Screen
Display Battery Energy
State-of-the-Art Cyclonic Technology
LED Display Ring Light
E13 Grade Washable HEPA
6. Roborock Dyad Pro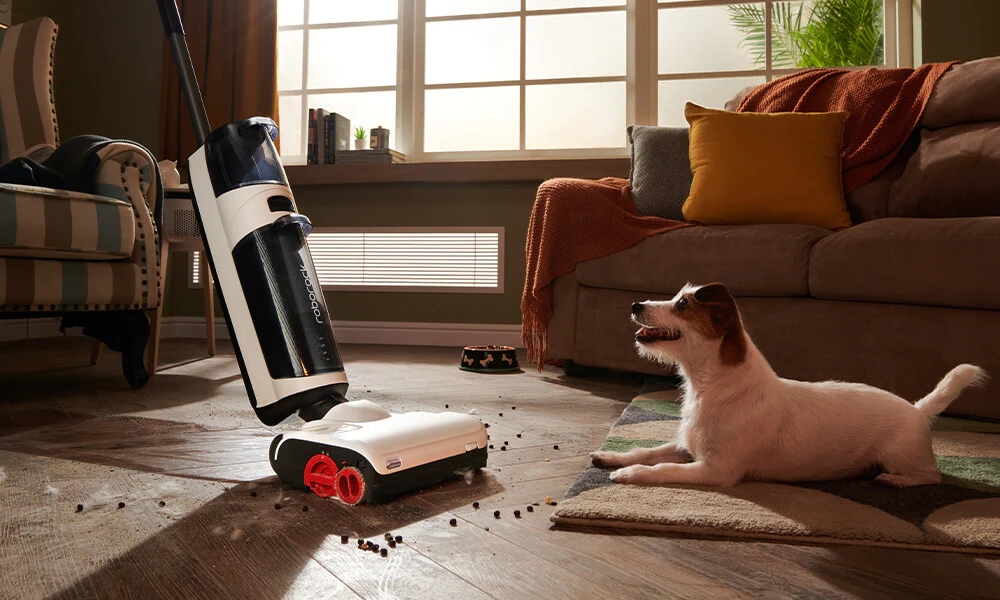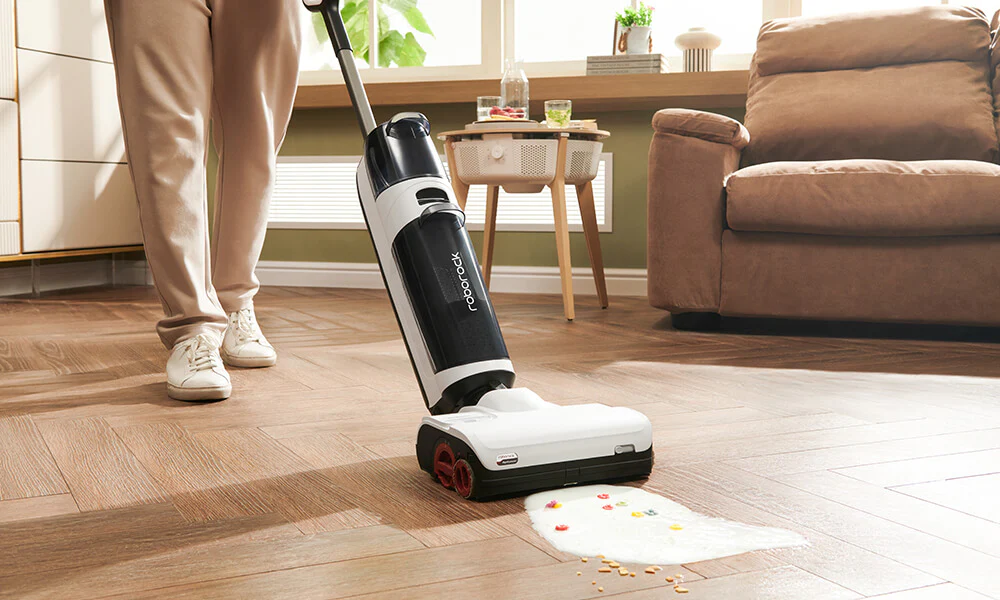 With DyadPower, the Dyad Pro delivers an exceptional 17,000 Pa of suction power, making quick work of dirt, spills, and debris on any surface. Experience improved edge-to-edge cleaning with its DyadPower cleaning head, featuring full-length and front rollers that sweep up messes with precision, leaving no margin of more than 1mm. Say goodbye to manual maintenance with the revolutionary RevoBrush Self-Cleaning & Drying System.
The rollers self-clean, removing over 99% of dirt with alternating scrubbing, while the hot air automatically dries them, eliminating any lingering odours. With its easy-to-use app control, the Dyad Pro offers adaptability and convenience at your fingertips. From potted soil to pet food, tomato sauce to spilled milk, the Dyad Pro vanquishes any mess, ensuring your floors are left impeccably clean with almost zero effort.
Here are the highlights of the Roborock Dyad Pro's amazing features:
DyadPower technology
17,000 Pa suction power
Improved edge-to-edge cleaning
RevoBrush Self-Cleaning & Drying System
Automatic roller transformation
More than 99% of dirt removal
Self-drying with hot air
Noiseless drying mode
Easy-to-use app control
7. Dyson V12 Detect ™ Slim Absolute Cordless Vacuum Cleaner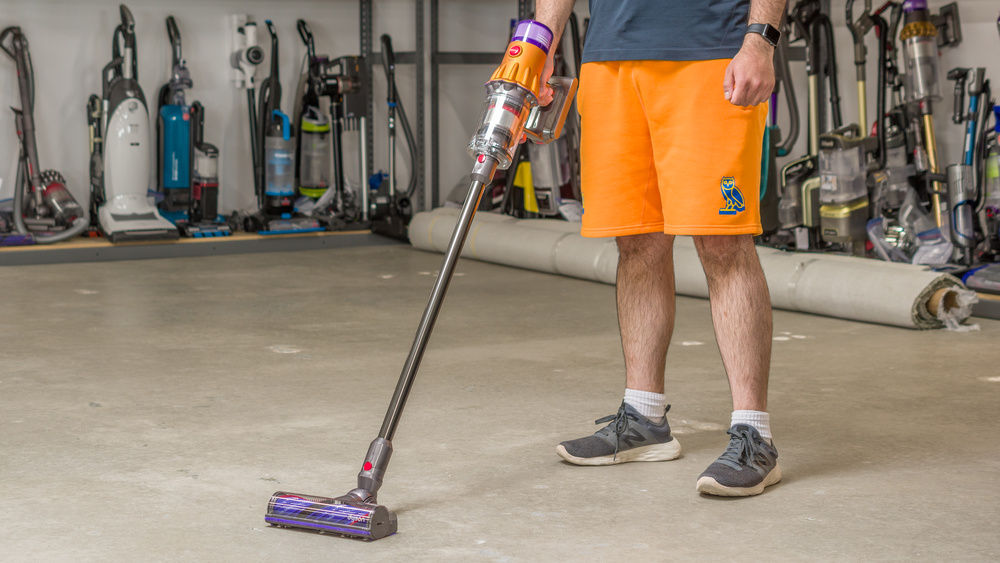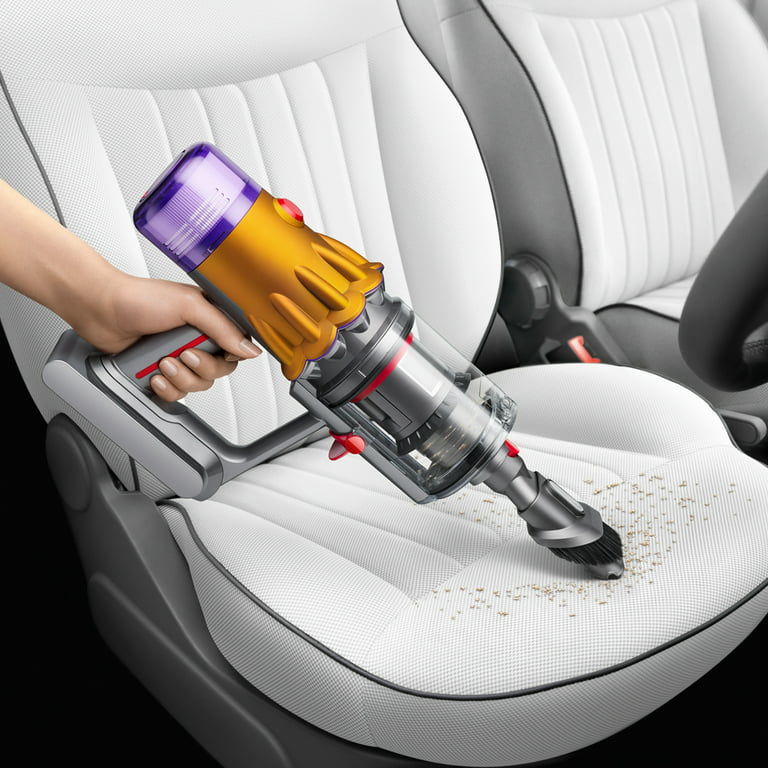 Equipped with advanced Fluffy Optic™ and Direct Drive cleaner heads, this vacuum efficiently removes dust from hard floors, carpets, and even narrow gaps with ease. Say goodbye to tangled hair and pet fur, as the Hair Screw tool swiftly picks up long strands and spirals them into the bin for hassle-free cleaning. With a single-button power control, you can navigate obstacles effortlessly. The Dyson's cordless technology allows for versatile cleaning on floors. There are three power modes: Auto, Eco, and Boost. The Dyson V12 Detect™ Slim effortlessly drops into the wall-mounted charging dock, always ready for your next cleaning session.
Enjoy hygienic and easy bin emptying with the no-touch ejection mechanism. The LCD screen provides real-time performance updates, including run-time display, maintenance alerts, power modes, and battery life. With washable filters and the Fluffy™ brush bar, maintenance is a breeze to optimise your vacuum's performance. And with the Click-in battery feature, you can easily swap batteries for double the run time, ensuring uninterrupted cleaning.
Here are the highlights of the Dyson V12 Detect ™ Slim Absolute Cordless Vacuum Cleaner's amazing features:
Fluffy Optic™ cleaner head
Direct drive cleaner head
Hair screw tool
Single-button power control
Versatile cordless technology
Three power modes
Wall dock charging
No-touch bin emptying
LCD screen display
Click-in battery
Low-profile design
8. Shark Duo Clean Cordless Vacuum IZ202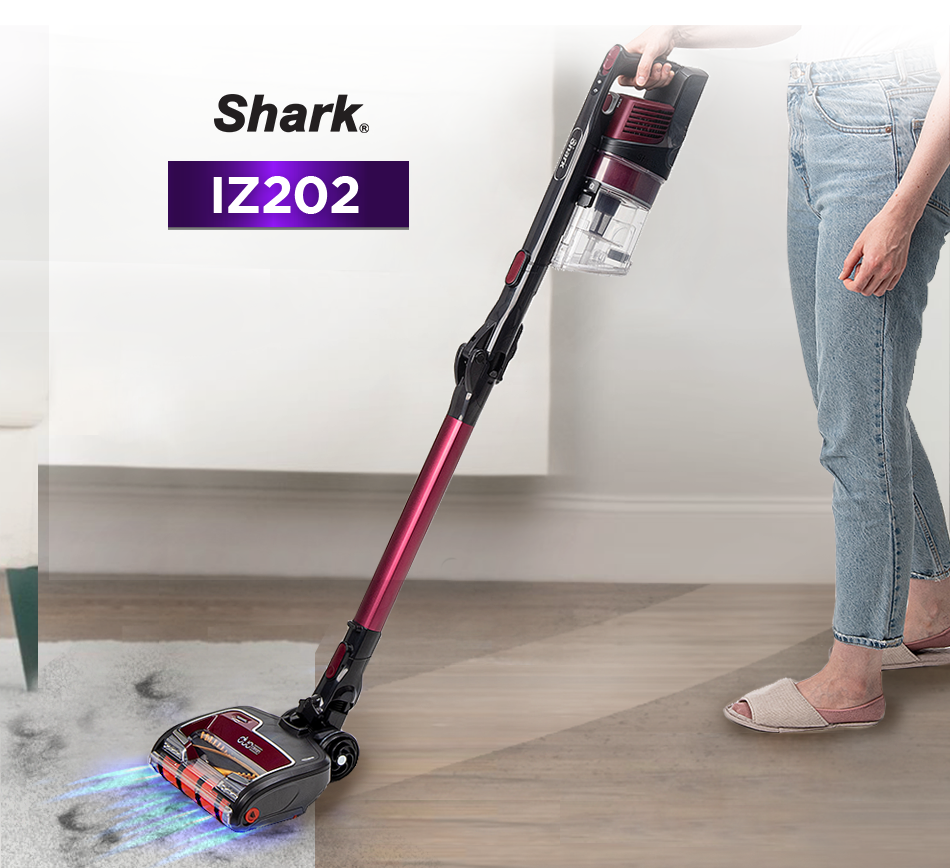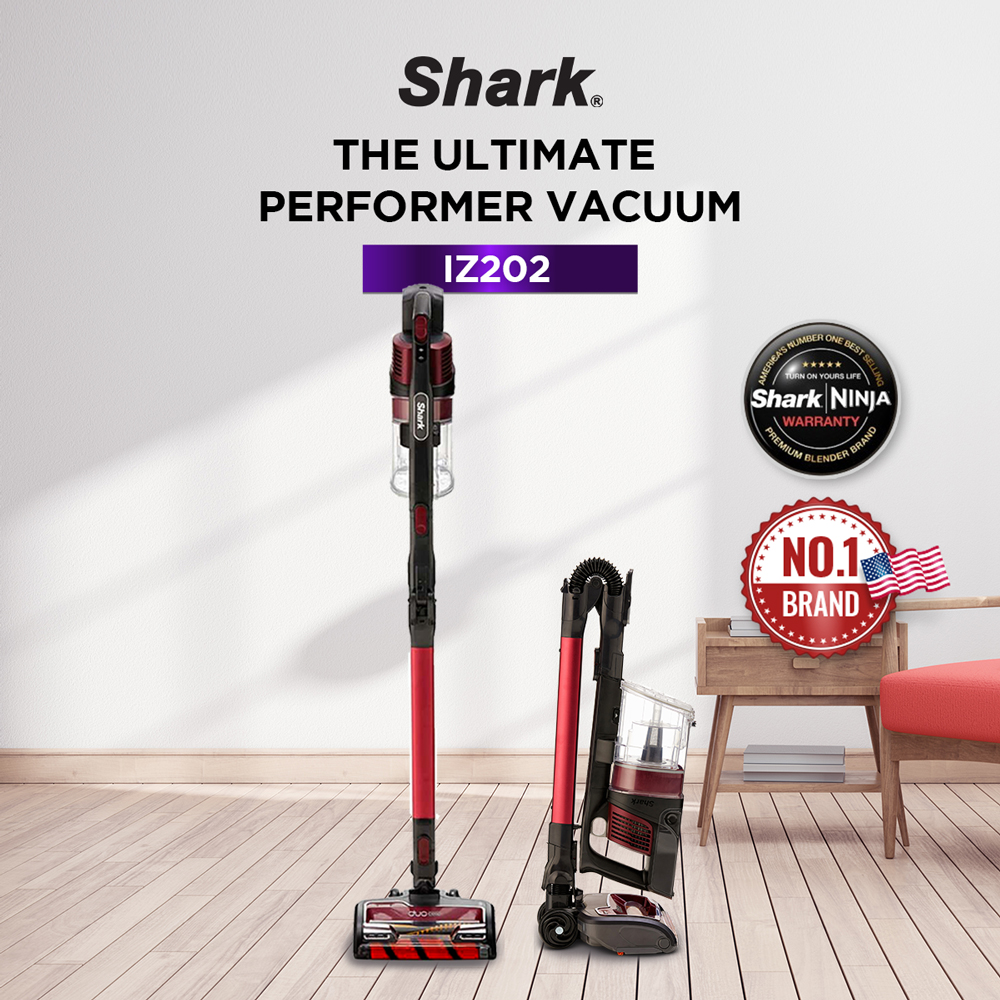 Shark Duo Clean Cordless Vacuum IZ202 is a powerful and versatile cleaning solution that takes the hassle out of keeping your home spotless. With up to 40 minutes of run-time on a single charge, the removable battery allows for convenient charging wherever suits you best. Glide effortlessly from carpets to hard floors with Shark's signature DuoClean floorhead, equipped with a self-cleaning brush roll that actively removes hair while you clean.
The Flexiwand feature provides flexibility and easy storage, allowing you to reach, store, and charge anywhere. Transforming into a handheld vacuum, you can effortlessly clean stairs, sofas, and even your car. Perfect for allergy sufferers, this vacuum captures and traps dust and allergens with its washable HEPA and foam filters.
Here are the highlights of the Shark Duo Clean Cordless Vacuum IZ202's amazing features:
Powerful suction
Self-cleaning brush roll
Lightweight design
Removable hand vacuum
Up to 40 minutes of run-time
Glide from carpets to hard floors
Flexiwand for easy reach
Perfect for allergy sufferers
Washable HEPA & Foam Filters
Convenient charging options
Versatile floor type compatibility
Low noise level (85dBA)
9. Bosch BGC21X3GB Bagless Vacuum Cleaner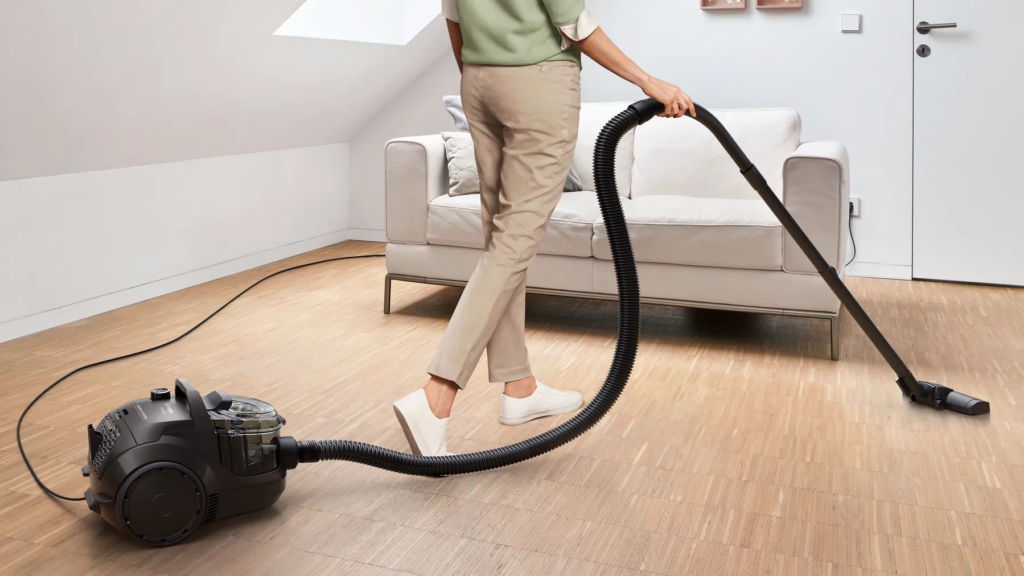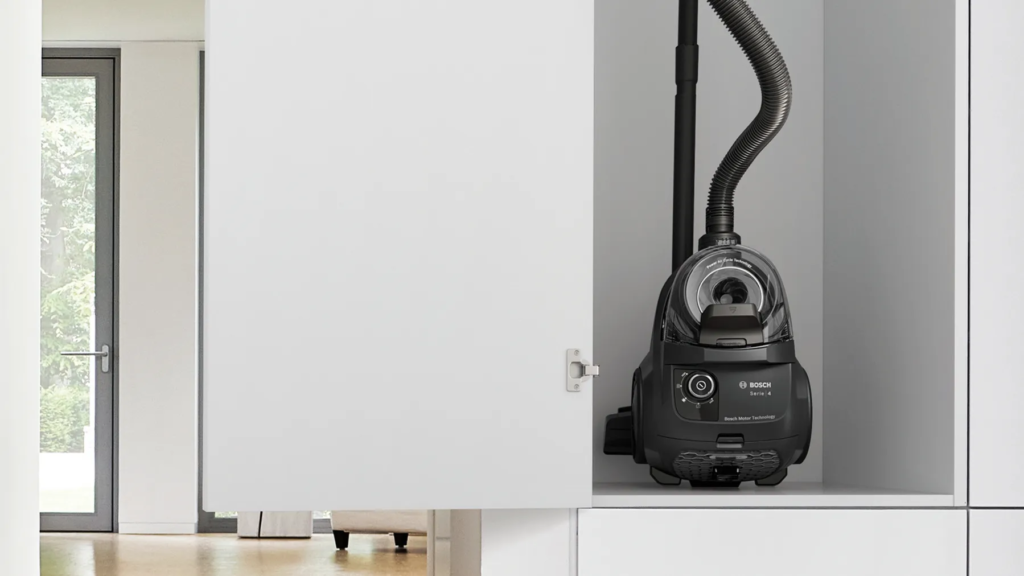 Featuring a bagless filtration system and a 2.0-litre dust capacity, this vacuum offers hassle-free cleaning without the need for follow-up costs. The HEPA hygienic filter filters 99.95% of fine dust particles, bacteria, and pollutants, making it ideal for allergy sufferers. Equipped with Power AirCycle Technology and Bosch Motor technology, this vacuum maintains high performance even when the dust box fills up. The precisely calculated cyclone and powerful centrifugal force efficiently separate dust from the air, ensuring continuous cleaning efficiency.
The Bosch BGC21X3GB comes with easy and space-saving hose storage. The EasyClean System enables convenient handling and effortless cleaning, as the dust box can be removed at the touch of a button without losing any dust.
Here are the highlights of the Bosch BGC21X3GB Bagless Vacuum Cleaner's amazing features:
Bagless Filtration System
2.0L Dust Capacity
HEPA Hygienic Filter
Power AirCycle Technology
Easy Hose Storage
Convenient Dustbox Cleaning
Double Hygiene with Two Filters
10m Operation Radius
Automatic Cord Rewind
10. Tefal X-Nano Cordless Stick Vacuum Cleaner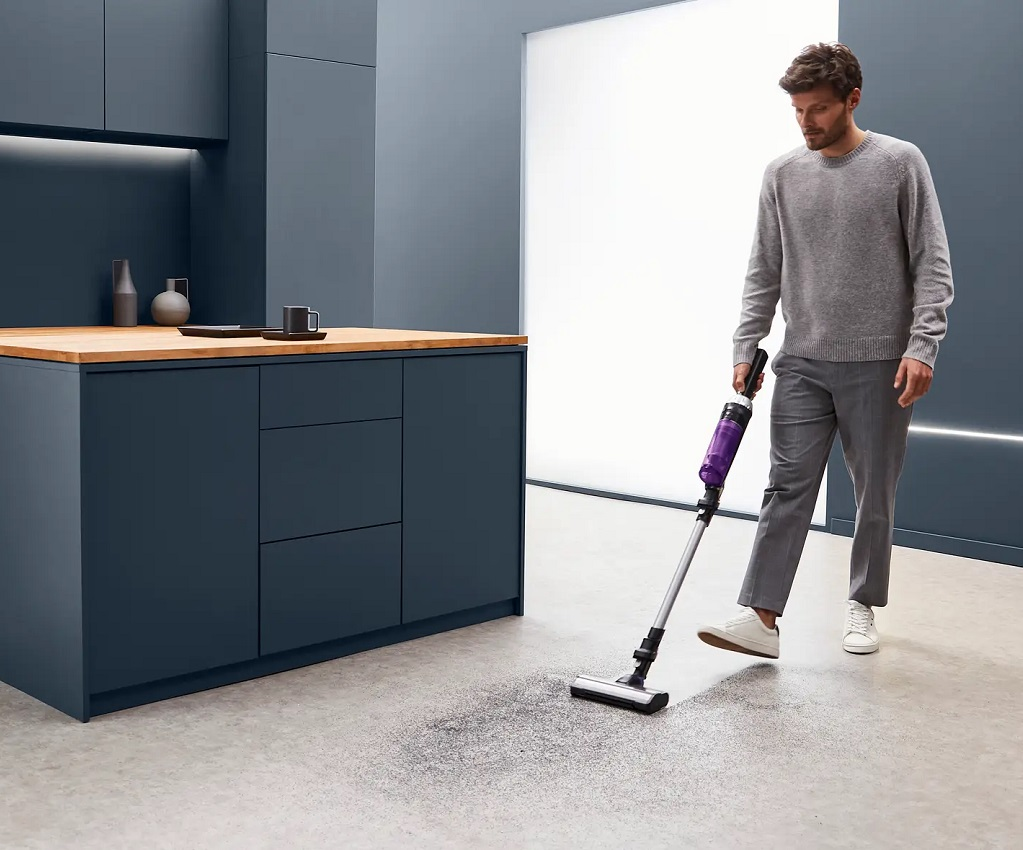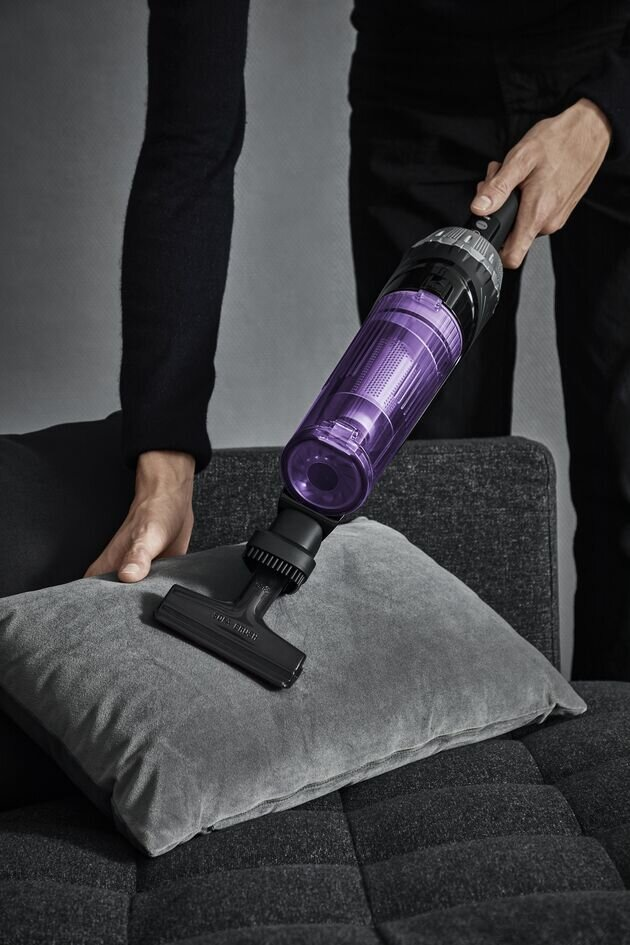 Tefal X-Nano Cordless Stick Vacuum Cleaner is a new daily cleaning habit designed to lighten your load and simplify your cleaning routine. This all-in-one cordless vacuum brings convenience and efficiency to your home, making spotless cleaning effortless. With its ultra-lightweight design, weighing only 1 kg in your hand, the X-Nano offers powerful cleaning performance without straining your wrist. The streamlined, slender build allows it to access tight spaces, ensuring every corner of your home remains spotless.
Experience floor-to-ceiling coverage with this multi-function cleaning solution that effortlessly switches from handstick mode to a portable vacuum cleaner. Enjoy up to 40 minutes of fade-free running time with the long-lasting battery, providing uninterrupted cleaning sessions for your entire home. Say goodbye to the hassle of traditional vacuuming and embrace the ease of the Tefal X-Nano Cordless Stick Vacuum Cleaner.
Here are the highlights of the Tefal X-Nano Cordless Stick Vacuum Cleaner's amazing features:
All-in-one cordless vacuum
Ultra-lightweight design (1 kg)
Go-anywhere cleaning
Up to 40 minutes of running time
Fast 3-hour charge
Effortless floor-to-ceiling switching
Streamlined slender design
Fade-free cleaning performance
11. Philips FC9350 PowerPro Compact Bagless Vacuum Cleaner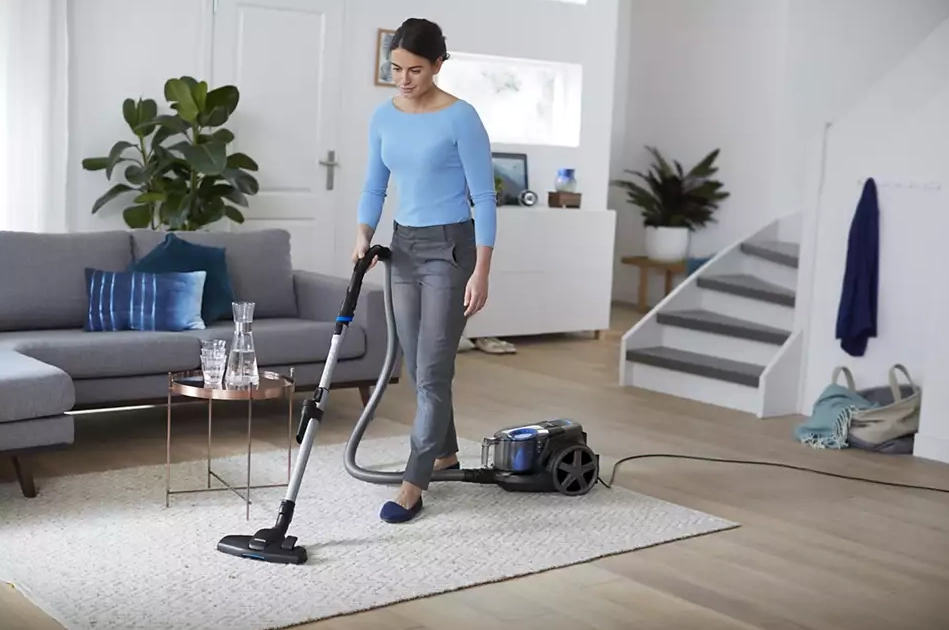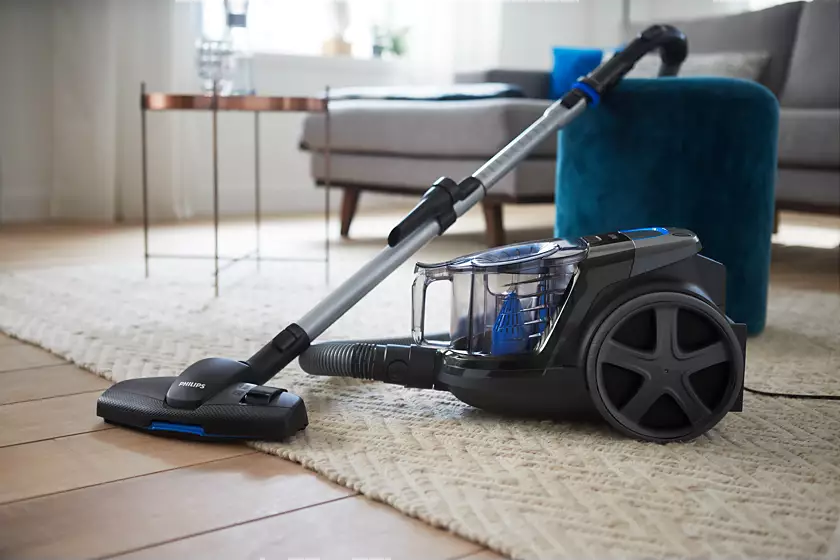 Equipped with a 1800W durable motor, this vacuum generates up to 360W of high suction power, ensuring thorough cleaning on various surfaces. The PowerCyclone 5 technology maintains high performance and strong suction power for longer by efficiently separating dust from the air. With the MultiClean nozzle, you can achieve thorough cleaning on all floors, as it seals closely to the floor for optimal results. The easy-to-empty dust container ensures hygienic disposal with just one hand, minimising dust clouds. Its compact and lightweight design makes storing and carrying the vacuum effortless.
A soft brush is conveniently integrated into the handle, ready to use for dusting furniture, flat surfaces, and upholstery. For allergy sufferers and those seeking higher hygiene standards, the Allergy H13 filter system captures over 99.9% of fine dust particles, including pollen, pet hair, and dust mites. The ActiveLock couplings allow for easy attachment adjustment, ensuring smooth and efficient cleaning on any task.
Here are the highlights of the Philips FC9350 PowerPro Compact Bagless Vacuum Cleaner's amazing features:
Compact yet powerful (1800W)
PowerCyclone 5 technology
MultiClean nozzle
Hygienic one-hand dust emptying
Lightweight and portable
Integrated soft brush
Allergy H13 filter system
ActiveLock couplings for easy adjustment
12. Karcher Wet and Dry Vacuum Cleaner WD 2 Plus V-12/4/18/C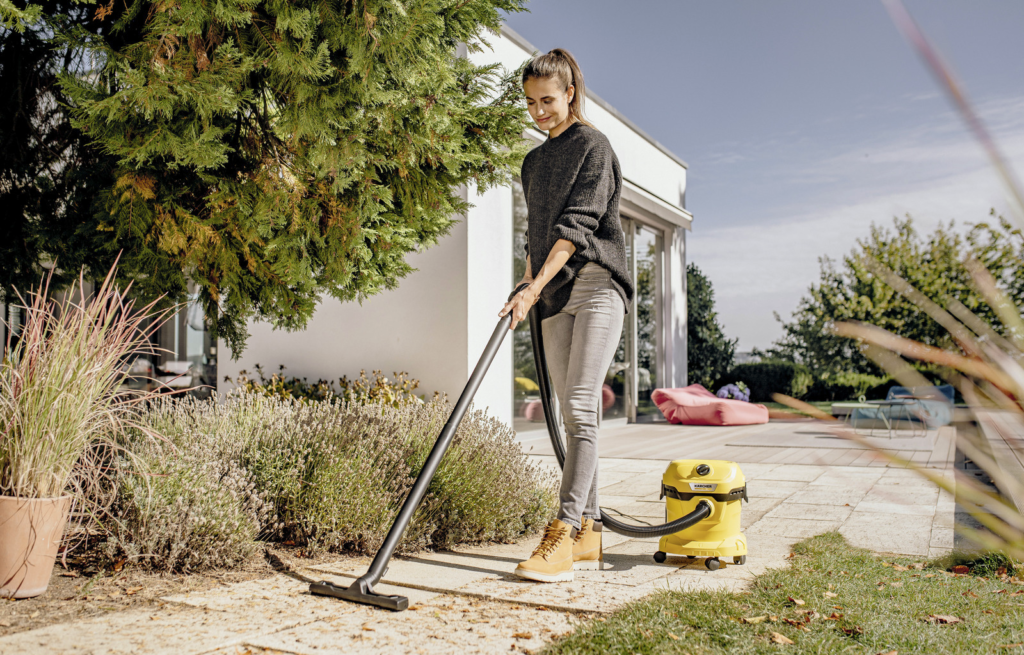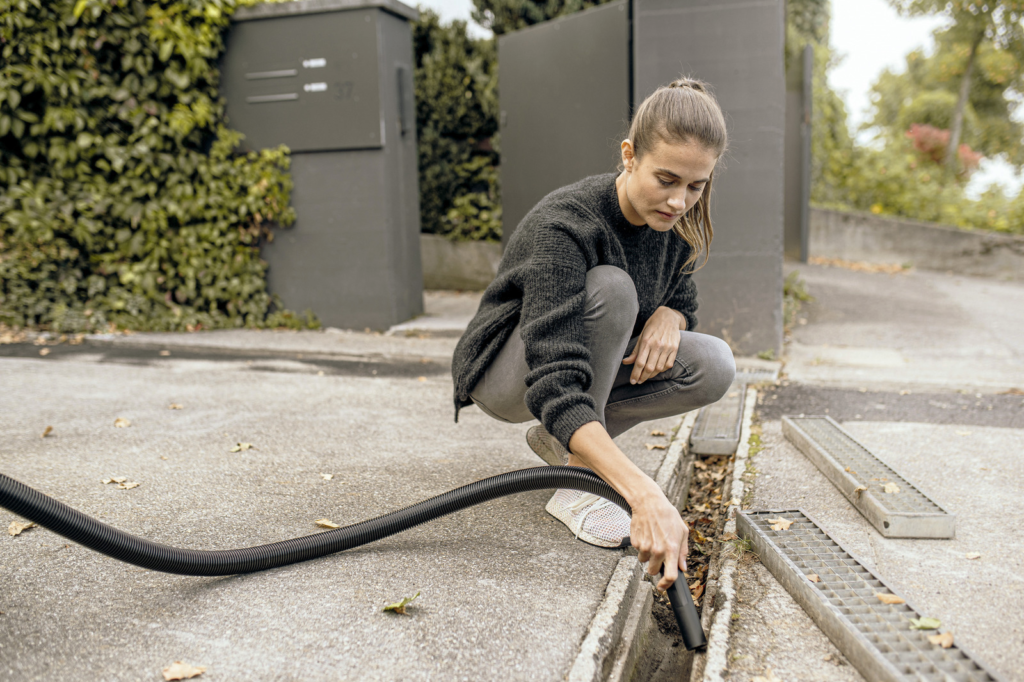 With its single-part cartridge filter, there's no need for additional filter replacements. The vacuum cleaner features practical accessory storage, ensuring all your cleaning tools and attachments are securely stored and easily accessible, while the blower function allows for effortless dirt removal, even from gravel beds where vacuuming may not be possible. The fleece filter bag ensures longer-lasting suction power and high dust retention capacity, while the storage shelf provides a safe place for tools and small parts.
Enjoy quick and easy intermediate parking of the suction tube and floor nozzle with the practical parking position and the handle on the device head. With optimally coordinated components, the device, suction hose, and floor nozzle deliver the best cleaning results for dry, wet, fine, or coarse dirt. The "Pull & Push" locking system enables quick, easy, and safe opening and closing of the container, while the ergonomically shaped carrying handle makes transportation a breeze.
Here are the highlights of the Karcher Wet and Dry Vacuum Cleaner WD 2 Plus V-12/4/18/C's amazing features:
Single-part cartridge filter
Practical accessory storage
Practical blower function
Fleece filter bag
Storage shelf
Practical parking position
Intermediate parking of the handle
Optimal coordination of components
"Pull & Push" locking system
Ergonomically shaped carrying handle
Conclusion
Choosing the right vacuum cleaner can make a significant difference in keeping your home spotless and maintaining a healthy living environment. In Singapore, where cleanliness is highly valued, the best vacuum cleaners offer a perfect blend of power, efficiency, and convenience.
From the compact and lightweight options to the versatile cordless designs, each vacuum cleaner on our list brings unique features to cater to various cleaning needs. Whether you have hardwood floors, carpets, or a mix of both, these top-rated vacuum cleaners are up to the task. Consider the power of suction, filtration system, and additional functionalities like self-cleaning brushes or blower functions. A well-chosen vacuum cleaner will not only make cleaning a breeze but also contribute to improved indoor air quality, especially for allergy sufferers.