They say the path to a person's heart is through their stomach, and if you're eager to delight your loved ones with delectable meals, why not consider getting the best microwave for your kitchen? The Panasonic NN-CD565BMPQ Grill & Convection Microwave is here to help you make delicious meals with ease and finesse. In this review, we'll embark on a flavour-filled adventure as we dissect every aspect of this cooking appliance. From grilling to convection baking, this microwave has it all, and we're excited to share how it has revolutionised our kitchen experience. Whether you're a busy professional, a culinary enthusiast, or simply someone who craves delicious home-cooked food with minimal effort, this review is here to help you. Join us as we reveal how this appliance has taken our cooking to new heights and how it can do the same for you.
Introducing Panasonic NN-CD565BMPQ Grill & Convection Microwave Oven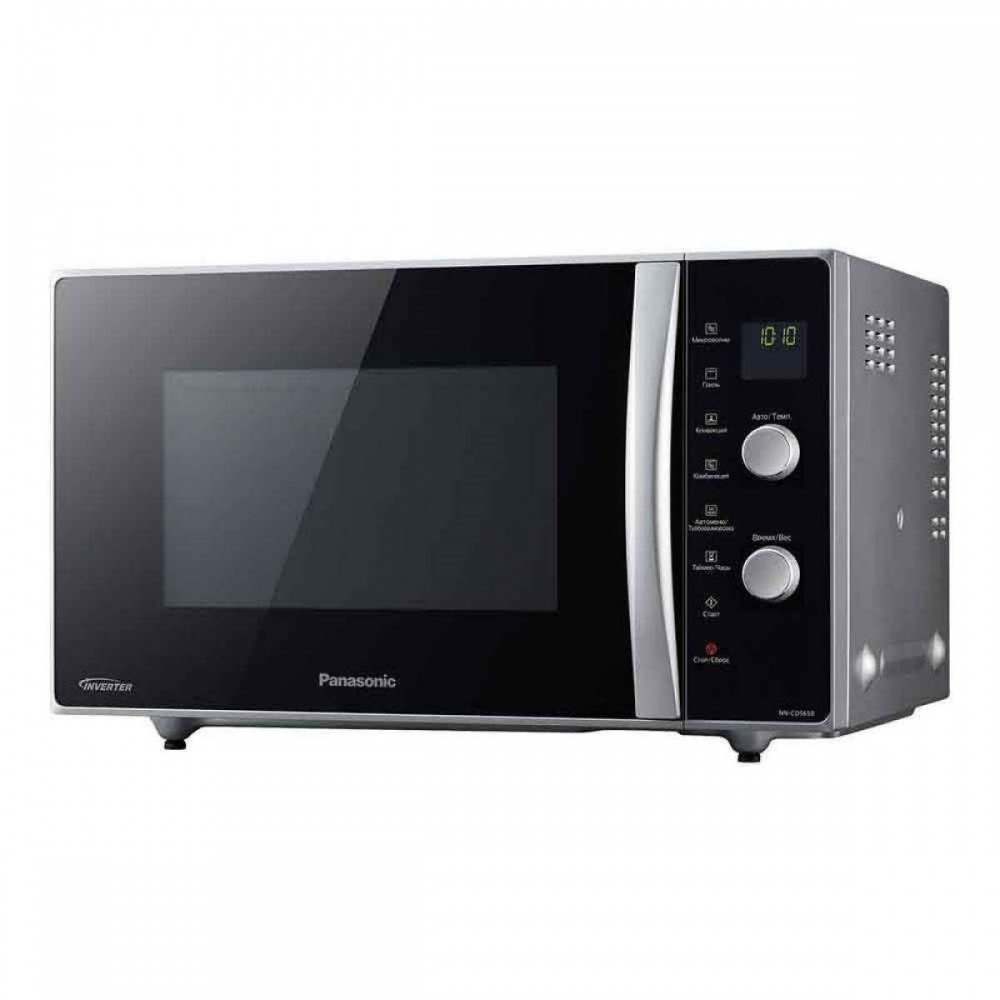 ✅ Get your Panasonic Grill & Convection Microwave today: click here
The Panasonic NN-CD565BMPQ Grill & Convection Microwave stands out for its space-saving and slimline body. Boasting a user-friendly design, intuitive controls, and 25 preset programmes, you'll relish the speed and convenience it brings to your kitchen. This versatile microwave enables simultaneous combination cooking by seamlessly integrating two cooking methods: microwave for rapid cooking and the grill for that perfectly golden and crispy finish. Offering a generous 27-litre capacity, it allows you to prepare all your favourite meals and snacks in one go. What's more, the non-stick stainless steel interior cavity of this microwave simplifies post-cooking cleanup.
Features of Panasonic NN-CD565BMPQ Grill & Convection Microwave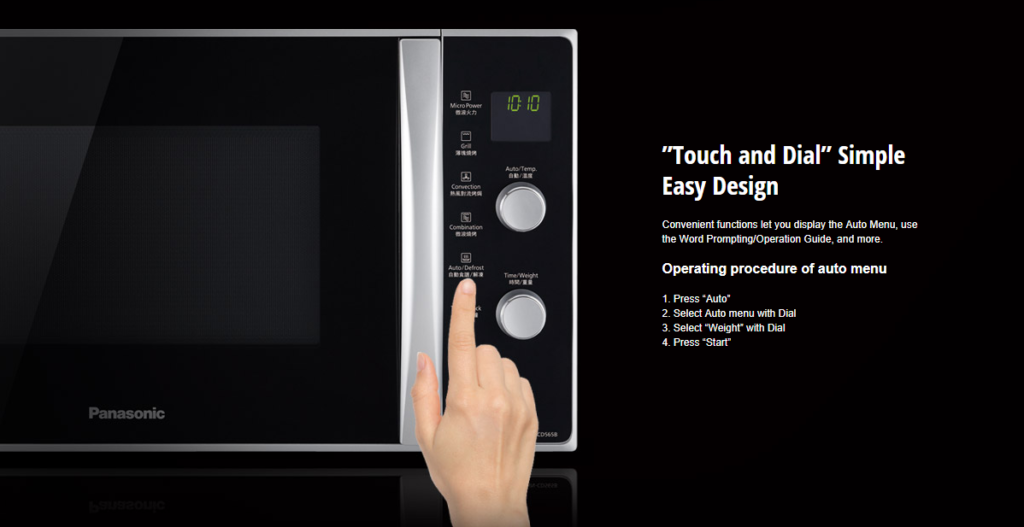 ✅ Get your Panasonic Grill & Convection Microwave today: click here
Let's delve into some of the exceptional features of the Panasonic NN-CD565BMPQ Grill & Convection Microwave Oven:
Fan-on-Top Design: Thanks to its innovative internal design, this fan-on-top oven manages to decrease its overall depth significantly, resulting in a reduced footprint when compared to traditional ovens. This reduction in depth means you can now enjoy approximately 20% more countertop space, all while maintaining a spacious internal cavity.
User-friendly Controls: NN-CD565BMPQ's user-friendly design combines the ease of touch controls with the convenience of a dial. It makes the use straightforward and intuitive. With this design, you can effortlessly access a range of functions, including the Auto Menu display and the Word Prompting/Operation Guide, among others.
Simultaneous Combination Cooking: The microwave combines the power of microwave cooking with the browning and crispness achieved through the grill function, all happening at the same time. This unique cooking approach not only accelerates the cooking process but also delivers delicious results.
25 Preset Auto Menu: It also offers a comprehensive selection of 25 preset Auto Menus at your fingertips. These menus are thoughtfully categorised into 12 dedicated Microwave options, 2 Grill specialties, 3 Combination choices, and 8 Convection-inspired creations.
Spacious Cooking Cavity: Panasonic has created a roomier cooking cavity in this microwave by removing the rear fan and incorporating a 30L class turntable into a 27L oven.
Inverter Technology: The oven's inverter technology ensures even cooking and defrosting, preventing overcooking or hotspots in your food. It also contributes to energy efficiency, potentially reducing energy consumption.
Pros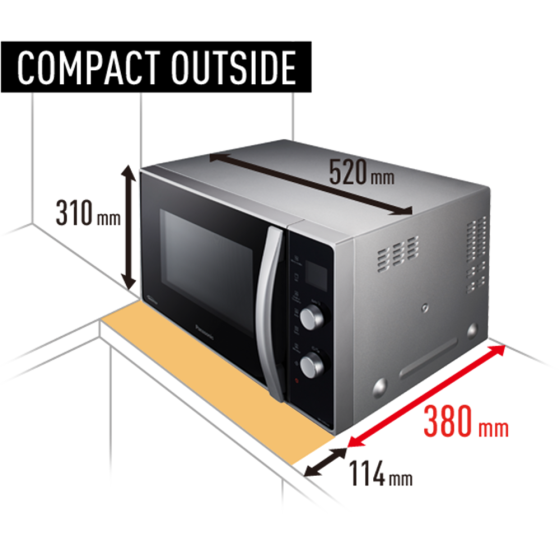 The benefits that the Panasonic NN-CD565BMPQ Grill & Convection Microwave offers include:
Versatile Cooking: This microwave offers a combination of grill and convection cooking, allowing you to prepare a wide variety of dishes, from simple reheating to grilling and baking.
Spacious Interior: With its larger cooking cavity, you have ample space to cook larger meals and accommodate larger dishes. It also makes the oven suitable for families.
Space Saving: The microwave's fan-on-top design is especially useful for those with limited countertop space.
Multiple Cooking Modes: It comes with various cooking modes and presets, including grill, convection, and microwave settings, making it versatile for different cooking needs.
Built-in Grilling: The grill feature is ideal for achieving crispy and browned textures on dishes like pizzas, casseroles, and more. It directly heats the food to achieve that perfect browning on the top and crisp base for your dishes.
Energy Efficiency: The inverter technology of this oven not only improves cooking performance but also helps in energy efficiency, which can save you money in the long run.
Cons
Here are some potential drawbacks of this microwave to be considered:
Price: The price point for this microwave may seem to be higher for people who want a basic oven. Of course, this is due to its combination of grill and convection features.
Learning Curve: The variety of cooking modes and settings might require some time to learn and master, especially for those new to convection cooking.
Weight: Due to its size and features, this microwave can be quite heavy, which may make it challenging to move.
Limited Use for Some: If you primarily use a microwave for simple tasks like reheating beverages or leftovers, the grill and convection features might be unnecessary and underutilised.
In Conclusion
✅ Get your Panasonic Grill & Convection Microwave today: click here
Overall, the Panasonic NN-CD565BMPQ Grill & Convection Microwave is a versatile kitchen companion that brings a range of advantages to the table. Its slimline design and user-friendly controls make it a convenient addition to any kitchen. With features like simultaneous combination cooking, a spacious cooking cavity, and inverter technology, it offers the promise of efficient and delicious meals, but it may not be suitable for those looking for a basic, budget-friendly microwave. Therefore, you must consider your specific cooking needs and kitchen space when deciding if this microwave is the right fit for you.