Welcome to the world of smart and stylish refrigeration, where freshness meets innovation! In the bustling kitchens of Malaysia, finding the perfect fridge that combines functionality, energy efficiency, and a touch of elegance is no small feat. But fear not, fellow food enthusiasts, for we have done the legwork to bring you the crème de la crème of fridges available in the Malaysian market!
In this article, we'll take you on a journey through the top refrigerators, handpicked to suit various budgets and lifestyle preferences. From space-saving wonders to smart marvels, these fridges will revolutionise the way you think about cold storage.
Features of a Good Fridge
In this article, we will delve into the world of refrigeration technology and explore the top features found in modern fridges, transforming them into smart and indispensable appliances for every kitchen.
Temperature Control: With the best fridges, temperature control becomes an art form. From precise digital thermostats to innovative cooling systems, these refrigerators allow you to customise the temperature settings to keep your food at its optimal freshness.
Intelligent Storage Solutions: Say goodbye to the days of searching for that elusive ingredient buried in the depths of your fridge. The best fridges offer intelligent storage solutions, including adjustable shelves, spacious door compartments, and specialized drawers. Keep your groceries neatly organised, accessible, and perfectly chilled, saving you precious time and ensuring your ingredients are always within reach.
Energy-Efficient Marvels: In today's eco-conscious world, energy efficiency is key. The best fridges boast advanced technology that minimises energy consumption without compromising performance. These energy-efficient marvels keep your electricity bills in check while reducing your carbon footprint. It's a win-win for both your wallet and the planet!
Cutting-Edge Smart Features: Welcome to the era of smart fridges! Equipped with Wi-Fi connectivity and built-in touchscreens, these futuristic appliances offer an array of features at your fingertips. From recipe suggestions and meal planning assistance to voice control and remote monitoring, these fridges revolutionise the way you interact with your kitchen.
Silent Operation: The best fridges prioritise silent operation, ensuring that you can enjoy a serene cooking experience without the constant humming and buzzing. Whisper-quiet compressors and sound-dampening technology make these fridges the perfect companions for your peaceful culinary endeavours.
Our Selection of 19 Best Fridge in Malaysia 2023
We have meticulously researched and handpicked the top 19 fridges that are set to revolutionise your kitchen and take your culinary experience to the next level.
1. Panasonic 2-door Bottom Freezer Refrigerator: BX421WGWM (422L)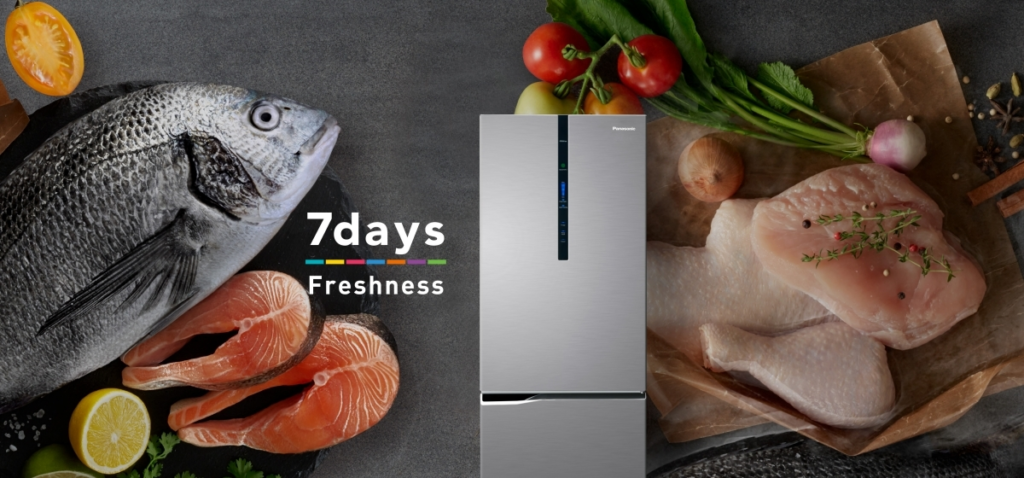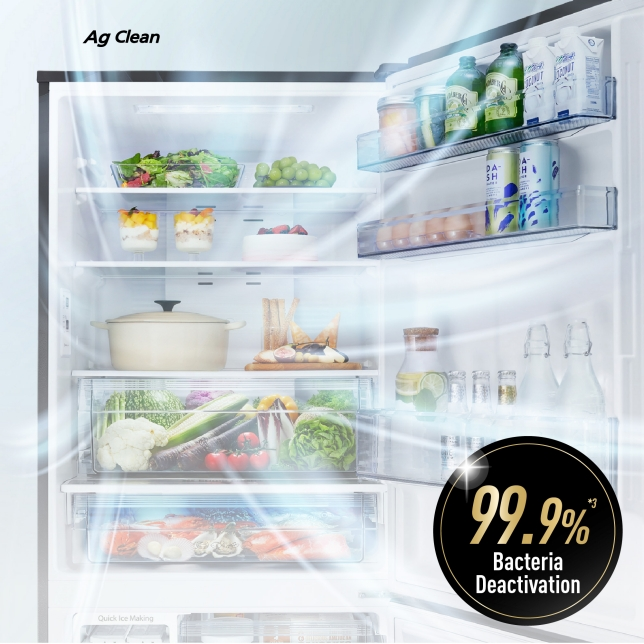 Equipped with an array of cutting-edge features, Panasonic BX421WGWM ensures your food stays fresher for longer while saving energy intelligently. With the innovative Prime Fresh+ technology, soft freezing has been made easy. Enjoy the convenience of lightly freezing meat and fish at approximately -3°C, allowing them to retain their freshness for up to 7 days without the need for defrosting. Need to freeze in a hurry? Simply activate the Prime Fresh+ mode for food that's soft-frozen four times faster, maintaining its quality and taste. Say goodbye to worries about bacteria, thanks to the superior hygiene offered by Blue Ag. The Blue Ag filter and Blue LED light work together to passively eliminate 99.99% of bacteria.
For the storage of fruits and vegetables, the Panasonic BX421WGWM boasts an ideal environment. With 90% humidity and a constant temperature, your produce remains fresh, crisp, and full of nutrients for an extended period. The full-flat door and slim touch panel create a sleek and modern appearance, while the intuitive touch controls put the power at your fingertips. With four intelligent ECONAVI sensors and an INVERTER compressor, this fridge adapts to your daily usage patterns and optimizes cooling performance, resulting in reduced energy consumption.
Here are the highlights of the Panasonic BX421WGWM's amazing features:
Prime Fresh+ technology
Soft freezing capabilities
Extended freshness
Superior hygiene with Blue Ag
Moisture retention for fruits and vegetables
Full-flat door design
Slim touch panel
Intuitive controls
Energy-saving ECONAVI sensors
INVERTER compressor
2. Hisense 2 Doors Side by Side Inverter Fridge: RS666N4ABNIV (620L)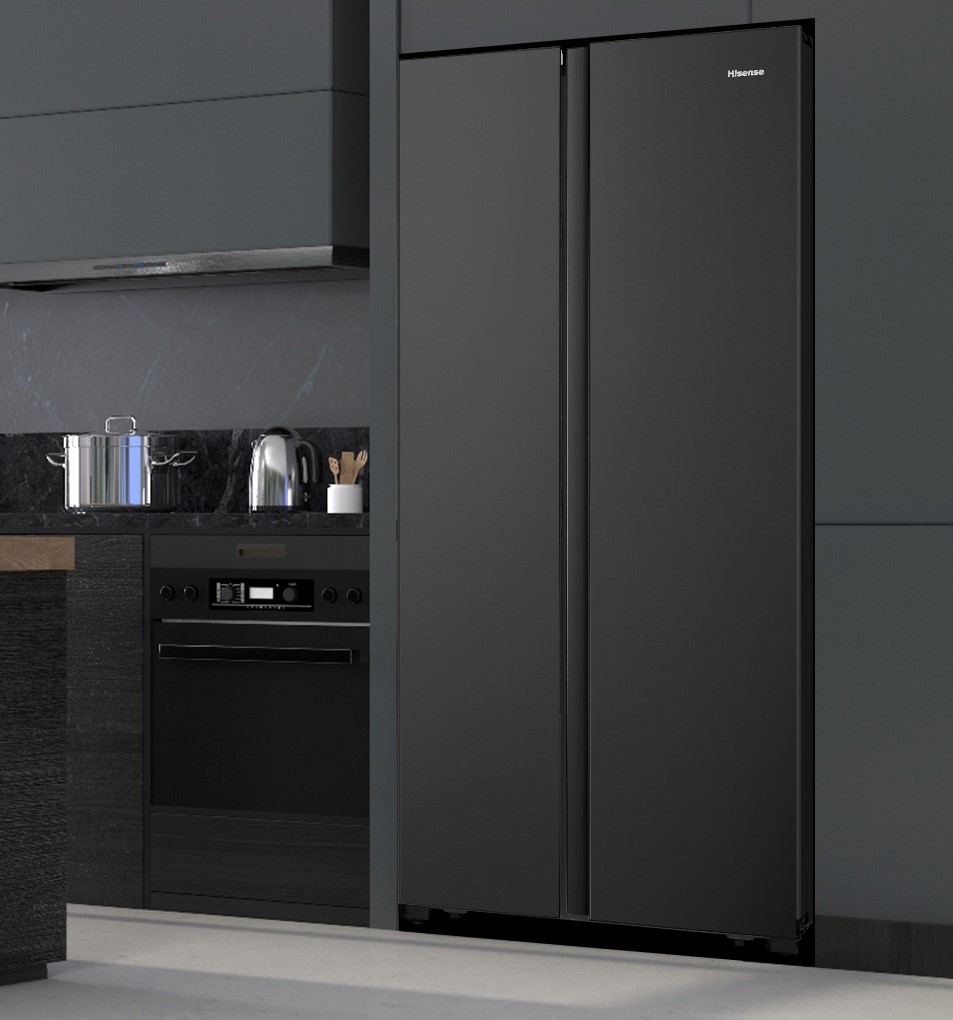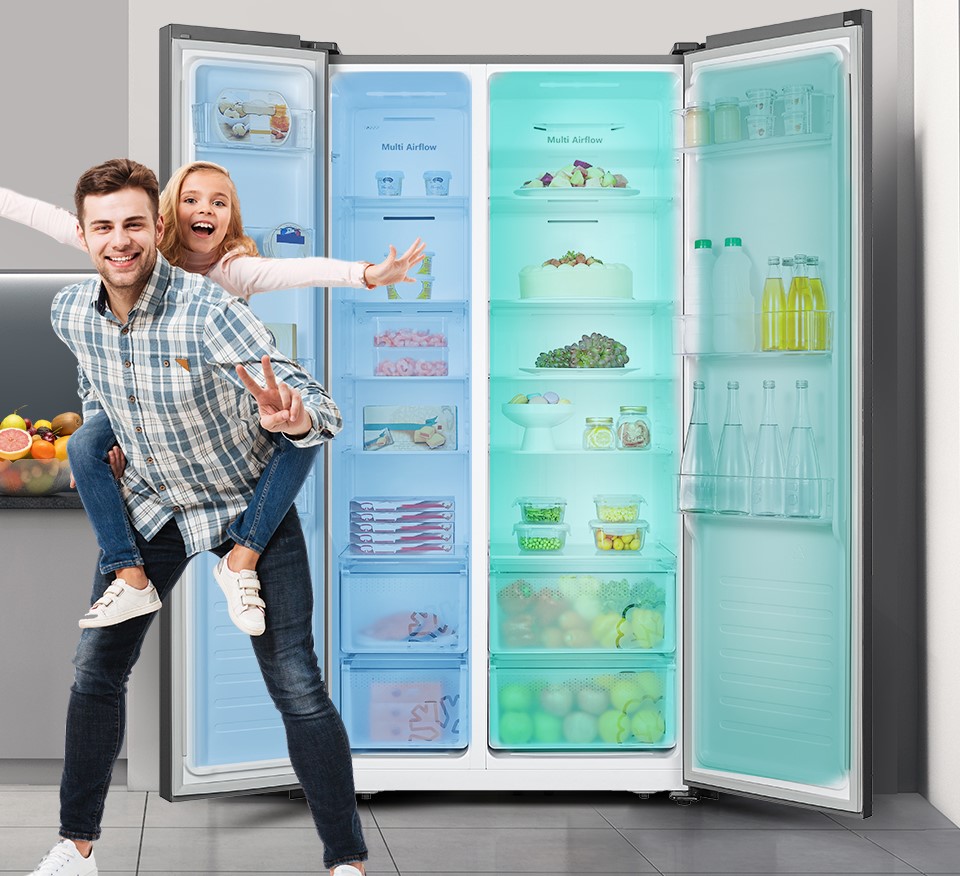 Boasting a spacious interior and two wide-opening doors, this fridge offers ample room to store all your food while providing a clear, comprehensive view of its contents at a glance. Thanks to the innovative Dual-Tech Cooling system, both the fridge and freezer maintain optimal humidity and temperature levels. Say goodbye to dried-out food and unwanted odours infiltrating your groceries. With Total No Frost technology, manual defrosting becomes a thing of the past. Bid farewell to ice build-up, as this advanced feature keeps your appliance ice-free while preserving the quality and nutritional value of your food.
The Hisense RS666N4ABNIV ensures that every corner of your fridge is cool and fresh, as cold air is circulated evenly through the vents on every shelf level. The soft LED lighting illuminates the interior, providing a clear and efficient overview of your fridge's contents while saving energy. Experience the power of Super Cool and Super Freeze functions, rapidly dropping the temperature to preserve the flavour, colour, and nutritional value of your fresh food. Controlling the temperature has never been easier with the user-friendly electronic control panel. Set your desired settings with accuracy and choose from various refrigerator modes for ultimate customisation. With five highly-effective Digital Temp Sensors, it ensures optimal cooling levels.
Here are the highlights of the Hisense RS666N4ABNIV's amazing features:
Spacious interior
Wide-opening doors
Dual-Tech Cooling
Total No Frost
Even cooling with Multi Airflow
Bright and efficient LED lighting
Super Cool function
Super Freeze function
Easy view electronic control
Streamline metal handle
Digital Temp Sensors
Lighting Sensor
3. Hitachi 4 Door Big French Fridge: R-W720P7M (540L)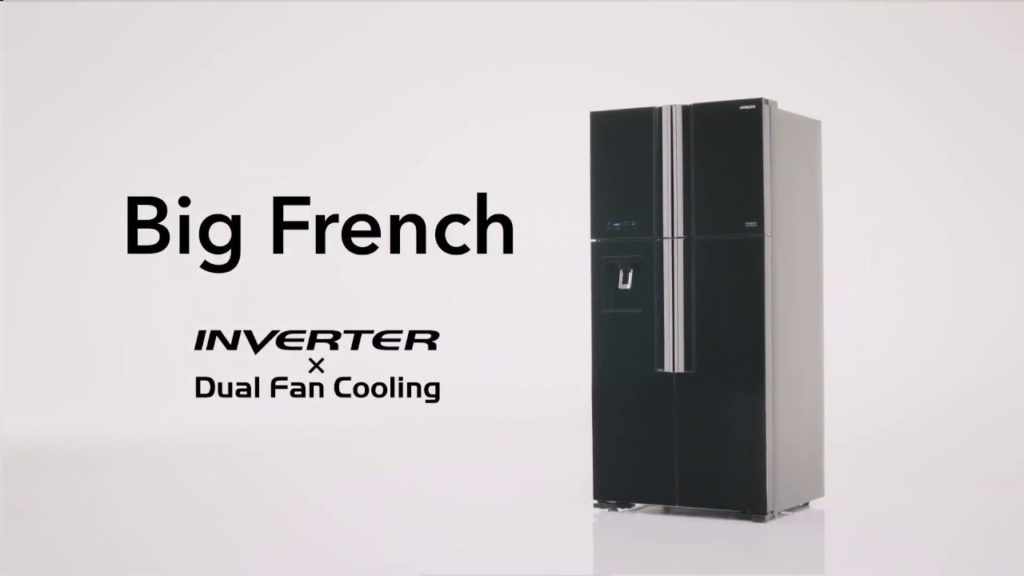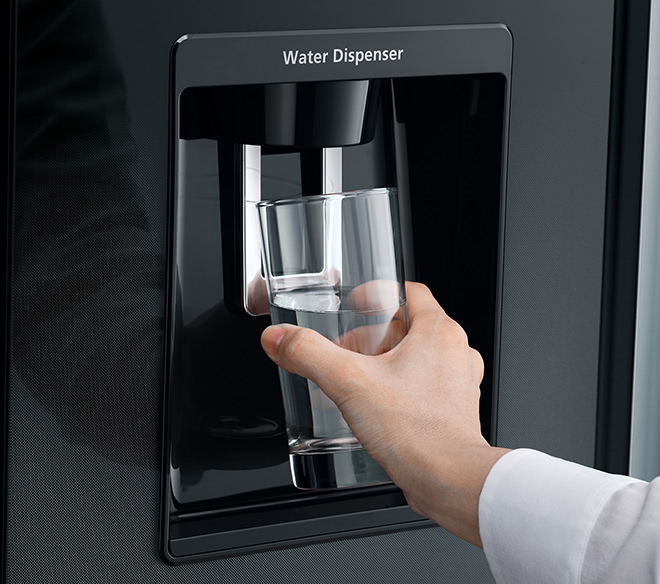 Say goodbye to uneven cooling with the Dual Fan Cooling system in this fridge. Dedicated fans for each compartment guarantee optimum cooling in both the freezer and refrigerator sections. Supported by the Eco Thermo-Sensor in each compartment, this enhanced cooling system detects temperature changes, resulting in energy-saving and powerful cooling performance. Powered by a high-power Inverter compressor, this refrigerator provides exceptional cooling with a large volume of chilled air. Microcomputer control enables efficient low-power cooling, catering to your specific needs. Dual Sensing Control takes refrigeration precision to the next level. With two Eco Thermo-Sensors, one in the freezer and one in the refrigerator compartment, temperature changes are detected separately.
Hitachi's inverter refrigerator operates seamlessly even under wide voltage fluctuations. Enjoy ultimate versatility with the Fresh Select feature. The Select Lever allows you to adjust the inside temperature by switching between different modes, such as Vegetable Mode for delicate produce and Dairy/Meat Mode for optimal storage of meat and fish. Experience the convenience of clean, automatically chilled water with the tank. Maximise storage space with the movable Twist Ice Tray. Customise its placement or remove it altogether, allowing for more efficient utilisation of the refrigerator's storage capacity.
Here are the highlights of the Hitachi R-W720P7M's amazing features:
Dual Fan Cooling
High Power Inverter Compressor
Dual Sensing Control
Energy Saving
Powerful Cooling
Stabiliser Free
Fresh Select
Movable Twist Ice Tray
4. LG 2 Door Top Freezer Fridge: GN-B332PPGB (360L)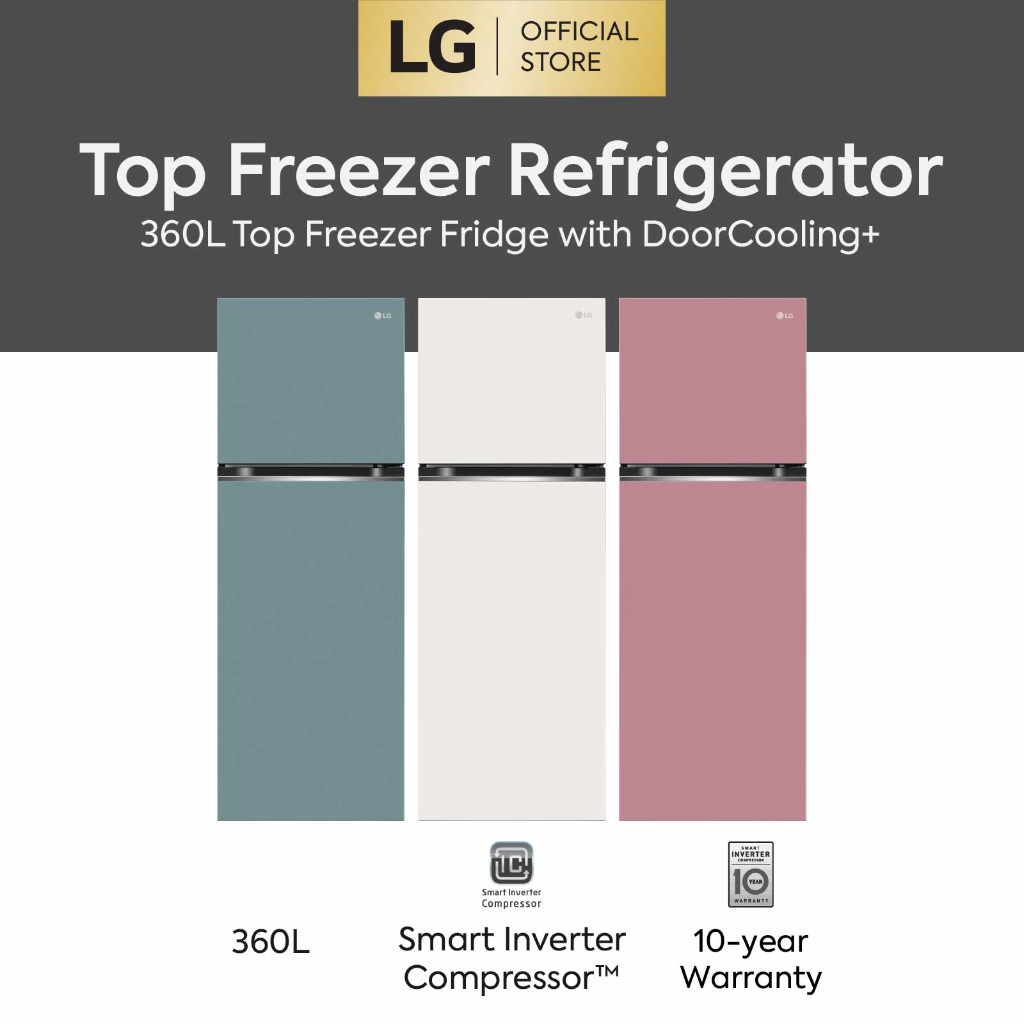 Equipped with cutting-edge Smart Inverter Compressor technology, this appliance not only saves energy but also operates with super silent efficiency. It offers a 10-year warranty on the compressor. With LG's DoorCooling+ technology, even and fast cooling is achieved effortlessly. Experience a 35% quicker cooling time compared to conventional systems, as it reduces the temperature gap between the inner part and the door side of the compartment. Enjoy fast and even cooling throughout the refrigerator with the Multi Air Flow system.
LG's Smart Diagnosis feature simplifies troubleshooting. By placing your phone on the appliance and calling the LG Customer Service Helpline, the refrigerator communicates with a computer, providing a diagnosis within seconds and an immediate solution. Never worry about leaving the door open again, thanks to the Door Alarm feature. It has a no-frost cooling system. Enjoy the benefits of Bioshield, a protective layer that prevents the growth of bacteria and keeps your refrigerator clean and hygienic.
Here are the highlights of the LG GN-B332PPGB's amazing features:
Smart Inverter Compressor
Energy Efficient
DoorCooling+ Technology
Multi Air Flow
Smart Diagnosis
Door Alarm
No Frost Cooling System
Bioshield Protection
5. Samsung 3 Door Side by Side Fridge: RS63R5591B4ME (670L)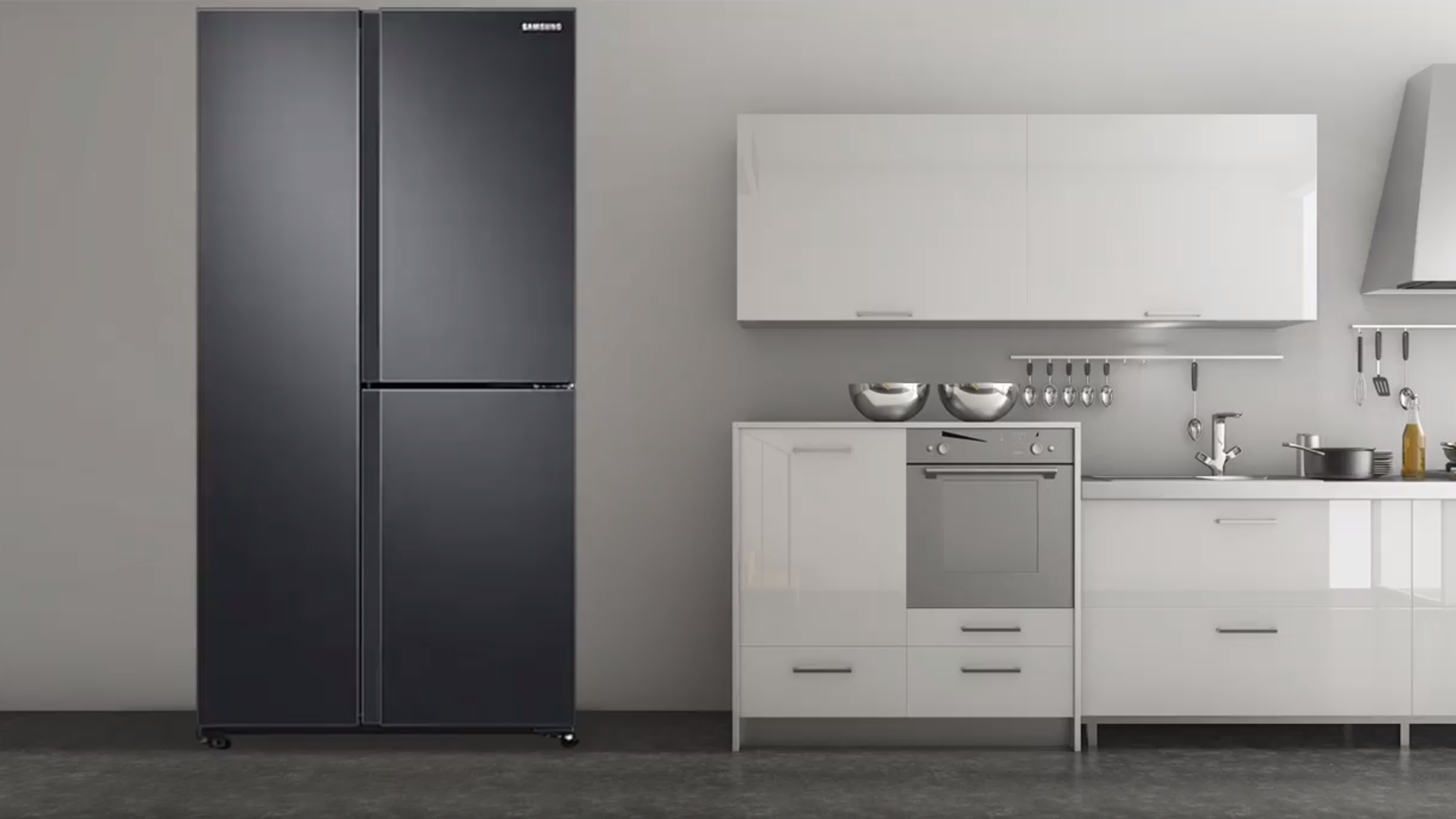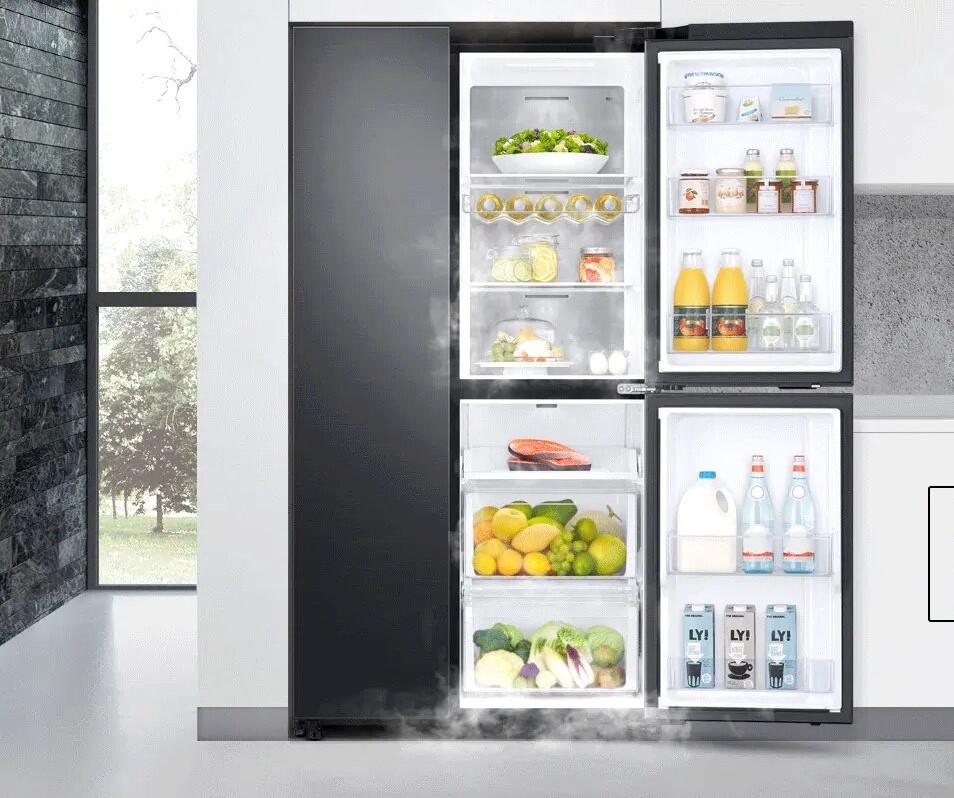 Maximise your storage capacity with SpaceMax Technology in the novel Samsung RS63R5591B4ME. Enjoy ultimate flexibility with FlexZone. With pre-set four temperature options, you can easily convert the freezer into a refrigerator, providing flexible storage based on your usage and needs. Experience long-lasting performance and energy efficiency with Digital Inverter Technology (DIT). This technology not only reduces energy consumption but also minimises noise. Say goodbye to uneven cooling with the All-around Cooling system.
Organise your food more efficiently with the 3-door, side-by-side (SBS) design. With two fridges and one freezer, you can store and access your food conveniently. The upper and lower fridge configuration minimises cool air loss by 55%, resulting in energy savings and well-organised storage. Create more space for your food while still having an ample supply of ice with the Slim Indoor IceMaker. Built into the door, it frees up freezer shelf space while providing sufficient ice production. The transparent plastic cover allows for easy monitoring of the ice level. There is a 20-year warranty on the compressor.
Here are the highlights of the Samsung RS63R5591B4ME's amazing features:
SpaceMax Technology
FlexZone Flexibility
Digital Inverter Technology
3 Door SBS
Slim Indoor IceMaker
20-year Compressor Warranty
6. Toshiba Inverter A-Series 2 Door Fridge: GR-A28MU (UB) (252L)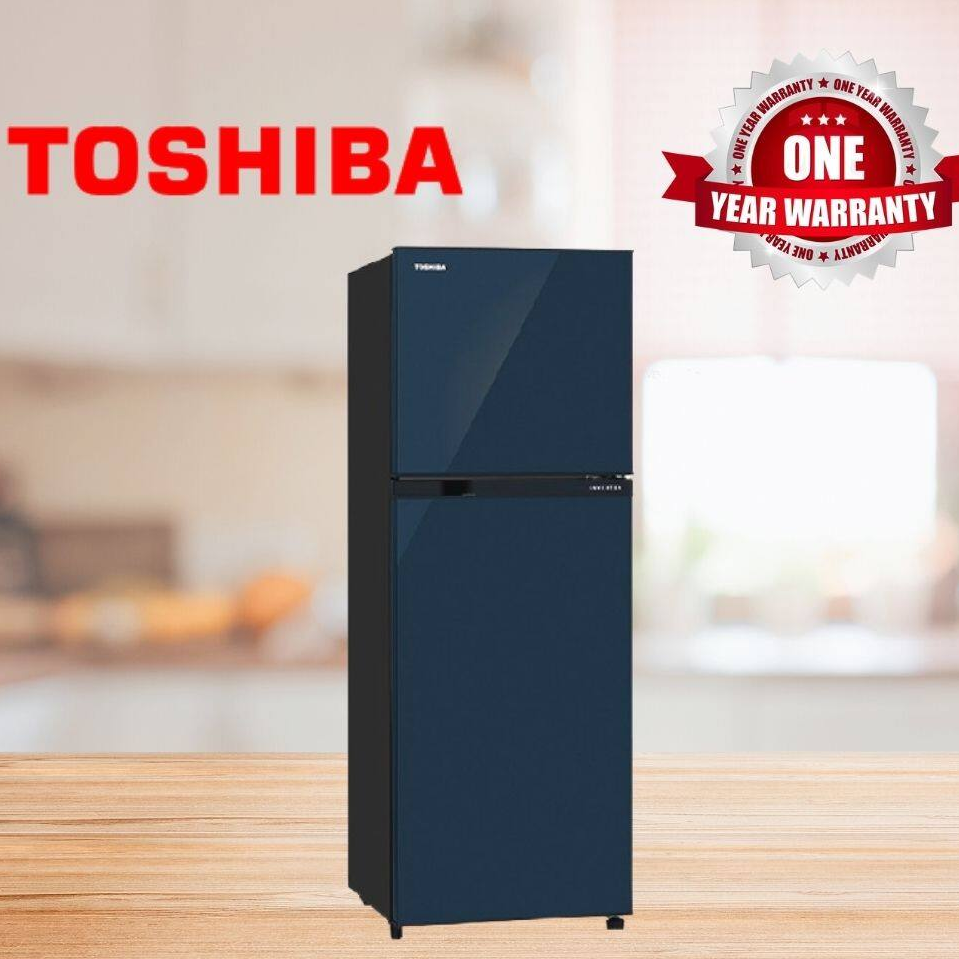 Toshiba's A-series refrigerator collection combines elegance and functionality with its seamless design. Experience freshness and cleanliness with the Ag+ BIO Deodoriser system, which effectively eliminates strong odours. Benefit from the efficiency of the Inverter Compressor, providing reliable and energy-saving performance, resulting in lower electricity consumption. With its 5-Star Energy Efficiency rating, this refrigerator ensures optimal energy usage, helping you save on electricity bills while being environmentally friendly.
Organise your fruits and vegetables effortlessly in the spacious vegetable compartment, offering up to 12 litres of storage capacity. Enjoy excellent chilling for your "meat/fish" items, enhanced by the Ag+ Bio Deodoriser system. Customise the storage space according to your needs with the adjustable door pocket.
Here are the highlights of the Toshiba Refrigerator GR-A28MU (UB)'s amazing features:
Seamless Design
Ag+ BIO Deodoriser
Inverter Compressor
5-Star Energy Efficiency
Spacious Vegetable Compartment
Excellent Chilling
Adjustable Door Pocket
7. Sharp Avance Multi Door Refrigerator: SJF921VMSS (750L)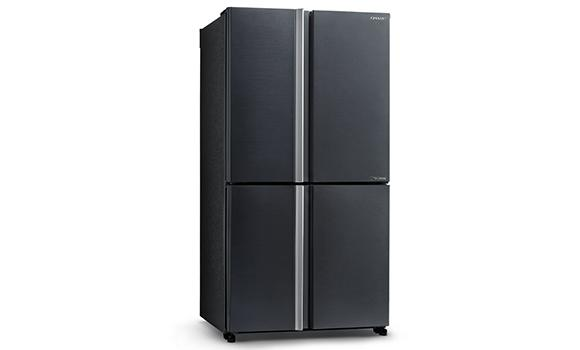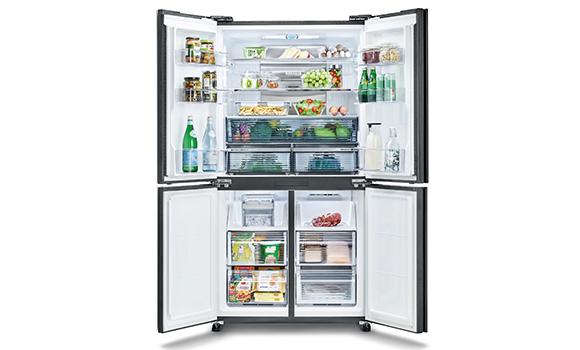 Powered by J-Tech Inverter Technology, this refrigerator offers precise temperature control with 36 gradual cooling steps, ensuring faster cooling, minimised noise, and reduced energy consumption. The Plasmacluster Ion Technology cleans the air inside the refrigerator, creating a hygienic food storage space. It reduces undesirable contaminants and eliminates unpleasant odours. Additionally, it prevents food dryness by turning water molecules into moisture, preserving the freshness of your food. With the ActiFresh Hybrid Cooling System, cool humid air is evenly distributed throughout the compartment, optimising moisture and reducing temperature fluctuations.
The Anti-bacterial Deodoriser ensures a clean and odour-free environment. It eliminates bacteria and unpleasant smells, maintaining the hygiene and freshness of your stored items. Enjoy the convenience of Extra Cool Plus and Deep Freezing features, providing enhanced cooling performance and the ability to freeze food rapidly. The Moisture Shield, with its highly sealing moisture cover structure, protects your food from dryness and preserves its freshness. Designed to reflect your exclusive lifestyle, the Sharp SJF921VMSS Refrigerator features a stunning, sleek glass design.
Here are the highlights of the Sharp SJF921VMSS's amazing features:
J-Tech Inverter Technology
Plasmacluster Ion Technology
ActiFresh Hybrid Cooling System
Anti-bacterial Deodoriser
Extra Cool Plus
Deep Freezing
Hygienic Cooling
Moist Fresh
Moisture Shield
8. Hisense 2 Door Inverter Fridge: RT286N4ABN (240L)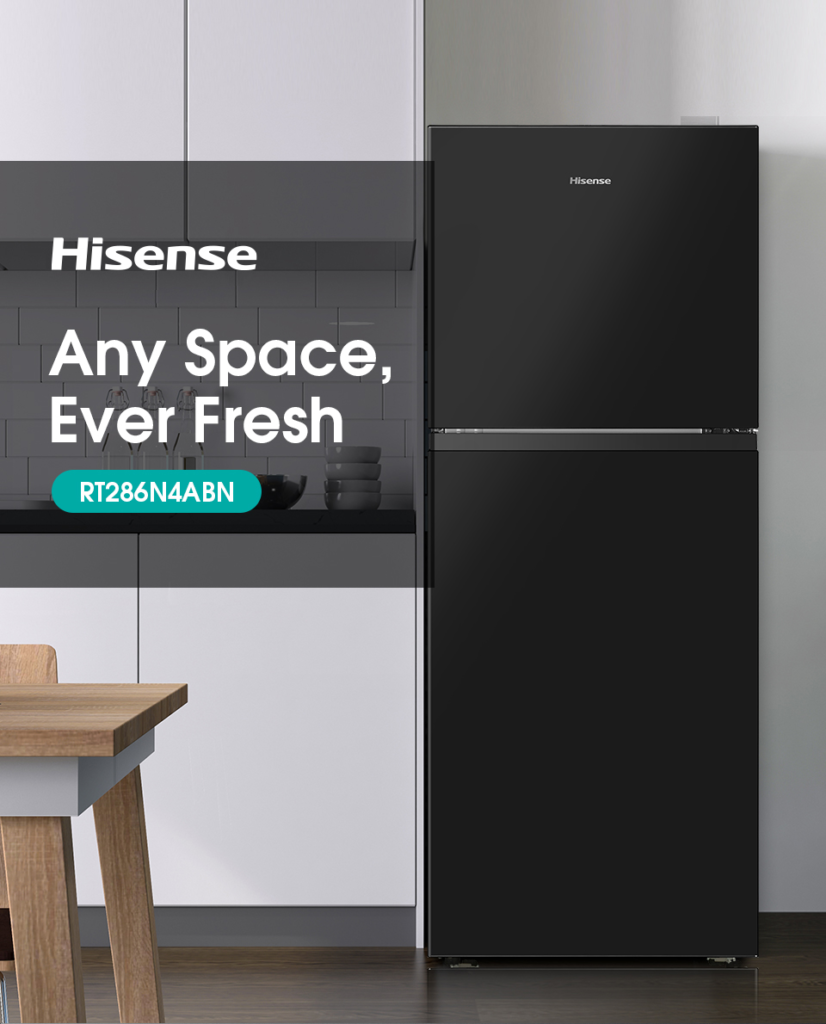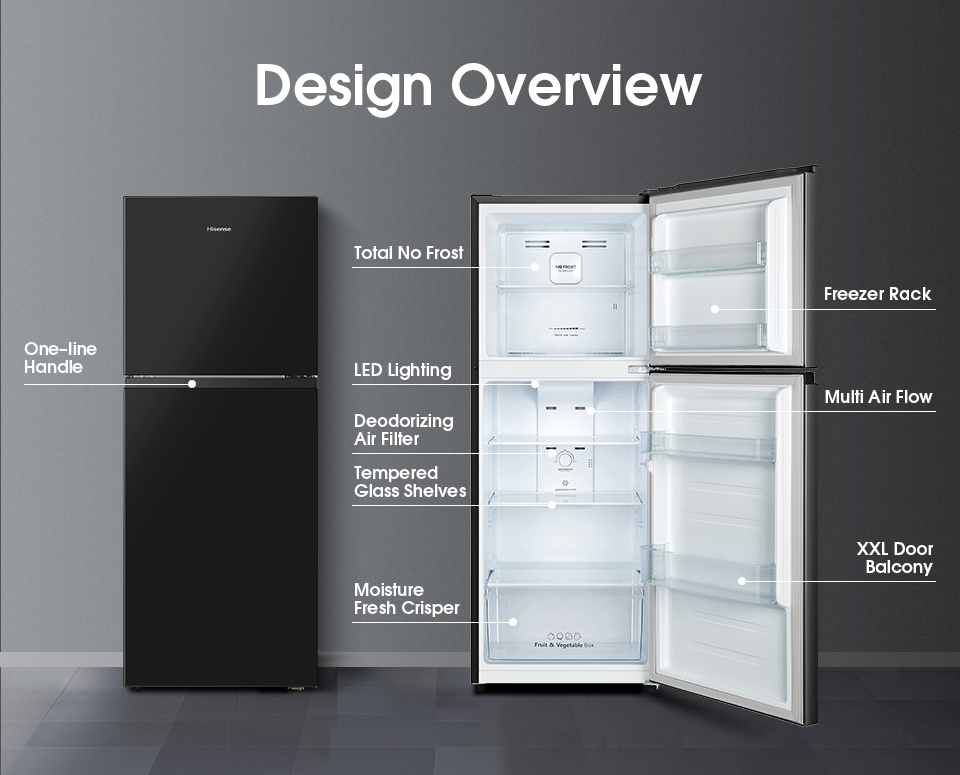 Experience hassle-free cooling with the Hisense RT286N4ABN Refrigerator. Say goodbye to manual defrosting thanks to its advanced No Frost Cooling System. This feature eliminates the need for tedious defrosting. Powered by Inverter Technology, this refrigerator not only saves energy but also ensures a stable internal temperature. Enjoy optimal cooling performance while reducing energy consumption and maintaining a consistent environment for your food. With its impressive 5-star energy-saving rating, the motor of this refrigerator automatically adjusts its speed based on demand, providing better energy efficiency performance and minimising wear and tear. The Multi Air Flow system evenly distributes cool air throughout the refrigerator.
Equipped with activated carbon, Deodorising Filter eliminates bad smells and ensures the air stays fresh inside the refrigerator. The XXL Door Balcony provides ample space to maximise your storage capacity and organise your fridge efficiently. Designed for flexibility, the Hisense RT286N4ABN can be slotted anywhere, making it ideal for rooms with limited space. Gain full access to your fridge-freezer drawers, even in tight corners or near walls or doorways. Enjoy bright, cool, and energy-efficient LED lighting, which not only illuminates the interior of the refrigerator but also saves on energy consumption.
Here are the highlights of the Hisense RT286N4ABN's amazing features:
No Frost Cooling System
Inverter Technology
5-star Energy Saving
Multi Air Flow
Deodorising Filter
XXL Door Balcony
Slot Anywhere
LED Lighting
9. Elba 2 Door Refrigerator: ER-G2521(SV) (250L)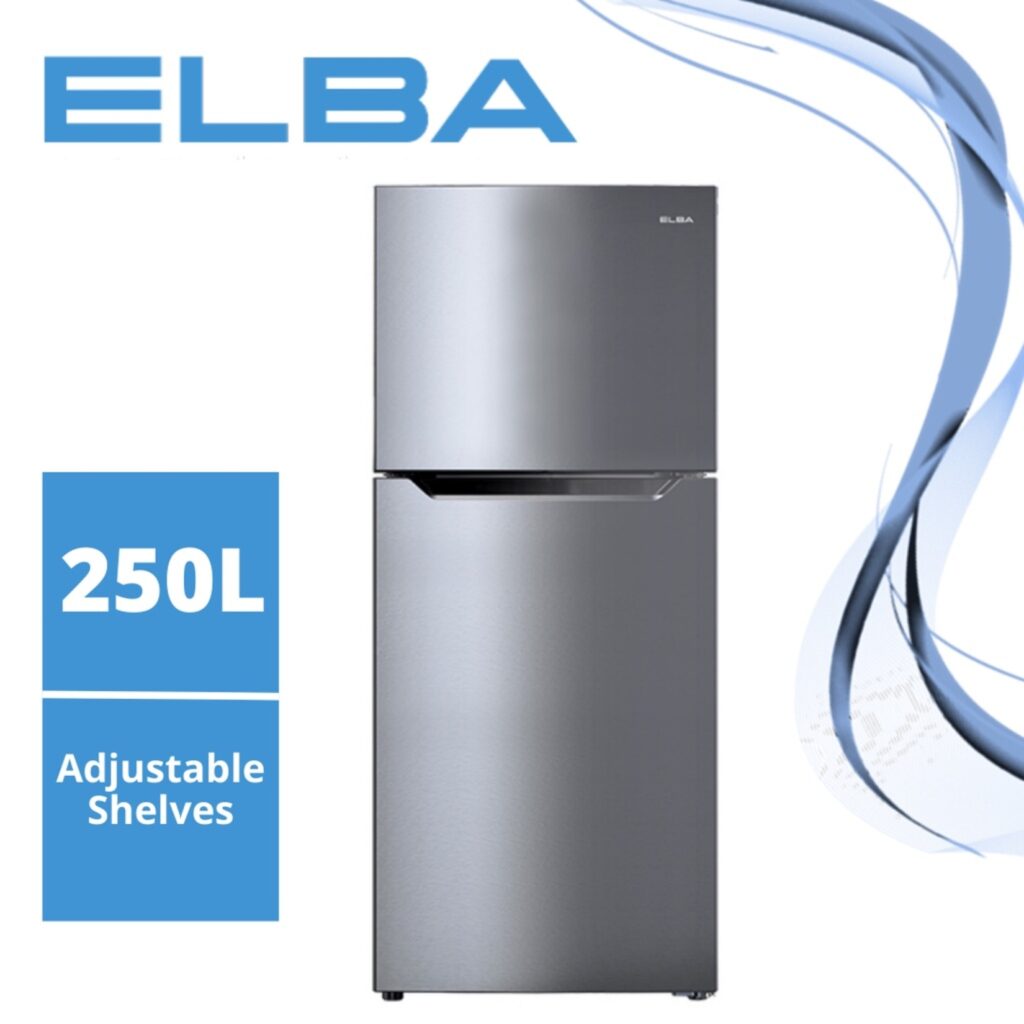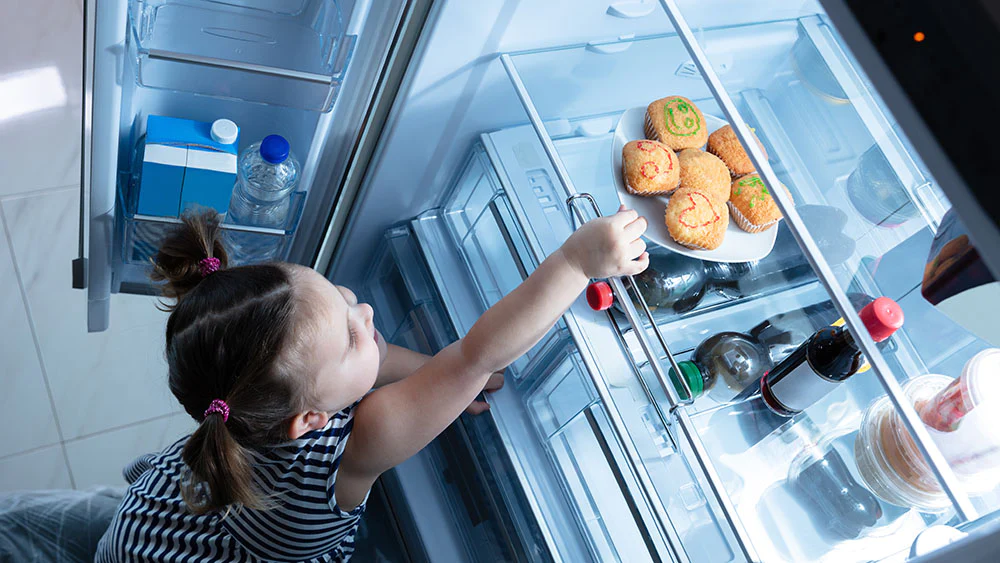 With its sleek design and advanced features, this fridge not only keeps your food fresh but also adds a touch of elegance to your kitchen. Equipped with a frost-free cooling system, you no longer need to worry about manual defrosting. The multi-air flow feature ensures consistent cooling throughout the refrigerator, keeping your food at optimal temperatures for longer periods. The refrigerator compartment offers a chill room and a fresh zone, providing convenient storage options for different types of items.
The ELBA ER-G2521(SV) also boasts a spacious freezer with a movable twist ice maker and tempered glass shelves for organised storage. The auto defrost function prevents ice buildup, maintaining the freezer's efficiency. With fan cooling technology, the refrigerator maintains a stable temperature for optimal food preservation.
Here are the highlights of the Elba ER-G2521(SV)'s amazing features:
Efficient cooling performance
Frost-free technology
Adjustable thermostat
No Frost cooling system
Multi Air Flow
Chill Room and Fresh Zone compartments
Tempered glass shelves
Movable Twist Ice Maker
Auto defrost in the freezer
Fan cooling system
10. Mitsubishi 3 Doors Bottom Mount Neuro Inverter Refrigerator: MR-CGX46EN (402L)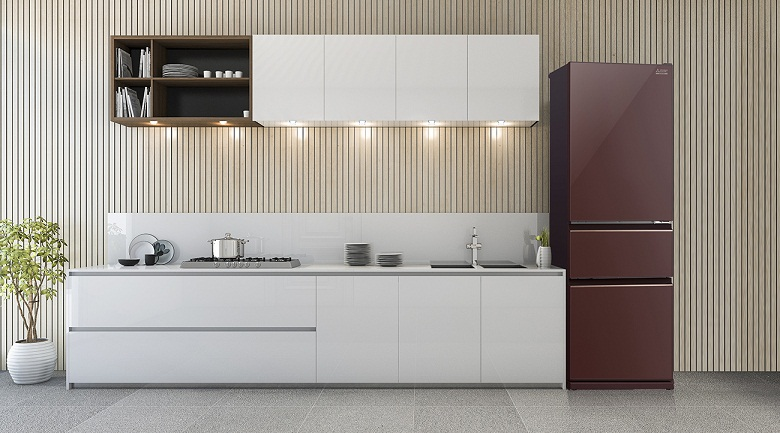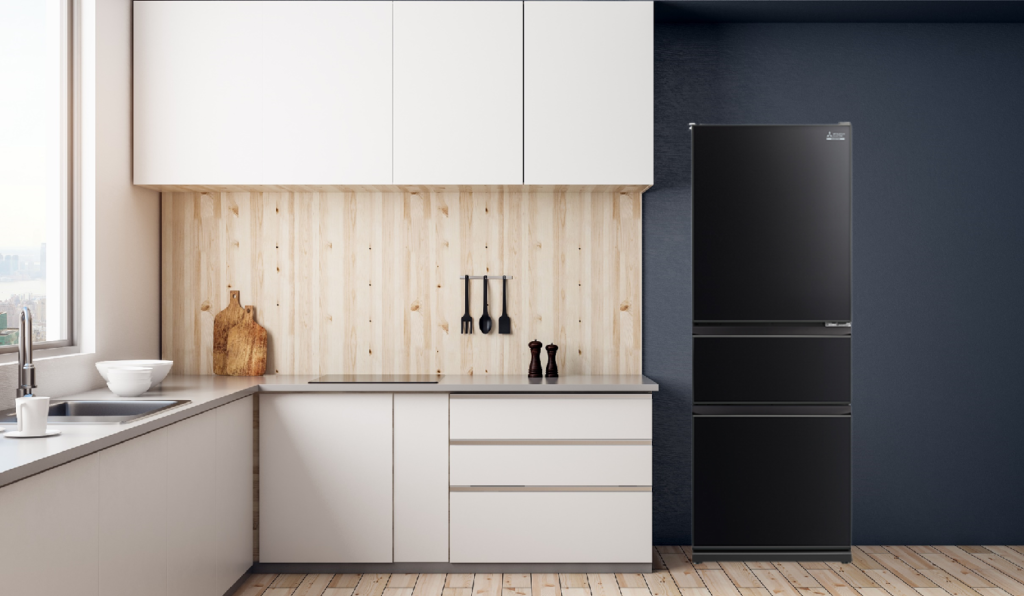 With three individual cooling areas, this fridge offers customisable temperature settings for efficient energy consumption and enhanced organisation. The Neuro Inverter Technology optimizes cooling operations, while the Supercool Chilling Case provides an ideal environment for storing meat, fish, and perishable items without freezing them. Experience convenience with the automatic ice maker, which produces a continuous supply of ice cubes without the need for plumbing. The independent vegetable room offers ample space, with transparent drawers for easy visibility of stored produce.
The Neuro Inverter Technology intelligently controls the refrigerator's operations based on household usage patterns, optimising performance. Additionally, the Vitamin Factory feature utilises LED lights to simulate sunlight, promoting photosynthesis in vegetables and increasing vitamin C content for prolonged freshness. With the multi-air flow system, consistent cooling is ensured throughout the refrigerator. It offers a 10-year compressor warranty.
Here are the highlights of the Mitsubishi MR-CGX46EN's amazing features:
Three cooling areas
10-year compressor warranty
Neuro Inverter Technology
Supercool Chilling Case
Automatic Ice Maker
Neuro-Fuzzy Microprocessor
Vitamin Factory
Multi airflow
11. Midea Inverter Quattro 2 Door Refrigerator: MDRT268MTB28 (200L)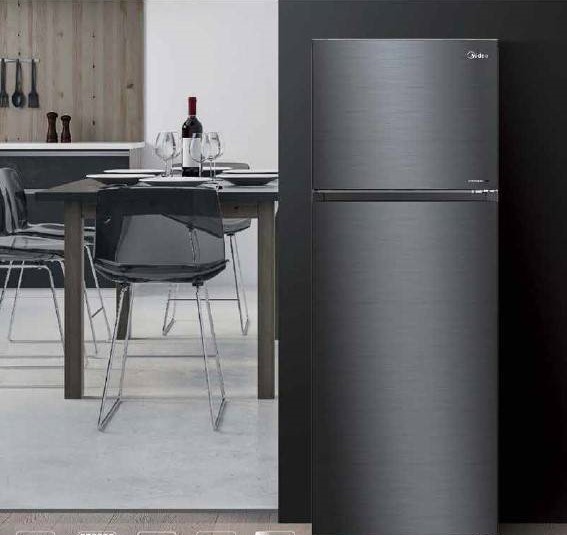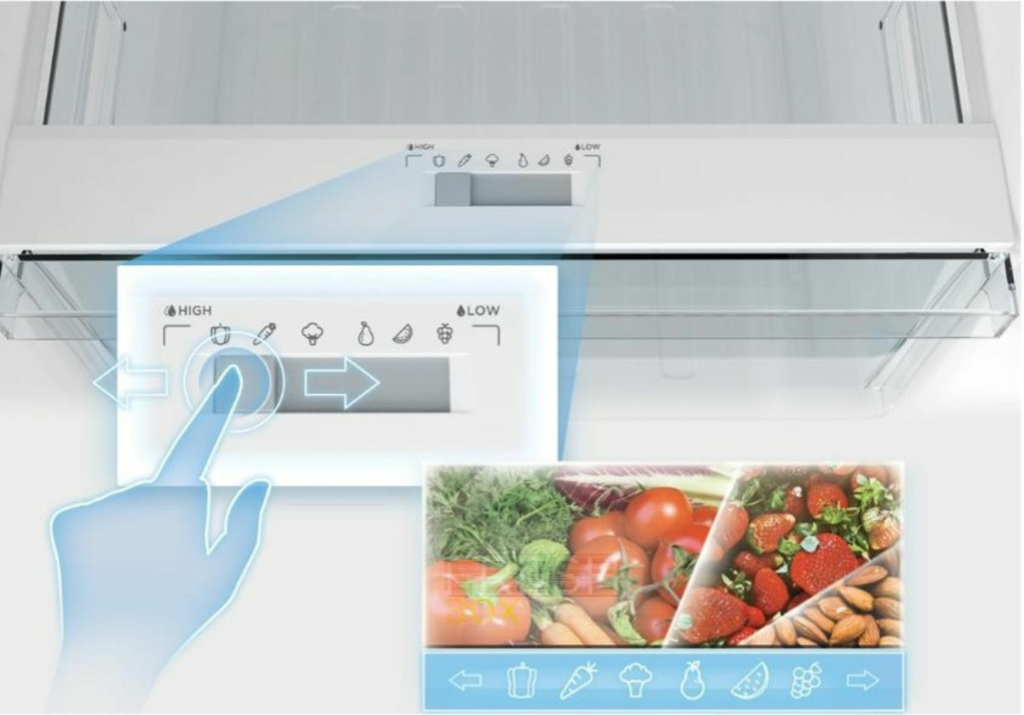 Introducing the Midea MDRT268MTB28, a 4-star rated refrigerator that combines advanced features with spacious storage capacity. With a gross capacity of 200L, this two-door refrigerator is designed to meet your cooling needs effectively. Equipped with an Inverter Quattro Smart sensor and Active-C Fresh technology, it ensures optimal cooling performance. The electronic control panel allows for easy temperature adjustment and precise settings. The Big Cooling Zone provides ample space for storing large items and bulky containers, while the special egg tray and big ice tray offer convenient storage solutions. The highlight-LED lighting illuminates the interior, making it easy to find what you need.
With adjustable shelves, you can customise the layout to accommodate items of different sizes. The inverter motor ensures efficient operation and quiet performance. Backed by a 1-year general warranty and an impressive 12-year compressor warranty, the Midea MDRT268MTB28 is a reliable and durable choice for your refrigeration needs.
Here are the highlights of the Midea MDRT268MTB28's amazing features:
4-star energy rating
Gross capacity: 200L
Inverter Quattro Smart sensor
Active-C Fresh technology
Electronic control
Big Cooling Zone
Highlight-LED lighting
1-year general warranty
12-year compressor warranty
Inverter Motor
12. Faber 2 Door Refrigerator: FRIGOR 308BK (300L)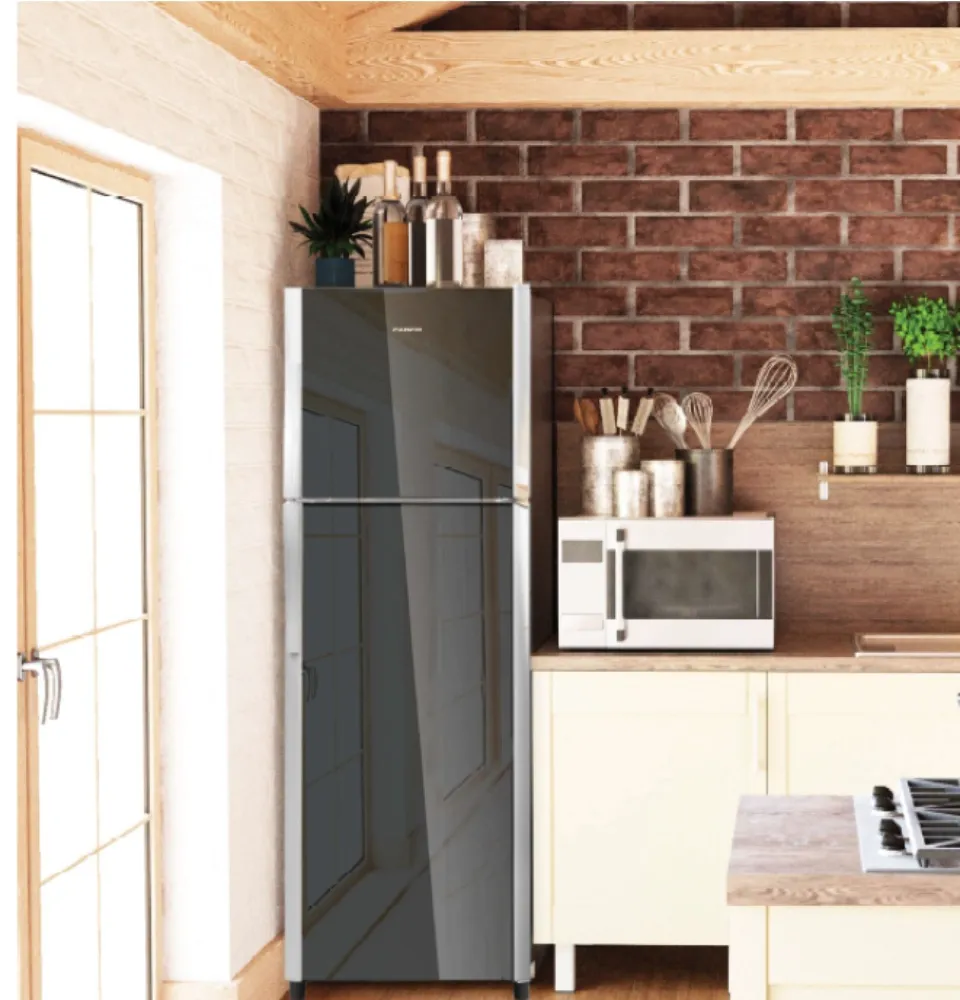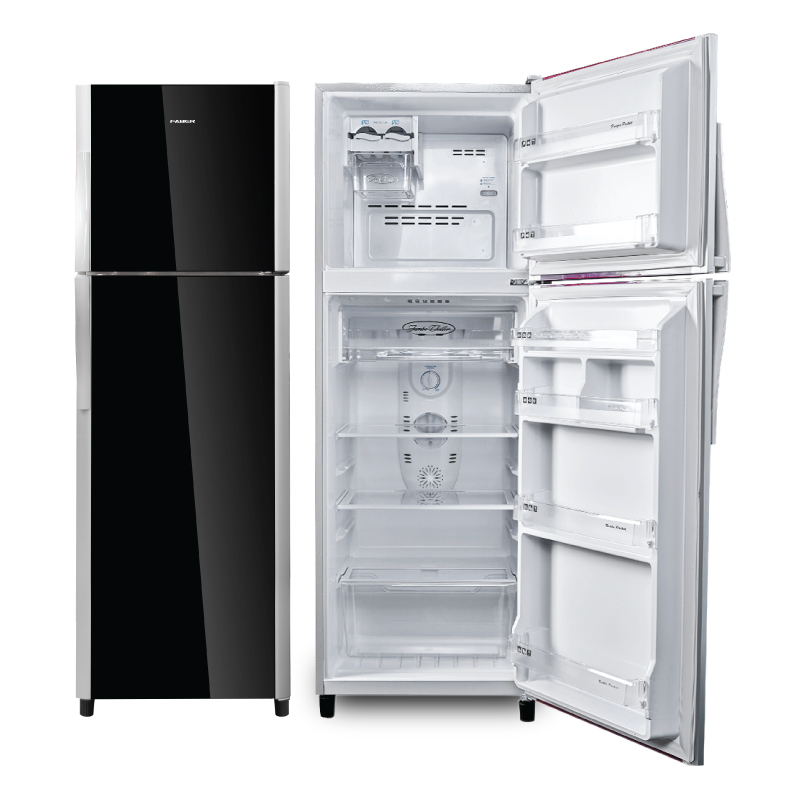 The Faber FRIGOR 308BK is a stylish and functional 2-door refrigerator that offers ample storage space and convenient features. With its glass door finish and sleek black colour, it adds a touch of elegance to your kitchen decor. The lid handle provides easy access to the refrigerator, while the jumbo pocket offers extra storage for larger items. The refrigerator has a gross capacity of 300.0L, with a nett capacity of 255.0L, providing plenty of room for your groceries. The freezer capacity is 76.0L, and the refrigerator capacity is 179.0L.
The refrigerator includes a 20x stronger tempered glass tray that can hold up to 160kg, a large chiller tray for yoghurt or cheese, and a spacious vegetable compartment with a capacity of up to 8.7L. It also comes with a convenient twist ice tray and LED lighting for easy visibility. With a 2-star energy-saving rating and the use of environmentally-friendly refrigerant R600a, the Faber FRIGOR 308BK is not only practical but also energy-efficient.
Here are the highlights of the Faber FRIGOR 308BK's amazing features:
Door Finishing: Glass
Handle: Lid Handle
Freezer Capacity: 76.0L
Refrigerator Capacity: 179.0L
Jumbo Pocket
Strong Tempered Glass Tray
Large Chiller Tray
Twist Ice Tray
LED Light
2-Star Energy Saving
Refrigerant: R600a
13. Electrolux UltimateTaste 300 Top Freezer Refrigerator: ETB3440K-H (312L)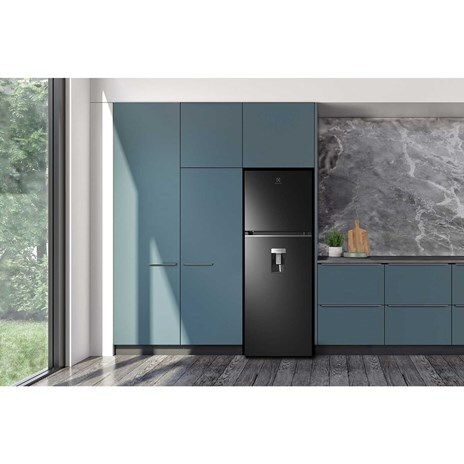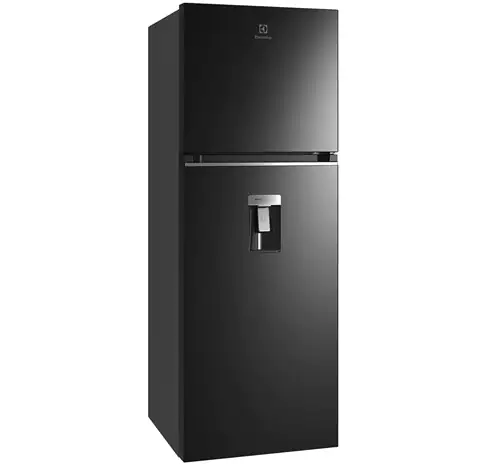 If you have a small family or don't need such a big fridge, you can consider this Electrolux fridge that has a 5-star energy rating and all the necessary features. It has a fridge capacity of 238L and a freezer capacity of 74L, ensuring your food stays fresh. The fridge features a TasteSeal chiller, that can keep your meat and seafood at a consistent -2°C so it stays fresh for up to seven days without freezing.
Your fruits and vegetables are protected with the TasteLockAuto crisper which works to maintain a humid environment by reducing condensation. Your produce is kept in its optimum condition for up to a week. Temperature fluctuations are reduced with EvenTemp which cools each shelf individually. Plus, you get to enjoy cold water anytime you want, as the WaterStream and a 4l water tank allow you to fill your glass easily. Bad odours are prevented with the TasteGuard which uses a carbon filter to get rid of smells as well.
Features:
5-star energy rating
Fridge capacity 238L,
Freezer capacity 74L
TasteSeal chiller
TasteLockAuto crisper
EvenTemp
WaterStream
TasteGuard
14. LG Top Freezer Fridge in Dark Graphite Steel: GV-B212PQMB (235L)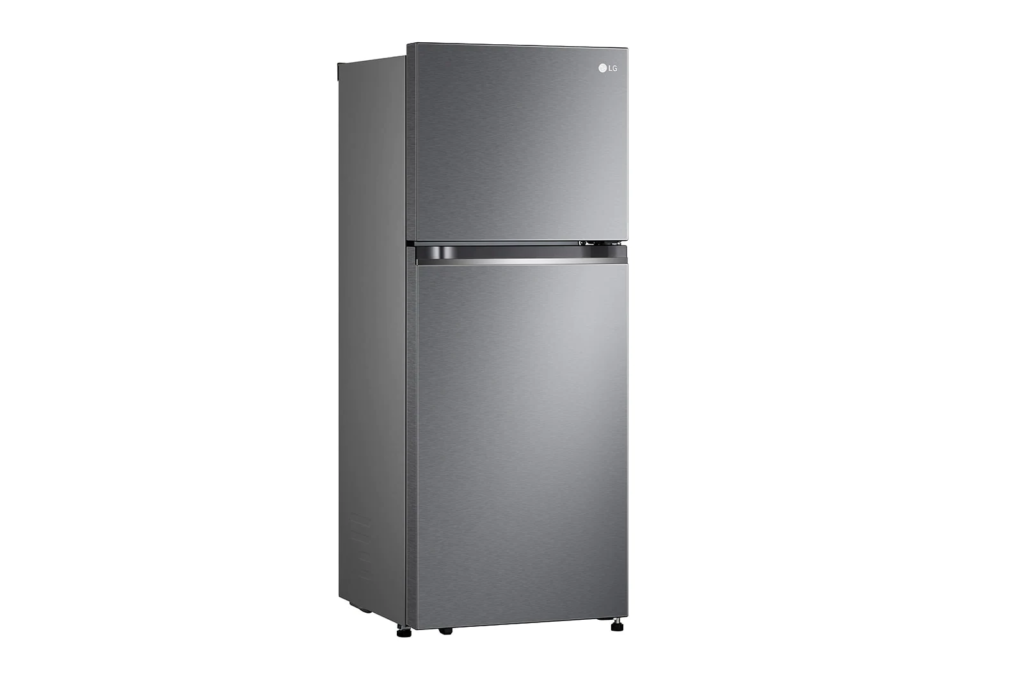 A compact but powerful refrigerator, this LG model will be a sleek and stylish addition to your kitchen with a finish in Dark Graphite Steel. It comes with a Smart Inverter Compressor technology which works silently and is more energy efficient. Another important thing to note is that it has a Multi Air Flow system that provides fast and even cooling to every corner of the fridge thanks to the cooling air vents placed strategically inside.
The crisper drawer comes with Humidity Controller that keeps your fresh produce easily. This appliance has a gross fridge capacity of 168L and a gross freezer capacity of 67L. The fridge has been given a 5-star energy rating so you can save more electricity and it also has express freezing and total no frost cooling system that maintains your food in an optimum condition.
Features:
Smart Inverter Compressor technology
10-year warranty
Multi Air Flow
Humidity Controller
Gross fridge capacity 168L
Gross freezer capacity 67L
5-star energy rating
Express Freeze
Total No Frost Cooling System
15. Hitachi Side By Side Standard Fridge: R-S800PM0 (595L)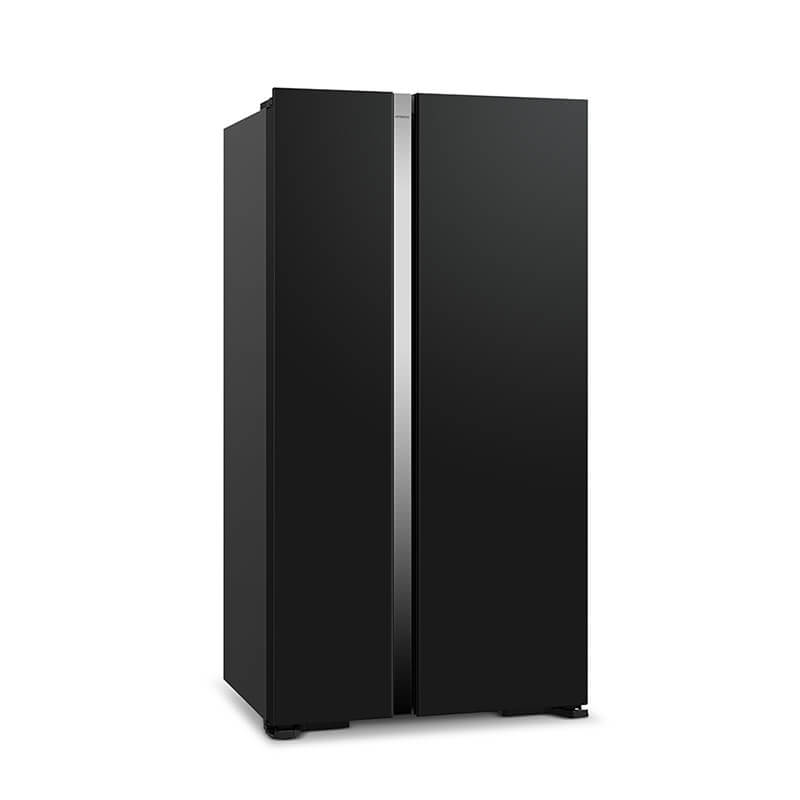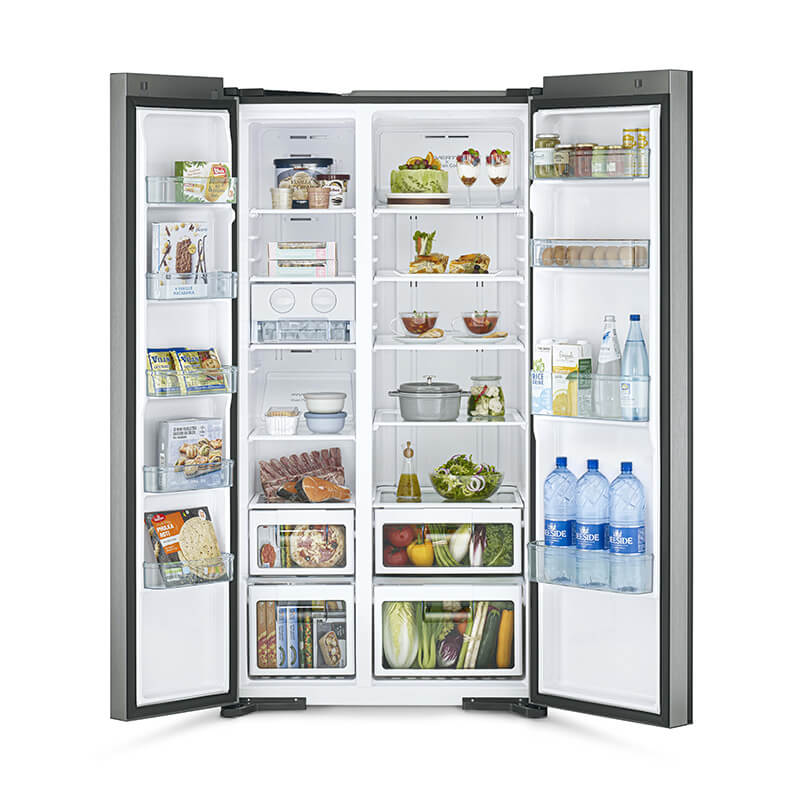 For those of you who want something different, this Hitachi fridge is a side-by-side door model, which means there are two doors that open out, compared to the traditional top and bottom doors. An elegant model, this fridge has a full glass frameless door design for a modern look.
Multiple drawers provide convenient spaces for your food items and undesirable odours are kept away with the Triple Power Filter that also removes 99% of bacteria. There's also a Quick Cooling mode that can be switched on and off. When turned on, your items are cooled 8% faster. Make ice quickly with the Easy Twist Ice Maker by twisting the convenient lever. The fridge is equipped with an inverter and Dual Fan Cooling for energy efficiency and fast cooling. The Eco Thermo-Sensor helps maintain optimum coolness at all times.
Features:
Side-by-side doors
Full glass frameless door design
Triple Power Filter
Quick Cooling
Easy Twist Ice Maker
Dual Fan Cooling
Eco Thermo-Sensor
Fridge capacity 369L
Freezer capacity 226L
16. Panasonic Premium 4-door Refrigerator: NR-YW590YMMM (540L)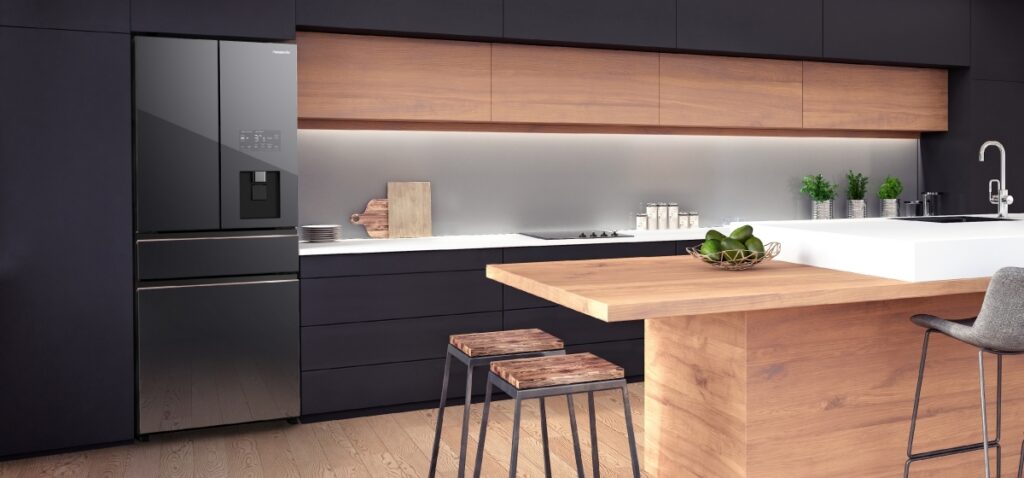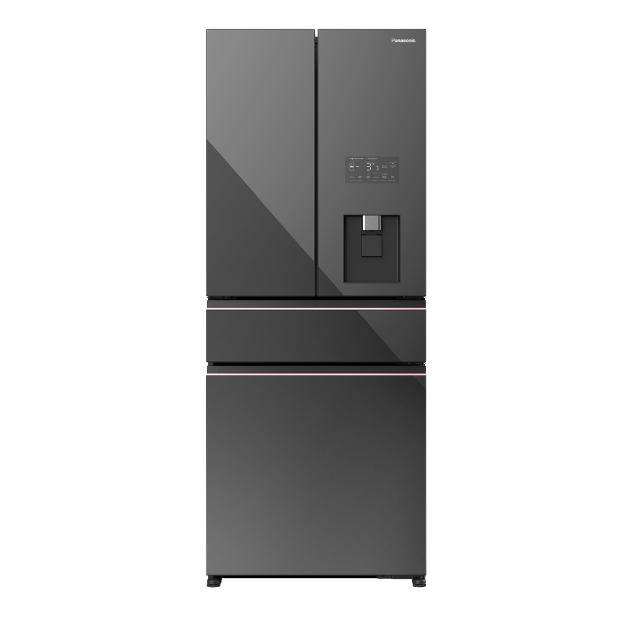 Organise your fridge the way you want it to with this model that not doesn't only have two doors, it has a grand total of four doors. This is a PRIME+ Edition fridge from Panasonic that features Prime Freeze, which freezes your food five times faster than usual so you can plan ahead and meal prep. You'll also be glad to know that it has Prime Fresh, which softly freezes your freezer items at -3°C so everything is well-preserved for up to a week and you don't need to thaw your food before cooking.
Control the humidity in the case with the Fresh Safe with Moisture Control Filter for fresher produce. Panasonic's nanoe™ X Technology purifies the air inside by releasing nano-sized water particles. This technology also helps inhibits 99.99% of bacteria and neutralise dangerous pesticides. You can get cold water anytime you want and automatically make ice with this fridge.
Features:
Refrigerator capacity 368L
Freezer capacity 215L
Prime Freeze
Prime Fresh
Fresh Safe with Moisture Control Filter
nanoe™ X Technology
Cold water dispenser
Auto ice maker
17. Sharp Smile Refrigerator: SJ408MDS (400L)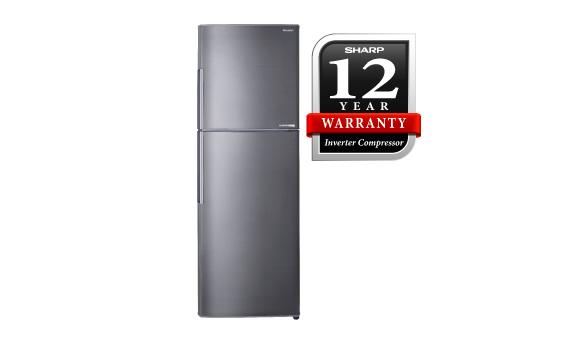 Introducing the Sharp refrigerator that's great for small families, as it has a 400L gross capacity to store all your food items and keep them from going bad. The fridge uses J-Tech Inverter Technology for better cooling and it also comes with Eco Mode so that it's more energy efficient, helping you save money on electric bills.
There's Temperature Control so you can have full control of how cool you want your fridge to be and AG CU Nano Deodoriser that filters bad smells and keep your fridge odour-free. The 2-way Fresh Room ensures your food stays in optimum condition at all times.
Features:
J-Tech Inverter Technology
Eco Mode
Temperature Control
AG CU Nano Deodoriser
2-way Fresh Room
Fridge capacity 240L
Freezer capacity 75L
5-star energy rating
18. Hisense 4 Door Inverter  Refrigerator: RQ768N4ABU (720L)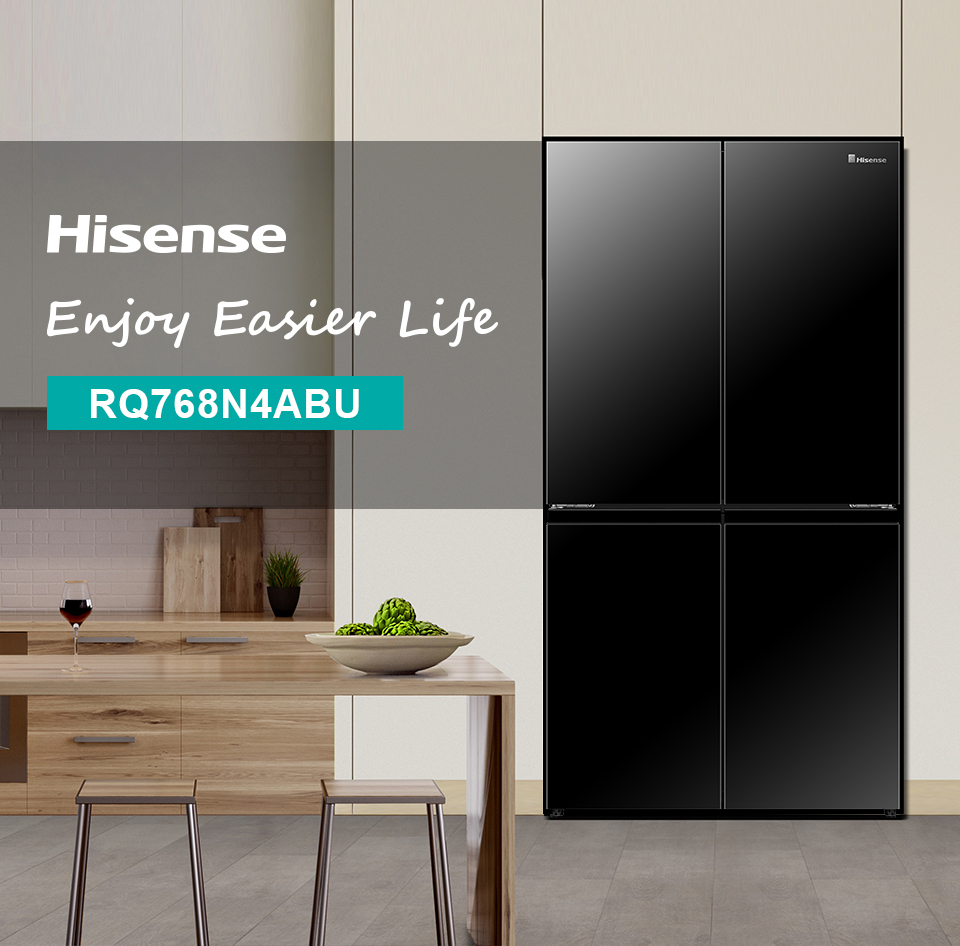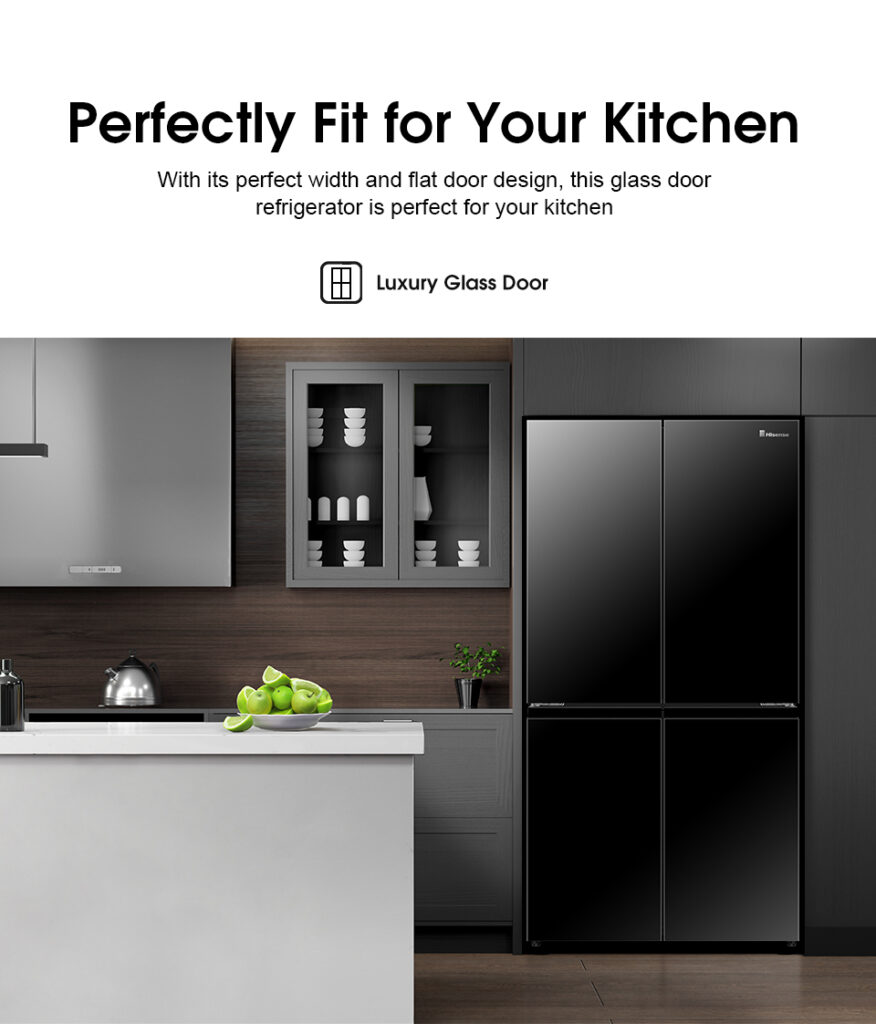 Add some elegant style to your home with this Hisense fridge that has a flat door design and luxury glass doors that will complement the rest of your kitchen. This appliance consists of three compartments with the fridge located at the top and two separate compartments at the bottom, where one is a designated freezer while the other, you can customise with My Fresh Choice. you can choose what you want to freeze, chill or cool as it comes with My Fresh Choice zone that allows you to set the temperature from -18°C to 5°C.
Using Dual-Tech cooling system to prolong the freshness of your food and the rear wall of the fridge is covered with stainless steel for Metal Cooling. The Durable Inverter is powerful and energy efficient as it manages the output effectively. Metal glide drawers and fully adjustable shelves mean you can customise your storage space based on your needs.
Features:
Luxury glass doors
Flat doors design
Three compartments
My Fresh Choice zone
Dual-Tech cooling
Metal Cooling
Durable Inverter
Freezer capacity 96L + 95L
Fridge capacity 392L
19. Haier 2 Doors Refrigerator: HRF-458IHM (458L)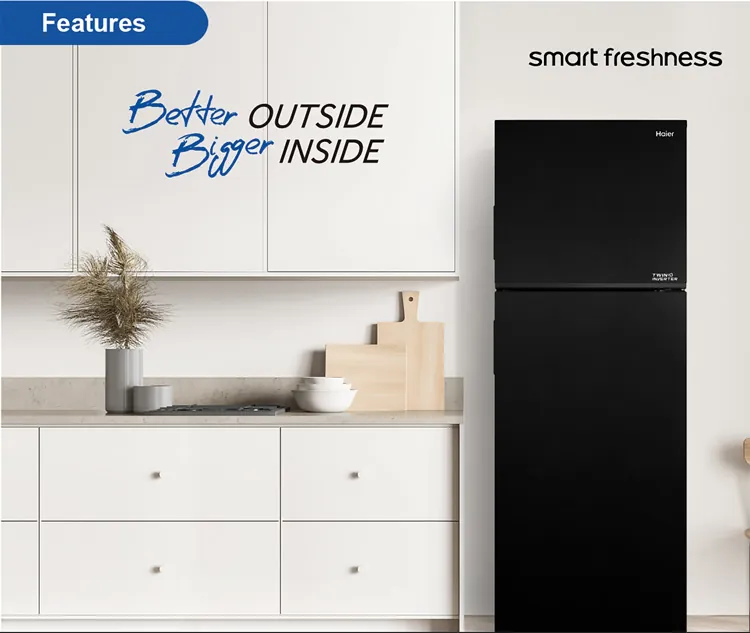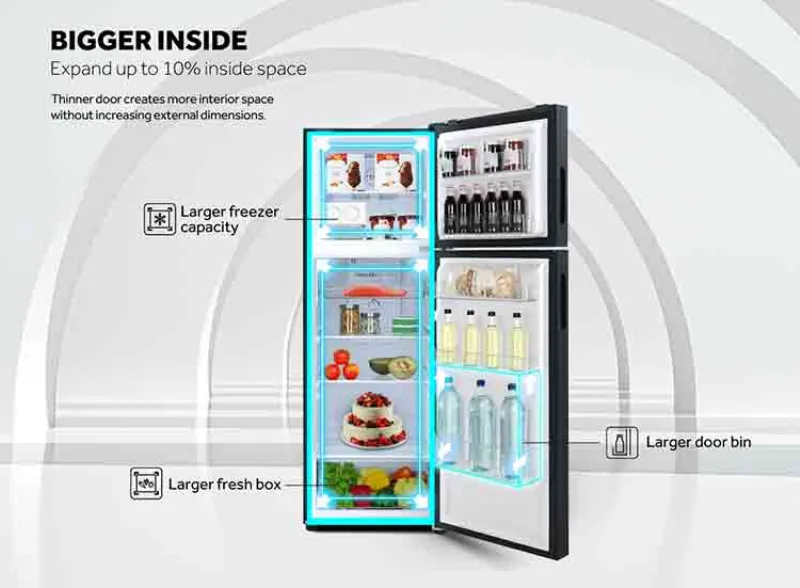 Get all the space you need with this large-capacity fridge that has thinner doors that create more interior space without increasing its dimensions. Featuring Twin Inverter technology, this fridge is quieter but no less powerful. A dedicated Chiller Box keeps meat, seafood and other items at -1°C so you don't need to defrost or thaw them before cooking.
DEO Fresh ensures that all unwanted odours are kept away while the Multi Air Flow cooling system allows consistent cooling for all corners of the fridge. You can also use the Fast Cooling function to speed up the cooling process if needed.
Fridge capacity 271L
Freezer capacity 86L
5-star energy rating
Chiller Box
Twin Inverter
Multi Air Flow
DEO Fresh
Conclusion
Selecting the best fridge in Malaysia requires careful consideration of various factors. A reliable refrigerator should offer efficient cooling, sufficient storage capacity, and energy-saving features. It should also meet the specific needs and preferences of individuals or families.
When searching for the ideal fridge, it's important to prioritize energy efficiency to minimize electricity consumption and reduce environmental impact. Additionally, features such as adjustable shelves, spacious compartments, and innovative cooling technologies contribute to a more organized and convenient storage experience.
By thoroughly evaluating these aspects and comparing different models, one can find the best fridge in Malaysia that perfectly suits their requirements and enhances their daily life with efficient cooling, ample storage space, and long-lasting performance.
Read also: Best of Home Appliances Series