If you've ever shopped for electronics, appliances, or even furniture before then you've definitely come across Harvey Norman. Originally from Australia, Harvey Norman has been established in Malaysia since 2003. They are a well-known international brand with outlets across the world in Australia, New Zealand, Ireland, Northern Ireland, Slovenia, Croatia, Malaysia and Singapore. This retailer offers a massive range of goods ranging from computers and smartphones to electronics and furniture. Chances are if you're looking for something related to these, you'll be able to find it in Harvey Norman.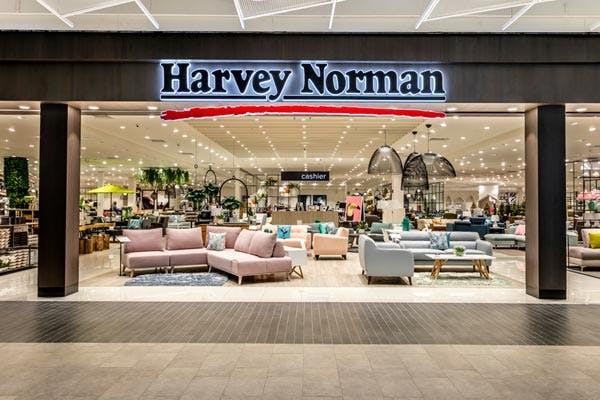 In addition, Harvey Norman prides itself on being at the forefront of retail, so you know that you can find the latest products and trends in their stores. That said, sometimes you might be too busy or just don't want to spend time browsing in their retail stores looking for the item you need. Fret not though, because Harvey Normal has an online store offering a seamless shopping experience. But if you're unsure how or where to start, then we've got you. Read on for a simple guide on how to get the most out of the online shopping experience at Harvey Norman.
Step 1: Search for the items you are interested in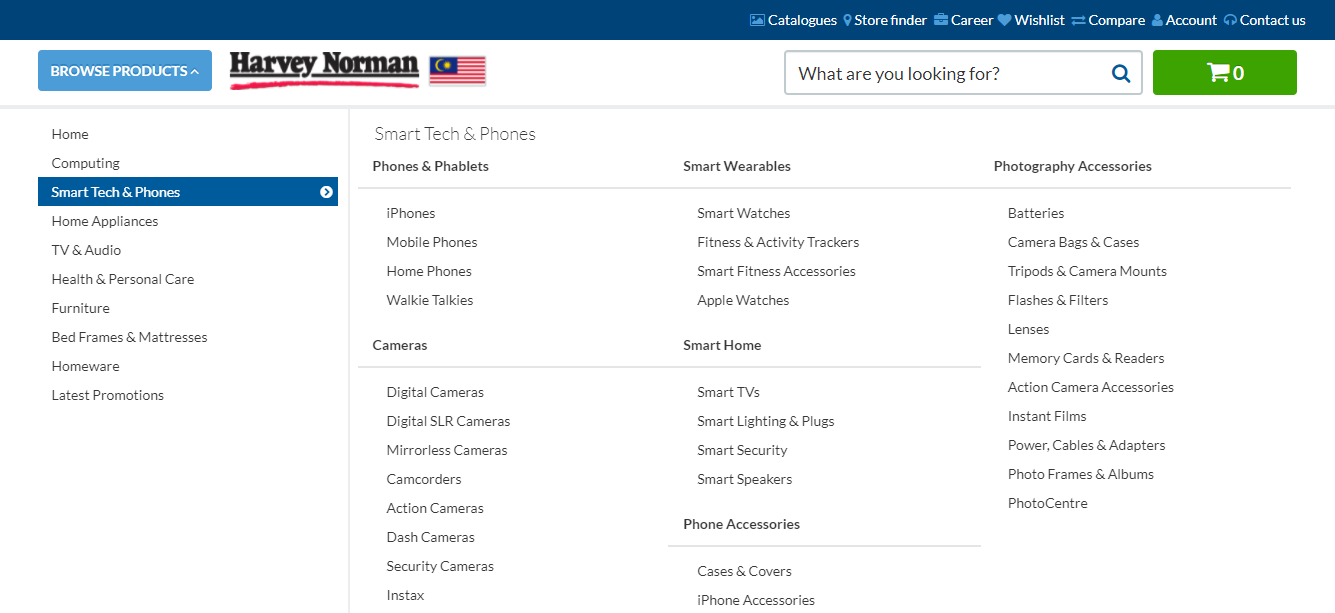 Have a particular category or item that you're looking for? Then head on over to "Browse Products" section and choose the category that you want. From there, you will need to select the smaller category of the item you want, such as "Phones & Phablets" and click on the item, such as "iPhones". If you already know the brand or specific item, you can also key it in at the search bar on the top right.
Step 2: Select your preferred product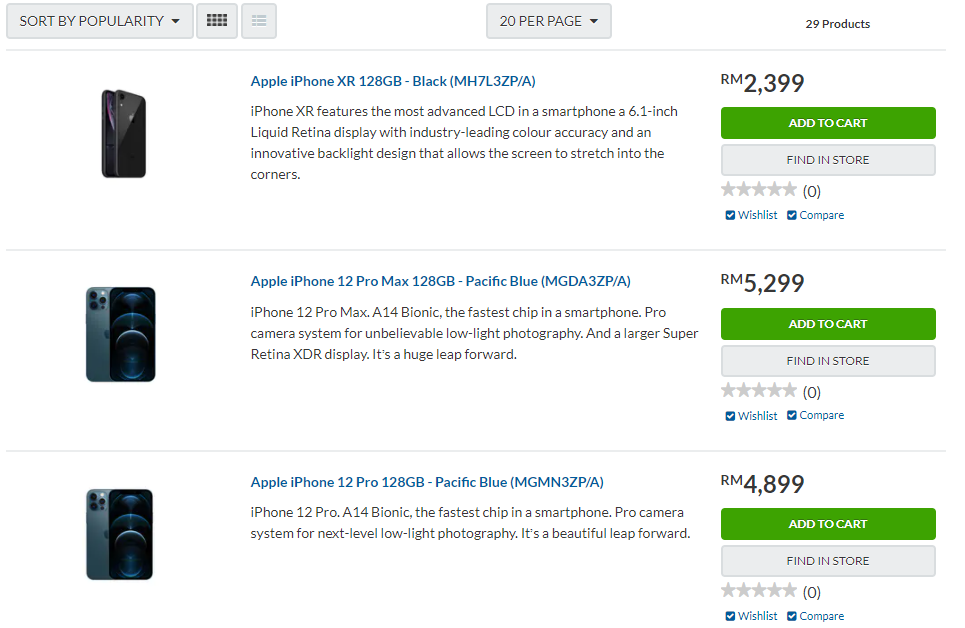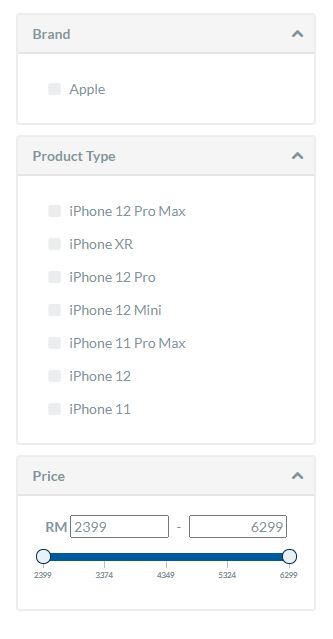 After you've reached the product page, choose the item that you're interested in. You can sort the list of items in various ways including by popularity, price, alphabetically or newest items first depending on your preference. You can also choose to view the items in list mode instead of thumbnails which actually allows you to read the description of each product. Other than that, on the left-hand side, you can filter by brand, product type, or even price so you can narrow down the products on offer for a clearer choice that fits your needs. Then, just click on the product itself for an in-depth view of the item.
Step 3: Add to cart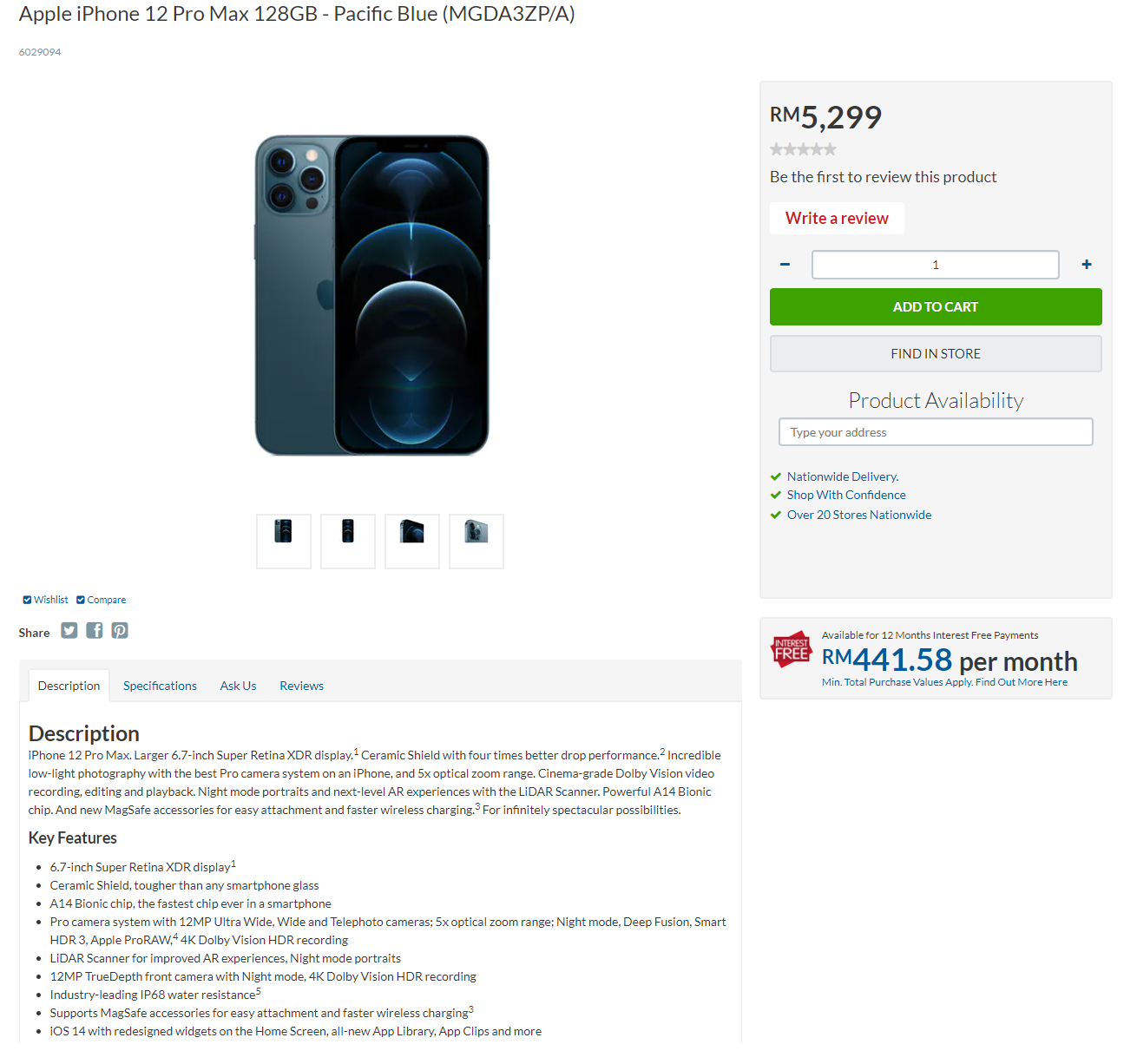 Now that you're on the selected product page itself, you can get more information about it. Harvey Norman provides information such as the description, specifications and more photos of the items so you can have a clearer picture of the product. On the right-hand side, you can add the item into your shopping cart to be checked out online or if you prefer to view it in-stores, you can find the one nearest to you.
Step 4: Check out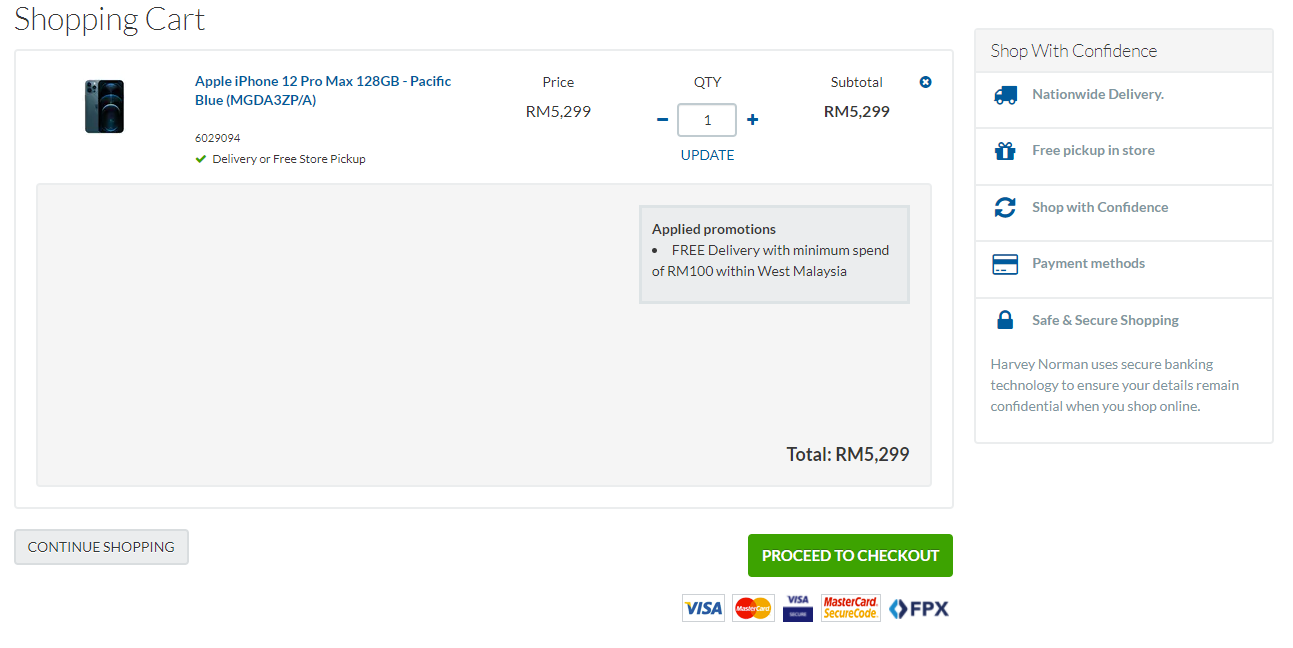 Congrats, you're ready to purchase your selected item. Once you've added the item to your cart, you can continue shopping for other items or proceed with payment. Click on "View Cart" to confirm that the items in your cart are correct and click on "Proceed to Checkout" to make your payment. Key in all the necessary details so that the item can be sent to the correct address. Now, all you have to do is wait for the items to arrive on your doorstep.
Delivery Policy
Delivery Period and Costs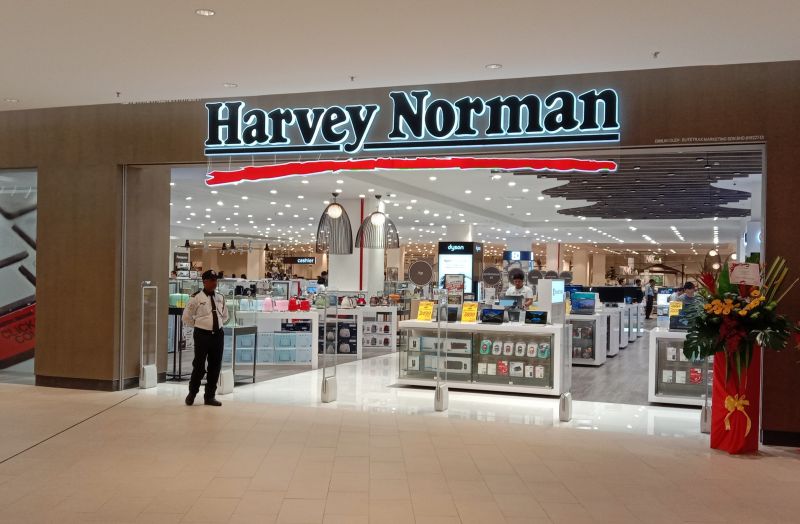 Harvey Norman's usual delivery period takes between one to seven working days nationwide but if you've ordered furniture or bedding, it would take up to 21 days as they have to specifically made for your order. Currently, Harvey Norman offers free delivery for purchases with a minimum spend of RM100 in West Malaysia but do note that this is for smaller items. For bigger items such as furniture and appliances, there will be delivery charges based on the size, weight and location. The delivery costs will automatically be calculated upon checkout.
Although some electrical appliances also come with basic installation to make your lives easier, more complex installations will require extra charges depending on third-party services. If your location is in a high-rise building and the courier has to use stairs to transport your item, there will be RM50 extra charges.
Next-Day Delivery
If the item you've ordered is in stock and you've purchased it before 2pm on a weekday, Harvey Norman promises that they can deliver it the next day. However, do note that this service is only available in Klang Valley.
Delivery Times
Harvey Norman uses local couriers and as such, they are unable to deliver on Sundays and Public Holidays or requested specific times.
Click and Collect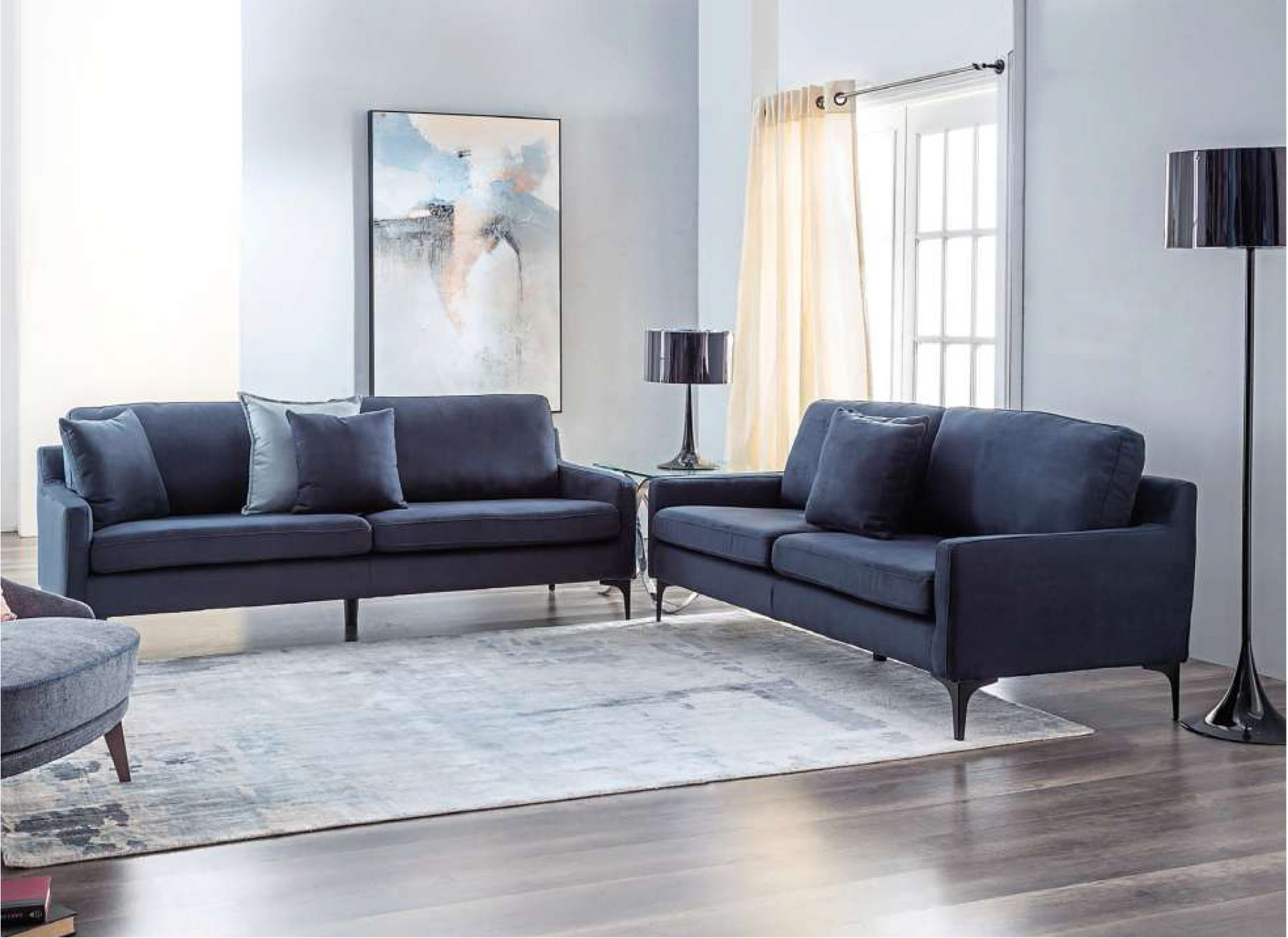 Don't want to wait for your item to be delivered or just don't feel like forking out for delivery charges? You have the option of picking up your order from the nearest Harvey Norman store instead. Just select the Pick Up In-Store option and state your chosen location. After that, you will receive an email order confirmation and the store will contact you for pick up when the order is ready. When you arrive for pick up, you need to provide your order details, NRIC and credit card used for the purchase (if you used your credit card).
Other Services
Disposal
If you need to dispose of your old items, you need to make the request when purchasing and this is only applicable for like for like items.
Installation Services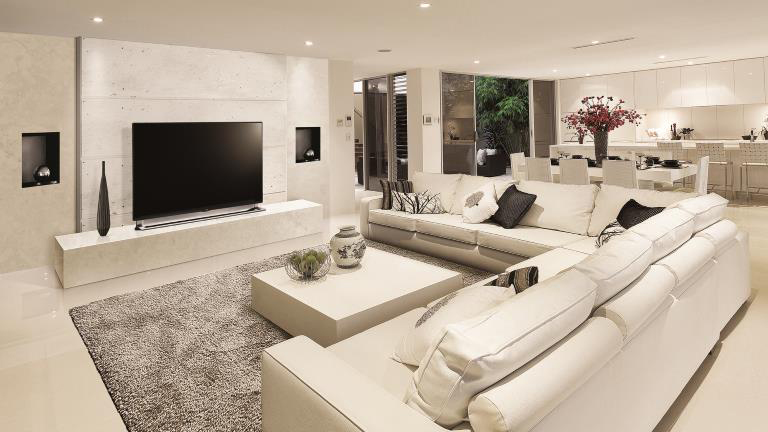 While basic installation might not be applicable for online purchases, you can request it and Harvey Norman will arrange it with a third-party service provider. There will be an installation fee of RM50 per item for stacking kit installation for dryers. If you have purchased any Marble / Glass / High Gloss/ Solid Wood items, there will be an extra care surcharge of RM190. For other services, you will need to contact Harvey Norman for details.
Refunds
You can request a refund within 14 days of purchase and it will be given in the same mode of payment used in the original purchase. Delivery charges, special orders, customised items and display sets are non-refundable.
Exchanges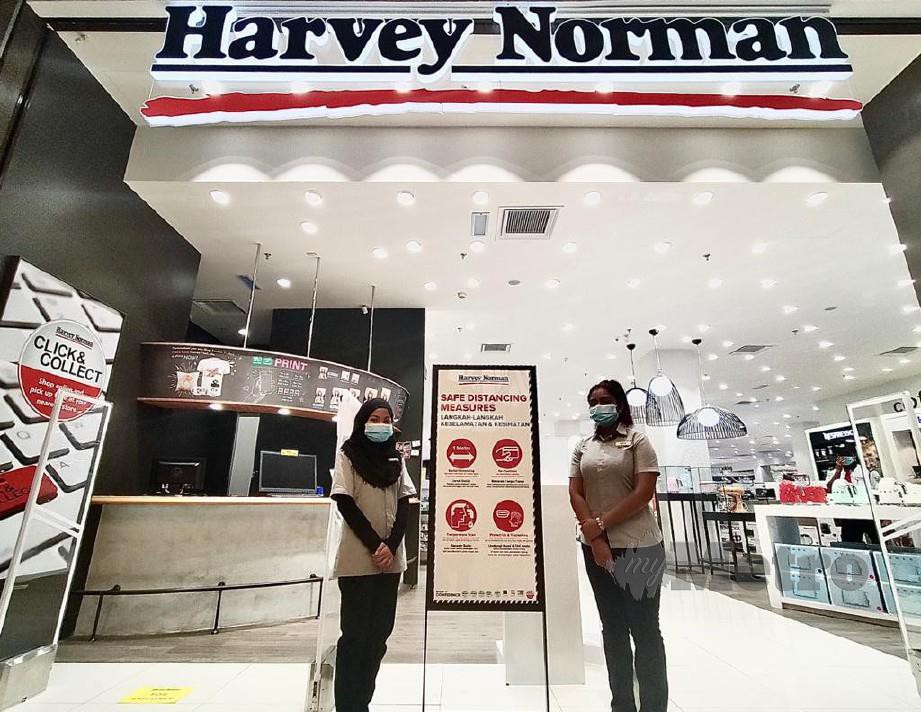 Unsatisfied with the item or want another one? You can also exchange the item within 14 days of purchase but you need to make sure that the product is still brand new, in its original packaging and everything is there. The original receipt needs to be shown as well. Do note that the product must be returned unopened and only one exchange is allowed. Some items such as custom orders, assembled furniture and bedding are not eligible for exchanges.
Product Care
This extra service package can be purchased online or in-store and it's great if you want additional protection for your items. With the fees paid, this service will cover all parts, labour and call-out fees for an unlimited amount of repairs using only authorised repairer network.
All images are taken from Harvey Norman Malaysia unless otherwise stated.