If there's absolutely one essential item you need in your kitchen, it's the hob, as that's where you'll be doing the majority of your cooking. You can boil, steam, fry, grill or basically do anything as long as you have a cooker hob.
When to replace your hob?
But as with all things, your hob can get old or damaged and needs to be replaced so you can continue cooking up your culinary masterpieces. Or maybe you just moved into your new home and your old hob just simply can't fit into the existing kitchen top.
The task of replacing a hob can sound rather daunting and time-consuming when you go shopping around researching different brands and hob models trying to find the perfect hob that fits into your existing kitchen countertop cut-out size.
Rest assured, there's actually a really simple solution for this. Introducing the Rinnai Flexi Hob Series, an innovative built-in gas hob that is so easy to install, you can even do it yourself.
Below, we find out why this range of Rinnai hobs is the ideal choice for your existing kitchen.
1. Flexible Cut-Out Size
This series is super flexible and you don't need to renovate your countertop for it to be replaced. While other hobs may have specific cut-out dimensions with the same boring hobs, the Flexi Hob series is adaptable.
This is one of their main selling points, enabling the hobs to fit into a wide range of cut-out dimensions. It's fuss-free to upgrade your hob as you can be sure that the Flexi Hob works for your countertop dimensions.
Adaptable to various range of countertop dimensions
You don't have to worry, as all you need to do is check your current kitchen countertop hole cut-out dimension to ensure that it is within the range of this series (refer to below illustration). There are three different hobs in this range so you're able to choose the one that suits your needs. You get to save more money too, as there's no need to modify your kitchen countertop.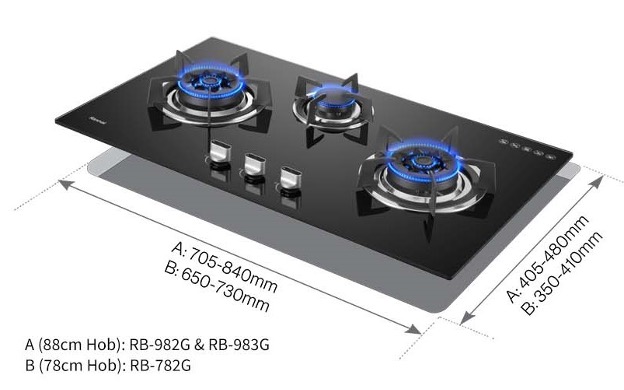 The Rinnai Flexi Hob Series can be fitted easily into most kitchen countertops cut-out holes. It's one of Rinnai Malaysia's most unique products that make replacing your gas hob a breeze.
It's so easy to use, that all it takes is a few hours for a weekend DIY job and you'll have an all-new gas hob. Plus, it's more affordable as you don't need to pay someone to do it.
How to replace your old hob with Rinnai Flexi Hob:
Step 1: Turn off gas valve and remove gas hose from old hob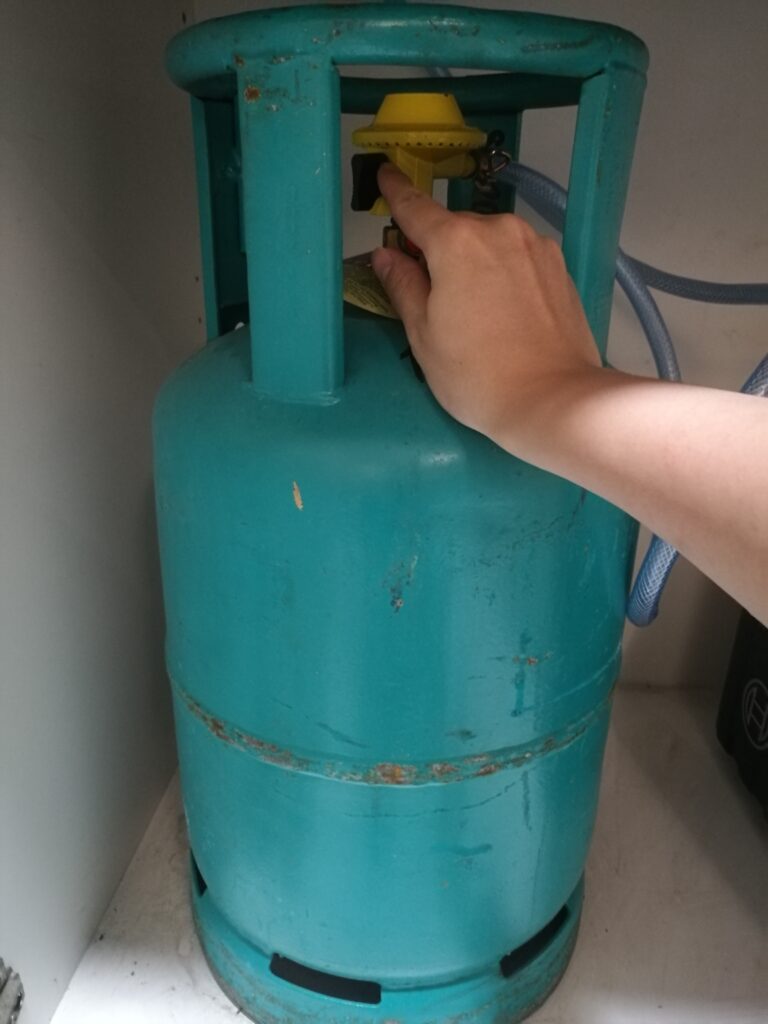 Step 2: Remove pan support & burner head from old hob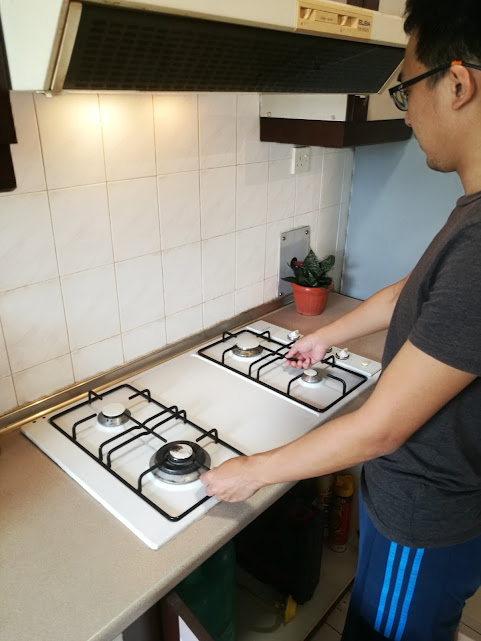 Step 3: Remove the old hob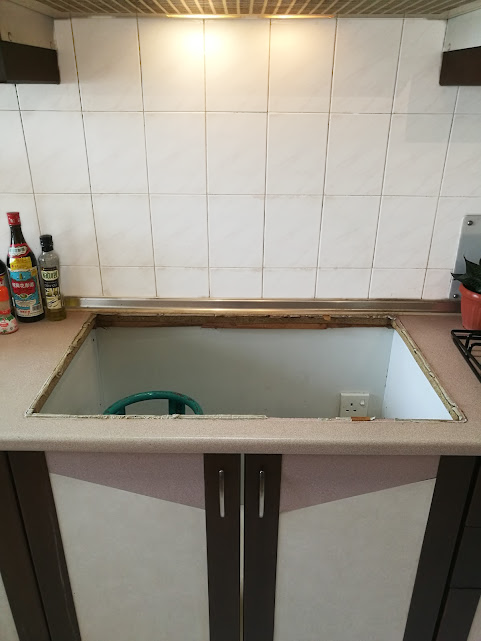 Step 4: Fit in the Rinnai Flexi Hob and connect with gas hose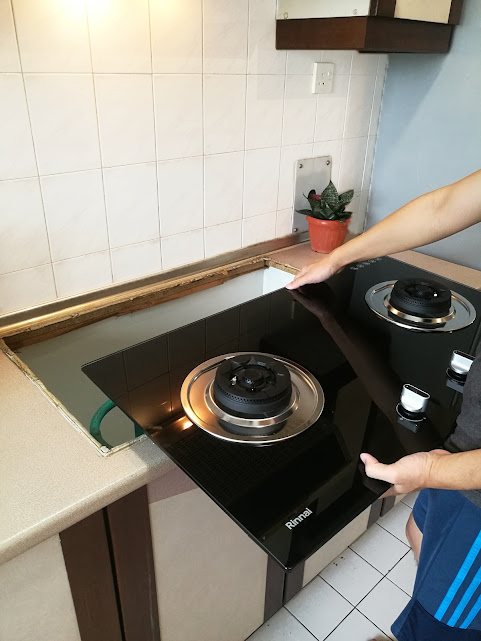 2. Safety Device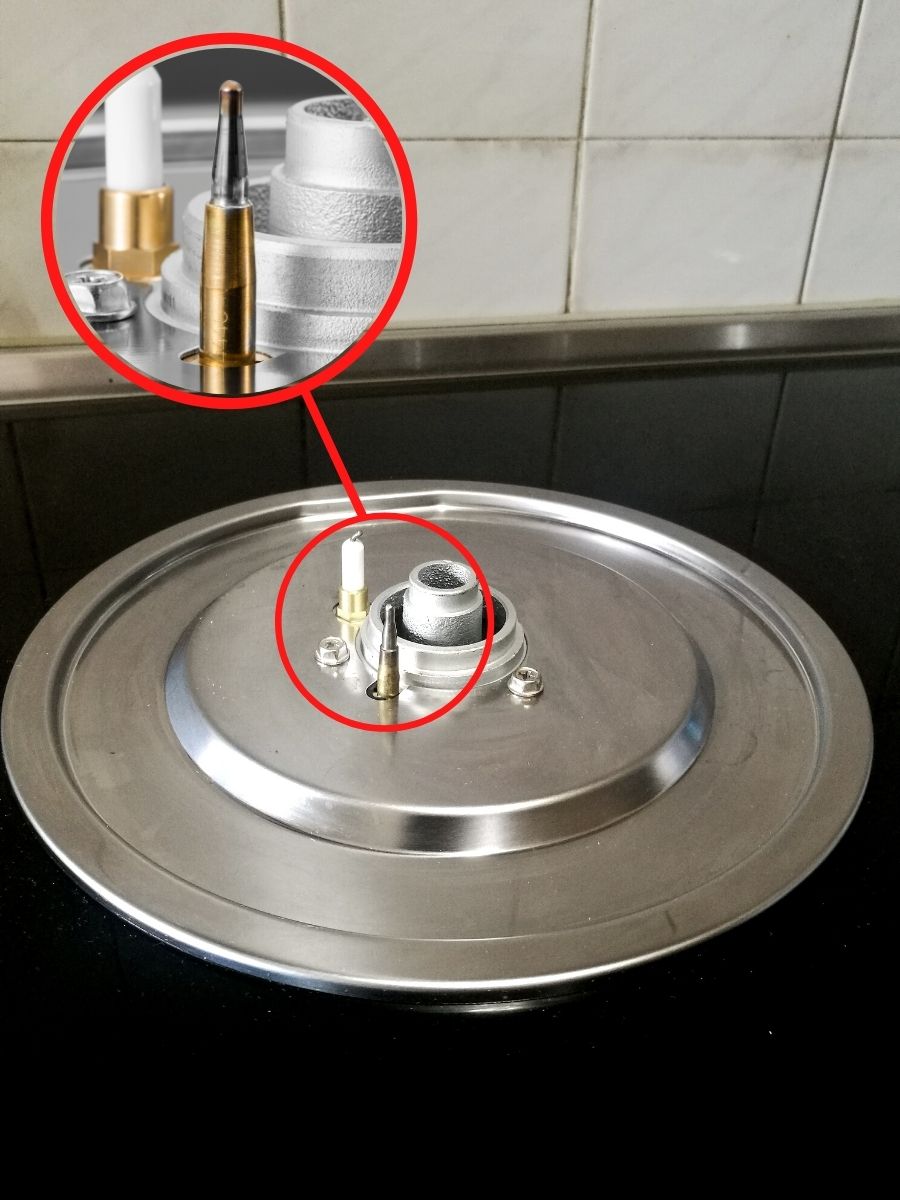 I'm sure you've experienced one of these before when cooking: a sudden gust of wind or your over-boiled soup spilling out and extinguishing your flame. In many cases, while the flame is extinguished, the gas supply is still turned on. This can lead to gas leakage, especially if left unattended.
Luckily, with Rinnai's Flexi Hob series you don't have to worry about this.
The Flexi Hob series has the Flame Failure Safety Device that prevents this from happening. As soon as the safety device detects the flame being extinguished when in use, the gas supply will be cut off immediately.
Don't use the windshield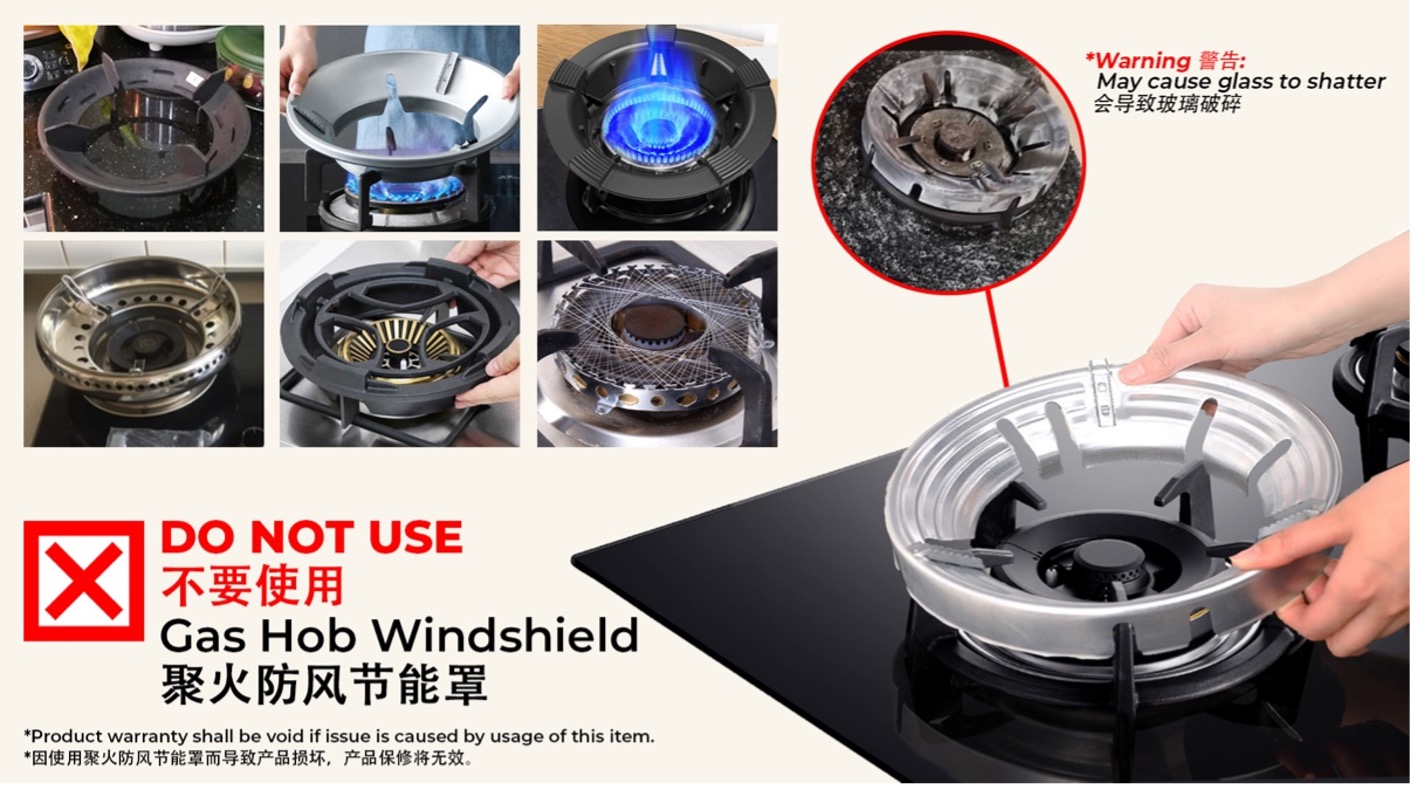 Speaking of safety, here's a safety tip! You know the gas windshield that you see online that a lot of people are selling or using? Please avoid using it on your gas hob! That's because the windshield causes the heat to get trapped. The trapped heat may cause the temperature to exceed the threshold that the glass of the gas hob can withstand which can cause the glass top to shatter.
The windshield also prevents enough oxygen required for proper combustion. Therefore causes yellow flames, which may blacken or damage the bottom of your pots and pans.
Lastly, the trapped gas in the windshield can also lead to excessive production of carbon monoxide whereby long-term inhalation can lead to health issues.
3. Sealed Burner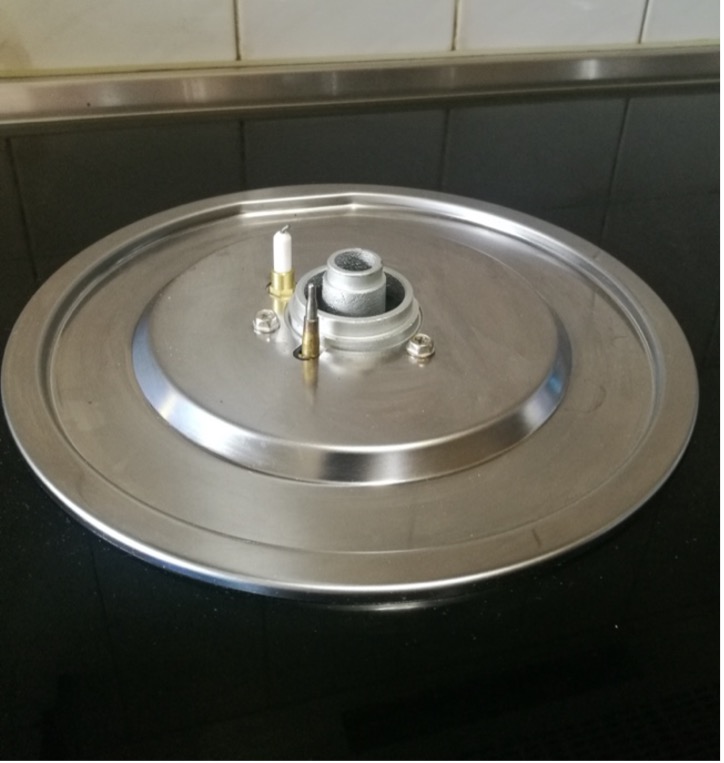 Rinnai also designed the series to have a sealed burner as it makes more sense to do so. Their sealed burner prevents any overflowing liquid from spilling into the inner compartment of the gas hob.
This sealed burner design also makes cleaning easier and hassle-free after cooking. It's a very convenient feature as not all gas hobs have the sealed burner design.
4. Versatile Flame Setting with Simmer Control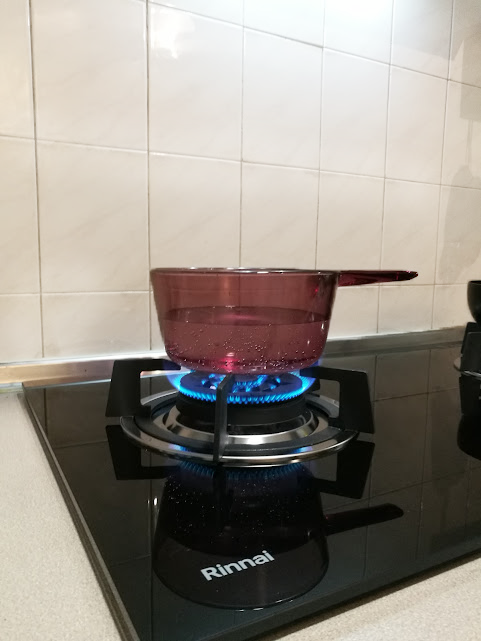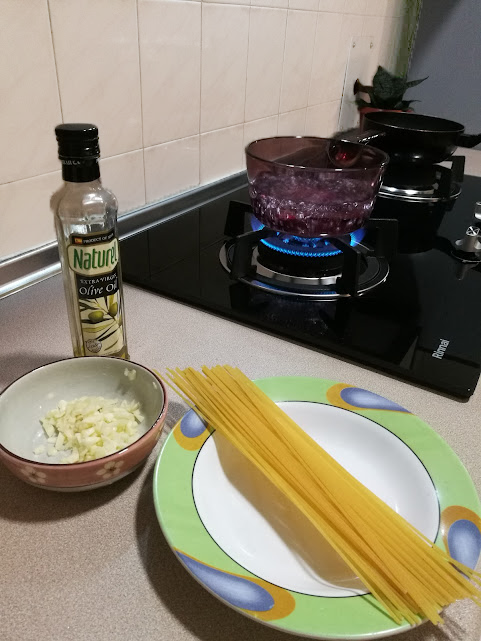 Sometimes it might be difficult for you to control your hob's flame but with Rinnai, their hobs offer perfect flame control. This means you'll get powerful, controllable and even heating so every dish you cook turns out perfect.
This is due to the double ring burner that has multiple flame settings and simmer control so you can determine the heat effectively. With different kinds of flame settings available, you can cook up a storm with ease.
5. High Quality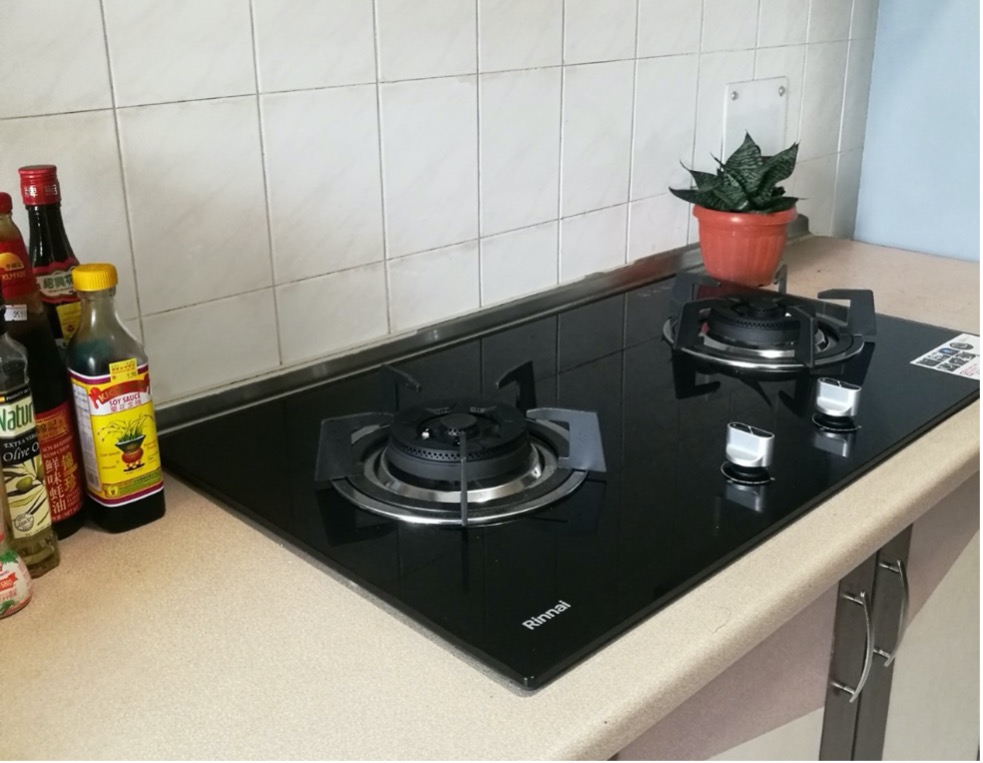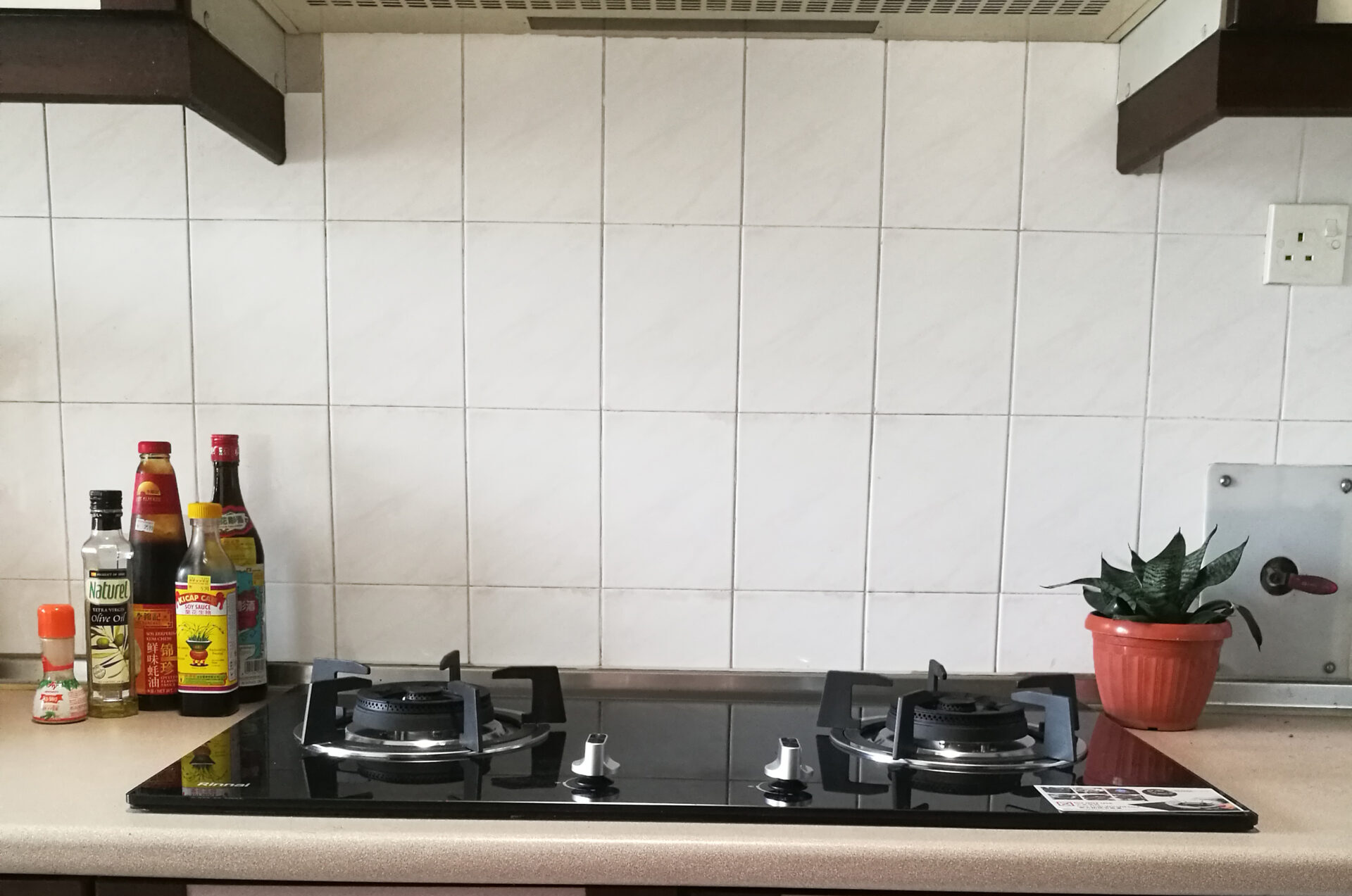 Rinnai is the No.1 kitchen appliance brand in Japan and they have more than 100 years of experience in developing gas hob. This is why their gas hobs are definitely made with high quality and safety first in mind.
Their Flexi Hob series are made of sleek tempered glass top that is able to withstand high heat. Its shiny, smooth surface is durable and easy to clean in case of any spillage.
That's not all, the knobs are user-friendly too. You can use one hand to control the flame with just a push and turn.

So, if you're looking to replace your gas hob for your existing kitchen, the Rinnai Flexi Hob series is perfect for you. It's effective, efficient and super easy to install. This series looks good in almost any kitchen and fits most kitchen countertops.
In addition, Rinnai offers 2 years general warranty, 5 years warranty for the gas valve and 10 years warranty for the glass top. So that you can cook, broil, grill, steam, fry and boil your next culinary creation with peace of mind.
Wait, there's more, Rinnai is currently running an online promotion which is only available via their flagship Lazada and Shopee stores. Hurry as this promotion ends 31 October 2021.
If you are interested to find out more, kindly visit their official website and social media platforms below: