Are you tired of ending up with soggy or unevenly toasted slices whenever you try to make toast on a pan? Or maybe you are one of those groggy-eyed morning people who stumble into the kitchen, hair in a mess, yearning for a flavourful breakfast, only to find toast with burnt edges. We understand your struggle all too well. That's why a reliable toaster is an essential addition to your kitchen, making your mornings truly enjoyable. But hold on tight to your bread slices, as the world of toasters is brimming with a multitude of options.
You'll find simple and reliable models, like those offered by Electrolux and Elba, catering to those who appreciate functionality without any unnecessary frills. Then there are the stylishly retro designs from Russell Taylors that infuse a vintage charm into your kitchen countertop. To help you buy the perfect toaster for your kitchen, we've assembled a team of toast connoisseurs to explore the market and find the absolute best toasters out there. We've researched, tested, and, let's be honest, devoured countless slices of toast to bring you our carefully curated list of top picks. So, without further ado, let's embark on this tantalising journey!
Features of a Good Toaster
A good toaster possesses several key features that enhance its performance and user experience. Here are some important features to consider:
Even Toasting: A quality toaster should provide even and consistent toasting across each slice of bread, ensuring that both sides are toasted to perfection.
Adjustable Browning Settings: The ability to adjust the browning level allows you to customise your toast according to your preferences. Whether you prefer a light golden hue or a darker, crispy texture, having multiple browning options is essential.
Wide Slots: Toasters with wide slots can accommodate a variety of bread sizes, including thick slices, bagels, and even pastries. This feature ensures that your toaster is versatile enough to handle different types of bread products.
Multiple Toasting Functions: Look for a toaster that offers various toasting functions such as defrosting, reheating, and bagel settings. Defrosting allows you to toast frozen bread without burning it, while the bagel setting toasts the cut side and warms the outer side for that perfect bagel experience.
Quick Toasting Time: Time efficiency is crucial, especially during rushed mornings. A good toaster should have a fast toasting time, evenly toasting your bread slices without excessive waiting.
Easy-to-Use Controls: Intuitive and user-friendly controls make operating the toaster hassle-free. Ideally, the controls should be clearly labeled and accessible, allowing you to adjust settings with ease.
Removable Crumb Tray: A removable crumb tray collects any crumbs or debris that fall during toasting, making it easy to clean and maintain the toaster's cleanliness.
Safety Features: Safety should be a priority. Look for toasters with features like cool-touch exteriors, automatic shutoff, and a cancel button to stop toasting mid-cycle if needed.
Our Selection of 10 Best Toasters in Malaysia to Make Perfect Toasts
The following list contains the 10 best toasters available in Malaysia. These are sure to make your morning munchies crispier and more satisfying.
1. PHILIPS Daily Collection Toaster HD2581/91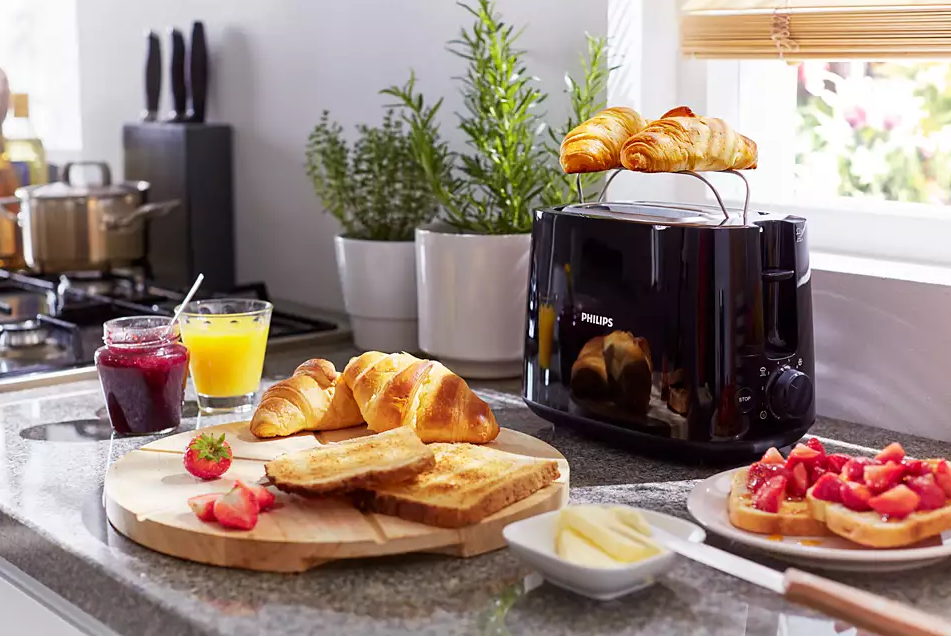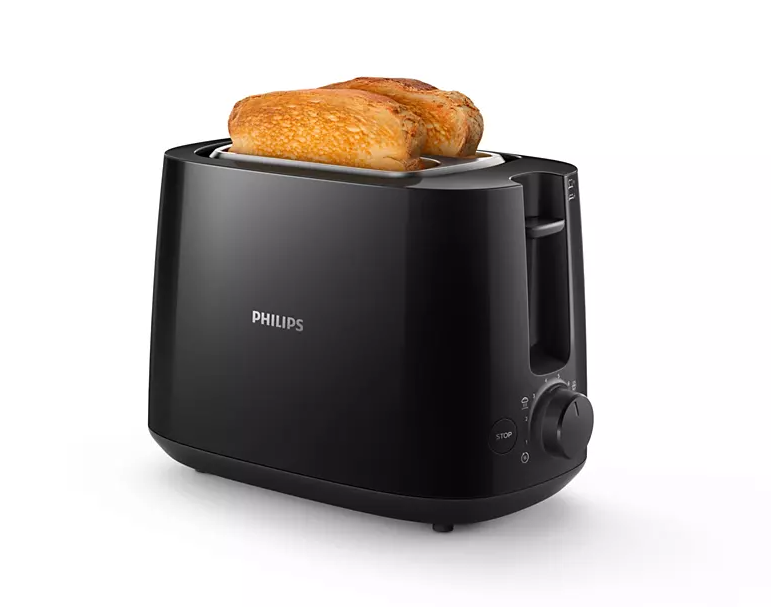 The number one item on our list is the Daily Collection Toaster from Philips. This sleek and compact toaster offers eight browning settings, ensuring your toast comes out crispy and golden brown every time. The two large variable slots accommodate different bread sizes, and the self-centring feature guarantees even browning on both sides. The integrated bun rack of this toaster allows you to warm up your favourite buns, pastries and rolls effortlessly. With its space-saving design, this toaster is a perfect addition to any kitchen. 
Upgrade your breakfast routine with the following features of the Philips Daily Collection Toaster:
8 browning settings
2 large variable slots
Integrated bun warming rack
Self-centring feature for even browning
Compact design
2. Tefal Express Toaster TT410D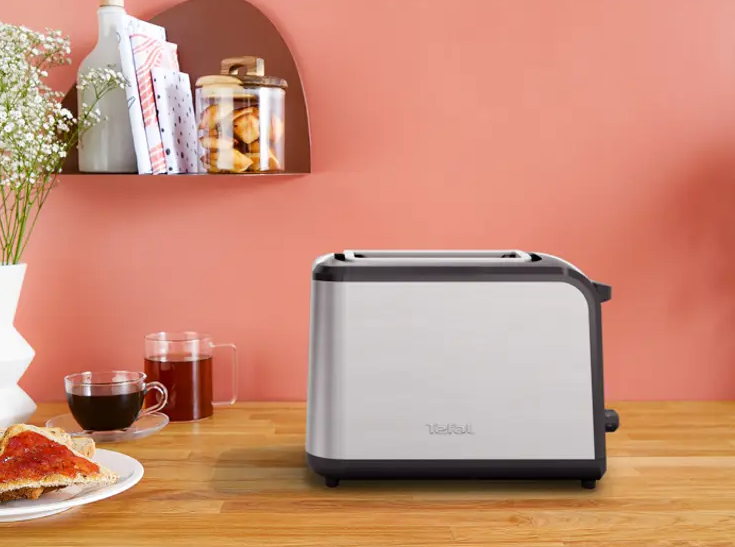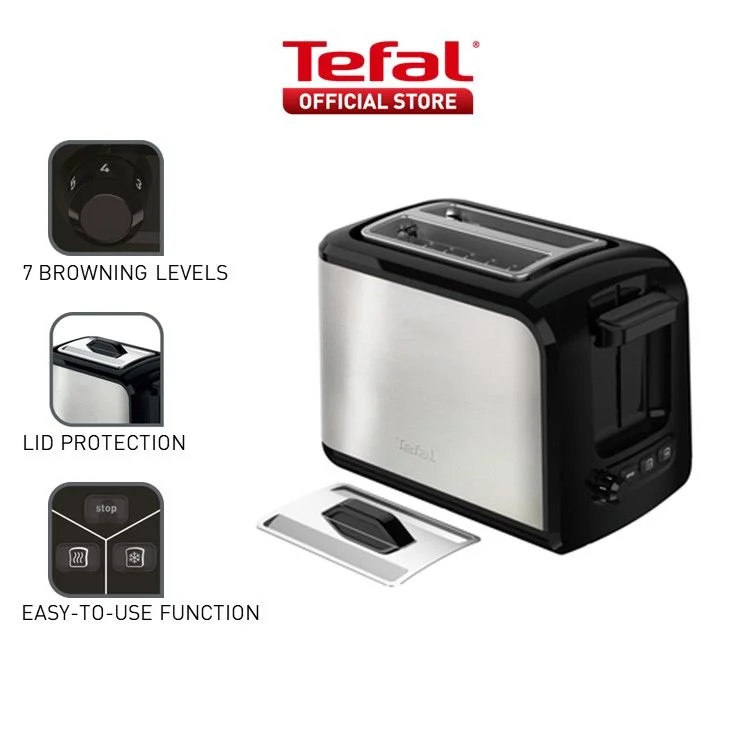 Next, introducing the Tefal Express 2-Slots Toaster—a stylish and efficient addition to your kitchen. With the 7 browning levels of this toaster, you can toast your bread just the way you like it. It also allows for convenient stop, defrost, and reheat options. The intuitive functions and light indicator of this toaster make it user-friendly for your whole family. The toaster has a variable width slot that automatically centers your bread, while its high lift facility makes it easy to remove even the smallest toast. Moreover, you can always keep your toaster clean with the removable crumb tray. Simply remove it, empty the crumbs, and slide it back in. It's that easy!
Enjoy perfectly toasted goodness every day with the amazing features of the Tefal Express Toaster:
2-slots with stainless steel finishing
Variable width slot: center your bread automatically
Lid cover
7 browning levels
Light indicator
Multiple functions: stop, defrost, and reheat
High lift facility
Removable crumb tray
3. Pensonic Bread Toaster PT-928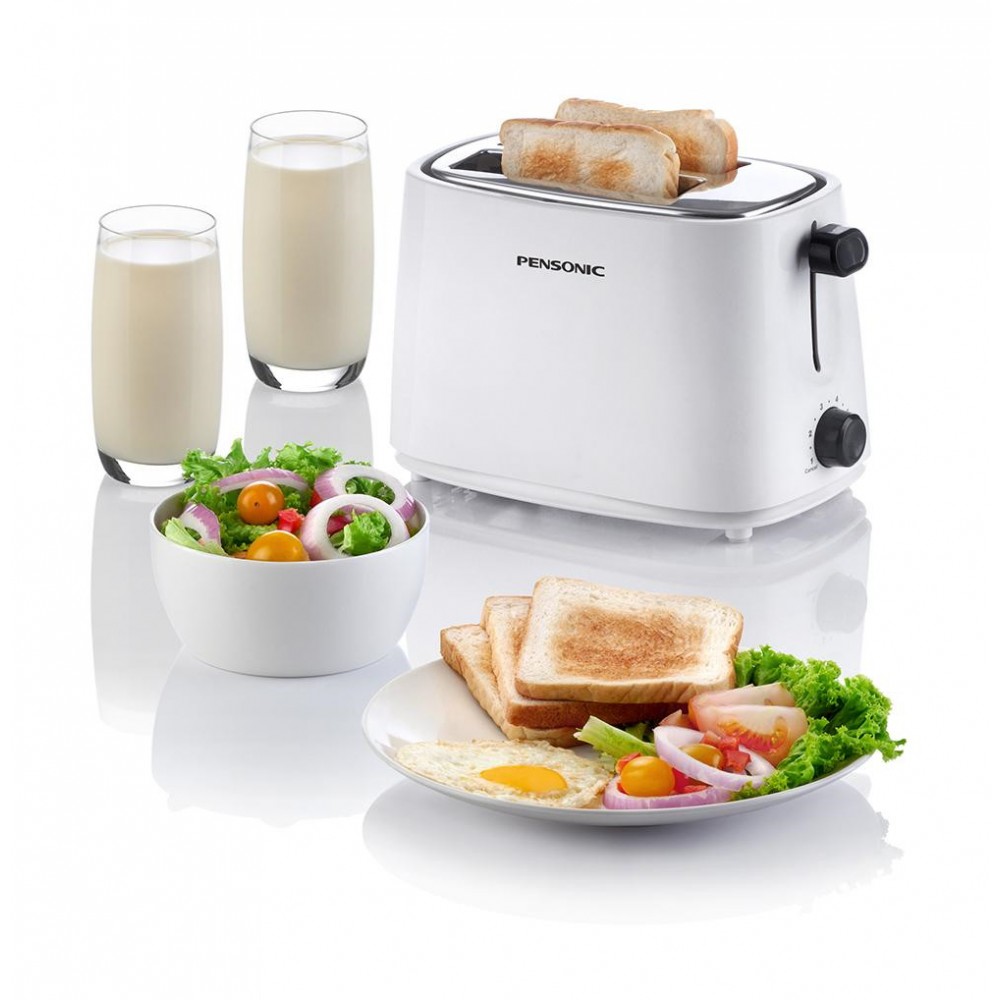 Say goodbye to burned fingers and uneven toasting. The Pensonic PT-928 Bread Toaster features an extra-lift function, allowing you to safely retrieve your toast without hassle. Its auto-centering guide ensures that your bread is positioned perfectly in the toaster, while the auto-shut-off feature automatically turns off the toaster when your toast is perfectly done. The toaster has 30mm wide slots to accommodate various bread sizes, ensuring you can enjoy your favourite bread, bagels, and pastries with ease. Achieve the perfect level of toastiness with the adjustable browning knob. Whether you prefer a lightly toasted slice or a crispy golden brown delight, you have full control over your toasting preferences.
Some incredible features of the Pensonic PT-928 Bread Toaster are:
Adjustable browning knob
750W power
30mm wide slots
Extra-lift function
Auto-shut-off
Auto-centering guide
Cancel function
Removable crumb tray
4. Cornell Toaster CT-21S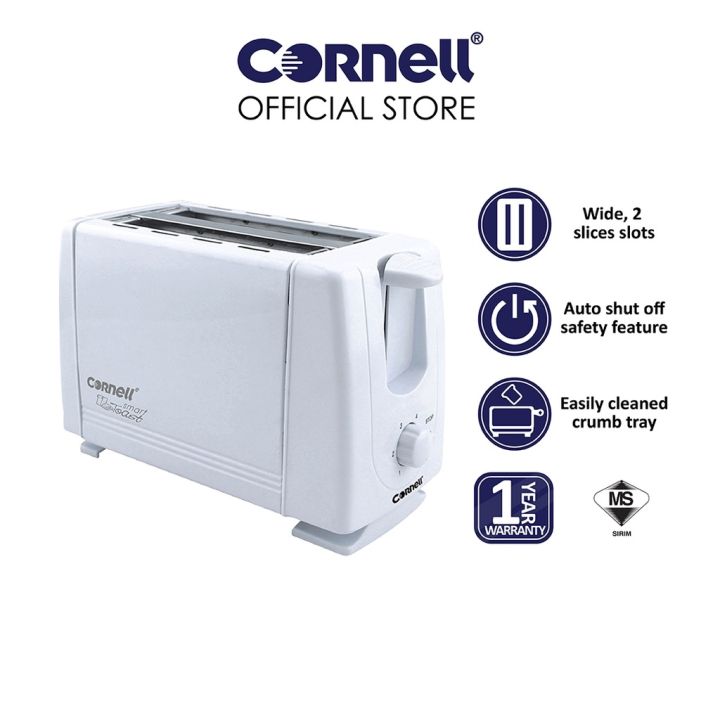 Whether you prefer a light golden toast or a deep, crispy brown one, the Cornell CT-21S Toaster has you covered. It lets you take complete control of your toasting preferences with its adjustable browning control knob. This toaster has wide slots to accommodate various bread sizes, making it perfect for all your toasting needs. Say goodbye to worries about leaving the toaster unattended – it will automatically turn off once your toast is perfectly done. Most of all, cleaning this toaster up is a breeze with the user-friendly hinged crumb tray. It's quick and effortless, ensuring your toaster stays clean and ready for the next use.
The features that make the Cornell CT-21S Toaster different from others are:
Wide 2-slice bread slots
Auto shut-off safety feature
Energy-efficient design
User-friendly hinged crumb tray
Adjustable toasting/browning control knob
Cancel button
700W power
5. Khind 2 Slices Bread Toaster with Anti-Dust Cover BT808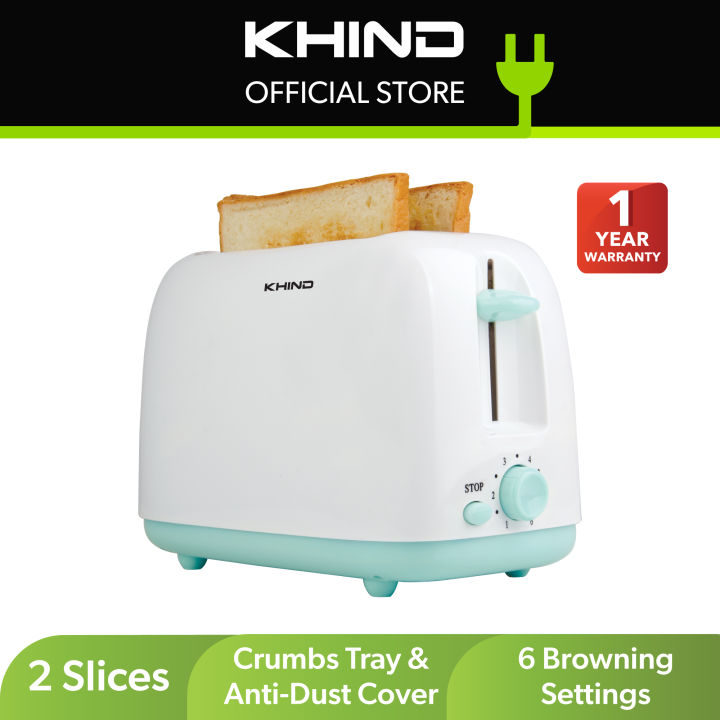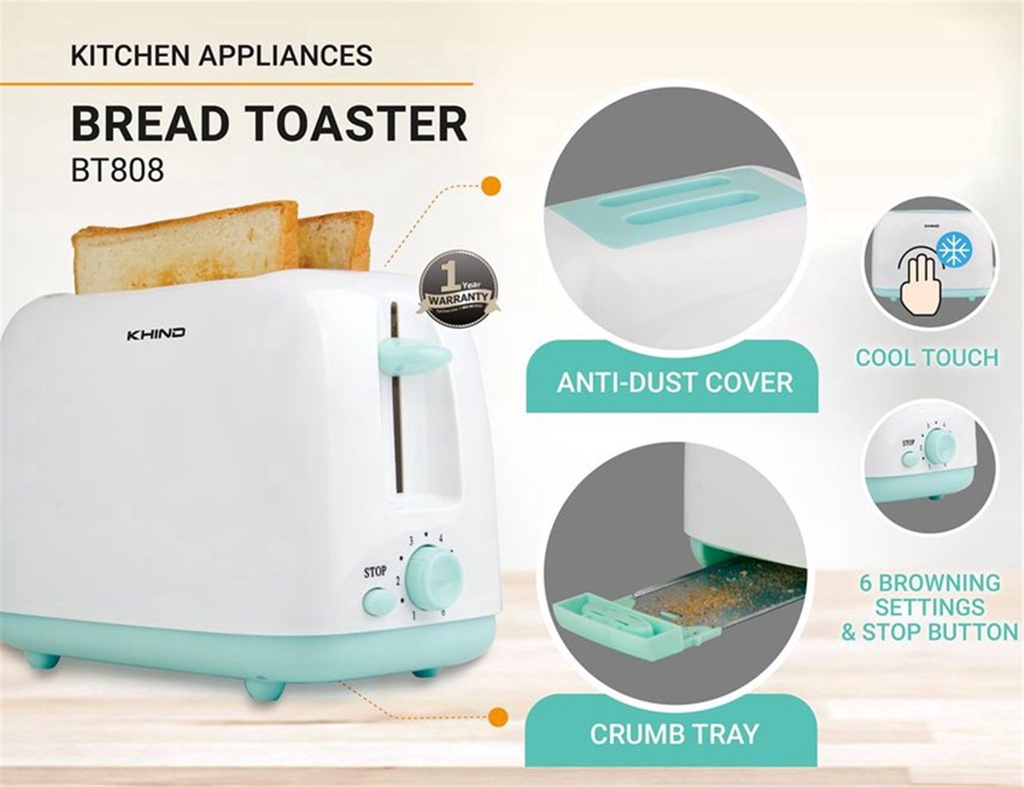 Don't settle for ordinary toast when you can have the extraordinary with the Khind 2 Slices Bread Toaster. This toaster comes with an anti-dust cover to protect it from dust and ensure a clean and hygienic device for your next toasting session. This Cool Touch toaster is equipped with anti-scalding protection to prevent accidental burns. You can remove the crumb tray from the toaster, dispose of the crumbs, and clean it for the next morning. With six browning settings, this toaster offers the flexibility to customise the browning level according to your taste. And if you ever want to halt the toasting process, the convenient stop button is at your fingertips.
Some distinguishing features of the Khind 2 Slices Bread Toaster include:
Cool touch exterior
Anti-scalding protection
Anti-dust cover
Crumb tray: can be easily removed and cleaned
6 browning settings
Stop button
User-friendly design
6. Russell Taylors Retro Toaster RT-10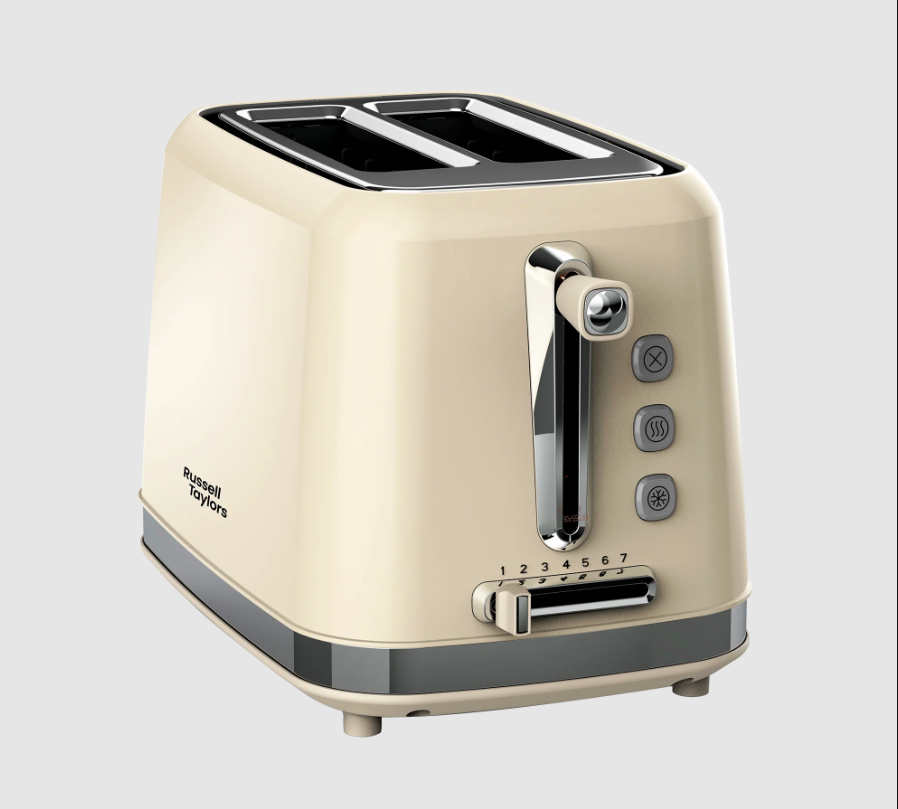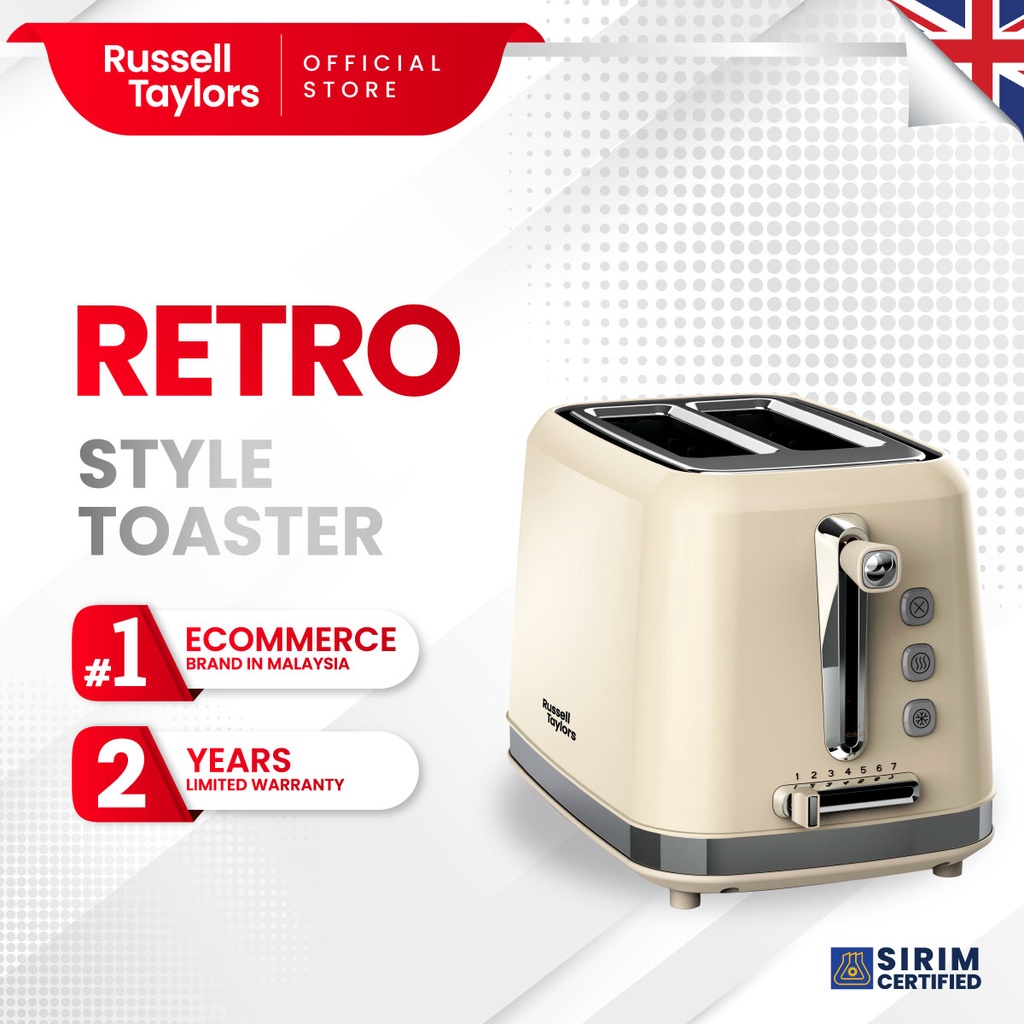 Enjoy delicious toast with just the right amount of browning every time with the Russell Taylors Retro Toaster. This retro toaster is a perfect blend of vintage charm and advanced technology. With seven shade settings, three functions (cancel, bagel, and defrost), and six toasting settings, you can achieve the perfect toast for everyone's taste. The toaster's extra-wide toasting slots accommodate thick slices of bread and ensure even toasting. Its advanced features, like the lift lever, make it easier and safer to retrieve smaller slices. And cleaning this toaster is as easy as pie with the removable crumb tray.
Add a touch of nostalgia to your kitchen with the amazing features of the Russell Taylors Retro Toaster:
Cute retro design
7 shade settings
Multi-functional: cancel, bagel, and defrost
Advanced technology
Extra-wide toasting slots
Removable slide-out crumb tray
Pre-set menu
Lift lever
7. Electrolux 2-slice UltimateTaste 300 Bread Toaster E2TS1-100W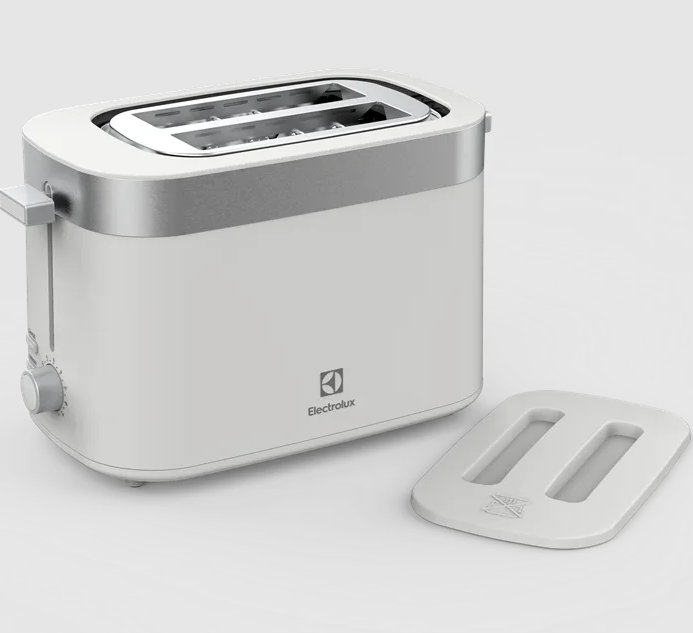 Say goodbye to unevenly toasted bread with the Electrolux 2-slice UltimateTaste 300 Bread Toaster. Its seven browning settings perfectly cater to individual toasting needs. You can keep your baked goods warm with this toaster's convenient warming rack. Its power cord is neatly tucked under the toaster, keeping your kitchen counter clean and organised. To maintain hygiene and protect your toaster from dust, this device includes a dust cover as well. Furthermore, the removable crumb tray keeps your toaster clean and ready to use whenever you desire.
The following features of the Electrolux 2-slice UltimateTaste 300 Bread Toaster make it a must-have kitchen appliance:
7 browning settings
Warming rack
Removable crumb tray
Dust cover
Clutter-free power cord
Defrost and reheat functions
8. Hanabishi 4 Slices Bread Toaster HA4001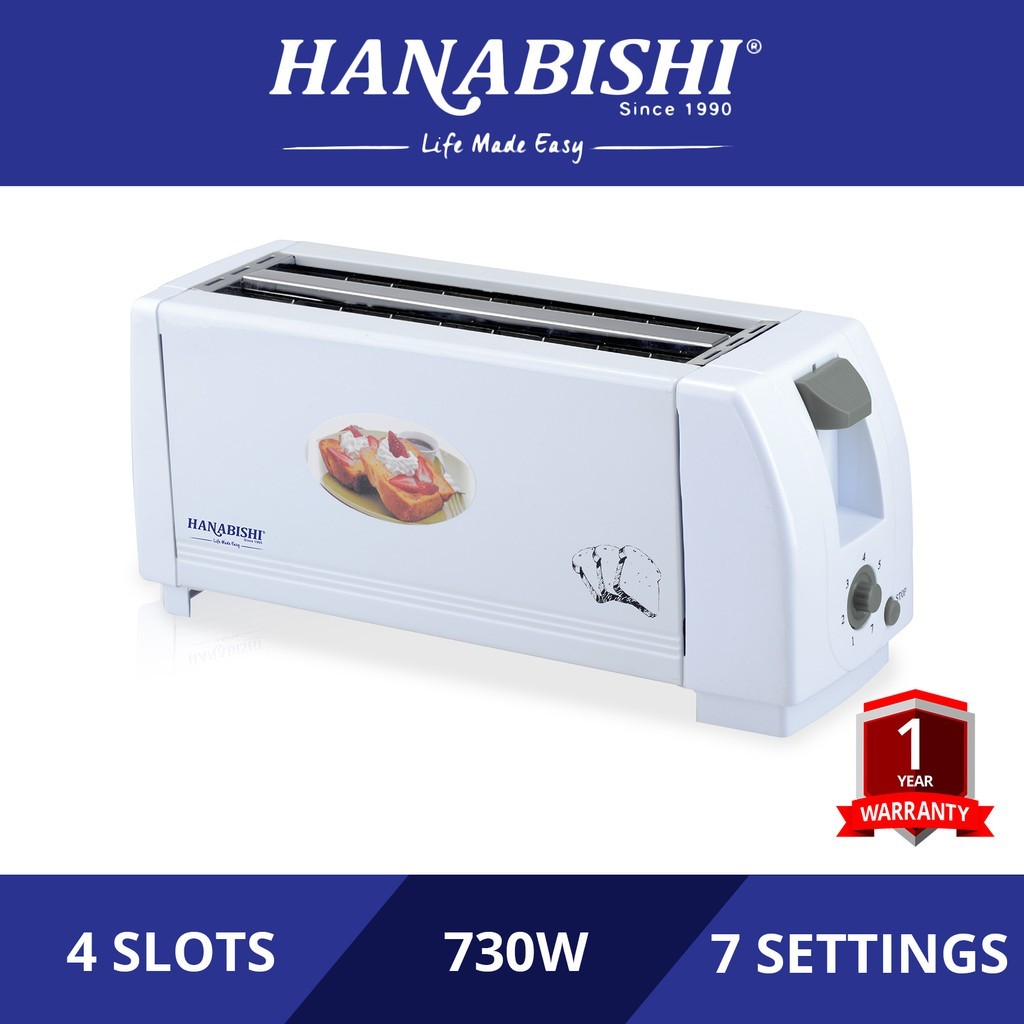 Enjoy perfectly toasted bread in a convenient way with the Hanabishi 4 Slices Bread Toaster. You can toast multiple sets of bread slices simultaneously with its 4-slice capacity. It's a time-saving solution for busy mornings or when entertaining guests. Whether you prefer a soft and lightly toasted slice or a crispy and golden delight, its 7-level heat control adjusts the heat settings to suit your taste. And with the adjustable browning degree control knob, you can create the perfect balance of softness and crispiness. The toaster's sides remain cool to the touch, ensuring your safety and convenience.
Discover the extraordinary features offered by the Hanabishi 4 Slices Bread Toaster:
Cool touch side panel
Power consumption up to 1300W
7-level heat control
Adjustable browning degree control knob
4 slots
User-friendly design
9. Faber Bread Toaster FT 206SS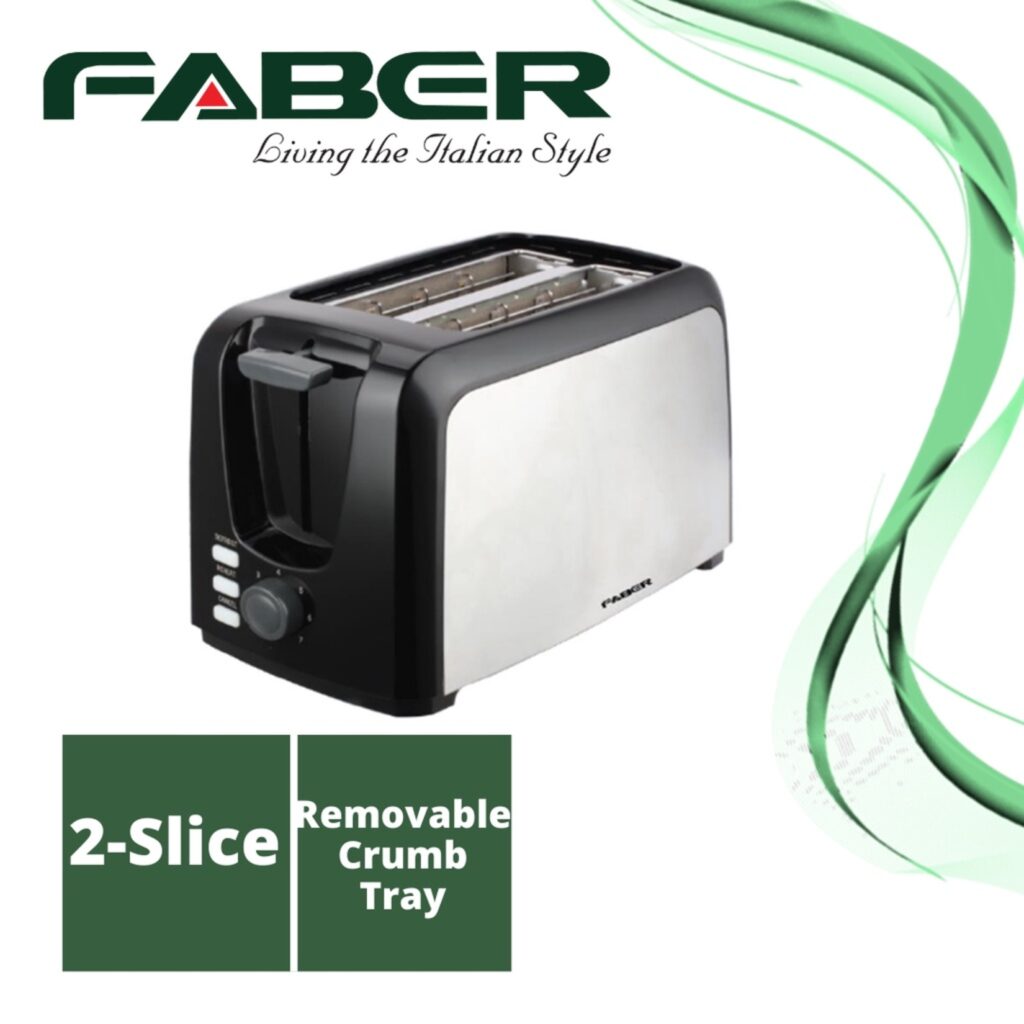 The Faber FT 206SS Bread Toaster is the ultimate toasting companion for your kitchen. Choose from its seven toast shade settings to achieve your desired level of crispiness. With a powerful 750W motor and a capacity for 2 slices, it delivers efficient toasting performance. The toaster is equipped with convenient functions like Cancel, Defrost, and Reheat, making it versatile and adaptable to your toasting needs. Cleaning it up is a breeze with the removable crumb tray, ensuring a tidy and hassle-free morning routine.
Some important specifications of the Faber FT 206SS Bread Toaster are:
750W power consumption
Capacity of 2 slices
7 toast shade setting
Multi-functional: Cancel, Defrost, and Reheat functions
Removable crumb tray
Compact design
10. ELBA Toaster ET-G2770(WH)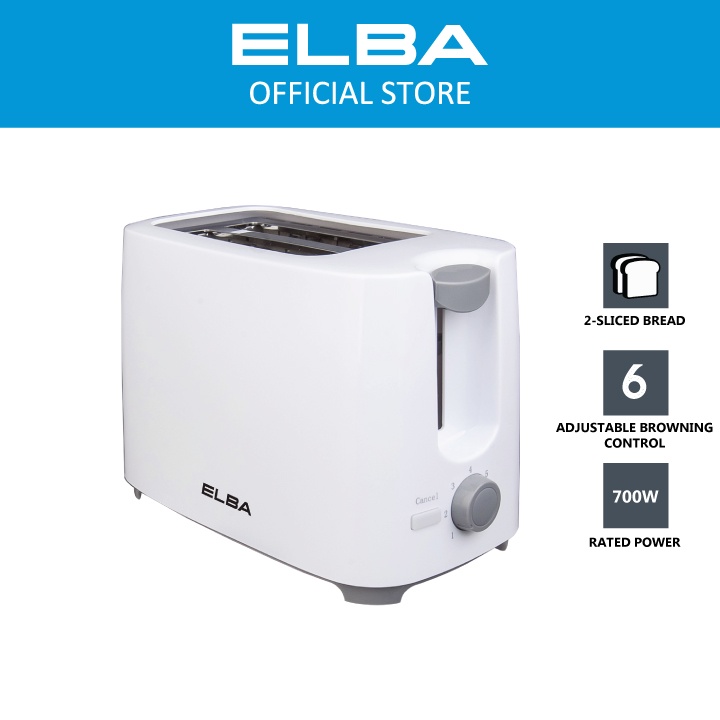 The ELBA ET-G2770 (WH) Toaster is a remarkable kitchen appliance that combines power, versatility, and convenience to bring you the ultimate breakfast flavour. With its 700W power consumption, 7 browning levels, and user-friendly features, you can enjoy flawless toasting every time. Convenience is at your fingertips with the cancel function. Need to halt the toasting process midway? Simply press the cancel button, and your toast will pop up, ready to be enjoyed. The crumb tray ensures easy cleaning, while the cool touch body provides safety and peace of mind.
Embrace the perfect slice of toast every morning with the amazing features of the ELBA ET-G2770 (WH) Toaster:
Power consumption: 700 W
2-slice slot
7 browning levels
Cancel function
Auto pop-up
Easy to clean with a crumb tray
Cool touch body
Summing Up
When it comes to achieving perfectly crisp and crunchy breakfasts, the right toaster can make all the difference. The top-notch toasters mentioned above offer an array of features to improve your breakfast flavour. From adjustable browning levels and wide slots to convenient functions, these toasters ensure that your toast comes out just the way you like it. Whether you're a fan of multiple parts or retro aesthetics, this list has you covered. With these top picks, you can start your day with a delightful breakfast and experience the joy of the perfect slice of toast. So choose the best toaster in Malaysia that suits your needs and embark on a journey of tantalising flavours.
Read also: Best of Home Appliances Series