In the world of home appliances and electronics, Samsung has always been at the forefront of innovation. Be it smartphones or televisions, their commitment to delivering cutting-edge technology is unparalleled. Continuing this trend, Samsung brings you the Bespoke Refrigerator, a true masterpiece of design and functionality. The refrigerator is the heart of your kitchen and the Bespoke Refrigerator is a canvas for self-expression, allowing you to design a refrigerator that perfectly matches your style and preferences.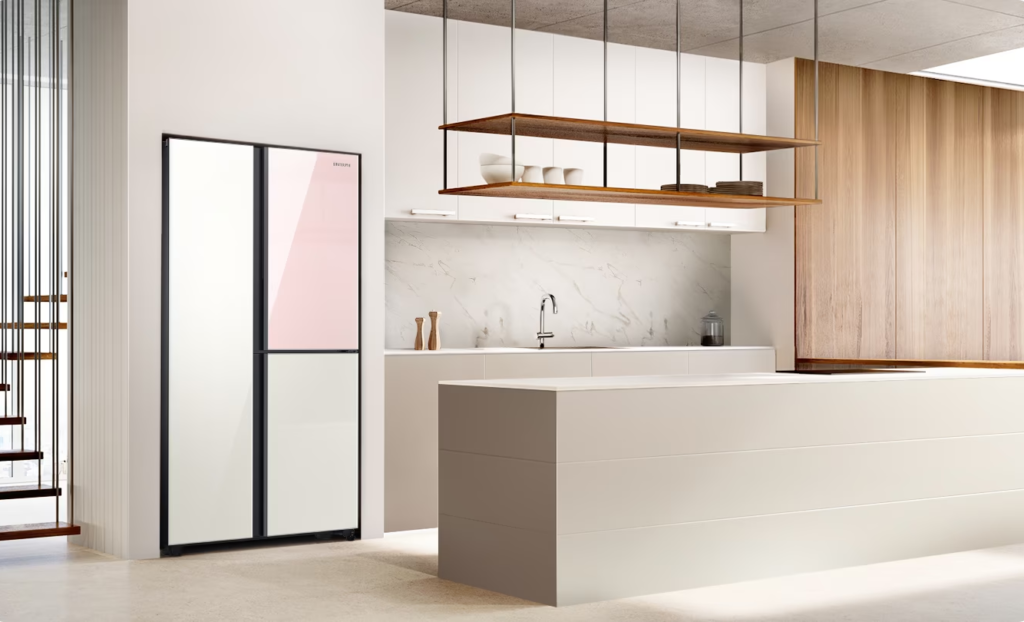 The Samsung Bespoke Refrigerator is not just any ordinary kitchen appliance. It is a canvas for self-expression where you can choose from a range of customisable options, including size, door panels, colours, and finishes, so you have the freedom to create a fridge that seamlessly integrates into your home decor. Say goodbye to the days of settling for appliances that clash with your interior design – the Bespoke Refrigerator lets you take control and curate a space that reflects your unique personality.
Beyond its stunning aesthetics, the Samsung Bespoke Refrigerator is packed with smart features that make your life easier. Equipped with the latest technology, it ensures optimal freshness and convenience. The Food Showcase is a versatile storage space that allows you to organise your food items the way you want. The SpaceMax™ Technology offers spacious interiors with thinner walls and high-efficiency insulation without taking up valuable real estate in your kitchen.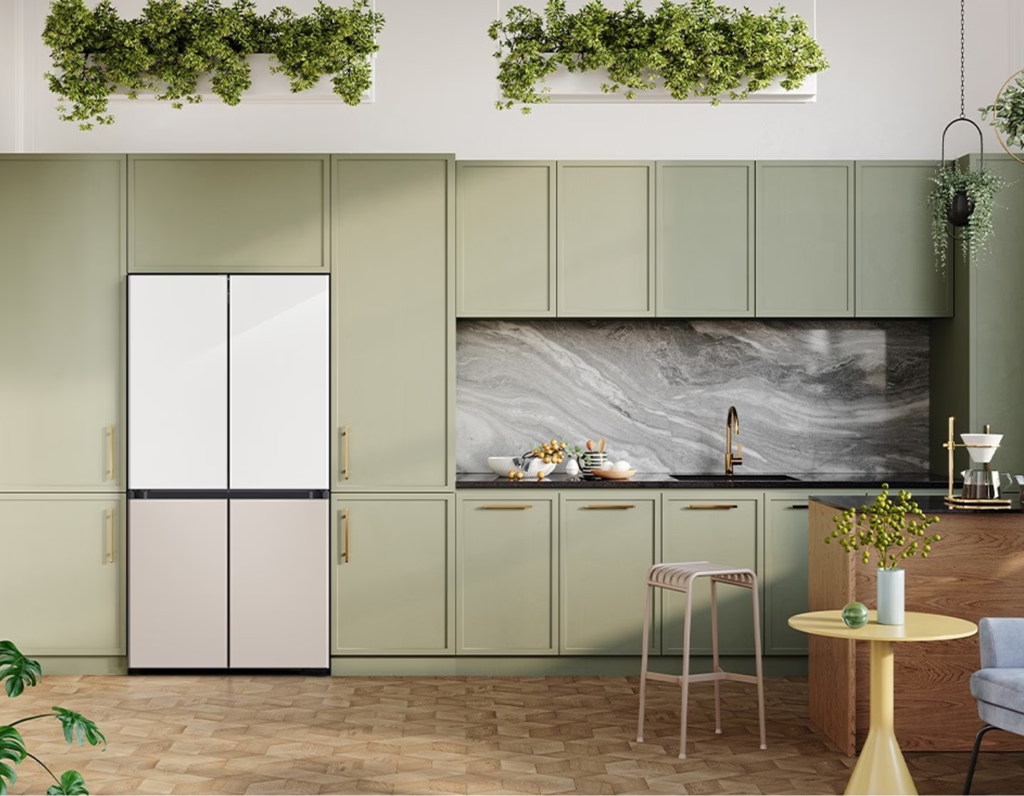 The All-Around Cooling system monitors the temperature continuously to ensure that your food is properly cooled no matter where you put it in the fridge. If you're looking to cool your food items rapidly, the Power Cool releases intensely cold air into the fridge while the Power Freeze cools down the freezer with a touch of a button.
In addition, there's also SmartThings AI Energy Mode that helps reduce your power consumption by analysing your fridge usage patterns and will inform you to activate energy-saving mode if it calculates that your electric bill may exceed the set amount. It comes with a Digital Inverter Compressor that promises efficiency, reduced noise level and durable performance. The Digital Inverter Compressor works by automatically adjusting its speed based on the cooling power needed and comes with a 20-year warranty. It also has been certified to work for 21 years.
Win Exciting Prizes with Samsung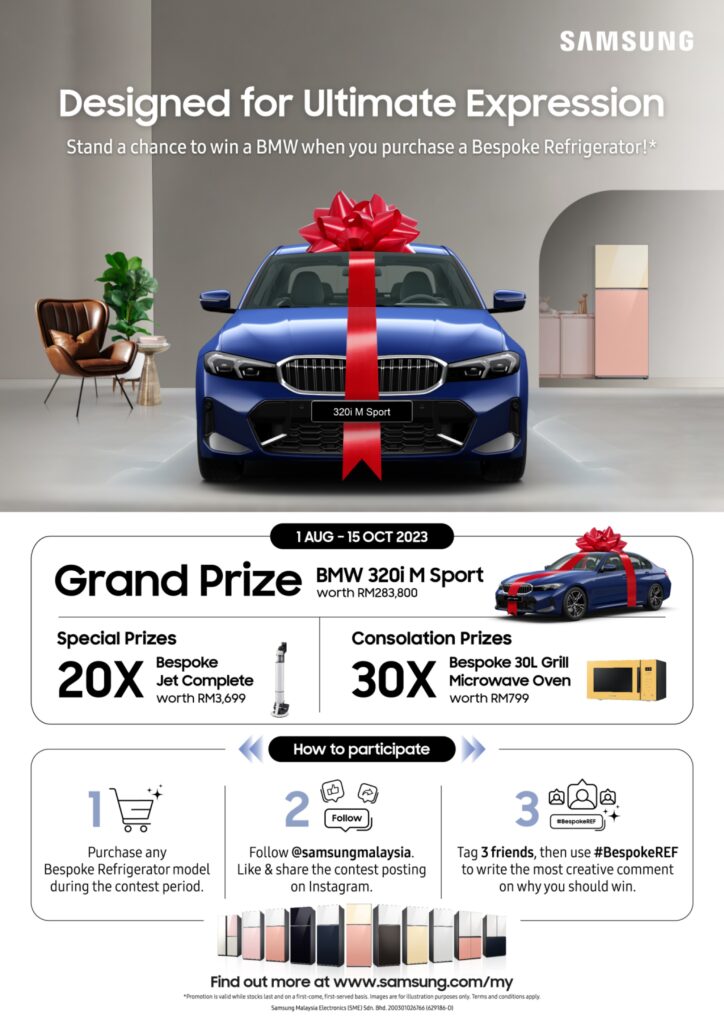 As if the allure of the Samsung Bespoke Refrigerator wasn't enticing enough, Samsung is offering an incredible opportunity for customers to stand a chance to win amazing prizes with purchase of this remarkable appliance with their #BespokeREF contest. One lucky buyer stands a chance to win the BMW 320i M Sport, a luxury car that perfectly complements the elegance and style of the Bespoke Refrigerator. But that's not all – there are also other exciting prizes up for grabs, including Bespoke Jet Complete and Bespoke 30L Grill Microwave Oven. Don't miss out on this golden opportunity to enhance your kitchen and potentially drive away in style!
Here are all the details about the #BespokeRE contest:
Purchase any Samsung's Bespoke Refrigerator model from 1 August 2023 to 15 October 2023.
Follow Samsung Malaysia's Instagram account: @samsungmalaysia. Like the contest post and then share it on your personal Instagram account.
Tag 3 friends and write the most creative comment using #BespokeREF on why you should be the winner.
For more information about the contest, please visit the #BespokeREF page here.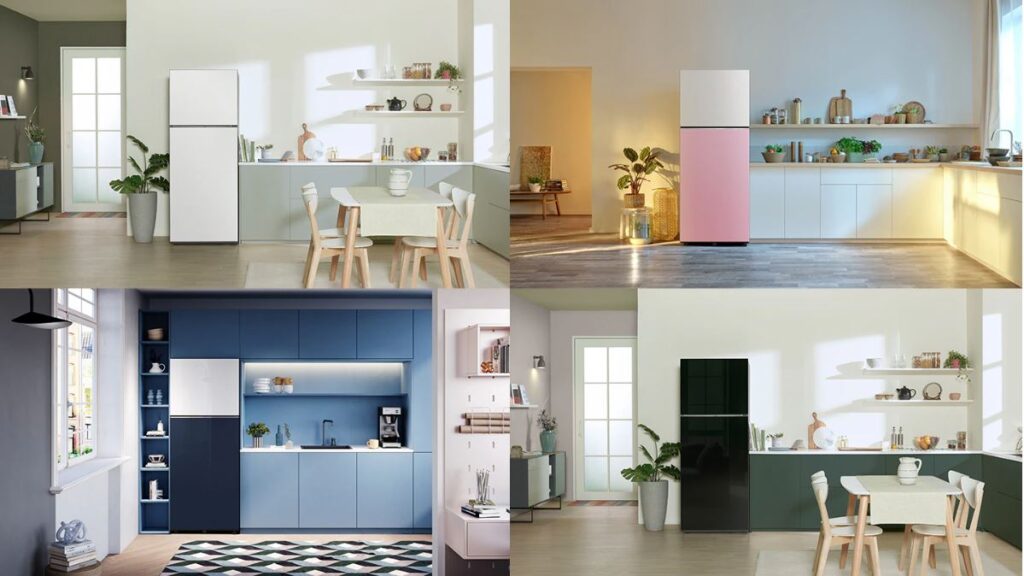 To learn more about Samsung's Bespoke Refrigerator:
Customise your own fridge here
Choose a preset side-by-side model here
Select a French door model here
In a world where customisation and luxury are highly valued, the Samsung Bespoke Refrigerator emerges as a true game-changer. Offering unrivalled customisation options, smart technology, and the chance to win incredible prizes, this appliance is a cut above the rest. Whether you're a design enthusiast, a tech-savvy individual, or someone who appreciates the finer things in life, the Samsung Bespoke Refrigerator is the perfect addition to your home. Upgrade your kitchen and elevate your lifestyle with this remarkable appliance, and who knows, you might just be the lucky winner of the BMW 320i M Sport!