Trying to figure out how to make your small apartment look and feel more spacious? Knock down those pesky walls! Well, not all of them of course, what we mean is to try an open floor concept for your house. In fact, if you're not sure whether you will like it or not, try changing the kitchen first, and you can instantly see the whole place brighten up. Check out these list of open concept kitchens to get inspired.
1. Half Wall
Not quite ready to go all the way yet? Settle for a compromise instead and build a half wall between your kitchen and the dining/living room area so that you have some semblance of privacy but still be able to enjoy roomier surroundings.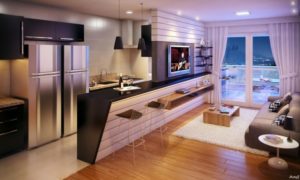 Source
2. All White Surroundings
It is widely known that using bright and light colours makes an area look airy and spacious, and what colour is lighter than white? You don't have to crazy and make every single thing white, but consider painting the ceiling and walls white, while adding a few key furniture in white such as the kitchen cabinets.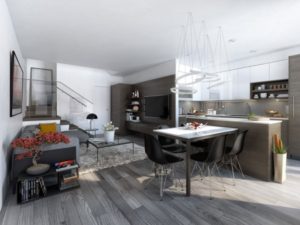 Source
3. Light Coloured Flooring
Flooring that are dark are great if you are accident prone and are always spilling something. But we are all adults now and should have better control over our clumsy selves. Opt for light coloured flooring which lets the lights bounce from the lamps and reflects them to create the illusion of a more spacious place.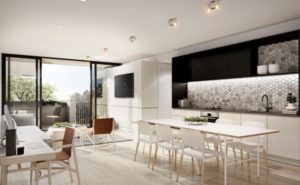 Source
4. Use Vertical Fixtures To Separate Spaces
Afraid that open concept spaces will become one huge, muddled space? Consider hanging fixtures such as lights for the dining area, wall art for the living area and add a kitchen counter to make the space look more organised.


Source
5. Opt For Curtains
While fluid, open spaces are all the rage and opens up the space in your home significantly, sometimes you do want a little privacy and separation. Then you can go for curtains which serves as a flexible, movable barrier between the kitchen and social area, which is much better than a rigid wall.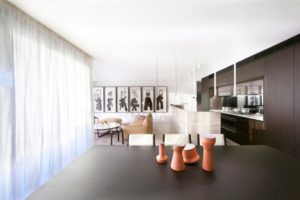 Source
6. Make It Really Minimalist
If there are not many people living in the apartment, you don't need that much furniture. And less furniture means more space! Sometimes you don't even need a breakfast bar or a kitchen counter, just a simple and small dining table is enough for you.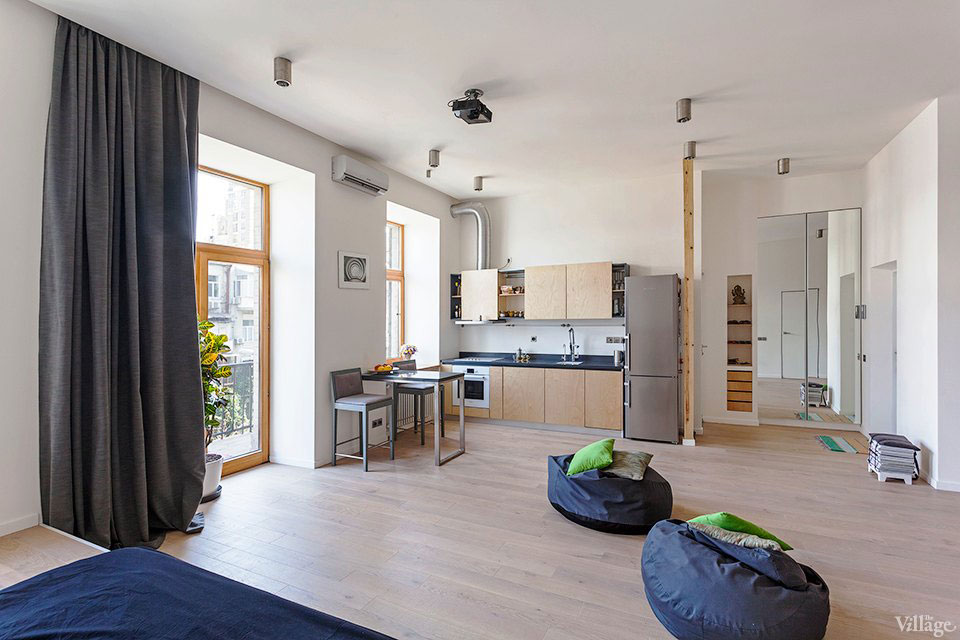 Source
7. Floor To Ceiling Windows
Windows are really important to make a cramped space look more roomy as they make the room brighter. Allowing natural light to flood the room means you can save more money on your electricity bill during the daytime too.

Source
8. Utilize An Accent Rug
Keeping the flooring the same throughout the whole area pulls together the look and gives a unifying touch to the apartment. But you want to make the spaces look a little more divided, to keep it from being just a muddled, open space. Consider buying a rug in a complementing colour and putting it in your living area to make the space more distinct.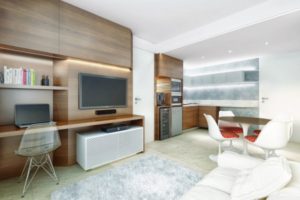 Source
9. Combine The Dining Table With The Kitchen Area
Because your house has limited space, sometimes you need to forgo some of the furniture that seems a little redundant. For example, you can turn the kitchen counter to be your breakfast bar or dining table whenever you need it. This neat little trick saves space and you don't need to waste money on a dining table.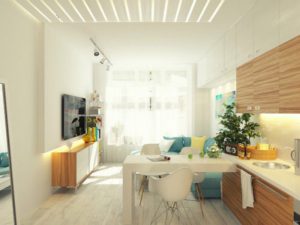 Source
10. Choose One Main Element
Don't mix and match too many clashing elements in one area otherwise it will make the room look messy and crowded. Instead, pick one element that you can use throughout the area, such as making the floors, cabinets and doors the same colour or material for your open concept kitchens ideas.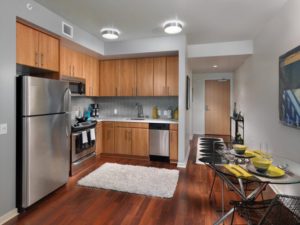 Source