Red is a very bold and vibrant colour but surprisingly, it works rather well with almost any colour scheme. It can be a very sharp, sophisticated and sexy shade to use in your home as it has a rather commanding presence. Here are some awesome red colour decor ideas to get you inspired.
1. Bright Red Sofas
Choosing bright red sofas and matching upholstery for the other seats in your living room is a great way to spice things up, especially when it has a neutral colour scheme to begin with. Make sure to tone down the shade with high and spacious ceilings plus lots of natural light.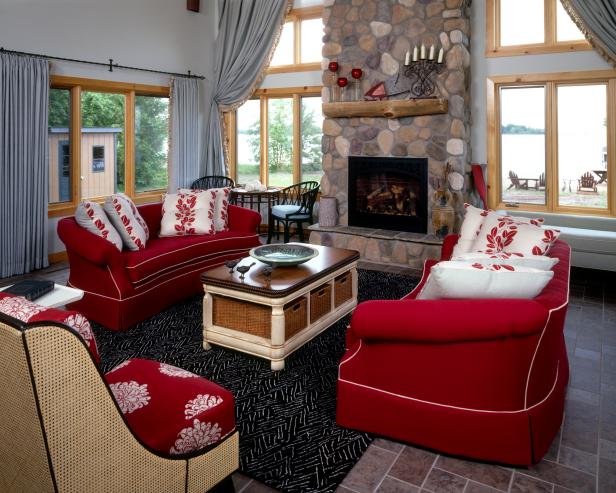 2. Red Vintage Kitchen
This gorgeous red kitchen is done up with a vintage theme where the appliances are all quaint and simple. The vivid red colour decor tone is complemented with clean white appliances and a checkered pattern on the kitchen island for a unique appeal.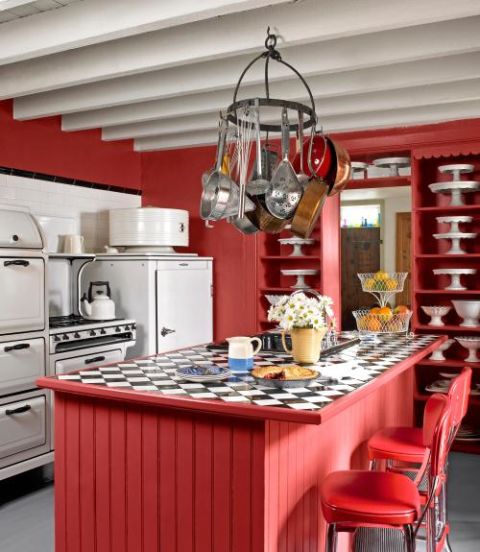 3. Colourful Dining Room
While it is known that bold colours such as red are paired with more neutral colours, this time around it looks good when paired with another not-so-neutral colour. The red patterned wallpaper accentuates the green furniture and furnishings in the room to make it look really striking.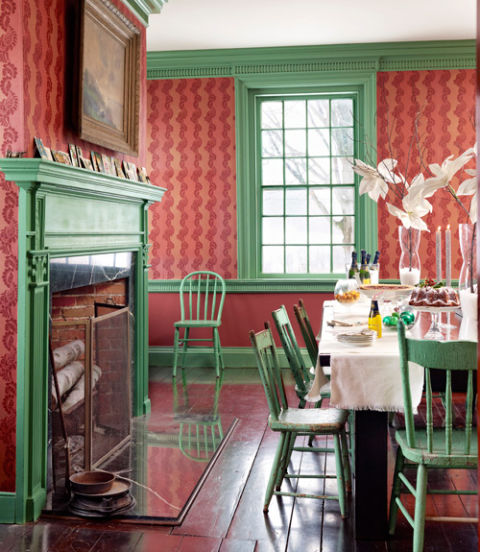 4. Subtle Red Bedroom
The vibrant red can actually be used for the whole room, as long as you know how to use it the right way. Although this whole room incorporates red, but it doesn't look overboard because it is used in patterns in the room and not just one solid colour.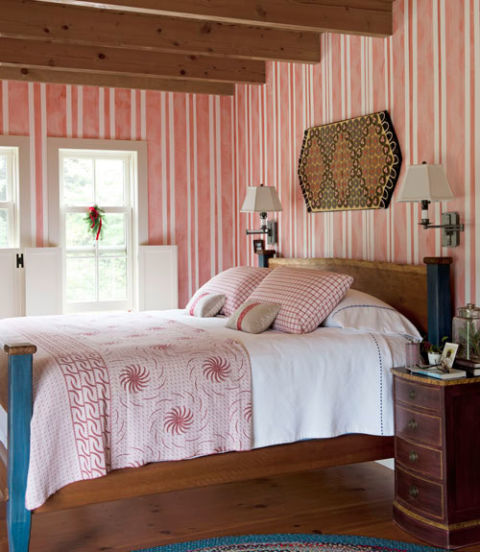 5. Eastern Inspired Red Bedroom
In yet another creative way to decorate your bedroom with the colour red, a floral bedspread in red and white is used which revokes some oriental vibes. To add to the Eastern element, an antique Chinese-styled table is placed by the bedside.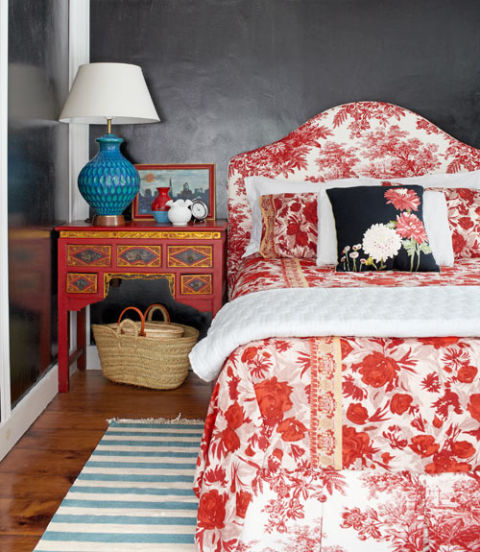 6. Sleek Red Bathroom
Dark red maple walls line this bathroom along with a matching red countertop that gives a rather dramatic feel to the area. Simple and sleek adornment comes in the form of the contemporary basin and wall light.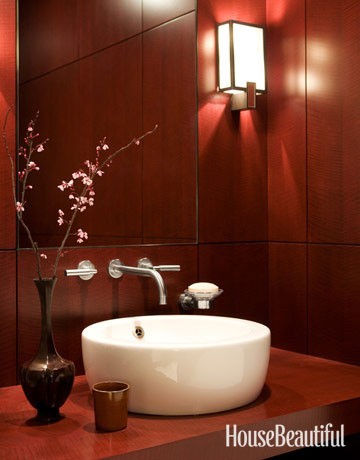 7. Playful Red Living Room
Play around with several different shades of red in your living room for a totally warm and cheery space. Adding some touches of other warm tones such as brown and orange makes it look more relaxed and casual.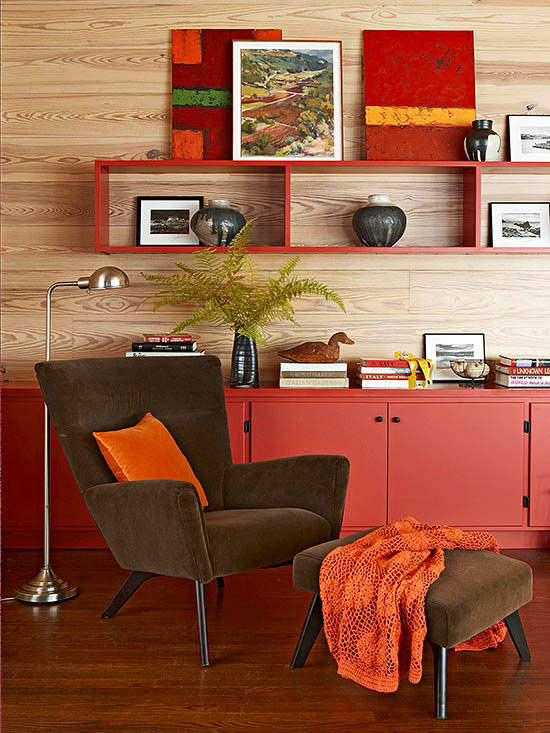 8. Sultry Red Bedroom
Red bedrooms can be very sensuous if you decorate it right. This room is decked out in various shades of muted red and the bed is accentuated by the feature wall with a matching red pattern. The addition of the luxurious fur throw on the bed makes it look more majestic.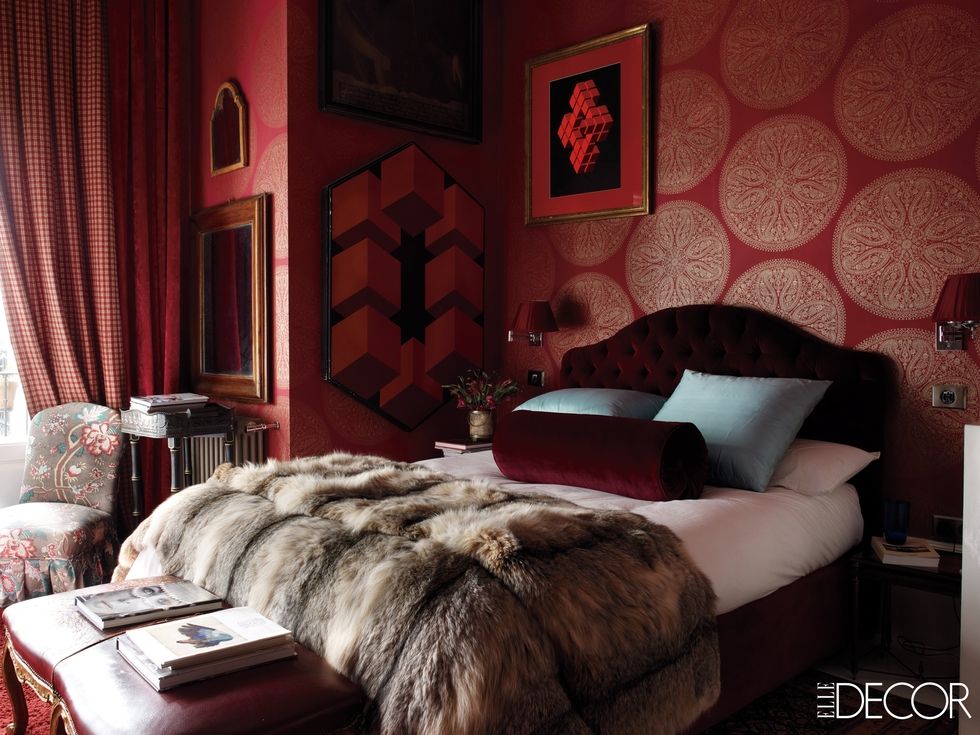 9. Red, White, Blue Living Room
You'll be surprised at how well the colour combination of red, white and blue works together. In fact, these three colours really complement each other and makes the whole room look outstanding.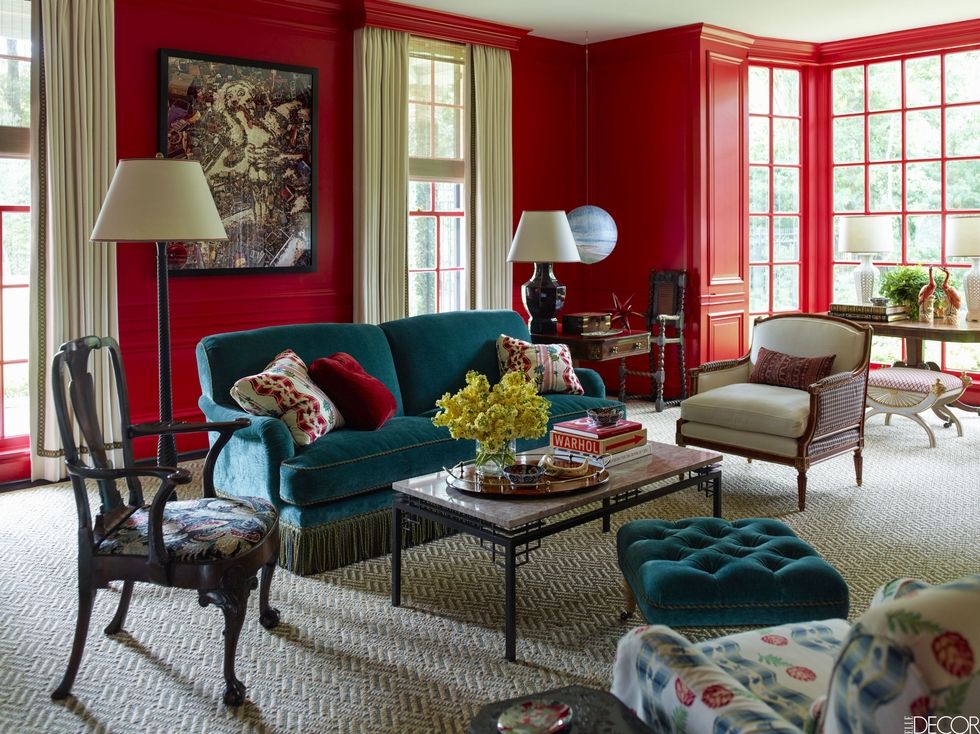 10. Subtle Red Dining Room
You can add touches of red to your home by starting small and incorporating elements such as a big red rug under the dining table to make it look much more homey. Other decorations such as lights, flowers and other accessories can help unify the whole look.