Gold can be a misunderstood colour as people tend to think that this gilded colour makes the home look too pretentious or gaudy. However, when used properly, you will find that this colour can be classic and timeless as well as adding some major wow factor into your home. Get some great ideas from this list here.
1. Gold Lamp
This black and white bedroom would have looked rather boring if not for the extra luxe details such as the gold bedside lamp that instantly adds a touch of glam to the room. Besides, the golden studs embedded on the headboard also looks gorgeous.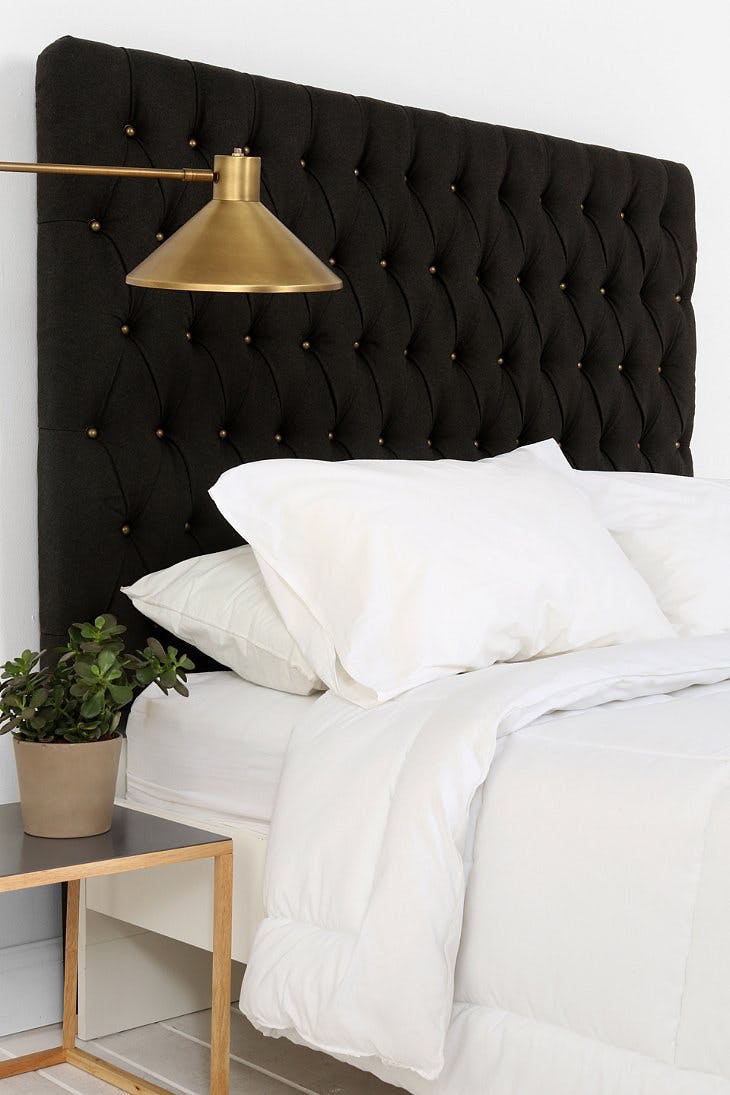 2. White and Gold
You'll be surprised to know that gold goes amazingly well with our colours to liven up the space. This cosy little workspace is given a real transformation with the gold accessories placed on the shelf while the glass gold table pulls the whole look together.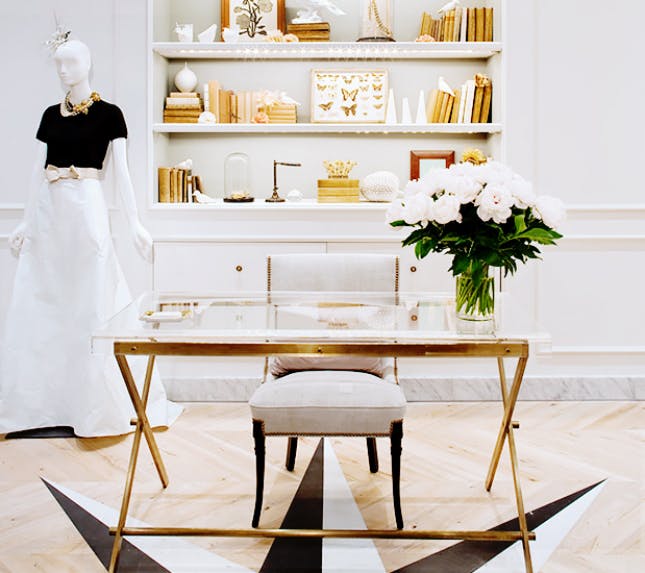 3. Elegant Bedroom
This feminine bedroom is already sophisticated enough but when you add in the romantic gold bedstead and matching bedside drawers, it looks simply majestic. The comfy dusty pink and white bedding tones down the gold.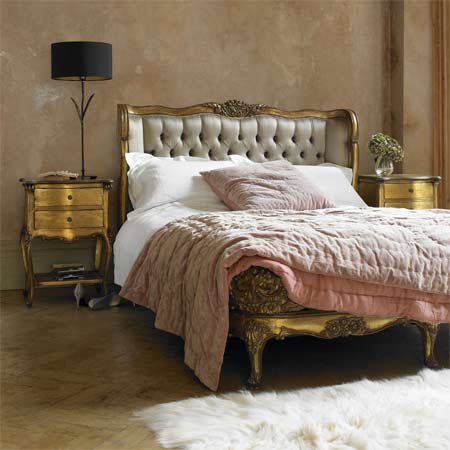 4. Golden Backsplash
This exquisite kitchen is supremely stylish but with the addition of the gleaming backsplash, it makes it look even more opulent. The rest of the kirchen's accessories is a bright, sunny yellow to complement the shiny gold.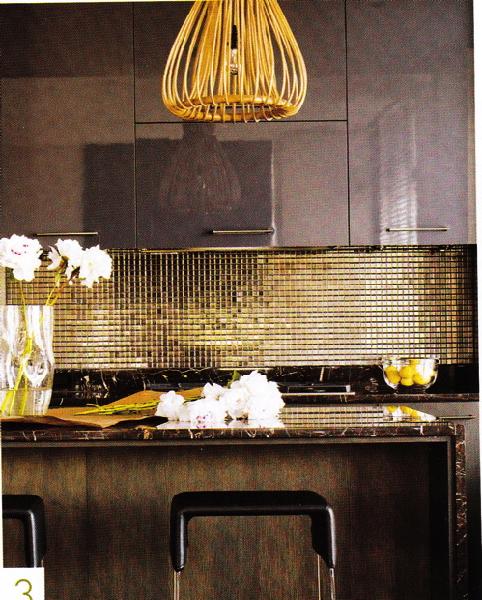 5. Golden Toilet
Make your modest toilet look like a a million bucks with a few tweaks and upgrades that will make it look instantly classy. The gold patterned wallpaper and matching tap are paired with some white and warm wood to create this look.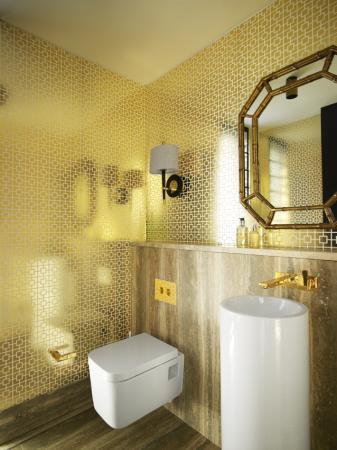 6. Gold Bathtub
Soak away the stress and worries of a long day in your gilded bathtub in a simply beautiful bathroom. Decorated with soft pink wallpaper and a gleaming golden mirror, the bathtub is the cherry on top of the cosy bathroom.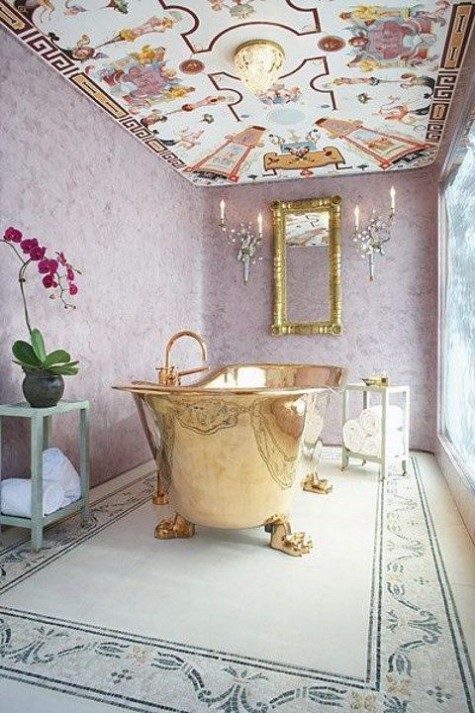 7. Black and Gold
Gold also goes very well with black as it helps to soften the colour to make it look more stately. In this living room, the predominantly black decor is jazzed up by the eye-catching sequinned curtains while the white sofa displays matching black and gold pillows.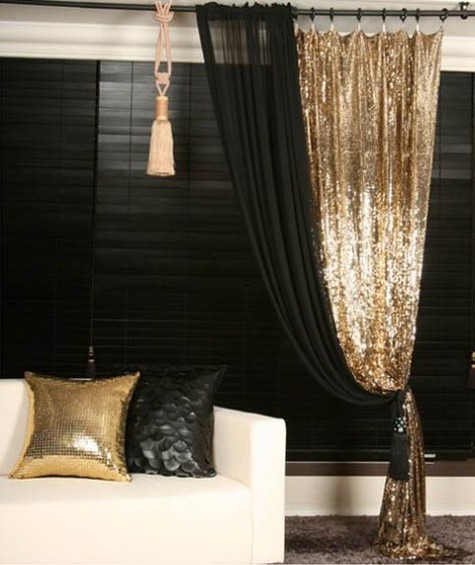 8. Blue and Gold
In another example of a luxurious living room, this space uses a good mix of blue and gold to make it look outstanding. The top half of the room is covered in blue while the bottom half is in a neutral beige shade. The use of golden furnishings makes it look more refined.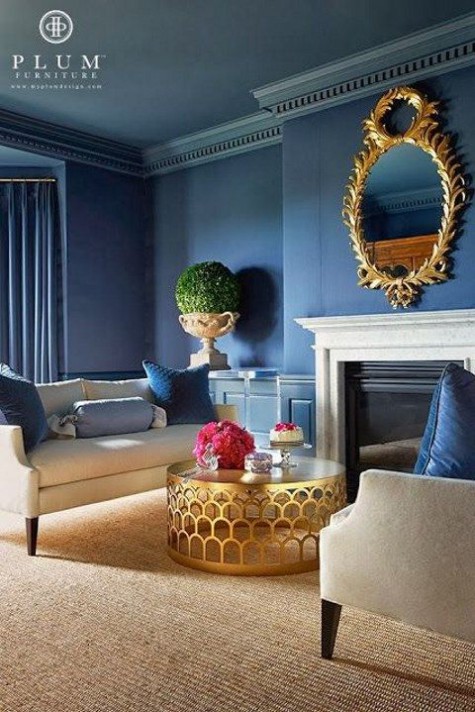 9. Subtle Gold Kitchen
This chic kitchen is a delight to work in as it boasts such an awesome colour scheme. Spice up the soft gray colour with some gold accents in the form of the drawer pulls and gorgeous hanging lamp for added glam.