Located in the heart of the Bang Na district, Bangkok, this townhome takes minimalism to a whole new level, with its concept of "Madly Minimal".
Its facade features plain white walls with clean edges that are punctuated by the blue-tinted semi-reflective window panes. The site is bordered with rows of cacti and a white cement lawn forms the front yard, complete with white lounge chairs.
Project: AREN
Designer: Areeya Property
Location: Thailand
Exterior Area: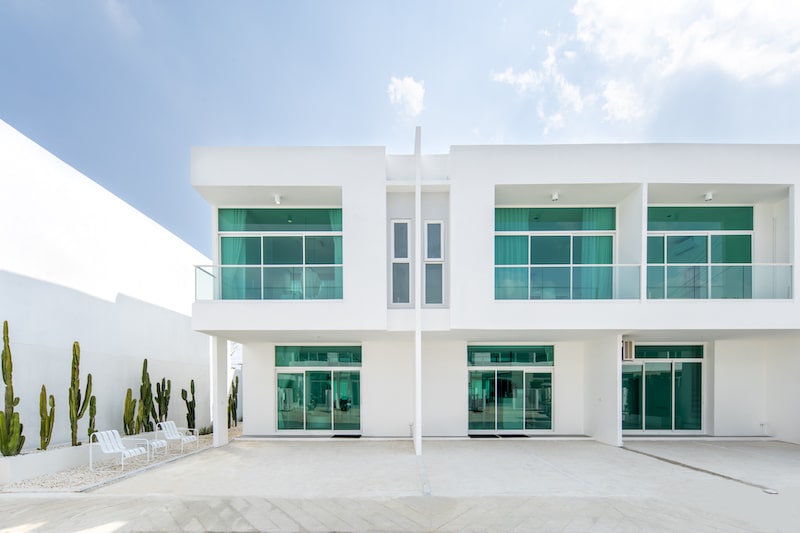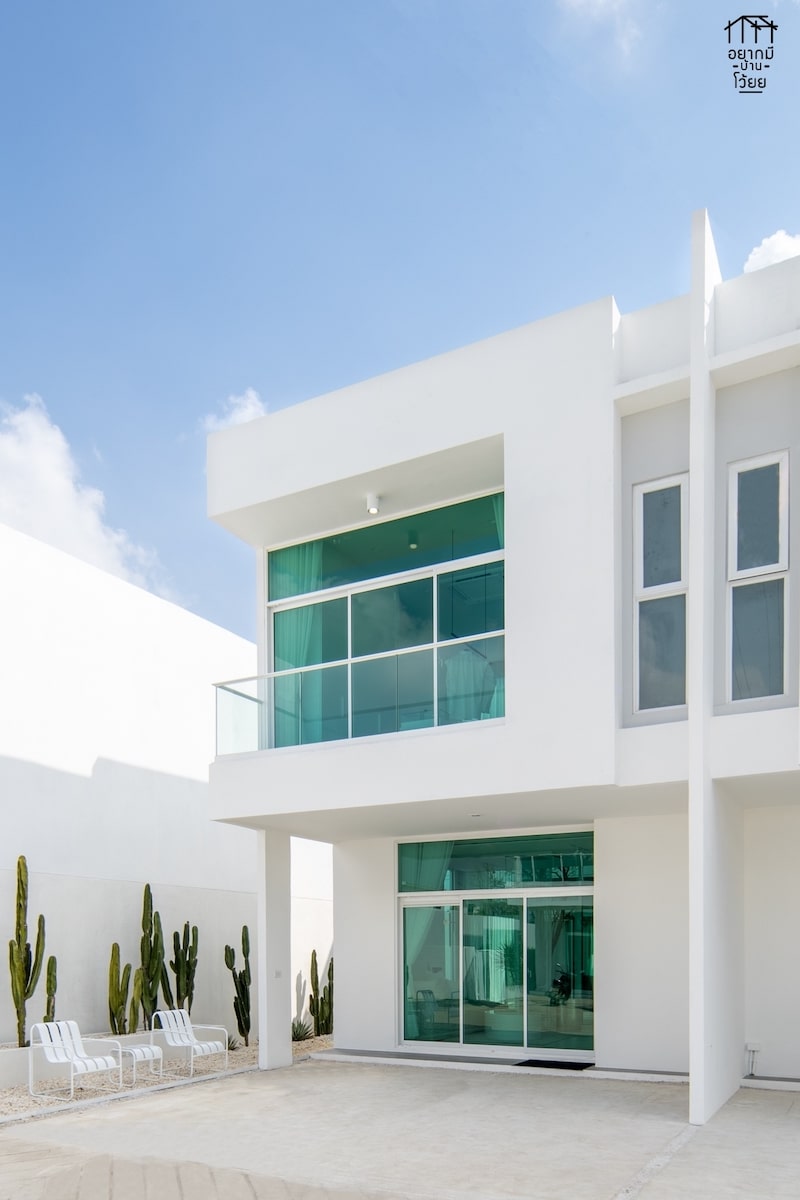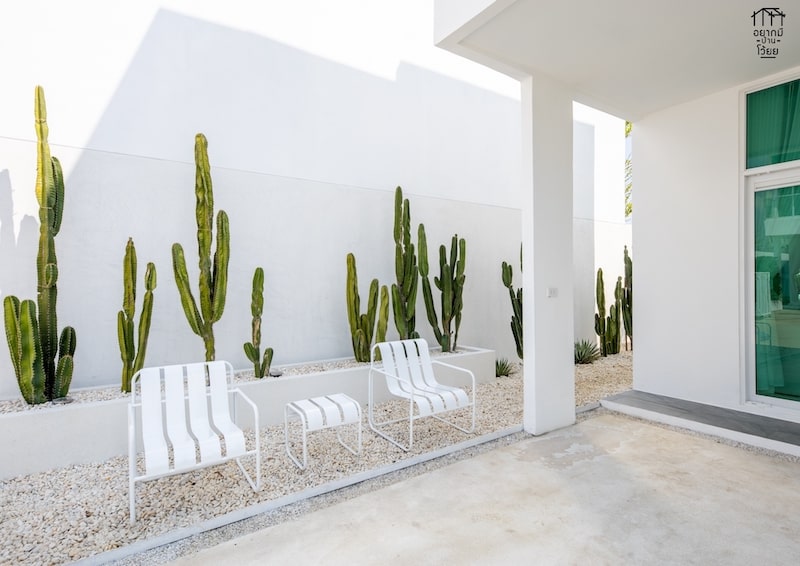 Interior Area:
The living room focuses on clean white tones for the walls, flooring, and sectional sofa.
Pale gray and metallic silver accents in the form of a faux rug, track lighting, and teapoy highlight the more subtle details of this elegant space. Glass sliding doors with a window above them pour natural light into the living room.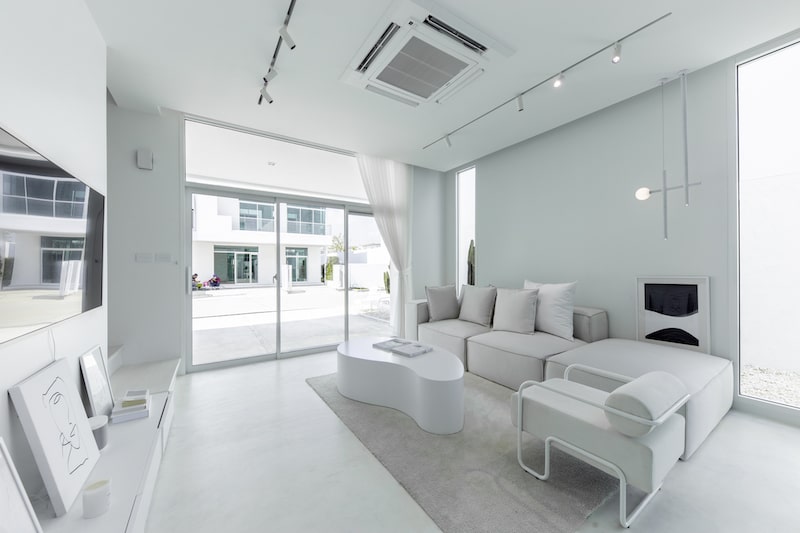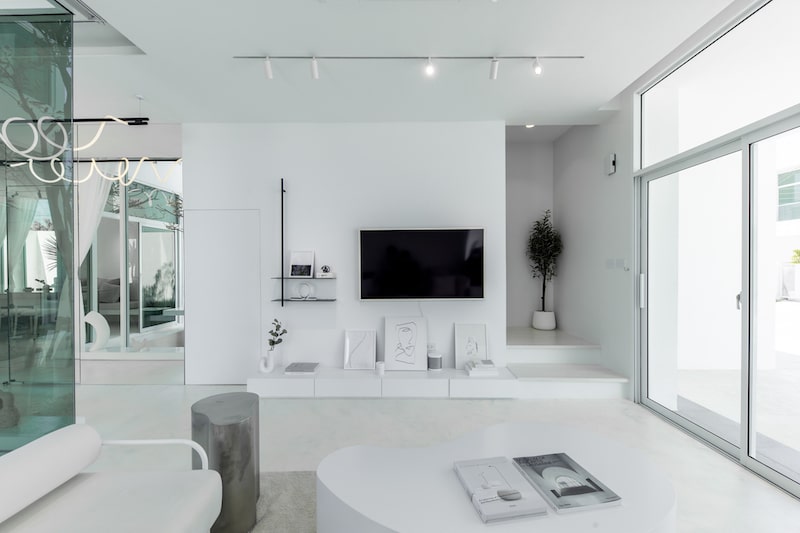 A narrow corridor from the living room offers the second close-up glimpse of a dry rock garden with a single tree and a rectangular pond, around which the house has been designed.
This corridor itself is like a museum with the picturesque courtyard forming the perfect backdrop for the white collectibles.
At night, this area is illuminated by warm white tube lighting which was selected to match the home's underlying theme of curves.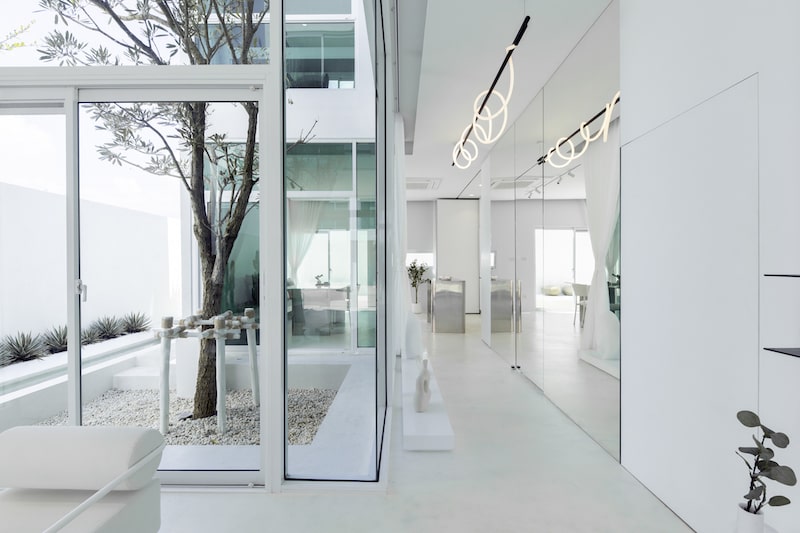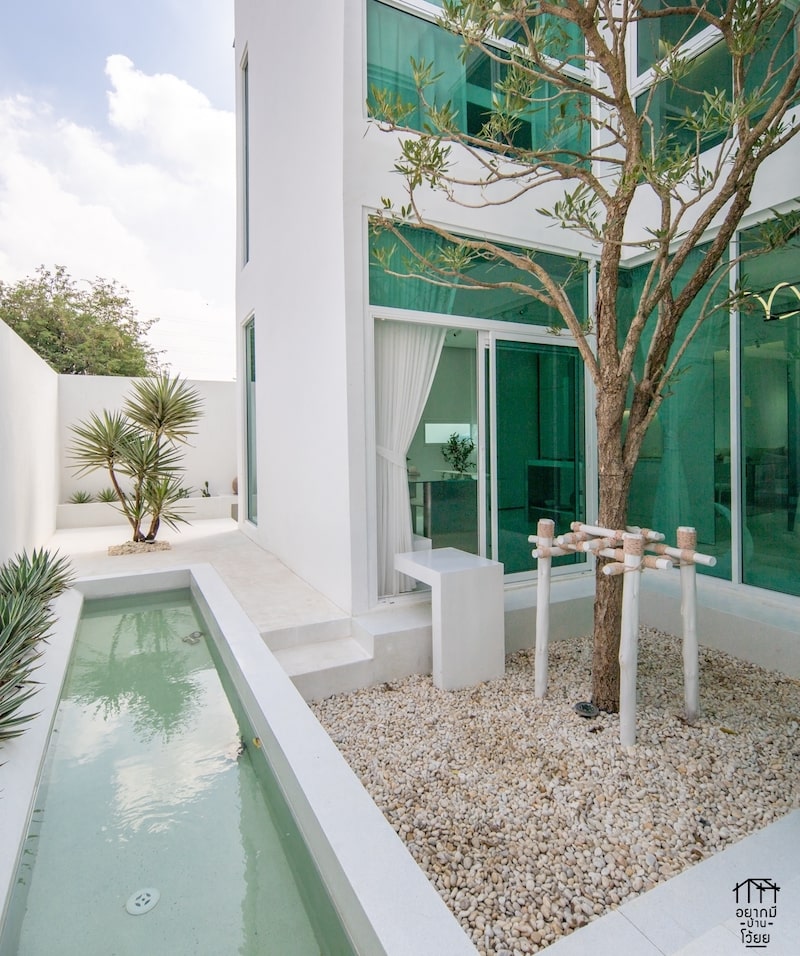 The ground floor's open-plan then flows into a dining area and kitchen, which open into the backyard.
A glass dining table, supported by metal legs, two cushy white chairs, and a cozy four-seater sofa, form the dining area. From here, one can view both the gorgeous courtyard and the inviting backyard.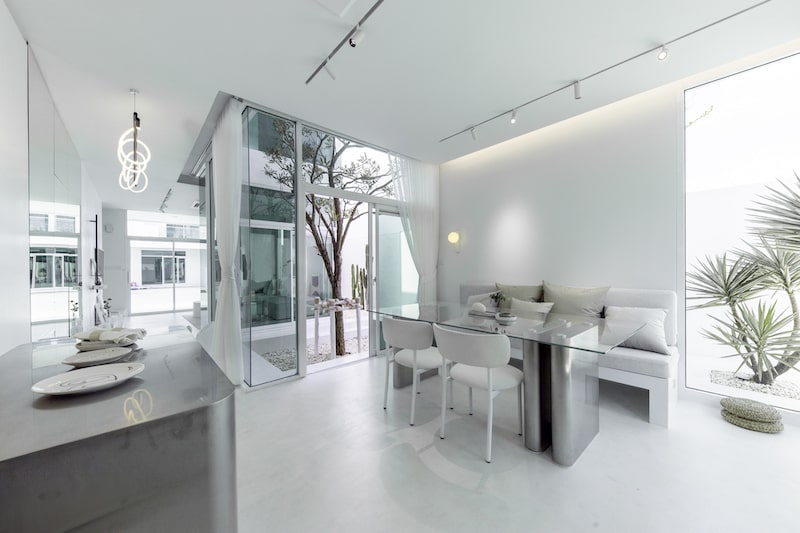 All-white cabinets with crisp edges and a metallic silver breakfast island constitute the brightly-lit kitchen.
A sliding door that leads into the garden is lined with a passive airflow system that circulates fresh air into the home, with HEPA filters, which adhere to the architectural firm's energy-saving values.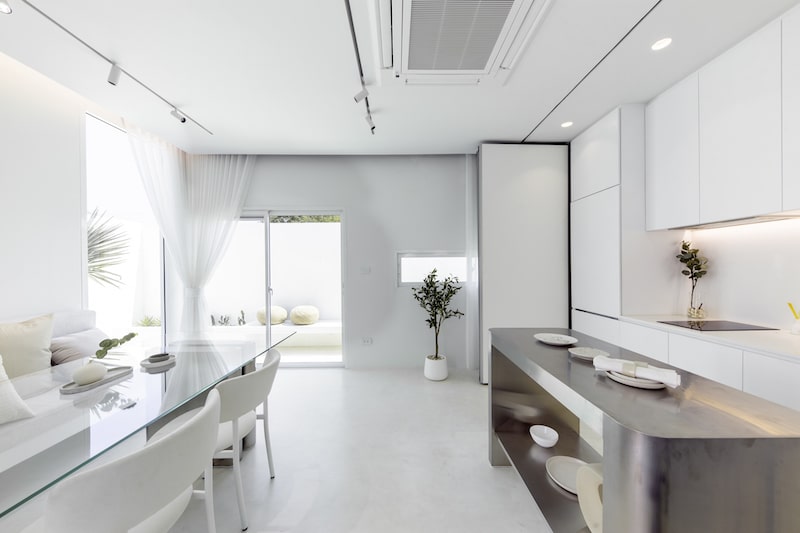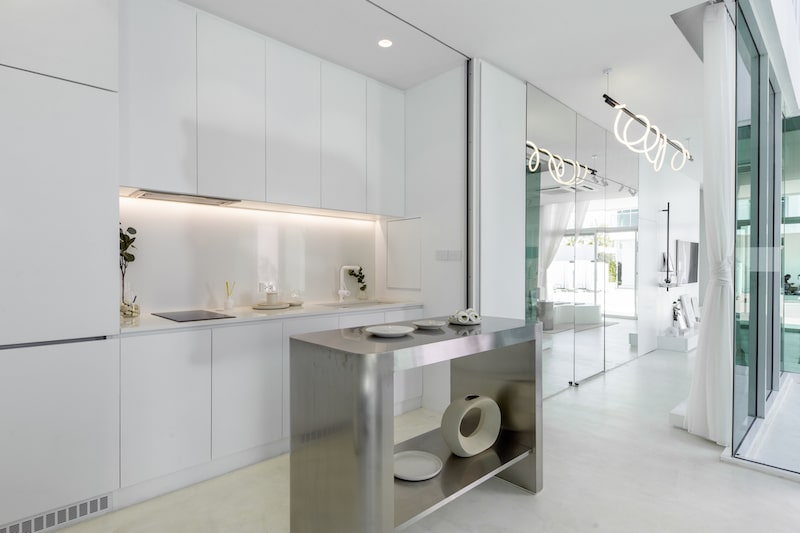 There is also a food waste disposal system below the kitchen sink that turns food waste into natural fertiliser. The backyard has been modelled into a chic photo corner, with a jute rattan and mini-cacti.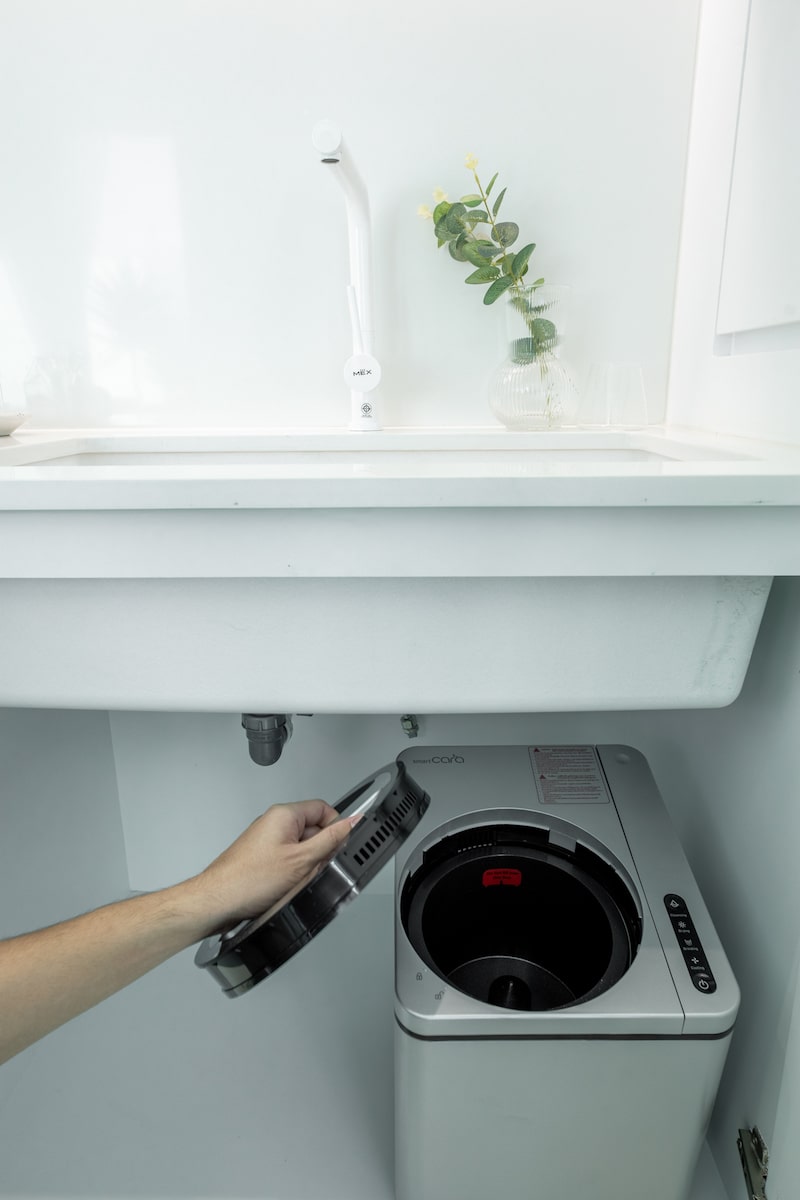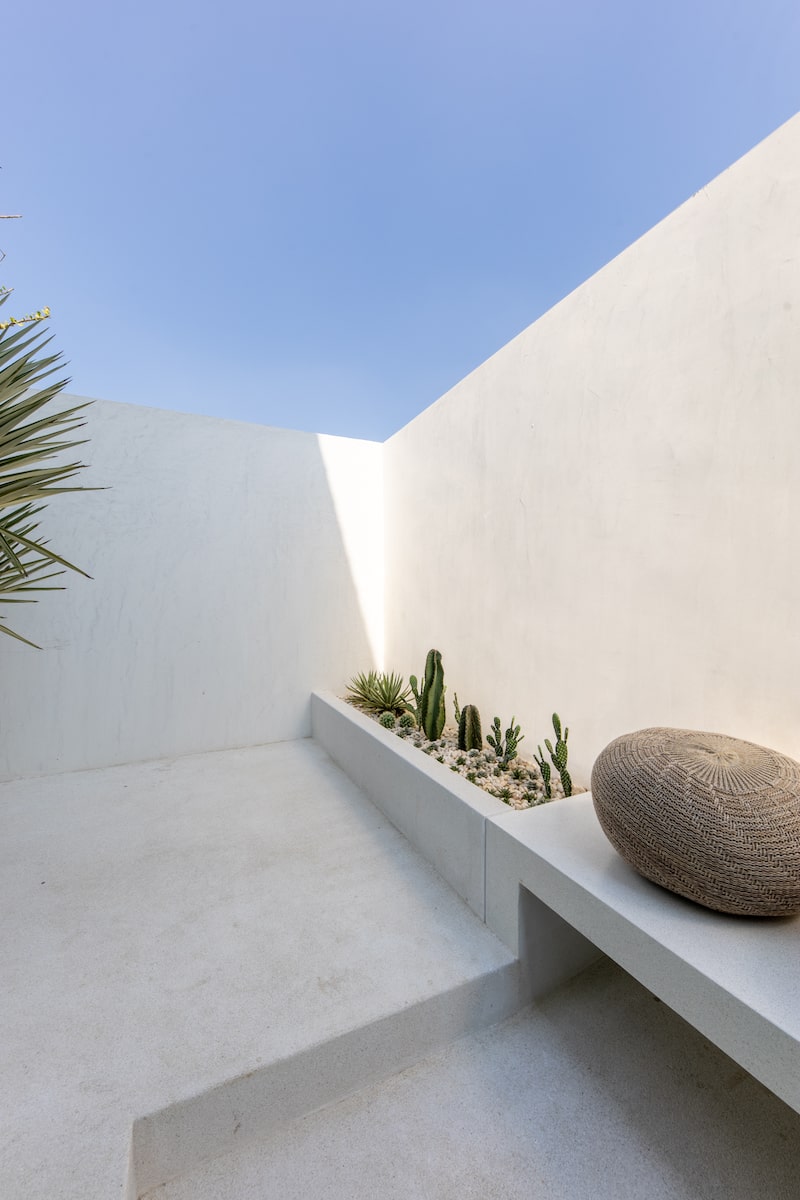 On the first floor, you'll be welcomed by an informal hall where there's a quaint coffee drip corner, so that the residents can enjoy a sip of bittersweet coffee while enjoying the courtyard's view.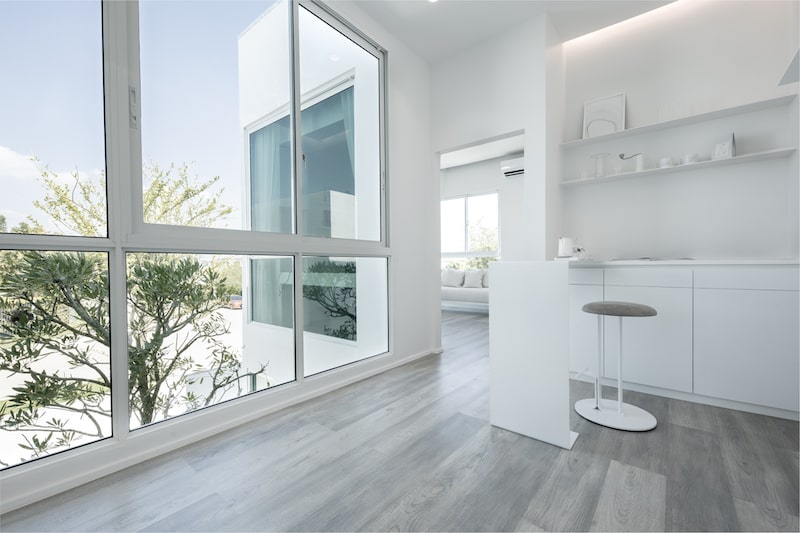 A spacious master bedroom with large windows forms the highlight of the house with a king-size bed right at the center.
Like the rest of the house, taupe wood flooring beautifully contrasts the all-white interiors making it feel warm and comfy.
A modern twist on the walk-in closet is formed by a silver rod dangling from the ceiling. An expansive, classy master bathroom with beige interiors completes this private space.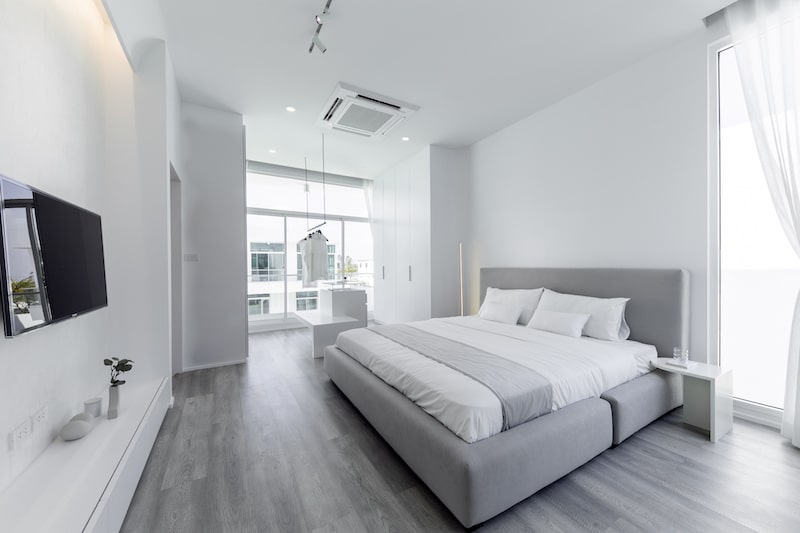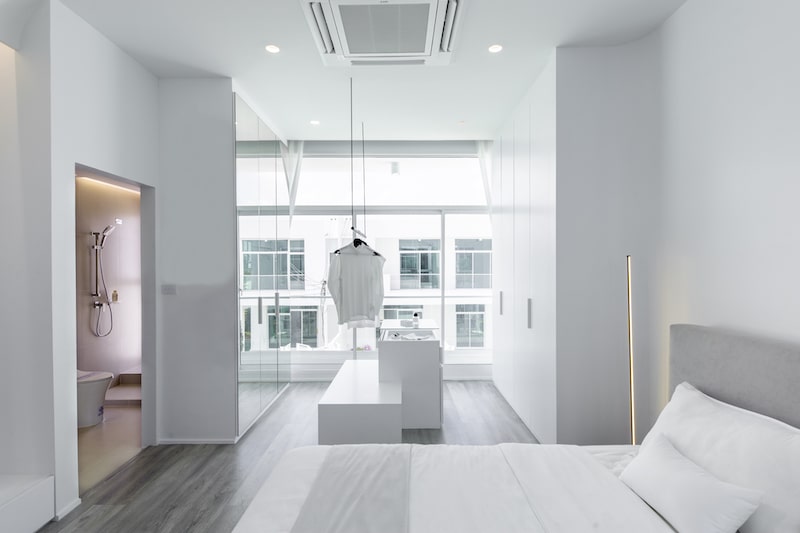 There is also a simple, private office room cum study with large windows offering surreal views, on the first floor. It can later be transformed into a second bedroom, should the need arrive.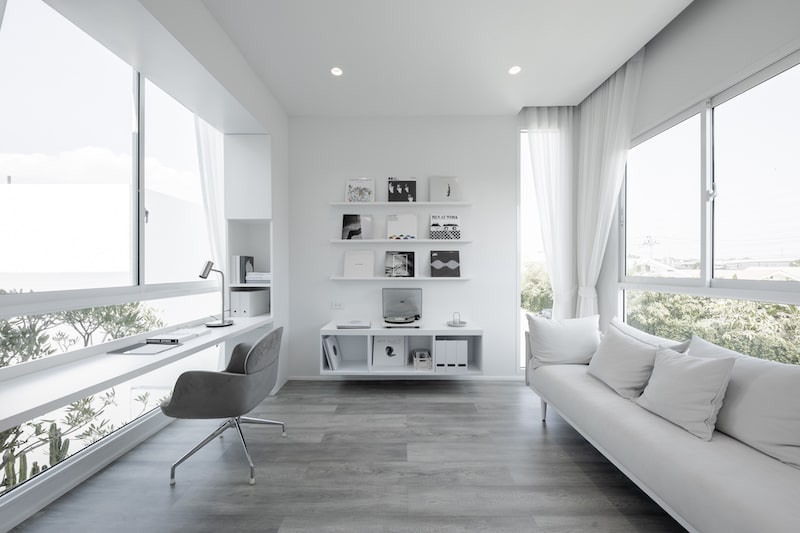 AREN is a symphony of white and has been cleverly designed in a way so that it isn't overwhelming. It is a calming, refreshing respite from flamboyant spaces and prioritises functionality over mere aesthetics.
All images are taken from Areeya Property unless otherwise stated.
Interested for more amazing house designs? Check out our collection of house design articles now.