Singapore is a bustling city with a fast-paced lifestyle, and many homeowners find themselves struggling to keep up with household chores. One of the most time-consuming tasks is washing dishes, which can take up valuable time that could be spent on more important things. That's why investing in the best dishwasher is a game-changer for busy homeowners in Singapore. In this article, we delve into what makes a dishwasher great. We will explore the features that matter, helping you understand what to look for when shopping.
To make things even easier, we've put together a list of the top 10 dishwashers available in Singapore. These machines promise to be your dependable companions in the battle against dirty dishes. So, say goodbye to the never-ending cycle of scrubbing and rinsing. With our guide by your side, you can find a dishwasher that fits your needs, giving you valuable time to focus on what truly matters in your life!
Features of a Good Dishwasher
When looking for the best dishwasher, there are several key features to consider.
Efficiency: A good dishwasher should be able to effectively clean dishes while using minimal water and energy. Look for models with high Energy Efficiency Ratings (EER) and Water Efficiency Labels (WELS) to ensure you are making an environmentally-friendly choice.
Sufficient Capacity: A dishwasher with a large capacity allows you to wash more dishes in one cycle, saving you time and effort. Consider the number of place settings a dishwasher can accommodate and whether it has adjustable racks to accommodate larger items such as pots and pans.
Quiet Operation: The noise level is also a factor to consider, especially if you have an open-plan kitchen or prefer a quiet environment. Look for dishwashers with low decibel ratings to ensure a peaceful home.
Multiple Functions: Consider the available wash programmes and multiple functions. Different dishwashers offer various wash cycles, such as quick wash, eco mode, and intensive wash, to cater to different needs.
Additional Features: Additional features like child lock, delay start, and smart connectivity can also enhance your dishwasher experience.
Our Selection of 10 Best Dishwashers in Singapore
Ready to upgrade your kitchen with the best dishwasher in Singapore? Check out our selection of top-rated dishwashers to make your kitchen cleanup a breeze:
1. Bosch SKS68BB008 Series 6 Free-Standing Dishwasher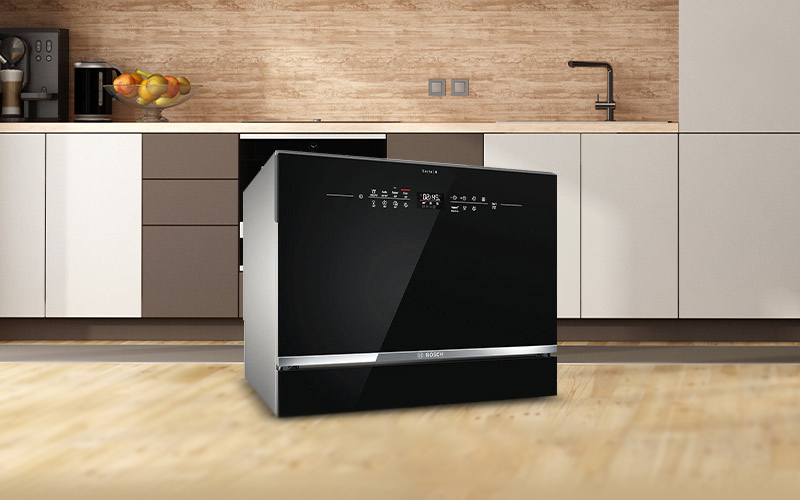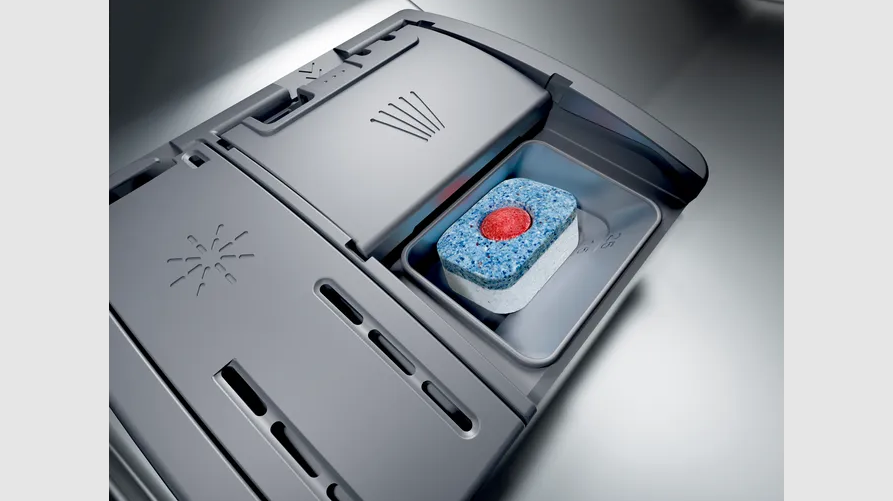 The Bosch SKS68BB008 Series 6 Free-Standing Dishwasher is a top choice for busy homeowners. With its 6 place settings, it can handle a large load of dishes in one go. It boasts eight washing programmes and five special cleaning options. Of these, the Extra Dry and Extra Rinse function ensures that your dishes come out perfectly dry, while the VarioSpeed Plus option allows for faster cleaning. The dishwasher has a low noise level of only 49 decibels. Its EcoSilence Drive function offers efficient and quiet cleaning by utilising a brushless, energy-efficient motor.
Here are the characteristics that set this dishwasher apart as the finest choice:
6 place settings
EcoSilence Drive
24 hour delay start timer
7-segment display
Eco Programme
Noise level: 49 dB
8 programmes: IntensivePlus 70°C, Auto 45-65°C, Super 60°C, Eco 50°C, Delicate 40°C, Express 65 °C, Express 45°C, Prerinse
5 special options: VarioSpeed, Intensive Zone, HygienePlus, Extra Dry and Extra Rinse
An easy clean filter system
Child safe
2. LG DFB425FP Front Control Smart Wi-Fi Enabled Dishwasher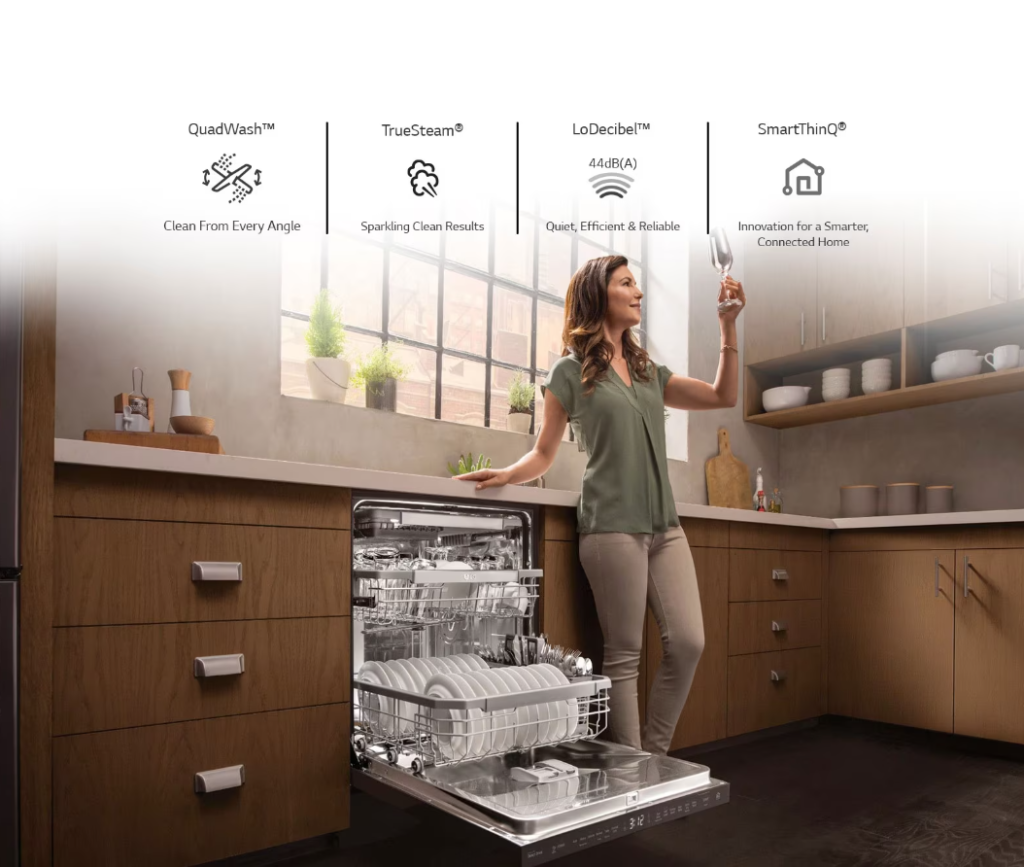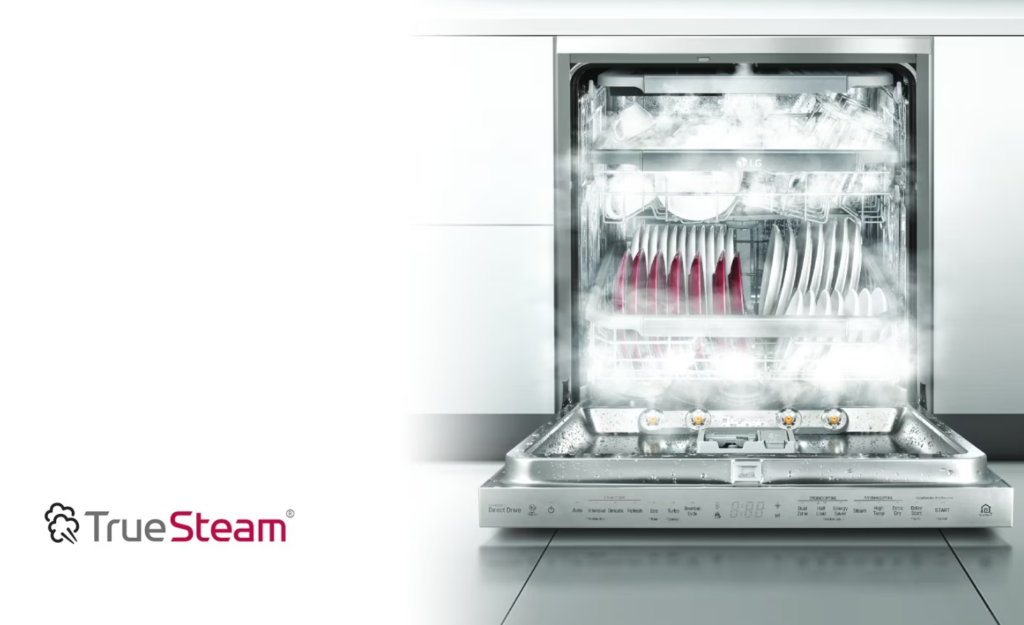 The LG DFB425FP Front Control Smart Wi-Fi Enabled Dishwasher combines convenience and technology. With its SmartThinQ app, you can control and monitor your dishwasher from anywhere using your smartphone. The QuadWash system ensures thorough cleaning from all four sides, while the TrueSteam feature eliminates the need for pre-washing. It breaks down tough and adherent food residues, enhances drying, and provides spotless dishes. This dishwasher also has a spacious interior with adjustable racks for flexible loading, thanks to the SmartRack™ Plus system.
Discover the attributes that make the LG DFB425FP Dishwasher the ultimate kitchen solution:
QuadWash™ system: four spray arms for thorough cleaning
TrueSteam® technology
14 place setting
SmartRack™ Plus system
Inverter DirectDrive motor for quiet operation
Anti-bacterial treatment
SmartThinQ™ app control
Voice control
Delay start up to 12 hours
Energy saver (energy efficiency class: A++)
Extra dry function
High temperature and steam settings
Fully electronic control
10 Wash programmes
3. Midea MDWS-2703 6L Mini Plus Dishwasher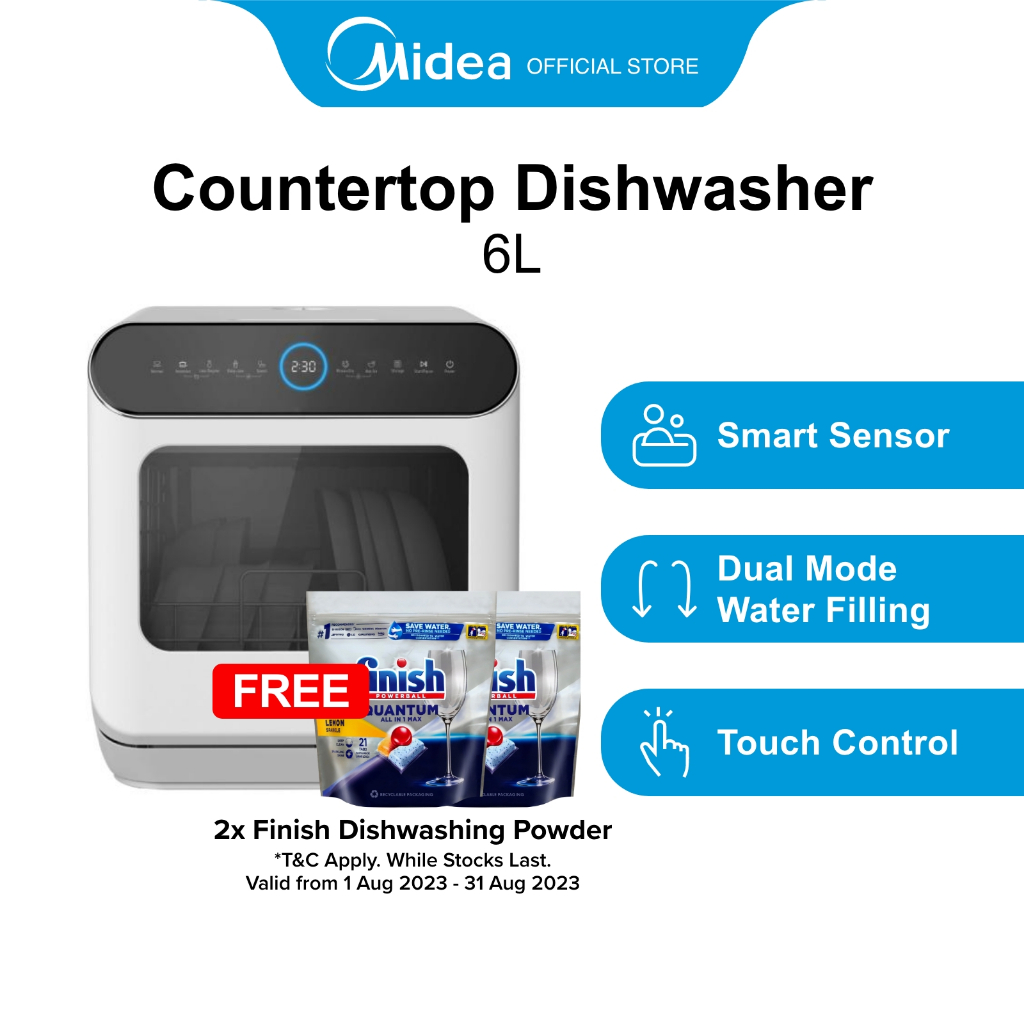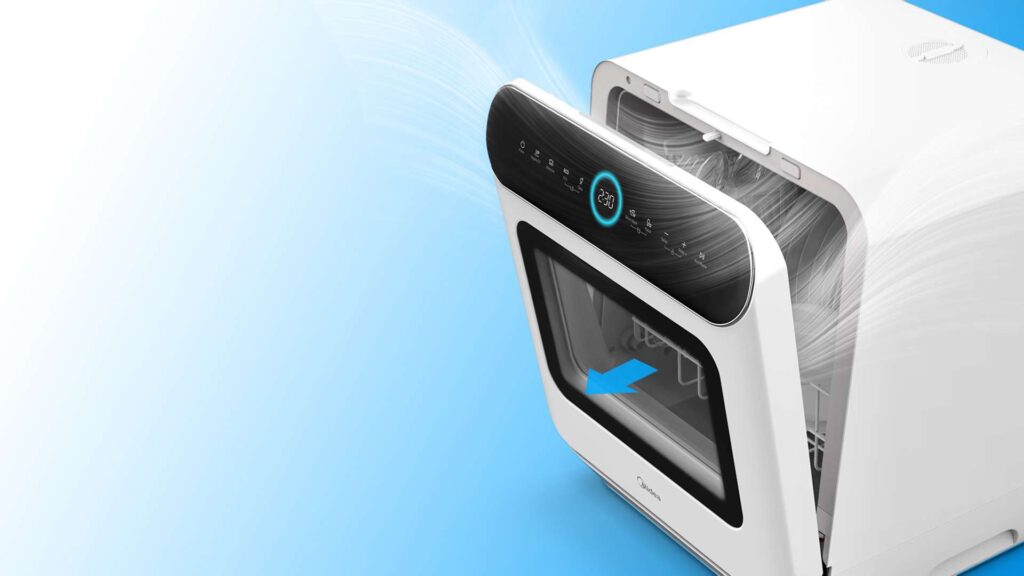 If you have limited space in your kitchen, the Midea MDWS-2703 6L Mini Plus Dishwasher is a great option. Despite its compact size, it still offers a 6-litre capacity and a variety of loading options to cater to individual needs. This dishwasher is easy to use with its intuitive touch control panel and offers multiple wash programmes for versatile use. Its energy-saving mode and low noise level make it an excellent choice for small homes. Above all, this dishwasher is designed for immediate use, sparing you the inconvenience of installation.
Explore the elements below that define this mini dishwasher as the premier pick:
High-temperature Intensive Wash
Compact size
Large capacity
Super Quick Dry Wash mode
Health Washing and Drying (72°C)
No installation needed
Touch control
Variety of loading options
7 wash programmes
4. Toshiba DW-08T1(S)-SG Tabletop Self Cleaning Dishwasher 8L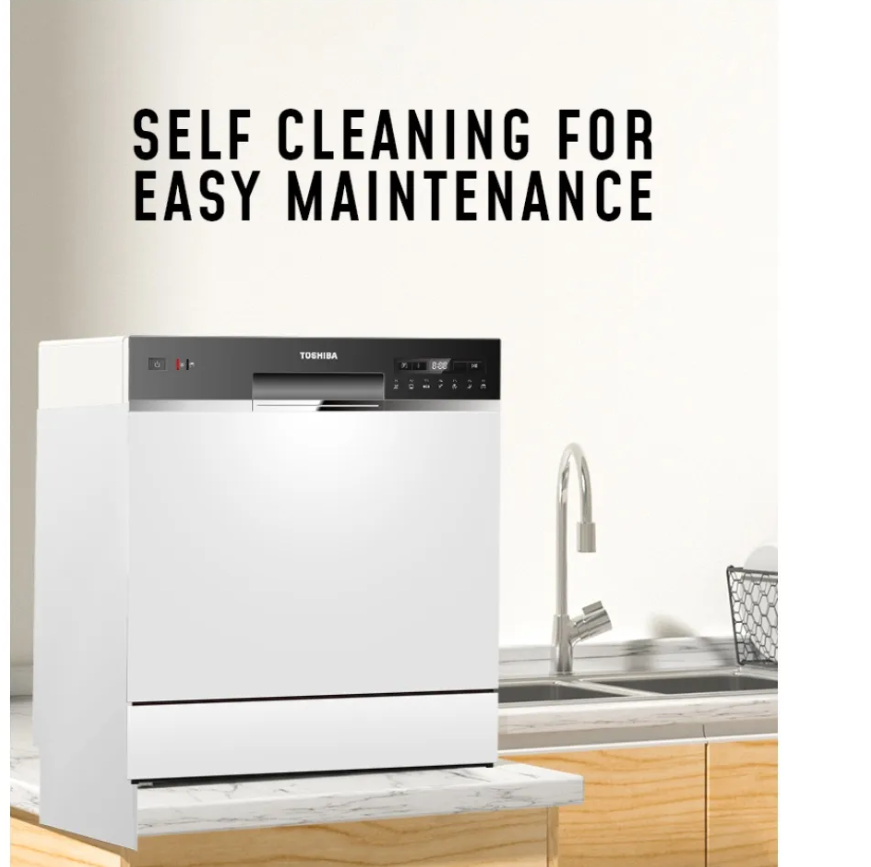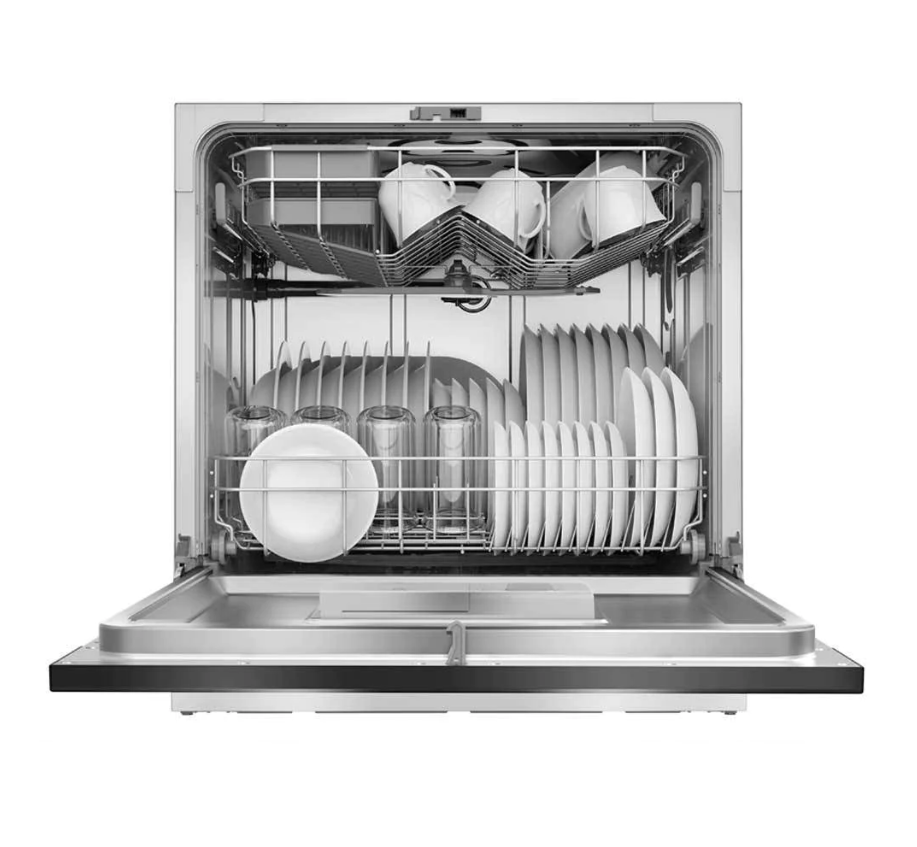 The Toshiba DW-08T1(S)-SG Tabletop Self Cleaning Dishwasher is perfect for homeowners who prefer a portable and space-saving solution. With its compact design, it can fit on any countertop. This dishwasher has up to 8 sets washing capacity and offers 5 cleaning modes, including a Quick Wash option for when you're in a hurry. Its 70 degrees high-temperature hygiene cycle effectively cleans dishes and utensils, while the anti-bacterial filter prevents the growth of micro-organisms. The self-cleaning function ensures the dishwasher stays hygienic and odour-free.
The following are some noteworthy features of the Toshiba DW-08T1(S)-SG Tabletop Self Cleaning Dishwasher:
Easy installation
Compact body
HI-TEMP hygiene cycle
Anti-bacterial filter
Up to 8 sets washing capacity
5 cleaning modes
Self-cleaning function
Flexible rack system
Self-regulated water leak protection system
Accomodates 18 categories
Off-Peak Wash
5. Electrolux ESF6010BW Compact Counter Top Dishwasher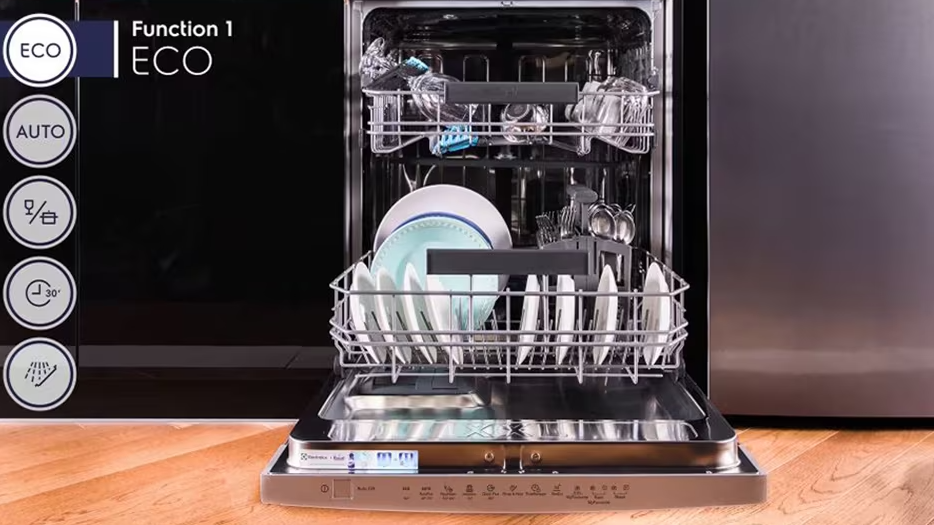 The Electrolux ESF6010BW Compact Counter Top Dishwasher is another excellent choice for small kitchens. With its compact size, it can fit in between the cabinets without taking up much space. Despite its small size, it offers an 8-place setting capacity and multiple wash programmes. Of these, the Eco Programme stands out as the most resource-efficient option in terms of water and energy usage. Additionally, preprogrammed cycles like Quick Plus 60° and Intensive 70° can be chosen based on dish soil and grease levels, guaranteeing excellent cleaning outcomes every time.
Listed below are the characteristics that designate this dishwasher as the foremost pick:
8 place settings
Compact size
6 dedicated programmes
Inverter system
Eco Programme
3 stage filter
Anti-flood system
Child lock
6. Bosch SMS23BW01T Series 2 Free-Standing Dishwasher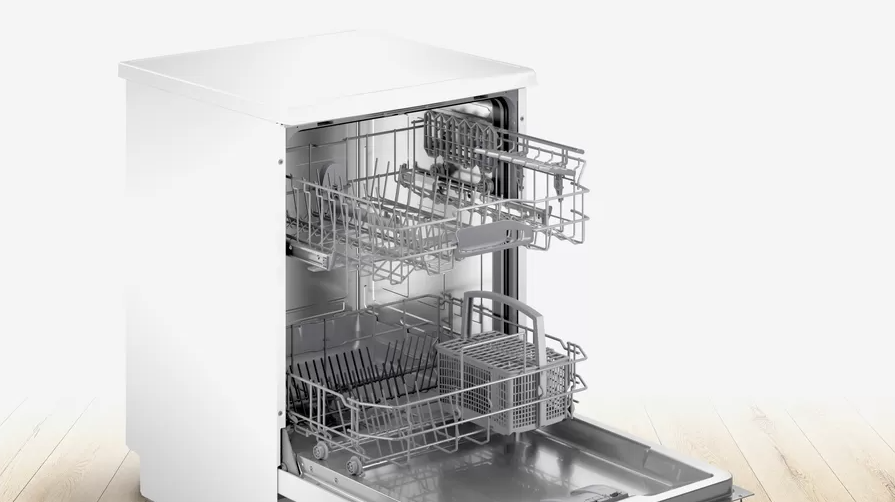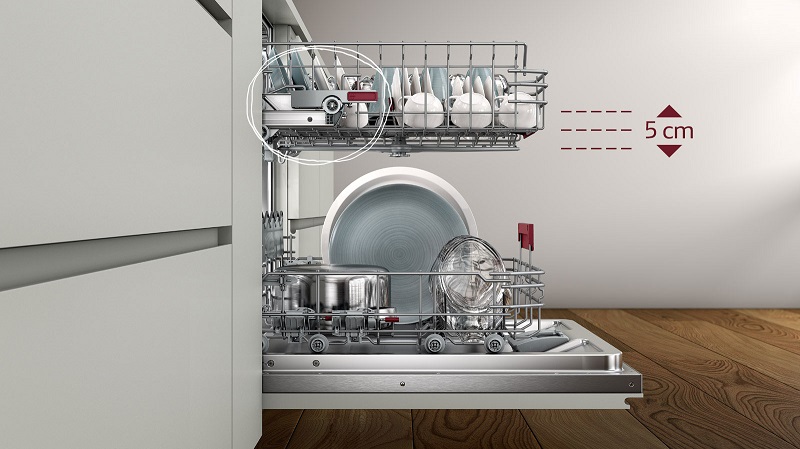 The Bosch SMS23BW01T Series 2 Free-Standing Dishwasher is a reliable and efficient choice. With its Vario Basket system and two foldable plate racks, it can handle large loads of dishes with ease. The washer's EcoSilence Drive technology offers exceptional energy efficiency and quiet operation, boasting an extended lifespan as well. The Eco mode adjusts the water usage based on the dirtiness of the dishes, while the Dosage Assist Basket function ensures optimal detergent distribution. This dishwasher also has a 7-segment display that shows standard information like refill status and the remaining time.
Presented here are a variety of amazing features that the Bosch SMS23BW01T Series 2 dishwasher boasts:
EcoSilence Drive motor
Vario Basket: height-adjustable top basket
7-segment display
LED rinse aid refill indicator
Dosage Assist Basket
Quick wash programme
3 cleaning temperatures
An easy clean filter system
Half Load option
Detergent automation
Glass care system
Energy efficiency rating: A+
7. Samsung DW60A6092FS/SP Freestanding Dishwasher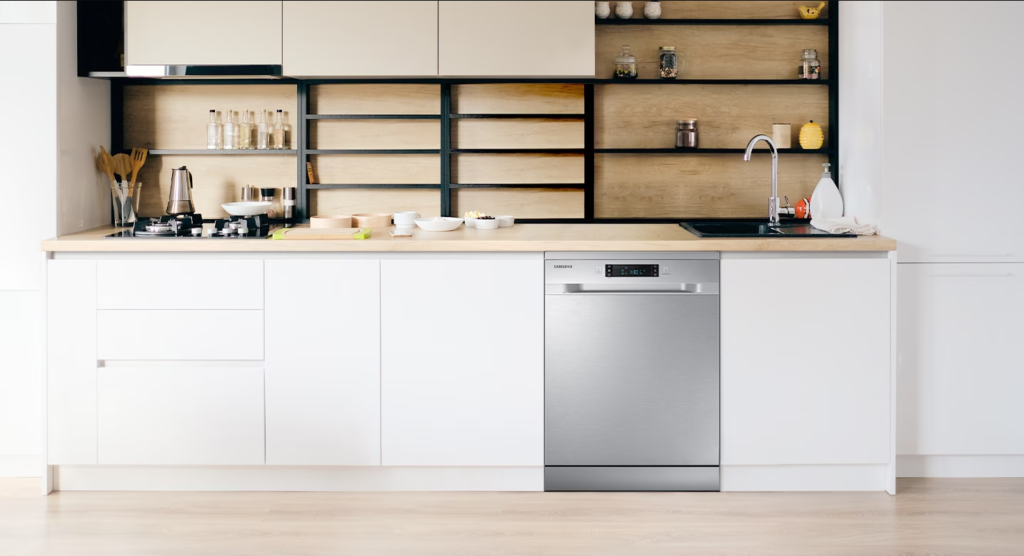 The Samsung DW60A6092FS/SP Freestanding Dishwasher offers a sleek design and advanced features. With its 14-place setting capacity, it can accommodate large quantities of dishes. The dishwasher has convenient features like Soft Railing that let the baskets move smoothly and be set up to hold various items easily. The Auto Open feature automatically opens the door slightly after the cycle to enhance drying, while the Hygiene Care function eliminates bacteria and germs. This dishwasher also has a Self Clean feature to remove dirt and bacteria after washing dishes.
Highlighted below are some of the remarkable features present in this dishwasher:
Hygiene Care: eliminates 99.9% of bacteria
Freestanding design
Auto opens to dry
Flexible interior space: Convertible Metal 3rd Rack, Auto Adjust feature, and Flex Load system
Self Clean function
Soft Railing
Aqua Stop safety function
Half Load setting
44 dBA noise level
8. Brandt VH1772X Built In Dishwasher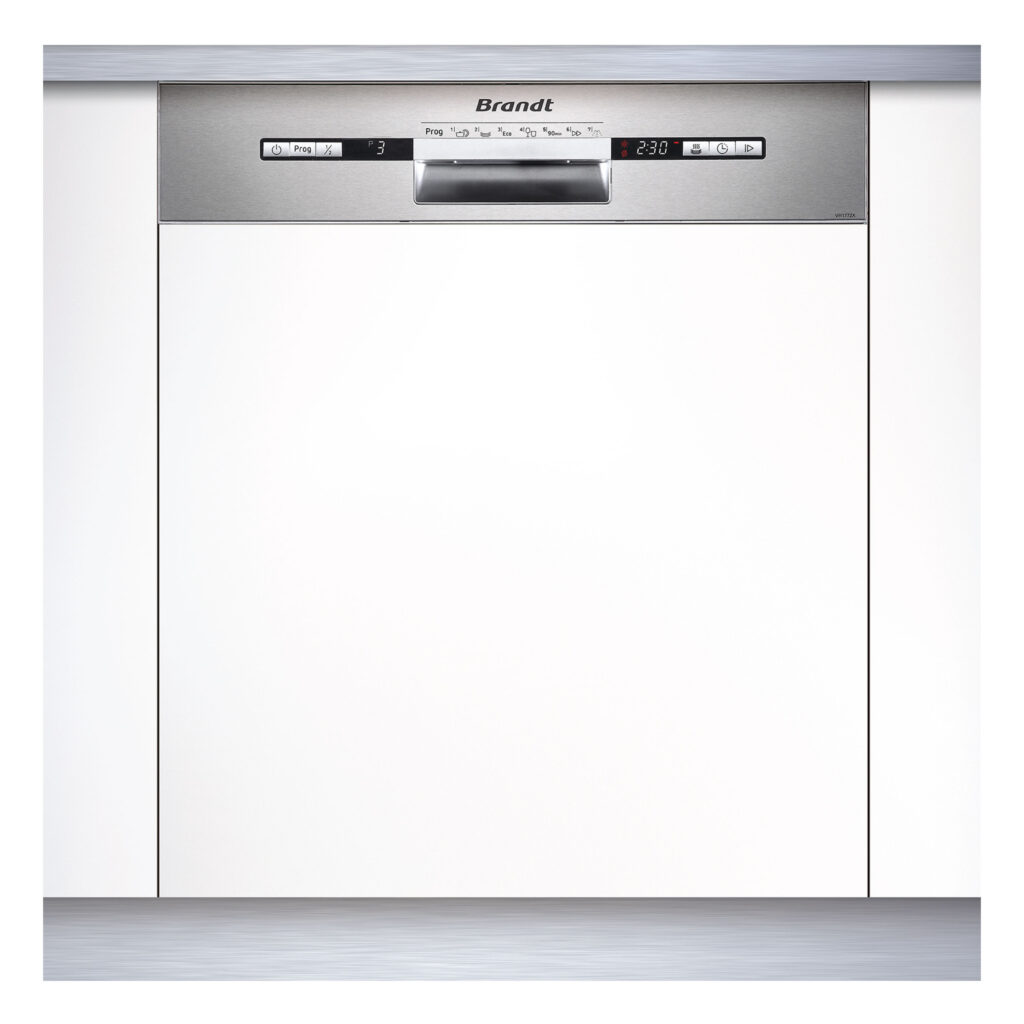 The Brandt VH1772X Built-In Dishwasher is a stylish and practical choice for Singaporean homeowners. With its 12-place setting capacity, it can handle a sufficient number of dishes. The washer's high-temperature washing ranges from room temperature to 65°C and effectively removes all kinds of dirt. The Eco function ensures energy-efficient cleaning, while the Extra Drying programme ensures your dishes come out spots free. This dishwasher also has a half-load option, with which you can start your dishwasher cycle even when it's not fully loaded. As a result, it allows you to save up to 35% on water and energy consumption.
Here are a few incredible features of the Brandt VH1772X Built-In Dishwasher:
12 place setting
7 dedicated wash programs: Intensive, Normal, Eco, Glass, 90 Mins, Rapid, Soak
Delayed start up to 24 hours
Half Load option
Extra Drying function
Five different washing temperatures
Rinse aid light indicator
Salt light indicator
Water softener
Adjustable upper basket
9. Beko DVN04X20W Freestanding Dishwasher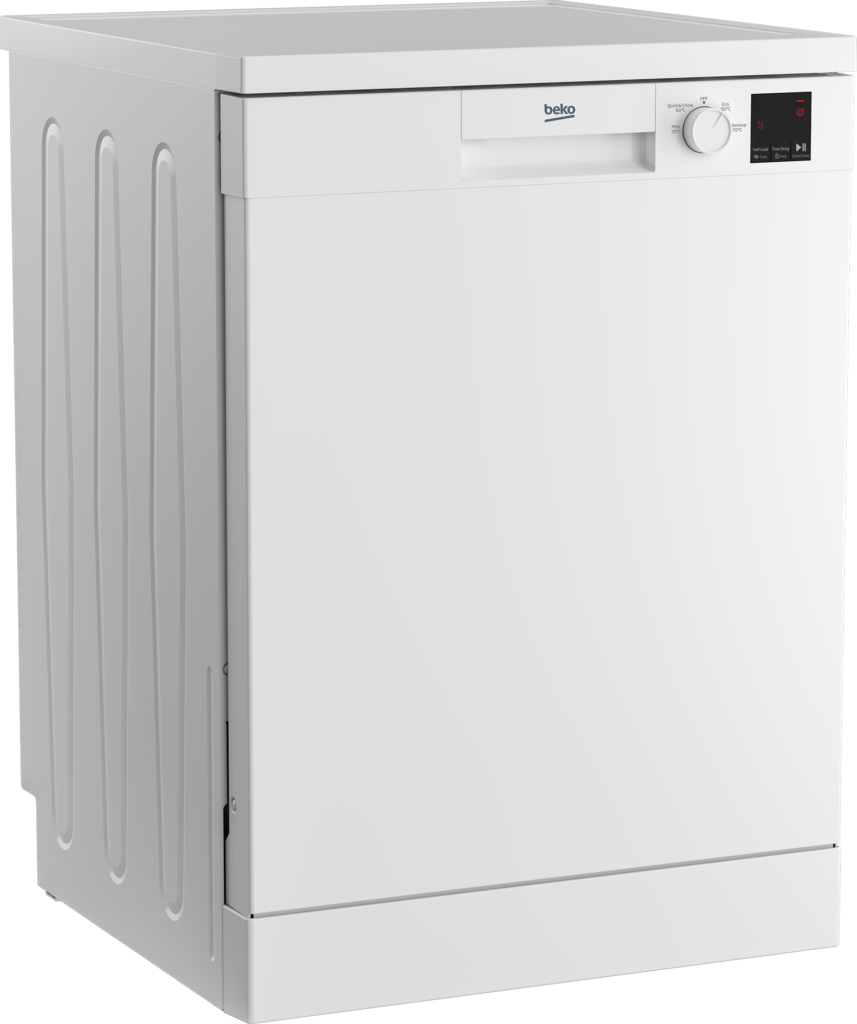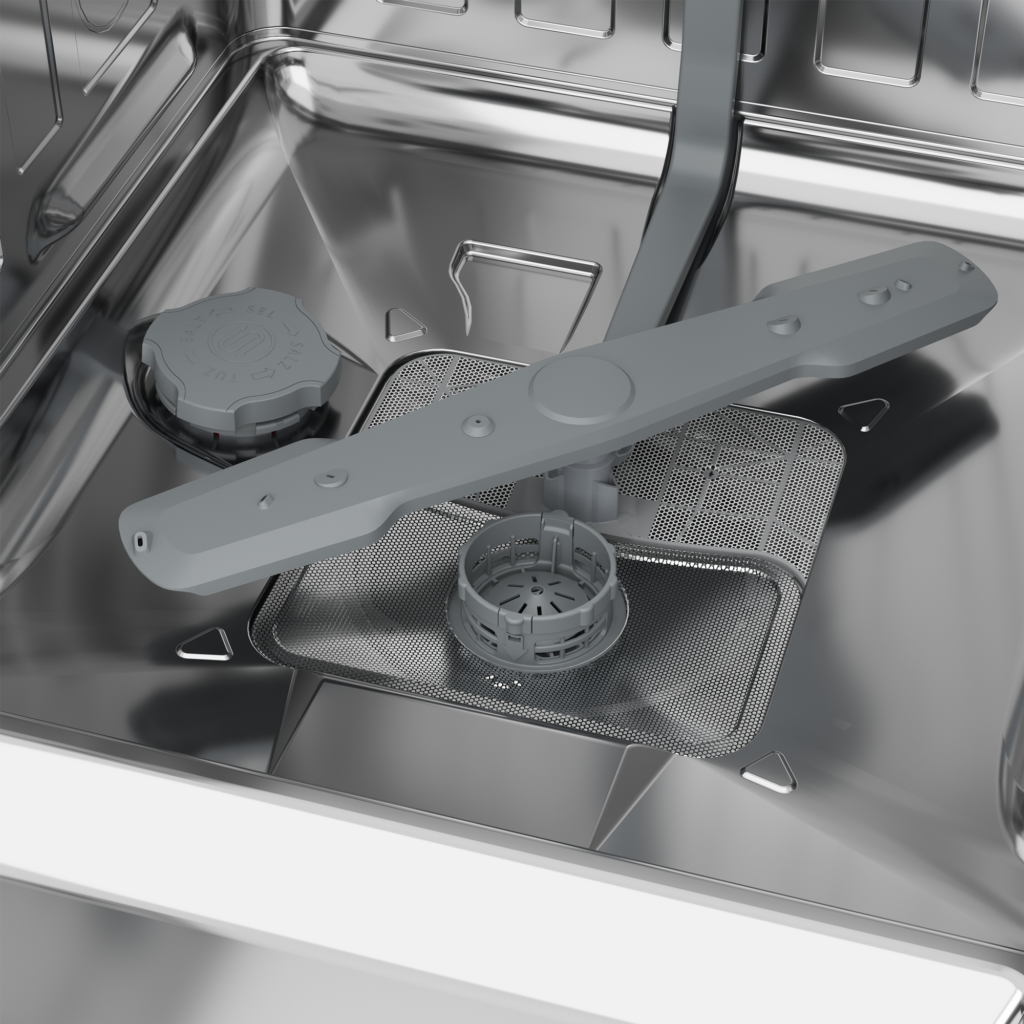 The Beko DVN04X20W Freestanding Dishwasher offers excellent value for money. With its 13-place setting capacity, it can accommodate large loads of dishes, including tableware, cutlery, and glasses. Its Quick&Shine™ programme allows you to wash heavily soiled dishes in just 58 minutes, while the Half Load function is perfect when you have fewer dishes or glasses to wash. This dishwasher also has a removable sliding cutlery basket that can be completely taken out, creating additional space for larger dishes, pans, and bowls.
Described below are the features that emphasise this dishwasher as the leading option:
13 place settings
Removable sliding cutlery basket
Rinse aid indicator
Salt level indicator
49 dB low noise level
Half load function
4 wash programmes
Quick wash programme
Digital display
Delay start function
Child lock
10. Elba EBDW-1481MWH Dishwasher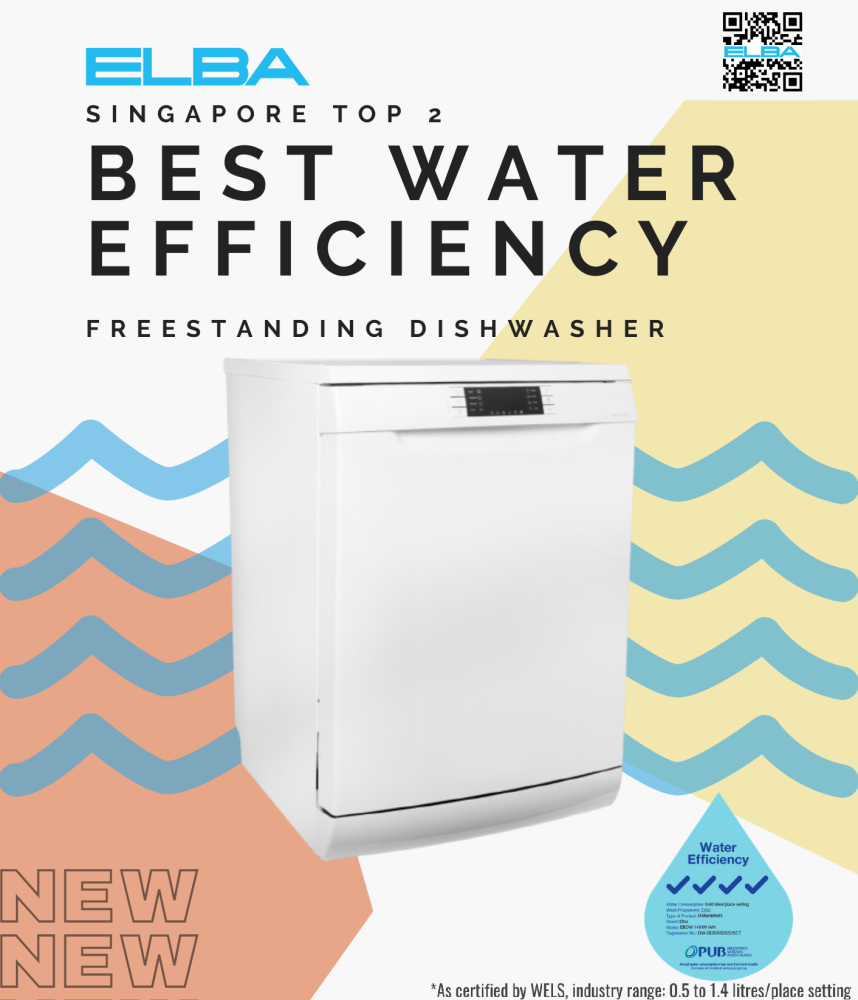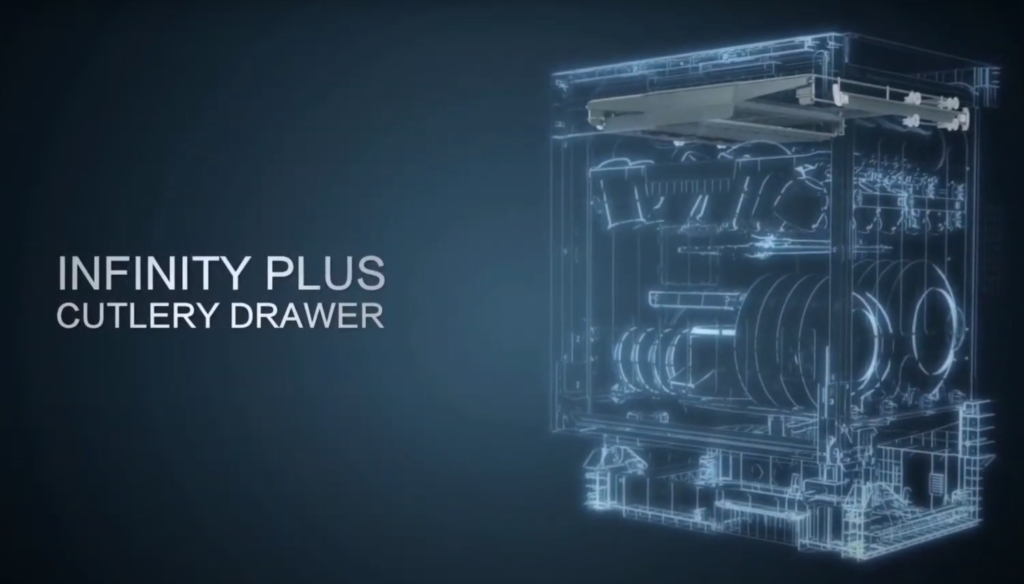 The Elba EBDW-1481MWH Dishwasher is a budget-friendly option without compromising on quality. With its 14-place setting capacity, it can handle the needs of a medium to large-sized household. The 8 wash programmes offer versatility, while the Half Load function allows you to wash a smaller number of dishes with ease. The machine also boasts an adjustable upper basket and an Infinity Plus cutlery drawer for flexible loading. Above all, this dishwasher has been declared the 2nd most water-efficient dishwasher in Singapore.
The following factors make this dishwasher the superior choice in Singapore:
Freestanding design
14 place settings
8 Wash Programmes
Half Load function
LED Display
Innowash 360° Water Spray System
Infinity Plus cutlery drawer
Adjustable upper basket
Static drying
Rinse aid indicator
Salt indicator
Wrapping Up
Investing in the best dishwasher is a wise decision for busy homeowners in Singapore. Not only does it save valuable time and effort, but it also ensures efficient and effective cleaning of your dishes. Our selection of the top 10 dishwashers in Singapore includes a range of options to suit different needs and budgets. Whether you have a small kitchen or a large family, there is a dishwasher that will make your life easier. So say goodbye to the never-ending pile of dirty dishes and hello to more free time and a cleaner kitchen with the best dishwashers!