Are you sick of watching movies or giving presentations on a small computer screen? Then look no further than the magic of a projector! Whether you're a professional businessman, a movie enthusiast, or a student, a projector can enhance your viewing experience in a variety of ways. It offers endless possibilities for entertainment and education. From lighting up a dim classroom or meeting room to turning your backyard into an outdoor movie theater, you can bring your favorite content to life in a big and beautiful way using a projector.
You're looking for a new projector, aren't you? We know that choosing the right projector can be challenging, especially with so many choices available. To make your choice a little bit simpler, we've taken the effort to research and compile a list of the best projectors currently available in Malaysia. On our list, we've included a variety of options ranging from high-end models to more affordable choices. We have also provided a brief review of each projector, highlighting its important features and characteristics, so that you can compare and contrast different models. So, let's get started!
Features of a Good Projector
When buying a projector, there are several key features and specifications to consider. Some of them are:
Light Source Brightness: A projector's brightness is usually expressed in lumens. It is the measure of how bright the image from a projector can be. A good projector has a higher lumen rating meaning that it will work better in well-lit rooms.
Image Quality and Resolution: The resolution of a projector affects the quality of the projected images. We define resolution as the level of detail in an image. Its standard unit of measurement is pixels per inch. A good projector has a higher resolution, which creates an image that is crisper, more detailed, and more clear.
Contrast Ratio and Color Range: The contrast ratio measures the difference between the darkest and brightest parts of an image. A good projector offers a higher contrast ratio and wide color gamut, meaning it forms a more vivid and dynamic image.
Connectivity and Compatibility: Find a projector that has a range of connectivity options, including HDMI, USB, and VGA. This will make it easy to connect to a variety of devices. Moreover, it's necessary to confirm that the projector is compatible with the devices you want to connect to it, for example, laptop, smartphone, streaming devices, etc.
Lamp Life: This is the period of time after which the lamp of a projector requires replacement. A good projector has a longer lamp life which in turn requires less maintenance and cost of replacement.
Zoom and Lens Shift: Some projectors come with a zoom or lens shift feature. It allows you to adjust the size of the projected image without moving the projector from its place.
Throw Ratio: The throw Ratio is the ratio of the distance between the projector and the screen, to the width of the projected image. Good projectors have short throw ratios, meaning they can be placed closer to the screen and still project a larger image.
Our Selection of 7 Best Projectors in Malaysia
Here's a list of the top seven projectors in Malaysia that are sure to elevate your viewing experience to new heights.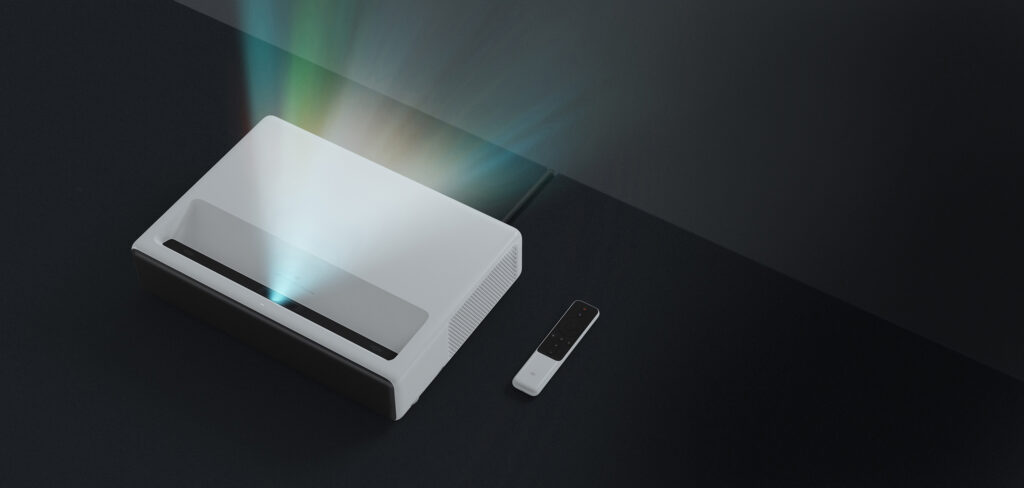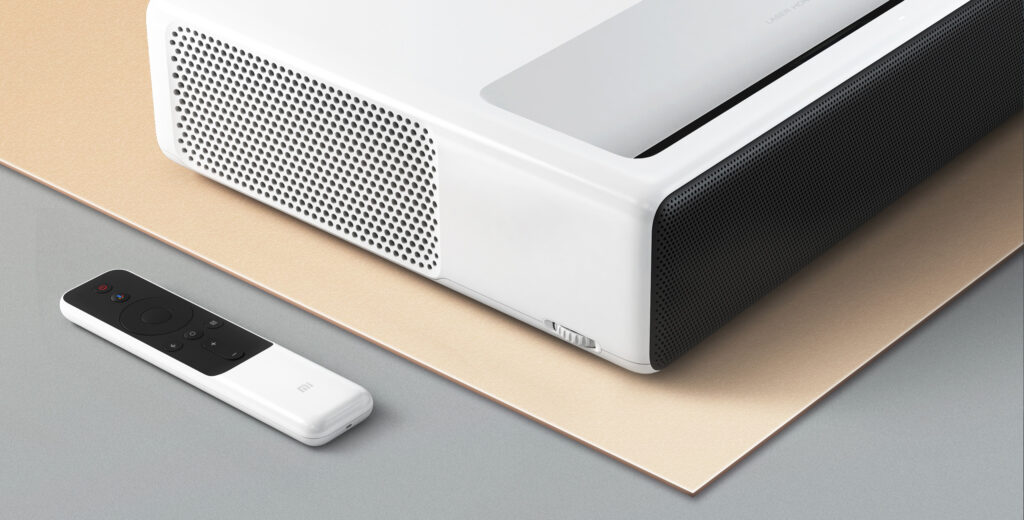 The first projector on our list is the Mi Laser Projector 150", which is the latest and greatest in laser projection technology. This dude is one of a kind, and it's a game-changer. With ALPD technology, it can project a 150-inch full HD image from just 50 cm away. It is super bright, with a contrast ratio of 3000:1. Not only is it high-tech, but it's also sleek and stylish with a minimal "box" design. You can control this projector from anywhere in the room using the Bluetooth remote or through voice commands.
Some features of the Mi Laser Projector 150″ that really make it the best projector of all time are:
Ultra-short throw distance: larger screen even when placed closer
Mi TV-exclusive sound system
Wall mountable
Anti-direct-viewing sensor: prevents light from damaging human eyes
Easily adjustable, massive projection area: from 80 to 150 inches
ALPD 3.0 laser light source technology
High color accuracy: a broad range of colors with accurate distribution
Rich 3000:1 native contrast ratio: projects even darker images accurately
TL DLP digital light processing technology: more clear and vivid image
Built-in Google Assistant: Google Android 8.1 TV content
The brightness of 1500 lumens
Lamp life of over 25000 hours
Efficient cooling mechanism
Visit them via:
Website | Facebook | Instagram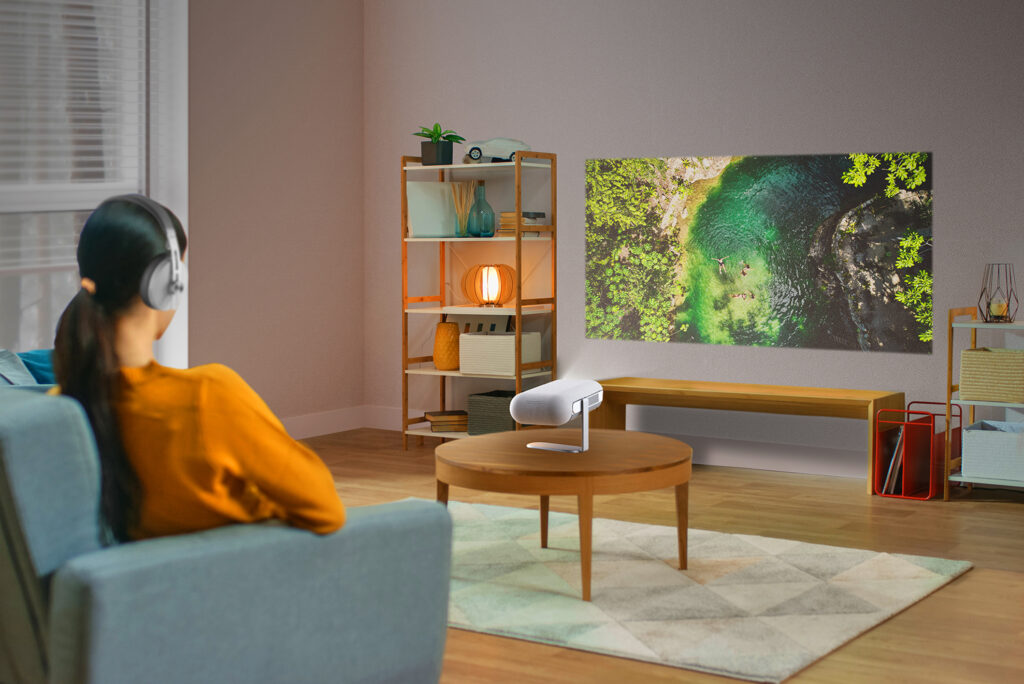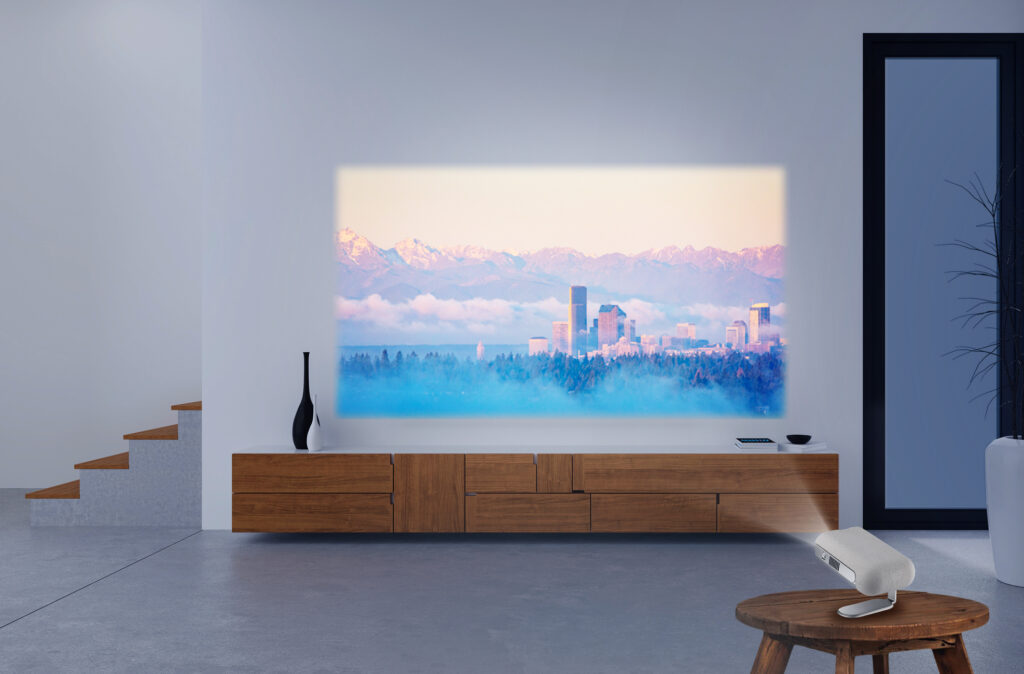 The ViewSonic M1 Pro is a small and portable LED projector that's perfect for bringing the big screen with you wherever you go. Whether you're using it indoors or outdoors, you can project a 100-inch image in 720p HD resolution. Its stand is super versatile, allowing you to adjust the angle in any direction, and it even doubles as a lens cover and power switch. When you uncover the lens, the projector automatically turns on and is ready to go.
The features that make the ViewSonic M1 Pro a really smart projector are:
3-in-1 smart metal stand for 360° projection
Harman Kardon speakers for great sound
Built-in battery and power bank compatibility
Integrated Wi-Fi: easy to stream or share content from your smart devices
100-inch large screen in 720p HD resolution
Vibrant colors powered by ViewSonic's Cinema SuperColor+™ Technology
Touch keypad for intuitive operation
Bluetooth connectivity
Direct content streaming via USB-C​​
Lightweight and easy to carry
30,000 hours of lamp life
4 corner adjustment capabilities
Designed with eye care in mind
Visit them via:
Website | Facebook | Instagram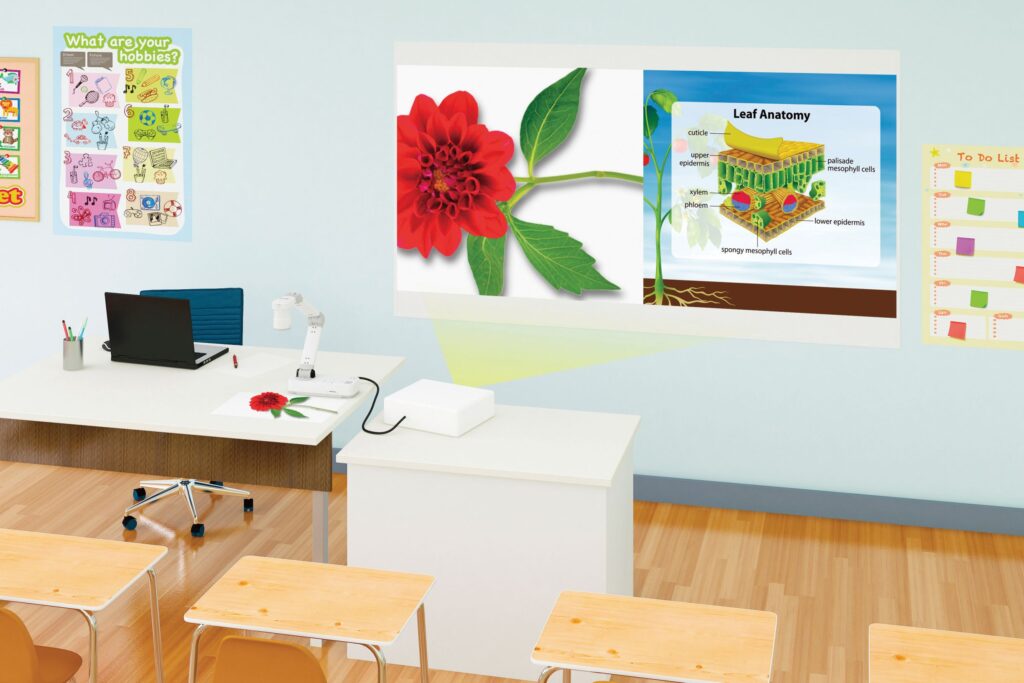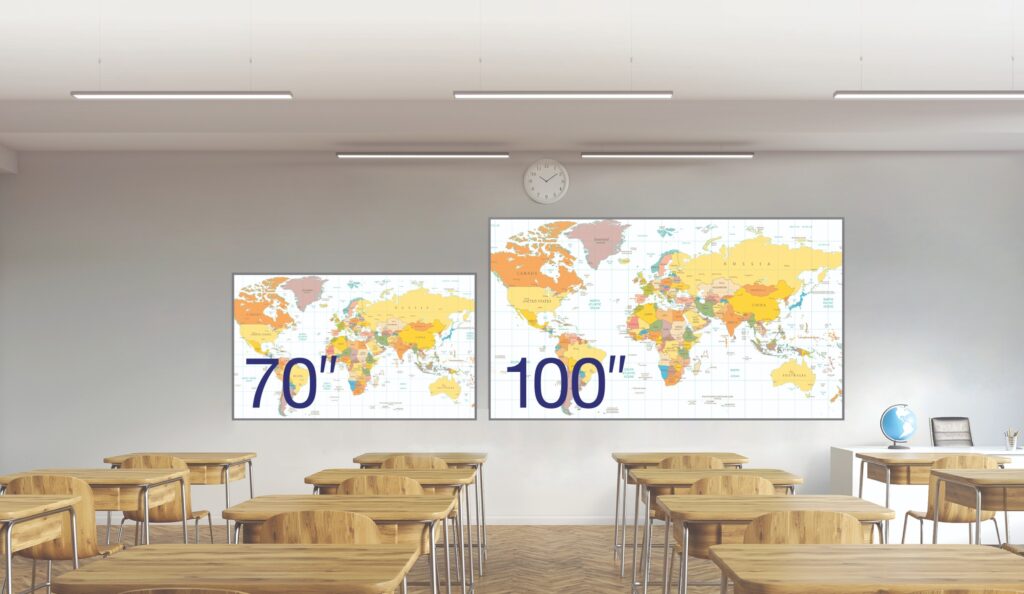 Make your lessons come alive with the EB-W51 projector from Epson. It is affordable and perfect for classrooms and meeting rooms. Epson projectors are known for their accurate colors, and this one is no exception. It projects bright images, with 4,000 lumens of color and white brightness. This projector has a widescreen resolution of 1280 x 800. Plus, the lamp lasts for a long time—up to 12,000 hours in eco mode—which means less maintenance for you.
The features that will make you want to buy the Epson EB-W51 WXGA 3LCD Projector are:
Advanced projection system: 3LCD and 3-chip technology
Advanced network control
Wide range of connectivity options: HDMI, VGA, and USB
The native resolution of 1280 x 800 (WXGA): ensures undistorted and high-quality image
High contrast ratio of 16,000:1
Split screen function: can display multiple screens at once
Visit them via:
Website | Facebook | Instagram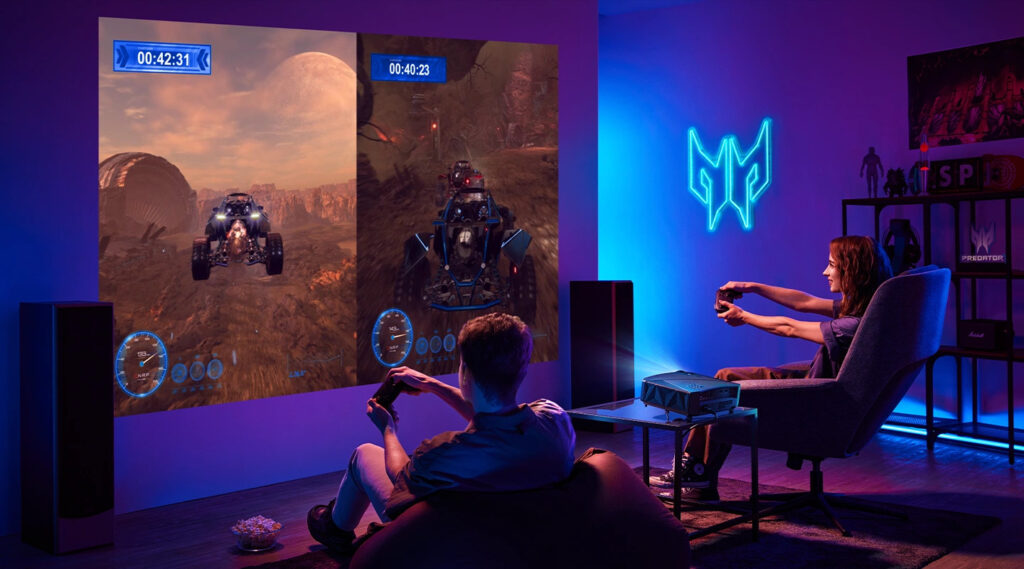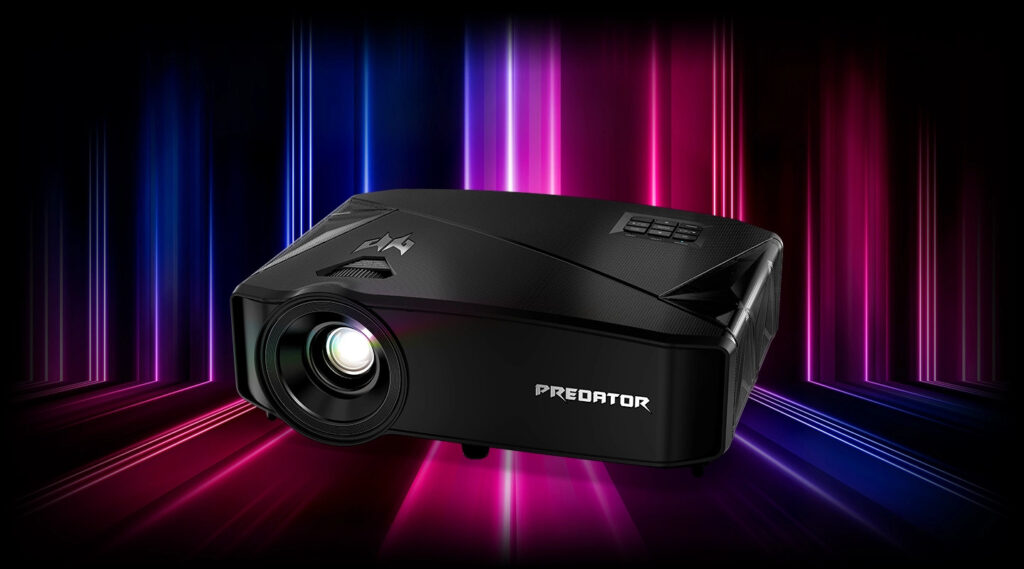 Upgrade your movie nights, business sessions, and sporting events with the Acer Predator GD711 projector. With its stunningly high resolution and vibrant colors, this projector can easily transform any room into a home cinema. The GD711 projector delivers an immersive viewing experience like no other. Its versatile connectivity options and easy setup make it the perfect addition to your home entertainment system.
The advanced features of the Predator GD711 projector from Acer include:
Low input lag
High native resolution: 1,920 x 1,080p
3D compatibility
5,000 lumens LED brightness and 100 Lumens standard brightness
High contrast ratio (1,000:1) and dynamic color range: ensures that you get the best picture quality
Lamp life of 30,000 hours
The throw ratio of 1:1.3: can be placed closer to the screen and still projects a larger image
Visit them via: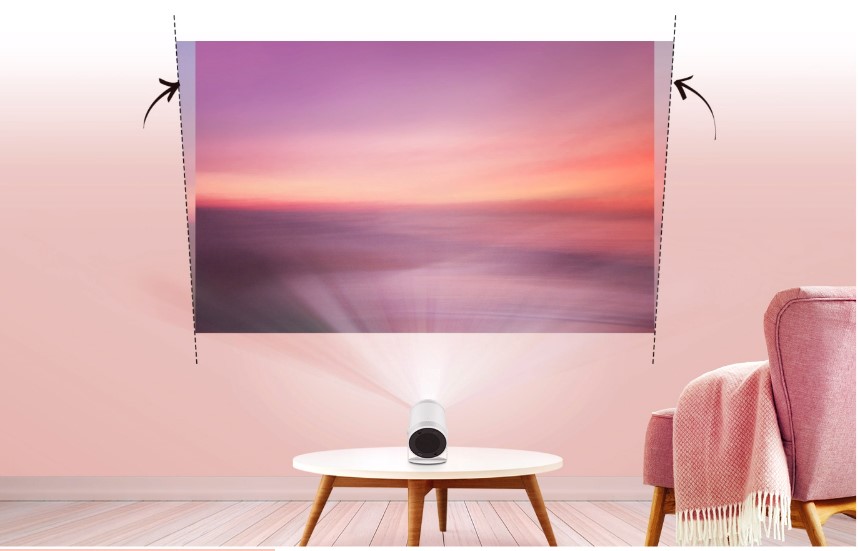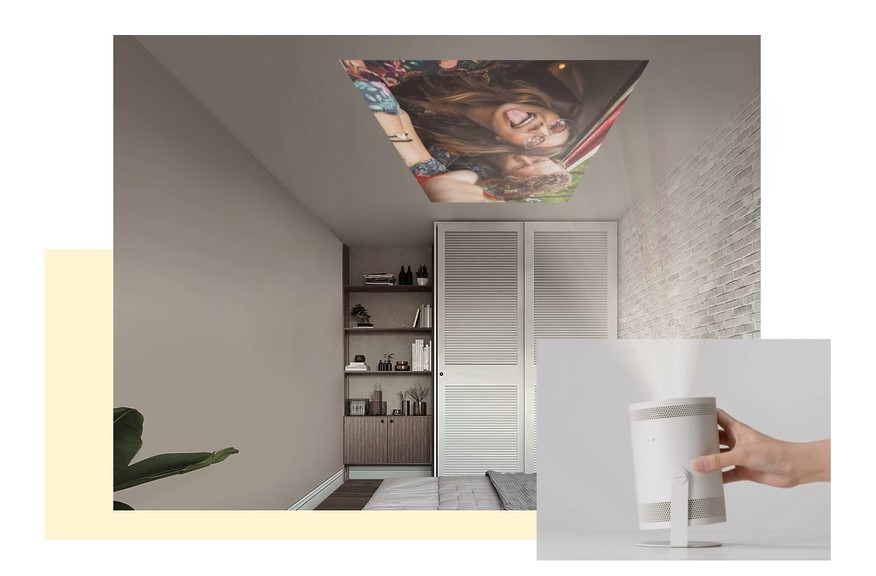 The next projector on our list is the Freestyle Projector from Samsung. With its sleek, compact, and round design, this projector can be placed anywhere, and its convenient cradle stand allows you to project your favorite content onto any surface. The instant setup feature of this projector makes it easy to get started. There's no need to fuss with adjusting and moving the device; it automatically optimizes the screen for you. But it doesn't just stop with the visuals; this projector also comes with premium 360 sound, which makes your movie nights and gaming sessions even more immersive and powerful.
With this all-in-one Freestyle projector from Samsung, you can enjoy the following features:
All round design and free to move
180˚ Dynamic Angle
Instant setup
Premium 360 sound with 5 watt
Auto Keystone: automatically corrects skewed images
Samsung Smart TV feature
Autofocus for clearer images
Large 30-100″ screen
Brilliant picture quality: 1080p Full HD with PurColor and HDR
Compact design: fits in one hand
Lightweight and portable
Voice assistance: built-in Samsung Bixby
Mobile mirroring
Visit them via:
Website | Facebook | Instagram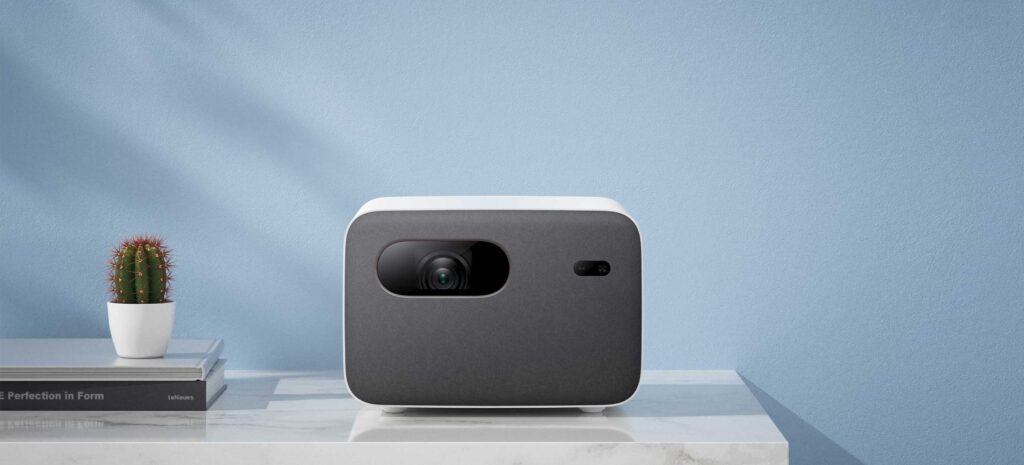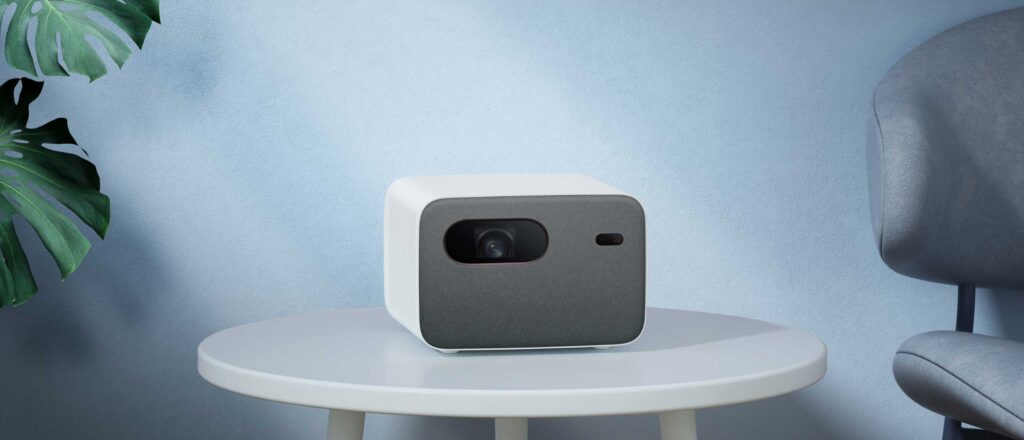 The next projector on our list is again from Xiaomi. This is the Mi Smart Projector 2 Pro. This projector can not only complement a home entertainment system in a sleek way but can also illuminate conference rooms and meeting halls perfectly. Any room would look great with it thanks to its basic design and rounded corners. This projector is portable, lightweight, and simple to set up in any space. Even though it has a built-in adapter, it still doesn't take up much room and blends in nicely with your home decor.
Some amazing features of the Mi Smart Projector 2 Pro are:
1300 ANSI lumens brightness: clear view even during daytime
1080p FHD resolution and ultra-wide color gamut
Endless entertainment with certified Android TV and Netflix
Large screen: up to 200 inches
Smart detection and TOF instant focus
Voice control with Google Assistant
Automatic Omni-directional keystone correction
Immersive sound effects with 1.75" full-frequency dual speakers
Supports Chromecast
Diffuse scattering-enabled imaging technology: prevents light from entering the eyes directly
Visit them via:
Website | Facebook | Instagram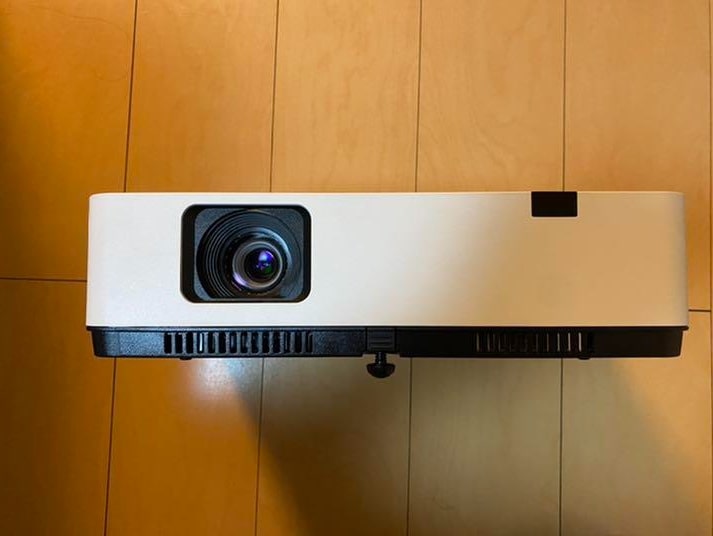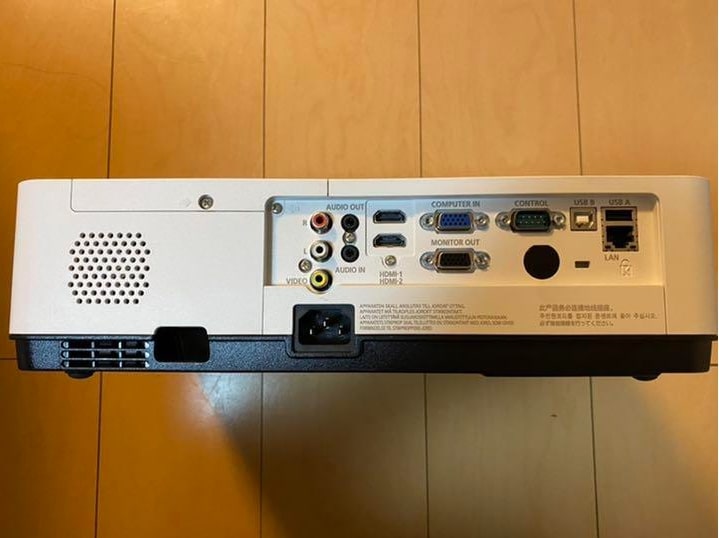 The LV-WX370 is part of Canon's LV series. This LCD panel projector is one of the most popular models that are perfect for everyday use. It is built to last forever with a special lamp that has a life of 20,000 hours when used in eco mode – that's twice as long as other projectors like it! The picture quality is great too, with a resolution of 1280 x 800 pixels and a brightness of 3,700 lumens.
The features that make the Canon LV-WX370 one of the most popular projector models are:
Long-life lamp: 20,000 hours in Eco Mode, and 10,000 hours in normal operation mode
Microlenses on the RGB LCD panels: improve light-use efficiency and provide greater brightness
High contrast ratio of 15000:1
1.2x Optical Zoom
Compact, lightweight, portable, and easy to install
Automatic keystone correction
Visit them via:
Website | Facebook | Instagram
Final Thoughts
When it comes to choosing the right projector, there are a few important factors to consider, such as image quality, connectivity options, and overall performance. But you should also take your budget into account. A less expensive projector can still deliver a decent viewing experience, even though a more expensive projector may have more features and higher image quality. We've taken all of these into account when compiling the above list of the best projectors in Malaysia. We're sure that with our help, you'll find the perfect projector for your needs in no time. So, whether you're setting up a home theater, need a projector for business presentations, or anything in between, this guide has got you covered.