Let's face it – daily vacuuming can feel like a tiresome chore, making it tough to maintain spotless floors round the clock. But have you ever dreamt of a home where your floors stay clean without lifting a finger? Well, it's not magic, but it sure feels like it when you have the best robot vacuum cleaner by your side. If you're tired of spending your precious time pushing around a bulky vacuum or constantly sweeping up crumbs and pet hair, then you're in for a treat. In this detailed review, we'll take you on a journey through our experience with the Neatsvor S600, an intelligent and efficient robotic cleaning companion that has made us reconsider what a truly clean home can be. Let's see how this robot can make your life easier and your home cleaner.
Introducing Neatsvor S600 Robot Vacuum Cleaner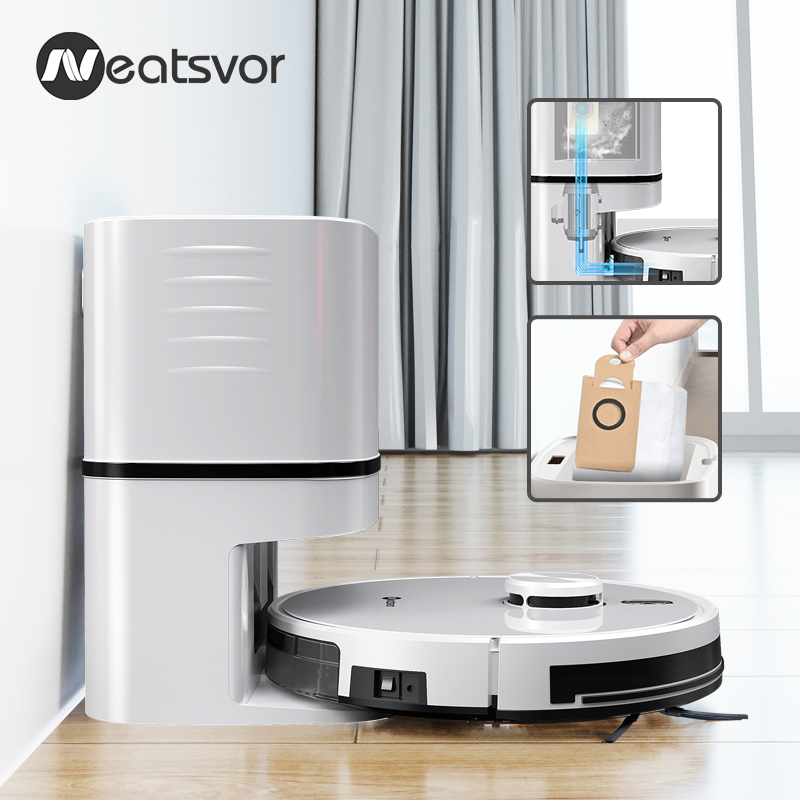 ✅ Get your Neatsvor S600 Robot Vacuum Cleaner today: click here
The Neatsvor S600 Robot Vacuum is your key to a spotlessly clean home. This innovative cleaning powerhouse redefines convenience with its impressive features. It boasts a capacious 2.8L dust bag that only requires your attention once a month. Plus, its intelligent design automatically seals the entrance while extracting dust, which prevents dust overflow, making maintenance a breeze. With a mighty 6000 Pa suction power, this robot doesn't just skim the surface; it cleans deeply, ensuring every corner of your room is spotless.
But that's not all. The Neatsvor S600 is a versatile multitasker, offering mopping, sweeping, and vacuuming all in one. Its unique 2-in-1 rubber and brush combo not only cleans effectively but also prevents hair from tangling, saving you precious time and effort. And no more frequent garbage disposal headaches, thanks to its automatic dust box cleaning feature. Your floors will stay immaculate without you having to lift a finger.
Features of Neatsvor S600 Robot Vacuum Cleaner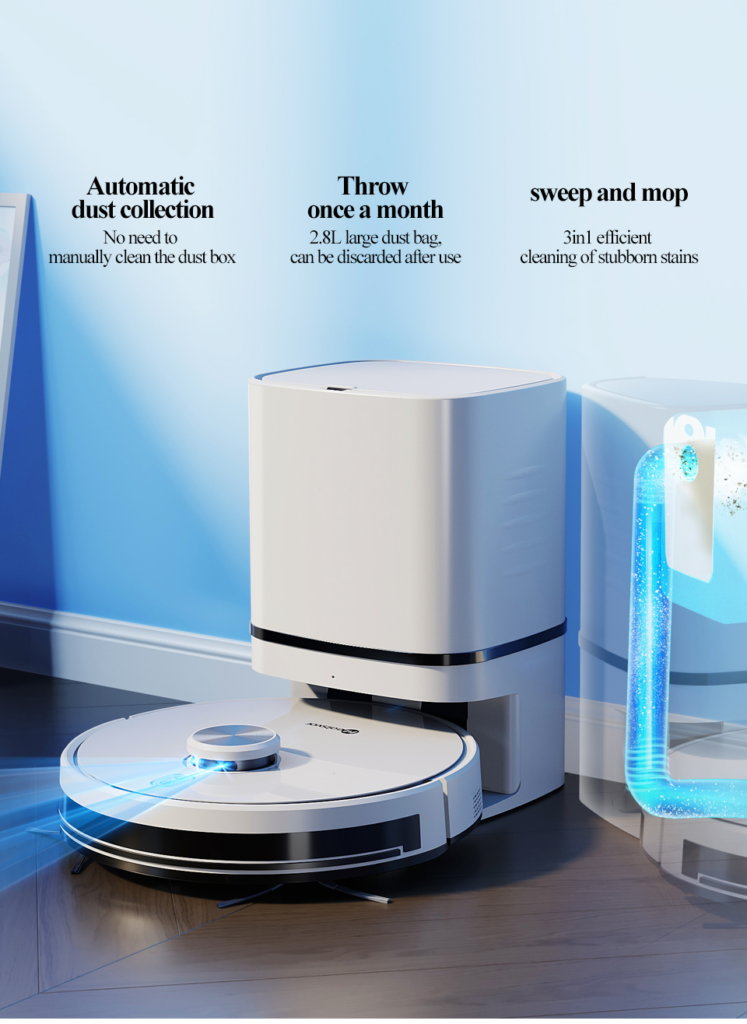 ✅ Get your Neatsvor S600 Robot Vacuum Cleaner today: click here
Here are some amazing features of the Neatsvor S600 Robot Vacuum Cleaner:
Smart Laser Navigation System: Its state-of-the-art laser navigation system is not only highly efficient but also incredibly smart and intuitive. It outperforms traditional gyroscopes and vision-based systems by cleaning your entire space in an organised and predictive manner.
Automatic Dust Collection System: With the S600's automatic dust collection system, you won't have to worry about constantly emptying the dustbin. After the robot finishes cleaning, it automatically gathers the dust into its 2.8L capacity bin, reducing the need for manual emptying to just once a month.
App and Voice Control: Using the smartphone app, you can easily choose the cleaning mode, set a cleaning schedule, adjust the suction and mopping power, and even keep an eye on the cleaning history to take full command of your robot. You can also connect your robot to popular virtual assistants like Alexa and Google Home. With a simple voice, you can instruct the robot to start or stop cleaning or guide it back to its charging base.
Smart Virtual Mapping: Before beginning its cleaning session, the robot will create a map of your entire house, saving and utilising the quickest and most efficient route. The S600 takes it a step further, allowing you to store up to five maps, making it easy to identify rooms on each floor.
Advanced Sensory Technology: The S600's intelligence lies in its multi-sensing system. Whether it encounters obstacles in its path, detects drop-offs at its base, senses staircases, or encounters areas you've marked as off-limits, this robot can discern and respond accordingly.
Versatile Mopping Feature: With the user-friendly Nswitch system, the robot seamlessly transitions between its dust box and water tank. Plus, the intelligent water tank control allows it to adjust the water output for mopping, adapting to various floor types and changing weather conditions effortlessly.
Automatic Charging: Thanks to the robot's accurate positioning system, it autonomously heads back to the charging base upon completing its cleaning cycle. There's no need for any manual intervention; it's a fully automatic process.
Pros: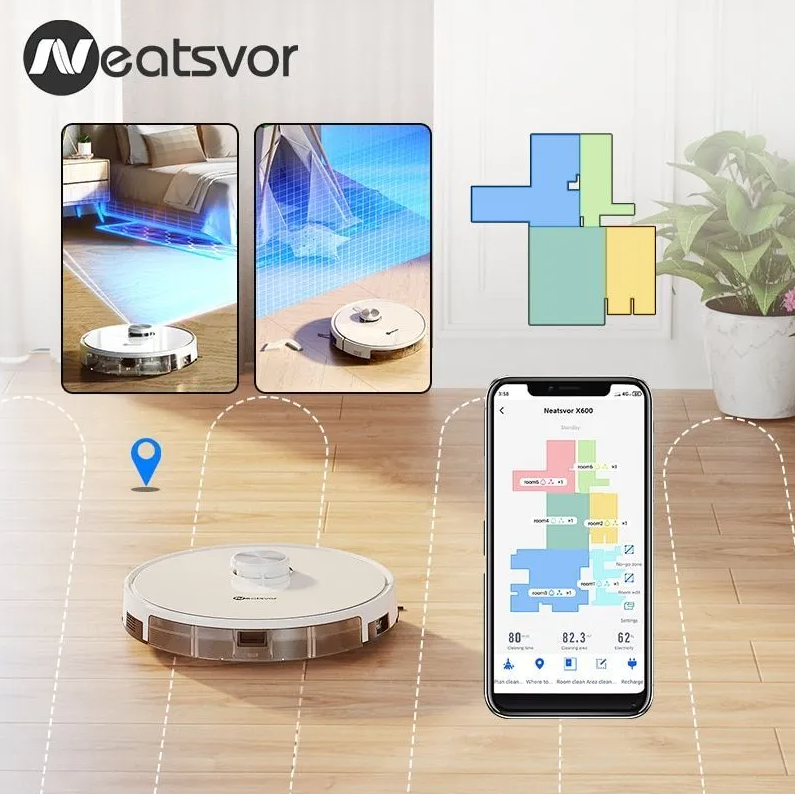 The things we liked the most about the Neatsvor S600 Robot Vacuum Cleaner are:
Versatile Cleaning: This robot vacuum offers both dry and wet cleaning options, catering to different cleaning needs.
Strong Suction: We appreciate its powerful suction, effectively picking up dust, debris, and pet hair.
Excellent Value: The vacuum provides great value for its performance and features.
Spacious Dust Container: The vacuum comes with a large waste container, reducing the frequency of emptying it.
Easy Setup and Use: We found the setup and usage of this vacuum to be straightforward. It's beginner friendly with an interactive app.
Smart Planning: Its smart planning capabilities, including efficient route planning, make cleaning hassle-free.
Low Noise Operation: The vacuum operates quietly, allowing for a peaceful environment even while cleaning.
Cons:
Here are some drawbacks to consider when buying this robot vacuum cleaner:
Noisy at Maximum Power: Although we didn't notice it, some users have claimed that the vacuum can be noisy when operating at its maximum power. This can be a concern for those who prefer a quieter cleaning experience, especially during the night.
Potential Issues with Obstacle Handling: During testing, there were times when the X600 vacuum seemed to forcefully wedge itself under the furniture, making it difficult to retrieve when stuck. It might suggest a potential concern with the vacuum's obstacle detection or navigation system.
Battery Life: The vacuum's battery life has been a concern for certain users. While it may vary based on usage and settings, some individuals have found that the vacuum may require more frequent recharging than desired.
Chaotic Cleaning: While the vacuum covers the entire area, occasionally it seems to follow a somewhat chaotic cleaning pattern.
Charging Base Size: Another drawback is the size and design of the charging base. When docked for charging, the vacuum leaves a portion of itself exposed. This design choice may be a concern for those who prefer a more streamlined appearance when the vacuum is not in use.
Final Thoughts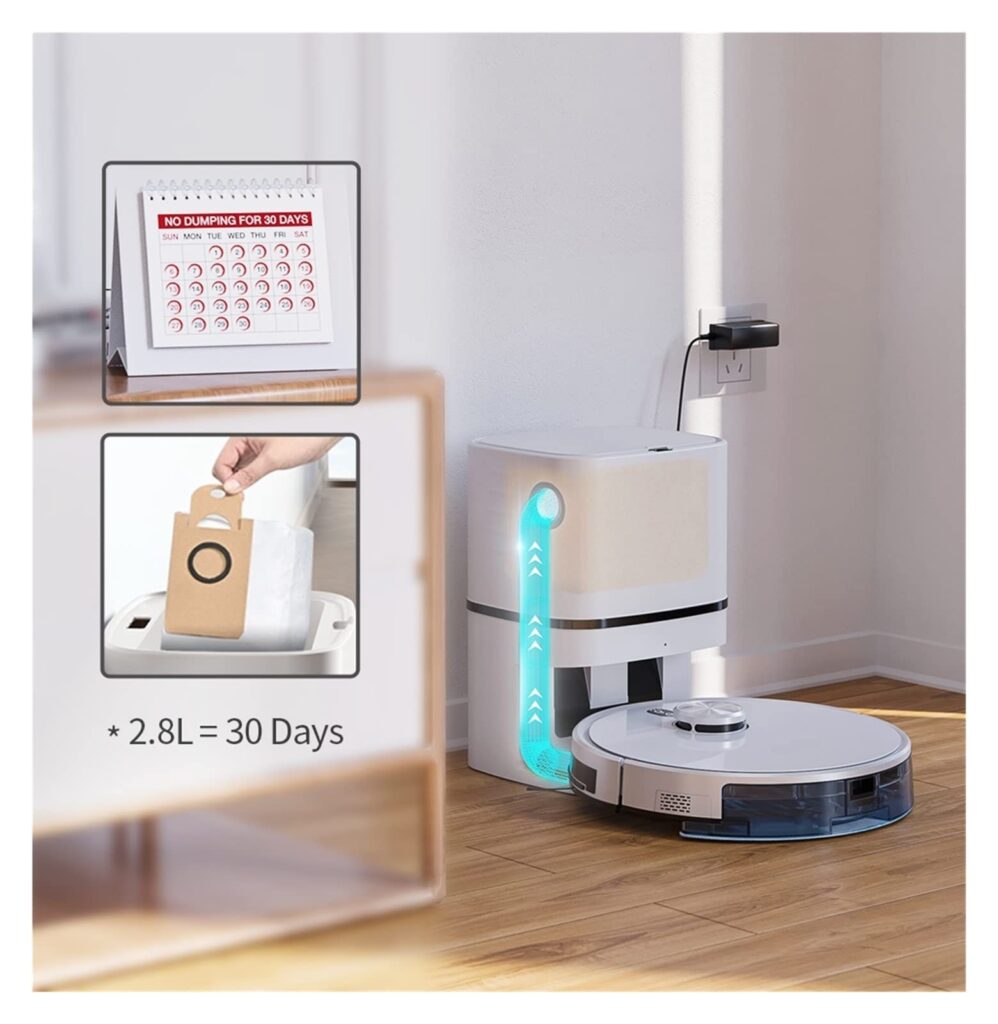 ✅ Get your Neatsvor S600 Robot Vacuum Cleaner today: click here
The Neatsvor S600 Robot Vacuum Cleaner is a leap forward in home cleaning convenience. Its powerful suction and versatile cleaning modes handle various cleaning challenges effectively. Smartphone app and voice control enhance user customisation, while smart mapping ensures efficient cleaning routes. However, noise levels, especially at maximum power, might be bothersome for some users. Occasional obstacle-handling issues and shorter battery life need consideration. Despite these minor drawbacks, the S600 offers a compelling blend of convenience and cleaning capability at an affordable price. Overall, this vacuum is a valuable addition to your home cleaning routine.