Imagine you're whipping up a storm in your kitchen, the aroma of your signature dish wafting through the air, teasing your taste buds. Suddenly, smoke decides to crash the party, playing a game of hide-and-seek with your senses. Now, nobody wants their kitchen to turn into a smoke-filled battleground, right? That's where the best kitchen hood swoops in like a kitchen superhero, whisking away the smoke faster than you can say, "Burnt toast!"
A hood is an essential component in any kitchen to clean up those pesky fumes, smoke, and odours. You want a hood that fits your kitchen's vibe and your cooking style. But finding the best kitchen hood can be a real head-scratcher. With so many options out there, it's like navigating through a culinary maze. Don't worry! In this guide, we'll uncover the crème de la crème of kitchen hoods in Malaysia. We will also discuss some features you should look for in a kitchen hood when buying one. So, let's dive in!
Features of a Good Kitchen Hood
Let's explore the features of a good kitchen hood that will make your kitchen maintenance a breeze:
Powerful Suction: A good kitchen hood should have powerful suction. It needs to be able to suck up all the greasy fumes, odours, and smoke that arise while you're cooking. With a strong suction capability, you won't have to worry about your kitchen smelling like last night's dinner or waking up with greasy walls.
Quiet Operation: A good kitchen hood should operate quietly. You don't want it to drown out your favourite tunes or make conversation impossible while you're preparing your meals in the kitchen.
Built-in Lighting: You might not think much about it, but proper lighting is essential when you're cooking. A good kitchen hood should come with built-in lights that illuminate your cooking area. With a well-lit hood, you'll have a clear view of what's happening on your stovetop.
Removable and Washable Filters: Another crucial feature to consider is the filters. A top-notch kitchen hood will have efficient filters that capture grease and other particles, preventing them from settling on your kitchen surfaces. Nobody wants to spend hours scrubbing away grime or dealing with greasy countertops. So, look for a hood with easy-to-clean filters that you can either toss in the dishwasher or quickly wipe clean.
Aesthetics: Lastly, let's touch on the design. Your kitchen hood shouldn't just be functional; it should also add a touch of style to your cooking space. Whether you prefer a sleek and modern look or a more traditional vibe, there are plenty of options out there to match your kitchen decor. You can choose from stainless steel or glass hoods that blend seamlessly with your cabinets.
Our Selection of 10 Best Kitchen Hoods In Malaysia
So, are you ready to spice up your cooking game? Then why settle for a mediocre hood when you can have the best? Let's explore the 10 best kitchen hoods in Malaysia that are not only contemporary in their designs but also pack a punch when it comes to performance.
1. Fotile V Pro Chimney Hood
Fotile V Pro Chimney Hood is the secret weapon of kitchen experts to battle those kitchen fumes and smells. This hood is the ultimate culinary sidekick, equipped with powerful suction that can handle even the most intense cooking sessions. With its sleek design and effortless installation, it'll fit right in with your kitchen's vibe. 
The hood's Intelligent Air Management system is designed to keep your kitchen fresh by detecting harmful gases in the air and purifying it, even when you're not cooking. Its 3-Layer Centrifugal Filtration Technology ensures that your kitchen remains grease-free throughout the year, while the Auto Turbo System increases extraction power when resistance is detected, ensuring efficient ventilation.
Here are the highlights of Fotile V Pro's amazing features:
Innovative direct-current inverter
3-layer centrifugal filtration technology
The Optimal Grease and Smoke Control Zone
Wider chamber entrance to handle multiple gas hobs
110-degree buffer plate
Obtuse-angled smoke compression technology
Airborne grease highway
Intelligent suction and extraction system
Noise level as low as 44dB
Innovative oil-free technology
Touch screen control
2. Electrolux 60cm UltimateTaste 300 Fixed Extractor Hood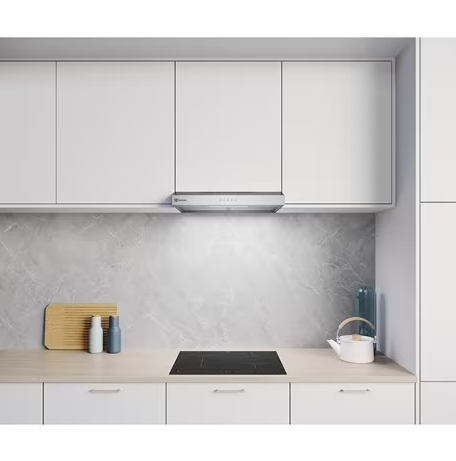 If you want to keep your kitchen smelling as fresh as a daisy, the Electrolux UltimateTaste 300 Fixed Extractor Hood is there to save the day! It's three-layer filter and powerful airflow silently whisk away all the unwanted odours and greasy particles that try to invade your cooking haven. Its fan boasts three levels of speed that can be adjusted according to how and what you are cooking.
The hood also features a recirculation option that gives you flexibility in installation. It means you don't have to worry about outside flume access. Its removable filters are dishwasher safe: you toss them in the dishwasher, and they're as clean as new. And with its brilliant LED lighting, you'll have a clear view of what's cooking on your cooktop.
Don't let the stink linger any longer with these features of the Electrolux UltimateTaste 300 Fixed Extractor Hood:
Adjustable 3-speed fan
Powerful airflow
The 3-layer aluminium micro-mesh filter
Dishwasher-safe filters
Recirculation option
LED lighting
Auto thermal cut-out safety switch
3. SENZ SZ-CH338i Twin Turbo Motor intelClean Cooker Hood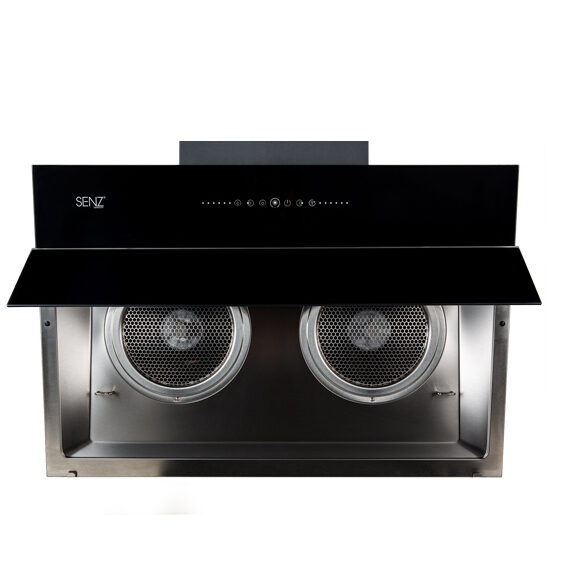 The SENZ SZ-CH338i Twin Turbo Motor IntelClean Cooker Hood is the choice of master chefs and culinary enthusiasts. This angled cooker hood is the secret ingredient your kitchen has been missing. It has a Power Boost Twin motor, which is responsible for the extremely strong suction power of this hood. It extracts more grease and fumes than any other hood of the same range.
This high-performance hood has an auto-clean function, which requires low maintenance even with rigorous cooking sessions. With its easy-peasy installation and sleek glass finish, your kitchen will be the talk of the town in no time. Even beginners can operate this hood easily, thanks to its touch control design and timer functions.
Say goodbye to those pesky smokes and lingering food smells with the following features of the SENZ Twin Turbo Motor intelClean Cooker Hood:
Power Boost Twin motor
Dual ways Auto-Clean function (heat and water)
The strong suction power of 1800 m3/h
Turbo Boost function
Total 4 speeds of power
Easy operation
Metal oil cup: 5 times bigger than the traditional size
Modern and stylish touch control design
Timer functions
3 meters aluminum hose
Stainless steel wall cap
LED lights
4. Bosch Series 4 Wall-mounted Hood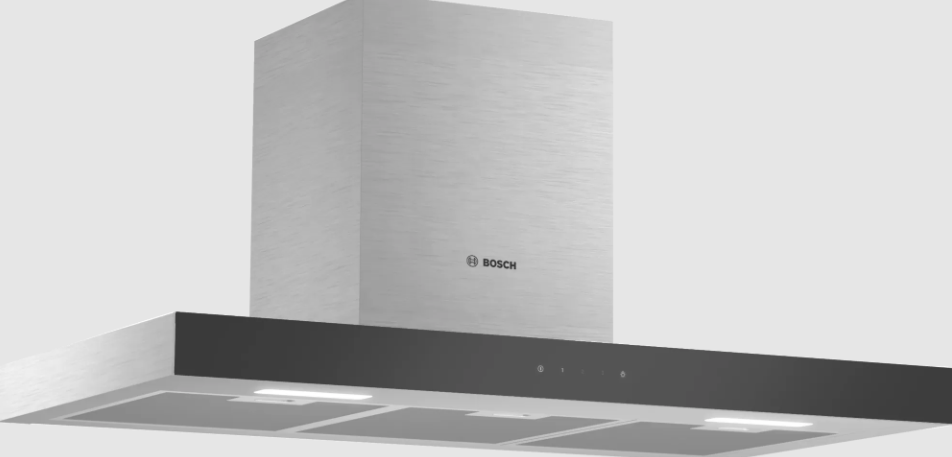 Bid farewell to unwanted odours and hello to a fresh and inviting kitchen atmosphere with the Bosch Series 4 Wall-mounted Hood. These super-powered suckers will make those greasy particles vanish faster than a magician's disappearing act. With their modern designs and easy installation, they'll effortlessly blend into your kitchen's vibe.
These hoods include energy-efficient lighting that delivers crisp, bright illumination to your hob area. With the added benefits of an exhaust system and a metal grease filter, these kitchen hoods ensure optimal air quality by filtering out grease and venting it to the outside. Plus, with three-speed power level options, you can customise the ventilation to perfectly match your cooking style and recipes.
Some distinguishing features of the Bosch Series 4 Wall-mounted Hood are:
LED-Illumination
Exhaust function
Metal grease filter
3-speed power level options
Convertible ventilation mode
Maximum air recirculation of 650 m³/h
Touch control
Stainless steel built
5. Rubine RCH Mark 90BL Kitchen Hood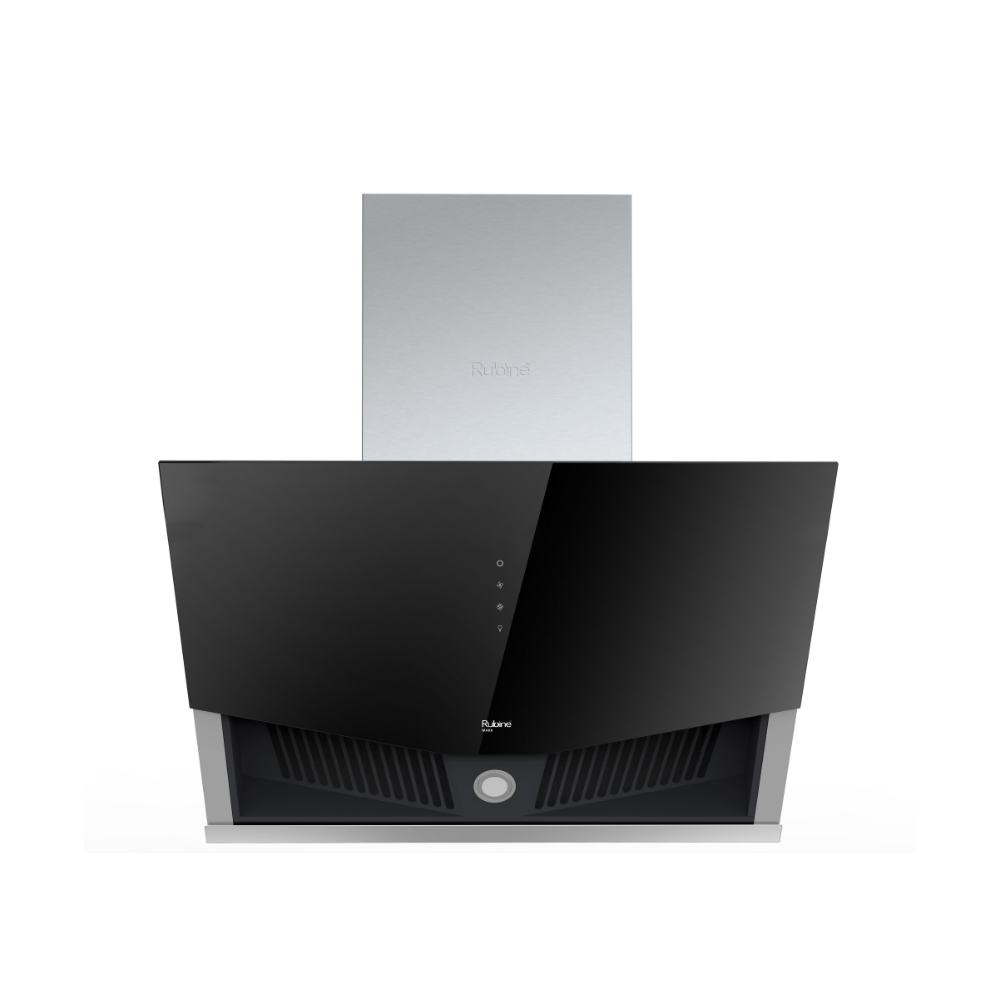 Another no-regret choice in cooking hoods is the Rubine RCH Mark 90BL Kitchen Hood. Equipped with high-powered suction and built to handle the toughest grease, it will have your kitchen smell like victory in no time. And with its contemporary design, it will turn heads faster than a double-take. The sensor touch control panel ensures intuitive operation, while the two extraction speed levels cater to your cooking needs.
But wait, there's more! This kitchen hood boasts a convenient delay timer, allowing you to focus on your recipes without worrying about lingering odours. With one bright LED lamp, your cooking area will be bathed in a radiant glow. Its ergonomic baffle filter and oil trap work harmoniously to capture every last bit of oil, ensuring a cleaner and healthier kitchen environment.
The specifications of the Rubine RCH Mark 90BL Kitchen Hood are summarised below:
The strong suction power of 1400 m³/hr
Stainless steel material with tempered glass furnishing
Sensor touch control panel
Two extraction speed levels
Delay timer
LED lamp
Ergonomic baffle filter and charcoal filter
Oil trap
Exhaust function
Recirculation option
6. Elba Designer Hood ETERNO EH-N9125ST(BK)
The Elba ETERNO Designer Hood is the hero you need to combat all those pesky cooking smells in your kitchen. With its state-of-the-art suction and stylish exterior, this hood will kick those odours to the curb and give your kitchen a much-needed makeover. The hood's ingenious 40⁰ Hydraulic Powermatic Hinge Opening is a game-changer. According to extensive research by ELBA test labs, this precise angle serves as the best deflector and effectively stops fumes from escaping into your kitchen environment.
Power meets efficiency: this hood is equipped with the mighty Turbomax motor, boasting an impressive airflow of 1600 m3/hr. This means that your kitchen will be instantly refreshed, as even the most stubborn fumes are whisked away with ease. Its remarkable Gesture Motion Sensor (GMS) technology will captivate you. With a mere wave of your hand, you can effortlessly control the on/off function of your cooker hood. 
The following features of the Elba ETERNO Designer Hood will ensure that every dish smells as good as it tastes:
Powerful suction and airflow
Gesture Motion Sensor (GMS) technology
Recirculating system
Turbomax motor
Premium stainless steel chassis
Multiple filters
40⁰ Hydraulic Powermatic Hinge Opening
Delay timer
7. Lebensstil Kollektion LKCH-9112 Self Cleaning Cooker Hood
The Lebensstil Kollektion LKCH-9112 Self-Cleaning Cooker Hood is the ultimate odour exterminator. With its powerful suction and easy-peasy installation, it'll make sure your kitchen stays fresh and inviting. From savoury stews to sizzling stir-fries, this hood can handle it all. So why settle for a stinky kitchen when you can have a fresh-smelling sanctuary?
The feature that sets this hood apart from others is its self-cleaning function. It keeps both the hood and kitchen clean, allowing you to save time to enjoy your favourite meals. The hood is equipped with a quick heating feature that softens the residual oil stains so that they can be sucked up quickly.
Let the scent-sational transformation begin with the following features of the Lebensstil Kollektion Self-Cleaning Cooker Hood:
Powerful airflow: 1600 m³/hr
3-speed levels
Timer function
Full-sealed metal AC motor
Softens residual oil stains by heating at 70 °C
Smoke deflector
Dual control: touch and gesture
Patented S.S mesh filter
Oil cup
Low noise operation
8. ROBAM T-Shaped Series Range Hood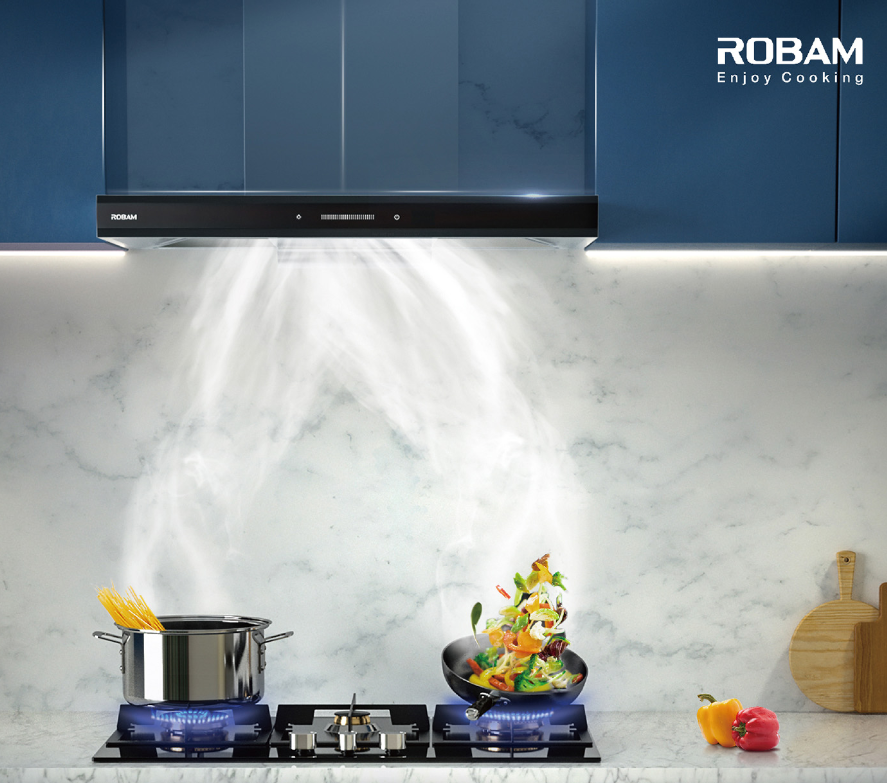 The ROBAM T-Shaped Series Range Hood is the real deal when it comes to keeping your kitchen air pure and pristine. This fume-exhausting Superman has a canopy design that can gather and absorb large clouds of smoke in a matter of seconds. Its double suction power and rapid exhaust remove those stubborn food odours efficiently.
This top-of-the-line hood is like the bouncer of the culinary world. Its brushless DC inverter motor is not only durable and energy efficient but also keeps noise levels to a minimum. The hood has a sleek design and can be embedded into the cabinet. Most of all, its 9-speed touch control makes sure you can do any level of cooking by adjusting the air volume to your desired level.
So don't waste another second—upgrade your kitchen with the ROBAM T-Shaped Series Range Hood and enjoy the benefits below:
800Pa maximum static pressure
Rapid exhaust
Enhanced negative pressure zone
BLDC inverter motor
Super carbon filter
Air purifying module
Slider control
42 dB low noise operation
9-speed touch control
Energy efficient
Oil separation rate upto 98.1%
Perfect build under cabinet design
9. Zanussi ZHC9791X Chimney Glass Hood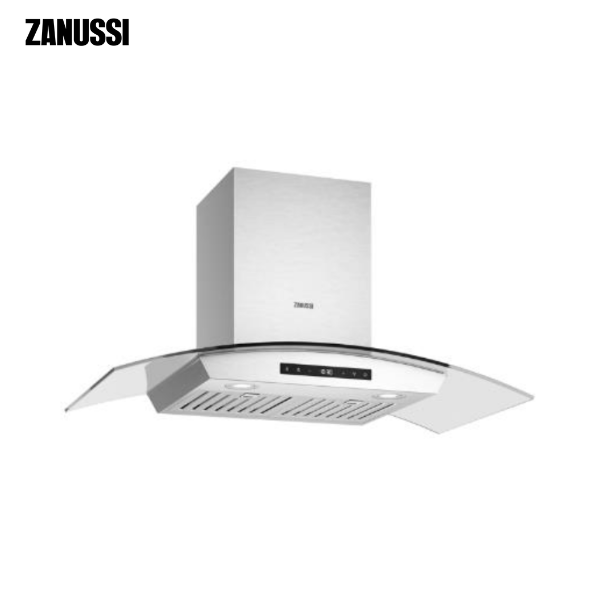 The next hood on our list is the epitome of style and functionality: the Zanussi Chimney Glass Hood! With a suction power of 1300 m³/hr, this kitchen hood effortlessly eliminates smoke, odours, and steam, ensuring a comfortable cooking environment. Its sleek and modern design will give your kitchen a touch of class while keeping it fresh and clean.
This marvel of engineering offers you the freedom to choose between two modes: recirculation or extraction. It means you can select the perfect ventilation method for your culinary adventures. The touch control feature allows for effortless operation. Cleanliness is paramount, and its stainless steel baffle filter takes care of that with ease. Designed to capture grease and oil, this durable filter keeps your kitchen fresh and free from unwanted residue.
Step into the realm of culinary excellence with the amazing features of the Zanussi Chimney Glass Hood:
1300 m³/hr strong suction power
Dual operation mode: recirculation or extraction
3-speed settings
Touch control
Stainless steel baffle filters and charcoal filters
LED lights
10. Midea 2000m3/hr MCH-90M80AT Cooker Hood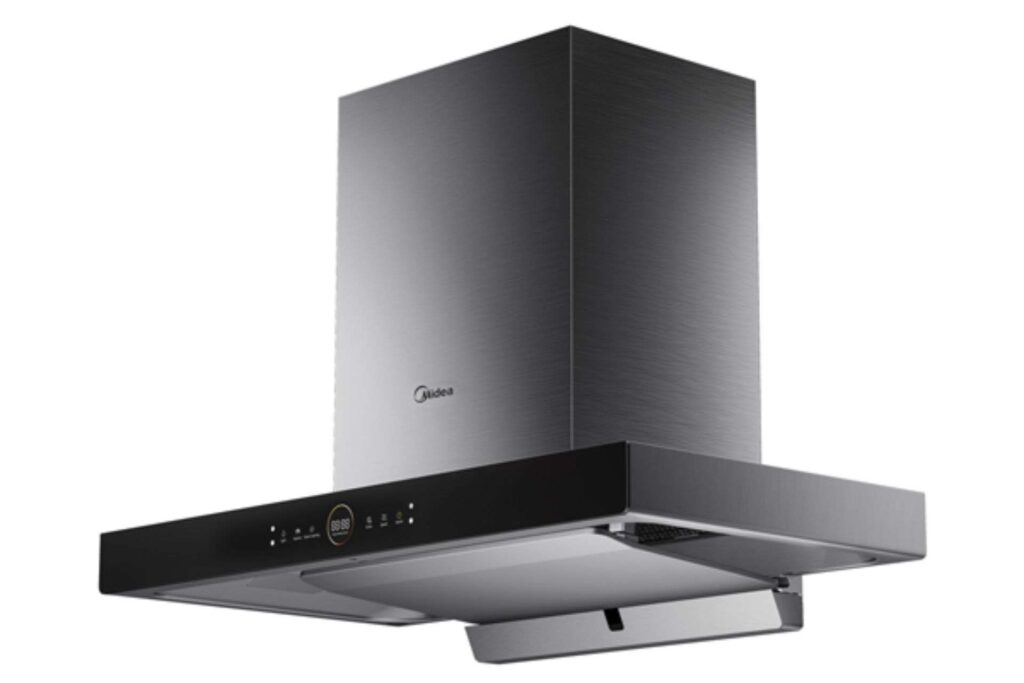 Say goodbye to smoke and odors with the Midea MCH-90M80AT Cooker Hood, featuring the revolutionary Auto Steam Wash cleaning technology. With a staggering suction power of up to 2000 m3/hr, this powerhouse effortlessly eliminates every trace of smoke, leaving your kitchen as fresh as ever. When you need an extra boost of power, this hood has you covered with its Turbo Function. With a simple touch, you can unleash a surge of suction power, ensuring even the most demanding cooking tasks are effortlessly handled.
Experience ventilation like never before with the innovative 3D Circum ventilation system. It ensures that smoke is swiftly and effectively whisked away, creating a clean and comfortable cooking environment. And the cleaning has never been easier with the smart auto steam wash feature. Let this cutting-edge technology take care of the hard work for you, effortlessly eliminating grease and grime.
Some really cool features of the Midea MCH-90M80AT Cooker Hood include:
Strong suction power up to 2000 m3/hr
3D Circum ventilation system
Smart auto steam wash
Minimal design
Turbo function
Gesture control
Wrapping Up
A good kitchen hood is like having a trusty sidekick on your cooking adventures. By investing in a quality hood, you'll be able to enjoy a clean, odour-free kitchen where you can whip up your favourite dishes without any hassle. So don't overlook the importance of this kitchen superhero. Go get yourself one of these best hoods in Malaysia and let your culinary skills shine!