Are you tired of sacrificing flavour for nutrition or spending hours slaving over a hot stove? Do you want your succulent vegetables, tender meats, and vibrant seafood all expertly steamed to perfection? Then you might need a food steamer in your kitchen. With the best food steamer by your side, you'll discover a whole new way of preparing meals that's not only quick and efficient but also preserves those essential vitamins and minerals in your ingredients.
So, if you're ready to embrace a healthier lifestyle without compromising on taste, you've come to the right place. This guide contains a handpicked selection of the finest food steamers available in Malaysia. Throughout this guide, we'll unveil the secrets of each steamer, explore their unique features, and savour the mouthwatering dishes they create. From innovative features to advanced technology that simplifies your cooking process, these steamers are here to impress.
Features of a Good Food Steamer
Here are some key features to look for in a high-quality food steamer:
Multiple Steaming Compartments: The steamer should have multiple tiers or stackable bowls that allow you to steam different types of food simultaneously, preventing flavors from mixing and saving time.
Adjustable Steaming Levels: Look for a steamer with adjustable steaming levels, so you can control the distance between the food and the steam source, ensuring even and consistent cooking.
Steaming Time and Temperature Control: A good steamer offers customisable settings for steaming time and temperature, allowing you to adapt it to various ingredients and recipes.
BPA-Free Materials: Choose a steamer made from BPA-free materials to ensure food safety and avoid any harmful chemicals leaching into your meals.
Rapid Heating: A good steamer should have a powerful heating element that heats up quickly, reducing the waiting time and making it more energy-efficient.
Water Reservoir Indicator: It's beneficial to have a visible water level indicator to monitor the water level during steaming and prevent the steamer from running dry.
Easy Water Refilling: Look for a steamer with a convenient water refill system, so you can add water without interrupting the cooking process.
Timer and Auto-Shutoff: An integrated timer is useful for precise cooking. The auto-shutoff feature ensures the steamer turns off automatically when the cooking cycle is complete.
Easy-to-Clean Components: Removable steaming trays and dishwasher-safe parts simplify the cleaning process and maintenance of the food steamer.
Transparent Lid: A transparent lid allows you to monitor the cooking progress without opening the steamer.
Even Steam Distribution: Ensure that the steamer has proper venting and steam distribution to ensure uniform cooking throughout all the tiers.
Versatility: Some steamers come with additional functions, such as rice cooking or slow cooking, which add versatility to the appliance.
Steam-licious Feast: Our Selection of 9 Best Food Steamers in Malaysia
These food steamers are sure to revolutionize your culinary experience, granting you the gift of time and taste while preserving the wholesome goodness of your ingredients.
1. Tefal Convenient Steamer Stainles Steel (VC1451)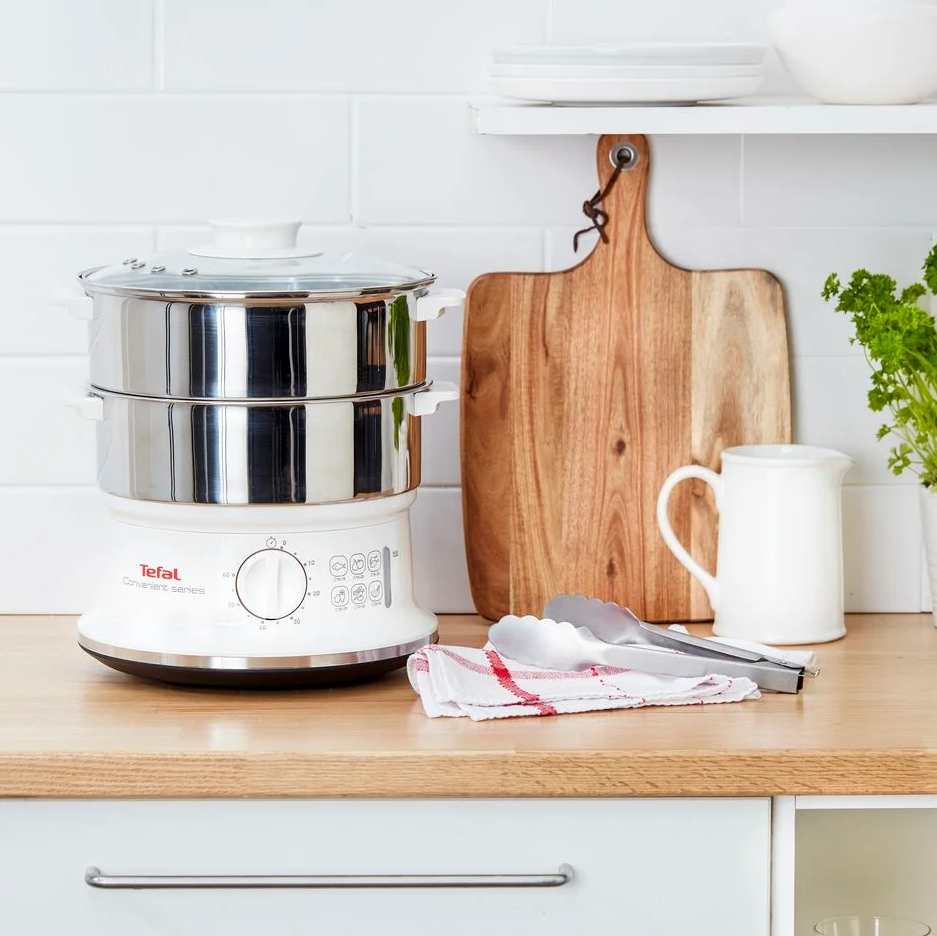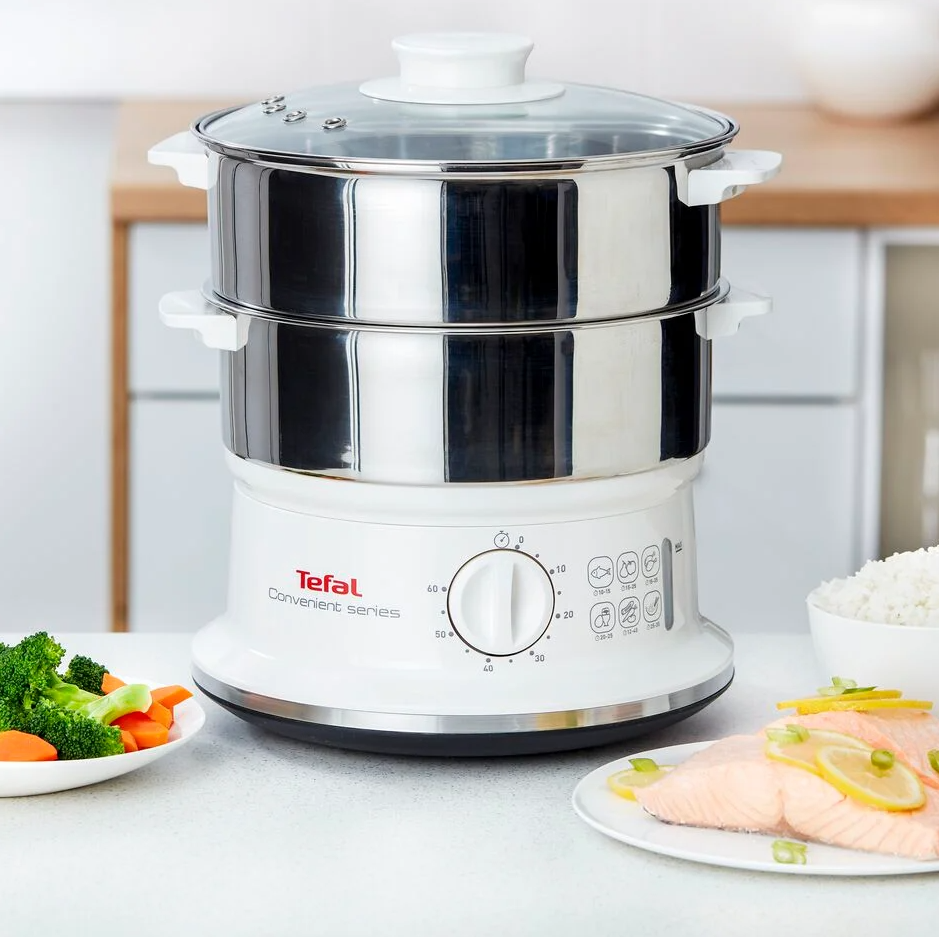 The number one food steamer on our list is the Tefal Convenient Stainless Steel Steamer–your ultimate ticket to unlocking the full potential of steam cooking. This is a two-bowl steamer that saves precious space in your kitchen as the bowls can be stored upside down on the base. Crafted from long-lasting stainless steel, it guarantees durability and performance that stand the test of time. With a generous 6L capacity, this steamer allows you to steam up delightful dishes for the whole family.
No need to interrupt your cooking to refill the water; this steamer has a visible indicator that lets you monitor the water level effortlessly. The 60-minute mechanical timer ensures precise cooking, while the audible sound alert enables you to know when your dishes are perfectly ready to serve. And that's not all! The steamer also includes a rice and pulses accessory, which makes it a versatile cooking appliance. 
The following features of the Tefal Convenient Stainless Steel Steamer make it the best food steamer in Malaysia:
2 stackable bowls
60-minute timer
Audible sound alert
6 L capacity
Automatic switch off
Made of high-quality stainless steel
Visible water level indicator
Easy refilling
Compact storage that saves space
Rice and pulses accessories are included
2. Bear Electric Food Steamer BFS-C60L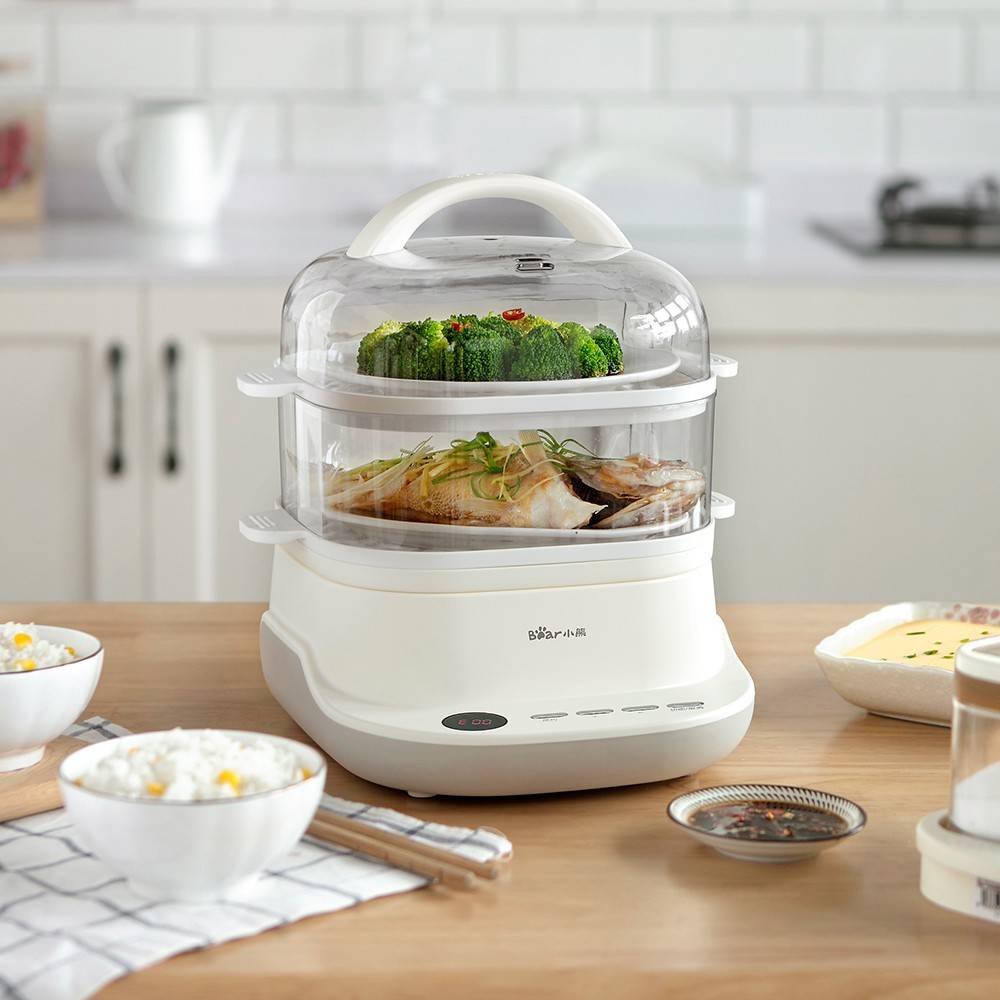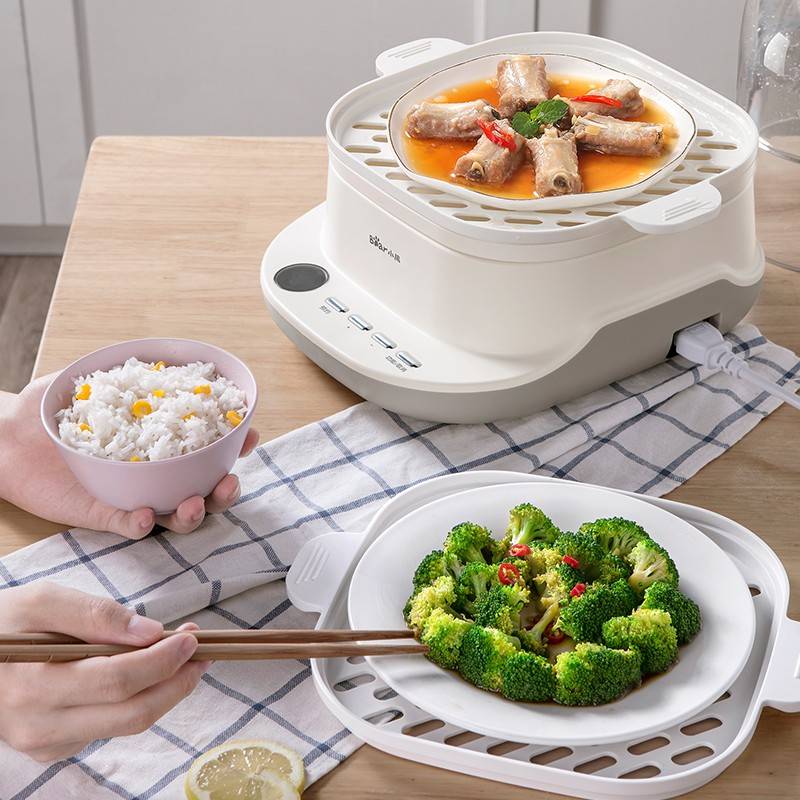 Now you can effortlessly create mouthwatering recipes without sacrificing nutrition or taste, all thanks to the Bear Electric Food Steamer. With its spacious rectangular tray and double deck capacity, this steamer offers plenty of room to cook a variety of delicious dishes all at once. The steamer's recirculated heating system ensures even and quick steaming, guaranteeing your meals are cooked to perfection in record time.
Cooking is made smarter with this steamer's computerised 6-program function, enabling you to effortlessly switch between different cooking modes for various recipes. Its one-touch solution further simplifies the process with a long-press cancel function, providing seamless control at your fingertips. With the timer control, you have precise command over cooking times, ensuring each dish is cooked to your desired perfection. And don't worry about mess or clean-up hassles; the detachable juice collector keeps everything tidy, and the easy-to-clean design makes maintenance a breeze.
Prepare to be amazed by its cutting-edge features that take your culinary journey to new heights:
Rectangle-shaped spacious tray
Shape charge ring design
Quick steaming with recirculated heating system
Timer control
Microcomputer six menu
Preset program
One-touch solution: long press for cancel function
6 L steaming capacity
Double deck design
Detachable juice collector
Easy to clean
3. ELBA Food Steamer EFS-M1038(SS)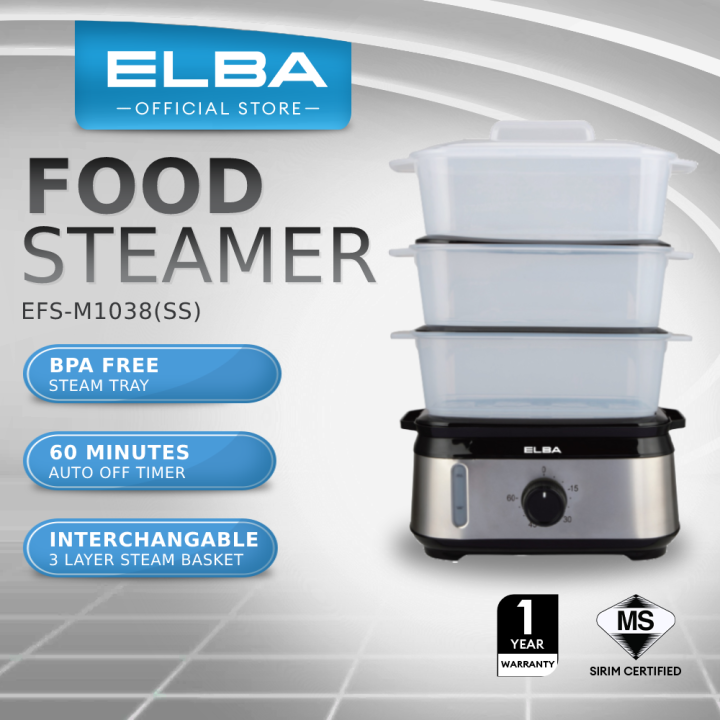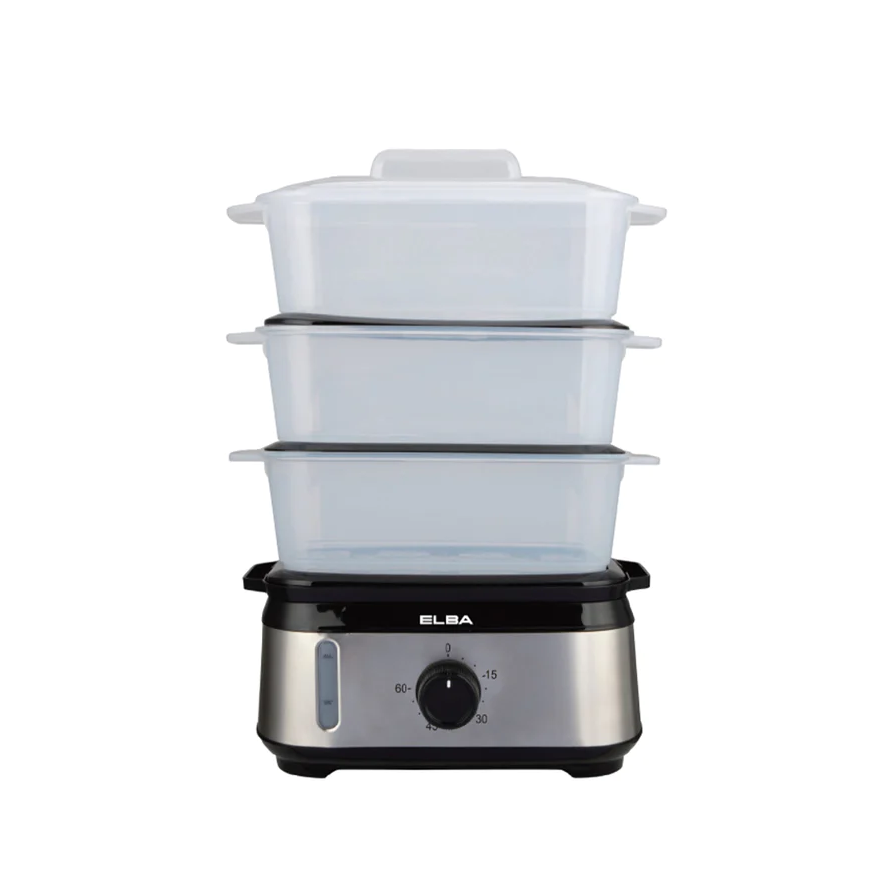 Say goodbye to bland meals and hello to flavour-packed meals with this innovative 3-layer food steamer from Elba. The three detachable layers offer unparalleled flexibility and let you cook multiple dishes simultaneously. With a rated power of 800-950W and a voltage range of 220-240V, this steamer packs a punch, delivering fast and efficient results every time. Its capacious 10 L capacity ensures you can prepare generous portions for the whole family with ease. And the timer with a bell signal ensures you never miss the mark. It lets you know when your delectable creations are ready to be savoured.
The steamer is equipped with a mechanical controller, so you have precise command over your cooking. It also comes with an auto cut-off function and anti-dry boiled protection that guarantee worry-free cooking every time. To top it off, it includes a polypropylene basket and rice bowl, making this steamer a comprehensive cooking companion. Its sleek stainless-steel design adds a touch of elegance to any kitchen. It seamlessly blends style and functionality.
Packed with the incredible features below, this steamer will revolutionize the way you cook:
3 detachable layers
10 L capacity
1.5 L rice bowl capacity
Mechanical control panel
Timer with bell signal
Auto cut-off function
Anti-dry boiled protection
Comes with a polypropylene basket and a rice bowl
4. Pensonic 12L Food Steamer PSM-162S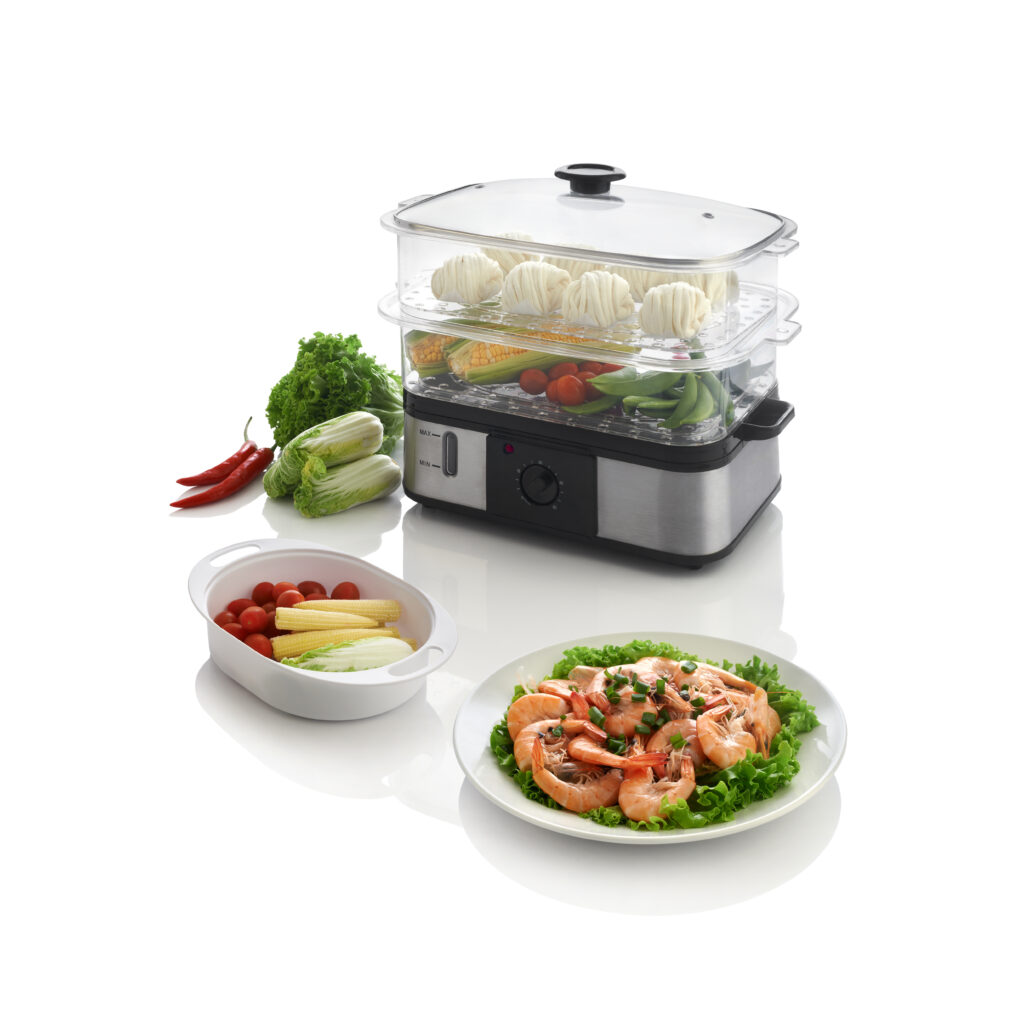 Invest in the future of flavourful, health-conscious cooking with the Pensonic PSM-162S Food Steamer and savour every moment of creating culinary magic. Crafted with a sleek stainless steel housing, this steamer is as durable as it is stylish. It has a water window featuring a side water refiller, allowing you to easily monitor and refill water levels without interrupting your cooking process. The indicator light keeps you informed and makes sure your steamer is up and running at the perfect temperature.
The steamer has three spacious steam containers that offer unparalleled versatility and enable you to cook multiple dishes simultaneously. With a rice bowl and an impressive 12 L capacity, it is perfect for preparing food for large gatherings or savouring generous portions all to yourself. It also boasts a 60-minute timer and an auto shut-off function that make your meals perfectly cooked and ready to serve when the time is up.
Upgrade your cooking game today with the amazing features of the Pensonic PSM-162S Food Steamer:
3 steam containers
Stainless steel housing
Energy-efficient design
12 L capacity
Water window with side water refiller
Indicator light and LED backlight
Comes with a 1.0 L rice bowl
60 minutes timer
Auto shut-off and chime functions
5. Tefal Minicompact Steamer (VC1398)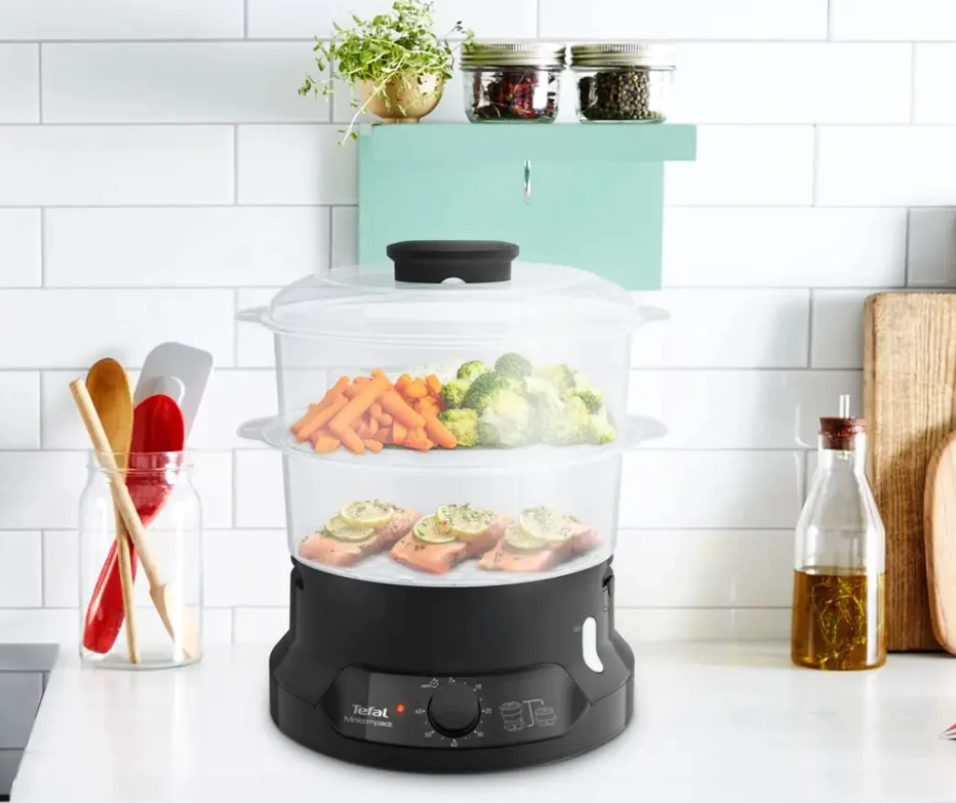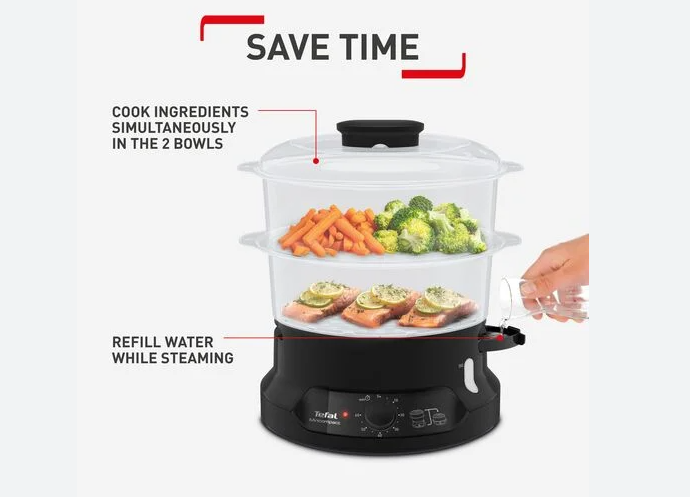 Unleash your inner chef and explore endless possibilities with the Tefal Minicompact Steam Cooker–your ultimate companion for effortless and convenient steaming. Equipped with a 2-bowl multi-tier steaming system, it allows you to prepare your entire meal in one go, saving you time and effort. Its patented stackable design ensures ultra-compact storage, making it easy to keep your kitchen tidy and organised. Plus, the BPA-free bowls guarantee healthy cooking results, so you can indulge in guilt-free meals.
The steamer's 60-minute timer with auto shut-off takes away any worries, providing you with precise cooking control. Its low-fat cooking method preserves the full nutritional value, flavour, texture, and color of your dishes and ensures every bite is a delight for your taste buds and your well-being. Its intelligent refill system allows for daily use and offers an easily visible water level to refill while the steaming is in progress.
To elevate your steaming experience, the Tefal Minicompact boasts smart features that make it a standout choice. Some of these are:
The patented ultra-compact storage system
2 stackable BPA-free bowls
Low-fat steam cooking
60-minute timer
Indicator light
6 spots in each bowl to cook eggs
Easily viewable water level
6 L capacity
10-year repairable product
Dishwasher-safe components
Includes a 1L capacity rice bowl
6. Bear Multifunctional Food Steamer BFS-GM100L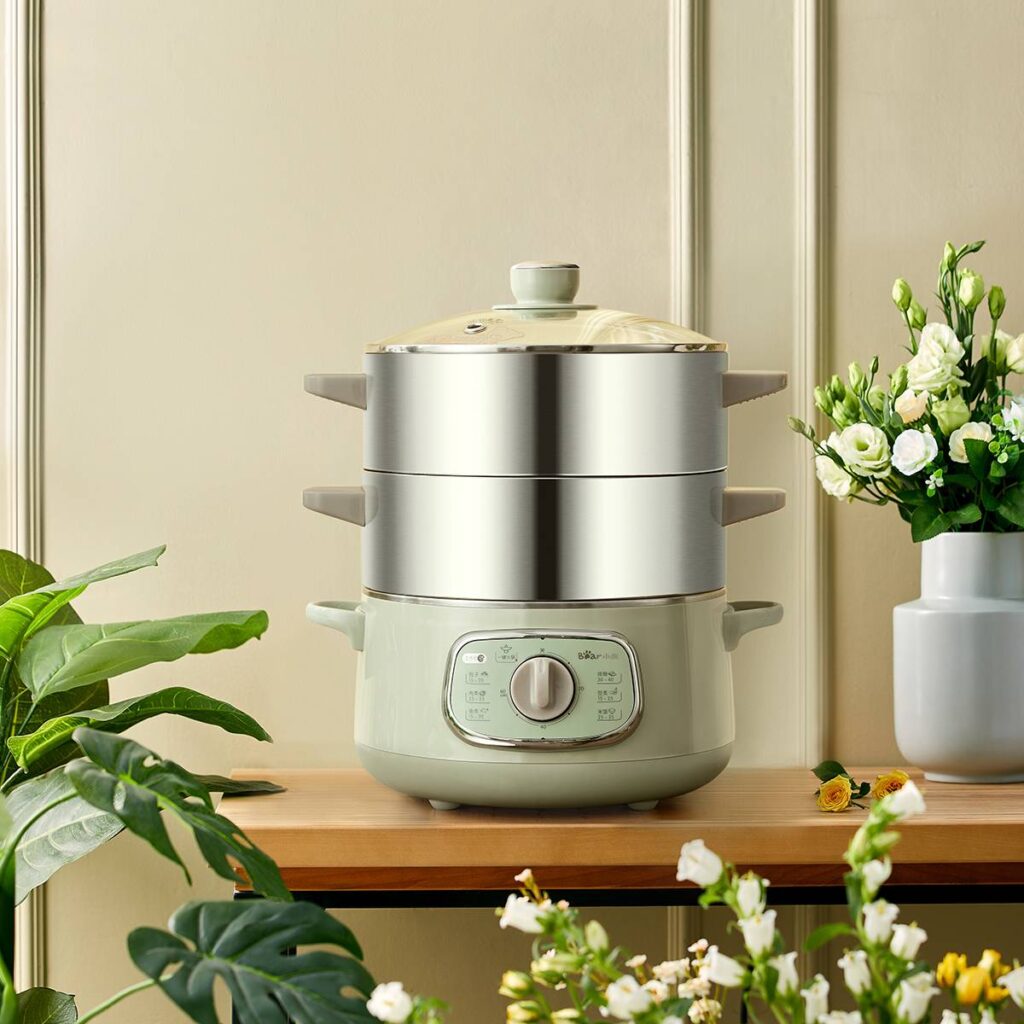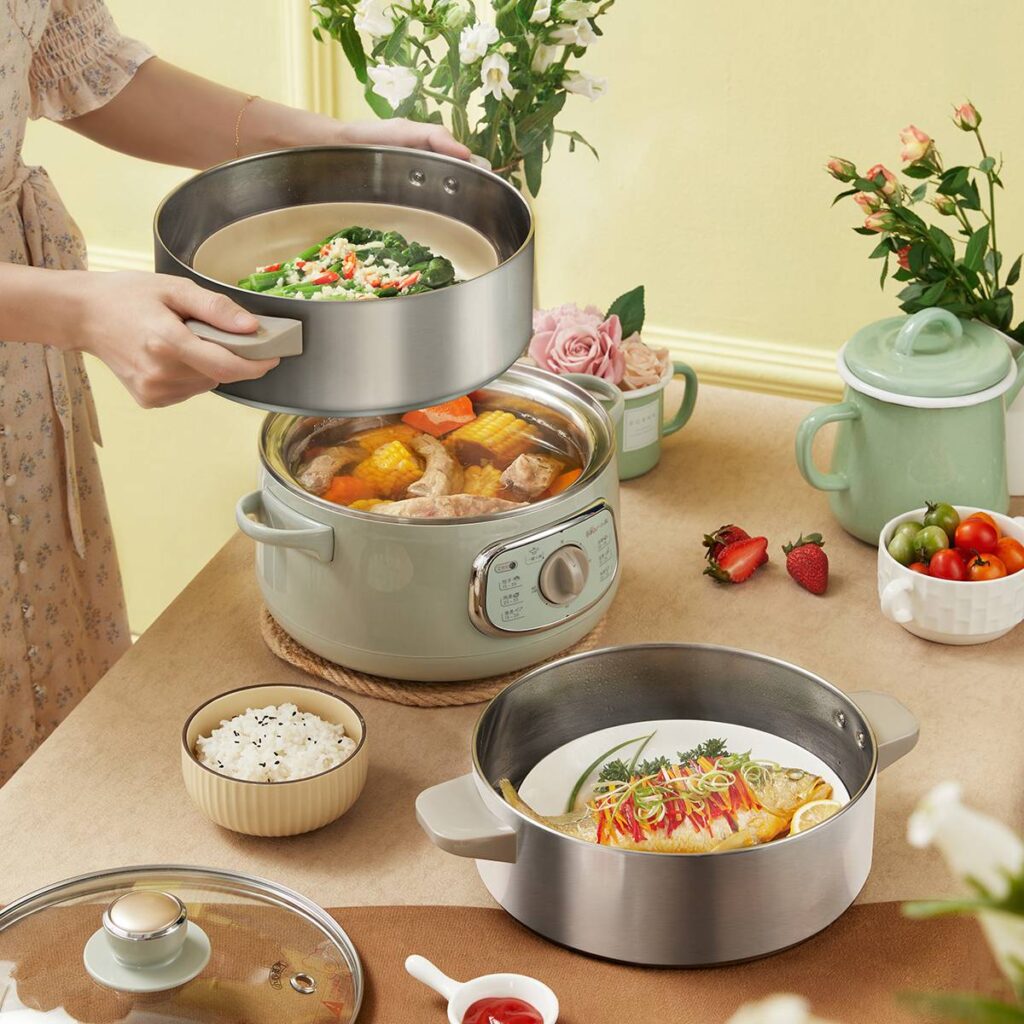 Enjoy a world of flavourful possibilities at your fingertips with the Bear BFS-GM100L Food Steamer, where health and ease unite for a taste sensation like no other. Crafted to perfection, this kitchen appliance offers a versatile range of functions, including steam, cook, stew, and hot pot, making it your all-in-one solution for creating delectable meals. Its 10 L steaming capacity and 3-layer design cater to the whole family. It gives you ample room to explore your culinary creativity.
Designed for ultimate convenience and longevity, this steamer is constructed with premium food-grade SUS 304 Stainless Steel. It makes sure your meals are prepared in the safest and healthiest manner possible. The advanced features, like the 60-minute timer setting and dry-boiled protection, make it safe and easy to operate. From tenderly steamed ribs to flavourful hot pots, your culinary creations will impress even the most discerning taste buds!
With flexible choices and endless possibilities, the Bear BFS-GM100L Food Steamer is the go-to appliance for all your cooking needs. It has the following amazing features:
Fast cooking with 1300 W power
10 L real capacity
Multi-tier design
Multiple functions: steam, cook, stew, and hot pot
Safe and reliable
Food grade SUS 304 stainless steel material
Dry boiled protection
7. Trio Food Steamer TFS-18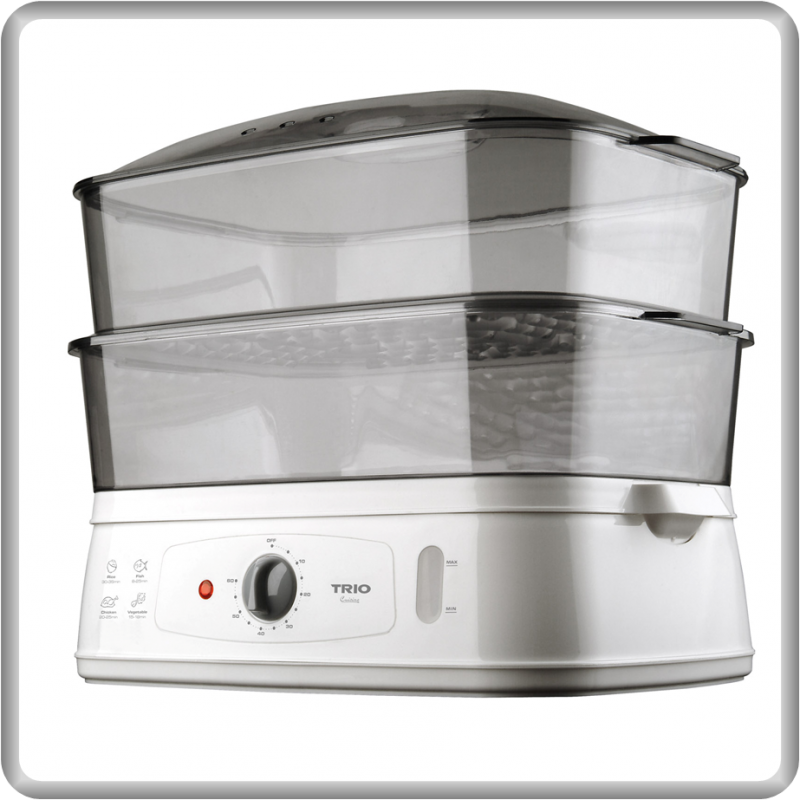 Unleash your inner chef and embark on a gastronomic journey with the Trio TFS-18 Food Steamer. This 10L + 10L jumbo capacity steam cooker brings you healthy and delectable meals that cater to the entire family. Its rapid heating power ensures your meals are cooked to perfection in no time. The 60-minute 'autostop' timer, accompanied by a bell, guarantees convenience and precision, allowing you to do other tasks while cooking with ease. Its innovative exterior water refill funnel and water level indication empower you to monitor and replenish water effortlessly.
Rest assured with its strong and durable food tray, which ensures your culinary creations are perfectly supported throughout the cooking process. The steamer tray, crafted from high-quality polycarbonate plastic, is non-toxic and highly heat resistant, prioritizing your health and safety. Recognized as safe by the United Kingdom Food Standards Agency, its steamer tray lets you cook with confidence. 
This innovative steamer is thoughtfully designed with your needs in mind. It has incredible features, as listed below:
10L plus 10L jumbo capacity
Strong and durable food tray
Made of polycarbonate plastic: nontoxic and highly heat resistant
Double heaters for rapid heat
60-minute autostop timer with bell
Exterior water refill funnel
Water level indication
Recognized as safe by the United Kingdom Food Standards Agency    
8. Philips Daily Collection Food Steamer HD9104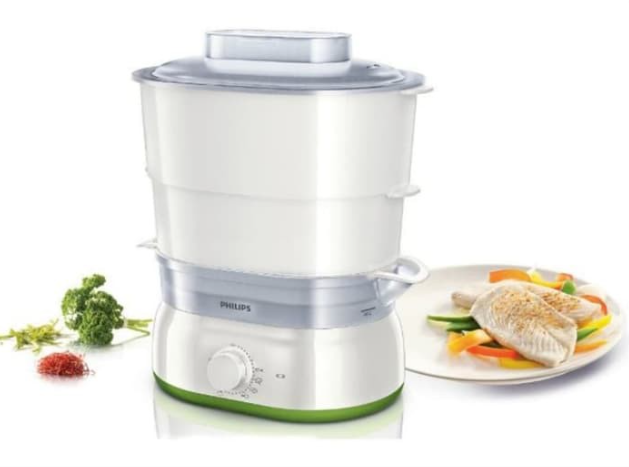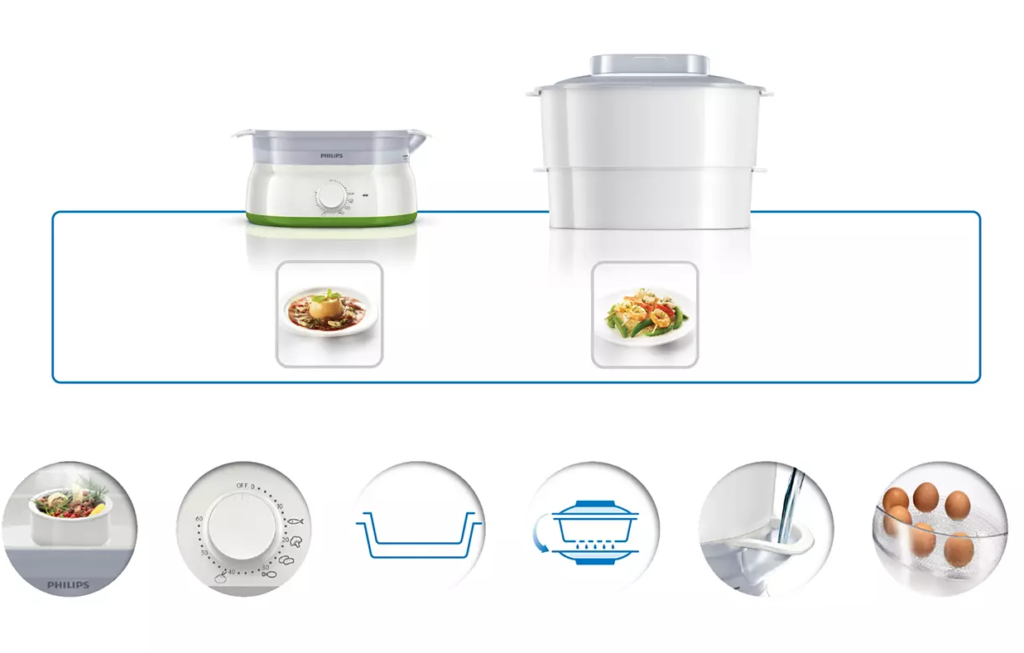 Whether you're a seasoned chef or a home cook, the Philips Daily Collection Food Steamer will become your favourite kitchen companion. Equipped with two baskets, this steamer allows you to prepare a variety of meals at once. These stackable baskets ensure effortless storage, saving valuable space in your kitchen. And for all you egg lovers out there, the dedicated egg rack fits six eggs per basket. The anti-drip lid keeps your kitchen mess-free, while the food set timer takes the guesswork out of cooking, offering tailored settings for fish, vegetables, rice, and more.
Discover the secret to enhanced flavours with this steamer's innovative Aroma Infuser, a unique feature that infuses your dishes with the tantalising essence of herbs and spices. Simply place your favourite ingredients into the booster and let the steam work its magic. Cleaning it up is a breeze, thanks to the dishwasher-safe parts that take the hassle out of maintenance. Plus, the easily refillable reservoir allows you to keep the steamer running smoothly without any interruptions.
The following features of this steamer are designed to make your culinary journey all steamy:
Aroma Infuser
5 L capacity
2 stackable baskets
Egg rack
900 W power
Food set manual timer
Easily refill
BPA free material
Anti-drip lid
Dishwasher safe parts
9. Hanabishi Multi Cooker Stainless Steel Pot & Steamer HA1900S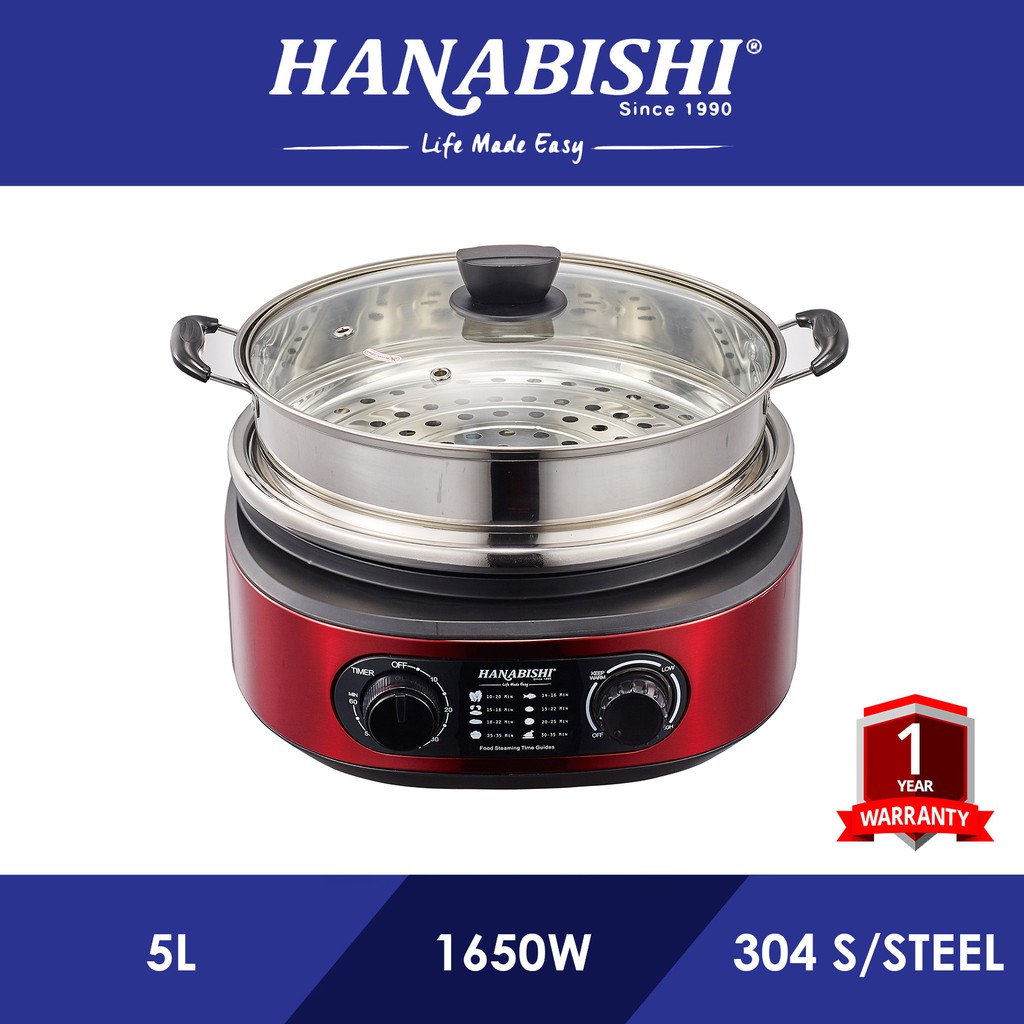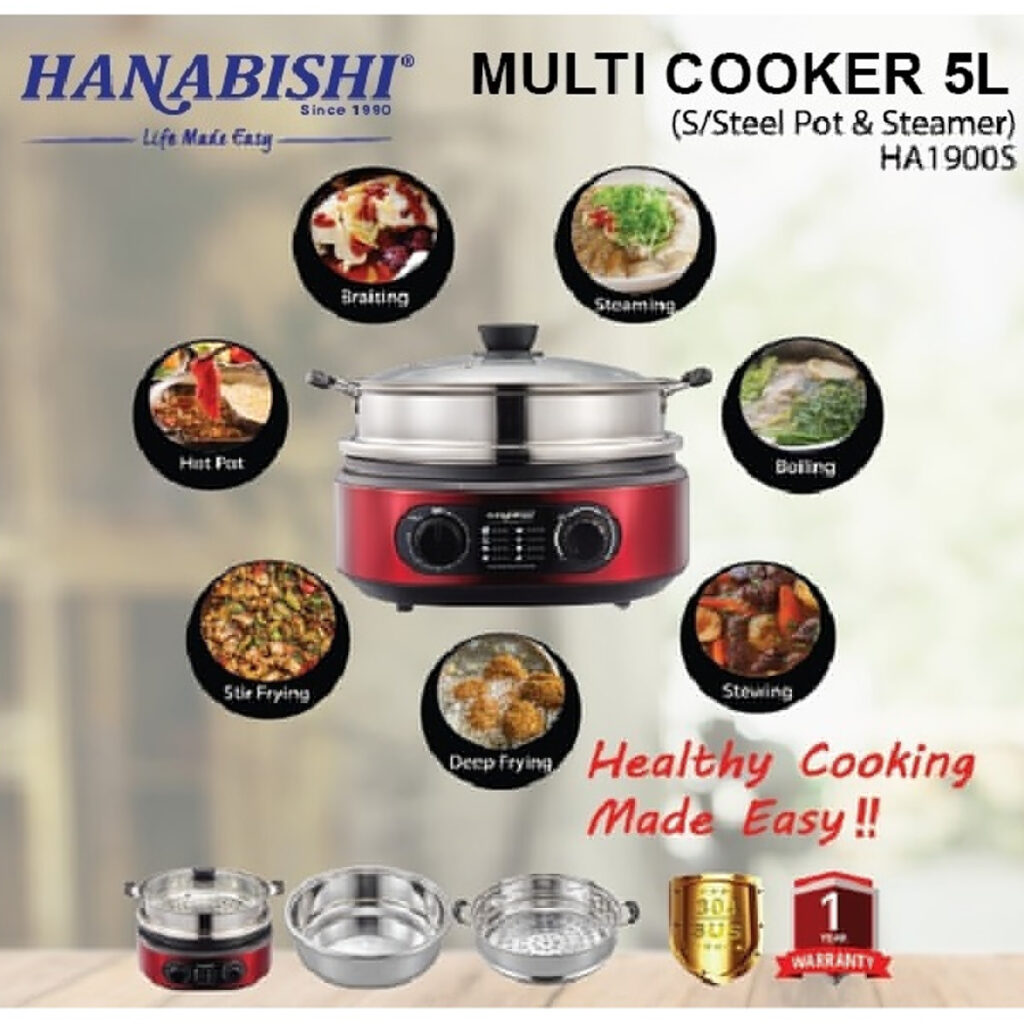 Experience the future of steam cooking with the Hanabishi Multi Cooker Stainless Steel Pot & Steamer. It has a generous 5-liter capacity that is tailor-made for family-sized meals. The SUS304 stainless steel inner pot and steamer guarantee healthy cooking without compromising on taste. Prepare to be amazed by the versatility of this steam cooker. Equipped with multi-function cooking capabilities, it effortlessly handles hot pot, steaming, boiling, stewing, braising, stir-frying, and even deep frying.
Take full control of your culinary creations with the 60-minute timer, ensuring your dishes are cooked to precision. The adjustable temperature control adds a personal touch to your cooking, allowing you to achieve culinary perfection every time. It also comes equipped with over-heating protection, offering you peace of mind as you cook your heart out.
Unlock the potential of your culinary prowess with the following features of the Hanabishi Multi Cooker Stainless Steel Pot & Steamer:
Big capacity of 5 liters
SUS304 stainless steel material
Multi-function cooking
Food steaming time guides on the control panel
60 minutes timer
Adjustable temperature control
Overheating protection
Easy to handle and clean
The Bottom Line
A food steamer in your kitchen is essential for preserving nutrition and promoting healthy eating. In this guide, we've selected the best food steamers in Malaysia. These are sure to redefine cooking, with health and taste in perfect harmony. From Tefal's space-saving design to Bear's smart technology, each steamer offers unique features for your cooking needs. So buy your favourite steamer out of these and savour the pure taste of healthy meals effortlessly. Upgrade your kitchen and embark on a steam-licious journey with these incredible food steamers!
Read also: Best of Home Appliances Series