A good sofa is essential for your home as you will be using it a lot especially if you spend a lot of time in your living room. Not only that but after a long day, relaxing on a comfy sofa and chilling out with a good book or interesting movie is excellent. Hence, you need to ensure that you choose the best sofa for your home and your needs as it can be one of the pieces of furniture that you use the most.
Some of the things that you need to consider are the style, upholstery and shape of the sofa you want. Although the 3-seater and 2-seater are regular shapes that most Malaysians will consider, the L-shape sofa is gaining in popularity as it's convenient, provides more space and looks good in your home. Here are some features you should consider if you're interested in getting an L-shape sofa.
Important Features of a Good L-shape Sofa
1. Better comfort and cosiness
An L-shape sofa offers more comfort and makes the living room look cosier compared to a traditional 3-seater and 2-seater. It's more inviting and invites you to lounge on it thanks to its added space. In fact, two people can comfortably lie down on one L-shape sofa so there's no argument on whose turn is it to take up that comfy spot.
2. It helps you save money
Previously, if you wanted more spaces to lounge you would need to spring for a 3-seater and a 2-seater to fill that need. But with the L-shape sofa, you would only need to purchase one piece of furniture which is definitely cheaper.
3. Frees up more space
The shape of the sofa is also perfect for awkward corners and you can fully maximise the use of your living room without taking up extra real estate. And if you want to add on accent stools to provide more lounging space, that's a great idea too. Some L-shape sofas also offer the option of having a built-in recliner so it can accommodate more people who want to have a lie-down on the same sofa.
Below, we've listed some of the best L-shape sofas in Malaysia that you can get so you can start planning more lazy days at home.
Our Selection of 7 Best L-Shape Sofa in Malaysia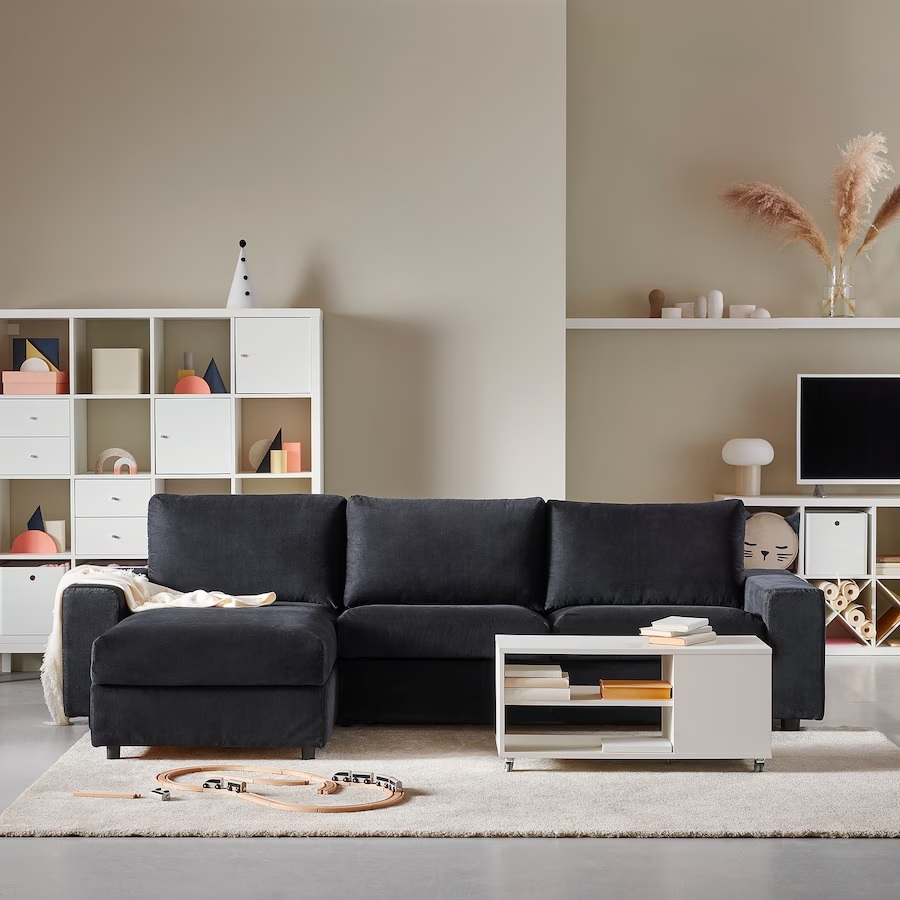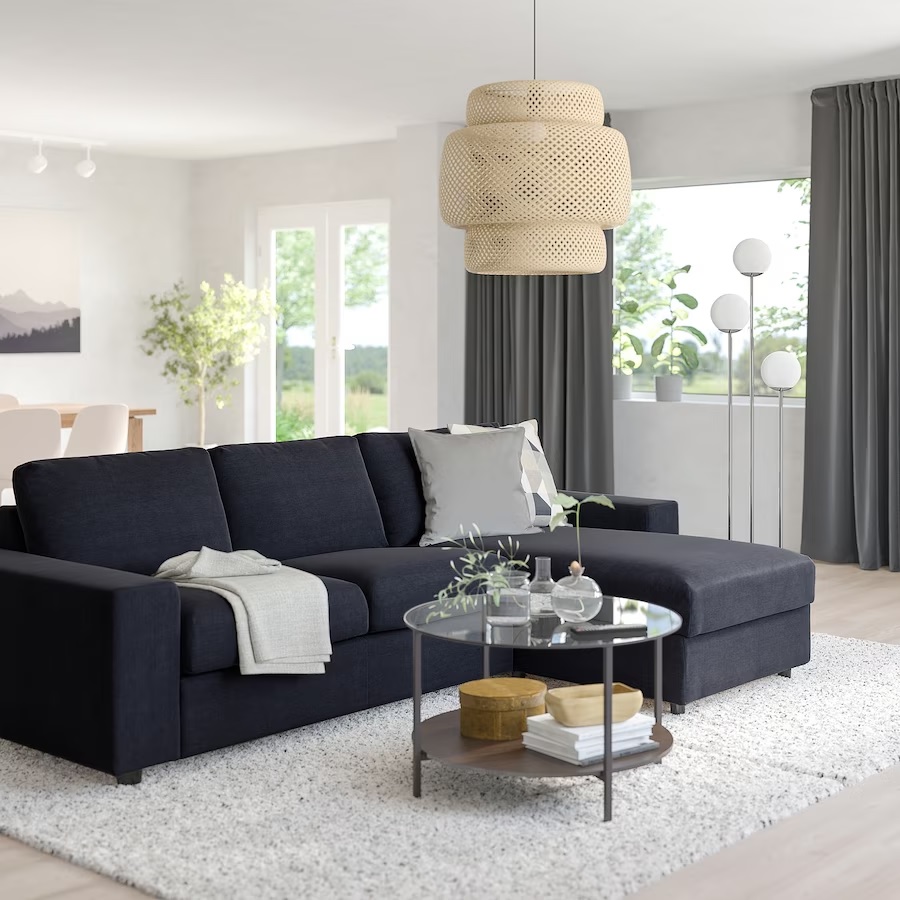 Ikea Malaysia is known for having different types of furniture that can suit various needs but if you're looking for an L-shape sofa then the VIMLE sofa series is perfect. What's great about the sofa is that it has sections that be customised for your home, so when there's any life changes, you don't have to buy a new sofa. Instead, all you need to do is add any new sections in a way that's right for you.
The sofa can be assembled into different shapes and sizes while the chaise lounge comes with under-seat storage. Switch it up any way you like and rest your head, movie snacks, or even drinks for your convenience. If you need more comfort, extend the backrest with the VIMLE headrest. The cushions are filled with high resilience foam that supports your body. It is a low maintenance sofa with needlecord corduroy covers made from Saxemara fabric in cotton and polyester that's removable and machine washable. Best of all, it comes with a 10 year guarantee.
Features:
Customisable to suit your needs
Chaise lounge section has storage
Wide roomy armrests
Optional headrest
Soft, durable needlecord corduroy
Cushions filled with high resilience foam
Stylish and low maintenance
Comes with a 10-year guarantee
Visit them via:
Website | Facebook | Instagram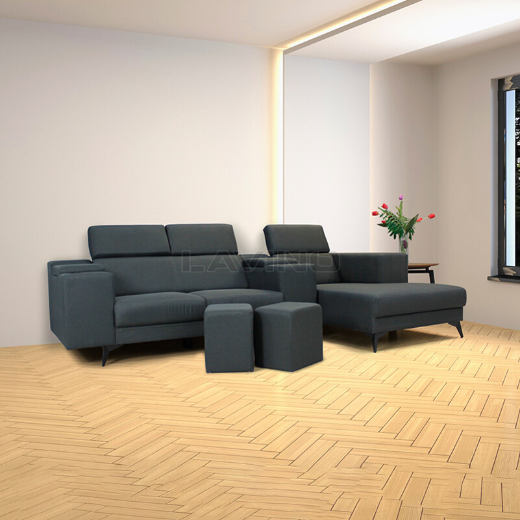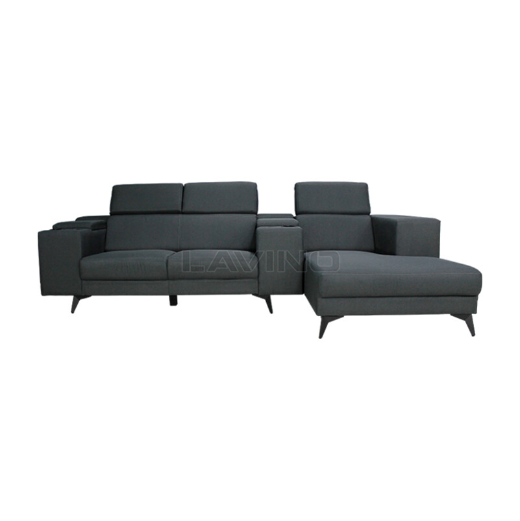 Another great option is the Lavino L-shape sofa that comes with bar storage and cup holder. Plus, it also has two stools so that there's extra seating if you have guests over or simply want to use it as a leg rest. This statement piece will look classy in your home and blends well with the rest of your decor. The cotton and velvet fabric used for the covers are breathable which reduces sweating and inhibits bacteria.
There's also a soft close storage box where you can store your remotes and reading materials. The adjustable headrest provides adequate support for your neck while the Bonnell spring and high density foam filled cushions fits perfectly to your body.
Features:
Statement sofa piece
Comes with bar storage
Cup Holder
Includes two stools
Soft close storage box
Made of cotton and velvet fabric
Adjustable headrest
Visit them via:
Website | Facebook | Instagram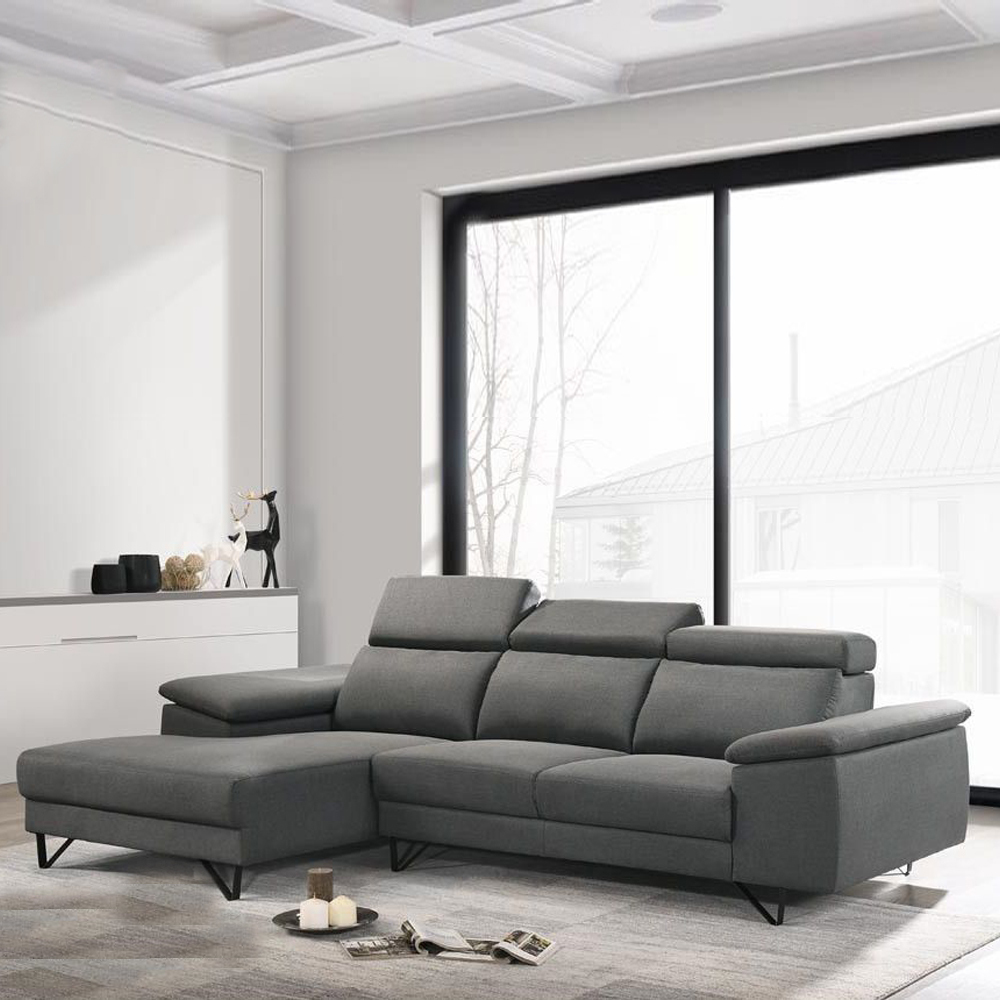 Tekkashop's modern and contemporary L-shape sofa is made of soft and breathable fabric that is cooling especially for our himid tropical weather. It's durable and ideal for days when you don't feel like doing anything. The wide seats mean you can sprawl on it and enjoy the high density foam cushions that gently support your body.
Meanwhile, the adjustable headrest allows you to adjust it your preference and the metal legs mean that it's sturdy enough to last you a long time. You can choose the chaise lounge to be on the left or right based on your home's design.
Features:
Modern and contemporary design
Soft and breathable fabric
Adjustable headrest
Wide seats
High density foam cushions
Sturdy metal legs
Customisable chaise lounge position
Visit them via:
Website | Facebook | Instagram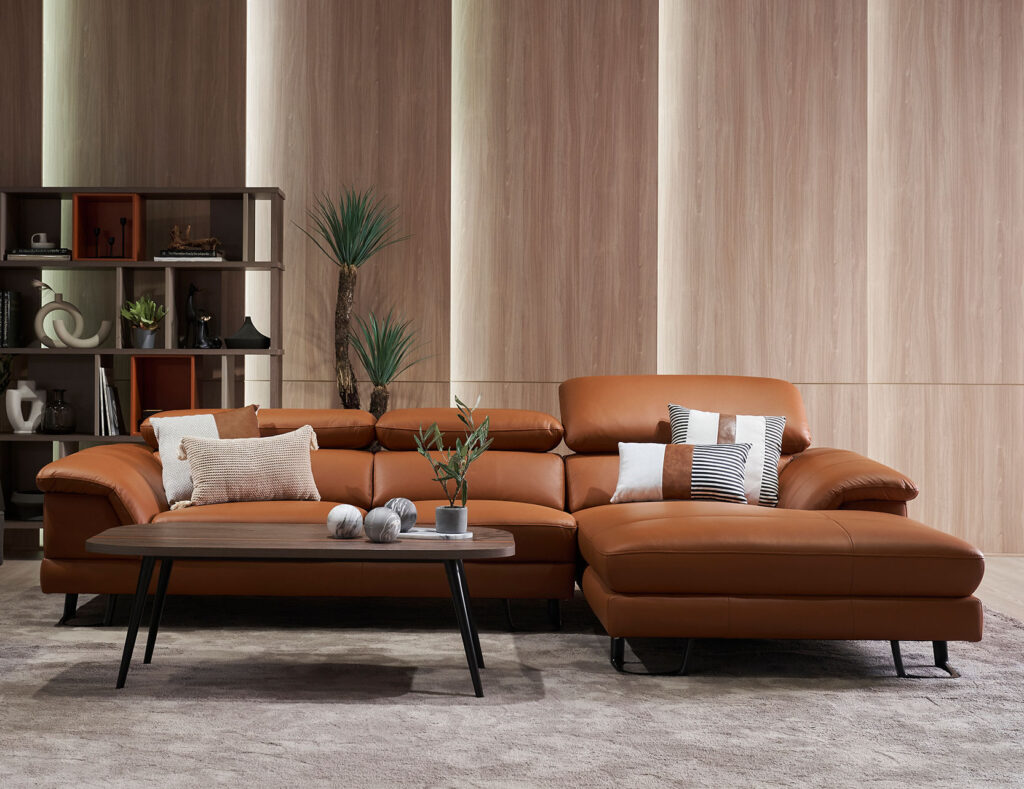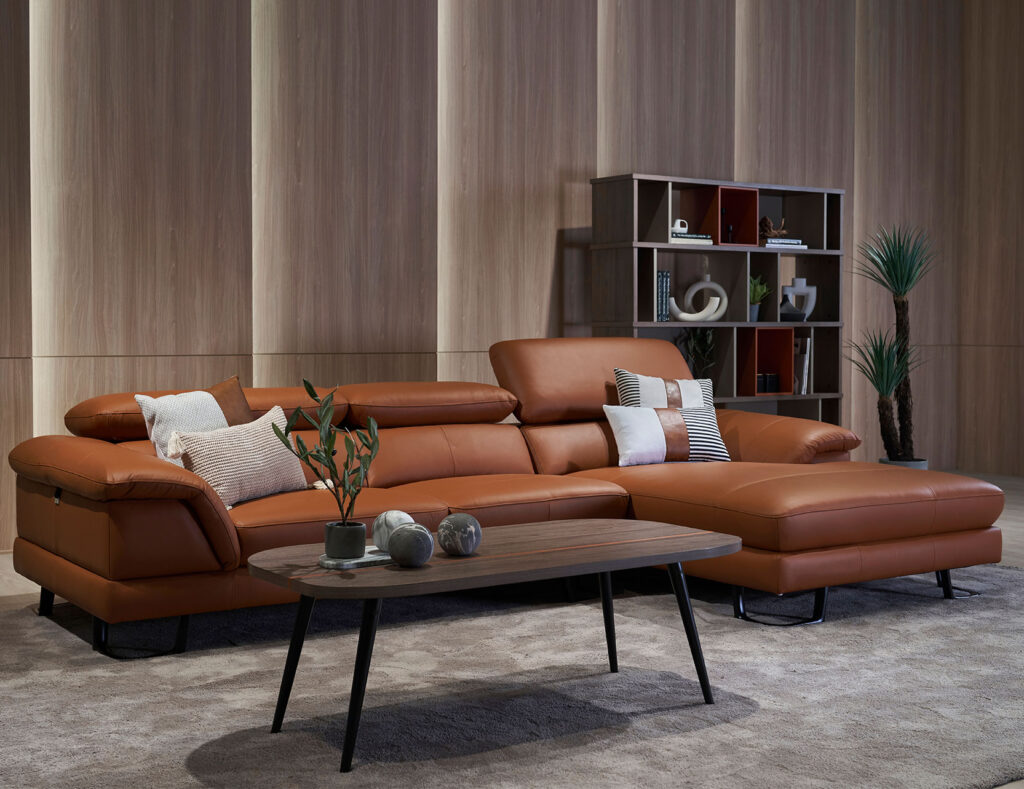 For those who are looking for something more upscale or prefer options other than fabric for their L-shape sofa, then this one from Cellini might just do the trick. The Korus leather sofa is upholstered in genuine cowhide leather for that luxurious feel and adds a touch of glamour to your living room. It comes in 10 attention-grabbing colour options so you can choose the one that suits your design scheme.
It comes with adjustable headrests to support your head and neck while the deep seating is cosy enough that you won't want to leave. It's moulded from molten aluminium with matt black legs that it a unique feature of Cellini. This feature means the sofa is sturdy but light.
Features:
Luxurious design
Upholstered in genuine cowhide leather
Comes in 10 colour options
Adjustable headrest
Deep seating
Moulded from molten aluminium
Matt black legs
Sturdy yet light
Visit them via:
Website | Facebook | Instagram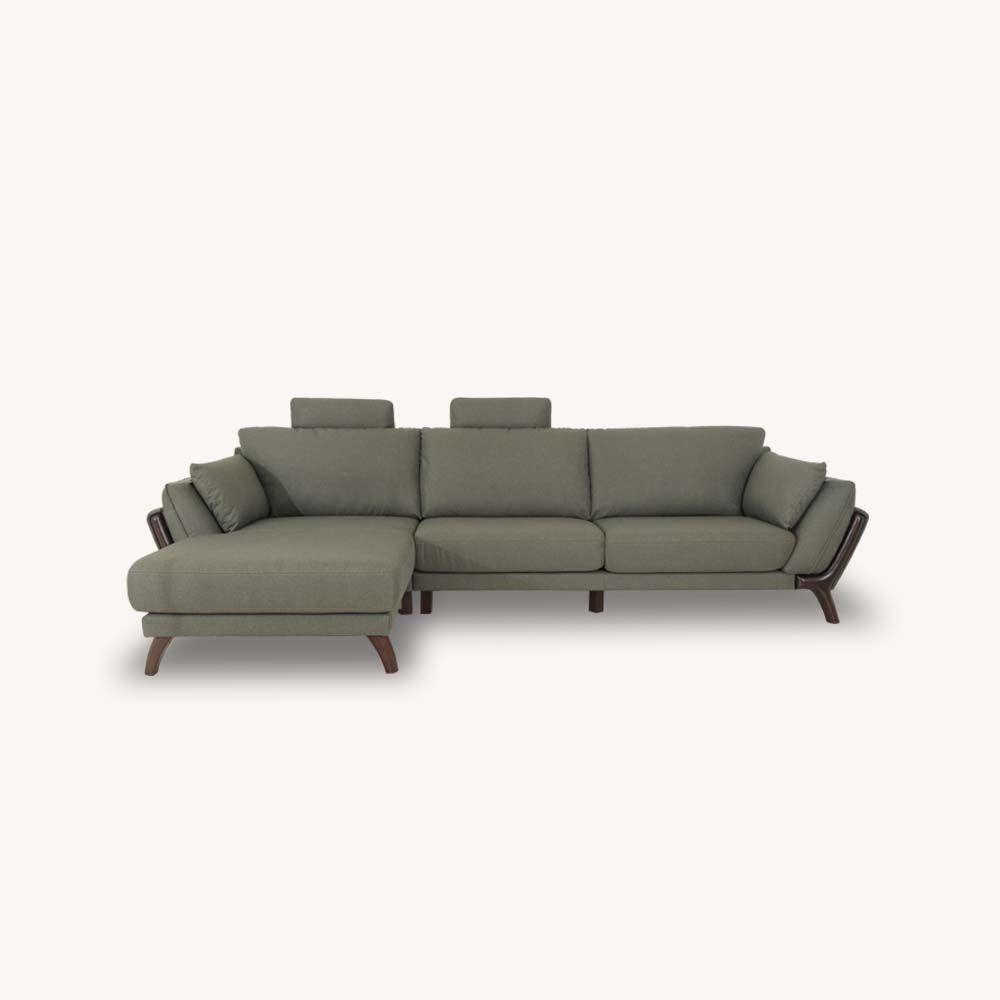 If you're tired of the usual L-shape sofa design, then this offering from Lorenzo may just be the thing for you. Veering away from the traditional L-shape design, Lorenzo's fabric sofa has smooth gentle curves, giving it more of a mid-century modern look that would go well with most home decor styles.
Paired with a sturdy exposed wood frame that adds to its charm, this L-shape sofa has two headrests that are soft and comfy. The armrests have extra cushioned padding for more comfort while the liquid repellent fabric ensures that spills and messes are easily cleaned up. It also has 20 stunning colours to choose from and high resilience foam cushions.
Features:
Mid-century modern design
Sturdy
Exposed wood frame
Extra cushioned armrests
Liquid repellent fabric
20 stunning colours
High resilience foam cushions
Visit them via:
Website | Facebook | Instagram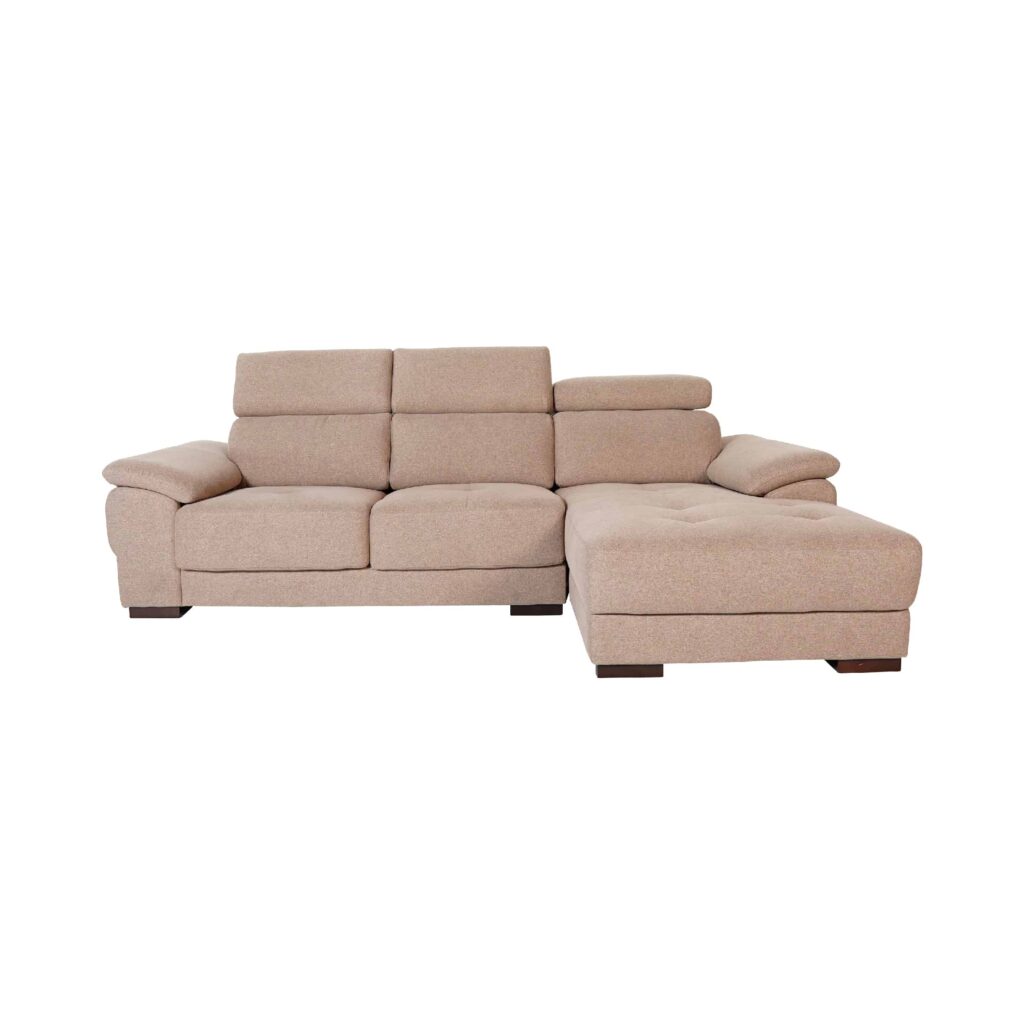 Chill out on Kinsen Home's Haven L-shape sofa that offers all the comfort and support you need from a sofa. You have the option to choose whether the chaise lounge should be on the left or right. The high resilience foam cushions are super comfy and it comes with adjustable headrests as well. The wooden legs support the sofa and you can choose from 11 fabric colour options to fit your colour scheme.
Features:
High resilience foam cushions
Comfy and durable
Adjustable headrest
Wooden legs
Fabric upholstery
11 colour options
Customisable chaise lounge position
Visit them via:
Website | Facebook | Instagram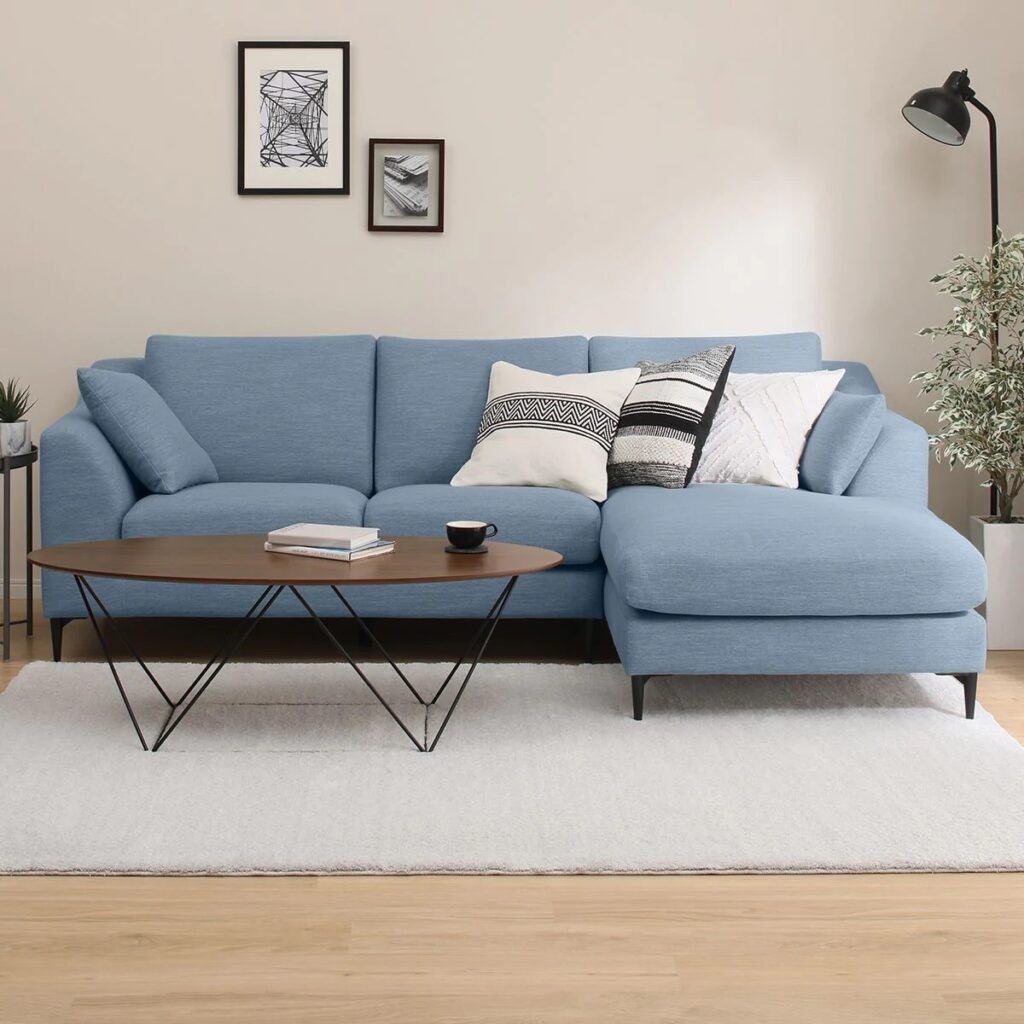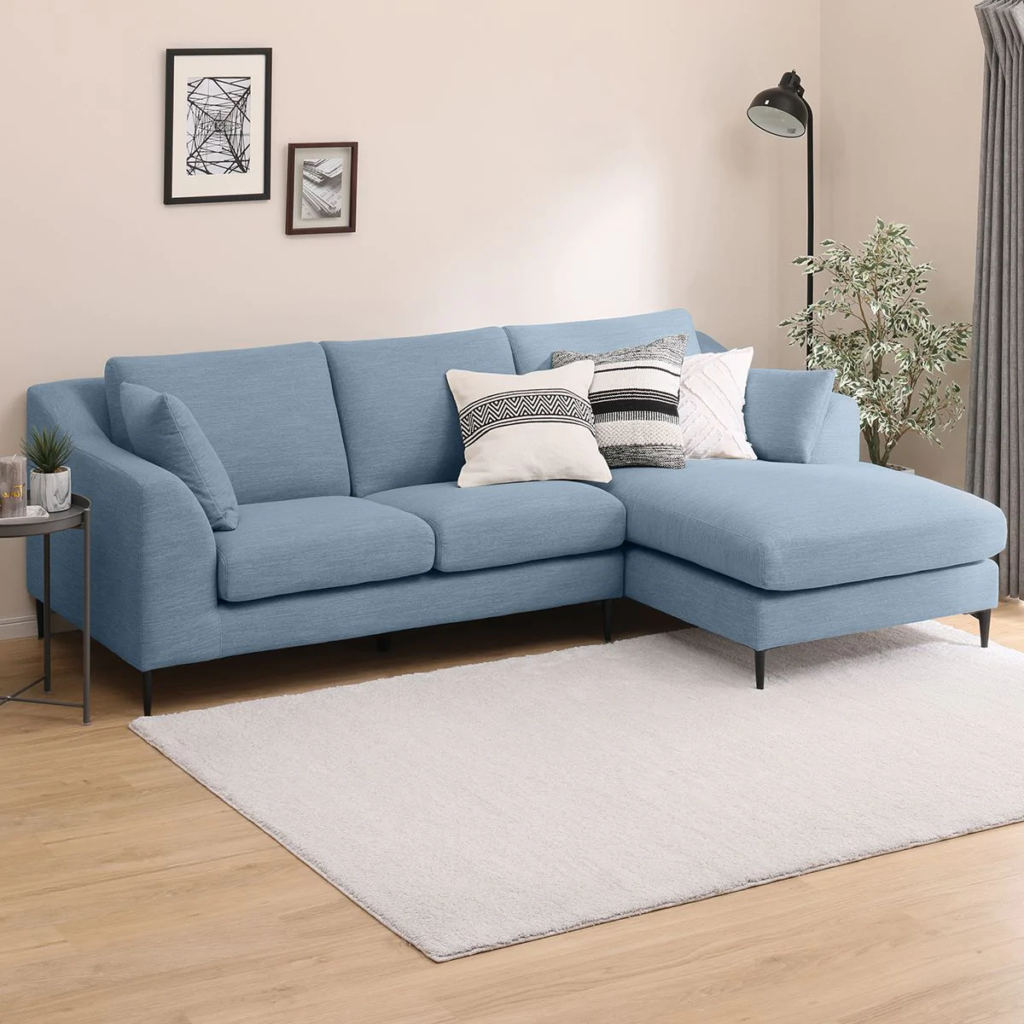 Sometimes you need a sofa that has stronger support and Nitori has one that may just fit the bill. Using pocket coil springs that are similar to those used for mattresses and S-type springs, this sofa promises to be as comfortable as a bed when you're lying down on it. The thin legs are stylish and the fabric is made of easy to clean material. Although it only comes in a dark turquoise blue and the chaise lounge is on the left, it's great if you're looking for something different. There's an additional two cushions for extra comfort.
Features:
Pocket coil springs + S-type springs
Thin, sturdy legs
Includes two cushions
Comes in dark turquoise blue
Easy to clean material
Left chaise lounge
5 years warranty
Visit them via:
Website | Facebook | Instagram
In conclusion, there are many types of L-shape sofas out there but you should consider upgrading your current sofa to one if you haven't already done so. They are super comfy, space-saving and convenient so make sure you check out which of these best L-shape sofas are right for you.