Light switches are the unsung heroes of our everyday lives. They're the masters of illumination and custodians of convenience. Whether you're setting the mood for a romantic evening or banishing the darkness with a simple flick, a top-notch light switch can make all the difference. But let's be real here, finding the perfect light switch can be a bit daunting. It's like searching for a needle in a haystack, especially in lighting shops. We get it, and that's why we're here to help.
This guide will help you buy the perfect light switches for your home in Malaysia. We've put these switches through their paces, testing every feature and scrutinising every detail, to ensure they meet our quality standards. So, whether you're a tech enthusiast looking for cutting-edge smart switches or a traditionalist who appreciates the satisfying click of a classic switch, we've got your back. Let's get this electrifying journey started!
Features of a Good Light Switch
Here are some important features to consider when evaluating a light switch:
Ease of Use: A good light switch is intuitive and effortless to use. It should have an accessible design, making it suitable for people of all ages and physical abilities.
Reliable Switching: When you hit that switch, it better do its job right without flickering or weird stuff. It should provide a solid and responsive mechanism for controlling the lights.
Durability: The switch should be tough and sturdy, made with high-quality materials that can handle tons of use. We're talking about a switch that won't let you down, no matter how many times you flip it. It should be able to handle the electrical load.
Installation Convenience: You shouldn't need a rocket scientist to install a light switch. A good switch comes with clear instructions, fits standard electrical boxes, and has easy-to-use wiring connections.
Visibility: The switch should be clearly visible, especially in dimly lit areas. It is helpful to have a switch with neon strips, visible labels, or backlighting to make it easy to locate and operate in the dark.
Wiring Compatibility: A good light switch should be compatible with standard electrical wiring systems. It should be designed to connect easily with the existing wiring in your home or building.
Safety Features: Look for switches that prioritise safety, like ones with proper insulation and grounding. You want protection against electrical hazards and a switch that can handle overloads without breaking a sweat. It is advisable to choose a switch that meets relevant safety standards and certifications.
Aesthetic Appeal: While not strictly functional, the design and appearance of a light switch can contribute to the overall ambiance of a room. So, you want a light switch that doesn't stick out like a sore thumb. It should blend in with your room's vibe and add to its overall charm.
Additional Smart Features: Depending on personal preferences and needs, some light switches may offer additional features such as dimming capabilities, timers, motion sensors, or remote control options. Consider these extra features if they align with your requirements.
Our Selection of 8 Best Light Switches in Malaysia
The best light switches in Malaysia are within your reach, and we're here to make sure you find the perfect fit. Below are the switches we found to be the most reliable over time:
1. Simon E6 Series Switch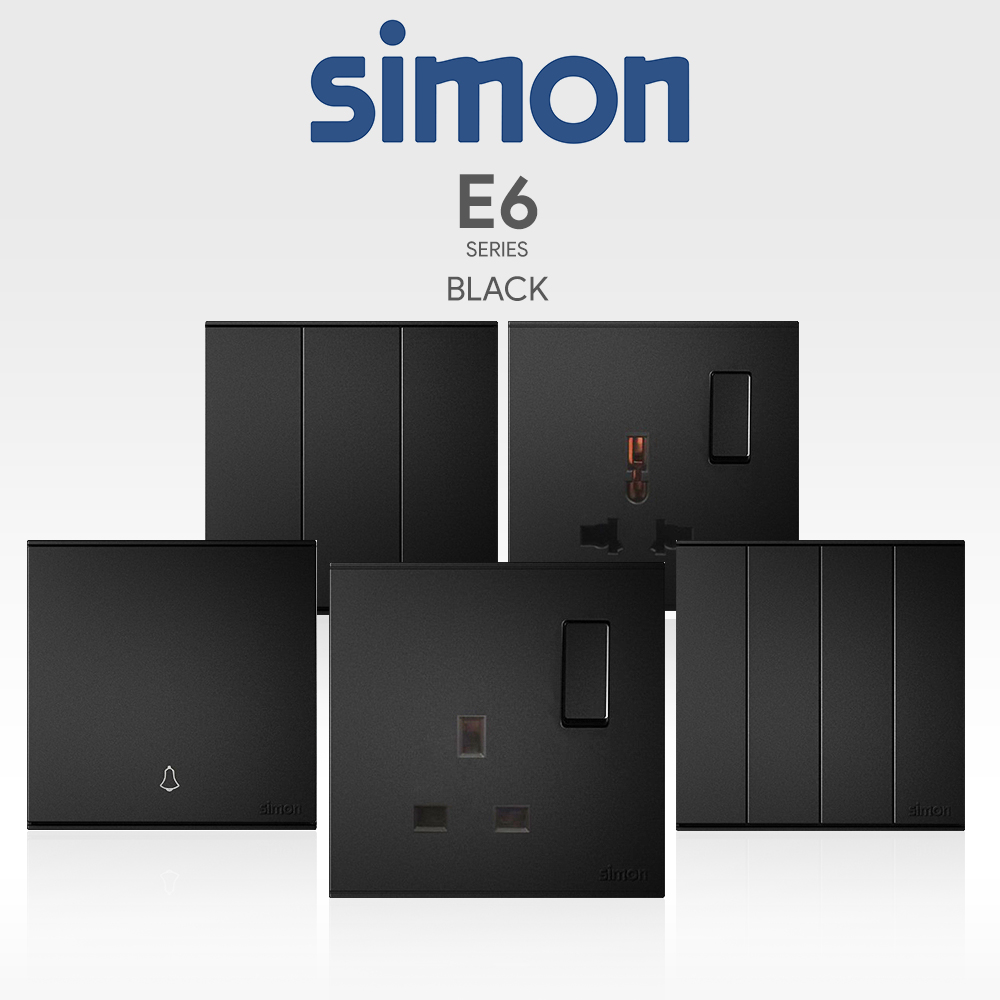 Introducing the Simon E6 Switch: the ultimate light switch for all your illumination needs! With its sleek frameless design, super large push-button, and stereoscopic contouring, this switch will make your everyday life easier. It has a built-in LED indicator that will prevent you from stumbling around in the dark. Say no to irregularities with this switch's multi-gang design and forget maintenance with its ultra-thin, dust-proof frame.
The Simon E6 Switch is the real deal, offering a seamless transition from darkness to light in the blink of an eye. Its remarkable features are listed below:
86*82 super large push-button
1.2mm ultra-thin frames
Comfortable visual impact and better touch
Environmental friendly
Dust-proof and scratch resistant
Easy-care
Stereoscopic contouring
Wide extension
Multi-gang: applicable to standard 86 mounting box
Built-in LED indicator
2. Schneider Electric Affle Plus Series Switch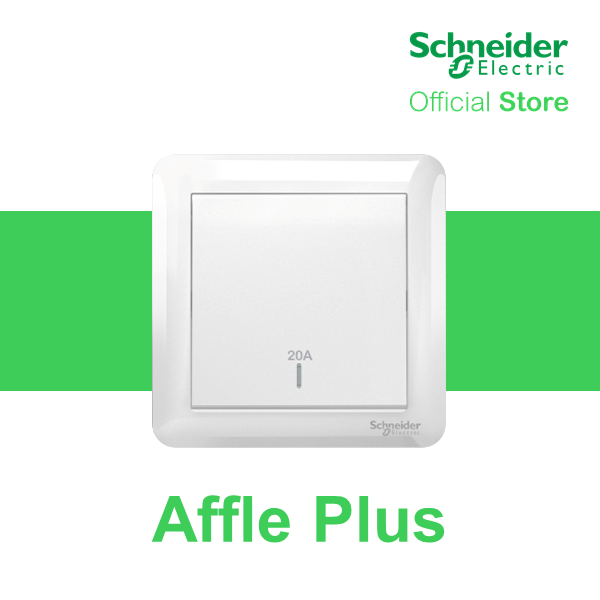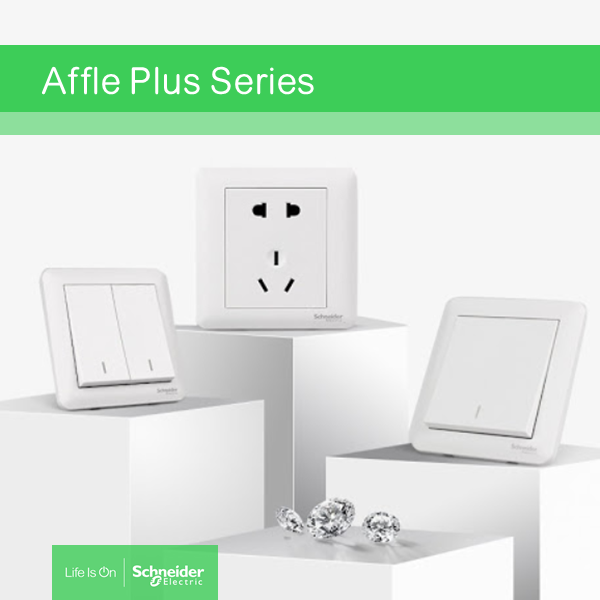 Feast your eyes on this 1-Gang 1-Way Double Pole Switch from Schneider Electric that'll make you go "Wow!" With exceptional environmental performance and sustainability, this advanced switch is all about taking your lighting game to the next level. From air conditioners to high-load electric heaters, this double pole switch has the power to handle all kinds of loads. It's like having your very own lighting symphony at your fingertips, giving you the power to create the perfect atmosphere for any occasion. 
Don't miss out on this electrifying experience with the features below:
Sustainable by design
Can handle large electric loads
2-pole 1-way function
Certified quality
Easy to install
Durable material
3. ZENSO Grande Series Switch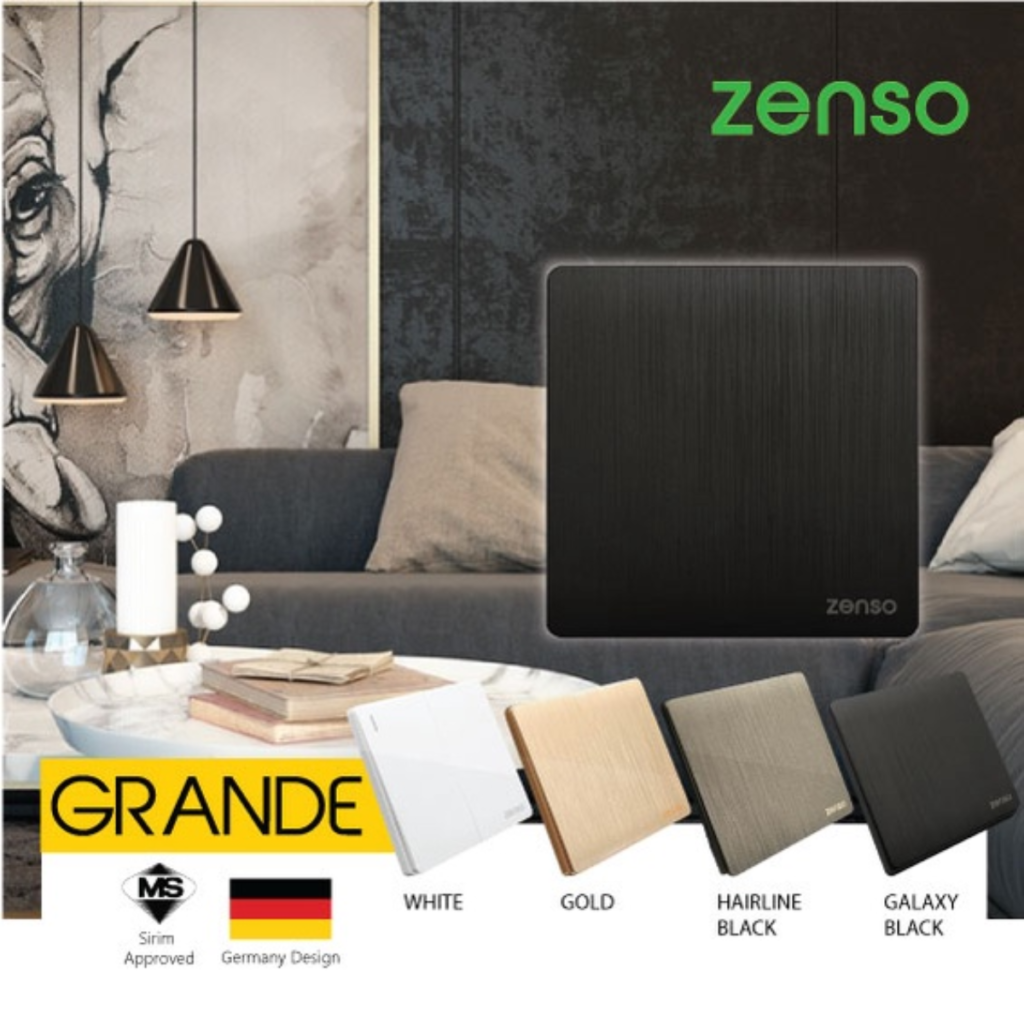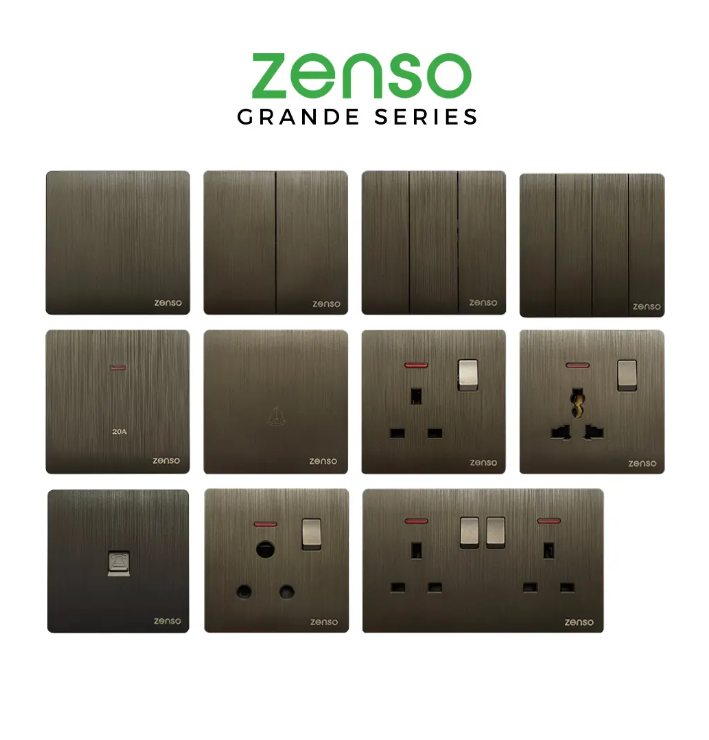 The Grande White Switch from ZENSO is here to rescue you from the clutches of darkness. Made of high-quality PC material using cutting-edge technology, this little device is sure to last for years to come. The switch has an exclusive German design and is approved by SIRIM for its quality. Apart from its durability, this switch is unique in its sleek, timeless design. It is sure to match the vibe of your space, no matter how trendy or classic it is.
The following are some reliable features of this light switch:
SIRIM approved
Germany design
Long-lasting
Trimless and modern design
High-quality PC material
Multiple types and two different colors to choose from
4. Aqara Smart Wall Switch H1 EU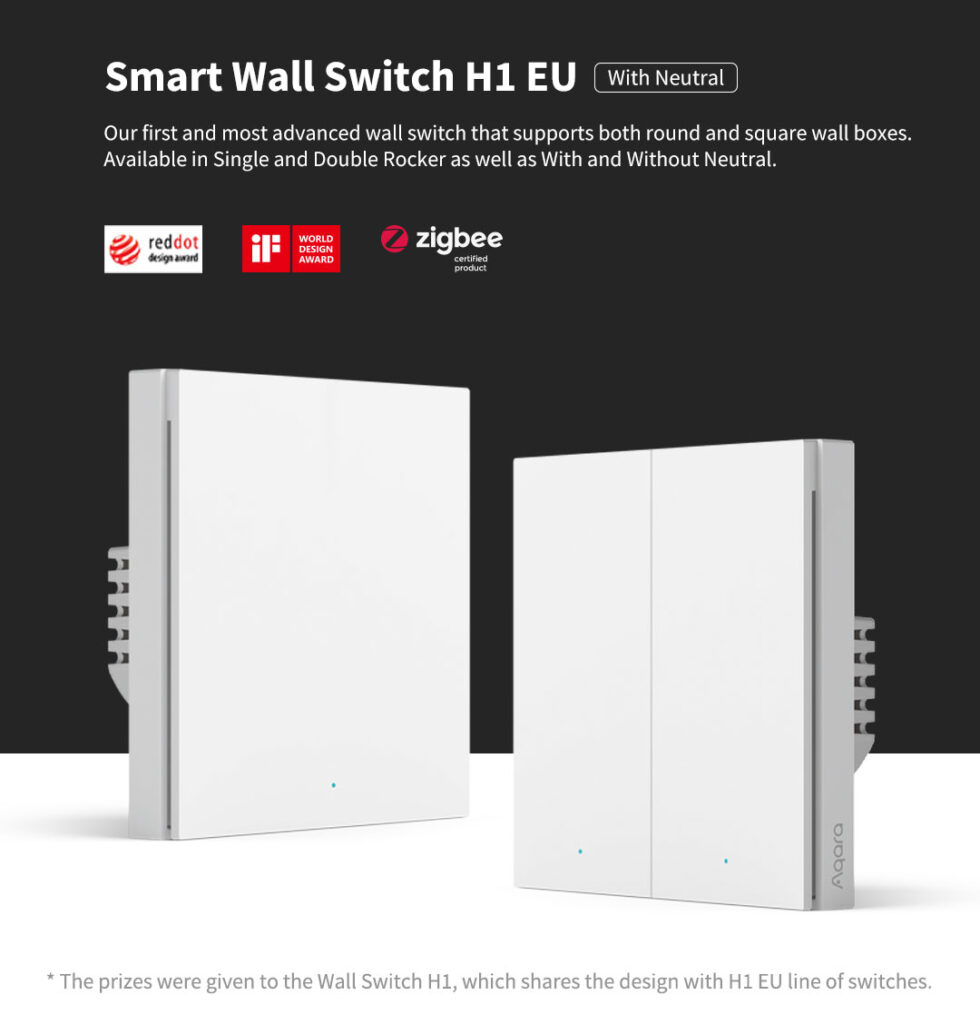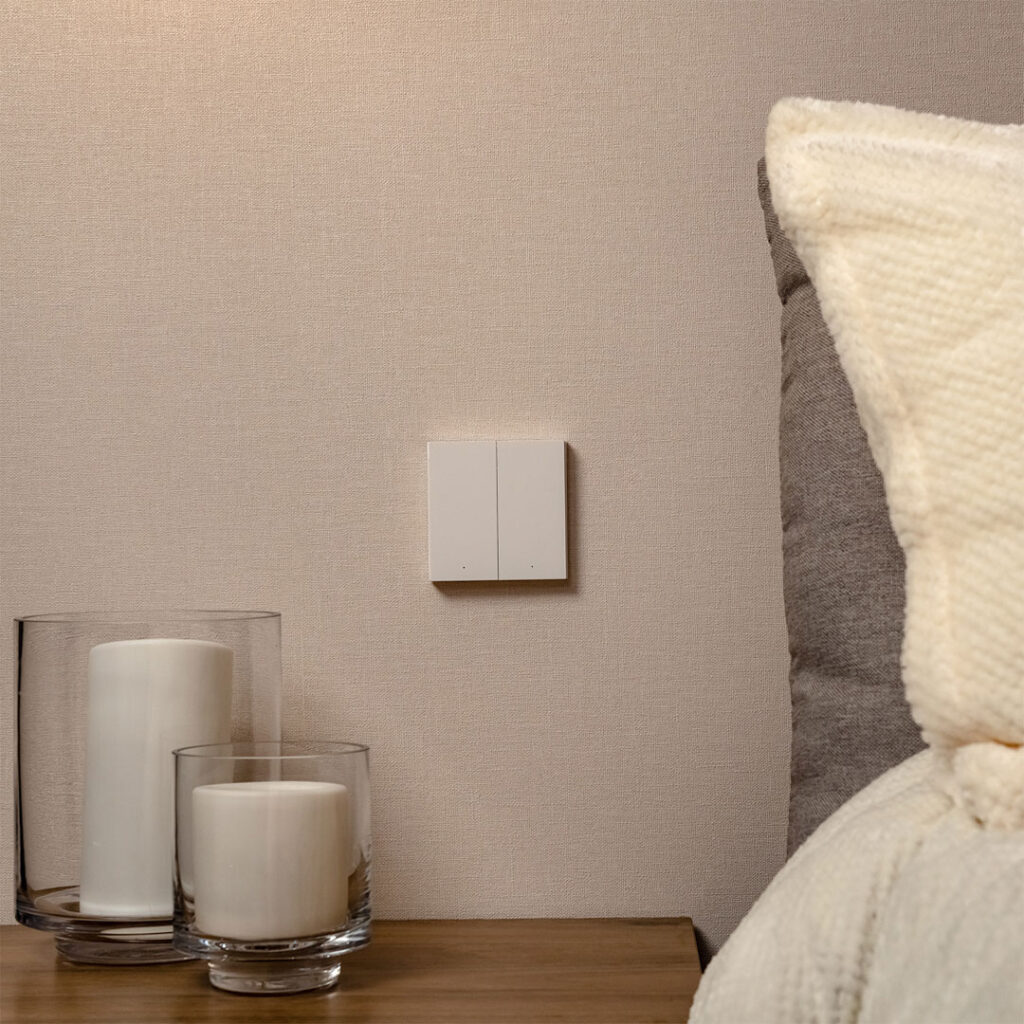 Next comes the Aqara Smart Wall Switch: the light switch that combines style, convenience, and functionality, all in one device. The switch is compatible with both square and round wall boxes and makes a no-regret choice with its premium build and metal frame. It has multiple smart functions like automated lighting control, power monitoring, and compatibility with various voice assistants and ecosystems. This switch guarantees your home's safety with its advanced safety features that prevent overheating and overload. Moreover, the switch has an LED indicator whose behaviour can be controlled by the Aqara mobile app.
Don't settle for the ordinary when you can have the extraordinary—get your hands on the Aqara Smart Wall Switch today! Here are its smart features:
Supports both square 86 mm and round wall boxes
Flexible with 2-way switch setup
Can be converted into a wireless switch
Compatible with popular voice assistants and ecosystems: HomeKit, Alexa, Google, IFTTT, etc 
LED indicator
Power-off memory
Extra durable with metal frame
Consistent with the highest safety standards
Energy efficient
Automated lighting control
Power monitoring
5. Legrand Belanko S Switch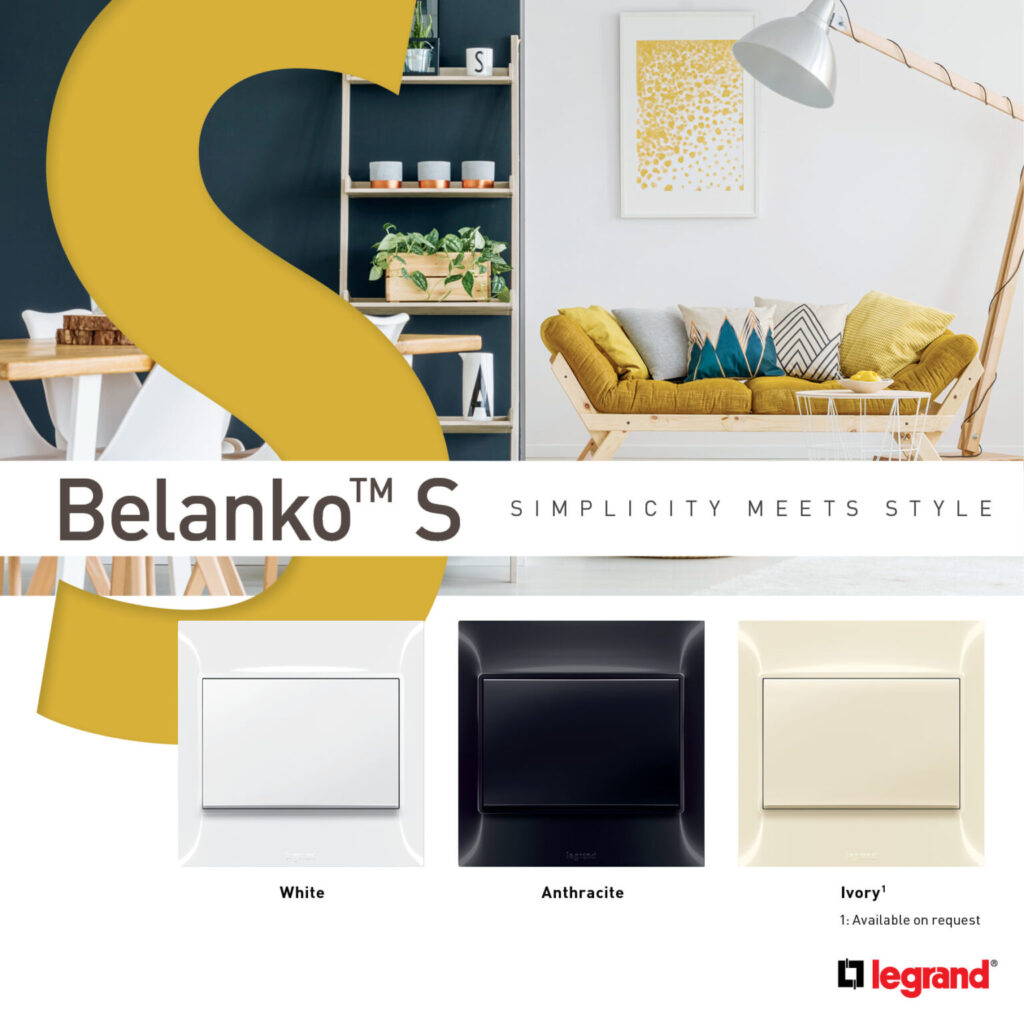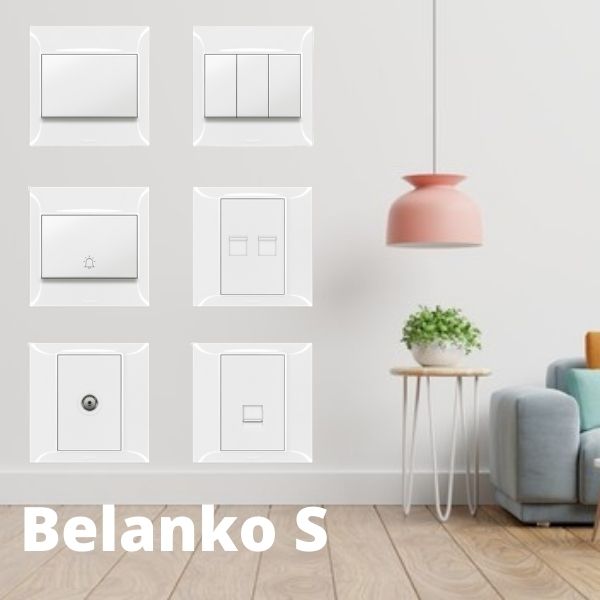 Another good light switch in Malaysia is the Legrand Belanko S Switch. This little powerhouse packs a serious punch when it comes to illuminating your space. Its glossy finish and three modern colors (white, ivory, and anthracite) can blend perfectly with any interior. The 1 to 4-gang large rockers have a sleek and functional design. They match well with the new British Standard 13 A socket that features a USB charger. The switch is not only safe to use but also easy and safe to install. Most of all, its splash-proof cover makes it suitable for outdoor use.
Say goodbye to dull moments and hello to a world bathed in the warm embrace of perfect lighting. Upgrade to the Legrand Belanko "S" Switch and enjoy the "S" benefits below:
Stylish and timeless design
Safe to use
Swift and safe installation
Suitable for outdoor use
Sensible function for hotels 
6. ARTDNA A38 Modern Series Switches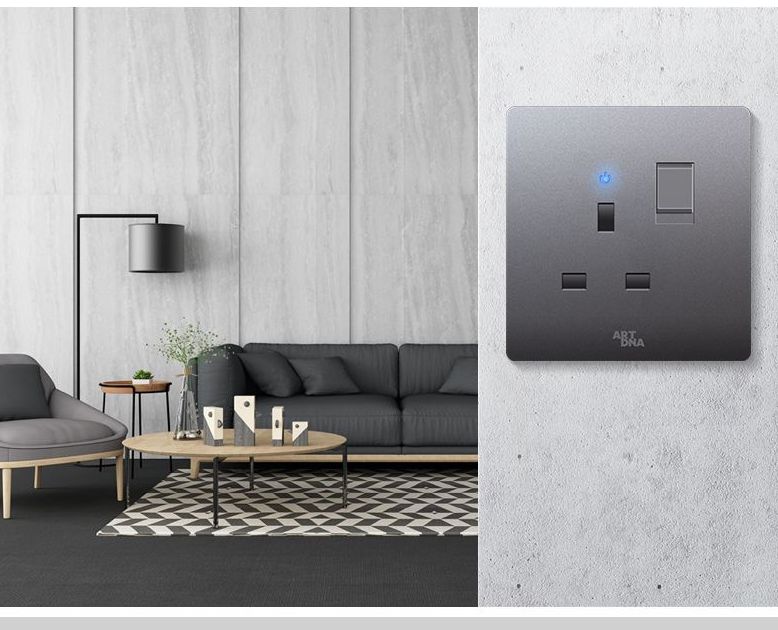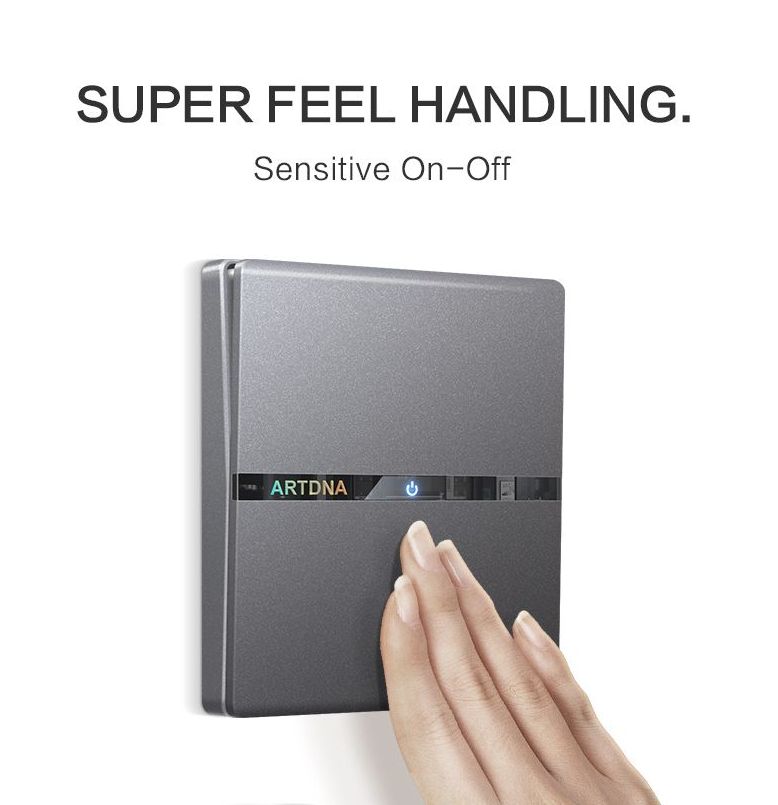 You've probably heard of the ARTDNA A38 Modern Series Switches before. These light switches are the epitome of elegance and efficiency. One of their best features is their super feel handling. With a touch so gentle, like a feather caressing your fingertips, these ARTDNA switches respond to your every whim. Most other light switches consist of phosphorescent stripes for visibility at night, which have a short luminous time and poor performance. Here's where these light switches are different. These have a high-quality LED indicator for better visibility at night. 
Do you want light switches where sophistication meets functionality? Then check out the features of these switches:
Sensitive On-Off
LED indicator
Appearance Design Patent Award
Super feel handling
Contemporary design
Durable material
Suitable for any space
7. LEJIA Ultra Frameless grey Wall Glass Panel Switch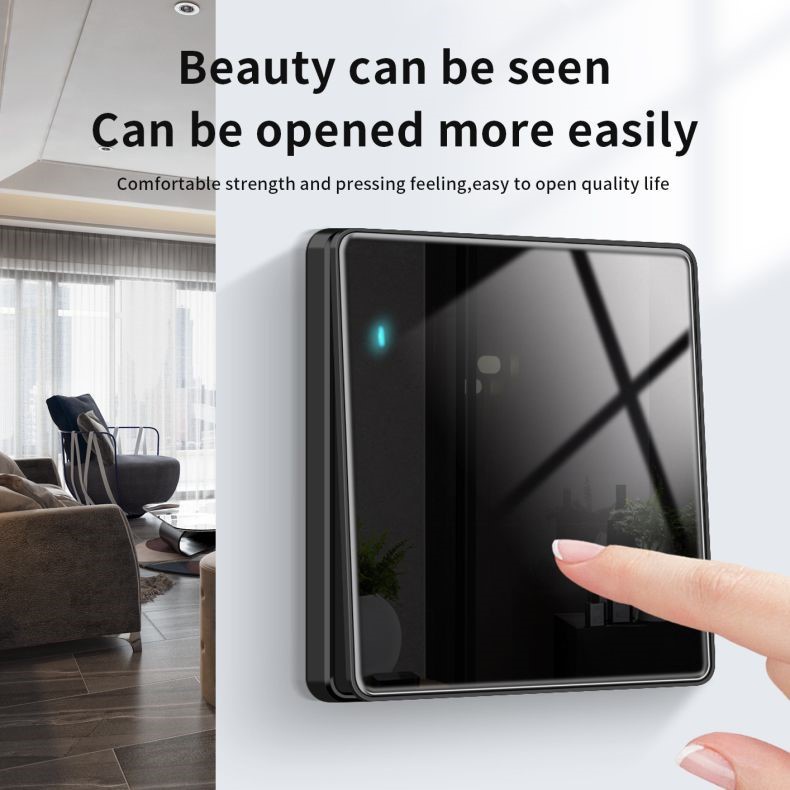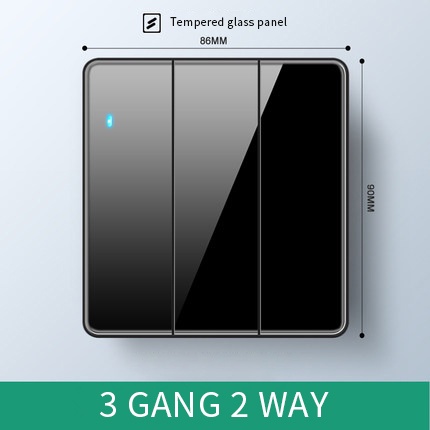 The LEJIA Ultra Frameless Grey Wall Glass Panel Switch is the ultimate commander of illumination, granting you the power to transform darkness into a symphony of radiance. Now you don't have to search for the switch in the dark during the night, all thanks to its LED indicator. The tempered glass panel is both easy to clean and resistant to scratches. It possesses exquisite aesthetics and superior quality. This switch's one-piece embedded steel frame allows for easy installation and enhances strength. And the utilisation of the original silver-copper alloy in its build guarantees safer and more stable current transmission.
It's time to experience a whole new level of lighting control with the amazing features of this light switch:
LED indicator
High-quality tempered glass panel
Easy to clean
Scratch resistant
Safe and durable
One-piece embedded steel frame
Easy to install
Sealed chip box: prevents moisture and dust
Fire-resistant PC material
Original silver-copper alloy: safer and more stable current transmission
8. Schneider Electric Vivace Series Switch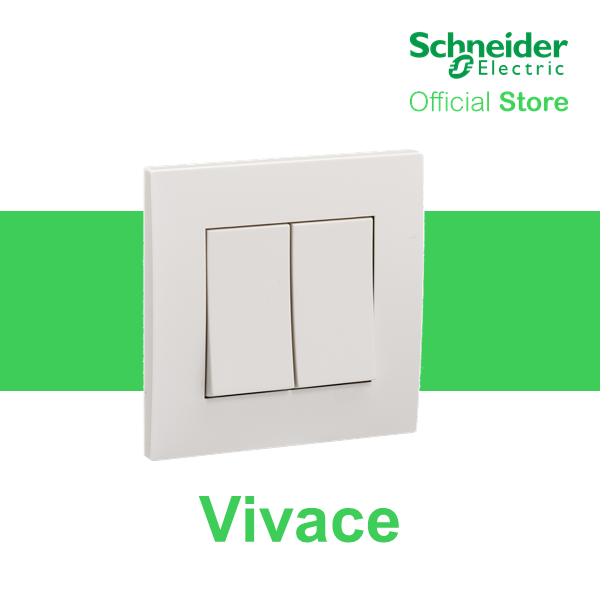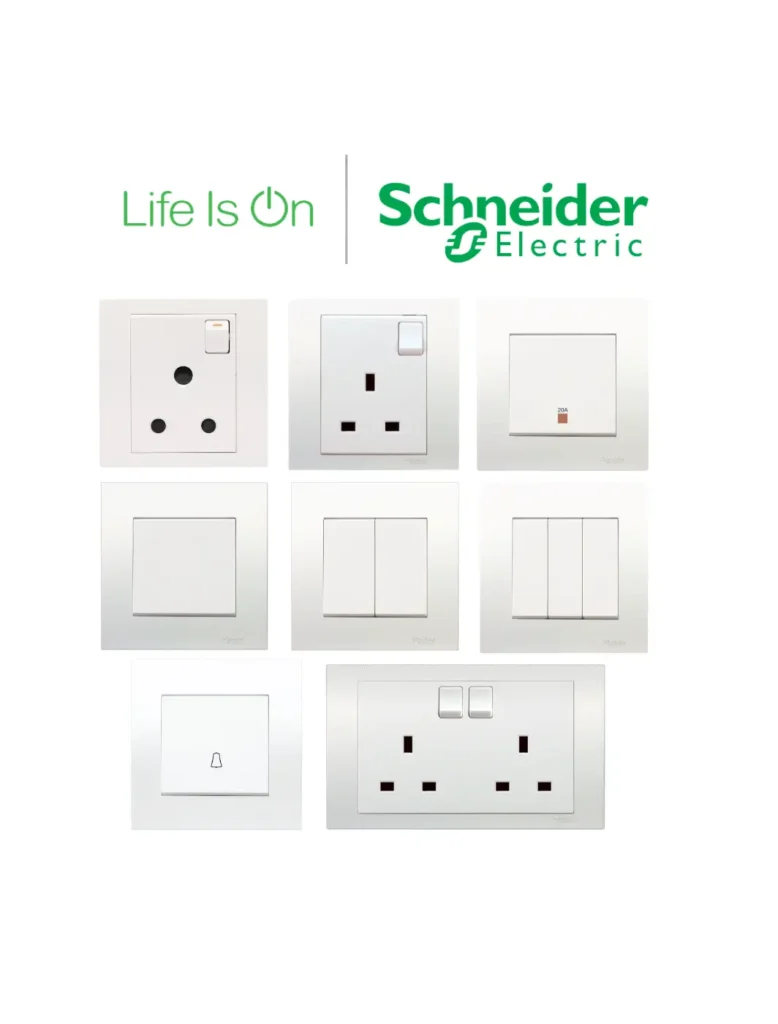 This mighty hero from Schneider Electric will bring clarity and warmth to every corner of your space. With its sleek, futuristic design and mind-blowing functionality, this light switch is like a trusty sidekick, always ready to assist your lighting controls. Its untreated surface and glossy finish make it easy to clean and scratch resistant. Last but not least, this switch is a sustainable electric device and is resistant to a wide variety of environmental factors like temperature, humidity, soaps, etc. This feature makes it suitable for outdoor use as well.
The following are some really good features of this light switch:
Sleek design
Glossy finish
Easy to clean
Easy to install
Scratch resistant surface
Environmental friendly
Suitable for outdoor use
SIRIM certified
IP20 degree of protection
Final Thoughts
In a world where light switches often go unnoticed, we've curated this guide to help you find the best light switches in Malaysia. From the sleek and stylish to the smart and innovative, we have a whole selection of switches that tick all the right boxes.
Whether you're seeking convenience, durability, safety, or aesthetic appeal, our guide has got you covered. So, say goodbye to flickering lights and hello to a world illuminated by the perfect switch. It's time to embark on an electrifying journey and transform your home with the best light switches Malaysia has to offer.