HOOGA, is a famous Singaporean home decor brand in Malaysia due to its extraordinary product offerings inspired by the Danish art of cosiness, hygge. They have tons of amazing products that will help transform an ordinary home into a relaxing, comfortable oasis that you won't want to leave. After all, with the hustle and bustle of city life, retreating into your own space at the end of the day is a blissful experience.
No matter how big or small your space is, HOOGA's delightful, specially designed home decor items are a must-have to help inject a bit of Scandinavian magic to enhance the comfort level of your home. The brand has inspired many Malaysians to adopt this concept into their homes for the past five years and counting. Thanks to their products, upgrading your home decor for more quality and comfort has never been easier.
This year, for HOOGA's 5th anniversary celebration, they are rewarding their customers with an awesome month-long birthday bash that promises impressive promotions and prizes up for grabs. Here are the details you definitely won't want to miss:
Introducing HOOGA 5th Cosy-Versary Celebration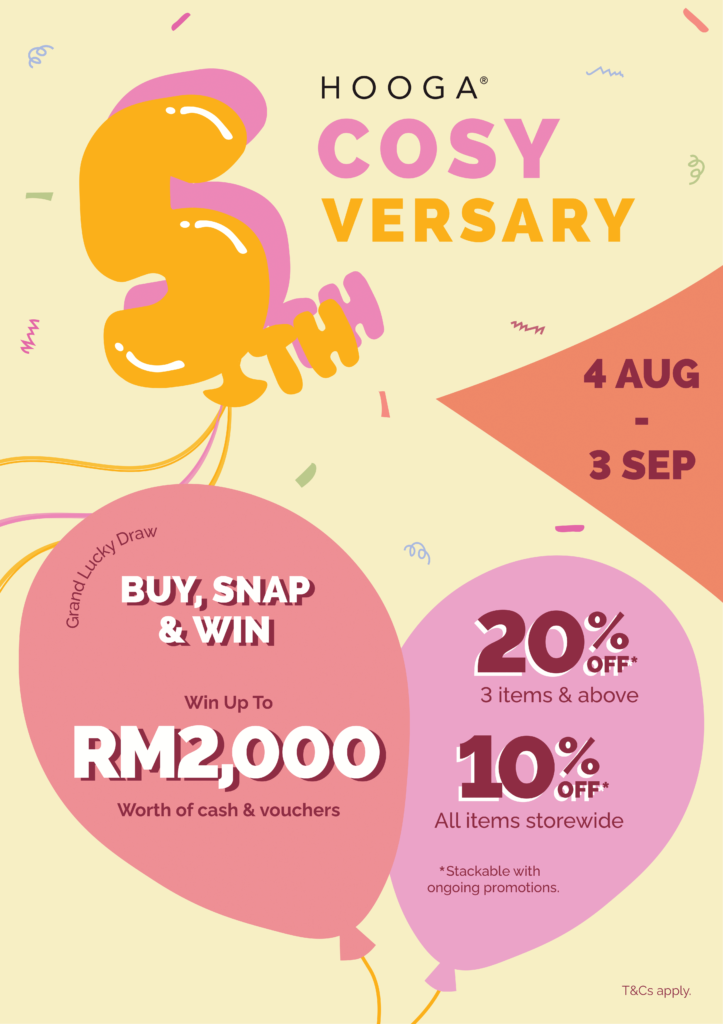 Get ready to celebrate HOOGA's 5th Cosy-Versary in all HOOGA stores nationwide starting from 4 August 2023 to 3 September 2023.
Exclusive Storewide and Sitewide Discounts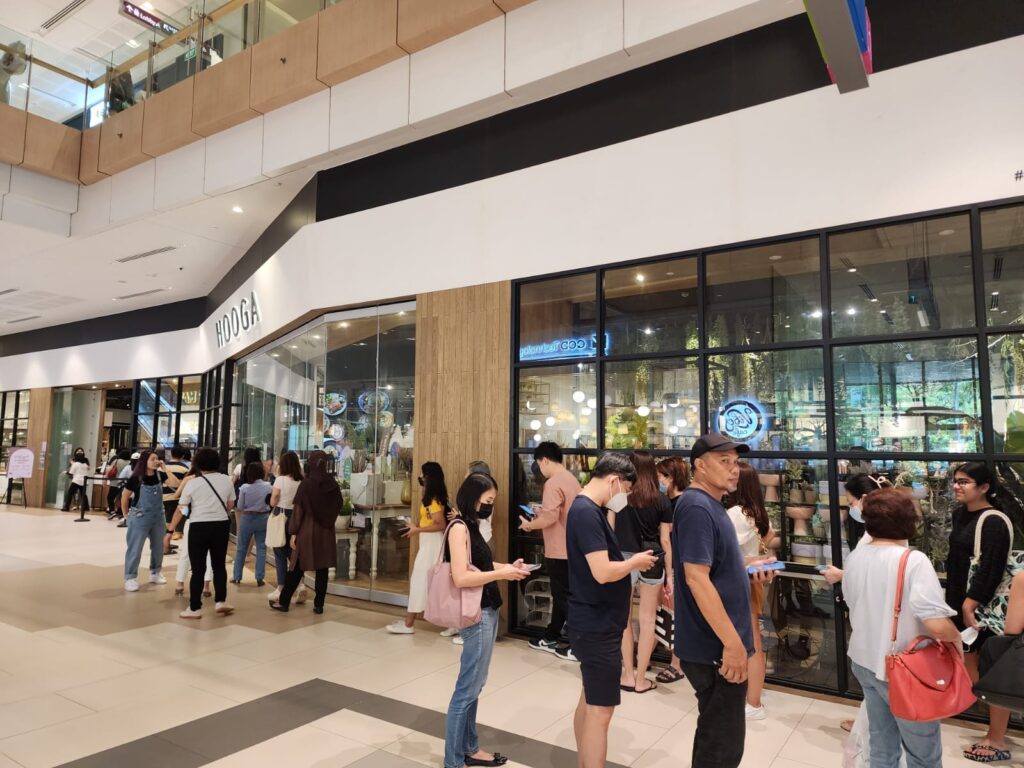 For one whole month, customers get to enjoy 10% off any items storewide in any of their physical outlets in Malaysia. Plus, if you buy 3 items or more, you'll get a 20% discount sitewide. These discounts apply sitewide on HOOGA's website as well, so if you want to shop from the comfort of your own home, you can enjoy the same promotion.
Participate in the Lucky Draw to Win Amazing Cash Prizes
During their month-long celebration, HOOGA will also be running a Buy, Snap & Win Lucky Draw campaign. The first prize winner will receive RM2,000 consisting of RM1,000 cash and RM1,000 cash voucher to be used in HOOGA. Meanwhile, the second prize winner will get to walk away with RM800 cash and the third prize winner will receive RM400 cash.
Excited to join? Here's what you need to do:
Spend a minimum of RM500 either in-store or online.
Strike a pose and snap a photo of you with your HOOGA haul.
Post your best picture on your Instagram feed with this caption and hashtag, "Happy 5th Birthday @HoogaOfficial! #HappyBDHooga #SpottedAtHooga"
Submit your personal details here: https://forms.gle/MEAikm29dHETU8r36
Done!
Do note that to participate in this lucky draw contest, your Instagram account and post must be set to public. The post will also need to be up until the end of the lucky draw period. Only one submission per receipt but you can have multiple submissions to increase your chances of winning the cash prizes.
Exciting In-Store Events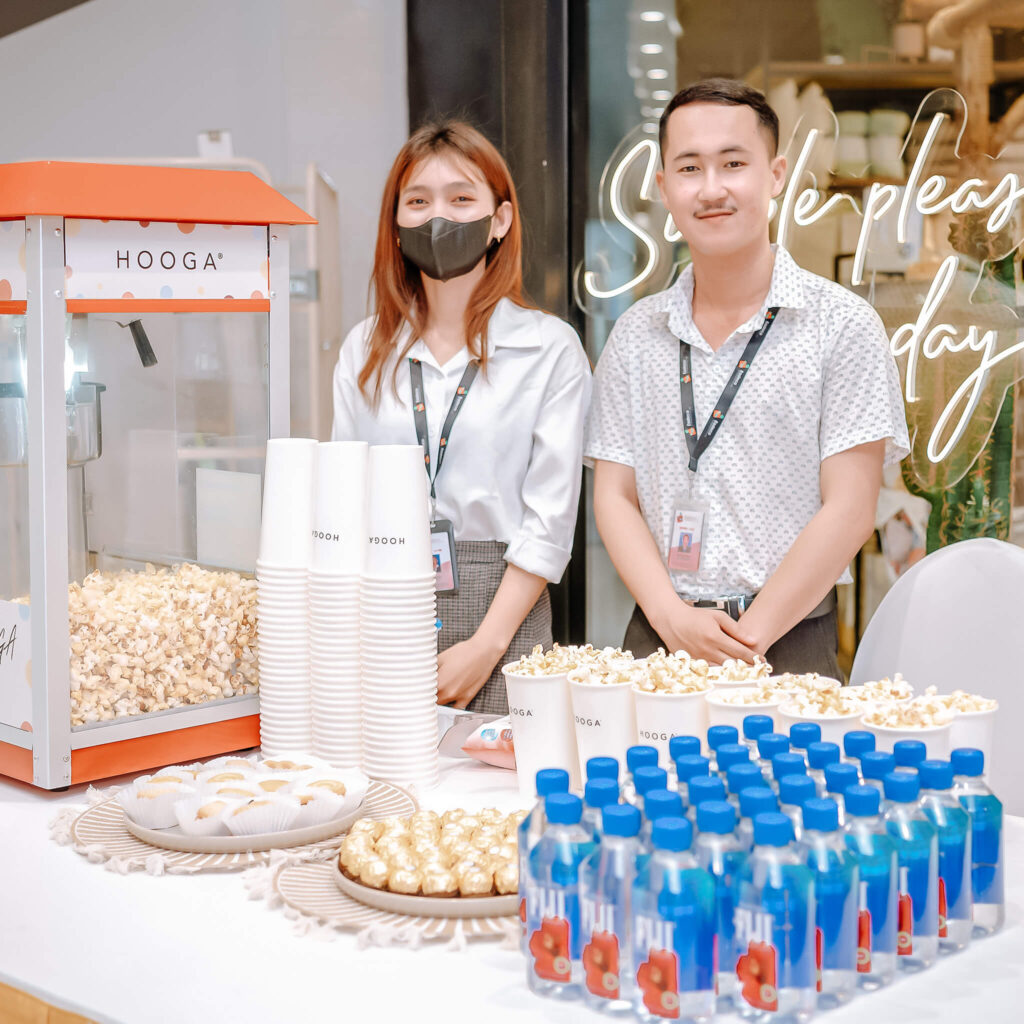 For those who are looking for some fun while shopping in-store, hop over to HOOGA 1 Utama on 19 and 20 August 2023 or HOOGA Gurney Plaza on 26 and 27 August 2023 for more thrilling activities. You'll get one chance per receipt to enter the Lucky Dip to win cool HOOGA products at both stores mentioned above.
In addition, HOOGA will also be holding another contest known as "Can You Dew It?" featuring their iconic Dew plush toys. Simply count the number of Dew plush toys in the box and submit your guess. You could win a Bebe Dew if you guessed correctly and if your answer is around ±2, you will receive a consolation prize too! Best of all, this contest does not require any purchase to be made.
You'll get to enjoy some yummy HOOGA-licious desserts while in-store as there will be complimentary ice-cream or popcorn & candy floss given out to customers during the event dates above. What's more, you will get to enjoy a cup of complimentary, aromatic HWC Coffee to fuel up your shopping journey in HOOGA. HWC Coffee is well known for its smooth flavour and rich aroma which uses Classic No. 9 coffee bean, a blend of 100% Arabica beans that are roasted to perfection.
So, if you're looking to refresh your home decor or want to make your home more comfortable, then now's the best time to do so. Take advantage of these exciting promotions from HOOGA's 5th Cosy-Versary to get more value and save money at the same time.
For more information about HOOGA 5th Cosy-Versary, visit their website and social media below:
✅ Website: https://findinghooga.com.my/
✅ Facebook: https://www.facebook.com/hoogaofficial
✅ Instagram: https://www.instagram.com/hoogaofficial/