Embroidery is a popular way to personalize clothing and textiles. Nowadays, it's very easy to embroider anything, from apparel to household items like towels, napkins, and handkerchiefs. If you are just starting out as an embroiderer, it's good to start with buying the right embroidery machine.
When you're buying an embroidery machine, it's easy to get caught up in the numbers. But before you sink your money into another expensive piece of equipment, take a look at the best embroidery machines out there. While some machines have the same features and functions, others have different takes on things. With so many options out there, how do you decide what machine suits your needs best? Need quick inspiration? Check out our buying guide for the top 10 best embroidery machines available today.
Brother SE600 Sewing and Embroidery Machine
Singer Quantum Stylist 9960
Brother XR9550 Sewing and Quilting Machine
Bernette 79
Brother PE800 Embroidery Machine
Uten 2685A Sewing Machine
Brother SE1900 Sewing and Embroidery Machine
Janome Memory Craft 500E Embroidery Machine
SINGER Legacy SE300 Embroidery Machine
EverSewn Sparrow X2 Sewing & Embroidery Machine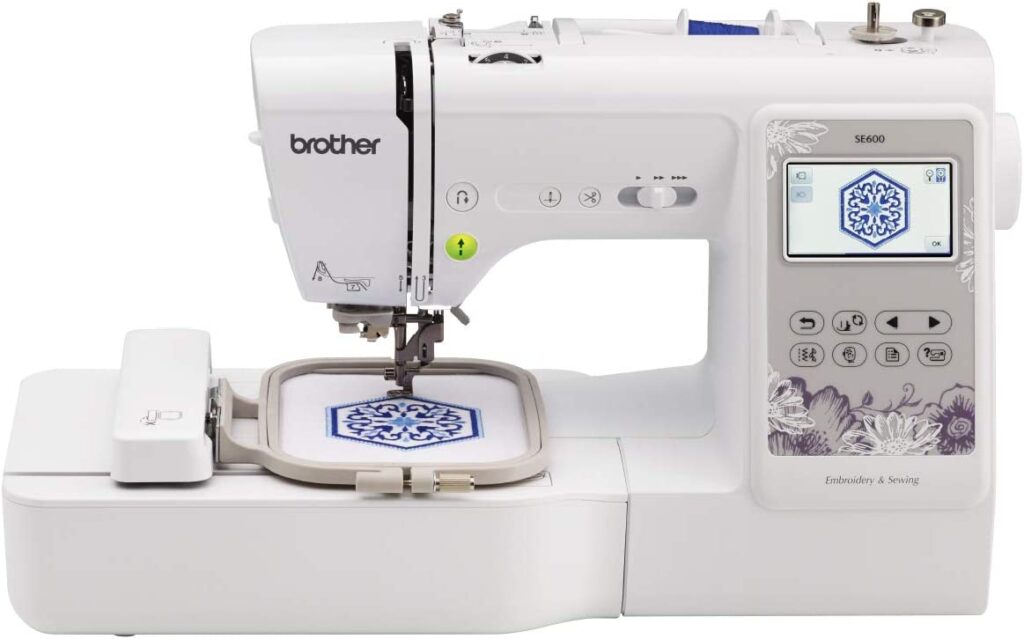 Brother International began as a provider of sewing machine repair services 100 years ago. It is presently the world leader in the production of sewing and embroidery machines. It's all because of the advanced technical understanding and creativity of the company. Brother International has sales of more than 5 billion dollars and operates in 40 different countries.
The number one embroidery machine on our list is the SE600 Sewing and Embroidery Machine by Brother. This machine can totally change an embroiderer's experience with all of its top-of-the-line features. It comes with computerized sewing, better control, and thousands of design options.
Here are all the features of the Brother SE600 that make embroidery fun for everyone:
3.2 inches color touchscreen LCD: better preview and editing of designs
Computerized with smart control
On-screen built-in tutorials
Fluorescent work area for precise embroidery
Automatic needle threading and drop-in top bobbin
Variable speed control
9 types of embroidery fonts, each with three sizes
80 designs that also include appliqué designs
103 built-in stitches
10 styles of buttonhole
7 feet included
4″ x 4″ wide embroidery field
iBroidery: access to 5000+ ready-to-use designs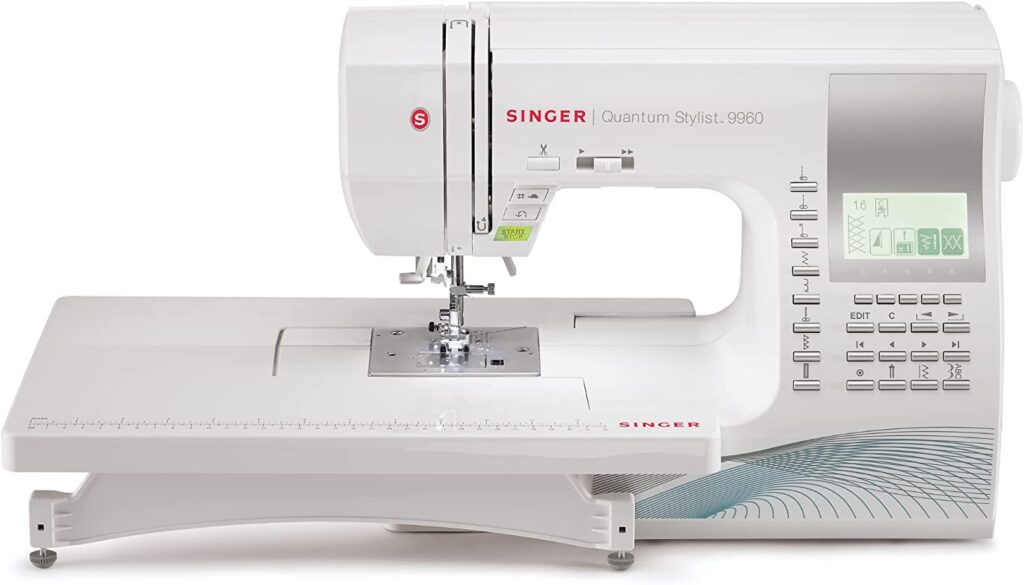 The Singer has been the biggest name in the sewing industry since 1851. Ever since then, the company has never forgotten its original commitment to innovative designs and useful functionality. The Singer has continued to produce products for all levels of sewing and embroidery.
The Singer Quantum Stylist 9960 is a computerized machine that enables both sewing and quilting. It has all the user-friendly and beefy features at just a fraction of the price. Nothing will ever compare to the value of this machine when so many accessories are provided along with it.
Here are some specifications of the Singer Quantum Stylist 9960:
1172 built-in applications including 600 stitch applications
You can also combine stitches to bring more creativity
High-speed stitching: executes about 850 stitches per minute
Easy threading: has a built-in needle threader
Multiple accessories and an extension table
13 sewing and presser feet
Automatic 1-step buttonhole in 13 different styles
LCD screen for better selection and customization
Durable: comes with a heavy-duty metal frame
Here's another sewing and quilting machine from Brother. It's their XR9550 two-in-one machine that is designed for computerized and better-controlled stitching. This machine enhances the creative and natural abilities of embroidery enthusiasts. All its features are being developed for customizability and longevity.
The specifications of the XR9550 which make it different from other embroidery machines are:
110 styles of stitches plus 8 styles of one-step buttonholes + 55 alphanumeric stitching designs
Large LCD display: computerized selection of stitches, design edits, and tutorials
Free arm capacity: free motion embroidery, sewing, and quilting
Simple to use push-button stitch selector
Variable speed control
Comes with 8 types of quickly changeable presser feet
Durable: comes with a metal frame and a protective hard case
Wide stitching table: easy accommodation for large clothes
25-year warranty with lifetime service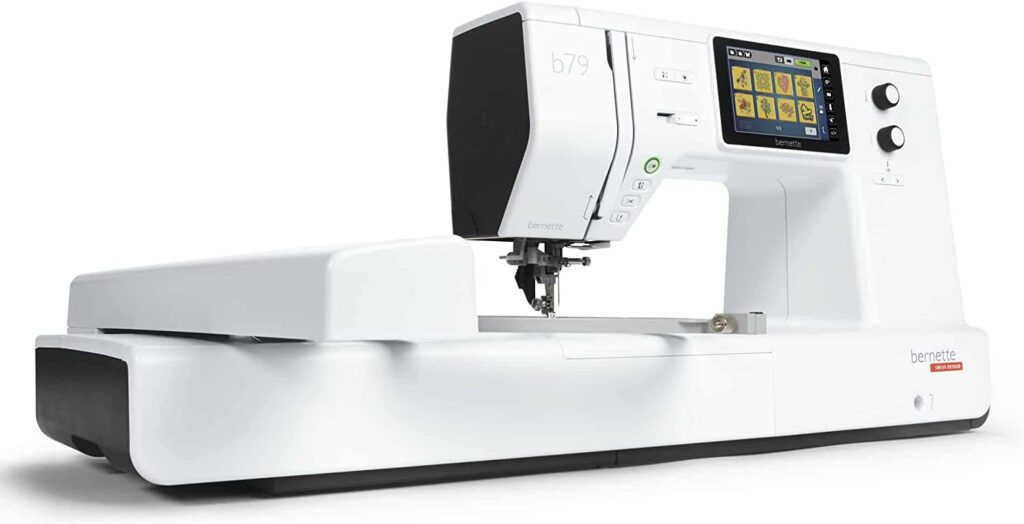 The BERNINA Textile Group owns the brand Bernette. Some machines from Bernette are equipped with intelligence, while others work mechanically. All of them are a perfect mix of quality, innovation, and technology. Bernette embroidery machines are perfect for novices who have limited experience in embroidery.
Our favorite from Bernette is their computerized model b79. This embroidery machine offers various useful advancements in addition to the typical features offered by all modern embroidery machines. The main reason for buying this model is its mid-range price, which almost everyone can afford.
The following are the distinguishing features of Bernette 79:
Two-in-one function: fulfills almost all stitching needs, from sewing and embroidering to quilting
DECO feature for luxury embroidering
Computerized control
Multi-function knobs for easy and quick handling
Large sewing and embroidery field
500 types of stitches
Stitch Designer Dual: fast and even fabric feed
Programmable foot control
5-inch color touchscreen LCD display
BERNINA Toolbox software modules are also included
Easy to use for newbies
Affordable price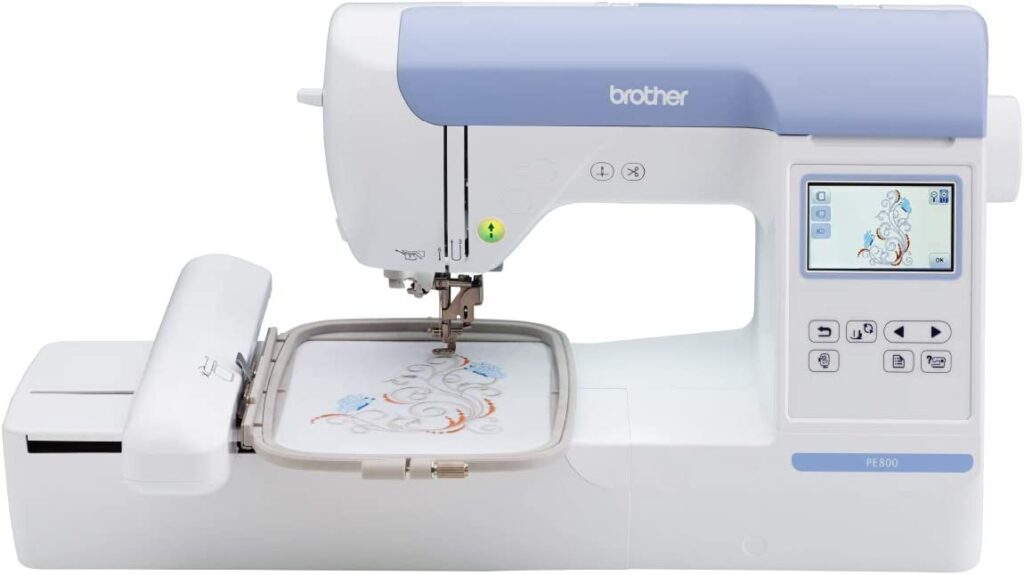 Another easy-to-use embroidery machine by Brothers is the PE800. It is an exceptional piece of equipment designed for all levels of embroiderers. Professionals can create mesmerizing embroidery designs with the endless features it offers. What about novices? Yes, they can basically start their embroidery experience with the built-in step-by-step tutorials. 
Here are all the high-end features that the Brother PE800 offers:
Large 5" x 7" embroidery field: more capacity for large embroidery projects
11 types of embroidery fonts
138 stitching designs
10 frame shapes + 14 styles for border
USB Port for importing even more designs of your choice
3.2″ color touchscreen LCD display for customized projects: allows you to edit and preview designs
Built-in step-by-step tutorials with on-screen display
Less rehooping
Drop-in top bobbin
Automatic needle threader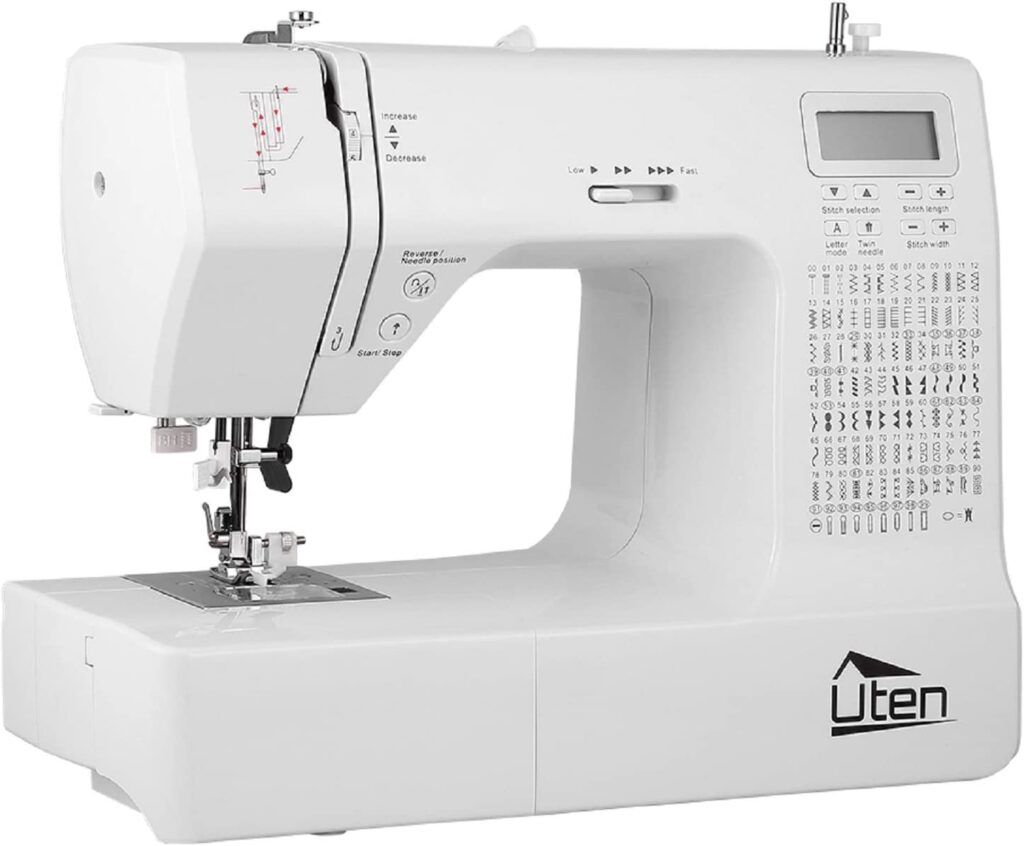 Uten specializes in producing home appliances. It is committed to providing customers with products that will make their daily lives easier. Their embroidery machines are also no different. When designing and developing embroidery equipment, the company prioritizes one's sewing goals more than anything else.
Although all of Uten's embroidery machines are high-quality and reasonably priced, the Uten 2685A is our top pick. Whether it's quilting, sewing, or embroidering, this computerized machine is just perfect for every project. This cutting-edge embroidery machine, which features 200 different built-in stitches, can accommodate a variety of embroidery requirements.
Here's all about Uten 2685A you need to know:
200 built-in stitches, including alphanumeric stitches
8 styles of one-step auto-size buttonhole
Computerized stitch selection with different types of indicators
Programmable needle control
Drop feed for easy embroidery
Twin needle settings
Reverse stitch function
Variable needle positions
Variable speed controller
Automatic needle threading
Thread tension controller
LCD display
Quick change presser feet
Quick-set bobbin winder and drop-in top bobbin system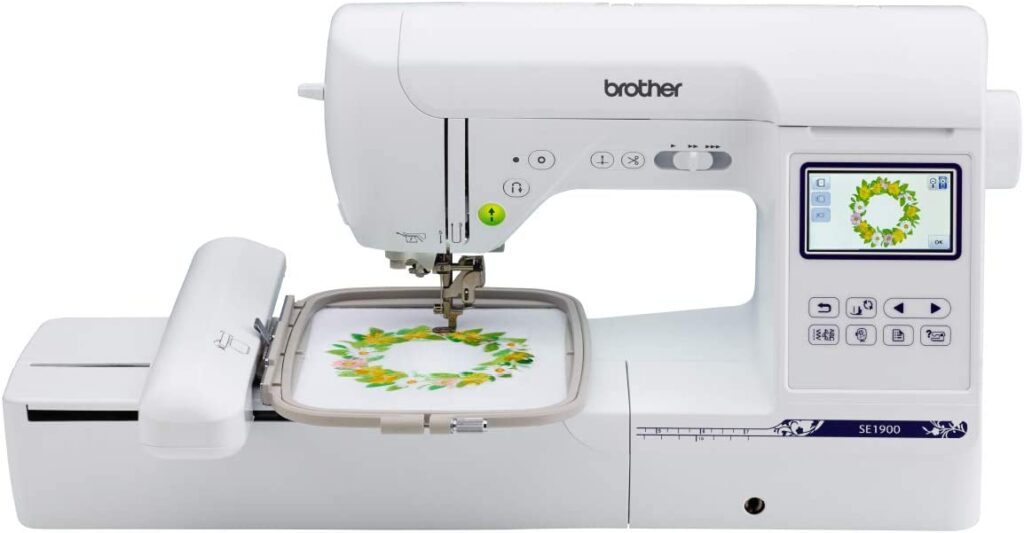 Our last Brother pick is the SE1900 two-in-one sewing and embroidery machine. This machine works wonders due to its versatility in combining designs, changing colors, and uploading numerous pre-designed patterns. Owing to this adaptability, Brother has infinite applications and limitless potential in the embroidery industry.
The following are all the specifications of the SE1900 that make it the best embroidery machine for all levels of embroiderers:
5×7 inches large embroidery field: provides enough space for large embroidery projects
Design editing features for better customizability
11 embroidery fonts and 240 stitch styles
Built-in tutorials that can be viewed on a 3.2″ color display
Automatic needle threader and drop-in top bobbin
Free motion embroidering
Multiple accessories that come with the machine: 5″ x 7″ hoop, 2 bobbins, 3 bobbin clips, 3 pre-wound bobbins, embroidery foot, 7 sewing feet, 6pc needle set, twin needle, and many more
Janome offers an entire array of cutting-edge machines for those who enjoy sewing, embroidering, and crafting. Their long-arm quilting machines and computerized embroidery machines are one of a kind in the market. All Janome machines come equipped with novel features that allow you to showcase your creativity.
The Janome Memory Craft 500E Embroidery Machine is a high-end machine with all the spicy functions. Although it's a little expensive, its features make it a no-regret option for professional embroiderers. Here are some of them which are worth mentioning:
Color touchscreen display
On-screen editing feature: you may reside, recolor, flip, drop, and drag the designs
Automatic thread cutting
Maximum embroidery size of 7.9 x 11 inches
Advanced needle threader: saves time and reduces stress
160 Built-in Designs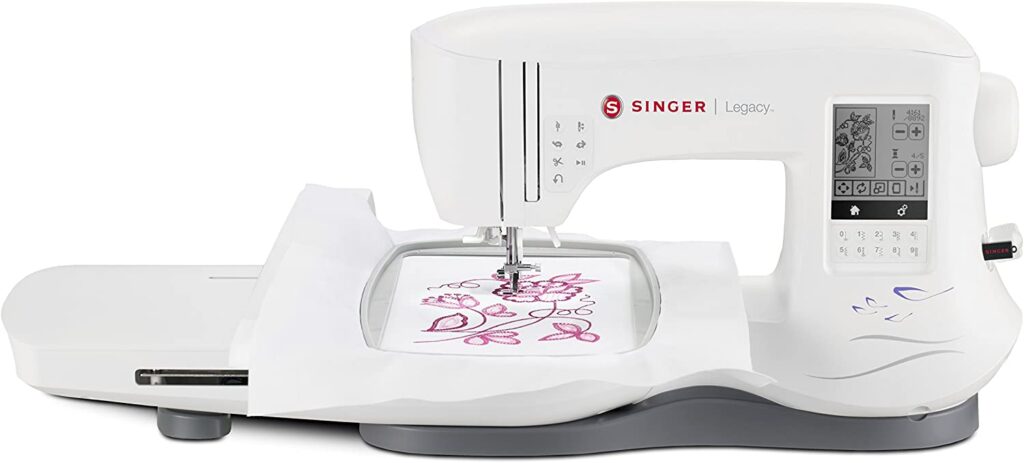 Here's another product from Singer: the Legacy SE300 Embroidery Machine. Thinking about why it's on our list? It's because it has a sleek design and a portable size combined with all the advanced features we described for other machines above. You are going to love this masterpiece over single use.
The worth mentioning qualities of Legacy SE300 are:
250 built-in stitches + 200 embroidery designs + 6 alphanumeric font styles
USB port for adding even more designs of your choice
StayBright LED lights for a lit work area
Large and extendable work area
Large touchscreen display for on-screen editing and design preview
Automatic needle threader
Complimentary downloadable software and free online classes for beginners
Durability with a sturdy metallic frame
Universal power supply
25-year warranty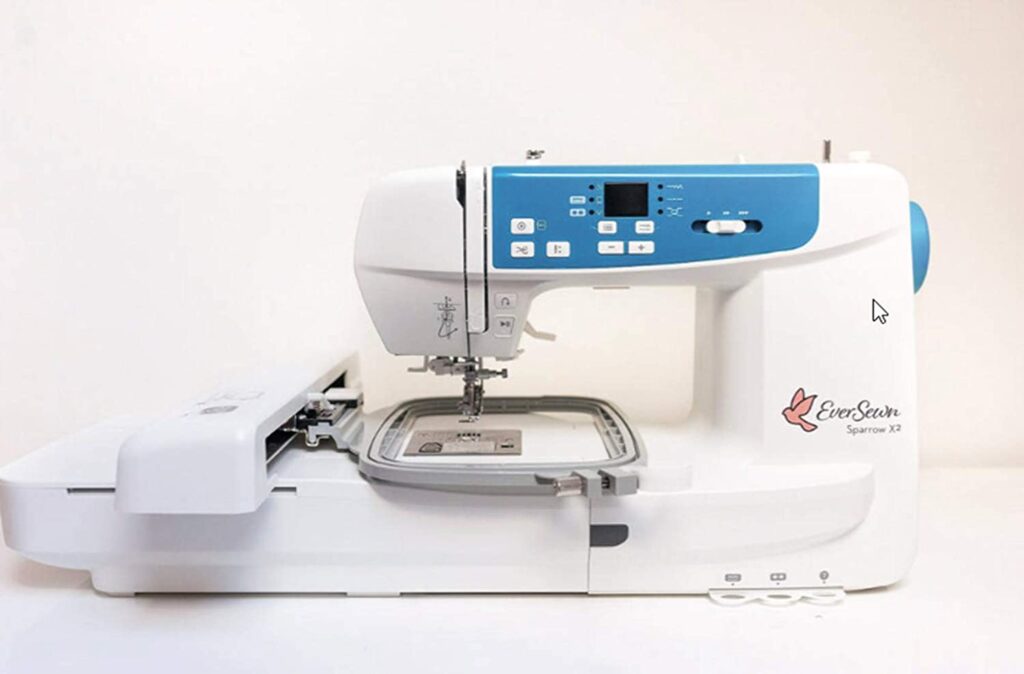 EverSewn is a manufacturing company that aims to inspire the current generation of embroiderers and sewers to keep the stitching industry alive through innovation. The company emphasizes new trends in embroidery. Moreover, it teaches its consumers to apply these trends to their work lives.
Unlike other sewing machines, the EverSewn Sparrow X2 is a multifunctional  machine that helps you execute almost any stitching task, from simple sewing to smart-controlled embroidery. This piece of equipment is definitely going to up your embroidery game.
Here's all that you must know about the EverSewn Sparrow X2 Sewing & Embroidery Machine:
Smart control system with built-in Wifi connection
Compatible with Apple or Android devices: simply connect it with your phone and use it in any way you want
User-friendly Interface
Automatic threader and thread cutter
One-step buttonhole
Speed control system
Smart needle control
120 different stitch styles
Electronic tension adjustment and presser foot pressure adjustment
High embroidery speed: about 650 rpm
Large embroidery field of 4.75×7 inches
EverSewn Pro app
Final Thoughts
It is a very important decision to buy your own embroidery equipment. There are many manufacturers of embroidery machines, and they offer many different models. So, we have reviewed several different kinds of machines to make your search easier. The above 10 are our picks for the best embroidery machines. Now all that's left to do on your part is buy one and enjoy embroidering!