In today's fast-paced world, stress has become a common companion for many of us. Whether it is a work-related strain or just the daily grind, we all need a way out of it. Every one of us wants to unwind and relax after a long, tiring day. And that's where massage chairs come in. These chairs provide a comfortable and convenient way to enjoy a soothing massage whenever you need it. But not all massage chairs are the same. In this guide, we will be exploring the best massage chairs in Singapore. These chairs offer many benefits and useful features to help you de-stress and take better care of yourself.
While many people may think of massage chairs as simple massage pads with wires, they are much more than that. These chairs were initially created to help businesses increase revenue by aiding employees, but they have now gained popularity with the public due to their numerous health benefits. In fact, many people find a massage chair more beneficial than other forms of therapy or exercise, such as yoga or meditation. So if you're looking for the best massage chair in Singapore, keep reading to find out which chairs made our top picks and why they're worth considering!
Features of a Good Massage Chair
Looking for a massage chair to help ease your back pain or other health issues? Make sure to consider these key features:
Multiple Massage Techniques: A good massage chair should offer a variety of massage techniques, such as full body massage, tapping, kneading, and shiatsu.
Adjustable Settings:  A good chair should be adjustable for maximum comfort. So, choose a chair with variable speed or intensity settings that can be adjusted to suit different users' needs.
Full Coverage: Look for a massage chair that provides full body coverage, including the back, neck, and shoulders. Some chairs even offer foot massage systems.
Zero Gravity Feature: Most high-end massage chairs come with a zero-gravity function that can help boost blood circulation by raising your legs up to the level of your heart.
Memory Function: Consider a massage chair with a memory or recall function to easily save your favorite position for future use.
Our Selection of Singapore's 14 Best Massage Chairs for Stress Relief and Comfort
Get ready to unwind and relax with our top picks for the best massage chair in Singapore.
1. OSIM uDream Pro Well-Being Chair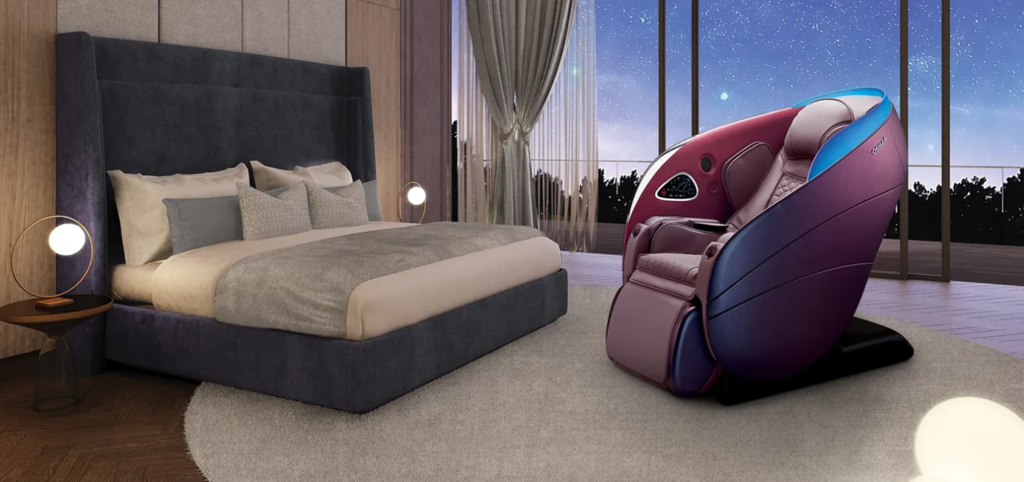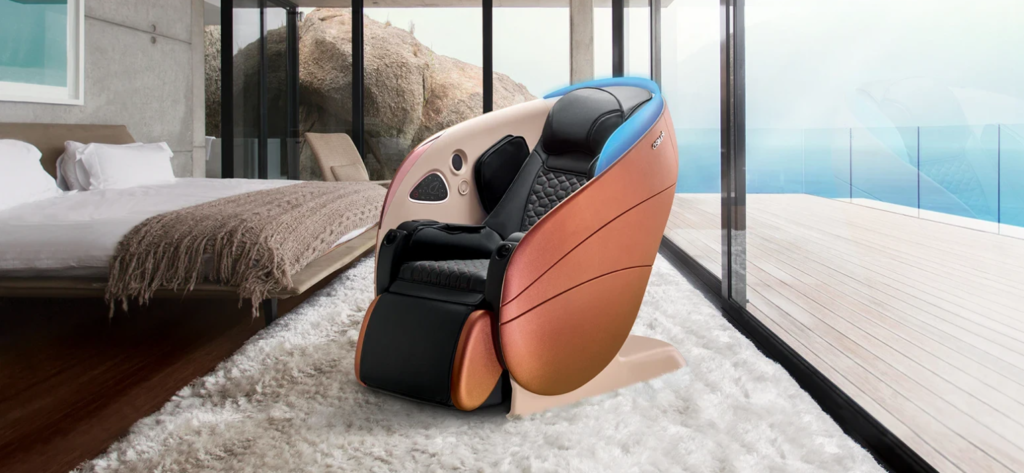 OSIM is a subsidiary of V3 Brands and is the top brand in Asia's premium massage chair market. The company has been leading the way in the wellness tech industry since its founding in 1979. The OSIM uDream Pro is an advanced well-being chair that integrates several of OSIM's top-notch massage technologies. This chair delivers a highly effective full-body massage experience, including Power-Hips Massage, V-HandTM Pro Massage, and Wrap-around leg massage. The diverse selection of professionally-designed massages is further categorized to meet the well-being needs of you and your family. Interestingly, the chair can also compute your body tension score, which indicates your body's stress level. It then customizes a personalized Body Tension Program for you using its 5-senses formula.
The features of the OSIM uDream Pro Well-Being Chair that can assist you in relieving stress and enhancing your overall well-being include:
AI stress analysis
AI programs available for download periodically
5 senses experience for proven effective stress reduction
One Touch Paradise programs
Mood light and 3D surround sound speakers
Can be fully controlled using the uDream Pro App
Built-in DreamScent Aroma Pods
8 signature massage programs
5 manual customization categories
Contemporary nature-inspired design and colors
Special immersive VR programs on a separate VR headset
Equipped with enhanced safety features
2. GINTELL S6 Wellness SuperChAiR Massage Chair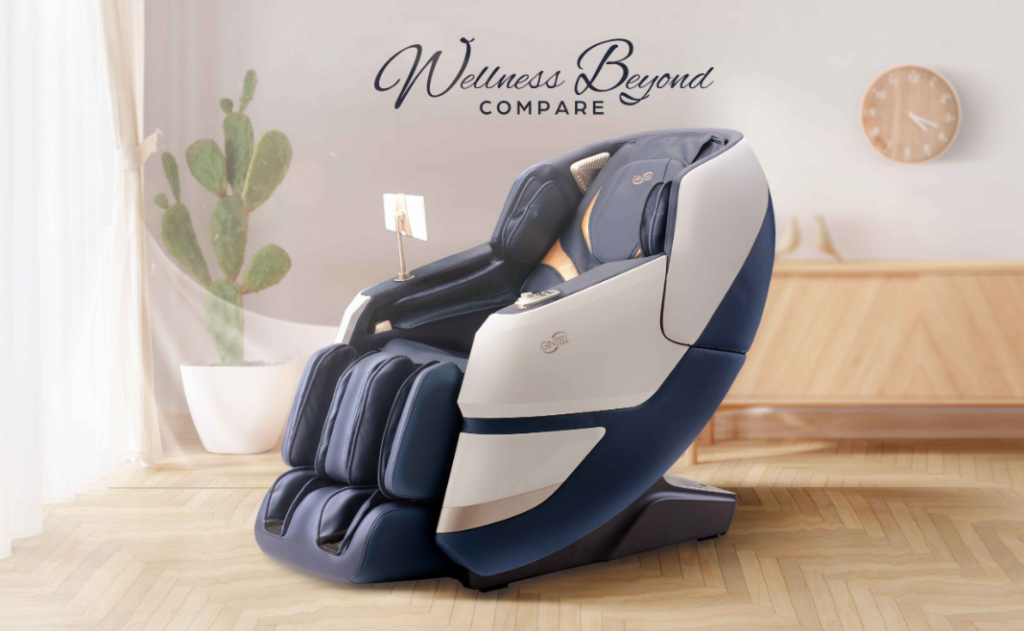 Gintell is an experienced manufacturer in the industry of healthcare products. Its S6 Wellness SuperChAiR is the world's first massage chair designed to enhance overall wellness. It boasts an amazing AI-Bio Scan feature; simply place your finger on the panel for 30 seconds to uncover crucial data like your heart rate, blood oxygen, and fatigue index. Thanks to AI Vi-Tec, this chair even responds to voice commands for ultimate convenience. Its Ai-R 3D rollerballs provide a more precise and deeply satisfying massage experience with protrusions up to 13 cm. The chair has six humanised massage techniques and 20 automatic programs (each combining reflexology and various massage methods) for unparalleled relaxation.
Elevate your well-being to new heights with the remarkable features of the Gintell S6 Wellness SuperChAiR:
AI-Bio Scan
AI-R 3D rollerballs
360° Heat Spa Therapy
Stretch 230° Program
Knee Spa therapy: massages sole, calves, and knee with heat therapy
6 Humanized massage techniques: knead, tap, knead & tap, shiatsu, knock, and rolling
20 Auto-Programs
Bluetooth speaker plus smart device charge function (USB)
Voice control
Remote control
Thumb panel
3. Miuvo MiuDeluxe Full Feature Massage Chair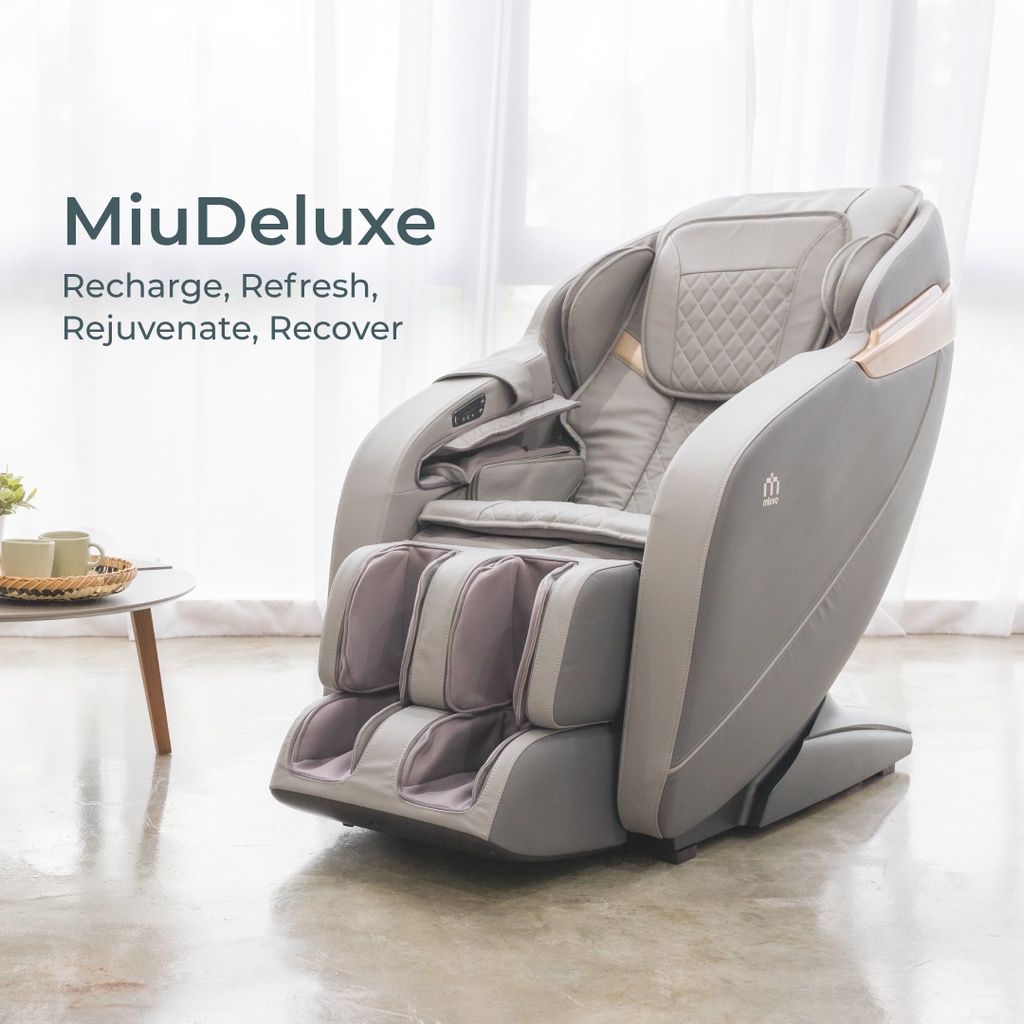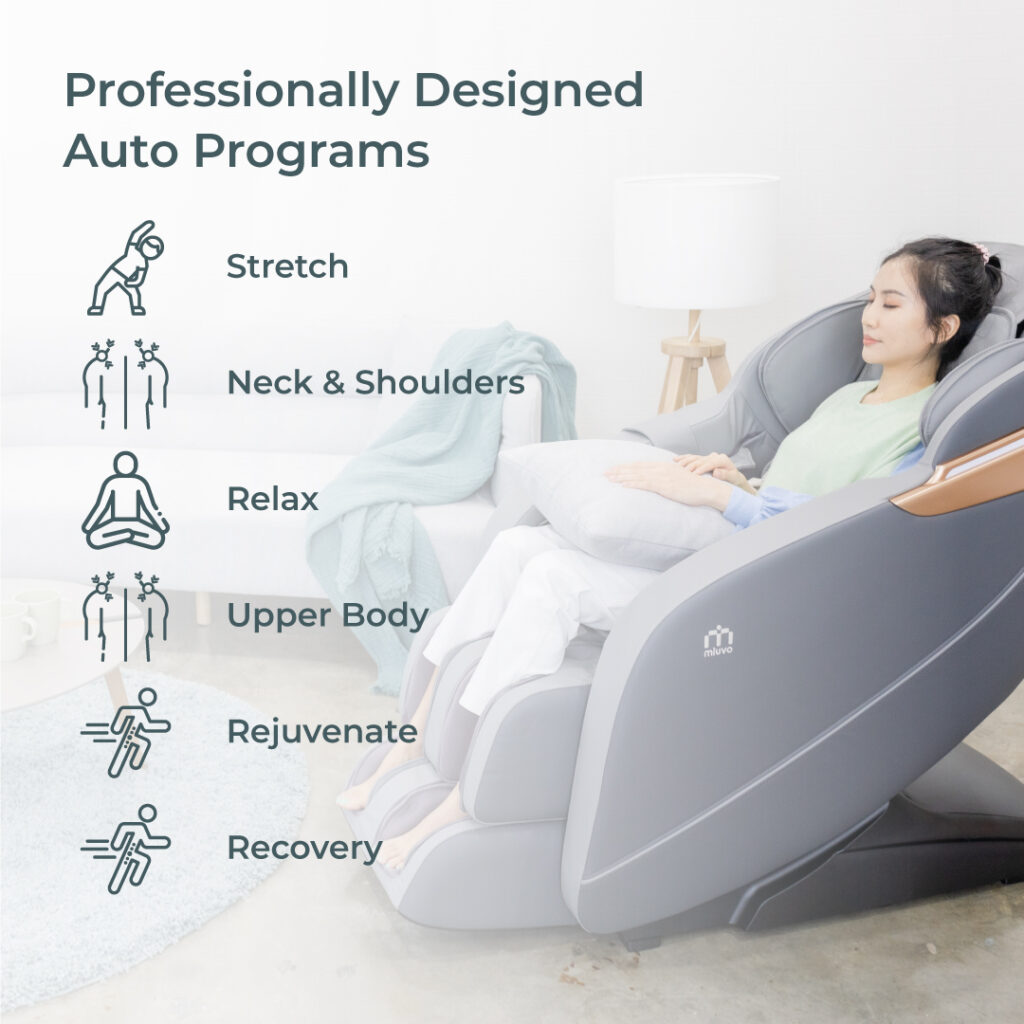 Miuvo is a home-grown brand that has been providing Singaporeans with massage products since 2011. Its MiuDeluxe Full Feature Massage Chair is packed with high-tech features. Engineered for ultimate comfort, it boasts an SL track massage system, ensuring a thorough and rejuvenating experience. The chair helps you tailor your massage with its multiple massage techniques and professionally designed auto programs that cater to your needs. The body scanning function precisely targets your pressure points, while the air compression therapy provides you with blissful relief. The chair easily adapts to your size and height, featuring an extendable footrest and adaptive rollers. Moreover, its user-friendly interface and easy-to-use controller ensure hassle-free relaxation.
MiuDeluxe's full pack of features includes:
SL track massage
User customizable massage: 3D kneading, cupping, dual shiatsu + tapping, shiatsu kneading, tapping, and rolling guasha
Body scanning function
Professionally designed auto programs
Air compression therapy
Soothing heat therapy
Zero gravity recline
Easily fits size and height
Extendable footrest
User-friendly interface
Easy-to-use controller
Mood lighting
4. OTO CP-01 Capsule Massage Chair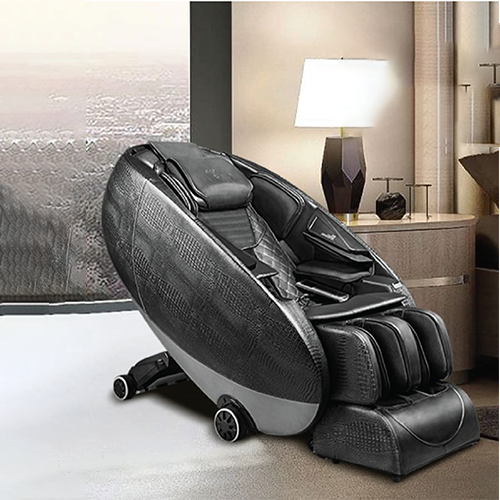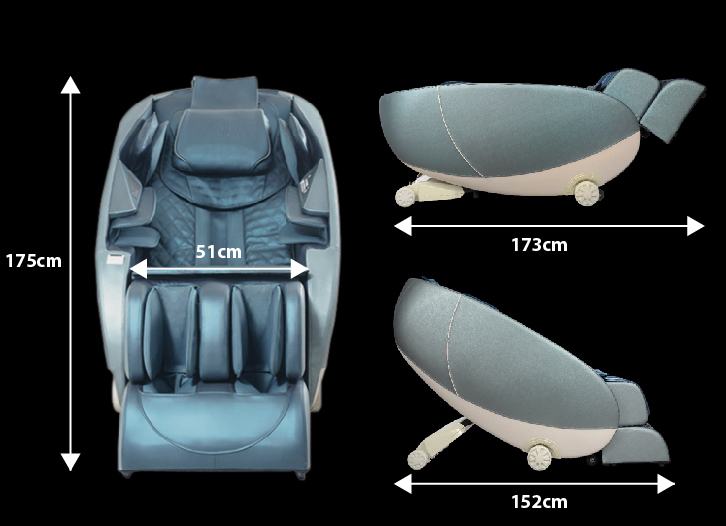 With over four decades of experience in the industry, OTO is your trusted partner for all things health and relaxation. The company offers a robust range of cutting-edge healthcare products that cater to your everyday needs. And one product that truly stands out is the OTO CP-01 Capsule Massage Chair. This revolutionary mobile massage chair boasts a sophisticated, avant-garde design that perfectly complements the modern era. Crafted with advanced therapeutic techniques, five auto massage programs, and soothing heat therapy, it invigorates your tired body. Its 2-D sensor accurately identifies shoulder positioning and body contours, providing precision massage therapy, while the 3D intelligent massage mechanism seamlessly follows the body's contours, mimicking human hands to deliver a comprehensive range of massage techniques.
The features that make the OTO CP-01 Capsule Massage Chair a no-regret wellness choice include:
5 auto massage programs
3D smart chip
Dual-rollers with 12 cm protrusion
2-D Intelligent body scan with G-sensor
3 width settings and 3 speed selections
Low-noise operation
Environmentally friendly
Ultra-long 140 cm SL massage track
Air massage with wrap-around airbags
45°C Heat therapy for soles
Dual control panels
Zero gravity position
5. OGAWA Genix Hybrid Massage Chair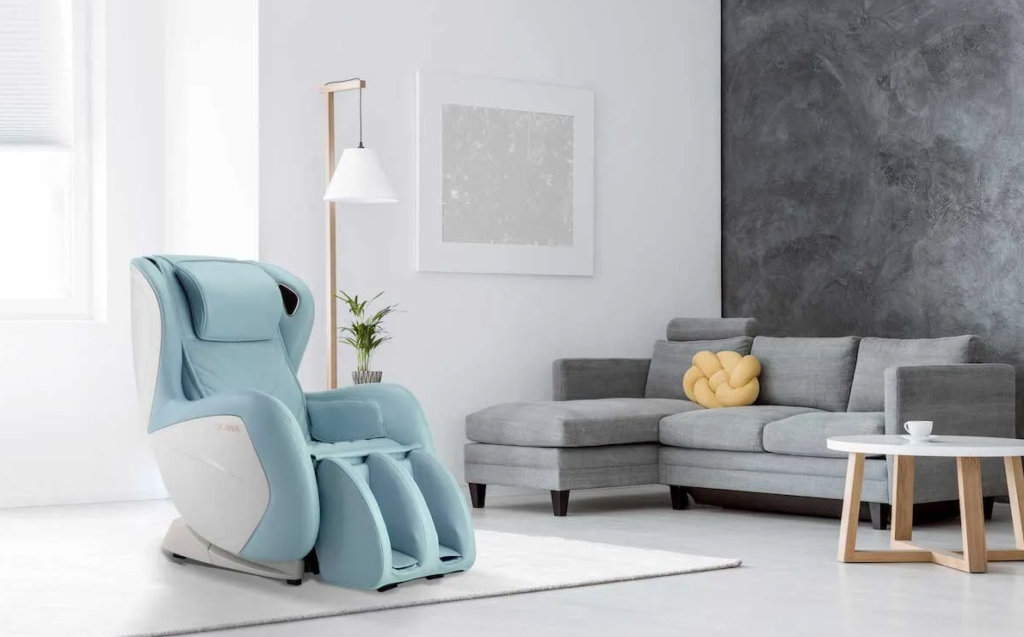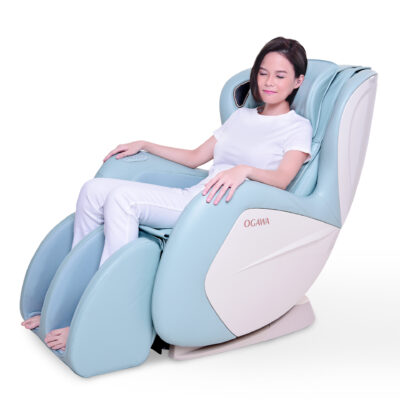 Ogawa is a renowned manufacturer of health and wellness products that is globally recognised and awarded. Their commitment to well-being and exceptional product development have made them a leading brand in Asia and beyond. Say goodbye to sore muscles and hello to deep relaxation with the OGAWA Genix Hybrid Massage Chair. It has silicone rollers that mimic the hands of a professional massage therapist. The chair features multiple massage modes, including Energize Mode, Happy Hour Mode, Vitality Mode, and Dream Mode, to deliver different types of massages tailored to your preferences. You can choose from a gentle massage to ease stress or a deep tissue massage to work out kinks. Its advanced features like reflexology, zero gravity, and 14 powerful inter-directional airbags ensure that you get the best massage experience possible.
The OGAWA Genix Hybrid Massage Chair has many exceptional features that make it stand out. Some of these are:
Compact and space-saving design
Superior Hybrid Massage Mechanism
Easy to move
Zero Gravity position
Extensive massage track
14 powerful inter-directional airbags
Upper thigh air pressure
Reflexology
Cradle (Genix specialty swing mode)
Zero Wall Technology
Foot rollers
Bluetooth speakers
6. i1 Luxury Full-body Massage Chair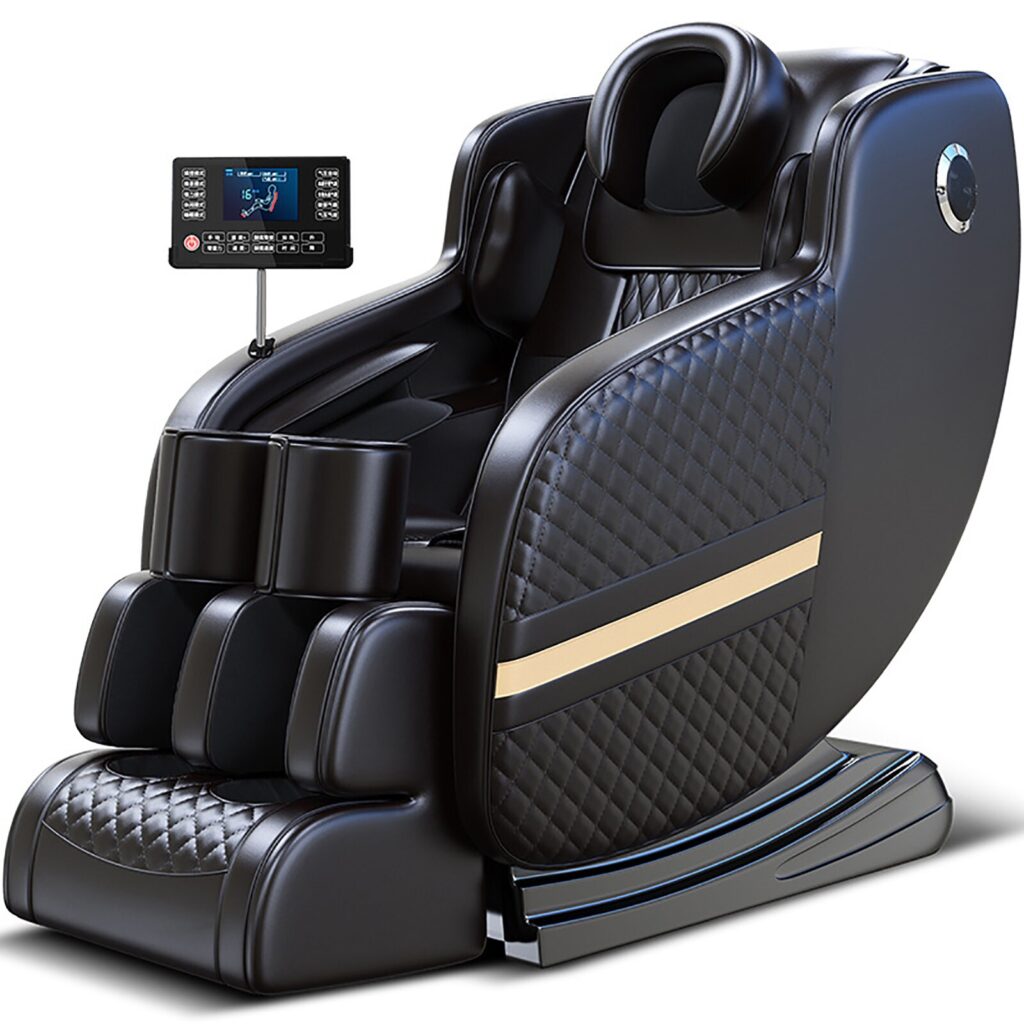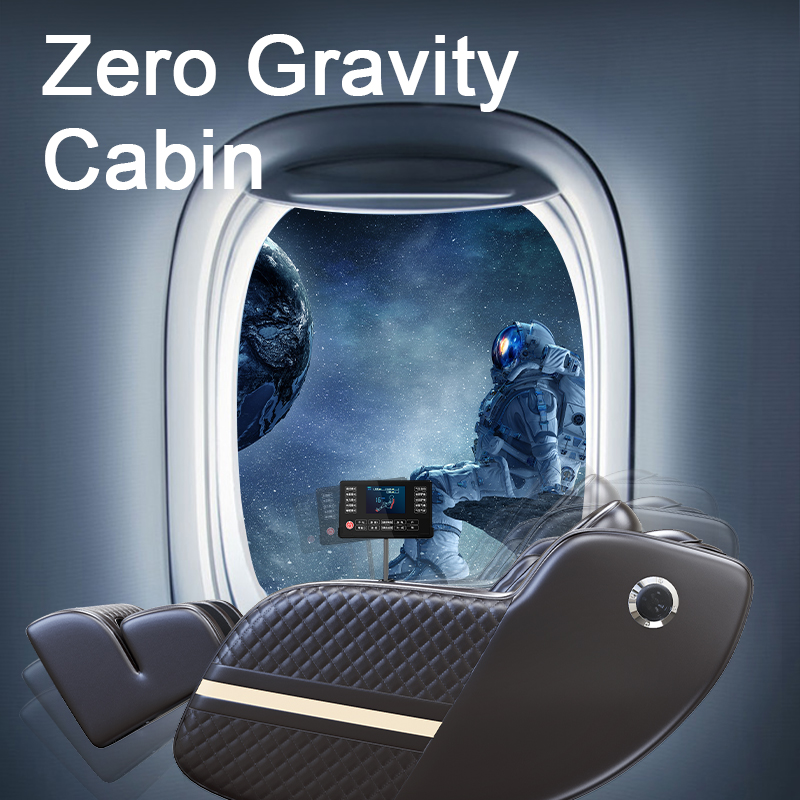 Experience the epitome of luxury and rejuvenation with the i1 Luxury Full-Body Massage Chair. With an impressive range of 20 massage functions, you'll find the perfect setting to relieve stress and tension. Its automatic mode ensures a seamless and customised massage experience, while the large LCD touch screen puts you in control, customising your massage with just a tap. Designed for ultimate comfort, the U-shaped headrest and sleep aid eye mask take relaxation to the next level. But that's not all; its therapeutic benefits also include a wormwood hot compress, multi-stage airbags, and buttock wheels to ease muscle knots and aches. Moreover, the chair's SL track layout follows the natural curve of your spine for an unparalleled massage experience.
Some specifications of the i1 Luxury Full-body Massage Chair are listed below:
20 massage functions
Automatic mode
Easy to control with an AI large LCD touchscreen
U-shaped headrest
Sleep aid eye mask
Health moxibustion: wormwood hot compress
Kneading massage with buttocks wheel
Multi-stage airbag wrapping
Zero gravity levitation
SL track layout
Constant temperature hot compress
7. Zero Healthcare uFairy Massage Chair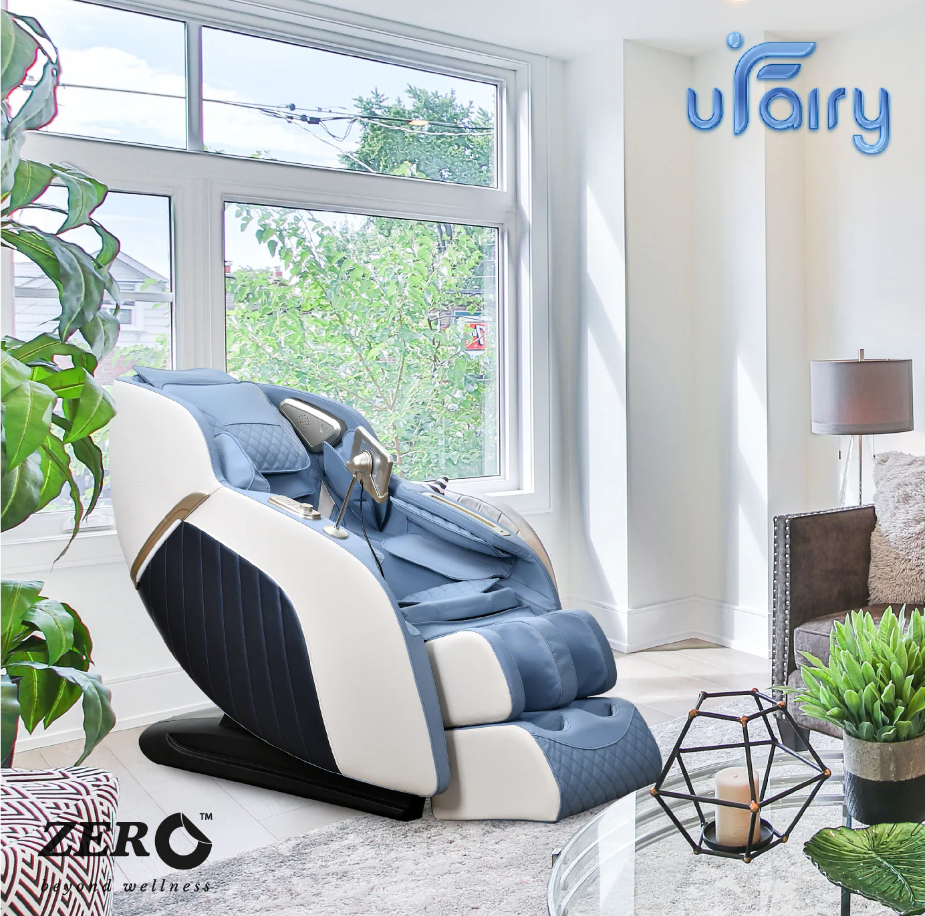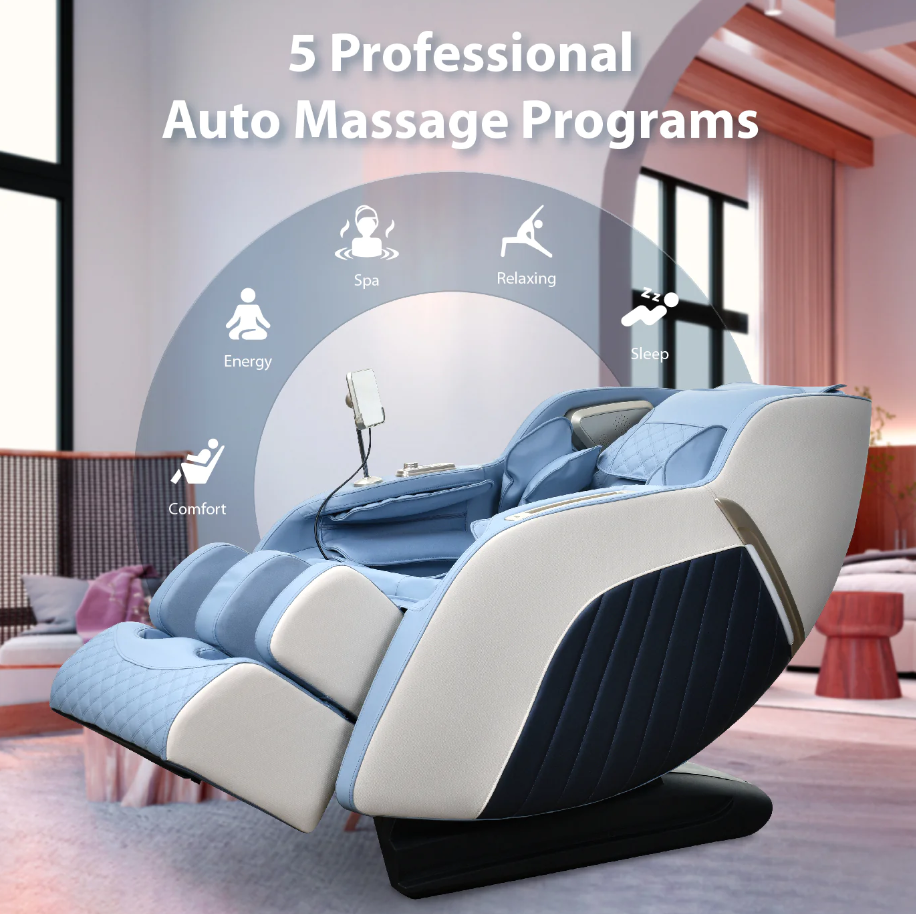 Since its establishment in 2011, Zero Healthcare has successfully expanded its business into several Asian regions, including Malaysia and Singapore. In response to the demanding and fast-paced lifestyle of the present day, the company advocates for regular health and wellness care for everyone, both from within and without. And our favourite healthcare product from the company is the Zero Healthcare uFairy Massage Chair. It is the perfect solution to combat your daily work exhaustion and soothe those aching muscles from head to toe. With its appealing colors and thoughtful design, this massage chair not only improves your overall well-being and quality of life but also enhances your living space. It is equipped with multiple massage functions combined with advanced features such as heat therapy and customisable massage programs.
The details of the features of the Zero Healthcare uFairy Massage Chair are given here:
Full body airbags
5 professional auto massage programs
3 massage techniques: kneading, tuina, and guasha
LCD touch screen multi-functional control panel
Zero gravity position
Foot roller guasha massage
Heat therapy
Comprehensive rollers
Voice control
Smart control custom massage
Bluetooth speakers
Voice control
Affordable price
8. Novita M series® Massage Chair MC 8i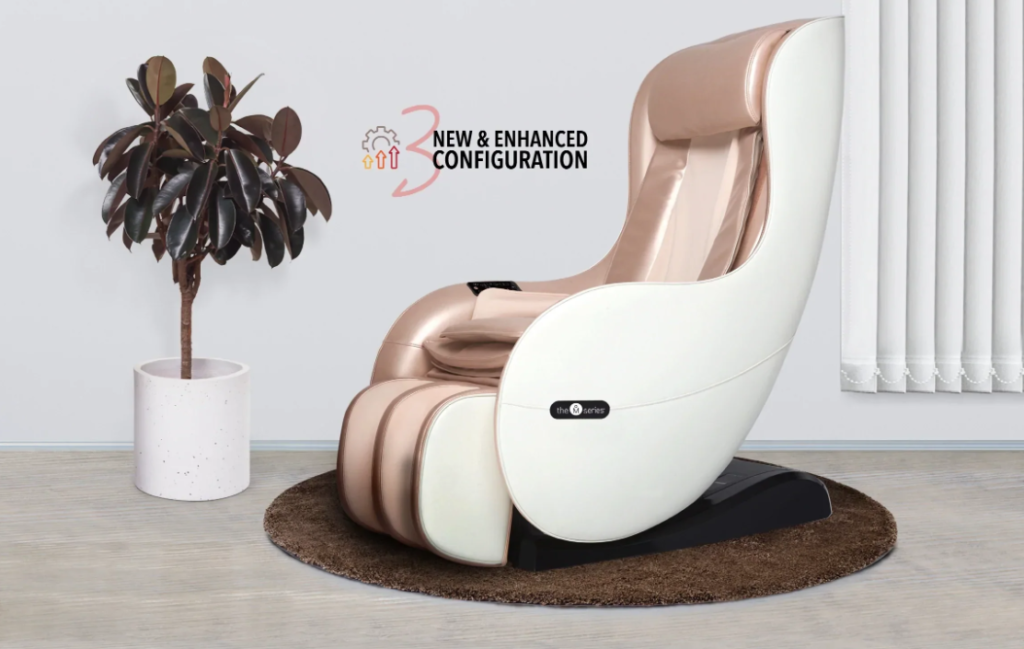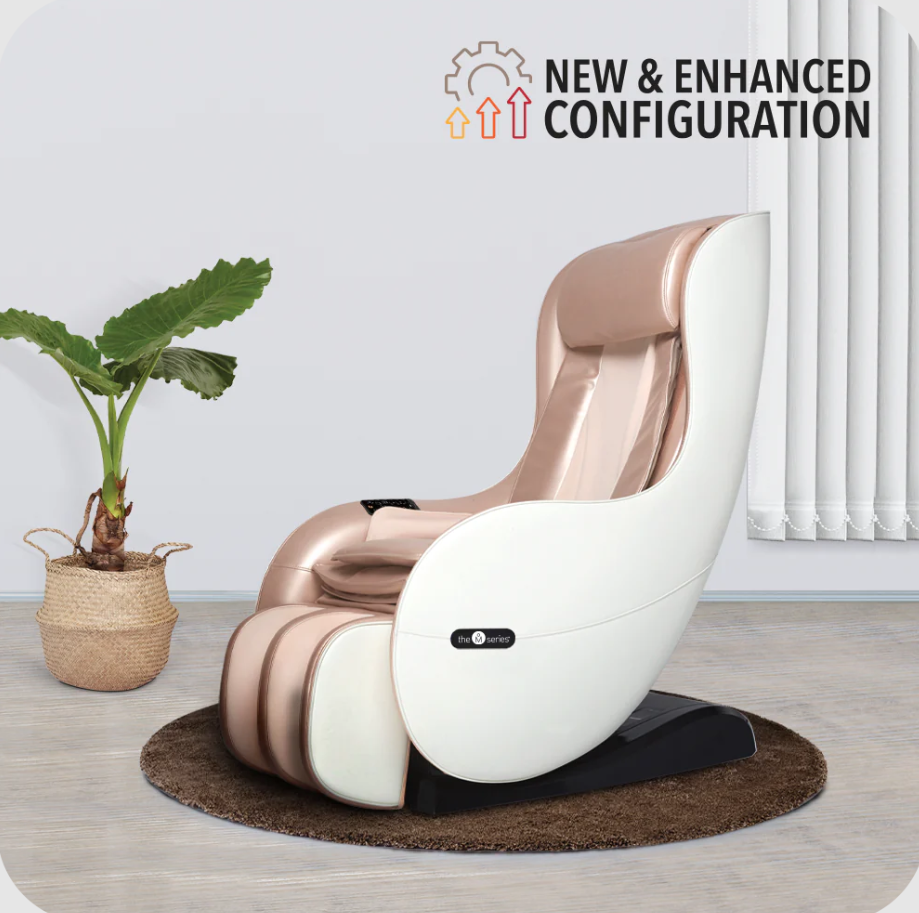 Next, introducing the Novita M Series® Massage Chair MC 8i – big on performance and compact in size. The chair boasts five classic massage techniques, five pairs of airbags, and five focus massage regions. It lets you personalise your massage with three intensity levels and targets specific body areas with the spot massage options. With this chair by your side, you can enjoy the deep relaxation of Hot Stone therapy, indulge in dual auto massage programs, or immerse yourself in music therapy via Bluetooth. The intuitive control panel and USB charging port add convenience. Furthermore, with its long L-Track curvature massage and accessible design, the chair delivers a truly restorative rest.
Say goodbye to stress and welcome ultimate comfort with the M Series® MC 8i Massage Chair:
Intuitive control panel design
Long L-track curvature massage
5 Classic massage techniques: knocking, kneading, shiatsu, sync, and tapping
Spot massage options
3 levels of massage intensity
Dual auto massage programs
Hot Stone Therapy
5 focused massage regions
5 pairs of airbags
Complete reclination
Built-in stereo speakers
USB charging port
9. Miuvo MiuDelight V2 Massage Chair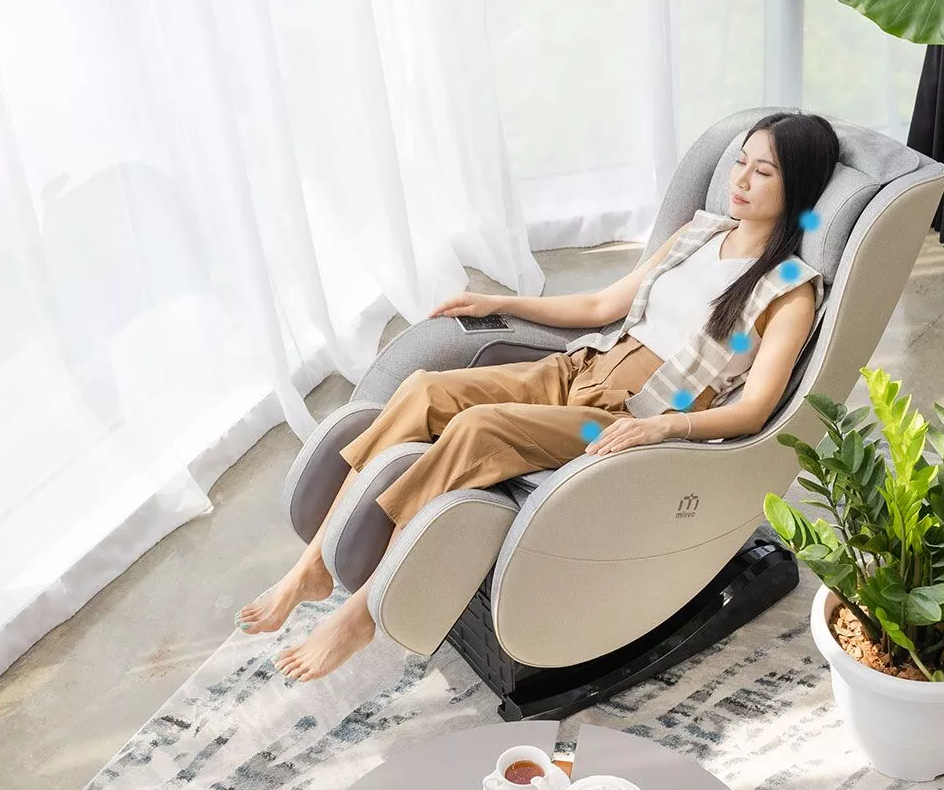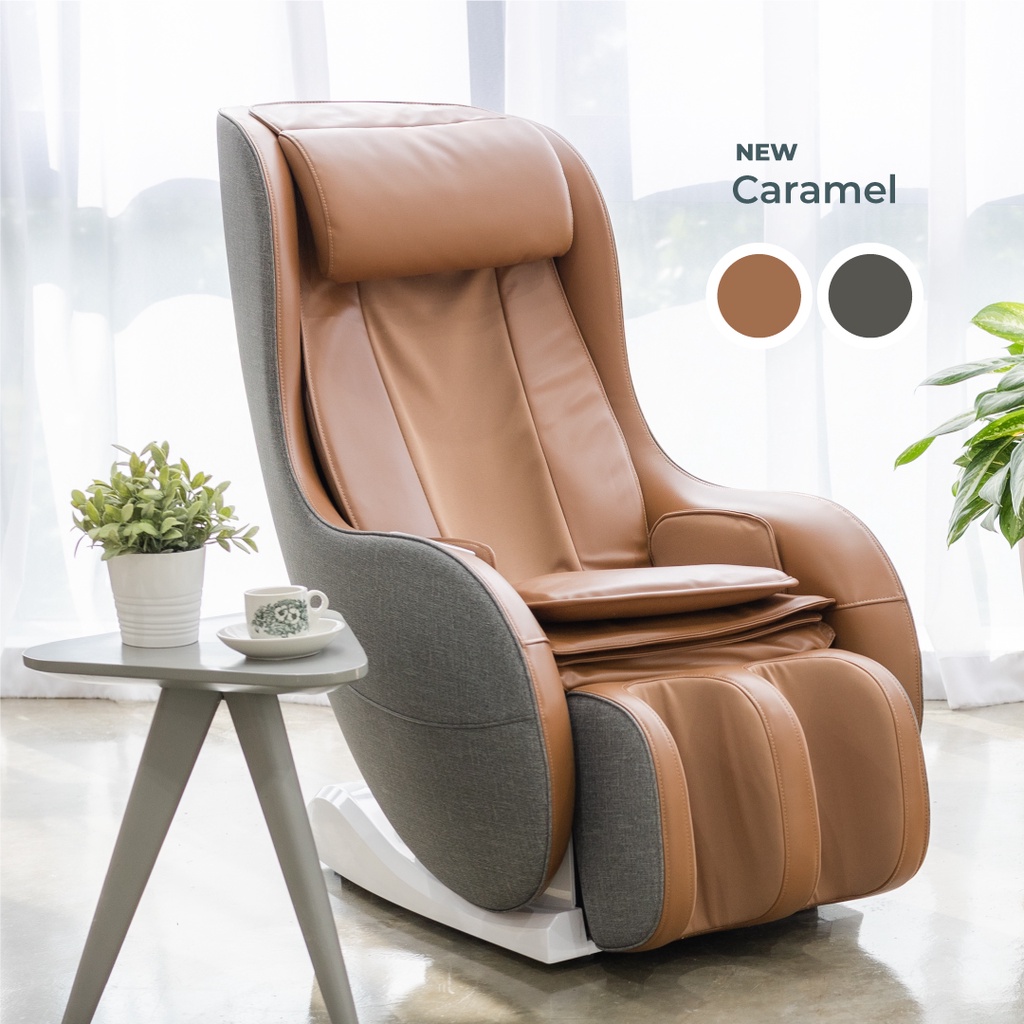 Indulge in luxurious comfort with the MiuDelight V2 Massage Chair from Miuvo. It is designed with an ergonomic shape that conforms to your body's natural curves for maximum comfort. Its long massage track spans from head to toe, ensuring every inch of your body is pampered and relieved of tension. The chair's heat function delivers soothing warmth that helps relax your muscles. Air compression therapy works its magic, gently kneading your muscles and promoting blood circulation. And don't worry about intensity; the adjustable strength settings let you dial in the perfect level of pressure. Moreover, MiuDelight's multiple massage styles and adjustable intensity allow you to customise your massage experience.
You'll feel like getting a massage in your own private spa with the following features of the MiuDelight V2 Massage Chair:
Long massage track
Advanced 3D massage
User-customizable massage styles: shiatsu, tapping, and swing and rolling Tui-Na
Adjustable massage strength and intensity
Soothing heat function
Silicone rollers
Space-saving design
Spot massage for targeted relief
Air compression therapy
Zero Gravity recline feature
Professional auto programs
Bluetooth speakers
USB charging port
10. OSIM uDivine V2 Massage Chair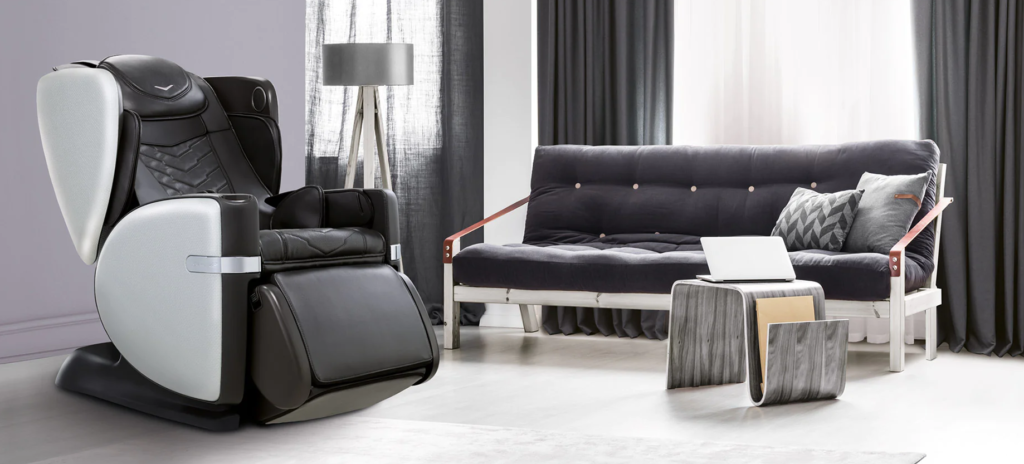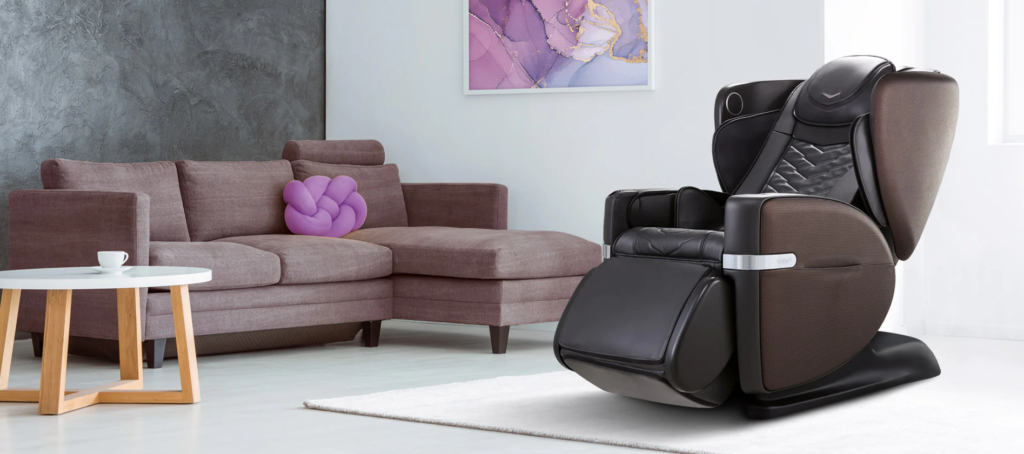 The uDivine V2 is a massage chair from OSIM that can effectively target specific pain points to relieve stress and fatigue. This chair uses advanced technology to deliver a deep-tissue massage that promotes relaxation. Its 4-Hand Massage Technology boasts four sets of powerful massage rollers working harmoniously to knead away tension and stress. It offers a variety of pre-programmed massage options to cater to different lifestyle needs, making it suitable for the whole family. Equipped with auto shoulder detection, the chair automatically adjusts to your body's contours, ensuring a personalised massage session. The expandable side panels add an extra touch of luxury, accommodating various body sizes.
The features that set the OSIM uDivine V2 Massage Chair apart from others are the following:
Powered by AI
V-HandTM Technology: provides full body massage with 720° roller balls
4-Hand Massage Technology: 4 sets of powerful massage rollers
Soothing warmth on the back
Extendible foot massager
Multiple massage programs
Intense airbag massage for arms
Auto shoulder detection
Expandable side panels
Customizable massage with 7 intensity levels
Zero Gravity recline upto 155°
Wireless Bluetooth speakers
Versatile: 3 modes of comfort (sofa, lounger, and massage chair)
Aesthetically pleasing curvature design
11. GINTELL DéSpace Care Massage Chair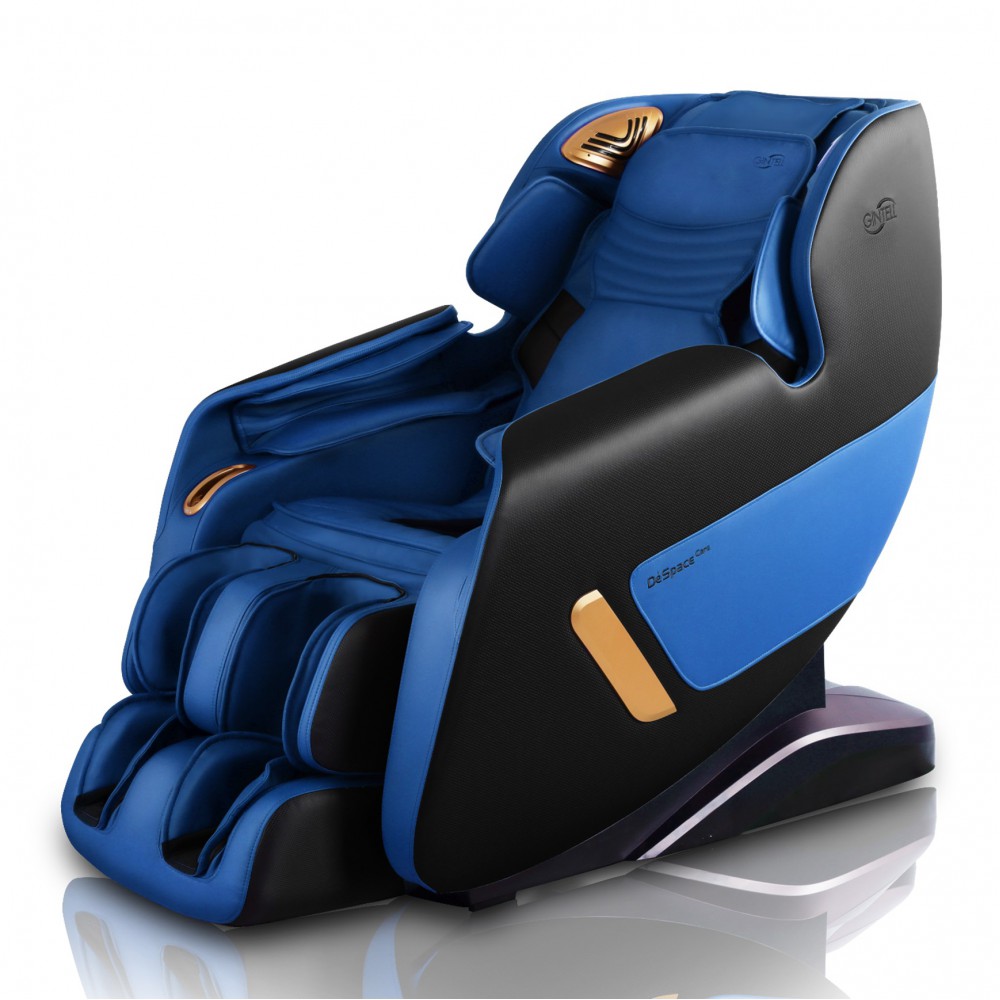 The Déspace Care Massage Chair from Gintell is the ultimate comfort solution, featuring multiple massage techniques, heat therapy, and a zero-gravity positioning called Stretch 230°. It positions your body in a state of complete relaxation and allows it to stretch fully. The gentle massage techniques of this chair help you relieve muscle stress and promote quality sleep. Heat therapy helps soothe calf muscles and increase blood flow to the lower body. Moreover, this chair can memorise your favourite massage techniques and store them intelligently for future use.
The following features make the Gintell Déspace Care Massage Chair outstanding:
Elegant design
7 Vi.Tec major massage techniques
Voice control function
15 Healthcare programs 
X-3D Roller Balls give protrusions of up to 11 cm
Stretch 230°: full body stretching program
Calf heat therapy
360° Reflex Guasa
Rocking relaxation
Airbags massage
Memory function
3D surround speaker and Bluetooth music system
Smart devices USB charger
12. OTO Quantum (EQ-10)  Massage Chair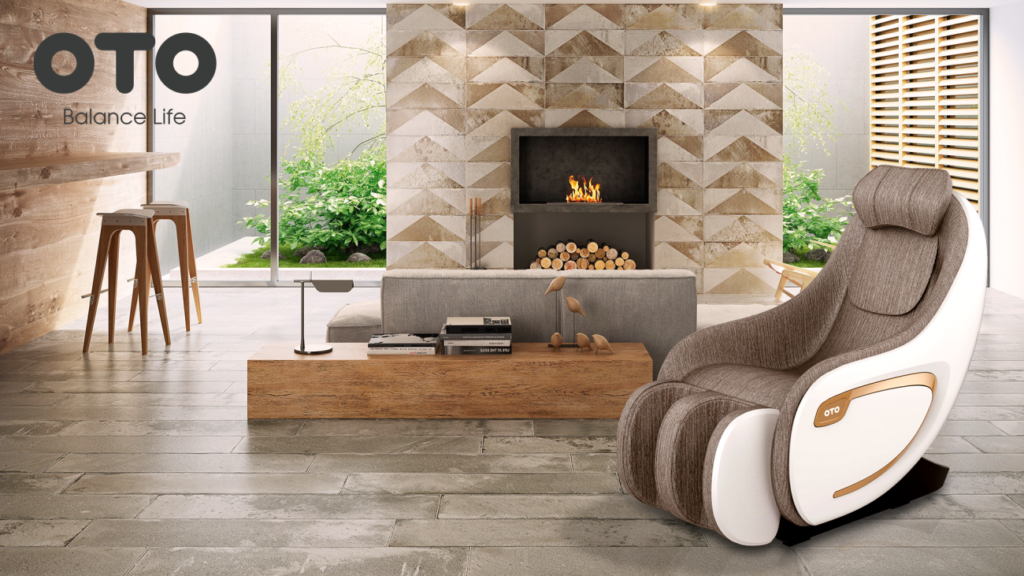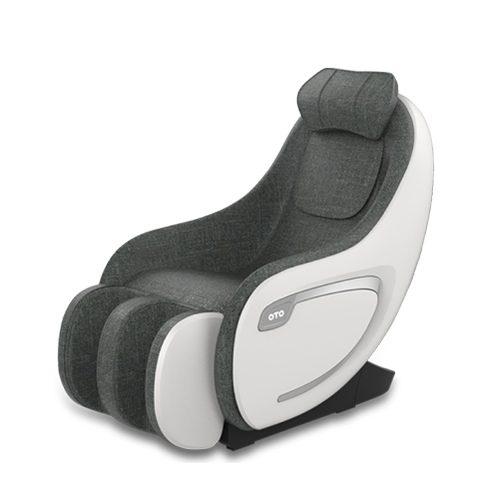 Get a professional-grade massage in the comfort of your own home with the OTO Quantum Massage Chair. This chair uses air pressure, heat therapy, and auto massage programs to deliver a massage that's as good as any professional masseuse's. With an adjustable footrest and other customisable features, this massage chair provides you with the ultimate in-home relaxation experience. And with multiple massage techniques and customisable intensity levels, you can tailor your massage experience to meet your individual needs.
The OTO Quantum Massage Chair offers unbeatable features, as listed below.
Small and space-saving
Full body coverage with 120 cm long L-shape massage track
Calf massage specialty: heat-assisted air-press
Heat therapy
4 auto massage programs
Multi-dimensional massage experience
Swing function: 150° reclining angle
Multiple massage techniques: kneading, pounding, kneading+pounding, rubbing, and air press
Ergonomic design with a 3D mechanism
Zero gravity position
Sleek curved design
13. Novita M Series Massage Chair B11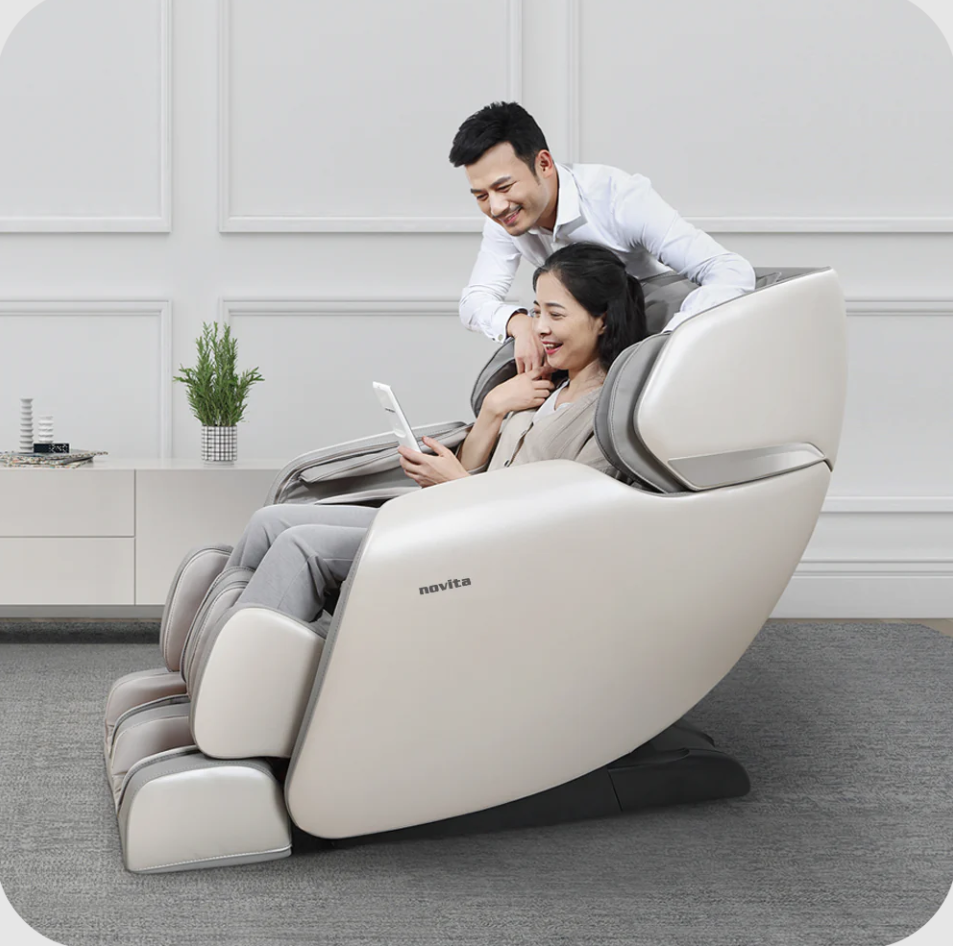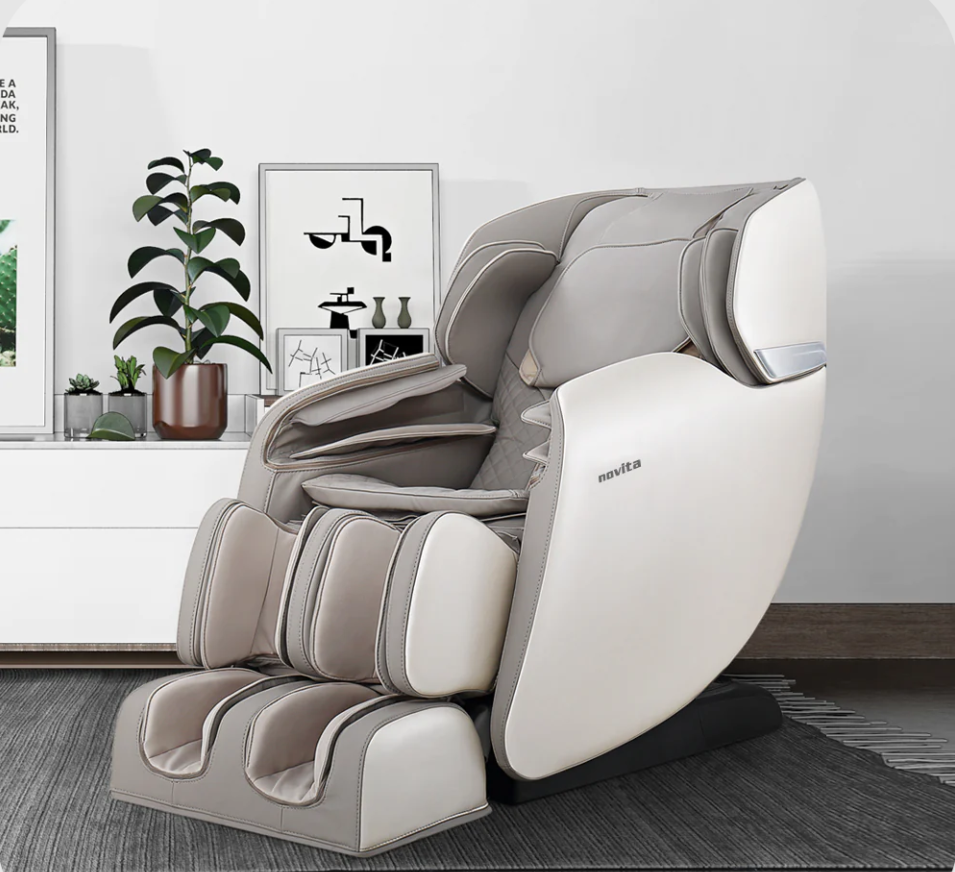 Relieve muscle tension and reduce stress with the Novita M Series Massage Chair B11, a modern and compact unit that combines style and function in one. The chair delivers a massage that's tailored to the individual needs of the user. This makes it perfect for every member of your family, whether young or old. It specifically targets seven key regions of the body: neck, shoulders, back, arms, hips, calves, and feet. Moreover, you can choose from its multiple massage techniques and intensity levels and even set the massage to target specific areas of your body.
The following features make the Novita M series Massage Chair B11 exceptional:
Compact fit
7 focus regions
20 airbags
6 classic massage techniques: kneading, knocking, shiatsu, sync, tapping, and rubbing
6 auto programs
Smart body sensor: intelligent auto shoulder detector
Zero2 Gravity position
Heat therapy
Scrapping reflexology therapy (Gua-Sha)
Ergonomic S+L track
6 dynamic massage intensities
14. ERGOWORKS Zero Gravity Massage Recliner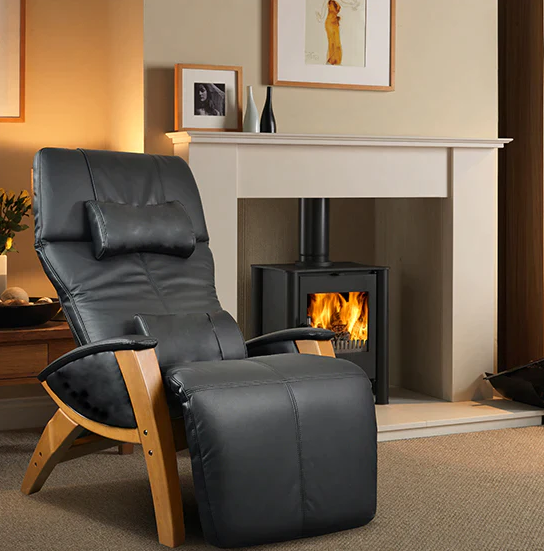 Ergoworks is a leading store specialising in ergonomics that offers comprehensive health solutions to its customers. The Zero Gravity Massage Recliner from Ergoworks provides a complete massage targeting all areas of the body. It is a chair that truly embodies the Zero Gravity concept. Reclining you into a ZeroG position allows your body to adopt a natural S-curve shape that mimics weightlessness. This position elevates your feet and legs above your heart while keeping your spine horizontal, which reduces stress on your vertebrae. And this is the perfect position for receiving a massage!
This Zero Gravity Massage Recliner is the ultimate solution for anyone looking to unwind and feel rejuvenated. Its features are listed below:
Air Massage Mode
8 large airbags
Soothing heat therapy
One-touch zero gravity button
Memory foam in the cushion, pillow, and lumbar support
High-quality upholstery
Backstretch
Power Nap function
SMART Wake-Up function
Adjustable headrest
Final Thoughts
Bringing a massage chair to your home or office can provide you with a multitude of benefits, including stress relief and body relaxation. These chairs are designed to target certain parts of the body, including the back, neck, and shoulders. They help to ease sore muscles and realign the back. Additionally, the rolling movements of the massage chair can stimulate the production of serotonin in the brain, which promotes a sense of happiness. To get the best massage chairs in Singapore, online shopping is a convenient and informative option. And to help you buy online, we've already done all the research. In this guide, we've found you the best quality massage chairs from reputable sellers, making your search easier. So, what are you waiting for? Go and grab your favorite chair now!